Eight years ago Ferrari made a cretinous decision at the Austrian Grand Prix.
Nobody was remotely close to it in terms of a credible championship challenge. Michael Schumacher had won four of the first five races - Australia, Brazil, Imola and Barcelona. Then came A1-Ring, a track where Rubens Barrichello was often quicker than Schumacher, probably because Michael put so much energy through the front tyres in the long left-hander that he wore his right front too much.
In 2001, Barrichello had been forced to move over and give his second place to Schumacher. He was less than thrilled. He was told that it would never happen if a win was at stake. A year later, of course, it was. But with Michael under the huge pressure of having won just those first five races, unbelievably Jean Todt had the call put out to Rubens.
Michael Schumacher, Rubens Barrichello, 2002 Austrian GP © LAT
This was early May, for heaven's sake...
Schumacher was booed on the podium and he was visibly shocked at the depth of feeling when he arrived at the post-race press conference although, in fairness, all he'd done was drive the car. He could have slowed down behind Rubens and failed to take it, I suppose, but that would have made Todt look daft, rather than just cynical, which wouldn't have gone down well.
The FIA considered that the sport had been brought into disrepute and introduced a ban on team orders. It was about as realistic as banning traction control or the spending of money, but there it was. How deeply ironic that Ferrari will now be judged by a governing body presided over by the man responsible for the rule! Let's hope the World Motor Sport Council sees sense and takes it no further than the $100,000 fine!
Austria 2002 was a dreadful decision, pure and simple. Totally unnecessary and unbelievably harsh on a guy like Barrichello.
Hockenheim 2010 was totally different. Fernando Alonso came into it on the back of terrible luck in Valencia and Silverstone desperately needing to kick-start his championship challenge. Massa, realistically, was probably already out of it, some 78 points behind Lewis Hamilton's championship lead going in.
On Friday night in Germany Ferrari hosted a British media night at which a few of us did a bit of gentle Fernando baiting, asking what he'd done to inspire such awful luck this year - kicked a black cat, taken out a bus queue full of nuns?
He entered into the spirit of it, admitting that he's had a bit of a problem believing quite how many races he's found himself at the back of this term. But understanding referees he'd come to terms with. He was even magnanimous - remember that word - towards Howard Webb, who'd failed to send off any kung-fu Dutchmen by half time in the World Cup, just a couple of hours after Fernando's Valencia debacle. "He just didn't want to spoil the final, which is understandable," Alonso smiled.
It was about time a weekend ran a bit more smoothly for Alonso, and Hockenheim did. He was fastest of all in FP2 on Friday afternoon, second to Vettel and half a second clear of Massa in FP3, then fastest in Q1 and Q2, beating Massa by four tenths in each. In Q3 he had to swallow the fact that Vettel pipped him to the pole by two thousandths, about 15cms, but he was again fully half a second clear of Felipe.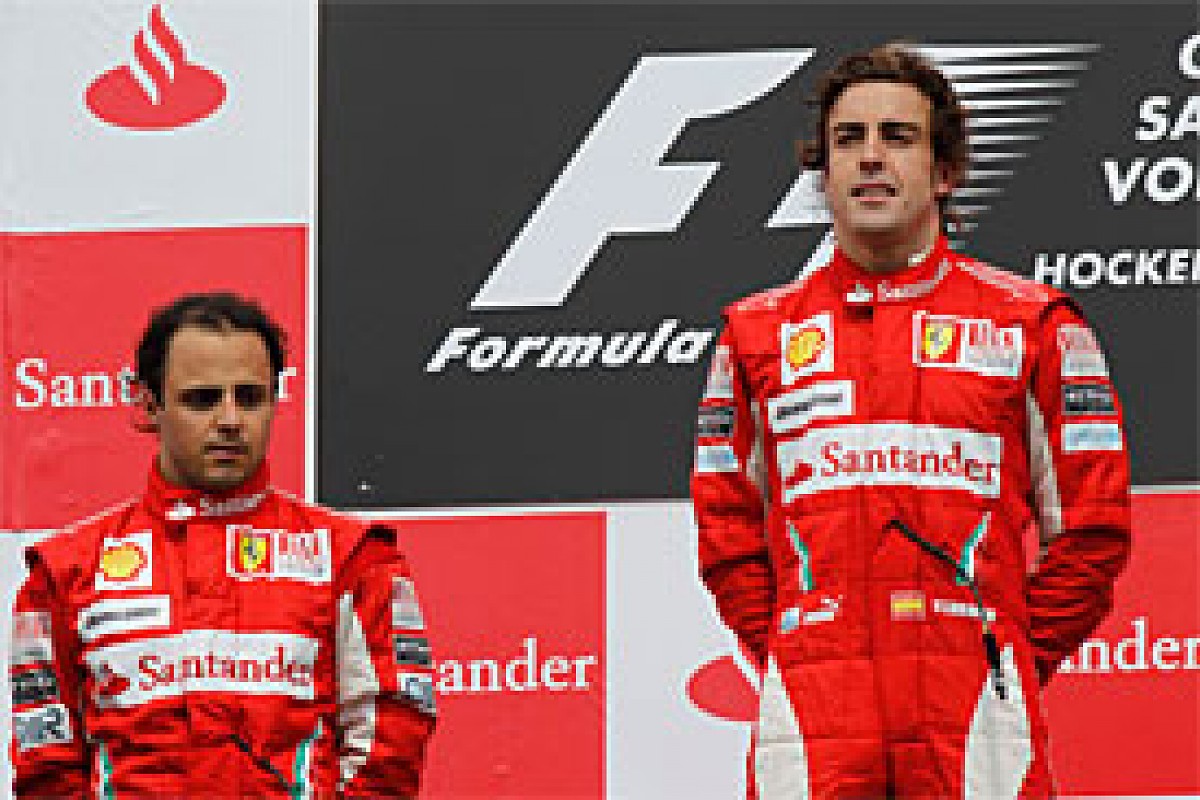 Felipe Massa, Fernando Alonso, 2010 German GP © LAT
He was only ever behind Massa in the race because Vettel had a good stab at shoving him into the pit wall off the grid, and what Ferrari did was entirely logical. The shame was that they had to go through the nonsense of pretending it was Felipe himself who made the call... The law in this case, is most certainly an ass.
Yes, you had to feel for Massa. It would have made a lovely human story, winning his first race since his nasty Hungary accident precisely a year to the day since it happened, but there's isn't room for sentiment if Ferrari is serious about trying to win a drivers' title in 2010. This time, unlike Austria 2002, the quicker Ferrari driver at the meeting won the race and he desperately needed the points. No problem there. Motor racing has adopted such team orders since time immemorial and there's nothing wrong with it. And believe me, it is understood in the pitlane that it will still go on, providing people don't take things as far as Austria '02.
The problem is, having a law that distinguishes between the pure logic of what Ferrari did in Germany and the crassness of what they did in Austria. Some would argue that there shouldn't be a distinction and that a team should be free to operate in any manner it chooses.
Look at the daft charade that Ferrari had to go through. Poor Rob Smedley, Massa's race engineer, on the radio in his best Geordie: "Fernado is faster than you.... please confirm that you understand the message." Then, after the hapless Brazilian has let Alonso by: "Good lad. Sorry..."
The problem here is that it is in the best interests of the team for the driver to concede place with as much subtlety as possible. Under braking for the hairpin as they encountered some backmarkers would have done just fine. But as far as the pride of the driver and his side of the garage is concerned, the preferred method is to do it as blatantly as possible. It says, there you go, look at that, no choice, we weren't beaten. And that is fully understandable. It might not be the most professional approach but if these guys didn't have egos they wouldn't be competitors.
Smedley was tremendous on the slowdown lap. "Very, very magnanimous Felipe. You won't know what that means but I'll explain later!" Lovely.
Then, afterwards, it was poor Stefano Domenicali's turn to have to evade the truth in front of the international media. You had to feel sorry for the guy. An open, communicative, likeable guy, he simply could not admit to what happened due to the way the rules are, but still had to do his media sessions. It's this sort of thing that makes the sport look so daft sometimes.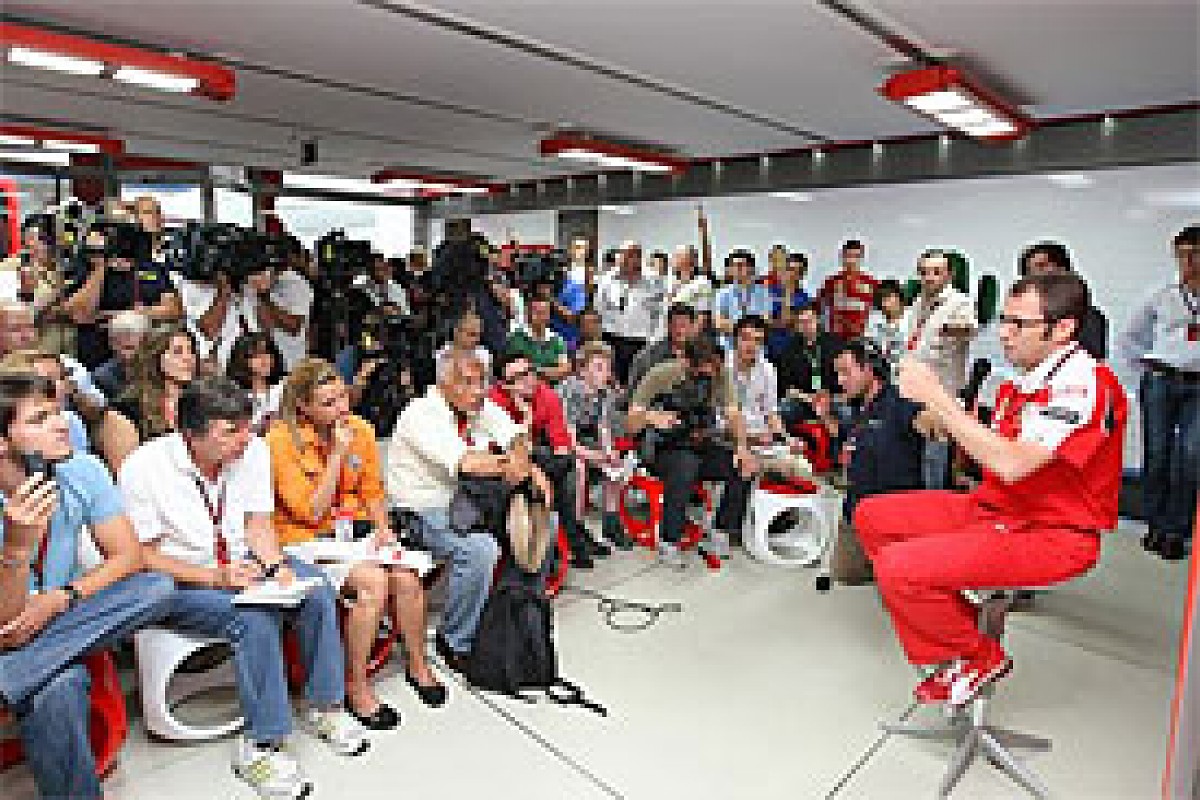 Stefano Domenicali faces the press after the German GP © Sutton
Such as: "How is this different from Austria 2002?"
"Honestly I don't know. What we said to him today was information about the situation that was behind. That's what we said today."
And, "Is it clear now that you have a number 1 and number 2 driver for the rest of this season?"
"No."
"Why?"
"Because otherwise I'd have said yes..."
Priceless.
I put it to Domenicali that this was very different from Austria 2002 because then Ferrari was dominant and there was no reason to do it, but now they're playing catch-up and such decisions are obvious. So, did he think it silly to have to go through the charade when everyone knows what happened? Is it not better to allow teams to do what they want with their own drivers?
"It's a difficult question," he said. "I understand what you are saying and I think at the end of the day there is always merit and logic to both scenarios. First of all, on one side there is a clear inclination to make sure that every driver can do whatever they can on a level playing field, but on the other side you have to consider that the two drivers are part of a team and that's really the key factor. But I think it's a matter for consideration, to make sure that there is no more discussion."
Poor old Alonso as well, had driven superbly all weekend and yet he had to face moronic questions such as whether this win rated right up there alongside Singapore 2008!
It's a good game this. The journalist knows the question is moronic - at least you hope he does - but the ones working for the mouth breathers' papers need to prostitute themselves in search of a headline. Fernando did well to furnish that with a polite answer. I'm sure a James Hunt or Mario Andretti wouldn't have...
It was then pointed out to Alonso that Eddie Jordan thought the Ferrari drivers should have been thrown out, as if that carried any great gravitas. This was getting painful. Actually, it's been funny these past two races. I'm sure Christian Horner must have been biting his tongue desperately at Silverstone while being questioned by EJ on ethics, morals, rights and wrongs. Hope he'd taken his mirrors down at home...
Now EJ had selected another face from his shelf to suggest that the Ferrari men be booted out. I refer Your Honour to Spa 1998...
The post-race palaver made for a good comedy hour but, really, we need to throw this rule away.