A glance through the media cuttings after the British Grand Prix weekend, or a quick stop off at Red Bull Racing's official website for comments from the fans, left you in no doubt what the majority of the world felt about the wing-swapping controversy that dominated paddock talk at Silverstone.
News story after story, rant after rant, suggested that Red Bull's favouritism tactics were a disgrace - and that Mark Webber's 'appointment with Karma' on Sunday was the most righteous outcome possible.
But as the dust settles on an amazing weekend, and Red Bull makes moves to calm its choppy waters, the most intriguing aspect of the favouritism shenanigans is that the one being hurt the most by it is not Webber - it is actually the 'chosen one', Vettel himself.
When Vettel arrived on the F1 scene, as BMW Sauber test driver, he quickly established himself as the media's golden boy. He was funny, approachable, interesting and a big hit with everyone who worked with him.
I remember having a long sit down interview with him back at the Japanese Grand Prix in 2006 - chewing the fat over his career, schooling, F1 - and even Little Britain. Rarely had I been as entertained and laughed as much doing an interview.
Vettel was not just about being a fun driver off track though, because he proved that he had exceptional talent on it. He helped turn Toro Rosso into a race winner with that brilliant drive at Monza in 2008 and, with a switch to Red Bull Racing, he has emerged as a genuine world championship contender and one of the very best drivers in the world.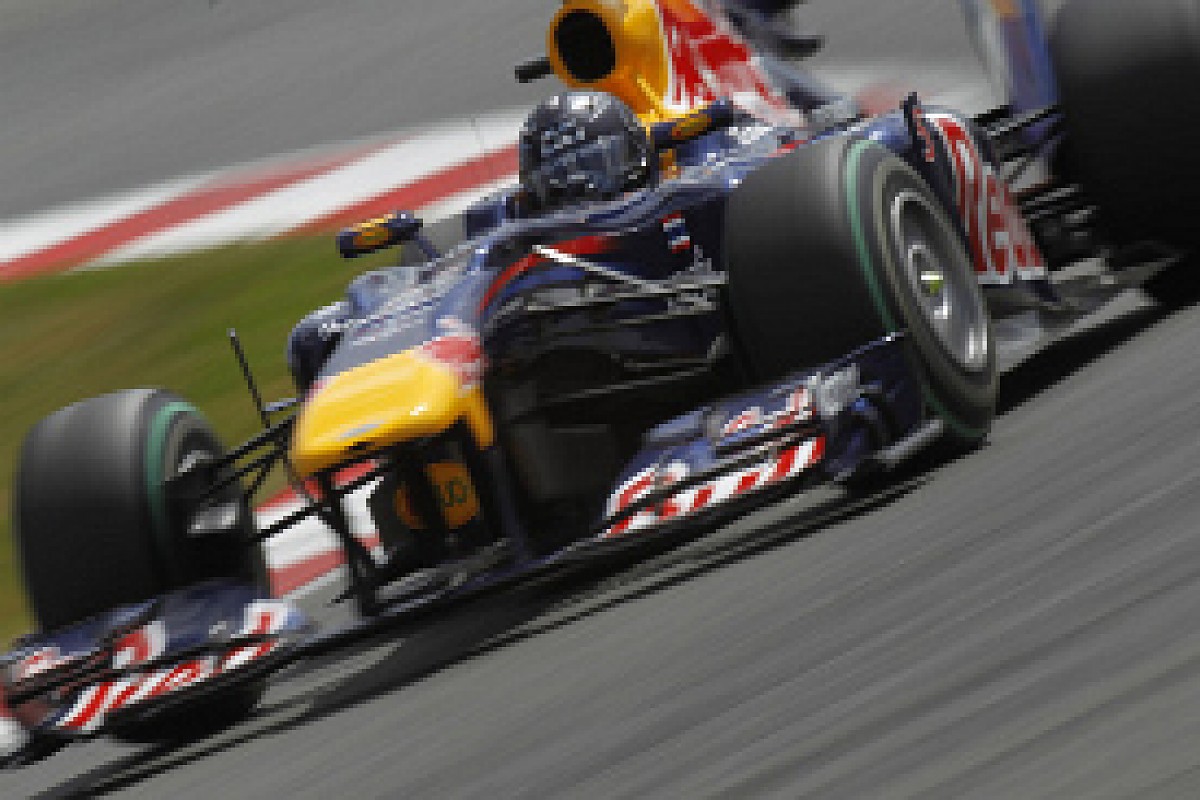 The wing that caused the row © LAT
With double diffusers, the odd mistake and reliability issues costing him his chance of the world title last season, 2010 was supposed to be his year - and with the form he showed early on there looked every chance that the German was going to end up as world champion.
But spark plugs, wheel nuts, bad weather and controversial collisions have meant he is still playing catch-up to the McLaren boys.
Talent wise, the paddock's views on Vettel are just as good as they were when the season started. He remains as fast as he ever was and his battles with team-mate Mark Webber are pushing both to the edge as they fight tooth and nail for glory. It's fantastic.
What has changed, however, is the perception of who Vettel is - and this where it gets hard to separate the 'favouritism' aspect from the man himself.
Take this example from the Daily Mirror's post-British Grand Prix coverage: "The racer who began the year as Formula 1's rising superstar has overnight become its darkest villain.
"And Red Bull slid ever closer to civil war with Vettel and his team on one side, and Webber and the world on the other. Dubbed "Baby Schu" by his own German media, Vettel seems to have plenty in common with the legendary racer with a reputation for questionable ethics and dubious tactics."
The darkest villain? I think not.
Vettel may be brutally tough on track, as his swerve across Mark Webber in Turkey that caused their collision, and his first corner defence against the Australian at Silverstone showed. But, has he yet deliberately driven into someone for his own benefit? Nope.
Yet Vettel is taking a hammering on the image front. And that's because he is perceived to be the favoured one - and a majority of people often have a problem dealing with people who they feel have a sense of entitlement.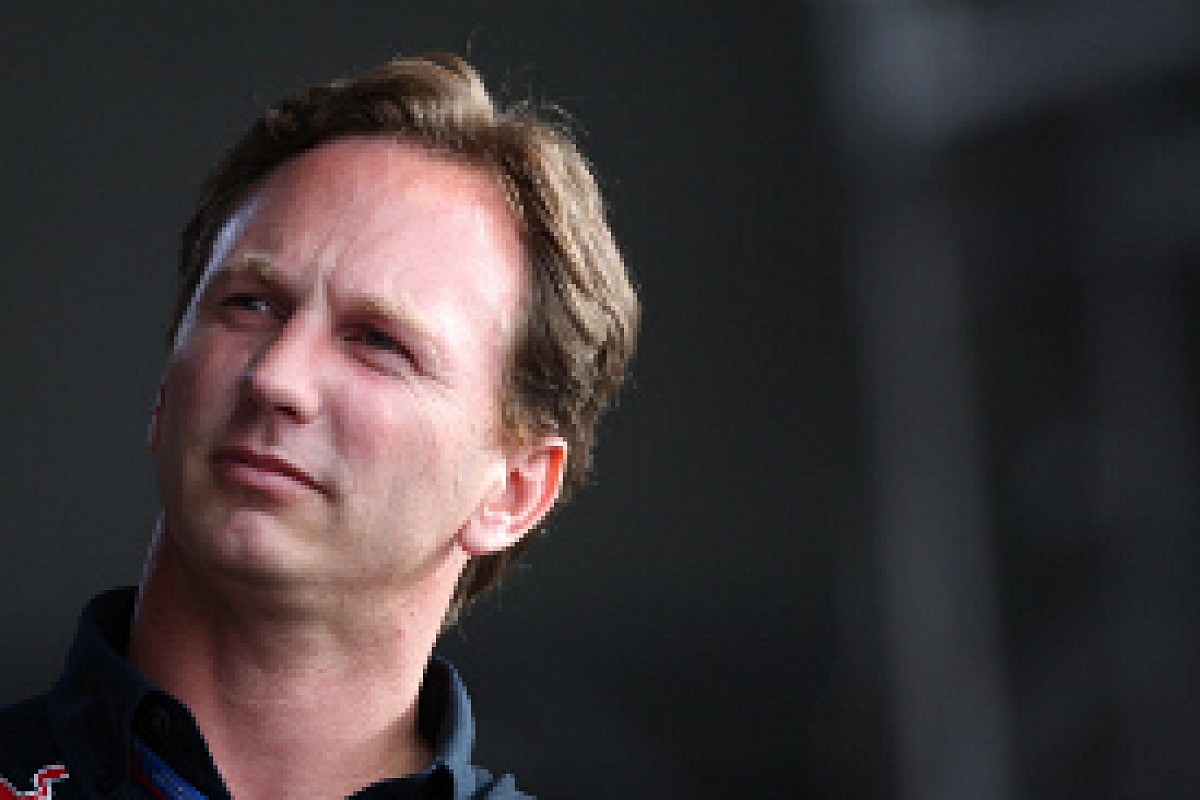 Christian Horner has a tough job balancing his drivers © LAT
When Red Bull Racing chiefs so quickly jumped to Vettel's defence after Istanbul, when clearly it had been him that had driven into Webber, it showed an underlying benefit of the doubt for the German.
When Christian Horner took the decision to take the front wing off Webber's car and put it on Vettel's at Silverstone - again that was viewed as out and out bias.
Yet despite these two incidents, evidence of blatant favouritism is hard to find. I am pretty sure that 99 out of 100 times he and Mark Webber are sent into battle with totally equal machinery - and the one time it may occur is because of freak circumstances rather than nefarious intentions.
In fact, the efforts that the team has done to give Webber lightweight parts because of his extra physical bulk shows how hard it is pushing to keep things on the even keel.
Whether the existence of emotional favouritism on the other hand is there or not - and only those at the top level of the team know for real - the perception that it exists is definitely around. And, in an F1 world where perception all too often becomes reality, it's that which is hurting.
Webber ultimately has lost very little from the two 'favouritism' flashpoints. In Turkey, he turned what would have been an eight point deficit to Vettel into a 15-point win. And at Silverstone, he took 19 points out of his team-mate when he could have faced losing ground.
The Australian's nature of wearing his heart on his sleeve has also brought his frustrations out into the public - and made it well known that all has not been equal from his viewpoint. It is his post-race reactions in Turkey and at Silverstone that turned both events into such big stories.
Webber is a super canny operator, and good on him for speaking out - because if he accepted what he felt was happening and kept his mouth shut in public, then that would simply secure his position as a clear number two. We know, and he knows, he's better than that - and only by venting his frustration can he ensure it doesn't happen again.
And that's why Vettel has been the big loser in all this. Championship-wise he lost all the big points in Turkey and at Silverstone - and he has now also started to lose the support and good will that has long existed for him in the paddock.
While some drivers might not care if they are perceived as the 'darkest villain' in F1, Vettel is probably one of those that does. Furthermore, it is no help in a title battle when you have the world criticising you and labelling you as the paddock's enemy number one. And for what? Doing nothing more than simply wanting to be the best.
It's not for him to turn around to Horner 25 minutes before qualifying and say he does not want the latest front wing on his car. He's a racing driver. No driver fighting for a title would willingly turn down a competitive advantage if it was offered to him.
It is the sense of being the favoured one that surrounds Vettel that needs shaking off though. Had he won on Sunday, for example - the general perception would have been that he only triumphed because he was gifted the new front wing, rather than because of anything he did in the car. That is just as unfair as the team swapping wings in the first place.
Yet no amount of claims and quotes from Red Bull chiefs that there is no favouritism inside the team is going to change this new perception of Vettel. Instead, the solution has to come from the German himself
He should knock on Christian Horner's door, sit down and demand total equality with Webber - and that there can be no situations in the future where either driver feels as though he was second choice.
He should lay down a code of conduct for the team and drivers over the rest of the season that can allow no-one to perceive he has any 'entitlement' behind him.
He also needs the team to promise to be totally transparent in public too - to lay it bear where any differences are with updates, and not put Vettel into a position where he has to defend himself for something he had no direct control over in the first place.
Even Webber himself would agree to all that. Both men want to win not because they've had a behind-the-scenes leg-up, but because they were the best on the day. No one loses from that.
It's exactly what we all want too.