Anthony Hamilton returned to the Formula 1 paddock at Silverstone this weekend for the first time in 2010, and the first time since he stopped being the manager of son Lewis.
But his visit to Silverstone was definitely not purely a social one - for although Anthony has been away from the public spotlight he is still working as hard as ever on his other motor racing interests.
He is now looking after two young drivers - Force India reserve Paul di Resta and rising karting star Nyck de Vries - as well as pushing hard for the creation of his GP Prep testing academy.
AUTOSPORT caught up with Hamilton to discuss what it was like being back in the paddock, how he has felt watching Lewis on television - and why he feels he has plenty to offer other young drivers and motor racing at all levels in the future.
Q. This is the first grand prix you have attended this season - what does it feel like coming back into the paddock?
Anthony Hamilton: It feels really good. I was a little bit apprehensive about coming back, but things have moved on and these are new times. I've come back, not as Lewis's manager, but still a manager in the business looking after other drivers.
The reaction from people in the paddock has been fantastic though, and that has made me feel good. I know it has only been six months, but it is like nothing has changed.
Q. Was it a bit weird for you at the start of the season, sitting at home watching the races rather than being there in the garage with Lewis?
AH: Yes it was quite a strange feeling, but also a very proud feeling for everything both Lewis and I have achieved since he was seven years old. I had always planned to stop going to so many races when Lewis won the Formula 1 world championship and so it was a very proud moment when I watched my first race from home and not by his side. That was weird, but I was very proud.
Q. And how are things now between you and Lewis? It has obviously been quite a change for both of you in your relationship?
AH: The reality is that nothing has really changed, Lewis and I are still father and son - we have always been, just sometimes it can get lost in the mix.
But I am his dad, and I will always be his dad. I love him, he loves me - and I am still his biggest fan. So nothing has changed -we both do our own things now, but still with care for each other.
Q. Business-wise you had started expanding your interests even when you were working directly with Lewis. Now, your main F1 interest is with Force India reserve driver Paul di Resta. How are things with him?
AH: I have been working quite hard for Paul in the background. As you know, Paul has a contract with Force India and they obviously have an option on him for the future.
Force India have been good enough to give Paul several opportunities to drive the car in the Friday practice and this has been invaluable for building his experience. Paul is a great lad. I and many other people have known him since he was in karting and I think he is extremely talented.
I enjoy helping people who want my help - and who don't always have the funds or the wherewithal to achieve their dreams. You can't do it for everybody - but when you believe in somebody you can put your heart and soul in to them, and that is what I can do with Paul.
I have got the same belief with my other driver, Nyck de Vries. He is a wonder - an absolute wonder and a very exciting prospect for the future.
Helping others is my new challenge and so I will put my heart and soul into helping Paul and Nyck achieve their dreams of F1. Nyck is still only 15, so it is early days for him, but he is signed to the McLaren Young Driver programme, which is great and they are really excited about him.
Q. How much of your experiences with Lewis - from getting him into F1 and dealing with the pressures when you are - are helping you when it comes to working with Paul and Nyck?
AH: There is a lot of difference between what I did for Lewis and what I do for other drivers. I was Lewis' father, so as his father you carry a lot more responsibility. There was a lot of 'on the job training'! But that is what builds experience.
With my other drivers, I can apply my experiences for their benefit and therefore look after and plan their racing careers, not their personal lives. And it is quite nice - because I work with their parents who themselves are dedicated, but the nice thing is that they are interested in my experiences. They believe in me, and that is what I love. When people put their trust and faith in me, then I will work as hard as I possibly can to help them. So, it has been quite a revelation for me to be honest.
Q. Is it a different experience for you working with someone who is not your son?
AH: No, not really. It is the same passion. It is funny because I was standing in the garage watching Paul during FP1, and I found myself doing the same things I did when Lewis was in the car. I've actually now realised that it is passion - and nothing else. I used to stand in the garage watching Lewis, with my arms folded and stroking my chin, with my brow furrowed. And I did all that when Paul was in the car. It is just passion and it felt great!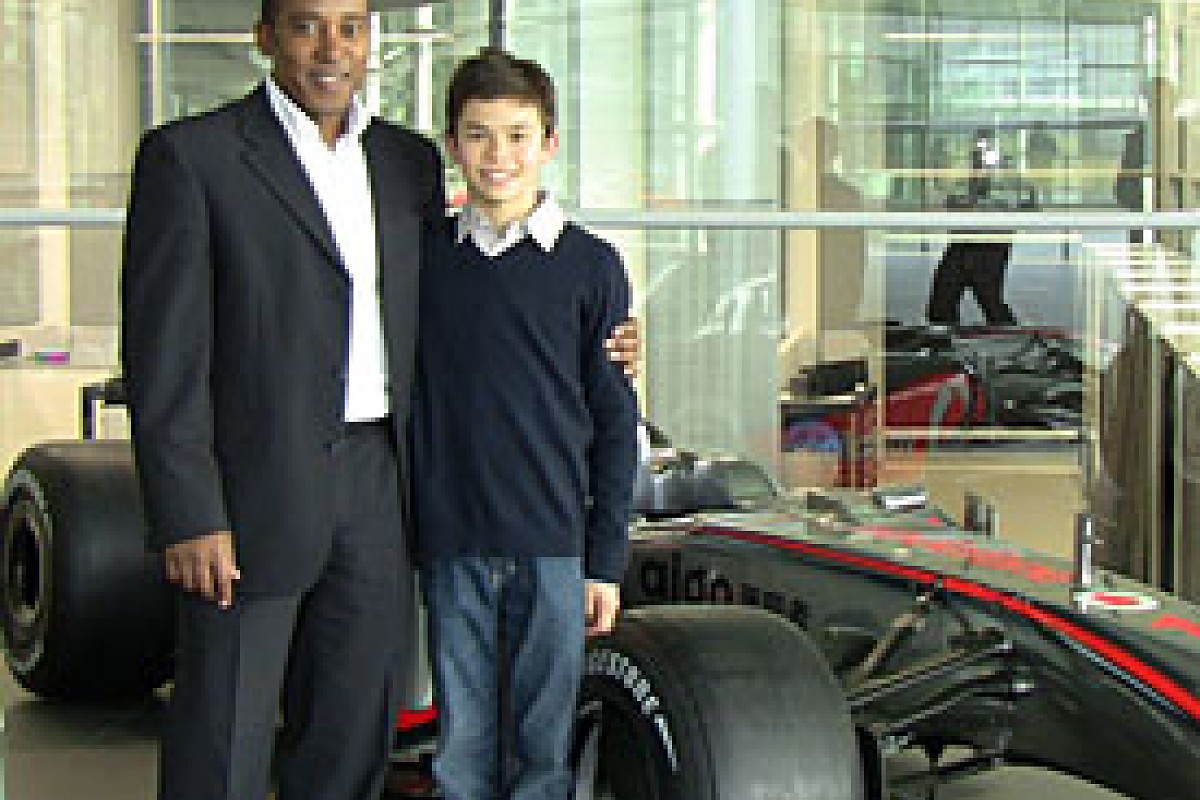 Anthony Hamilton and Nyck de Vries
Q. So how are you devoting your time between Nyck and Paul?
AH: Nyck is racing in Italy, with Dino Chiesa - Dino was the person that ran the go-kart team that Lewis and Nico Rosberg were in many years back. So, his karting life is being looked after. Dino isn't just a kart team manager; he is a life manager, a life coach - a bit like me I suppose. And that is probably what we are - life coaches.
Nyck is a great young man and he has a great father and family also. Nyck's dad Hendrik is the inspiration behind young Nyck's success as a fine and talented future prospect, I am only a facilitator in his life and I am trying to help and guide them towards the achievement of their dreams. Nyck is a very impressive young man, and if you ever meet him, he will blow your socks off with his charm.
Q. The fact he has already signed up to the McLaren young driver programme - can you see a bit of history repeating itself?
AH: Absolutely. But I think that every person is their own individual. I remember when Lewis was on the way up; people would say he is going to be the next Michael Schumacher. I used to respond no, he is the next Lewis Hamilton a unique individual in himself.
Michael Schumacher was the greatest Michael Schumacher, and Ayrton Senna was the greatest Ayrton Senna. Lewis I believe is now the great Lewis Hamilton. And Paul and Nyck are going to fall into that same category - a great character of their own.
Q. And I guess one of the benefits for Nyck is that you now have learned through the mistakes you made with Lewis, so you will do it even better this time?
AH: Yes, there were times in Lewis' early days when we didn't have anybody to turn to. We didn't know anybody with the whole breadth of experience about how to go from karting to F1 and be a world champion - but then Ron Dennis happened into our lives during a chance meeting. Ron believed in us and we believed in him. What Ron did for Lewis and my whole family by giving us an opportunity to achieve a dream was one of the greatest things to ever happen to my family, and one of the kindest and selfless gestures from a brilliant and nice man.
I am proud of my life from where I came from - and happy with the things that I have achieved. I am extremely, extremely proud of Lewis and I am extremely proud of my other son Nicolas who now drives a car - can you believe that? He has got his licence, he is driving his own car and he is totally independent, which is something that is a dream come true for both Linda (Anthony's wife) and I.
Q. Are you keen to expand your driver management role?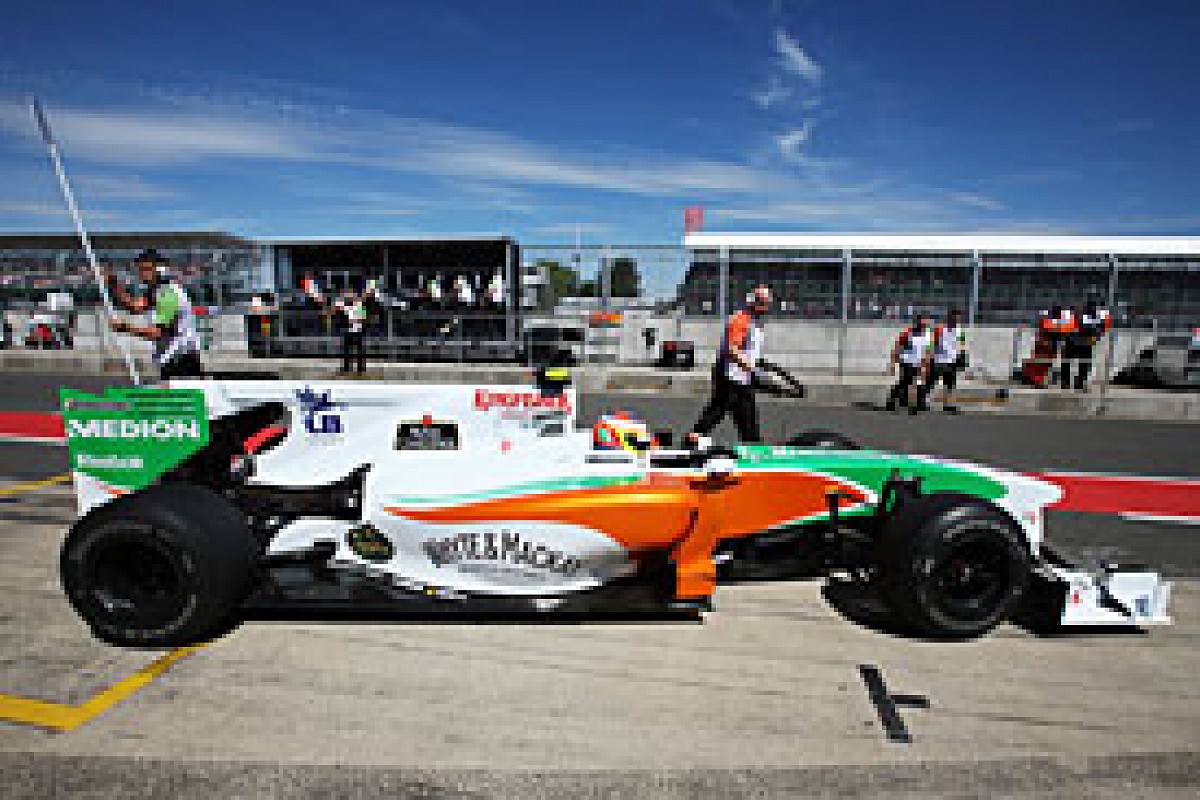 Paul di Resta, Force India, Silverstone 2010 © Sutton
AH: No, not particularly. I have always worked on the belief that every seven years, a mega star comes along. I believed Lewis was a mega star in the making, but he has surpassed that in my eyes.
I think Paul is an extremely hidden talent. And I think if the right team signs him up and gets him in the car then I think he will prove to be one of the greatest and longest serving drivers in F1 - along with the other greats. And then after that, I think Nyck will be a surprise of the future.
Q. Your other project is the GP Prep testing academy. How is progress on that going?
AH: I am really excited and passionate about that, like a lot of other people. I have managed to get some great sponsors involved, a list of drivers who are interested and I've got reserves on 30 days now of F1 test time with a handful of drivers. McLaren and Force India have been extremely supportive, and I've got their cars and their team when I am ready. I also have a great relationship with Mercedes-Benz and their High Performance Engines division. I have the circuits reserved and all I need now is final FOTA support.
I believe that it is important to have the full support for young drivers and the GP Prep academy from FOTA. I'd like for F1 to embrace GP Prep as a stepping-stone for young guys who, without GP Prep, would never get an opportunity to get into an F1 car. This is all part of my experience of coming up through the ranks with Lewis. Without McLaren Lewis may never have made it to F1 - and okay Lewis may have got picked up by somebody else - but I do remember many, many, many days when we would sit at home and think: how on earth are we going to get to F1?
Like today, many cannot afford to buy a seat, and you can't buy a test. So for me, GP Prep is really about the young guys who are coming up through the ranks, and all praying that an F1 team is going to see them somewhere - which they will in GP Prep if I can enlist FOTA support and approval.
The driver might be in a middle order team at the back of the field, they might have crashed a few times and it might not be their fault - but put them in an F1 car and they might be a star. You only have to look at some of the current and past F1 drivers who, if they had not got an opportunity to test an F1 car, would probably never have been found.
Q. One leading F1 figure said this weekend that he believed the impact of the current testing ban would not be really felt until a few years' time, when teams are looking at youngsters who they can't try out.
AH: Absolutely. I've written to FOTA several times to assure the F1 teams that GP Prep is about helping young drivers - and not F1 teams gain any technical advantage. McLaren trusts me, which is why I have been fortunate enough to get its cars. Force India trusts me, which is why it has offered me its cars.
I am trying to say to the rest of FOTA, trust me. I am a father who has brought a kid up from nowhere and if it wasn't for an F1 team believing in us then we would never have made it. All I am asking you guys to do is believe in me, that I am going to take these cars, give these young drivers an opportunity and who knows - you might find that one of these guys could be a star in one of your cars.
All the results from GP Prep would go to FOTA anyway - as every time someone is in the car then FOTA will get the results. For me it seems like the way forward for the drivers because otherwise we have young talented people in GP2, World Series, F3 and others - who are never going to get an opportunity in F1.
For me, something like GP Prep is a must for the future of F1 and for young drivers with a dream.
Q. If you get the green light from FOTA, can that come in this year then?
AH: Totally. We've got everything ready to go, but unfortunately our time schedules are slipping now. I had planned to be on track in August, but I can't move without FOTA being happy as I wouldn't want to cause any F1 team issues.
GP Prep really is from the heart, a great opportunity for young drivers. And while it is expensive - it is at least an opportunity that doesn't currently exist.
And maybe if FOTA likes the success and the products that come through GP Prep, maybe they will want to take GP Prep over and run it themselves. One thing is for sure - we need to look after the future of young drivers.
Q. With your interests with Paul, Nyck and GP Prep, do you see that as the limit of your ambition over the next few years?

AH: I am in the fortunate position where, I can just take life easy if I want to and not do anything. But I like and enjoy helping people, I like coming up with ideas and, if I can, seeing things through.
Last year, for example, I made a recommendation to the Motor Sport Association and to the FIA for a change to the race licence application forms for drivers of school age so that they and their schools worked together to support karting with education.
I believe I managed to change opinions on the granting of licenses. It was a good feeling to have helped the future of young people, and keep their education alive - while exploring karting and motorsport as a career.
It took quite a while - but on the application forms this year for the British licences the MSA has put in a paragraph which reminds the young drivers of the importance of school and their education.
I have also been working with Formula Kart Stars, of which I am president. I am honoured to be that - even though I'm not very good at the job!
I assisted with the renaming of the championship, as it was originally 'Stars of the Future'. I took Caroline Hoy down to see Bernie [Ecclestone] to ask for his help.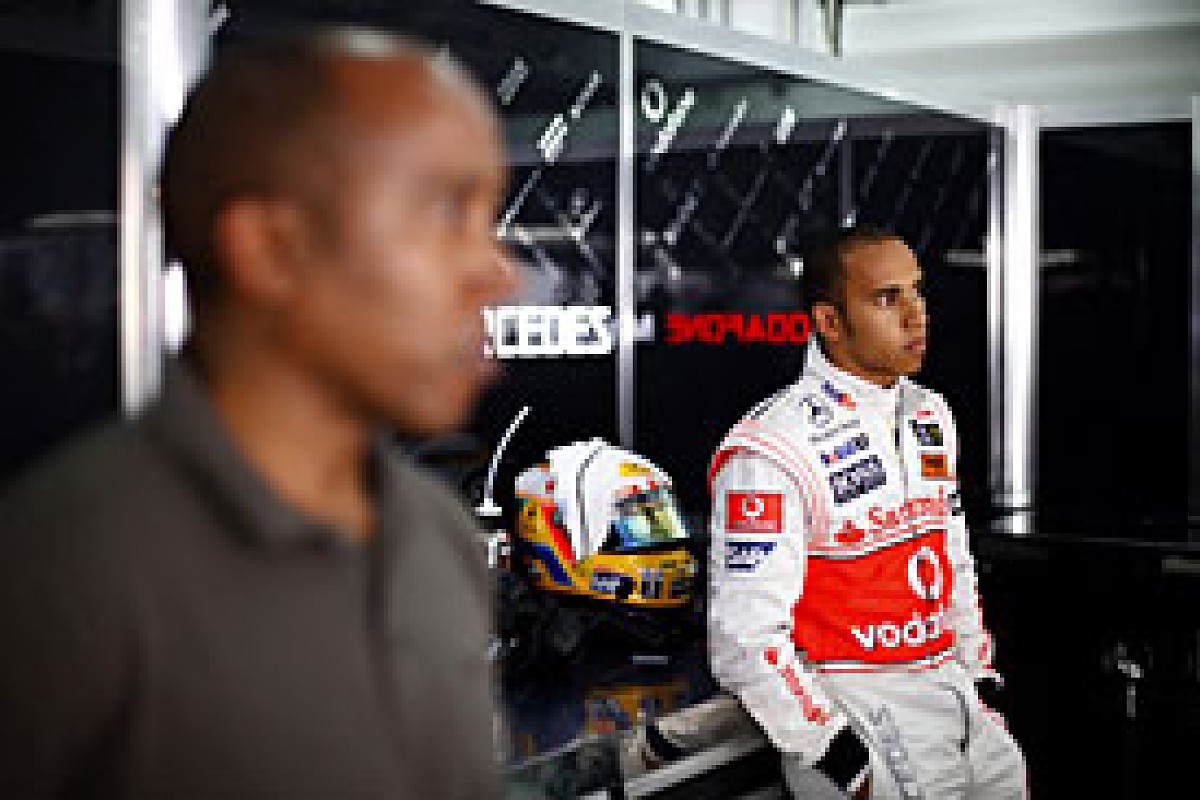 Anthony says nothing has changed in his relationship with Lewis © LAT
Bernie was instantly supportive of the initiative and came up with the new name and all sorts of great ideas. The FKS championship now provides classroom facilities during race weekends for the young drivers to catch up on the home work while karting. It is all about providing good opportunities for young drivers through connections with F1 and Bernie.
But it is also about the schools knowing where the kids are, and maintaining a good education and school relationship. Not every person that races karts is going to be a successful race driver - so I think motor racing in general has a responsibility to make sure that the young kids who want to be racing stars don't neglect their education. But also, those that are good enough get a hand up - with something like GP Prep.
So the long and short of it is that, if you start from the grass roots of motorsport - those who don't make it could be great engineers, or great aerodynamicists, rather than losing their education to karting and dreams of F1. But those that do make it through, at least they will know there is light at the end of the tunnel, and a hope through GP Prep or similar.
Q. It doesn't seem like you are ready for your pipe and slippers then?
AH: Pipe and slippers? No! I have always been a worker. Even when I was looking after Lewis in go-karts and single seaters I was working. When Lewis got to F1, my job changed. I was father to Lewis, taking him to the races, being his mechanic and advisor - and I did everything for him. I gave up my job when he got to F1 because F1 was so big, and then I became his manager.
I did that for a few years because it was all so automatic as his father. I'm no longer his manager, but I've always been his father, I've never been away. I'm still his father and the love is still there between us. As Lewis would say: it's all good.