Wind back just over 40 years to Barcelona '69. Colin Chapman's Lotus 49s were racing at Montjuich Park - the first time the track had hosted modern GP cars - and were fitted with high, stanchion-mounted rear wings.
It was a different world back then. Jochen Rindt put his car on pole position with Graham Hill third, the pair split by Chris Amon's Ferrari. Rindt was fully half a second quicker than the Kiwi but had some concerns. It seemed to him that the 49s rear wing was growing, almost by the day.
Jochen Rindt at the 1969 Spanish GP © LAT
"Now it's as wide as the car, right to the outside edge of the tyres," Rindt said.
Chapman explained to his drivers that the 49s were a couple of years old and that he was convinced he could eke better performance out of them by using larger wings.
Rindt shot away from pole and was leaving Amon by around a second a lap - the first time he'd led a Grand Prix since Spa '66 - when, nine laps in, Hill suffered a rear wing failure, although he didn't know it at the time. He crashed heavily but escape uninjured, pushed the wreckage close to the guard rail and stood watching the race.
Rindt could see him, signalled a few times as he passed by but got no response, so assumed he was in no danger. Hill's mechanic, meanwhile, was despatched by Chapman to find out what happened. He watched with Hill and the pair of them thought they could see the beginnings of a fracture in Rindt's wing, so the mechanic headed back to warn Chapman to bring Jochen in.
Too late. On lap 20, at exactly the same part of the circuit, the right-hand side of the wing gave way, bent back and generated lift. At 140mph Rindt slammed into the barrier - which, fortunately, Jochen himself had insisted was raised a couple of weeks earlier. That threw the car across the road, where it hit the wreckage of Hill's Lotus, flipped over and skated down the track upside down.
The tank was ruptured and there was fuel everywhere as Hill helped to extricate the trapped Rindt, who had a broken nose and cheekbone but was conscious and muttering, "S***..."
No safety cars in those days. Jackie Stewart, who eventually won the race, passed by the scene and saw a marshal place a finger on his throat, which he took to mean that someone had been killed. He could see Rindt moving on the stretcher but he couldn't see Hill anymore, having previously seen him looking over the wreckage of his Lotus. He feared the worst and was later relieved to hear that Graham was fine.
Stewart later attended the clinic where they had taken his friend Rindt, and waited in the lobby while first Nina Rindt, then Jochen's friend and partner, one Bernie Ecclestone, went in to see him. Jochen told Nina he was through with racing, then asked Bernie if he'd picked up his start money, which made Stewart laugh for the first time that day.
By the following Friday Rindt, back home in Geneva, had forgotten about stopping but had written to all the main motor racing magazines to try to get the 'death wings' banned.
Among the British magazines, Motor Sport refused to print Rindt's letter, its well-known F1 correspondent Denis Jenkinson considering that the drivers were all becoming girl's blouses, too concerned with their own safety...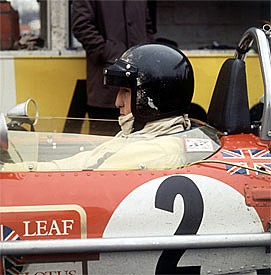 Jochen Rindt © LAT
"I would have accepted the opinion of a Hill or a Brabham, but Rindt hasn't even won a grand prix and I'll bet my beard he never will!" Jenkinson was quoted as saying! When Rindt broke his duck at Watkins Glen later in the year, Jenks kept his word and had a shave...
Monaco, though, was a fortnight later, and the sport's governing body, the CSI, started to worry about the implications for the sport of another wing failure there. Half way through the first practice session at Monte Carlo, the CSI announced a ban on wings. It applied to wings on stanchions at the rear, but wings and spoilers ahead of the suspension were allowed, provided that they were not moveable, were fixed to the unsprung part of the car and adhered to height and width restrictions. Which, subject to changes in dimension parameters, is pretty much where we've been ever since.
Last year though, driver controlled adjustable front flaps were allowed in the interests of trying to permit a driver to follow the car in front more closely through a corner and then launch an overtaking move on the following straight. It was all in the interests of improving the show but, generally, it's not made much difference.
Whether the show actually needs improving is another matter. Overtaking for overtaking's sake is not that compelling. It has to mean something. For me, watching an old-style NASCAR race when they passed and re-passed ad infinitum through drafting, was about as exciting as drying paint.
If it's overtaking like Arnoux/Villeneuve at Dijon '79, then fabulous. But how many F1 battles do you get like that? The nature of the beast is that pace tends to be dictated by car performance and, unless strategy variables are involved, once a car passes, it's gone. But, is F1 any the worse for that? Surely just as compelling with modern day F1 is the level of competition and its variation through circuits and development. You never know quite what to expect even if you think you've got a fairly good idea.
But, fan surveys have told the FIA and FOTA that more overtaking is what people want - they're hardly going to say they want less - and so the overtaking working group has been tasked with coming up with ideas. A big reduction in downforce was supposed to be the answer, until double diffusers were allowed. Now, starting in 2011, we have moveable rear wings. It's fair to say that opinion in the Valencia paddock was split.
The basic idea is that whenever a car passes a timing loop within a second of the car in front at certain parts of the circuit - likely just before or at the start of a straight - a light will come on in the cockpit telling the driver that he is able to use the moveable wing to reduce drag on the following straight, hopefully permitting him to overtake. To prevent him flying off the road the next time he comes to a corner, the low drag configurations will be cancelled as soon as he goes back on the brakes.
Drivers I spoke to in Valencia were sceptical. Some had safety concerns and others questioned whether it was too artificial. Is it really F1?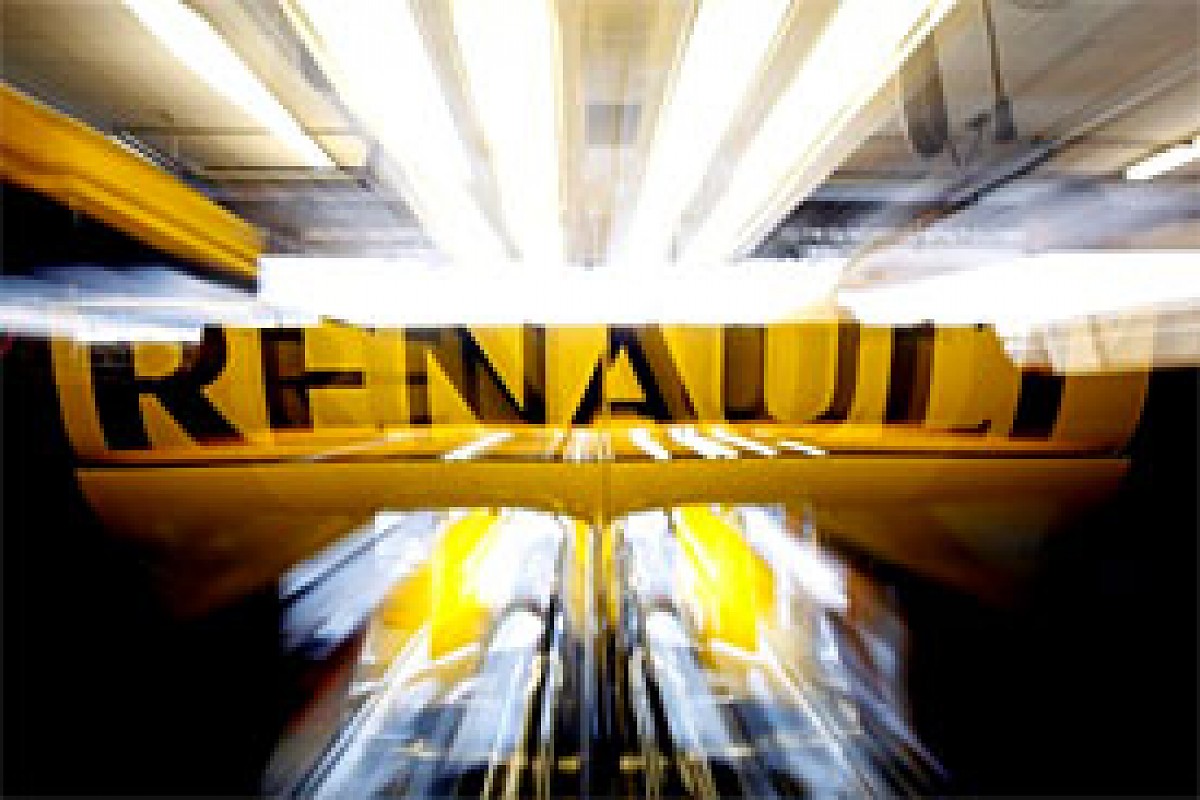 Rear wings will be moveable in 2011 © LAT
Imagine a situation where Driver A is within a second of Driver B, flattens out his wing, zips by on the straight and then, next time around, finds Driver B within a second of him as they pass the timing loop and is powerless as he is re-passed. Okay, you get lots of overtaking, but it's NASCAR-style meaningless overtaking. The type that makes you want to go and cut the grass, make a cup of tea and come back when there's two laps to go.
From the conversations I had in Valencia, there were three main concerns. One was safety, the second was driver overload and the third was artificiality. Alex Wurz, for instance, pointed out that you can enjoy a football match that ends 1-0 more than a basketball encounter that finishes 98-96.
Safety-wise, obviously things have moved on a bit since Barcelona '69.
"Quite a lot of work has been done by several of the teams, CFD work and so forth," Ross Brawn explained. "The wing is being configured so that if there is a failure it would fail in its fully-loaded position. So the way it works is that the front of the flap goes up rather than the back of the flap going down. So the main plane and the flap will be horizontal and if there is a failure in holding it there, the wing will drop back into its fully-loaded position.
"And the amount we are going to lift it, we have set a target which we think is probably adequate and maybe even a bit more than is needed and then we will have the scope to reduce that if the effect becomes too strong. What we now have to define carefully is when you are allowed to use that facility and the idea is some sort of calculated proximity based on the section times and the loops that are in the track."
One or two drivers muttered quietly about whether all the teams are capable of satisfactorily engineering such a system and also pointed out that with KERS coming back in 2011, you are logically going to want help from the two systems at the same place and are going to run out of fingers and thumbs.
"From a purely technical point of view, I'm sure we can be very confident with the current grid's ability to engineer complex devices on cars," Geoff Willis says. "So from safety, reliability, those sorts of issues, I think we can expect all the teams to do a competent, safe job. We were really thinking of a device that would give sufficient overtaking authority and a big enough difference in top speed to make overtaking possible. And I'm reasonably confident that we've done that.
"The thing we are more concerned about is what's going to happen with the sporting spectacle. We have to be open to the fact that if we've got it wrong - made it too easy or too difficult - we've got to be adaptable and open to modifying the regulations fairly quickly. There is a balance from a purist engineering point of view. We want to see no artificiality but we know this business is more than pure engineering, it is a sport and an entertainment and we have to get that right. Whether this is the best solution, I don't know. It is a solution we have come up with."
The need for some flexibility here is obviously paramount.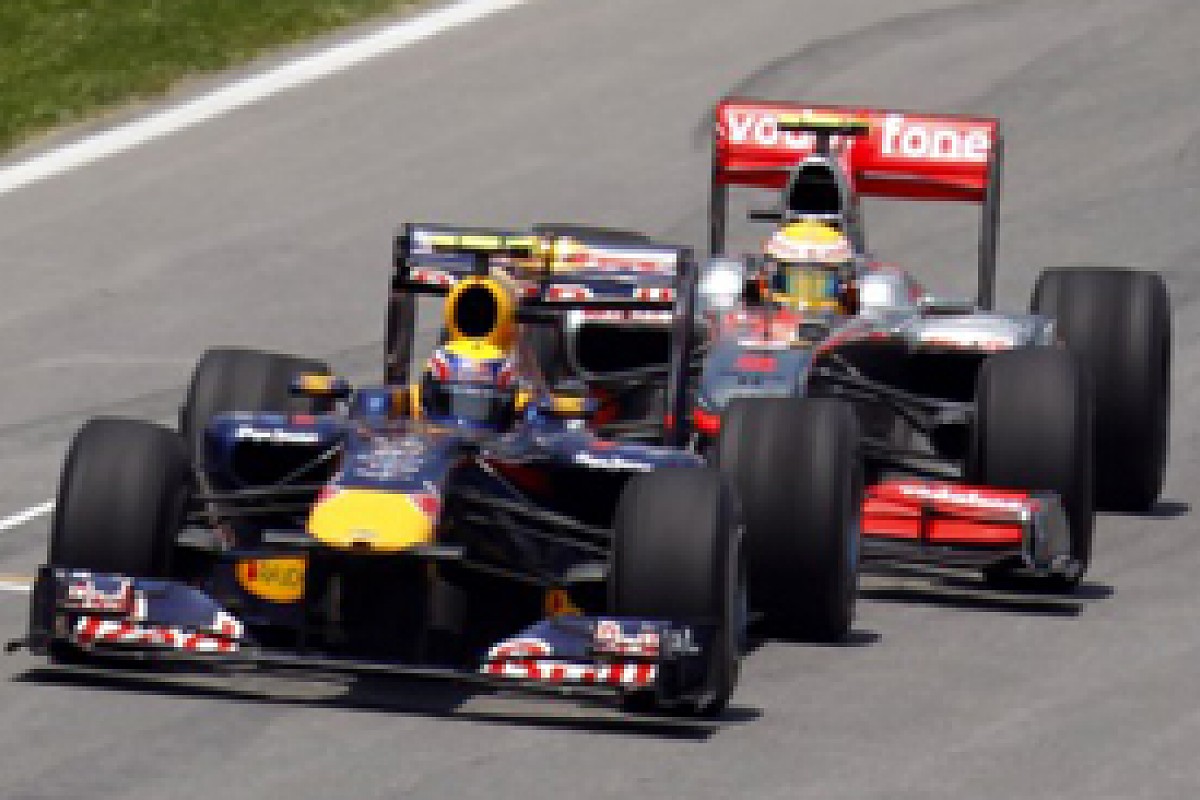 Lewis Hamilton lines up a pass on Mark Webber in Canada © LAT
If you're a racing driver, you are going to be thinking about how the hell you can pass someone and be more than a second clear of him by the time you reach the next timing loop. If you're a fairly ruthless racing driver - about 95% of them - you're going to be working out where you can be a bit tardy picking up the throttle to surprise your opponent and force him to tap the brakes while you leg it to the timing loop! You won't be quite as concerned about diffuser damage next year either, with double diffusers banned. I predict a lot more damaged noses and front wings...
"We're not trying to make it so that two equal cars can keep swapping each other," Willis adds, "although the F-duct with the two McLarens showed that was possible. We do want to encourage overtaking but we don't want to see oval-type multi overtaking - that's not what F1 is. As to the concern from drivers that the work-load is going to be a bit high, I suspect that once they get going, it won't be a problem."
Interesting times. Wouldn't mind betting that Jochen is turning in his grave...