I couldn't believe it on Monday morning when I read a story suggesting that the FIA was vying with FIFA for 'cock-up of the day' last Sunday.
We are quick to condemn referees or governing bodies when things don't look right but let's get one thing straight - the degree of professionalism and common sense displayed by the FIA in Valencia could not have been more diametrically opposed to the nonsense going on in South Africa.
The safety car leads the field in Valencia © LAT
Post-race, I was busy hacking out copy in the press room with one eye on the football from monitors above our desks, when Lampard scored his goal that never was. You can imagine the reaction of our German colleagues...
"Ha! Finally -- revenge for '66!!"
From what I saw, the England defensive performance was so lamentable that there was no point getting upset about the result but the burning issue was how, in the 21st century, top level sport can fail to make use of simple, instantly available technology.
The whole world knew it was 2-2, but it wasn't. Simply ridiculous. Formula 1 showed them how it should be done.
Down at Ferrari meanwhile, Fernando Alonso was going Ape. From the moment Lewis Hamilton passed the safety car as it emerged to attend Mark Webber's nasty shunt, and Alonso got stuck behind it, Fernando had been on the radio. All he wanted his team to do for the rest of the afternoon, he said, was to get race director Charlie Whiting and the stewards onto Hamilton's case.
Red Bull Gives You Wings, it says, and poor Webber, who did enough aviation in his Mercedes sportscar days, had plenty of time to wonder how much it was going to hurt. As soon as Whiting saw the car take off, before it had even come to rest, he had called for the safety car and its medical counterpart in anticipation of a serious, potentially life-threatening situation.
When the safety car emerged, Sebastian Vettel was starting his 10th lap, with a 4s lead, and cleared it comfortably. Hamilton was second, with Alonso 1.3s behind him. Lewis saw the safety car out of the corner of his eye, appeared to back off slightly, then realised the safety car line was further on, and tried to reach it first so that he could continue his chase of Vettel. He didn't quite make it, so his pass of the safety car was illegal.
Alonso realised he wasn't going to make it and fell in behind the safety car. With a bird's eye view, he knew that Hamilton had erred but also that it was a close call. He wanted to make sure the stewards looked at it.
A couple of seconds behind Alonso, Massa hadn't been able to react to the safety car light in time to pit and therefore both Ferraris were bottled up behind the official car.
Those behind Massa had more time and piled into the pits for a 'free' tyre stop - Robert Kubica, Jenson Button, Rubens Barrichello, Nico Hulkenberg, Sebastien Buemi, Adrian Sutil, Vitantonio Liuzzi, Pedro De la Rosa and Vitaly Petrov. Not everyone stopped though and there was a sufficient number behind the official car for the FIA to decide not to wave them through.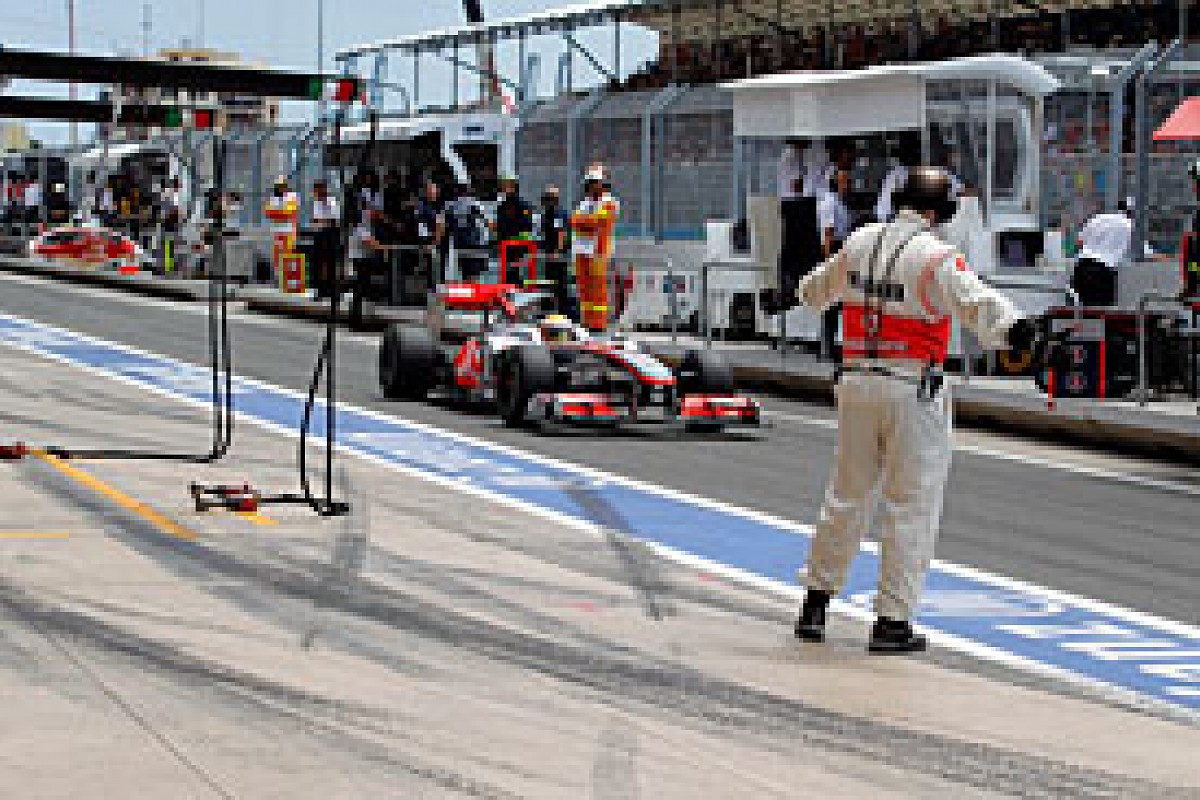 Lewis Hamilton serves his penalty © LAT
The safety car does not have to pick up the leader, it can be deployed at any time, a rule that exists to speed up response times. It is also at liberty to wave cars past. But, in this case, the FIA wanted to protect the medical car. Whiting did not feel it was appropriate to have F1 cars going by it at racing speeds.
Ferrari's sporting director Stefano Domenicali had no issue with the timing of the safety car's release but obviously, considering that his team were severely disadvantaged by it, would have been much happier if the field had been waved by. Equally though, you can understand why it wasn't.
Ferrari had two more beefs. First, the one that had sent Alonso apoplectic: the fact that there was such a delay giving Hamilton his driver through penalty that he was able to serve it without losing track position.
Sure, there's bad blood between Lewis and Fernando dating back to '07, but you can understand Alonso's point. It's lap 27 by the time Hamilton serves his penalty. Lewis has broken the safety car rules and yet there he is, still flying along in second place. Fernando, meanwhile, has played it by the book, had his race right royally screwed by the safety car and is bottled up in ninth place, unable to find a way past Buemi and Sutil in a car he thinks is capable of finishing at least second.
But it was more than any personal grudge against Hamilton that was annoying Alonso. He knows that the championship is 19 races and that Hamilton will be a handful. It might be tight in the final analysis and he wanted Lewis nailed. He'd done wrong, so he should be punished. It was fair enough.
Fernando radioed the team to ask where Hamilton was running before and after his penalty. The response was short and not what he wanted to hear: "Second, and second..." At this point it might have been more revealing if FOM had given us rpm data not from the cars, but from Fernando himself. Ferrari thought it timely to warn Alonso to remain calm and concentrate on his race...
You didn't have to be Spanish or Italian to sympathise with Alonso. It shouldn't be possible to break the safety car rules and not suffer. So why was it?
It happened, ironically enough, precisely because motor sport was so much more professional than football last weekend and the FIA was checking to make sure they got it right.
Bear in mind that there was probably less than a car's length in it between Lewis and the safety car. Also, there was no back-up timing loop at that point, so Whiting wanted to see footage of the incident. This, initially, was from an angle that was not conclusive and so there was a delay while aerial footage was sought. This confirmed that Hamilton appeared to be guilty but that it was indeed a close call.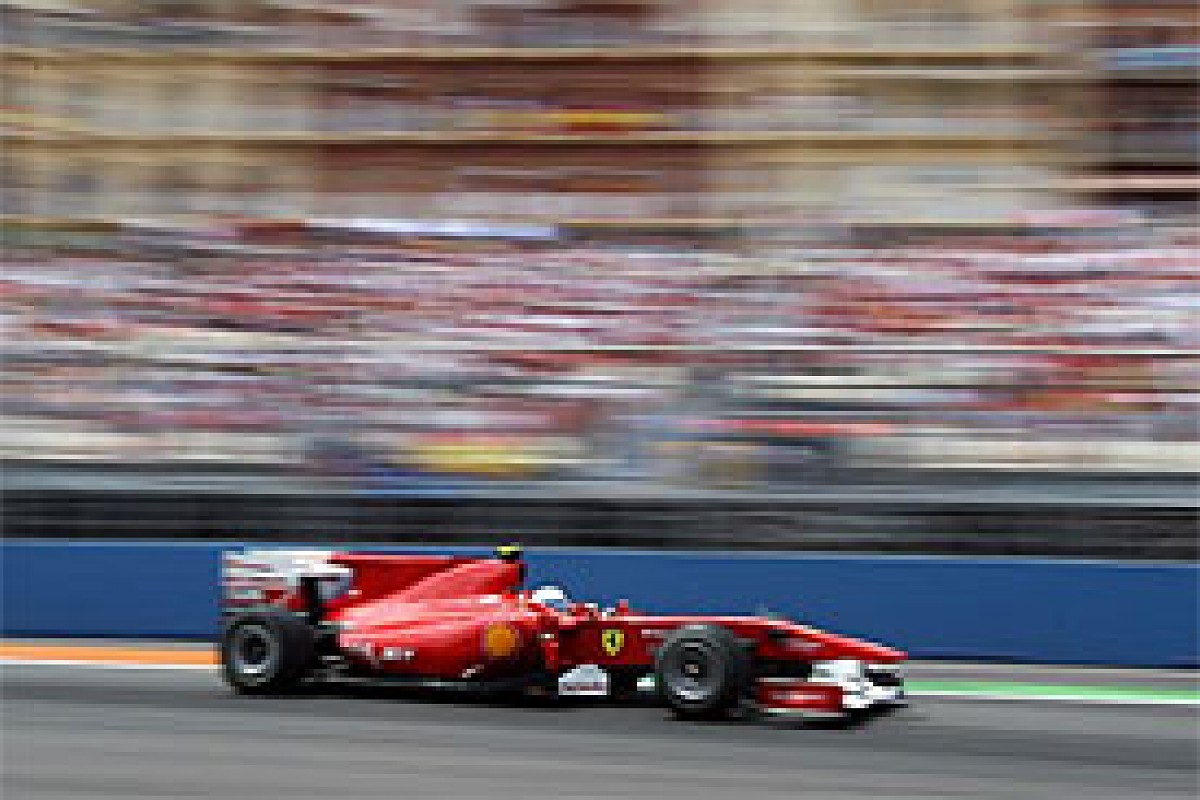 Fernando Alonso lost out with the safety car © SUTTON
There was more to check. Depending on where the timing transponders are placed on a car - for instance if one was at the back and the other at the front, you can have a situation where one car that appears to be ahead of another one actually records the same time. So, when it's that tight, installation positions have to be checked, times and distances noted and calculations made. All at the same time as handling a potential injury situation and then keeping on top of a restarted race.
Another Ferrari gripe was that once it had been decided that penalties were appropriate, why give sanctions that had no impact on the culprits?
There were two claims here. First, Hamilton, then the nine cars that exceeded the speed delta while pitting under the safety car. They got 5s penalties when, perhaps, Ferrari had been expecting 20s. The 5s penalties meant that Alonso leapfrogged Buemi to eighth in the final order, but had it been 20s Alonso would have been fifth - behind Vettel, Hamilton, Button and Kobayashi.
Again though, there are logical explanations why that didn't happen. It was touch and go as to whether a drive-through penalty was going to impact on Hamilton. The rules say that you have to serve it within three laps of notification and McLaren used that leeway to tell Hamilton to get the hammer down before stopping. He only just emerged from the pits ahead of Kobayashi.
You might think that a stop-and-go would have been better. The FIA is able to work out the probable impact of a penalty and so it would have cost Lewis more time in the pits and punished him more in line with his crime. That's certainly a view, but the FIA tends to take into account precedent so that it limits the extent to which it is accused of inconsistency.
When Webber scored his debut win at the Nurburgring last year, for instance, he was able to serve a drive-through penalty for weaving at Barrichello off the start, without losing his lead. Had the stewards deviated from that, they would have found themselves dubbed 'Ferrari International Assistance' again. Damned if they do, damned if they don't...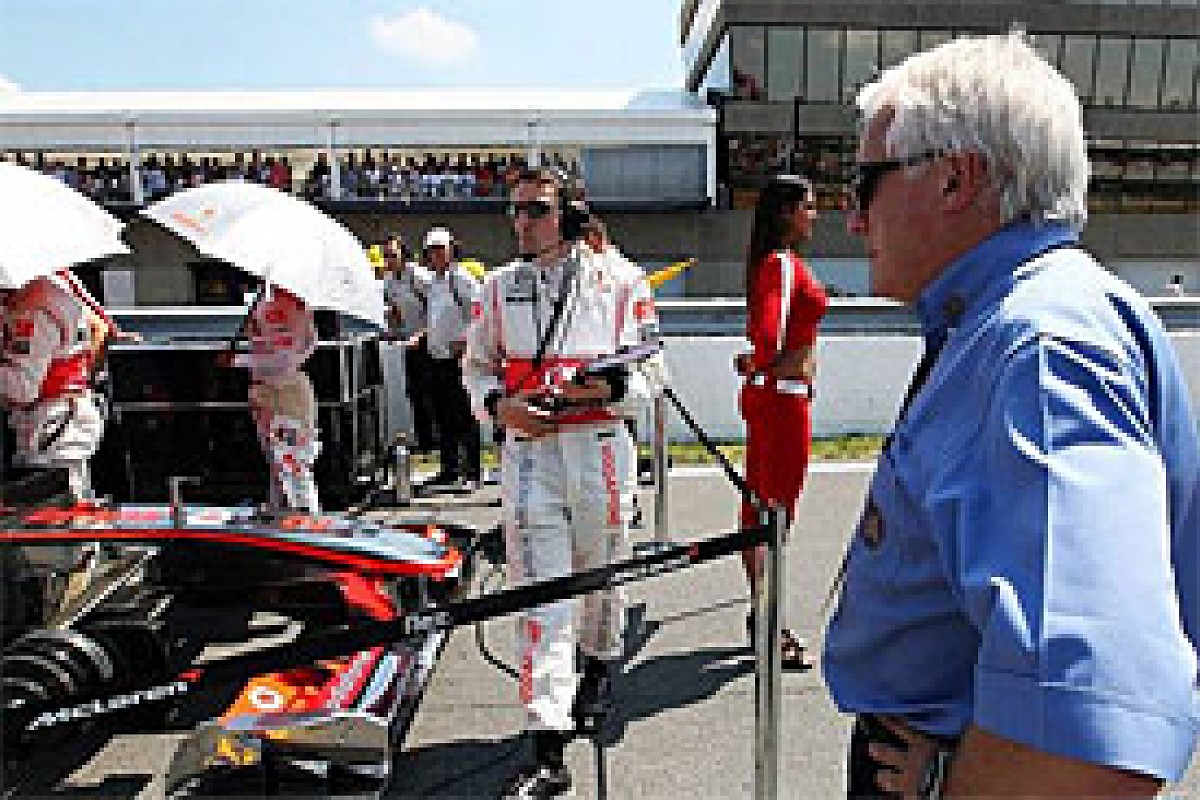 Charlie Whiting © Sutton
The FIA also studied carefully the GPS data relating to the cars that broke the time delta while pitting. Robert Kubica was doing 175mph plus with less than 100m to go to the timing line and suddenly slamming on the anchors would not have been appreciated by the closely following Button, Barrichello, Hulkenberg and Buemi, and could even have triggered another shunt similar to Webber's.
The stewards decided that there was precious little the drivers could have done. They believed that little advantage had been gained and that it would be wrong to vary the penalties, therefore the blanket 5s was decided upon.
You can understand that Hamilton got away with it and Alonso wanted to go home and kick the cat. But there was no conspiracy, manipulation, scandal or whatever you want to call it. Last weekend the FIA was as on top of the job as FIFA was pathetic. They shouldn't even be spoken of in the same sentence.
I've often thought I wouldn't want Charlie Whiting's job for anything, and I'm not about to change my mind!