So now we are down to three, probably two. At Brands Hatch last Sunday, Patrick Tambay's brakeless Ferrari slid into the Druids barrier, and he was finally out of the world championship reckoning. And earlier in the race Rene Arnoux spun himself out of fifth place. From being two points off the championship lead, Rene is now eight behind - with but a single remaining race. Ferrari will win the constructors' cup, but there is little chance of a Maranello man taking the drivers' title.
No, unless Arnoux wins in South Africa, with Alain Prost and Nelson Piquet out of the picture, the 1983 world champion will be in a Renault or Brabham. At Brands Nelson scored his second dominant victory in a fortnight, the Brabham-BMW behaving perfectly throughout. Such was Piquet's superiority that he could afford a lengthy pitstop (thanks to a faulty air hammer) without coming under threat.
By virtue of a strong second place, however, Alain retains the championship lead he has held these many months. It remains only a couple of points - as it was before Brands - but the Frenchman's challenger is no longer Arnoux.
After qualifying it seemed that the John Player Grand Prix of Europe could belong to the black-and-gold Lotus-Renaults, for Elio de Angelis convincingly dominated qualifying, to the point that he needed only one run to make sure of the pole. And Nigel Mansell put his 94T into third spot on the grid, behind the Brabham of Riccardo Patrese, which snatched the lead at the start.
During the opening laps Riccardo and Elio left the rest behind, the Lotus-Renault menacing the Brabham. Alas, after 10 laps de Angelis moved to pass Patrese, and the cars touched. After spinning, both rejoined, but Elio was in the pits a couple of laps later, engine blown and Piquet was into a clear lead.
Mansell had a difficult time in the first half of the race, troubled by a poor set of tyres, but after his stop the Englishmen drove beautifully into third place. Behind him came Andrea de Cesaris's Alfa Romeo and the Toleman-Harts of Derek Warwick and Bruno Giacomelli, both of them taking points this time.
Kyalami should be something.
QUALIFYING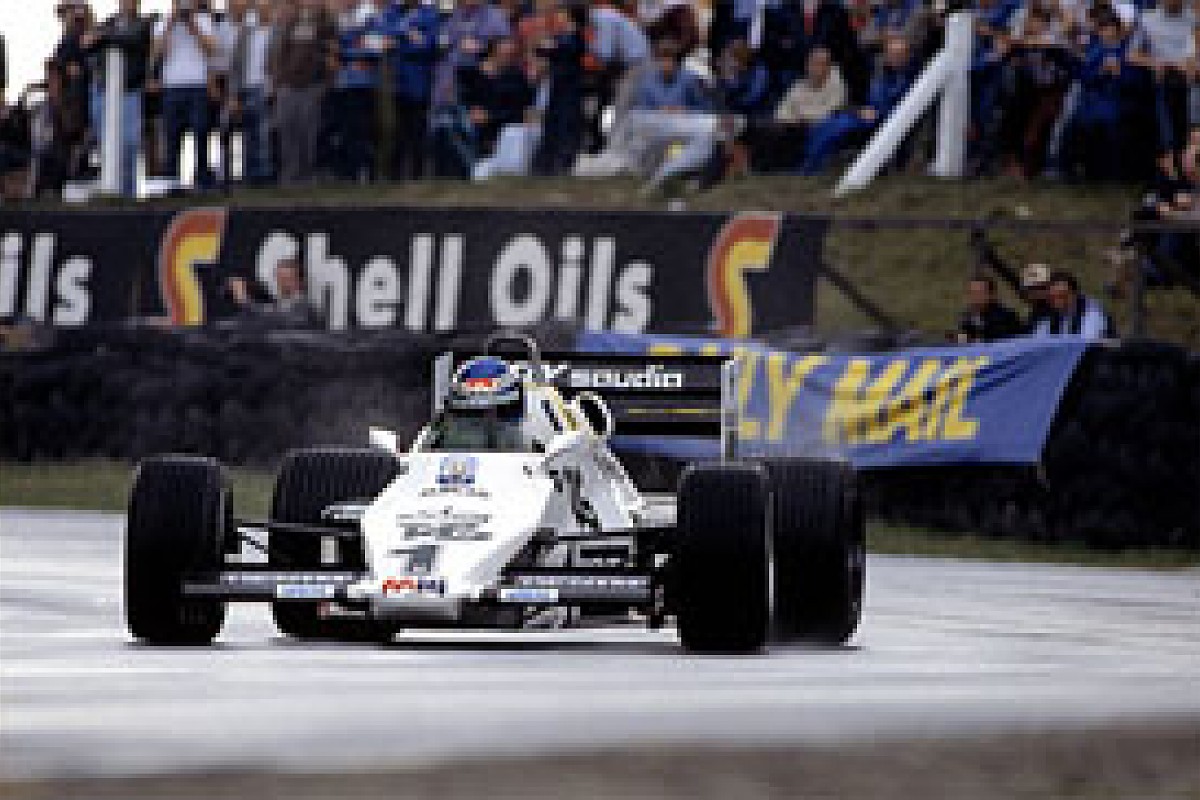 Keke Rosberg, Williams FW08C Ford © LAT
Brands Hatch in early Autumn. For most this was a new experience, although John Webb did stage a couple of non-championship F1 races back in 1971 and '72. We were here last April, and were not expecting to return until July 1984. Was it not at the Race of Champions that Bernie Ecclestone held a press conference, snuffing scurrilous rumours - in AUTOSPORT and elsewhere - that some grands prix this year were in jeopardy? Dijon was doubtful, we had written, and Las Vegas and New York. Not so, we were told...
On September 25, therefore, we should have been in Manhattan, getting ready for the New York Grand Prix, but the powers-that-be decided they weren't quite ready for that. Hence, we were back at Brands, with John Player stepping in to pick up the tab (pun intended).
Testing three weeks ago suggested that the company might have chosen a good race to sponsor here, for the black-and-gold Lotus-Renaults were very much at their ease. De Angelis ran the first day only, yet set a time bettered only be Piquet - and that after two days of serious effort. The Brabham-BMW went round in 1m11.55s, four seconds quicker than the pole time at the Race of Champions. What, we wondered, would they be down to at the end of the final session for the grand prix?
The answer to that was surprising. Not a single driver got into the 1m11s, and all agreed that the track was decidedly slower than during the tests. A variety of explanations were offered, the most popular being: "All those bloody sportscars leaving lumps of Dunlop all over the place last weekend..."
The British company, however, played no part in last weekend's affairs, having washed their hands of F1 long ago. Warwick, who had Goodyears on his winning Porsche 956 the previous weekend, reckoned they were definitely the tyres to have, and for the grand prix he also looked to be in fine shape. Pirellis, for reasons no one seems to understand, work splendidly at Brands Hatch. Remember Warwick's fantastic showing in last year's British Grand Prix, when he calmly outbraked Didier Pironi's Ferrari for second place at Paddock? That exploit was achieved in The Flying Pig, so it was hardly surprising that he was optimistic this time. "With luck we'll qualify in the top six and finish in the first three," he said.
The glory, though, was left to Pirelli's other major team. De Angelis, Mansell and Lotus were the class at Brands, with Elio fastest in three of the four sessions - including both the timed ones. The Italian found the 94T incredibly efficient around this, a circuit he loves. "Incredible," he said on Friday afternoon. "Today I was quickest - and I had a misfire over 10,000 revs. Tomorrow will be better."
Tomorrow did not start very well for him. During the morning session he put a couple of wheels on the grass at the approach to Druids, and instantly the Lotus was in the catch fencing. Damage was not too bad, and happily Elio had been in the T-car. Back to the pits he trotted, and soon he was back out in the race car again, pipping Piquet for fastest of the session on his final lap.
De Angelis's last session was of the kind a driver dreams about. He went out on his first set of qualifiers and did one flying lap. Three tenths quicker than the day before. After that, his mechanics slapped on the second set, and Elio merely waited for someone to approach his time. No one did - indeed no one came within shaving distance of his Friday time! - so the second run was never made. De Angelis - and Pirelli - were on the pole for the first time.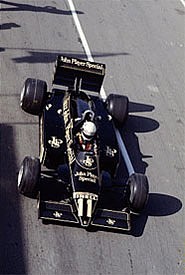 Elio de Angelis, Lotus 94T Renault © LAT
Elio has had his bad times this year, sinking into a deep depression during those months with the cranky and cumbersome 93T, and there have been times when he was close to despair. It was then, he said, that he really missed the presence of Colin Chapman. On Saturday, therefore, it was no surprise that he chose to dedicate his pole position to the Lotus founder. "If only," he said in his quiet tones, "the old man could be here to see this. He would have loved it, no?"
He would have loved it, yes. The afternoon revived memories of the British Grand Prix of 1978, when the cars of Ronnie Peterson and Mario Andretti qualified one and two - although neither was to finish the race...
This time Lotus did not quite make first and second, for Patrese, as at Monza the 'spoiler', slipped his Brabham into the number two slot, this demoting Mansell's 94T to third. Nigel had been second fastest to Elio on Friday, and felt sure of a serious crack at the pole the following day: "My first set of qualifiers were very poor, nothing like as good as the second," he said.
On Saturday, though, there was more disappointment. Going for a quick lap on his final set, Nigel arrived at South Bank to find earth and stones all over the world, legacy of a spin by Piquet a few seconds earlier. His last chance was gone, and Friday's time had to stand.
There was every cause for optimism in the JPS motorhome, for the cars looked very comfortable and smooth at qualifying pace, whereas their nearest rivals, the Brabham-BMWs, were clearly scratching. It is a very long time since I have seen Piquet driving as raggedly as during practice at Brands. At Bottom Bend he was frequently wide of the apex, bringing round the tail of the BT52B with great dabs of throttle. On qualifying boost, the sheer horsepower of the white cars there was awesome, almost enough to stir up thoughts of Danny Ongais and the Parnelli-DFX five years ago.
For Brands the Brabhams had huge rear wings, with small side wings, a la Ferrari, and Renault. McLaren followed the same route. At this circuit you want all the downforce going, particularly as there is no long straight. "Anyway," said Nelson, "we've found that we lose hardly any straightline speed with the big wing - I wish we'd had it earlier this year."
Piquet spun several times during practice, including that pirouette at South Bank during the final session. But that one, he said, didn't matter. He had done his best lap on those tyres, and they were already shot. Slower than on Friday, he nevertheless qualified fourth - and first among the title contenders.
Patrese was smoother than his team-mate, less exciting to watch, but a little more effective. As cynics were pointing out, it is 'contract time' and Riccardo is perhaps looking for one, seeking to impress. Interestingly, though, the Italian qualified second at Brands last year (to Keke Rosberg's Williams), with Piquet again behind him. On that occasion he stalled on the line, and was hit by Arnoux...
It was interesting to note the return of Brabham's 'tyre oven', used in 1982 for warming new sets when the team began their planned pitstop policy. Since the change from Goodyear to Michelin, it had not been found necessary to heat the tyres, but it was used in practice at Brands for front qualifying tyres. Jacques Laffite could have used it to advantage, but we'll come to that later.
The leading quartet, then, comprised two Lotus-Renaults and two Brabham-BMWs, and after them, neat and orderly, came two Ferraris and two Renault RE40s. And in the Maranello pit it was once again Tambay who had all the misfortune.
After setting second best time on Friday morning (to Prost), Patrick found his race car well down on boost in the afternoon, and abandoned it in favour of his spare C3. "We had a slight boost pressure leak on that one, too, and all our cars are understeering here. Really, you know, it's just guesswork sometimes. We've changed everything we can think of, and the balance is OK, but not great..."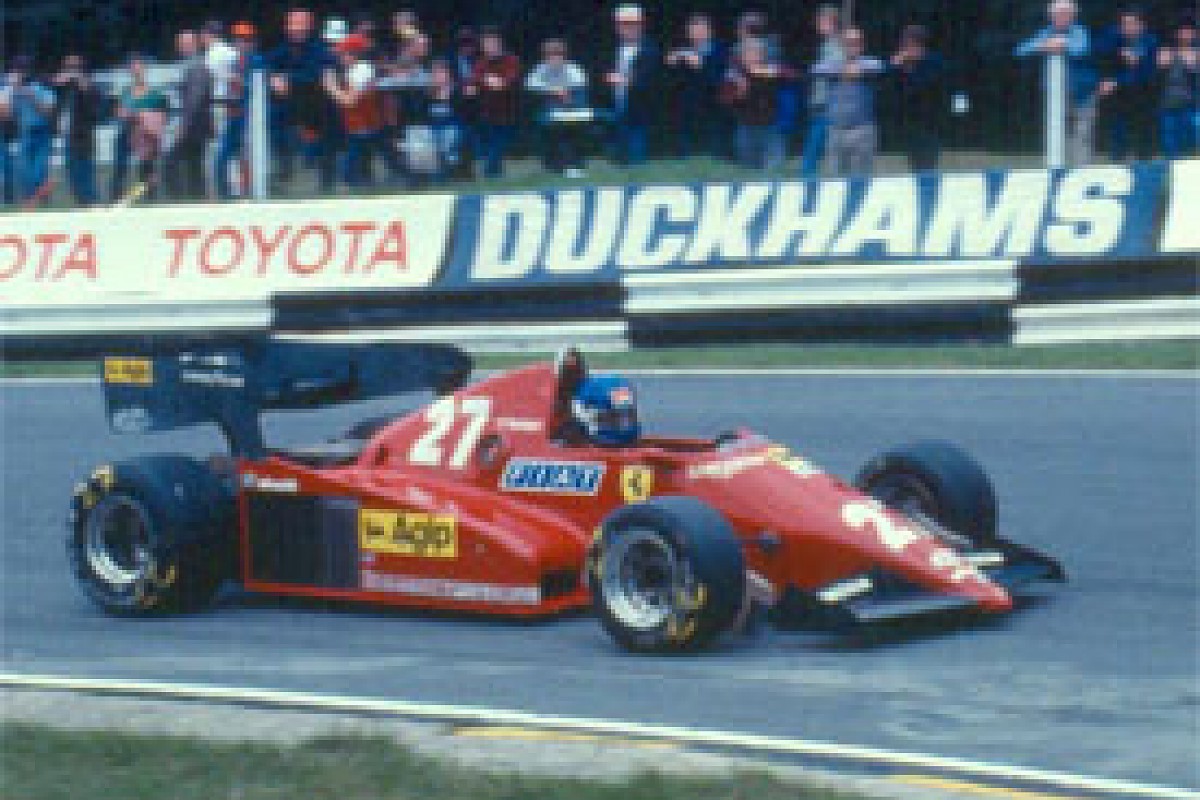 Patrick Tambay, Ferrari 126C3 © Jose Miguel Barros/FORIX
When Ferrari tested here a month ago an old C2B was sent for Tambay, the C3s being rebuilt at the factory following their one-two at Zandvoort. Patrick was surprised at the weekend to find the newer car little, if any, better.
On Saturday afternoon he had an interesting experience. Accelerating hard towards the line at the end of a flying lap on his second set of qualifiers, he felt the engine cut. And simultaneously the cockpit fire extinguisher set itself off, wreathing the front of the cockpit in mist. Just what you need at close to 170mph with Paddock looming.
Tambay parked the car at the top of the hill up to Druids, and walked back to take out the T-car. What had caused the twin problems? Mauro Forghieri felt it had to be a short circuit, and got into earnest discussion with the man from Magneti Marelli.
Arnoux, dissatisfied with his car's grip but free of mechanical problems, pipped his team mate by four-hundredths of a second. He agreed with Tambay that the team could best hope for dampish weather. On Saturday morning, when there was rain, both men found their cars excellent - on slicks. "When it's very wet we are not so good," commented an amused Patrick. "But on a damp surface the balance on slicks is fantastic - in fact, better than in the dry!"
For the Renault pair, the reverse was true. "I really hope for a wet race," remarked Eddie Cheever after the Saturday morning session. "We've made some changes to the back of the car today, and I think we'd have a definite advantage over the rest in the rain."
The American excels in wet weather, of course, but he was also fairly pleased with his car's performance in the dry. "I'll tell you, it was a real handful on the first day, especially on the section behind the pits, where it felt like it wanted to spin every lap."
By the end of qualifying, though, his mood had clouded. As he finished his first qualifying run, a turbo failed, robbing him of the chance of a second. Already, however, he had done enough to leapfrog his team mate, who was not at all satisfied with his car, complaining of no grip. "The car was really nice on the first day," shrugged Alain. "But today I am disappointed - and other people are saying the track is quicker. We are good on race tyres, I think, but I am starting back in eighth."
Prost found himself at the centre of a major controversy when he arrived at Brands, this the result of an article in L'Equipe a few days earlier, which contained several trenchant quotes from Alain on the subject of Arnoux.
While there is no point in whitewashing the fact that the two men intensely dislike each other, Prost was furious that the writer - a man he has known for a long time - based the story on what was supposed to be an off the record conversation. To clarify matters, he held a press conference, making clear that while he had no time for Arnoux the man, he had plenty of admiration for Arnoux the driver. At this stage of the world championship, however, it was a minor upset that he could have done without.
Manfred Winkelhock was in fine form at this 'brave' circuit, qualifying ninth with the ATS-BMW on the strength of his Friday time. In the last session a misfire slowed him by more than a second. The German was scary to watch in the rain on Saturday morning, proceeding along from Bottom Bend to South Bank in a series of twitches and corrections bettered only by Rosberg and Stefan Johansson.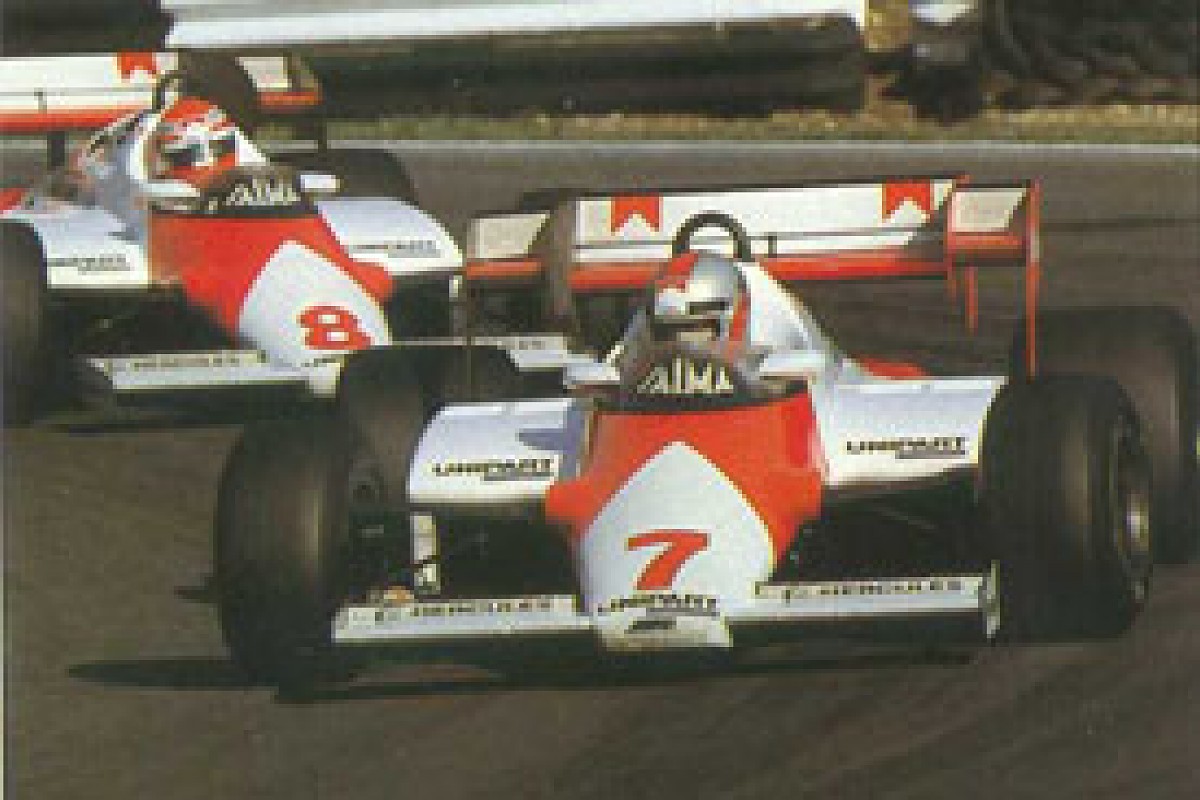 John Watson and Niki Lauda, McLaren MP4-1E TAGs © Dempsey Warren/FORIX
It was not a happy time for McLaren, running low on engine stocks, their supply further depleted on Friday morning when Niki Lauda's dropped a valve. For Brands there were revisions to the turbo and radiator installation layout, and the MP4/1Es also featured Ferrari-type rear wings, both drivers having previously felt the cars to be very low on downforce.
John Watson, competing in his 150th Grand Prix, was more positive in his assessment of their progress: "Sure, we've got problems, but we're new to this turbo game - and it is a totally different game, believe me. Yes, it's frustrating, but we are making progress, no doubt of that." For much of Saturday, John had a recurrence of his Monza problem, sitting calmly in the cockpit while his engine resolutely refused to fire up. When it did, he worked the car round to 10th fastest time, three places ahead of Lauda.
"Understeer," said Niki. "I can't get the thing into corners properly, and if you don't have that at Brands you're nowhere." He missed most of the first timed session while the mechanics worked away at changing his engine, but on Saturday was only a couple of tenths slower than Watson, 13th on the grid.
Between the McLaren-Porsches were the Toleman-Harts, and Warwick was highly disappointed to be so far down. Put together a string of facts such as Warwick's drive at Brands last year, the recent good results, Derek's knowledge of the circuit and the fact that Pirellis work there, and you should have come up with something fairly potent. Hopeful of a grid slot in the first six, however, Warwick found himself 11th, less than a tenth quicker than Giacomelli.
"God knows what it is," he grimaced after practice. "But we cannot get the car to work on qualifiers. Lotus are having no problems with them, but we're just as quick on race rubber. I suppose that means we should be alright in the race, but we've got half the field in front of us."
In damp and wet conditions on Saturday morning, though, Derek found the car highly effective, finishing up fifth after being fastest for quite a while.
The Alfas were a great disappointment in practice, only 14th and 15th, and de Cesaris was baffled: "When we tested here the car was good... nice balance... plenty of grip. But now everything has changed." In his efforts to set a reasonable time Andrea had the biggest F1 accident for quite a while, flying off the road at Westfield during the Friday afternoon session. That caused practice to be halted for some time. Surprisingly, though, the Alfa mechanics were able to repair the car. De Cesaris ran it again on the Saturday, but was unhappy with the engine and spent most of the last session in the spare 183TB.
Andrea's shunt was actually the second on Friday. As I watched the opening session from the back of the paddock, I noticed Rosberg walking by, helmet in hand. "My first shunt for two years," he said, grinning. "I guess it was inevitable, wasn't it? But, would you believe it, this is my last race in a Cosworth car - and the one I've just crashed is the one I've agreed to buy from Frank as a memento of my World Championship!"
So what had happened? "Well, I just dropped it. The car felt very unstable and I put a couple of wheels on the grass and..." The car hit the bank at Dingle Dell, and there was damage to the monocoque at the left front corner. In his spare car, however, Keke quickly reasserted his position at the head of the non-turbos. "Incredible, isn't it? I'm 16th on the grid, yet last year I was on pole, ahead of all the turbos, and it was the same at the Race of Champions, where I was quicker than Arnoux's Ferrari..."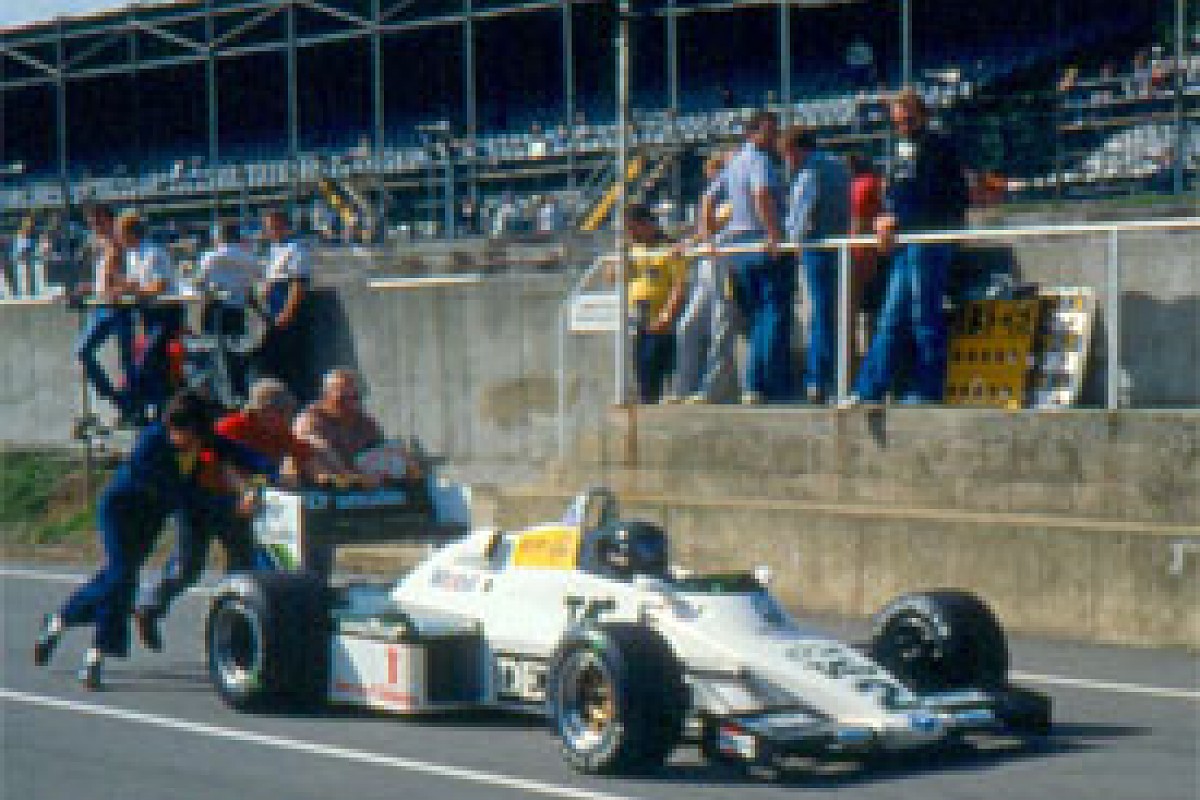 Jacques Laffite, Williams FW08C Ford © Jose Miguel Barros/FORIX
For Laffite the weekend was disastrous, the Frenchman failing to qualify his Williams for the second time in a fortnight. Nothing went right: on Friday morning he blew an engine almost immediately, but was unable to use the spare FW08C because Rosberg had need of it after his accident. And in the afternoon he simply could not get the car's handling to his liking. On Saturday his problem remained, and one suggestion put forward was that he was driving too smoothly. A lot of people had trouble in getting their front qualifiers up to working temperature - remember the Brabham oven - and Jacques' efforts might have been better rewarded if he had been a little rougher with the car. But tossing it into a corner is not Laffite's way.
There was a second Williams in the race, however, for Jonathan Palmer qualified 25th on his Grand Prix debut, admitting afterwards that he had found his first experience of F1 qualifying "very humbling." The pressure of that final hour he found really quite something. It was actually a surprise to find him so low in the order, for he looked quicker than his time suggested. And in the rain his driving was very smooth and composed.
At every grand prix it seems as though a new team has arrived, but this is in fact an illusion brought by chameleon-like Arrows cars, whose livery appears to change every two weeks. Over a season colours of cars and helmets automatically trigger numbers in your head, so that a lap chart is simplicity itself - except in the case of the Arrows. As usual the A6s were not quite on Rosberg's pace, but clean of the other Cosworths, with Marc Surer again fractionally quicker than Thierry Boutsen, 17th and 18th.
Spirit brought along their new car for Johansson to drive, but the Swede spent nearly all of his time in the older, heavier car. "The problems are the same as usual," he said. "We have bad throttle response, and we cannot get rid of the misfire, whatever we do, I change up - and everything goes flat. Then the engine clears and we're away." The constant presence of this misfire in the Honda V6 suggests that it may be a basic installation problem, for Rosberg has found no such trouble during tests with the Honda-powered Williams FW09. That was of no consolation to Stefan, however, 19th on the grid.
For Danny Sullivan there was at last a Tyrell 012, and he made good use of it, comfortably outqualifying team-mate Michele Alboreto, the Italian only just scraping into the race. Michele was utterly bewildered at Brands, unable to explain his car's handling problems. "Don't understand. In testing we were quicker than Keke, fastest of all the Cosworths - and now we are three seconds slower..."
Johnny Cecotto was present at Brands only as a spectator, amid rumours that his sponsorship has run out, so the only Theodore was that of Roberto Guerrero, who did a predictably good job to qualify 21st. "I should have been further up than that," he said, "but my last session was awful - no clutch on my race car, and a misfire on the spare car."
Separated by three tenths, the Ligier pair of Jean-Pierre Jarier and Raul Boesel were behind Guerrero, and little faster than Piercarlo Ghinzani's Osella-Alfa V12, the Italian again quicker than team mate Corrado Fabi, who missed the cut, along with Laffite and the RAM March of Kenny Acheson, which was 'bumped' by Ghinzani during the last session.
RACE
Earlier in the week John Webb said he had based all his sums on the hope of a crowd two thirds the size of a normal British Grand Prix turn-out, and let no one say the weather worked against him. As usual it poured for the 1000km sportscar race (which attracts minimal attendance, in any case), but was glorious for F1. Sunday morning brought early autumn perfection, with clear skies and sun, and the crowd, while not of 'July' proportions, looked healthy indeed.
The warm-up was scheduled for 10.30am, after the Formula Ford 2000 race and before the Thundersports event, some four hours before the grand prix itself. For this the mechanics were grateful, for it gave them much more time than usual to right any warm-up wrongs, but there were mutterings about running a race - which featured some pretty elderly, and perhaps oily, specimens - in that interval.
Both Ferrari drivers had problems in the warm-up, Tambay finding a marked absence of boost in his race car again, and Arnoux being concerned about an electrical misfire. Cheever's Renault did only one lap before misfiring into the pits. That, too, was an electrical matter, quickly rectified. And Alboreto decided he preferred Sullivan's new Tyrell 012 to his own, the two swapping cars for the race.
After a glorious air display, featuring Lancaster, Spitfire and Hurricane, we progressed to the noisy business in hand. And a little after 2.45pm, all 26 cars were back from the parade lap and on the grid - although Jarier's stalled Ligier was pushed off into the pits before the lights went on.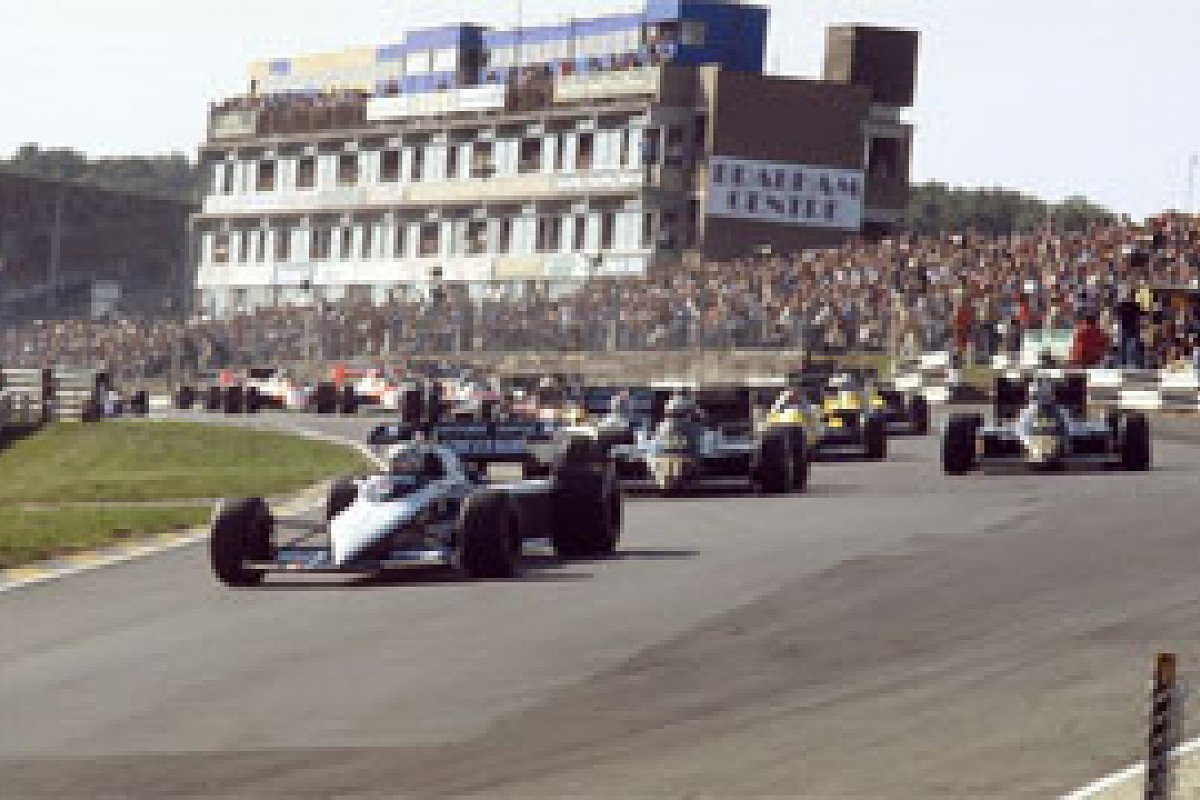 The start of the 1983 European Grand Prix © LAT
At the green de Angelis got away fairly well, but was beaten into Paddock by Patrese. Behind them Mansell got away very energetically, his car darting left and right and a little bit sideways. Through Paddock Nigel was side-by-side with Piquet, but came out ahead and even took a look at the inside of his team-mate's car into Druids. And there Cheever the opportunist, having made his usual brilliant getaway from row four, saw a chance of gaining a place. Round the outside he went, boxing-in Piquet, who had to lock up to avoid clouting the back of Mansell.
Out of the corner Eddie seemed to have an advantage over Nelson, but the Brabham driver powered down the hill, drew alongside and nosed back ahead into Bottom Bend. There was some very powerful stuff coming off in the first seconds of the race.
In all this negotiating for space, however, Patrese and de Angelis had managed to work their way clear, and at the end of the first lap there was a sizeable gap between Elio, second, and his team-mate, who led the rest and seemed unable to keep pace.
"From the start," Nigel related later, "I knew I was in trouble. There was an imbalance in my first set of Pirellis, and I couldn't get near Elio, although we were on 'identical' tyres. For the first few laps, in particular, I was in real trouble. But after my stop - when I had the same type of tyres again - the car was fantastic, simply because the tyres were in perfect balance."
Right enough, it could be seen that Mansell had a queue behind him, with Piquet particularly keen to get by, a task he managed at the approach to Hawthorns on lap two. A couple of corners later Cheever, too passed the Lotus in a tight manoeuvre at Dingle Dell corner. A lap later it was Prost's turn to pass the Lotus at Hawthorns, and soon Arnoux's Ferrari was also by. For Mansell it was immensely frustrating, but he could only wait patiently for half-distance and new tyres.
At the front though, team-mate de Angelis looked to be in fine shape, putting the screws on Patrese, the two of them well clear of Piquet. At the end of 10 laps the Lotus driver, looking very smooth and composed, was right with the Brabham, and at South Bank he took a run down the inside of Patrese.
It was a mistake. In an instant the black car's right front wheel had touched the white one's left rear and both cars were spinning. Patrese recovered more swiftly than his rival, but by the time he was on his way once more Piquet was through into the lead, where he stayed for the rest of the afternoon. And de Angelis, who slithered furiously around on the grass for a while, was back in sixth place.
Two laps later the pole man's race, about which he had been blissfully confident, was over. Into the pits came the Lotus-Renault, trailed by smoke. "I could feel the engine beginning to go," Elio said. "I thought I'd have a try for the lead before it did." All that wheel-spinning on the grass could not have helped.
For Nelson, then, the cards were all falling as he would have wished. Any thoughts that Patrese might have had of going into business for himself were dispelled, nearly 10s behind his team leader, and Nelson had the added advantage of another Brabham in second place, holding back the advances of Prost. Alain passed Riccardo for second place on lap 15, but Piquet was by then quite out of reach.
The order at this time: Piquet - 11s - Prost, Patrese, Cheever, Arnoux, Mansell, Tambay, Winkelhock, de Cesaris, Warwick, Watson, Lauda - and Rosberg, streets ahead of any other Cosworth car.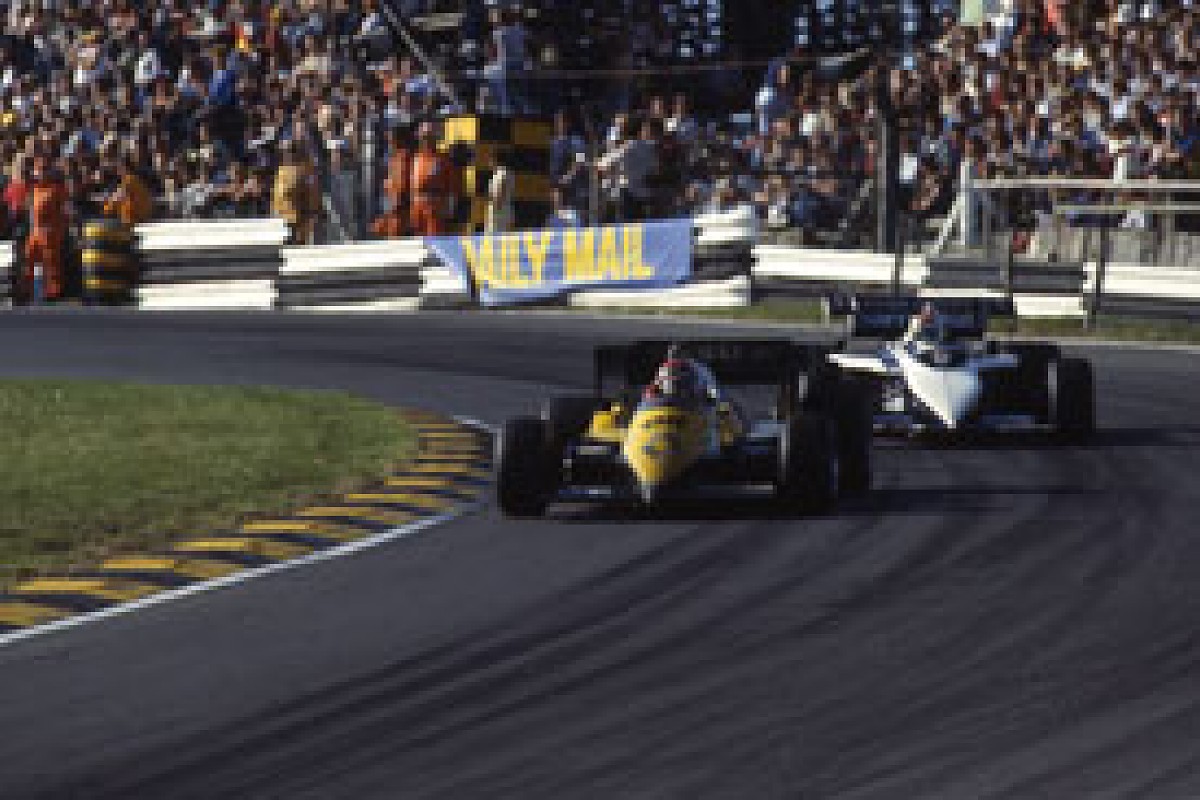 Eddie cheever, Renault RE40; leads Nelson Piquet, Brabham BT52B BMW © LAT
For a few laps Prost whittled away at Piquet's lead, but we were talking about a few tenths here and there. There was obviously no serious threat to the Brabham. Patrese continued to hold off Cheever and Arnoux, despite a slight handling problem following the touch with de Angelis. Afterwards the Brabham mechanics found the rear axle slightly out of true.
On lap 20 Arnoux made what could turn out to be a very costly mistake. Following Cheever through South Bank, the Ferrari driver unfathomably spun. That would have lost him time enough, but Rene was unfortunate enough to come to rest over the kerbing, the C3's rear wheels in the sand, front ones over the track surface but actually clear of the ground. Arnoux was therefore helpless, and had to wave for help from the marshals. Had he finished in any significant position the question of disqualification would presumably have arisen, but after this delay the Frenchman found himself down in 19th place, and was never a factor again. As well as that, the Ferrari had undoubtedly been in a dangerous place, in which circumstances pushing by marshals is permitted.
This was a race you could describe as tense rather than exciting. With the exceptions of de Angelis and Arnoux, all the leading runners were well up, but overtaking is not easy at Brands and changes in the order were few. Piquet and Prost were settled into first and second, and no one was going to disturb them. Equally it seemed unlikely that Patrese was going to lose third place, despite the constant attentions of Cheever and Mansell. The Brabham was holding up its pursuers through all the corners, using its prodigious horsepower to pull away again whenever the road was straight. Eventually, indeed, this three-car dice was supplemented by Tambay's Ferrari and de Cesaris's Alfa. Pitstops would play a big part in deciding the places.
In midfield the two McLaren-Porsches had been running together, Watson ahead, but Lauda moved by his partner briefly at one-third distance. Two laps later Niki and number eight were in the pits and parting company. "Engine, I'm afraid," said a depressed John Barnard after the race. "At the moment we don't know exactly what's gone."
A little while afterwards Watson came in for his planned stop. For some time it had been obvious that part of the McLaren's wing had been breaking away, and his mechanics took the opportunity of tearing off the offending part. John went back into the race, but a couple of laps later the wing collapsed altogether and he spun off into the catch-fencing at Hawthorns.
Shortly before this a swell of noise from the grandstands and a massive cloud of grey smoke announced trouble at Paddock. Sullivan, who had run all the way in company with team-mate Alboreto and Johansson's Spirit, had an oil line come adrift. Hence the smoke. At the same time oil got onto his rear tyres, and at the exit of Paddock the Tyrrell spun over the grass. Without hesitation Danny found a lower gear and set off up the hill to Druids, the rear of his car now ablaze, oil fired presumably by sparks as the car had gone over the kerbing. Through Druids the car was all over the place - oil on tyres again - but Sullivan coolly steered into the back of the paddock, where fire marshals went to work.
The first of the leading cars to make its planned stop was Cheever's Renault, which came in on lap 35. In 11.8s, Eddie was on his way again, having dropped from 4th to 11th. But his luck begins to put one in mind of Chris Amon. Ten laps later he was back in the pits, gesticulating wildly.
"The right hand screw came out of my visor, can you believe that? It wasn't a problem when I was going fast, but whenever I braked it flapped all over the place. I had to hold the thing against my helmet - just perfect at a track like this. So I came in to get them to tape it down." Mechanics are ready for most emergencies, but this one took a long time to put right - first to understand Cheever's signals, then to find suitable tape. "Not too good, is it?" mused Eddie. "I think I would have been third."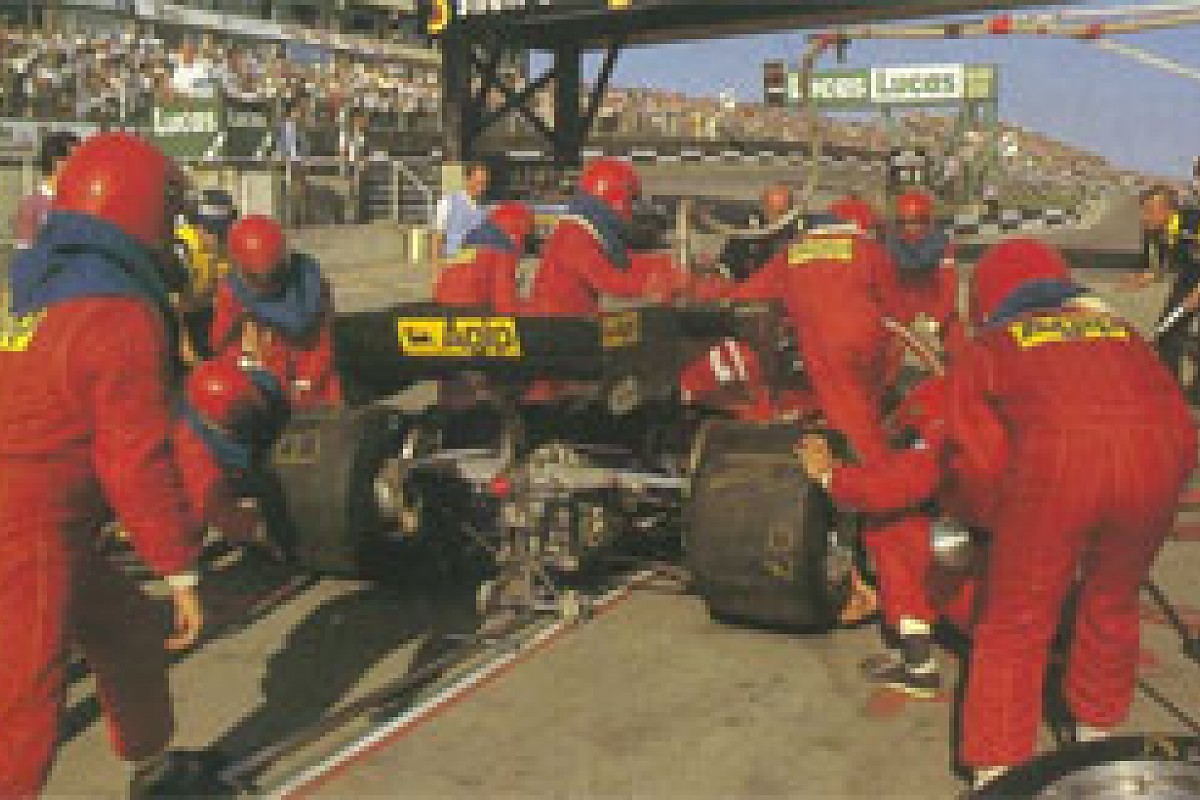 Ferrari makes a pitstop © Dempsey Warren/FORIX
The planned stops really began on lap 38, de Cesaris, Arnoux and Johansson all coming in. A lap later it was the turn of Patrese, who lost time when the mechanics had trouble with the right rear wheel, and then Prost stopped on lap 41 (13.9s), A lap later Mansell came in, the Lotus lads turning him around in a stunning 9.6s. Nigel charged out of the pits and drove an excellent first lap on cold tyres, resisting a challenge from an admittedly troubled Cheever.
On lap 43 it was Tambay's turn (12s), and the Frenchman came back into the race in third place, ahead of Mansell for the first time.
"For the first half I had Cs on the right, Bs on the left," said Patrick. "But at the stop they gave me three Cs and a B on the left rear. The car was much better like that, and I felt very comfortable in third place - until the brakes started to go."
Ferrari, figuring that it was worth taking a gamble on Arnoux's car (bearing in mid his lowly position), had put Rene on Cs all round during his stop. It did not work out. The little man asks a lot of his tyres, and he was back for yet another set after only 14 laps, this putting an end to any hopes of the odd World Championship point.
Lap 44 brought the crucial stop: Piquet. He came in with a huge lead, and it was good that he did. When the mechanic on the left rear wheel put the air hammer to the nut, nothing happened. Quickly the hammer for the left front was pressed into service, but Nelson had been stationary for 19.6s when he was signalled to let in the clutch - six seconds longer than Prost's stop.
There was no drama. Despite the problem, the Brabham still led the Renault by more than 10s, and gradually that gap widened. As lap charts began to take shape again after all the stops, it could be seen that Tambay was in third place, followed by Mansell, de Cesaris, Warwick, Giacomelli, Patrese and Winkelhock, and the procession stayed for a long time.
Into the closing laps, indeed, the only excitement centred on Mansell's pursuit of Tambay. On its second set of tyres the Lotus-Renault was flying, while the Ferrari was obviously in some sort of trouble. Was it, like Arnoux, a matter of tyres?
"No, no, my brakes were going away. I kept having to put more and more pressure on the pedal - and I was stopping less and less! My right front kept locking also. I could see Nigel catching me, but I could do nothing," said Tambay. "Finally he passed me at Druids - I went wide and just made it round the corner. And then a couple of laps later de Cesaris was right behind me at the same place. I braked as late as I dared - and just skated on into the tyre barrier..." The Ferrari hit at no great speed, bounced back and stopped, Patrick's race over just eight laps from the flag.
That left the order as Piquet (serene), Prost (resigned), Mansell (frustrated), de Cesaris (elated - the Alfa is usually back in its transporter by this stage of a race), Warwick (refrigerated)...
Derek's race had been a bit maddening for him, the Toleman always in the picture but lacking the ability to challenge. From the start it had run well, as had Giacomelli's car, but it had been a matter of keeping up, and Warwick is a man who likes to race.
As he passed on lap 56 though, he had other things on his mind. Just like Tambay's Ferrari in practice, the cockpit of the Toleman was full of fire extinguisher 'smoke', severely restricting Derek's vision. "That wasn't the only thing," he said afterwards. "The bloody thing froze my gear change hand! It was a bit awkward for a while." Eventually the thing emptied itself, and he pressed on once more, but a lot of ground had been lost to de Cesaris.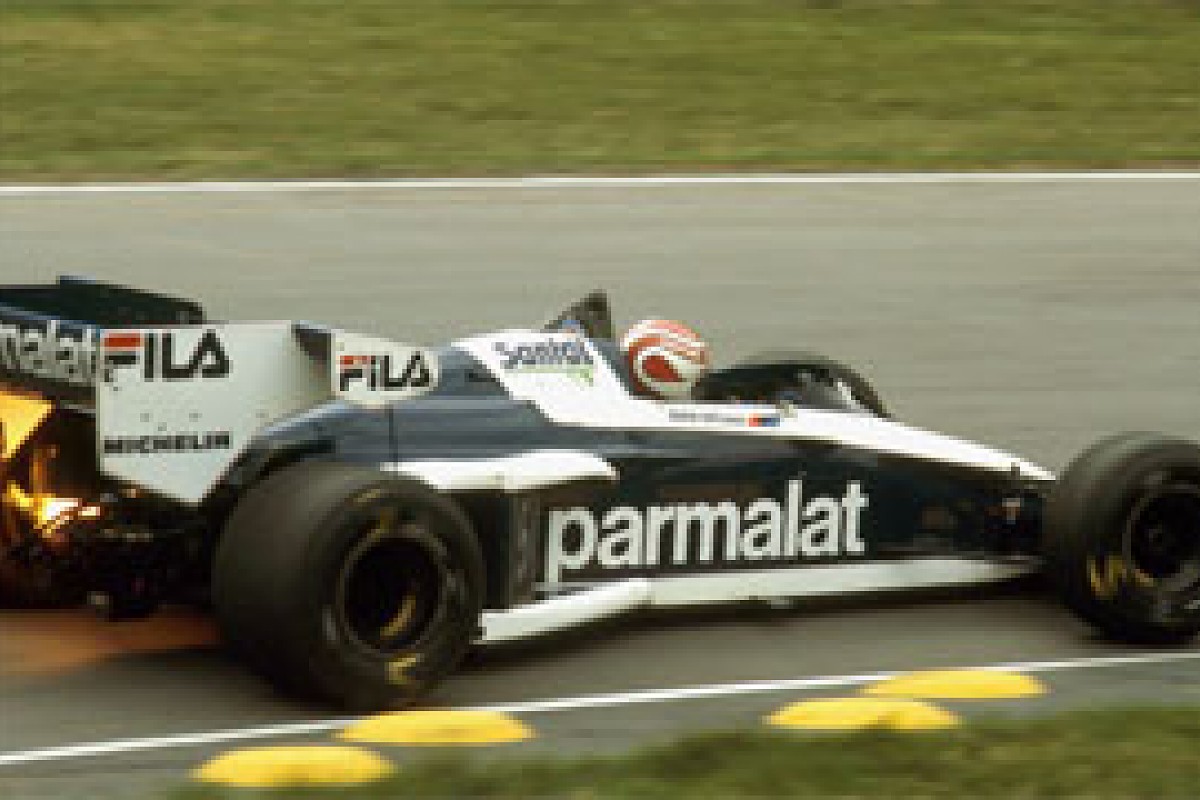 Nelson Piquet, Brabham BT52B BMW © LAT
The last few laps were leisurely ones for Piquet, allowing Prost to halve the distance between them. "The car was fantastic today," he smiled, "just like at Monza. And I feel also my luck is good at the moment. The Brabham mechanics never make mistakes during the pitstops, you know, but that problem with the air hammer...well, it could happen any time. Today it happened - and it didn't matter."
Prost was scarcely less happy afterwards. His World Championship lead is unchanged, two points, but now his chief rival for the title is Piquet, a man he likes, rather than Arnoux, a man he detests: "For sure Nelson was in a race of his own today, but I feel very good to get second place at Brands Hatch - particularly after starting from eighth. No complaints. And now we have one race left - and we both have to go for a win. If he wins at Kyalami and I am second, he is World Champion by one point. So...it must be a victory, hein?"
The crowd, of course, gave Mansell a great reception, and Nigel felt a mixture of elation and disappointment: "I enjoyed the race - or the second half of it, anyway. There was such a difference between those two sets of tyres. I got the fastest lap in just before the end, and the car felt fabulous. It's a bit like the race at Silverstone, really. Everything worked perfectly after the tyre stop..."
Fourth place, well deserved, went to de Cesaris, and then came the Tolemans, both scoring points this week! It was a performance unfortunately missed by Brian Hart, who was on holiday, but the team must wish they had had Holset turbochargers a long time ago. Warwick's retirement at Zeltweg apart, there have been no retirements since the switch to the British units.
It was a pity that the outgoing World Champion's last race with a Cosworth car should end with engine failure, but Keke as usual drove as hard as he knew, and looks forward to Kyalami with relish, scarcely able to contain his enthusiasm for the Williams-Honda. And there was a Williams around at the end, not far behind Roberto Guerrero's Theodore.
"I don't feel as tired as I expected," said Palmer after a good, reliable, first grand prix. "The steering seemed to get pretty heavy towards the end, though. My biggest problem actually was backache - it's not until you do a whole grand prix that you know whether the seat's right or not. What's really made me think is that I lapped quicker in the race than in qualifying - and I've only just realised that I never got the tyres up to operating temperature yesterday. This afternoon I did - and found that I'd correspondingly got too much front wing, and therefore too much oversteer. There's an awful lot to learn about this business, isn't there? I enjoyed it, though..."
To South Africa we go, then, and the World Championship is down to the wire. If Arnoux wins at Kyalami he can take the title - so long as Prost fails to score, and Piquet is no higher than fifth. But by winning the final round, both Alain and Nelson would automatically become World Champion. All three men, therefore, can have no thoughts of a percentage drive. The days to October 15 will drag.