Canada Schumacher's worst race? Don't think so...
Michael Schumacher has come in for quite a bit of flak for his performance in the Canadian Grand Prix but I've got to say, I enjoyed it.
Martin Brundle said in the BBC post-race forum that Canada was the worst race he'd ever seen Schumacher drive. Okay, Michael won't have put himself on top of either the Kubica or Massa Christmas card lists, but it surely wasn't all that bad. I seem to recall a nervy Suzuka 2003, when he needed a lone point for a history-making sixth championship win, being far worse. Truly bad races from Schumacher are collector's items.
Michael came into that '03 season finale with a nine point lead over Kimi Raikkonen in the championship and so eighth place was sufficient. It all started to go wrong in qualifying. Back then, of course, we had the split single lap Friday/Saturday scenario, with the quickest car in the Friday session running last on Saturday. Jarno Trulli's Renault was quickest on Friday, from Ralf Schumacher's Williams and Michael's Ferrari. On Saturday though, by the time Michael ran it was raining hard enough to prevent him setting a representative time. Poor Ralf and Jarno didn't even bother, preferring to save a lap's fuel.
With team-mate Barrichello on pole, Schumacher started 14th, and was therefore faced with having to overtake people. At Suzuka, that means sticking your nose down the inside at the chicane. Michael didn't look entirely convinced when he encountered home hero Takuma Sato's BAR-Honda and, sure enough, he lost his nose and headed straight for the pits.
Later, he was scrapping with Ralf, and gave him a rude chop as they caught Cristiano da Matta's Toyota. Michael then tried to outbrake da Matta at the chicane but locked up and almost hit the Toyota. Ralf, taking evasive action, gently nerfed the back of the Ferrari, with one of the Williams front wing endplates making contact with Michael's left rear tyre.
"That guy has the luck of the devil!" a McLaren man said later, "Anybody else in the world would have got a puncture..."
As things turned out, Raikkonen could only finish second as Barrichello won the race in the other Ferrari, and Michael scraped home eighth, thereby expunging Juan Manuel Fangio's multiple-title winning feats from the record books.
Michael knew he's had stinker and seemed a little subdued, despite his achievement.
"It's probably not appropriate for me to say anything, honestly," he admitted. "It's been a tough year and a tough late stage of the season. It has been a tough race, probably one of my toughest. It was a little bit messy, a strange race. I'm empty and exhausted. I can't think for the moment."
That, I reckon, was his worst.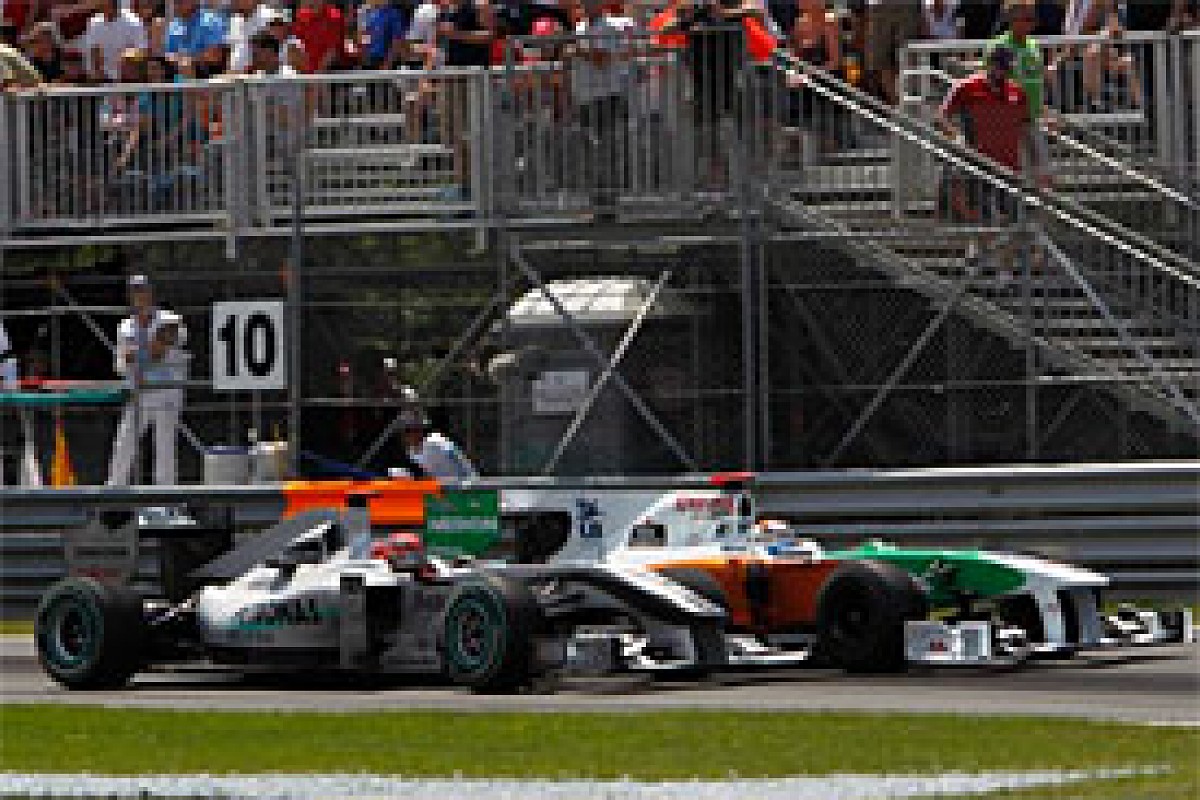 Schumacher battles with Tonio Liuzzi in Canada © LAT
In Canada though, circumstances conspired against Schumacher - some, admittedly, of his own making.
On Friday he's been quick, especially on longer runs, to the point where Mercedes saw that they were among the pace-setters with the medium compound Bridgestone and began to feel optimistic about the race.
But Michael has said all season that, despite all his experience, understanding the vagaries of tyre performance - how best to bring them in; bringing them in at the same time to get a one-lap qualifying balance - is a black art, excuse the pun. It's not been helped by an understeering chassis. Remember too, that last year's Brawn, albeit on different tyres, also gave Button particularly, considerable tyre warm-up grief during the second half of the year.
In Q2 Nico Rosberg did both runs on the supersoft tyre and progressed through to Q3. Michael though, ran the supersoft on his first Q2 run and then changed to the medium for his second effort, later conceding that it was probably the wrong move. He missed Q3 for the first time and started 13th.
Picking his way nicely through the first lap melee, he found himself running fourth behind Kubica, the pair of them on the prime tyre, which was expected to be the starting rubber of choice although it didn't quite turn out that way. When Kubica dived in after nine laps for another set of primes, Schumacher did another three laps before stopping for his. As he exited the pitlane he was slightly ahead of the Renault as it came around Turn 2.
It was only half a car length but Kubica later conceded that he'd probably have ceded the place. But, when Michael started to force the issue by edging the Renault over towards the wall, Robert thought, 'Sod you, mate, I'm sticking with this and you're going on the grass...'
In the resultant bit of rallycrossing through T3/4, Schumacher got a puncture and was back again for another set of rubber two laps later, terminally compromising what had looked like a promising situation.
But he didn't give up, remaining as feisty and combative as ever, as Felipe Massa discovered. Schumacher, by this stage, may have been running out of grip from the supersofts he optimistically asked 37 laps of, but even so I thought it optimistic on Massa's part. You want to get down the inside of someone there if you can, and are asking a lot of yourself to go around the outside of your rival and still give yourself a turn-in at the chicane. Particularly if that rival is Schumacher...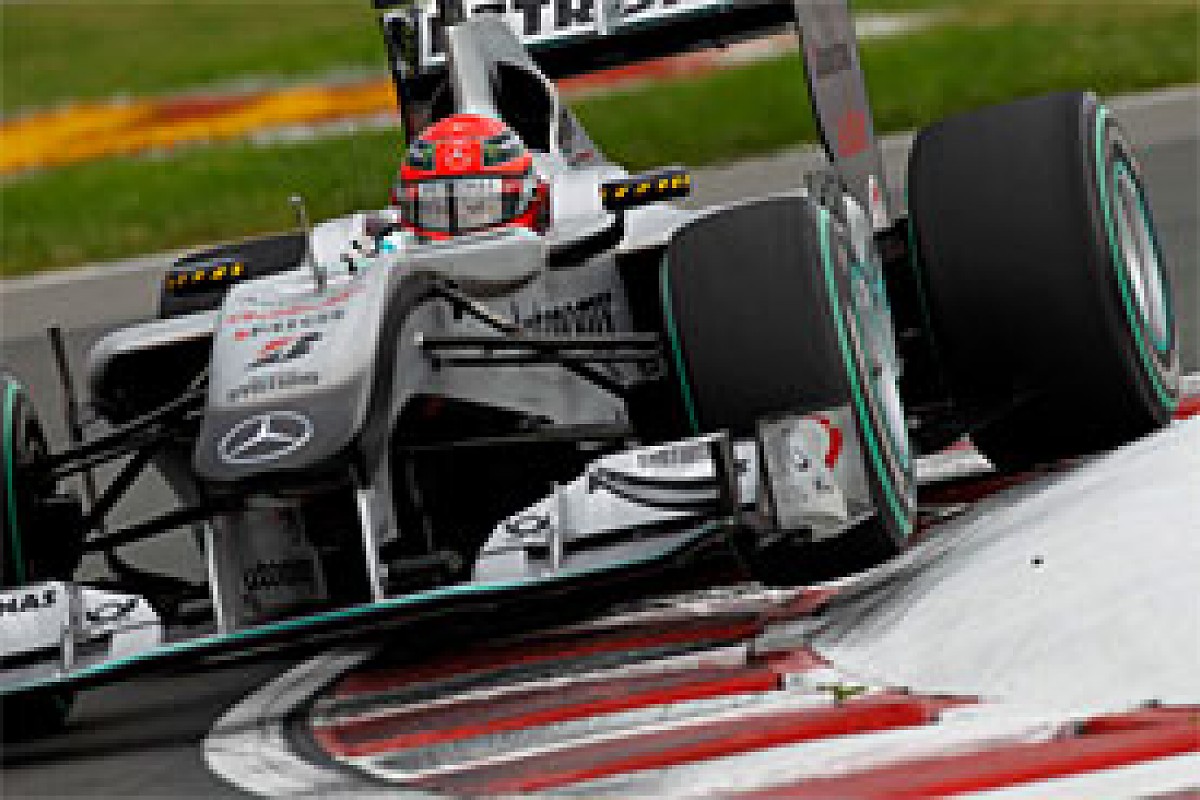 Michael Schumacher, Mercedes, Canadian GP © LAT
Massa though, did not appreciate the robust defence.
"Have we got any Massa radio?" Bernie's FOM TV producer asked his crew.
"Yes," came the response, "but we can't use it. He's swearing...."
"Can we use the fader on it?"
"No, negative. He's swearing all the time..."
Okay, the move on Kubica might have been unnecessarily intimidatory and got Schumacher into trouble, but what I liked about Michael's race was just how badly a man with 91 victories and seven Montreal wins wanted that ninth place! He could have given himself a much easier ride but that's just not Michael Schumacher, even at 41.
I see that Nick Fry has leapt to Michael's defence, as perhaps you'd expect, but he's also made some good points. You might shake your head and smile at Michael's obstinacy but if he's in your car you'd much rather he was still fighting.
There were even some in the press room giving Michael a hard time for being passed by the Force Indias and for being so much slower than Rosberg in the race - both more than harsh.
By the time the Force Indias caught him, Michael was dead meat. But even with virtually zero grip by that stage, he didn't make it easy. And, okay, the facts are that Rosberg's quickest race lap was 1:17.832 and Michael's was 1:19.577, but such were the tyre mechanics of the Montreal race that it's entirely irrelevant. To reinforce that, Kubica went almost a full second faster than anyone with three laps of fuel on a set of fresh supersofts after stopping late, but it meant nothing.
Rosberg, who'd started on the supersofts, did his time with a set of primes on a well-rubbered surface and two laps worth of fuel. Schumacher set his best time 11 laps into that hugely ambitious 37-lap stint on supersofts, with 26 laps of fuel on board - hardly a meaningful comparison.
What will interest Mercedes much more is that Hamilton, in the interests of persuading Button and Alonso that they were in futile pursuit, set a very quick lap with eight laps to go. And that Rosberg, having followed almost identical tyre stop patterns to the McLarens, lapped within 0.03s of that, albeit with six laps less fuel.
With a car upgrade due in Valencia, team optimism about a much stronger showing is more than hot air. Of course, if Michael is strong he will be trumpeted as having gone from zero to hero. For me though, he's been pretty heroic for about 19 years now. The guy doesn't know what it is to give up. Give him a break.