It was a race that had everything: wet conditions, dry conditions, tyre changes by every competitor, a collision, the first use of the pace car in earnest, a stirring last-stage pursuit - and two winners. At the finish of the Canadian Grand Prix Colin Chapman threw his cap for Emerson Fittipaldi, who had Jackie Oliver (and Jean-Pierre Beltoise as it turned out) right up behind, but the man with the chequered flag waved it at Peter Revson. At the end of an extra lap, the JPS driver was ushered into the victory circle - but so too, a moment later, was the Yardleymac man. "Who did win?" asked everybody of his neighbour. There were many theories and many suggestions, most of the flippant variety, but it took many hours of patient cross-checking to decide.
It was Revson, whose pitstop for changing to slick tyres had gone well, and who, almost unnoticed, had managed to do the right number of laps first. But hero of the day was certainly Fittipaldi, who had been the victim of the confusion to the extent that, when Jody Scheckter and Francois Cevert shunted together and the pace car came out into traffic, it was instructed to get ahead of another incorrect race-leader - Howden Ganley. Fittipaldi was thus forced into the situation of being just ahead of Oliver on the road, but nearly a full lap behind.
The UOP Shadow was, in fact, leading once the green flag came out again, and although Revson overtook on the 47th lap and drove on to win, it was almost unnoticed at the time - even Oliver didn't notice. He was fully occupied with a sudden case of stuck throttles - and with his pit signals, which were warning him of Fittipaldi's incredible progress around the lap. Setting best time of the day, more than a second faster than anything or anyone else was able to do, Emerson made up the entire two and a half miles and, on what most people thought was one lap from the end but was really two, blew by on the straight to lead over the line by inches. It was a fabulous drive and a stirring finish to what, no matter who won, had been a superbly entertaining motor race.
Entry
Did you ever notice that sometimes the circuits the drivers dislike the most are the ones the rest of us enjoy the best? Mosport in eastern Canada is at least as bumpy as Brands Hatch; the roughness in the old surface requires suspension to be set up high, which destroys most of the good intentions the designers had, and the cars skitter and skip on the edge of control like overpowered small boats in a heavy sea. The drivers hate it, but my goodness is it grand to watch. And in mist and wet, which we had for much of this weekend (not unusual here) most of the superstars would rather have stayed in the warm dry motel. But the rest of us found all the skittering and skidding and splashing fine spectacle. And after all, who pays them, right?
Mosport is generally a medium speed track with half a dozen long bends sweeping around and up and down hills, plus a couple of tight angles and an uphill, undulating straight. Some of the bends come closely together so the drivers on the limit have to work like dervishes to get the cars back across the road so as to stay on the limit and not fall over it at the next bend; all the while the suspensions are chattering and refusing to grip the road reliably and the over-eager engines are trying to spin the wheels and the kerbstones close along the narrow road are frequently jumping out to clip the tyres...it's a thread-the-needle of rare quality. From the many grassy banks one can look down on to the cockpits and actually see the superstars earning our money.
With the championship won - except for the constructors' title, which was still a contest between Tyrrell and Lotus - the pair of North American grands prix were, as usual, more of an end-of-season exhibition swing than an integral, deadly serious part of the European tour. At the Canadian round especially the atmosphere was relaxed, friendly, and a bit rustic. It didn't seem to be a race that mattered very much. Quite refreshing actually.
The logistics of packing up to go to America just a few days after arriving home from Italy meant that nobody had time to produce much of anything new. Even the Italian team brought only one car, a single B3 Mk2 for Arturo Merzario. Emerson Fittipaldi still had only one chassis to use while Ronnie Peterson had his usual pair of John Players, but both Elf Tyrrell and Yardley McLaren took the opportunity of putting third drivers in their spare cars. Joining Jackie Stewart and Cevert (following the untimely motorbike accident of Patrick Depailler) was Chris Amon, while Scheckter took his occasional place alongside Denny Hulme and Revson. On none of these machines was anything significantly new, although Stewart's 006/2 was initially rigged out in "007/2" configuration for a serious test. After a Friday which produced little but confusion and an inferior lap time, he switched it back to normal for Saturday; Amon was constrained to remain with the chisel-nosed form because the team hadn't enough bits to give him anything else.
One had to go down the list to Brabhams before finding anything unfamiliar, and this was merely an experimental new shape of airbox. The three drivers here were likewise familiar, Rolf Stommelen again using the third car alongside Carlos Reutemann and Wilson Fittipaldi. Graham Hill's Embassy Shadow was as before just as were the two works UOP Shadows, George Follmer using one of his older chassis while Oliver had the latest one with its stretched wheel-base. Mike Beuttler's March was as before, but the works had again put Jean-Pierre Jarier into the occasional David Purley machine. Hesketh Racing had laboured mightily to equip James Hunt with a new chassis, which bore the same number but lacked some of the detail strengthening tweaks of the one shunted at Monza; it was not equipped with the curious 'silly nose' because of the necessity of settling the ride height up on this bumpy circuit; it evidently depends on ground-effect.
Marlboro-BRM had merely three machines for once, but this time they had four drivers. Apparently something Clay Regazzoni had said in print had angered the Bourne management. There was talk too of letters passing between lawyers, but for whatever reason Tim Parnell was instructed to say, "Mr Stanley has decided Regazzoni is to be rested; he hasn't been driving well recently." It wasn't until Clay arrived in Canada on the Thursday that he found out about his 'rest' - and neither were the Marlboro people informed in advance. They in fact heard the news first from the press, and ultimately issued a statement which expressed their surprise, their disgruntlement, and their complete confidence in Regazzoni.
The driver brought in to take the vacant seat was Peter Gethin (whom the Marlboro management took care to praise also) who had the handicap of "needing to get my eye in" after a complete year out of an F1 car. For Beltoise and Niki Lauda, things were as usual - although they could hardly have felt much happiness in their former team-mate's being 'disciplined' nor confidence in their own futures about the capricious way it was done.
The mood around the Surtees-Fina team was much happier, and both Mike Hailwood and Carlos Pace seemed to feel well-equipped with the cars which have recently begun to go so well. More confident too were the Iso-Marlboro drivers, Ganley being joined this week for one race only by his flat-mate Tim Schenken; more detail tweaks suggested by Ron Tauranac had apparently continued to improve the behaviour of the cars. Finally, the single Ensign was again on hand looking as neat as ever and Rikki von Opel was looking forward to his first race on the continent of his birth.
Practice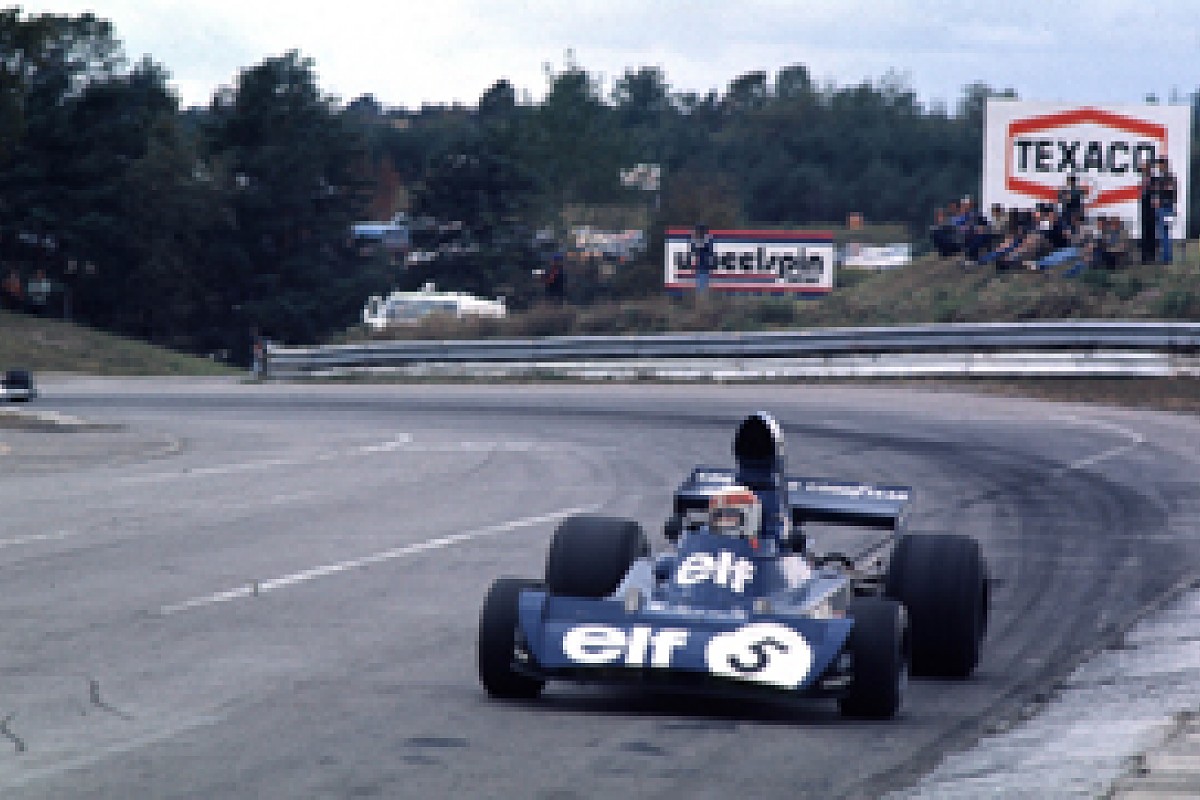 Canada 1973 would turn out to be Jackie Stewart's final grand prix © LAT
There were supposed to be four sessions, and Friday co-operated by being dry, generally bright, and not unpleasantly cool. Peterson emerged as the fastest man right away, doing a time in the morning that, while it was nowhere close to the existing record (Revson's of last year at 1m13.6s), nobody else equalled it all day. In the afternoon Ronnie for all practical purposes did equal the record (1m13.697s) with a time more than a second quicker than anything his rivals could manage. The supple suspension of the JPS was at its most effective on the rough old surface and obviously to the naked eye gluing the wheels to the road where other cars tended to skip about a little. The two McLarens of Revson and Scheckter were clearly very good as well, but it was not team-mate Hulme, who stayed with them (he spent most of the day having his final-drive replaced) but Reutemann's nimble little Brabham.
Jody made an interesting remark about the nature of Mosport: he said that whereas one usually gets the best results by a smooth, unflustered, self-controlled driving style, he thought that this one called for a more vigorous approach. "It seems like the harder you drive here the faster you go." James Hunt, having his first experience at the place, offered an additional concept. "It's a difficult place to learn. Normally to find out how to go round you just chick the car into the corners over the limit and sort it out, and that tells you how to do it right next time. But if you try that here you fly off. It takes some learning, this one."
There was a sense of urgency about going well on Friday, for the weather forecast for Saturday was unpromising. Thus the slowness of Hulme, and of Emerson F, whose car had developed a "pulling to one side - that's usually a trick for Saturday," was a bit worrying to them. This is another of those many circuits where overtaking is a problem.
Saturday in fact was a replay of a day 364 days before; last year's race day, when thick fog moved in on the Mosport hilltop and so limited visibility between marshals' positions that no one dared take cars onto the track in company. After a long time waiting, and a long time meeting in some confusion (take a racer out of his car and he generally reverts to childhood) anyone who cared to take part was allowed out for a few untimed laps one-at-a-time. There have not been many wet sessions this season, and certain people with close ties to one or another of the tyre companies made as much use of the opportunity of trying different rainwear as possible.
Just as last year, at around three in the afternoon the fog suddenly lifted like a stage curtain. Everyone fired up and set out for two and a half hours of good solid practice on a drying track with cool temperatures. It was obvious that the surface, which still had wet patches in shaded areas, was perhaps a second slower than the day before, but at least there was a good chance to settle the grid order on a more equitable basis.
Again Ronnie was quickest and by a wide margin, using his spare car exclusively, but by this time Emerson got his car properly sorted and came out to be second fastest of the day. To watch the just-dethroned champion fling his car around was great sport. It was obviously handling exactly right; he could do anything with it he pleased, hurl it bodily at corners, plant his foot hard down in the middle without losing the tail, and by the end of the day he was just giving a magnificent demonstration of just why there are only a few human beings in the world that can qualify to be champion. Some drivers try very hard and the car lurches all over the road, just ahead of them; Fittipaldi at this day and place was forcing his grand prix machine as hard as he personally could go and keeping just ahead of it.
That Cevert came up to third best of the day was an excellent job as well, his Tyrrell beating all three of the McLarens by a small but distinct margin. Stewart was not as quick, but he was one of the few drivers to improve, and that probably laid to rest all Derek Gardner's ideas about chisel noses and side radiators. Amon, by contrast, did only about the same sort of time as the day before, in the context of the track being slower. The blue cars were all as reliable as usual, although at one point Stewart's fire extinguisher set itself off as it had in Holland, and at another point the car itself snapped so far sideways over a bump that it got away from the new champion and dinged both its ends on the guardrail. The damage was slight and he was soon out once more, but was never fully pleased with his handling. "It's all a bit front-and-rear, a bit inconsistent."
The McLaren drivers were a bit displeased as well, none of them thinking the cars were quite right. Scheckter spoke of understeer and wheelspin both, while Revson had a spin on the last timed lap of the day.
Merzario had shunted his Ferrari on Friday, destroying the nose piece and crumpling much of the cladding on one side of the single B3, and incidentally giving his helmet such a crack on the roll-bar stays that he went unconscious for a few minutes. He thought something had broken at the front. The next day he just was not fast at all - his grid time was his last lap of the day and obviously represented a real banzai effort. All three Brabham men, by contrast, seemed very pleased with their cars, none of them having any complaints at all; they sounded almost like a Brabham fan club in fact. Reutemann did have an opportunity to follow Peterson at one point, and noticed the JPS seemed to be much quicker out of one specific long corner where the BT42 was less able to get its power down. Oliver was doing an impressive job and so in fact was Hill, both Shadows seeming to go better than ever before. Graham's major trouble was a gear selection difficulty which cropped up in the last 15 minutes of Saturday, while Oliver was handicapped for a while by clutch, brake and wheel-bearing troubles. Follmer had gone very well on Friday, up in company with a handful of stars and this despite a foul-up on the tyre supply end of things, but Saturday wasn't as successful.
Hunt was suffering a bit from jet-lag and didn't electrify during practice as one might have expected the young superstar to do. His Lordship attacked some of the problem by "taking away his girls promptly at 10pm," and by the end of Saturday James had tuned out most of his understeer and was going well enough to start worrying about gear ratios. "When he starts going on about gearing," smiled Harvey Postlethwaite, "we know it's beginning to come right!" There was a frightening spin at one point when another Melmag wheel broke. Beuttler was also going quite well, although there was a delay out on the circuit with fuel system trouble. Jarier had a worrying crash on Friday when he and Revson got tangled up together in the fast first turn, and not only did both ends of the March get bent but the newly installed, much too tall kerbing tore off an oil pipe under the engine. The next day time was lost with a water leak.
The BRM mechanics were gratified that they had few problems to fix on all three cars, although they had to give Lauda a second engine as an experiment to see if new thicker cylinder liners might stiffen things a bit; this stopped 15 minutes from the end of last practice when an electrical plug came adrift. Gethin in his 'new' car was taking things sensibly, playing himself back into this ultra-sensitive type of car and finding that after a year's lay-off, "This isn't really my blood group at the moment!" For once it was Hailwood who was having the better Surtees day, doing "more laps today than in the last four meetings put together," although on Saturday he let the tyres slip out of the dry groove and shunted the rail in turn one. Pace at first found his car was set up completely wrong and that the engine was down on power but did manage to improve on his Friday time on his last lap of Saturday's practice. The two Iso drivers were not reaping a lot of advantage from any changes to the car, saying the handling seemed inconsistent and the actual adhesion was inferior; Schenken had to stop with a halfshaft broken. Von Opel had a number of little things go wrong, including a baulky ball valve in his fuel system, and the Ensign was not as impressive as it has been in earlier races.
What with the long delay and the rather slippery track there was an impression on Saturday night that very little had actually gone wrong with the 27 racing cars (counting Peterson's two) that had been used, which was a pleasant change. Most mechanics actually got home rather early that night, which was lucky because it was cold and damp. In the morning there wasn't any fog but there was rain, lots and lots of heavy pouring rain. From the cars that went out, six of them spun off the road.
Rolf Stommelen at Mosport in 1973 © LAT
Peterson spun, Scheckter and Hulme both spun and Reutemann, Hunt and von Opel spun. There were various amounts of damage to fix, except for the damage to Ronnie's car which was severe enough at the front to be a job for Norwich. It so happened that it was his training car, chassis 8, which he was using to try out tyres and suspension/wing settings, so it didn't affect his starting the race. (Of course, both his cars had been fastest in practice.) A seventh car came to a stop during the short, lurid, streaming wet period, and it was Cevert's although he didn't spin. What had stopped him was another fire bottle going off by itself. Curious, and unsettling - it prevents the driver seeing, you see...
Race
The start was given just under an hour late. The track was still glistening wet from a recent shower and, although there were bright patches in the sky, there was enough dark cloud to windward that everyone decided without question to keep rain tyres fitted and wing angles steep and anti-roll bars disconnected. Several drivers had open-faced helmets with bubble visors and Hulme sported a pretty gold-plated visor with electric wires leading to it from a battery pack. It looked like being that sort of race - the first of the kind this year.
Peterson took advantage of his front-row position to practice a full-blooded standing start from the dummy grid, but when the race actually got underway he and Revson sat with greasily spinning wheels and slowly moved off exactly together. Reutemann, from the second row, was earnestly trying to squeeze between them, while Scheckter's McLaren was jammed into the same space. Meanwhile Stewart was making his usual good start and quickly eliminated much of the spray problem by overtaking many of the spray generators ahead of him; his start was however overshadowed by that of Lauda, who was off as if on a dry track and, as everyone scrambled around the narrow swerves, moved up from his fourth row spot into third by the end of the opening lap. Already everything was scrambled, as Revson and Reutemann had fallen well back; it was Peterson leading by the thickness of a film of mud from Scheckter and Lauda, with Fittipaldi and Stewart into yet another of their duels a bit behind.
It was obviously the Niki Lauda show today. There were two other Firestone rain tyre-shod V12 BRMs in the race, but only his was going like a race leader; it took him only four laps to seize the advantage and on the next lap he pulled out four, count them, four seconds and repeated the feat by another three seconds next time around. It was all over for the others, hopeless, no chance at all - providing the track conditions stayed the same. Of course, track conditions weren't likely to stay the same, for the sky, although threatening, was threatening emptily. The passage of 26 cars lap after lap began to dry the line visibly.
Actually, Stewart and Scheckter were the first to suffer. They happened to have the same kind of Goodyear rain tyre, and as the surface went from wet to damp they began to lose ground. Presently Peterson and Fittipaldi were left all alone together; they closed up (Ronnie's car was oversteering while Emerson's was handling just about perfectly) and but for the spoiling presence of the red and white Marlboro car well out ahead it looked like the black and gold races of Italy and Austria.
Lauda was in fact still gaining ground for the first dozen laps, and he was holding as much as 23s on Peterson until lap 15. But then it suddenly started to go wrong. On the 16th lap he suddenly lost 4s, presumably because of both the drying track and backmarkers. Perhaps the JPSs would catch up the BRM at the same rate it had escaped at.
But something else escaped first: the air in Peterson's left-rear tyre. "It was oversteering really badly anyway, but the car suddenly jumped sideways and I saw the back end come up by me," he said. The chassis scraped up over the kerbing, tearing loose one of the rear torsion bar links, and also smacked the guardrail a glancing blow; Ronnie tried to drive on around but only went a few hundred yards before parking and walking back.
There was still Fittipaldi to harass Lauda, and he was now gaining at such a rate that at lap 20, quarter distance, Niki gave up and pulled into the pits just 8s before Fittipaldi came round. The crewmen fitted the BRM with intermediate tyres to replace its wets and sent him out again just behind Reutemann in eighth.
That made it Fittipaldi clearly leading now, but it was Oliver who had worked up into second from Cevert and Scheckter. The Shadow was being driven with great verve and was but 5s behind the JPS. But this was not a stable part of the race. The great rash of pitstops was about to begin as everybody began to resign themselves to the absolute need to change over to slick tyres.
Great traffic jams built up as the drivers veered off into the pits, the established order altered by wholesale amounts, and within only a couple of laps almost everyone's lap chart 'blew up.' This was the point at which most people threw up their hands and threw away their charts. Those who didn't do it at this moment had only another few moments to carry on.
On their 33rd laps, having both stopped for slicks and having rejoined to rush around in company, Scheckter and Cevert came together side-by-side at the second turn - the same place where Jacky Ickx collided with Stewart in 1969. The results were a bit more harsh this time, with damage to both chassis from crunching into the rail. Francois pulled himself out of his crumpled footwell and went running along to where Jody was standing, brushing himself off, and their confrontation lacked enough cordiality that marshals felt it necessary to step between them.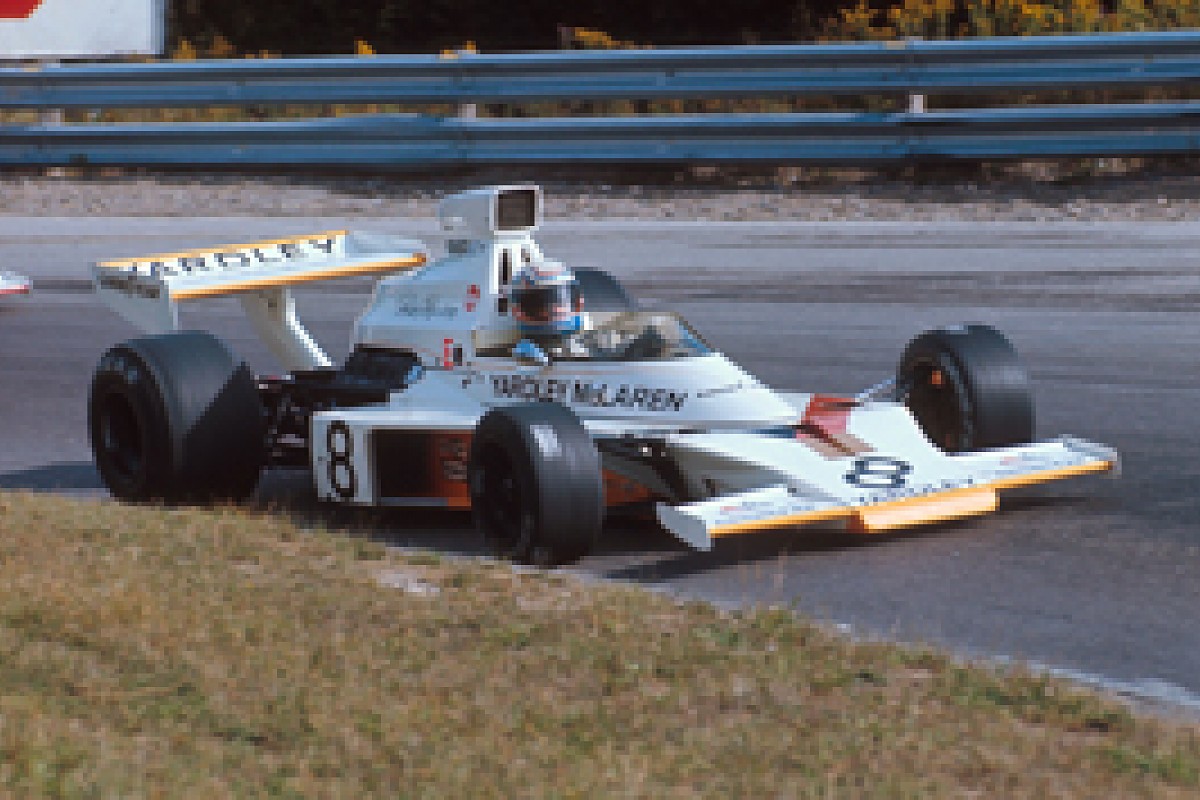 Revson would come away with the win © LAT
There was debris on the road and anyway, one of the original ideas of the pace car rule is that any contact should automatically bring out the pace car. There were also two ambulances on the track (Cevert was brought back in to have his injuries checked; these seemed to be little but pulled tendons in both legs) and the corner workers who wanted to remove the abandoned cars felt menaced by the onrushing survivors. Most people agreed later that it was one of the envisaged situations when the pace car was a good idea. What was wrong was that it took some three laps before it came out. And when it did finally appear, it got in front of the wrong car.
Suddenly Ganley found himself running around behind a yellow 914. He hadn't reckoned himself the leader and gave a couple of amazed 'who, me?' signals. Peter MacIntosh in the passenger seat radioed back to the start-line officials a total of three times, but each time the answer was 'stay ahead of number 25.' Quickly everyone else ran around on track and joined the queue. Some of them stopped at the pits and rejoined again, complicating with finality any final attempts at keeping an accurate lap chart. Nobody agreed on the order, not the teams, not the officials, not the commentators, not the puzzled workers high above the tower who were putting numbers in slots to 'inform' the spectators of the first four places. They changed their minds about as often as the pace car came around.
"But as they thought I was in front, I decided perhaps I'd better try to stay there," said Ganley later that night. When the green flag finally unleashed the race again the Iso in front of Fittipaldi and Stewart stayed there for another lap, and another, and another. "I began to puff so hard I was having trouble breathing," he added.
Emerson did make it by, and then Stewart followed him. The JPS began pulling away, Fittipaldi driving with the same incredible energy as in practice. There was a school of thought in the pits that it was Oliver who was now leading, the Shadow tyre change having gone off more quickly than the Lotus; in the queue behind the pace car Fittipaldi was ahead of Oliver, which meant (if the theory was right) that he was actually the better part of a lap behind. There were still almost 40 laps to go and perhaps a tremendous effort would salvage it for Emerson.
That was the thing to watch, and watching it captured all the attention. The JPS was gaining ground, but not by a lot - except for a couple of intermittent problems with the Shadow. Some time was lost in traffic, particularly as Ollie tried to get around Beltoise - who was at the time actually leading, it turned out later, so it wasn't censorable for Jean-Pierre to fight back - and another was a sudden case of stuck-shut throttle. On one crucial lap Oliver came up by the pits practically crawling, trying to free his pedal, and a couple of cars blasted by. One, although he was too busy to notice (Ollie said later that he had no memory of Revson passing him) was number eight.
The Shadow was holding its own to the extent that had it not experienced those erratic delays the JPS would never have made it. But Emerson, every lap a triumph of fabulous full-blooded slides, was carving off whole seconds. Not half a dozen laps from the scheduled end it was up into the slipstream and then, as Oliver said: "Once he had me in his sights it was all over, nothing would have held him back then." The Shadow was running too much wing angle to be fast up the straights (part of the delay in the Lotus pits earlier was spent setting Fittipaldi's wings down) and with just one and a quarter laps to go Emerson blew by on the long uphill straight. Jackie fought back and the pair went into what their pits were signalling was the final lap still nose to tail. They came hurtling up the hill again still close together, slung through the final curves, and slid out onto the pit straight towards the finish line not 2s apart. As Emerson rushed up towards the Lotus pits Colin Chapman stepped out into the track and, with a gesture of real exuberance, threw his cap high into the air.
The official in the flying bridge opposite watched the cap curiously. He was holding the chequered flag, but not showing it. He turned to look up at the track, watching for another car. The cap lay in the track, being pummelled by onrushing racing cars.
A tight cluster of cars shot around into view. It was Stewart ahead, still holding nothing more than the 2s advantage on Ganley he'd gained after passing so many laps before. Howden was still holding the Iso in front of Hailwood's Surtees, Revson's McLaren and Hunt's March. These four had been slithering around in a furious bunch absolutely nose to tail for the whole period since the pace car, and here they went down to the line as close and as hard as ever. After all, who knew what positions they were really fighting for? Best keep boots stuck well in. They blasted by as one under the bridge, where the man with the flag waves it vigorously at one of them - at Revson. A moment later he waved it again, as Fittipaldi and Oliver completed another searing full-racing lap. Their 81st? Then the first lot of finishers came racing round as hard as before. Their 81st? 82nd? Who knew?
As he slowed and neared the pits again, Emerson was ushered into the fenced-off victory area below the tower. Then, a moment later, Revson arrived and he too was beckoned into the enclosure. They both climbed out and took off their helmets and smiled around uncertainly. What was going on? Who had won?
A small, but extremely active flock of spectators all sunburn and hair and delirious joy, came running waving Brazilian flags; they know who had won. But amid the waving and shouting and singing, the officials handed the trophy to - Peter Revson!
It was party time. Everybody packed up and went back to the garage talking of nothing else. "Hey, who did win?" they all asked. The Lotus team manager said: "We're waiting to find out so we can lodge a protest." Revson said: "I know who won. You can congratulate me right now." Members of his team though, said that they hadn't a clue and that their lap charts had blown up. Meanwhile the Shadow people were huddled in discussion, their faces showing earnest doubt.
A rainbow broke out in the eastern sky against the dark clouds and somebody suggested that the pack should race to the end of it, the trophy going to whoever got there first! The BRM manager said: "Niki drove a good race, give it to him." The only thing wrong with that statement though, was that Niki's car had quit finally, after a second stop to change to slick tyres, with its final drive gone. Hailwood said: "I drive bloody hard enough to win. I want it." Ganley looked bemused, obviously thinking "I wonder if they were right the first time..."
Tom Kneebone made the best suggestion of all. "Let's give it to Hunt, because Hesketh will throw the best party," he said.
While the officials laboriously checked the data, the only constructive thing to do was beaver around and ask the dreary question of what had broken? The answer was surprisingly little, as more cars kept going than stopped. Merzario had had another shunt, going off through the catch-fencing on only the second lap of the race and destroying the second and last nose-piece brought by the team; he had to carry on with a bare chassis with giant understeer until a hasty addition of a metal plate gave him medium understeer. Poor Gethin's reintroduction to the GP scene lasted but five laps, when a pump belt broke. Beuttler's engine exploded in a huge way in the middle of the first turn on the 21st lap. Pace had at first a puncture of a front tyre which gave him an awkward moment; and then another Melmag wheel broke at speed on another part of the course and gave him a big moment. He got back to the pits but nothing could persuade him to carry on.
Jarier and von Opel took the flag, but both had lost a lot of time with assorted problems (both had gone off the road and Jarier deranged his gearbox). Follmer had not been able to join Oliver because of recurring front tyre trouble, while Hill's four stops included a time spent adding front brake fluid. Schenken had held seventh at one point, but there was trouble with tyres and wheels. Hulme had had a thoroughly miserable race with two separate punctures as well as sticking throttles. All three Brabham engines ran well to the end - a first - although Stommelen became stuck in fourth gear by the end and Reutemann had to change a blistered front tyre.
Late in the evening the officials announced their findings; the results confirmed the theory that Revson had won from Fittipaldi and Oliver, with Belotise nearly with them for fourth. The Shadow team entered a protest at that point, but rechecking again finally convinced them that they'd missed a lap of the McLaren and they withdrew it. So many hours after it was due to begin, the Grand Prix Silly was declared ended.
Not ended, though, are the other questions - chiefly about the proper use of the pace car. That is a point that needs tightening up.