Twenty minutes. It's not a huge amount of time in the grand scheme of things, but it's an eternity in a sport where glory or failure can be decided by a tenth of a second. It also happens to be the amount of time that F1 Racing will be sitting down with Robert Kubica for, in the inauthentically serene confines of the Chinese paddock. As Kubica sits chatting to a particularly persistent Polish journalist, he's in good spirits - and it's not surprising: two hours ago he put the car eighth on the grid for Sunday's proceedings in Shanghai, and would go on to finish fifth. Not even a cloud of volcanic ash and European aviation chaos could wipe the smile from his satisfied face.
As the Polish journalist gets the nod from Renault that he has one final question, thoughts turn to the intriguing Kubica. He is usually affable and amusing in person, while retaining the relentless drive and flat-out aggression on the track that has led to his description as a 'real racer' by so many in F1.
And yet Robert Kubica must be the only person in the sport who doesn't have enemies. The infamous 'Piranha Club' is steeped in simmering hostility whichever way you look at it, from the historic animosity between Ferrari and McLaren to Lewis and Fernando's mutual dislike - it's the inevitable by-product of needing to be number one in an ultra-competitive sport. Yet here sits a humble Polish chap, admired by Bernie, teams and drivers alike, possessing the drive to want to be the best, mixed with the humility not to crow about it to anyone who puts a microphone near his mouth.
The scraping of chair legs and a round of warm Polish 'cheerios' signals that it's our turn. F1 Racing steps into the hot seat, and the 20 minutes begins...

'Chipper' is the main word you'd use to describe Robert Kubica today. 'Relaxed', 'attentive' and 'good-humoured' would also be appropriate. It's easy to understand why.
"If someone had told me before the start of the season I'd have 30 points after the first three races, I'd have signed up for that straight away," beams Robert, unaware that his stats will read '40 points from four races' by this time tomorrow - something all the more impressive given that he failed to score any points at the season opener in Bahrain.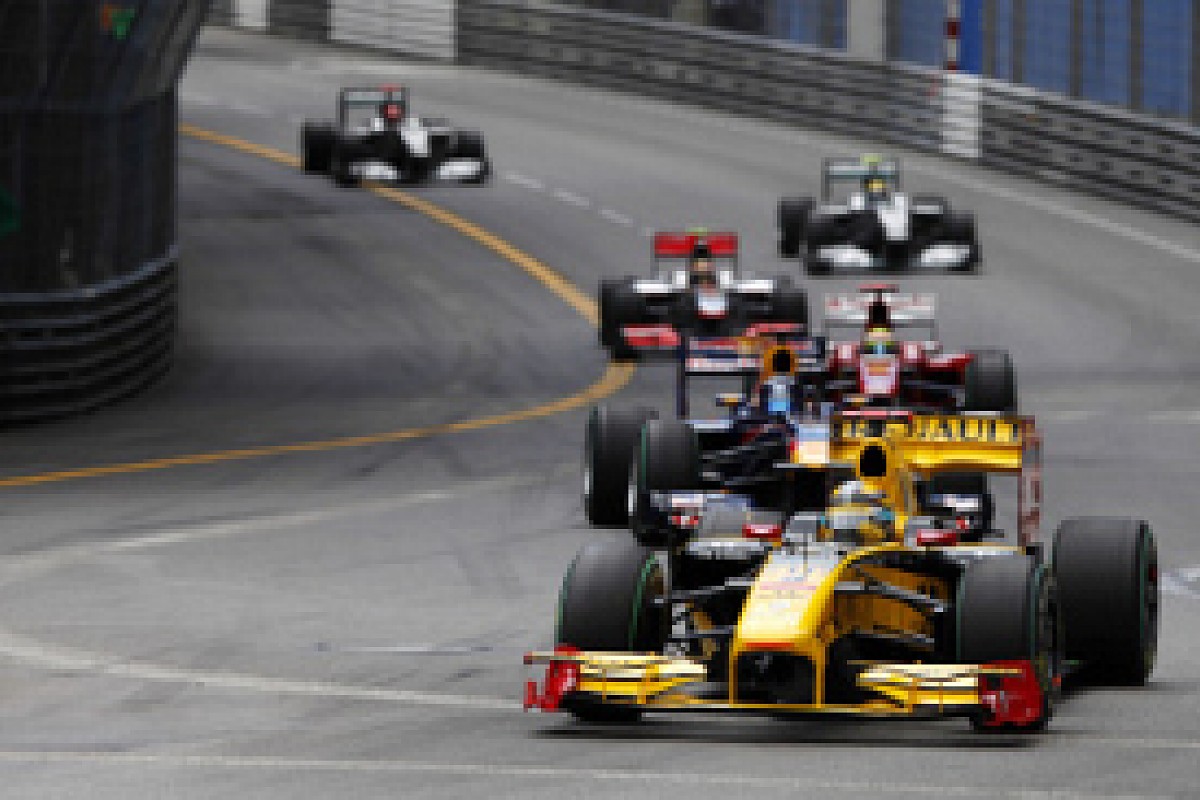 Robert Kubica © LAT
So who's this fantastic start down to?
"It's down to everybody - Formula 1 is a team sport and a lot of it is down to the great pitstops we've been doing, for example," he says, displaying the modern Formula 1 driver's fondness for constantly and publicly mentioning the hard graft of mechanics and team members in public. With Kubica, though, it feels completely believable. "Of course some of it's down to the driver as well to bring the car home," he adds, "so I think I've had good races so far. Everything has to be at 100 per cent."
He's not the type to brag about it, but speak to anyone connected with Renault and they'll tell you of Kubica's incredible work ethic and how he's among the last to leave the circuit at a race weekend having gone through every conceivable piece of telemetry in order to wring the best out of the Renault R30. The man himself, though, plays down his 'hardest working driver in F1' tag with a trademark shrug of the shoulders and a look that says, 'it's something every driver should do'.
"The thing is, most people always think that a driver just drives," he explains, as a brief glance at the Dictaphone displays that the three-minute mark has been passed. "I'm just trying to get as much information as I can, and you can improve a lot by analysing all the data with the engineers. Of course there is a limit to how much faster you can make a car this way, but we're all very motivated. Maybe if I had the best car I'd leave the track an hour after the race, but if there is lots to improve then we all have to work hard. Everyone has to give the maximum."
The message is pretty clear, but it's presented with enough honesty and personality to leave you in no uncertain terms that this is a driver the mechanics will gladly work long into the night for.
Such is Kubica's understated personality that he refuses to acknowledge even that he's the number one driver at Renault ("Well, I don't really think I'm number one - obviously I have more experience than Vitaly, and maybe at the start of the season we relied a bit more on my feedback, but that's normal"), yet he's the only one who doesn't. It's the first time in Kubica's career that he's been a team's bona fide number one, and it clearly suits him.
But being in the team he's with, the inevitable comparisons with Fernando Alonso have already begun. Does he feel pressure to emulate the man who won back-to-back world titles with Renault in 2005 and 2006? Robert pauses. "I don't know... I don't think so. I mean, I'm not Fernando because I haven't won the world championship twice. I'm just trying to do my job. You'd have to ask the team if they want a second Fernando or someone else. I think Fernando has done a really good job here in the past, but I'm a completely different person and driver, and that's it."
Kubica's unwavering hard work and commitment, allied with his undoubted natural ability, is certainly reminiscent of Alonso - particularly in the Spaniard's first stint with the team that culminated in those two world championships. Robert maintains he didn't ask his good friend Fernando's advice before joining Renault: "We didn't really speak about it. To be honest, we don't speak about Formula 1."
But it's clear that putting his stamp on the team is important. And it's obvious how he's going to achieve that. "All drivers want to have a championship-winning car in their hands, but to get it you have to work," he states matter-of-factly. "I think that if you work hard with the team and improve the car, and finally get into the position of being able to challenge for race wins, that would give me more satisfaction than joining a team with a winning car. Sometimes finishing fourth feels better than a win."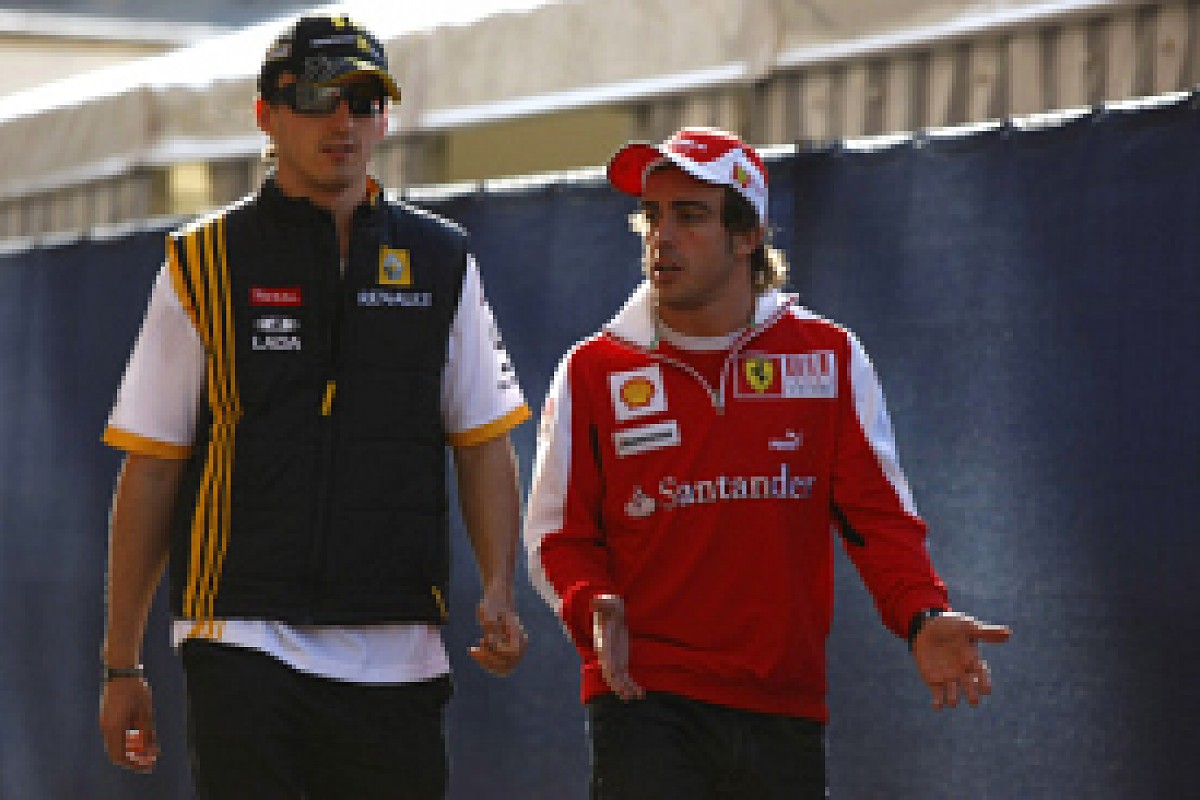 Kubica and Fernando Alonso © LAT
Seven minutes in, and it's funny that Fernando Alonso's name has just cropped up. It seems that his shadow is inadvertently cast over Kubica's career at present, with Robert not only taking Fernando's seat at Renault but, if you believe the F1 rumour mill, heavily backed to join him at Ferrari next season. Kubica bats away specific talk of Ferrari with the official 'I'm very happy at Renault' line you'd expect - especially given that he's sitting in their motorhome - but he's clever enough to know that being linked to the most successful team in Formula 1 is hardly the worst thing that could happen to him.
"Well, it's better to have speculation about teams wanting you than teams not wanting you, or that you might not get a seat," he laughs. "So these kind of rumours are more positive than negative, but we have to stay realistic. They're just rumours, and they were around last year, too. It's normal in F1, but there's nothing really behind them."
It feels like a response that's simultaneously playing it all down while feeling happy enough for it to continue. But it must be hugely flattering having your name whispered in the same sentence as the biggest team in F1 history, even for someone so seemingly lacking in ego in comparison to many of his peers. "To be honest I don't really take too much notice. I don't think about it - there's too much to do, and once the season starts you're just trying to concentrate on driving so nothing else exists. And then once I'm at home, I'm just trying to chill out and I don't think about Formula 1." If that really is the case, the Ron Dennis levels of discipline are to be admired.
It's one thing to be disciplined and motivated when you're at a new team and things are going well, but another when you're toiling away at the back of the grid - and after the heroics of challenging for the title in 2008, this was the unlikely situation in which Kubica found himself last year with BMW. How on earth does a driver stay motivated to fight for track positions at the back with the same cars that would've automatically let him past the season before?
"It's funny, somehow your motivation can be higher," reasons Robert, "because you really want to improve the car more. Even last year not having a competitive car, we still did a good job and were quite good at the end of the season. It proves that you should never give up. I always think that the first day I stop trying like this, I should give up Formula 1.
With such monumental commitment required, can he see himself driving into his 40s like Michael Schumacher? "I don't think so. Things might change - I mean, I already have a bit of a different approach to last year - but the day I stop enjoying it, I'll stop. In the end, F1 is nice but it's quite a lot of work."
It's an often-quoted fact from the modern F1 driver that the bit in the car is actually the smallest part of the job. Growing up in Poland and having moved to Italy in his early teens to pursue his dreams of racing, it's interesting to know whether the job of being an F1 driver, with its ceaseless conveyor belt of interviews, sponsorship appearances and press conferences, is what Robert thought it would be when he was younger.
© LAT
"When I was little, I didn't think about F1," he laughs. "I never believed I would get into F1 so it was never really my goal. It was out of reach. Maybe it's because I'm always quite negative and pessimistic about everything; I have the kind of approach where I think it's better not to create expectations, and if something good happens it's a nice surprise. If you have big expectations and it doesn't happen, you just get disappointment. But Formula 1 has taught me quite a lot. It's not only about driving as fast as you can - it's about working with a team. When I think back to F3, there's only about four guys in the team and everything is quite small and familiar; here, everything is big."
But with such a lack of testing, isn't it frustrating that the best bit of the job is the one you don't get to do very much? "Yes, but it's still what we're paid for," Robert fires back immediately. "Some people think that driving an F1 car is not that difficult, but if that were true there wouldn't be a team that paid Fernando Alonso what he gets paid. We'd all have to do it for free. Maybe it is a smaller part of the job these days, but it's still the best part."
It doesn't take just over 14 minutes of conversation with Robert Kubica to make you realise he is not really part of the ultra-guarded, afraid-to-say-anything breed of modern sportsman. So what are his views on 2010's new rules, such as starting the race with a heavy car due to the refuelling ban?
"It feels like we're driving in slow motion," he says. "If I gave you something that weighed 30kg to carry on your back, you'd walk quite slowly. It's a similar feeling for us." Is it as exciting? "It's different. There's a bit more skill and deeper thinking needed, rather than just driving flat-out all the time." What about the new teams? Is it harder during a race with so many backmarkers to constantly watch out for? "Well, I wouldn't want to be in a position to overtake them normally because it would mean we're too far behind! It's a bit more tricky during qualifying to know who's in front of you so you have to take care, but I think the new teams are doing a really good job when we are lapping them. It's not easy for them."
In actual fact, there's only one subject on which Kubica is slightly reluctant to be outspoken: namely, who is the best driver on the grid. Ask this question of most current drivers and pretty much all of them will unflinchingly reply that they honestly
think they are the best out there, and that believing it is the only way they can carry on being an F1 driver. Whether they really believe it is another matter, but Kubica's response is as far removed from this sporting chest-puffing as you can get.
"No no, I will never say this, that I am the best," he says laughing, breaking eye contact. "There's a group of very strong drivers, and all of them can win. If you look at numbers you'd say Michael Schumacher is the best, but in current Formula 1 the gaps are so small. When you look at 2006, the gaps were huge between the teams. I remember when BMW were clearly the third team, we'd have half a second gap to the front and the same to the rear, so whatever you were doing you were always fifth and sixth. These days it would be very difficult to achieve what he achieved."
Maybe it's all part of Robert's trait of not building up expectations in life. If you're going to be Formula 1 world champion let it be a nice surprise, rather than having to accept failure in the life's ambition you've let the world in on.
And with that, Robert Kubica shakes hands and leaves for his next engagement - going back to study more data in the desperate search for a tenth here and a tenth there. It's rare to meet someone in his position with this much honesty and humility, but Robert's results show that there's a lot to be said for just quietly going about your business in the workplace without constantly having to jump up and down and remind everyone how great you are.
There's no desire to be controversial, no carefully pre-planned barbs aimed at anyone, no deliberate crowing about his undoubted talent; simply a deliberate and disarming modesty that goes against the grain of the whole persona of the professional sportsman.
It's a blend that's working. The speed of Kimi without the laziness. The application of Alonso without the previous 'team-mate issues'. And a shoulder-shrugging that doesn't scream 'I'm the best' - just a silent determination to prove it. It seems strange in F1, but it might just make him world champion one day.