With Jim Clark winning the race and Denny Hulme the world championship, the Mexican Grand Prix went very much according to form. But there were a few upsets, Dan Gurney ramming Clark's exhaust and holing his radiator, Graham Hill going out with a broken universal joint and Chris Amon running out of fuel while in second place.
In general the grand prix circus coped much better than they did last year with the effect of altitude. Most of the cars were still running hot, but the engines generally sounded much cleaner and the overall improvement was reflected in lap times - up to five seconds faster than last year both in practice and in the race.
As expected, Jim Clark's Lotus 49-Ford completely dominated the weekend. It was fastest in both practice sessions, it led the race from the third lap onwards, and it knocked 5.5s off the lap record. Its closest rivals were Hill's Lotus-Ford and Amon's Ferrari, and Amon looked certain to take second place until he ran out of fuel. As at Watkins Glen, the Brabham-Repcos were not quite fast enough, but their two-three finish emphasised their reliability and their right to the constructors' championship. The Honda went fairly well, but the McLaren-BRM was a little disappointing and the H16 BRMs were right out of the running.
Entry
The entry was very much the same as at Watkins Glen, except that Pedro Rodriguez - still limping heavily as a result of his F2 Protos crash at Enna - had replaced Jacky Ickx in the Cooper-Maserati team and there was no car for Jochen Rindt. Then at the last minute it was arranged for Jonathan Williams to drive the spare Ferrari and the field was brought up to 19 by the addition of Mike Fisher's 2-litre Lotus-BRM. Fisher comes from Portland, Oregon and made his grand prix debut in the Canadian race. The car is the one Hill used at Monaco this year.
Practice
Practice started in bright sunshine, with the temperature around 21 degrees and a barometric pressure of 23 ins, and it was not long before Clark, Hulme and Jack Brabham got below the lap record of 1m53.75s set by Richie Ginther's Honda in the closing stages of the 1966 race.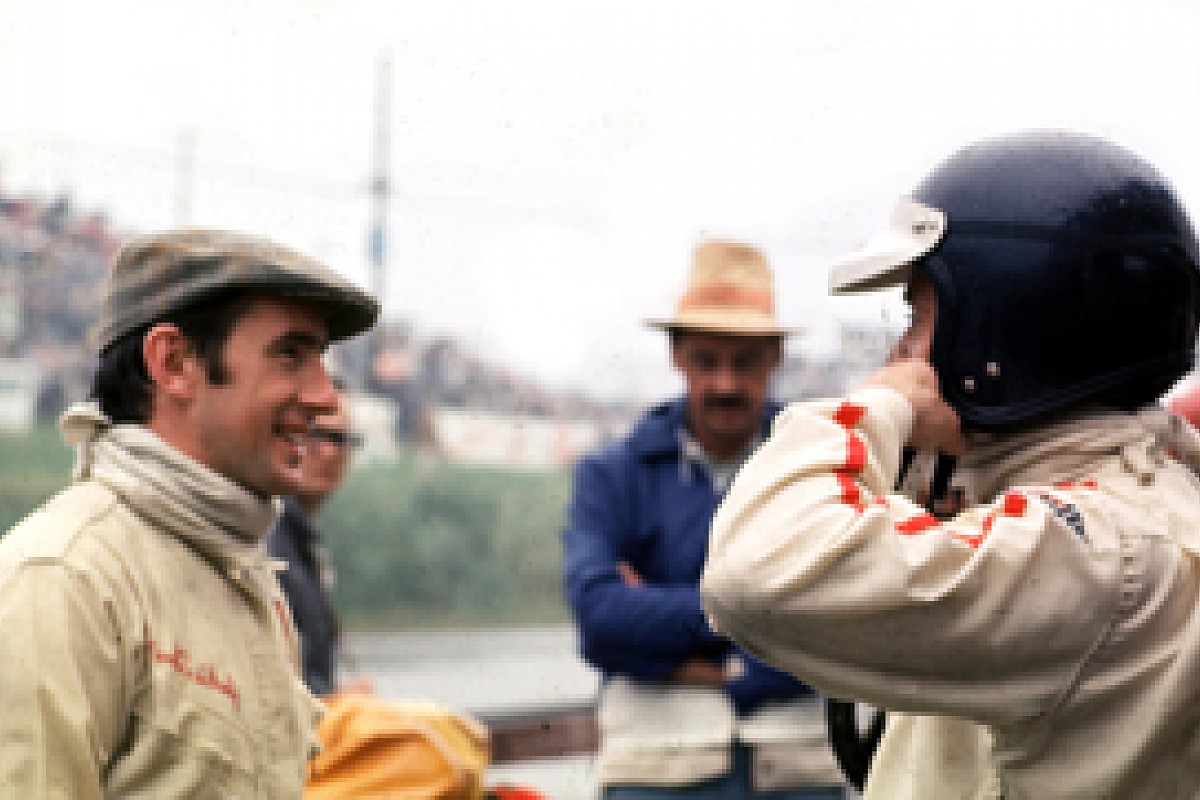 Jackie Stewart chats with Jim Clark © LAT
Clark, using the same 'detuned' engine as at Watkins Glen, was consistently fastest and finished up with 1m48.97s. Hulme, concerned about overheating, did 1m49.79s, and right at the end Gurney squeezed in a 1m50.53s. Hill did 1m50.63s, and Brabham got down to 1m50.9s before his timing chain broke, necessitating an engine change.
Also in engine trouble was Mike Spence, whose H16 ran a bearing; Lotus having already decided to change the engine in Moises Solana's car when they found bearing metal in the oil after warming it up. The Honda sounded much cleaner than usual and did a respectable 1m51.29s. Bruce McLaren only needed only a few laps to get down to 1m51.3s, and Jo Siffert was easily the fastest Cooper driver with 1m51.89s. Amon had trouble with the rear brakes on his original car and had to take over the spare to do a 1m52.34s. Spence managed a 1m52.66s before his bearings went, and Solana did 1m 52.86s after only a few laps in Clark's Lotus.
Jackie Stewart, limping slightly after his recent ankle breakage during a squash game, could not do better than 1m53.66s, but Jean-Pierre Beltoise got the ballasted F2 Matra-FVA down to 1m54.0s. Rodriguez and Jo Bonnier did 1m55.22s and 1m55.57s respectively and right at the rear were Guy Ligier (1m59.15s), Chris Irwin (1m59.53s despite continual ignition trouble) and Fisher (2m0.82s).
Saturday was even warmer than Friday, and in the early stages practice was rather desultory. However, it wasn't long before Clark, using a standard engine, got down to 1m48.62s - even though at this stage nobody else could get below 1m50s. Williams modified the nose of his Ferrari on a marker tyre, but at least this provided an excuse to cut it away to improve the cooling. The Ferraris were running at 110 degrees (water) and 135 degrees (oil). Lotus had reduced their oil temperature dramatically with a small bodywork modification (slightly increasing the size of the apertures behind the radiator) and Brabham had 'elephant ears' to assist the extraction of hot air from his radiator.
As the ambient temperature fell and the end of practice drew near, lap times suddenly began to tumble. Gurney did 1m48.1s, and Clark retaliated with 1m47.56s, saying afterwards that he could have gone faster if it had been necessary. Then Amon got a tow from Hill and pushed Gurney off the front row with 1m48.04s. Hill finished up fourth fastest with 1m 48.74s, and the Brabham rivals had to settle for the third row with 1m49.08s (Jack) and 1m49.46s (Denny).
John Surtees, with 1m49.8s, was the only other driver to break 1m50s, but McLaren was not far behind with 1m50.06s. Then came Solana, Siffert, Spence, Stewart, Rodriguez and Beltoise - all of whom got inside the lap record. Irwin and Williams were just outside it and Fisher did well to get down to 1m57.41s in the 2-litre Lotus-BRM.
Race
So to the race, with seven different makes in the first 10, and Lotus-Ford, Ferrari and Eagle with the best chance. As far as the world championship was concerned, Brabham had to win the race - and even then he would not get the title unless Hulme finished lower than fourth; it was just like Moss v Hawthorn at Casablanca in 1958.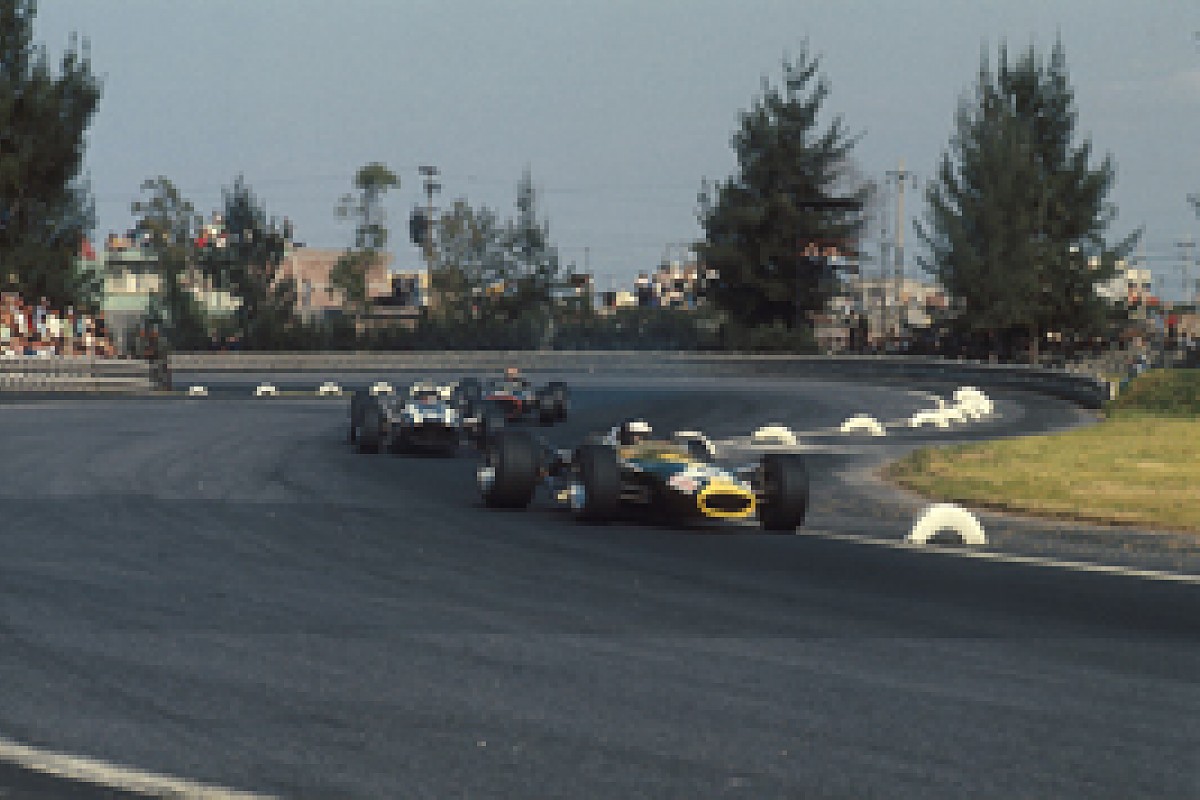 Graham Hill led at first © LAT
Race day was warm and sunny, and a record crowd (said to be 125,000) made its way into the sports park in which the circuit is situated. With general admission costing only about five bob, and with good viewing areas on both sides of the track, the Mexican Grand Prix must be one of the best bargains in motor racing. Furthermore the hundreds - literally hundreds - of swings and see-saws make the children's play area at Brands Hatch look rather pathetic. And much the same can be said of the pits and paddock, in which respect the Mexico circuit is second to none.
The start was a typically Latin affair, and several drivers were taken completely by surprise. One of the most surprised was Clark, who was rammed from behind by Gurney; the Lotus came to no harm whatsoever, but one of its exhaust pipes went through the top of the Eagle's radiator.
By the time the dust had settled, Hill had a good lead from Amon, with Clark not far behind in third place. Solana was fifth, just behind Brabham, and then came McLaren, Surtees and Hulme. Siffert was ahead of Rodriguez and Spence led the BRM contingent. Fisher didn't even start, the diaphragm of his metering unit having ruptured, and Gurney only managed four laps before all his water drained away.
On the second lap Clark passed Amon, and next time round he flashed by Hill to take the lead. Surtees and Hulme both got by McLaren, and soon afterwards Hulme moved up another place at the expense of the Honda. Further back both Rodriguez and Spence passed Siffert, and Stewart finally managed to squeeze past Williams.
Out in front Clark quickly built up a big lead, pulling away from Hill by over a second a lap. Amon hung on well in third place, but Brabham was having oil temperature problems and dropped back slightly. Solana was going very well in fifth place, but suddenly his front suspension collapsed and the Lotus slithered onto the grass with the left wheel at 90 degrees to the direction of travel.
For a while the race settled down, with most people driving on their temperature gauges, but then there was consternation as Graham Hill stopped in the pit road with an outboard universal joint broken. With two of the Lotuses out so early, how long would Clark last?
The only person who didn't seem to be worried was Clark, who was driving in his most relaxed manner and continued to pull away by over a second a lap. By lap 30 he was over a minute clear of Amon, who in turn was 12s clear of Brabham.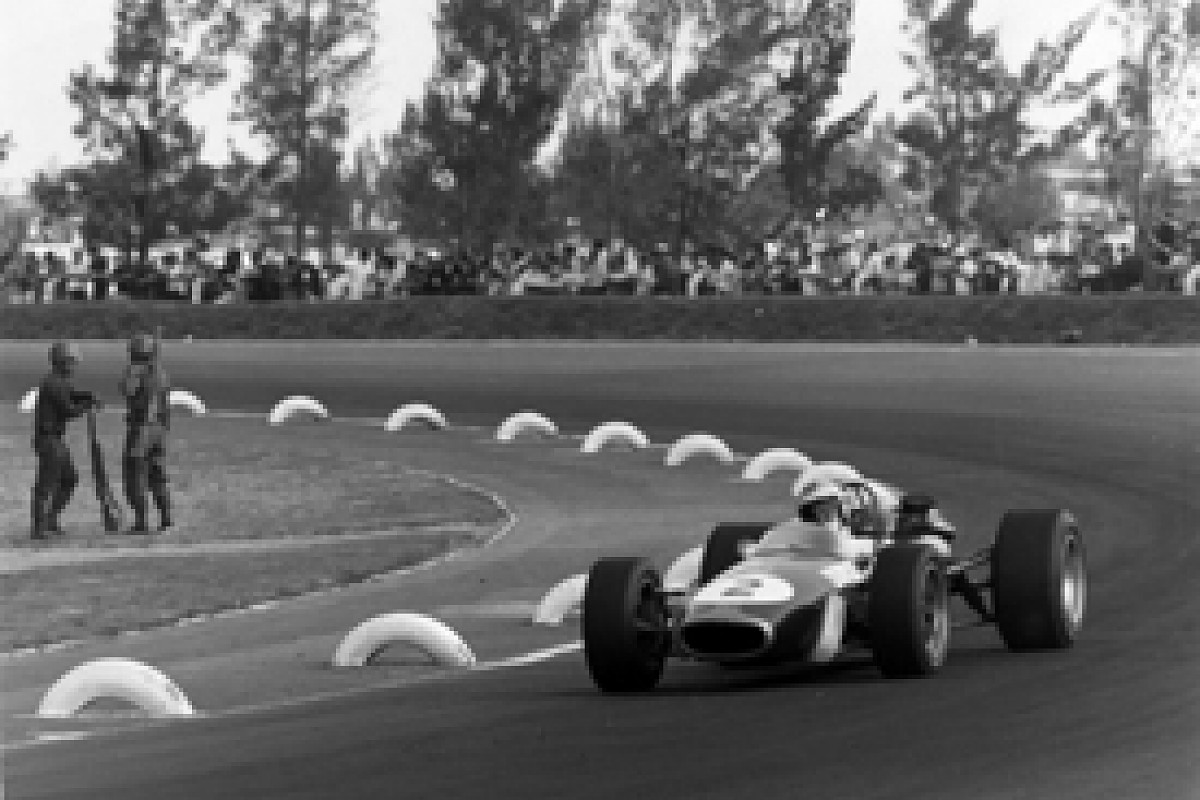 Hulme heads for the title © LAT
Hulme, in fourth place, was taking things very easily, knowing he only had to finish to clinch the championship, but Surtees was battling on in the Honda and had pulled well clear of McLaren, who was eventually forced to drop out with low oil pressure. Other retirements at this stage of the race were the BRMs of Stewart and Irwin, Stewart with a bad vibration and Irwin with no oil.
Although the leading cars were well strung out, there were two real battles going on further back - Rodriguez v Spence and Williams v Beltoise. The Cooper held off the BRM until lap 49, when it began to vibrate badly, but the Ferrari and the Matra passed and repassed continually, Beltoise having one or two really hairy JPB moments,
On lap 53 Clark lapped Surtees, and on lap 61 he did the same to Hulme. Then, with only three laps to go, there was further consternation as Amon ran out fuel on the far side of the circuit. He finally managed to get going again, but because of the time he had taken to complete his last lap he dropped back from second to tenth. Just before this Siffert had ground to a halt after running out of water, but even so 11 cars were still running at the end.
Clark completed his cooling down lap side by side with Hulme, and was one of the first to congratulate the new world champion. But he must have wondered about the merits of a championship in which he finished third, in spite of winning twice as many races as either of the men in front of him!