You don't get many days like last Thursday. Monte Carlo has the slowest average lap speed on the calendar but it looks the quickest. It's the backdrop, the closeness of buildings and barriers that give you a meaningful reference of a grand prix car's capability. Going trackside on the opening day in Monte Carlo is always one of the year's highlights.
I always like to glance down the first session lap times, just to see the different approaches. There's no prize for going quickly straight away. In fact, if a driver slings a car into the wall early doors on Thursday, he will incur the unending wrath of those who have to bolt it back together and will be playing catch-up thereafter.
Robert Kubica, Renault, Monaco GP © LAT
But if nothing else, it tells you a bit about confidence. Michael Schumacher, as he always has been, was down to competitive lap times almost straight away, despite not having driven around the principality in four years. There was only one guy quicker, sooner, and that was Robert Kubica.
The Pole's performance throughout the entire weekend was top drawer and Mark Webber's post-race comment was interesting.
"I was relieved to see Seb (Vettel) get away well and overtake Kubica at the start because I thought Robert might be a bit sharp today," he said. He either meant it, he's a damned good liar or he was getting a cute message across to Vettel that he hadn't been the slightest bit concerned about him. Just playing with his head a bit...
The way things are between quick team-mates in competitive cars, you'd figure Webber would have been delighted to see absolutely anyone other than Vettel filling his mirrors as he accelerated up the hill to Casino Square - Kubica or even the good Lord himself!
Kubica was pleased with a podium, but hardly ecstatic. When he topped FP3 on Saturday morning he'd entertained hopes of pole position and if he'd managed that, in Monte Carlo, he could have won, which is what he's all about. As things stand, Webber and Kubica are the two names favoured to join Alonso at Ferrari next year if Maranello does not renew Felipe Massa's deal.
Ferrari is said to have a 2011 option on Kubica until mid July and Robert is on a two-year Renault contract with certain performance clauses included. Would Ferrari attempt to pair Alonso and Kubica or would they figure that might be a bit combustible? And if so, might they plump for Webber, who is out of contract with Red Bull this year.
The way Webber is driving it makes no sense for Red Bull to change him but what if he had an offer from Ferrari? What a choice that would be! Would the idea of bringing down the curtain on your career in a Ferrari be resistible to a rounded, regular guy who, as much as any of them, is also a fan? It would be great to see but in a funny, perverse sort of way it would be typical of the guy's luck. At just the time Ferrari comes calling, he has to walk away from a winning Adrian Newey car... A dilemma to die for, I know, but what would you do?
Thursday night, and there was time for a quick call at the Total/Mumm champagne celebration of 60 years of F1 at the Hermitage Hotel before, as a member of AUTOSPORT's Bridgestone media karting challenge winning team, it was off to the Metropole Hotel for our prize dinner at the Restaurant Joel Robuchon.
Now, it has to be said, this had generated a fair bit of envy. Not among British colleagues of course, but the French. To them, the very idea of English people eating from Joel Robuchon's menu was about as apt as a skunk wearing Chanel No5!
Just to illustrate the point, sometimes when celebrities turn up at F1 races, Monaco more than anywhere, the media, whisper it, don't know who they are. Photographers see colleagues snapping away and they join in, not knowing who the hell they're snapping. The various nationalities then help each other out.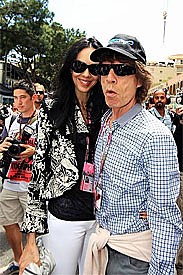 Mick Jagger in Monaco © Sutton
One year in Monaco, Gordon Ramsay arrived and a French photographer was clueless. "Eee izz, what? A 'cooker?'" The look on his face and the snort of derision told all about the concept of anyone British who had anything to do with food, being a celebrity...
If food isn't your bag, or indeed you normally eat it from one, then skip the next couple of pars. It was fabulous, with a different wine to accompany each course. The typical bill per head is around 400 Euros.
To start with we had L'Amuse-Bouche, then Le Caviar (en fine gelee de tourteau au parfum de corail servi en surpris), then L'Asperge -asparagus - (verte parmesane aux morilles), then Le Fois Gras (de carnard chaud au caramel sale et petits pois cuisines au lard d'Arnad), then La Sain-Jacques (la noix sur des pates Fregula Sarda en risotto a l'homardine, then L'Artichoke Epineux (a l'encornet au thym at au chorizo en tajine), then main course of quail - La Caille (caramelisee avec une pomme puree truffee, then a sweet, La Tendance Fraise (aux eclats d'or et creme glace au yaourt), then Le Rainbow (accompagne d'ananas et de basilic, biscuit au the vert), then Le Moka (escorte de bonbons chocolat au caramel).
All in all it took three hours and was absolutely delicious. The restaurant itself was beautifully furnished and dimly lit, with what looked like a wall of leather bound books in fact hiding a discreet handle which took you through to some very posh loos. You'd never know the door was there, so I reckon lots of very well-heeled people must have wet themselves at Joel's gaffe...
We then staggered a little unsteadily down to Vijay Mallya's yacht, the Indian Empress, where a great party was in full swing. I wandered over to talk to an Irish journalist colleague but when I got there, he'd grown. It wasn't him. It was Shay Given. As a Newcastle fan, I knew there was something familiar about our ex-keeper! The shoulder in a sling was another giveaway and he did look a tad worried as I put my arm around it for a picture.
Understandably I didn't feel quite myself on Friday which, in Monaco, thank God, is a day off. Patrick Head obviously wasn't quite with it either. At the Williams motorhome he wasn't getting quite the response he wanted from the TV remote.
"Why can't I get the Cup Final?" he boomed.
Err, because it's Friday, Patrick.
"Ahh, right, okay..."
Post-qualifying, I was talking to Heikki Kovalainen when a couple of journalist colleagues arrived. Heikki looked up with a big smile. "Where's my wine!" he wanted to know.
They had offered him a bottle of red if he could outqualify Jarno Trulli in Monte Carlo, amazingly a feat never managed by any of Jarno's F1 team-mates in 13 previous seasons! Trulli won his only grand prix from pole position at Monaco in 2004, when driving alongside Fernando Alonso at Renault, and his record in the principality is a stunning one.
Trulli first drove there in F1 for Minardi in 1997, alongside Ukyo Katayama and qualified two places further up the grid. The following season he put a Prost 10th while team-mate Olivier Panis - who had won the race two years earlier - lined up 18th. In 1999 he qualified his Prost seventh, with Panis almost a full second and 10 slots further back.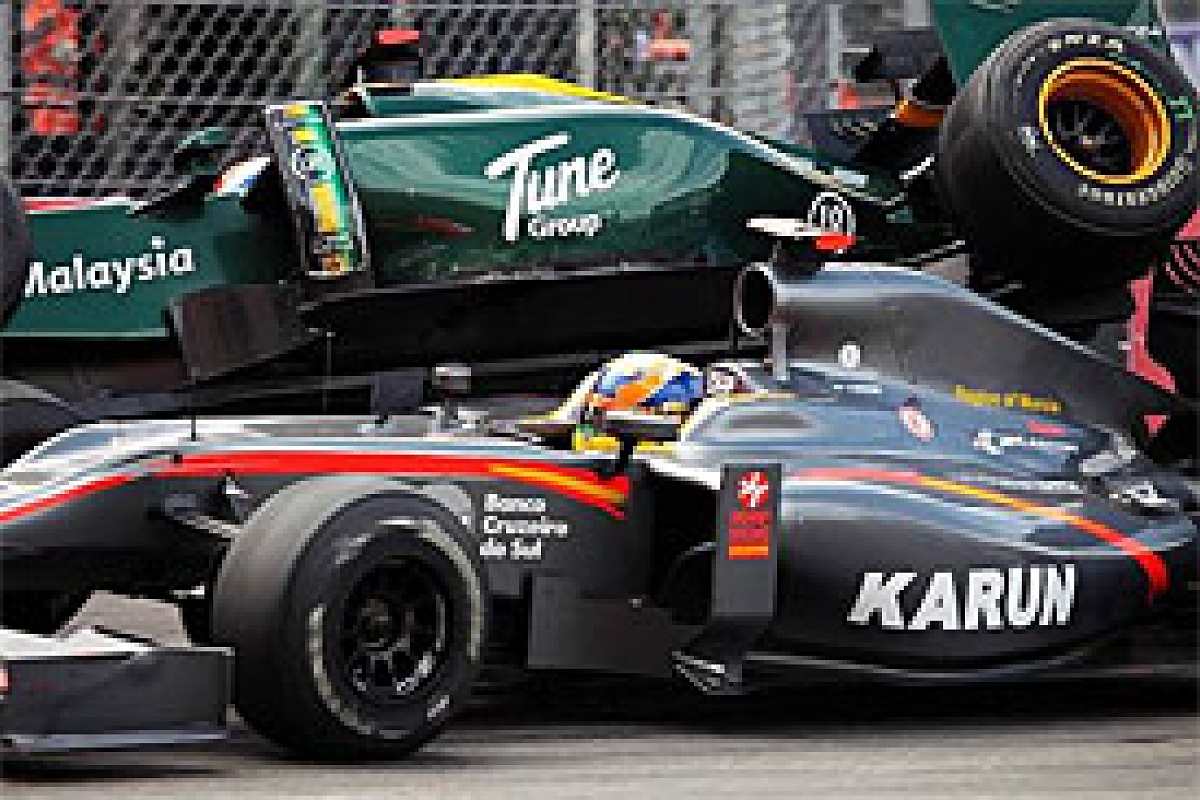 Jarno Trulli crashes into Karun Chandhok at Monaco © Sutton
In 2000, Trulli qualified a Jordan on the front row while Heinz-Harald Frentzen started fourth in Eddie Jordan's sister car, then in '01 Jarno was eighth and Frentzen 13th. By 2002 Trulli had moved on to Renault, where he started one place further up the grid than Jenson Button, then was fourth to Alonso's eighth in '03 before winning the following season when he outdid Alonso again.
When Trulli had differences of opinion with Flavio Briatore he moved to Toyota, putting their TF105 fifth on the grid in '05, while Ralf Schumacher started 18th. They were sixth and 10th and 14th and 20th respectively in '06-7 before Timo Glock arrived. In '08 Jarno started eighth with Timo 11th, then last year, when the team was unable to switch the tyres on in qualifying, they were right at the back, but with Jarno ahead.
The hacks' plan was to present Heikki with a bottle of 'Jarno' red, from Trulli's very own vineyard. Jarno very kindly sends us some at Christmas, and it's lovely, but they didn't rate their chances of negotiating a cut-price deal after he spent much of his weekend battling a Lotus with a balance he didn't like, and finished it on top of Karun Chandhok's HRT...
"It'll be a while since he's overtaken anyone, so he's probably forgotten how," someone said, "It's just that you wouldn't figure on him starting to relearn at Rascasse... Him of all people." Poor old Jarno. That '04 race must seem many moons ago.