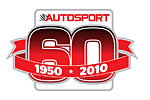 Ten great races? Obviously it's a personal and not a definitive choice. Some are obvious, some are not.

Silverstone 1969/Monaco 1970
Barely eight years old, what switched me on to Jackie Stewart? No idea, but I do remember taking time out from helping Mum wallpaper my bedroom to catch the Beeb's '69 Monaco coverage and being distinctly hacked off when Stewart's Matra retired early and Graham Hill won.
Between then and receiving, at Christmas, my JYS corduroy cap (later chewed up by a police horse outside Roker Park, sadly), there was the time when my Dad called me through to the front room one Friday night, just in time so see a news item confirming that Stewart was okay after a 150mph off at Woodcote in practice for the British Grand Prix. A piece of kerbing had worked loose and I can recall seeing a picture of a stern-looking Stewart holding the offending piece of masonry.