Barcelona started well and finished well - so long as you weren't Lewis Hamilton.
On Thursday, for some reason best known to themselves, the AUTOSPORT lads asked me to drive for them in the 13th and final (probably) Bridgestone Media Karting Challenge. Normally it's full of people who can drive - like Marc Surer, David Kennedy and Bas Leinders. Bas was otherwise occupied at Spa this year but had kindly left behind clues on how to drive a lap of the Kartodromo Catalunya.
Sensitive to his audience, he'd left behind such tips as how to drive on the straight: "bend forward and put your head down to have less wind resistance - if your belly allows..."
Tony Dodgins in victorious form © LAT
An endurance karting mate of mine used to race with the legend 'Fat 'n Forty' on his visor strip and sadly I have to confess that in not very long at all I'll qualify to race with one that says 'Even fatter 'n fifty!' Anyhow, despite the dreadful barrel-scraping by the inappropriately named "Speedy Autosport" team, there was nobody super-quick taking part this year and by some miracle, we won.
It was with interest, therefore, that we watched the second-placed photographers team mount the podium to receive €200 Amazon vouchers. And for the winners? A reserved table at the Restaurant Joel Robuchon at the Metropole Hotel in Monte Carlo next Thursday.
For someone who, prior to the start of motorsport travel around 25 years ago, regarded steak and chips as posh nosh, it was a little difficult to understand how dinner costing north of €200 could be anything other than total decadence. But this guy is to cooking what Ayrton Senna was to motor racing.
I was immediately informed by someone who had dined at Robuchon's restaurant in Las Vegas, that he left with a bill for 550 bucks - and didn't drink...
Back at the hotel, I decided to phone 'er indoors and find out whether she knew anything about Robuchon, which is when I discovered I'd left my mobile in my bag in the back of the car which had just dropped me off - along with my FIA pass and lap top. Which greatly amused my room-mates who, at this race a year ago, I managed to lock out of our apartment.
A tad embarrassed, I muttered something about Spain being my bogey track before being informed that Spain had nothing at all to do with it. They then kept themselves amused and me awake by rattling off a litany of travel nightmares over the past 20 years until the only disaster-free zone on the calendar was Korea - obviously because we haven't yet been. Anyway, I've got the last laugh - I'll let you know how good Robuchon's caviar is!
But on to the serious stuff. If the world's chefs are in awe of Joel Robuchon, the world's F1 designers are probably of a similar disposition when it comes to Adrian Newey.
Prior to Barcelona each year everyone speaks of great hope for their aero updates. The flyways are done, the cars are back, new parts have been made and there will be a much anticipated 'step.' Red Bull's though, looked more like a bloody great Bob Beamon leap, and that from the launch board of already having the fastest car.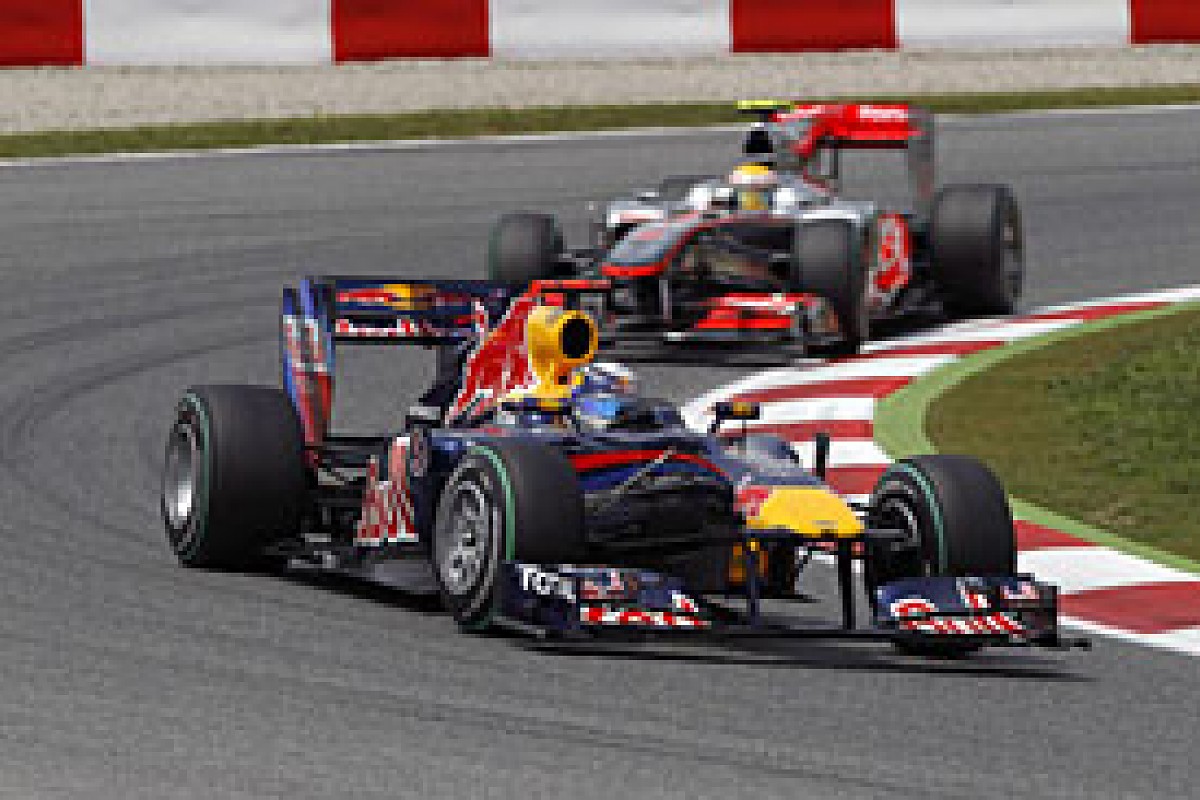 Sebastien Vettel, Red Bull, Barcelona 2010 © LAT
It's fair to say that Barcelona, with its high-speed Turn 3 and Turn 9 might have been made for the RB6, which just seems to have that much more downforce and poise than any of its rivals.
It's not that long since people scoffed at the team. Certainly in its Jaguar form, the outfit was the butt of much paddock humour. "The Cat's Back" posters were regularly amended to, "The Cat's Crap..."
Then, when Dietrich Mateschitz invested heavily to promote Red Bull, there were plenty of paddock sages figuring he'd taken leave of his senses if he thought he would ever compete with the likes of Ferrari and McLaren in F1. Well, if you put a billionaire together with Adrian Newey and let a pragmatic fellow like Christian Horner assemble a talented, experienced group, you shouldn't underestimate the potential.
Certainly, none of Red Bull's immediate rivals are underestimating them now. As Ross Brawn said, last year they already had a car with a lot of downforce, very good in high speed corners but with some slow corner or traction issues. This year, they appear to have kept or improved the car's plus points and ironed out the minuses. It all adds up to a hugely formidable weapon.
Just how quick the car was became apparent when Sebastian Vettel lapped below 1m20s in second practice on Friday when the quickest non-Red Bull time was Michael Schumacher's Mercedes on 1m20.75s.
Some wondered about fuel loads, none too convincingly, but straw-clutching was over by the end of the first runs in Q2. Webber and Vettel were comfortably clear but, worse than that, were comfortably clear without even bothering to bolt on a set of Bridgestone options. They only did that for the final run, in preparation for their private Q3 scrap for the pole.
This time it went to a delighted Webber, who'd looked a tad quicker than Vettel all the way through and pipped Sebastian by 11 hundredths. Hamilton was now closest challenger - 0.83s away. By recent F1 standards, that's an eternity.
The weather had no nasty surprised in store for Christian Horner's men this time and Webber duly converted his pole and maintained the statistic that has now seen the Spanish GP won from pole for the past 10 years.

The biggest surprise of all was that Red Bull did not score a 1-2. Vettel found himself unable to run at Webber's pace and actually fell behind Hamilton, who drove a great race, at the first stops.
Vettel complained of a general lack of grip, a problem compounded when he arrived at Turn 7 and found he had very little in the way of stopping power.
"Something flew off the car and I found it pulling to the right every time I touched the brakes," he said. "I thought that was it, went into the pits, they had a quick look and put a new set of tyres on. I went back out again and when the problem was still there they told me to come back in. I asked if we shouldn't try to keep going and salvage some points. I was thinking one or two, and I was lucky to end up with a podium after a race when so much was wrong."
He did so largely because Michael Schumacher was driving his socks off but holding everyone up in what looked to be a handful of Mercedes. The in-car shots from a following and deeply frustrated Jenson Button showed that Michael was often struggling to find an apex. The much-anticipated Mercedes update allowed him to score the most convincing result of his comeback, fourth, and out-drive his team-mate for the first time, but it does not appear to have answered many prayers.
Hamilton's exit was cruel. You somehow doubted that Lewis would have followed Michael all afternoon, no matter how tough Schuey made it, and the fact that he'd been so well positioned to take advantage of Vettel's slow pit stop was down to his own controlled aggression. For him to leave Barcelona a further 10 points behind Jenson was a bitter pill.
A delighted Webber admitted to being satisfied. He nearly said relieved. He knew he had to get through Turn 1 first. He hadn't managed it in Malaysia but he did it here - just. Thereafter he was wheel perfect.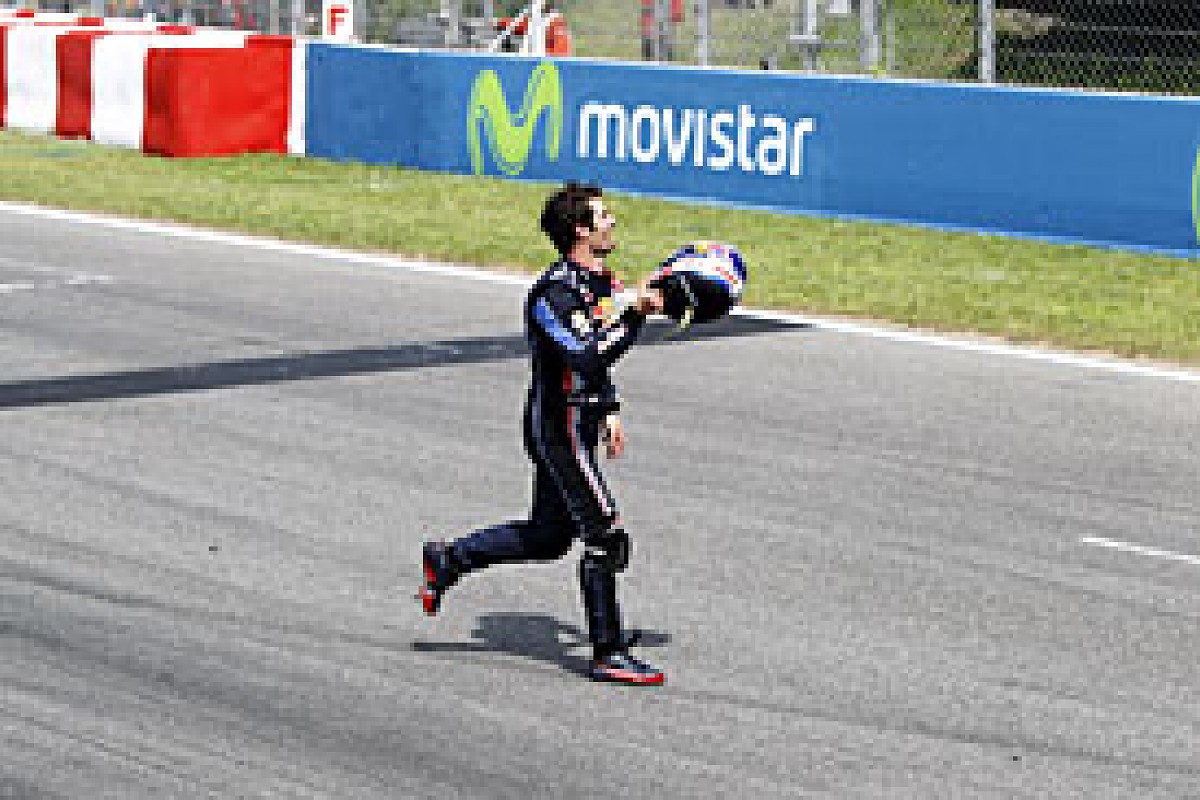 Mark Webber throws his helmet to the crowd © LAT
Acknowledging that the crowd sometimes gets a raw deal, he leapt the pit wall, trotted across the front straight and hurled his crash helmet into their midst. One delighted Spaniard will have gone home with a carbon fibre F1 helmet worth about 4k! And they probably don't realise. Don't put in on eBay just yet - he might win the championship!
Mark then paid tribute to the whole team in recognition of the efforts that had gone in - right from everyone being out of position in Shanghai thanks to the ash cloud, to factory staff who worked tirelessly through their bank holiday. And chief mechanic Kenny Handkammer got his moment on the podium out of appreciation for the work at the track.
"Kenny's been a chief bolt for a long time and has won a lot of races," Webber said.
"He and his soldiers have had their eyes almost popping out of their heads with the hours they've done this weekend and the result is credit to the team. We lost a few constructors points with Sebastian but it was a great qualifying and a well-executed race."
Adrian Newey might work to tight tolerances but just look at the speed. They RB6s were, as Hamilton put it, 'ridiculously quick' in the high speed stuff. The rest were left hoping that Monaco, a very different type of track of course, will be different. Red Bull shouldn't be as quick, but it will still be a surprise if anyone is quicker.