We keep hearing what a great crop of drivers we have in F1 at the moment: real strength in depth, the best ever. For me, the Chinese Grand Prix proved it.
In tricky, greasy conditions Tonio Liuzzi lost his Force India under heavy braking with a full fuel load, hardly the most heinous of crimes, and there was the odd spin, but that was about it. Throughout the field there was fabulous hard racing, again facilitated by treacherous mixed conditions.
Just think about the quality. You had Jenson Button turning in another sublime, cool-headed performance.
If you'd proposed to Jenson in February that come the end of the first four flyaways he'd by 10 points clear at the top of the championship table with two wins under his belt and a 3-1 qualifying record against Lewis, he'd have snapped your hand off.
Both his Melbourne and Shanghai successes had their roots in his innate feel for grip with slick tyres on a slippery surface. It's one of the most intangible things to quantify but Button knows it's a strength and exploits it to the full. It was the catalyst of his first GP win in Hungary in '06, with a car that shouldn't have been anywhere near a chequered flag, and there have been many glimpses of it since, even if camouflaged by the sheds he was driving hardly being in the spotlight.
It was only by trawling through laptimes on a race history chart in the press room late on a Sunday night that it leapt out at you just how extraordinary some of those performances were.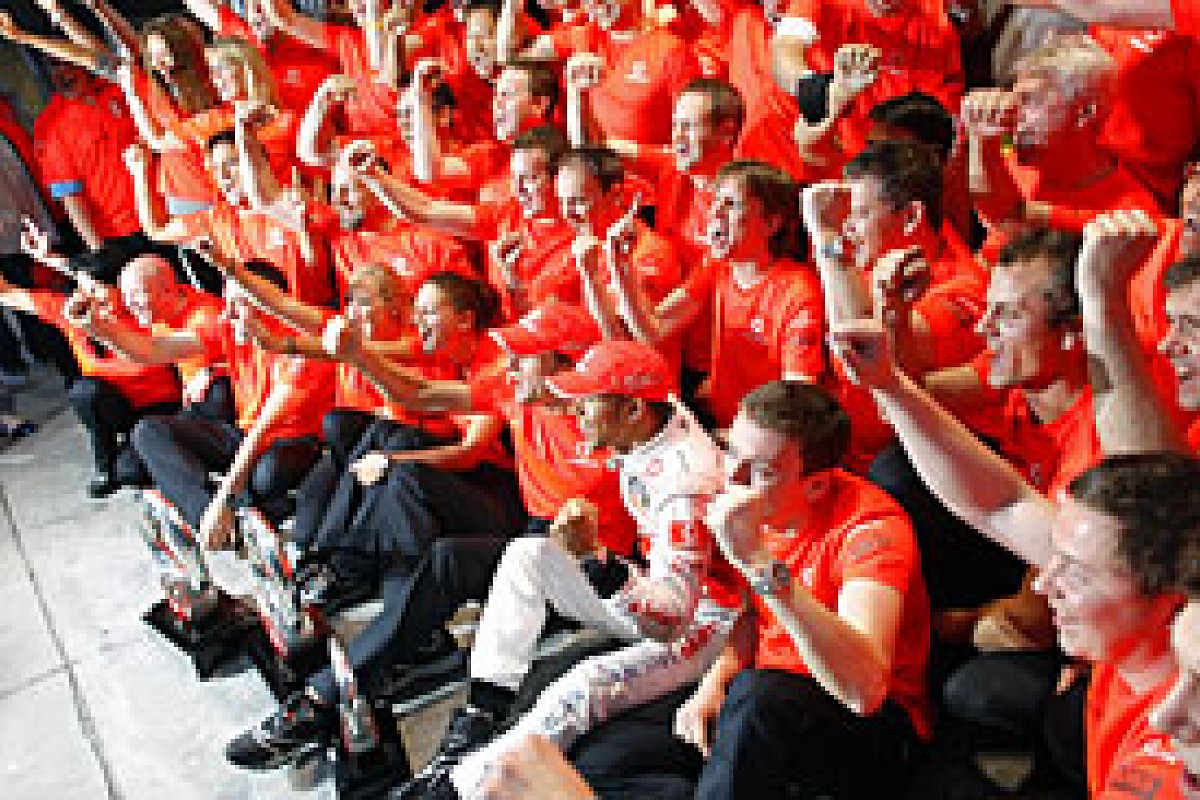 McLaren celebrates its 1-2 in China © LAT
It is, obviously, a high risk ploy. The odds of getting it wrong, dropping the car and looking chump rather than champ, are high. But he seldom does, Malaysian qualifying nothwithstanding, but that was different! It's one thing making those calls when you're a tail-ender hoping to luck into a result via an alternative strategy, quite another when you're a front-runner.
It bought him decisive extra slick-shod laps in Australia and made it pretty certain that Jenson would be among any drivers who elected to stay out and chance it in Shanghai, rather than dive in for intermediates with light rain at the start.
Both those calls have come from Jenson which, in such conditions, is probably the way it needs to be. Okay, teams have weather radars and are better positioned than the driver to make predictions but you hear often enough that in those conditions the less risky strategy is to let the driver react to what's underneath him and make the calls.
It was interesting, therefore, to hear Hamilton explain how he'd been all set to go round again when he heard what he thought was a radio instruction to come in and took the eleventh hour, 59th minute decision to head for the pitlane.
What's a little surprising is that Lewis was prepared to be led. We've all witnessed his wet weather prowess - Japan in 2007, Silverstone '08. But, perhaps, we're looking at two different things. Full wet weather driving is a different skill set from Button's freakish ability to react to changing conditions as they happen. Perhaps it's an area where Jenson truly is the master.
It helps if, like him, you have the self confidence and sure-footedness which comes from knowing that such conditions hold little fear for you and will in all probability translate into an advantage. Rosberg, too, made the same call and the pair would have been even more richly rewarded had the safety car not afforded all the stoppers another chance.
Some might also say that Button won because he managed his tyres better than Hamilton in China but that would be harsh on Lewis. Hamilton drove superbly after the safety car reprieve and even though he pitted earlier than Jenson for his last set of intermediates, he was still pushing hard and closing at the end.
Hamilton's drives in Melbourne and Shanghai were the highlights of both races.
Statistics are pretty meaningless four races in. Okay, Button was six hundredths quicker in dry China qualifying but, after showing really strong Friday and Saturday pace, Hamilton's qualifying lap contained a mistaken upshift at T2 and a locked brake in T11. He was the architect, fair enough, but no way could you say that Jenson blew Lewis away in China. More reasonably, he made decisive race-winning calls under pressure born of experience and personal confidence.
That said, Jenson will still be delighted. There were plenty predicting that he wouldn't live with Lewis at McLaren and clearly that's not the case. But you'd still be a worried man betting against Lewis over 19 races.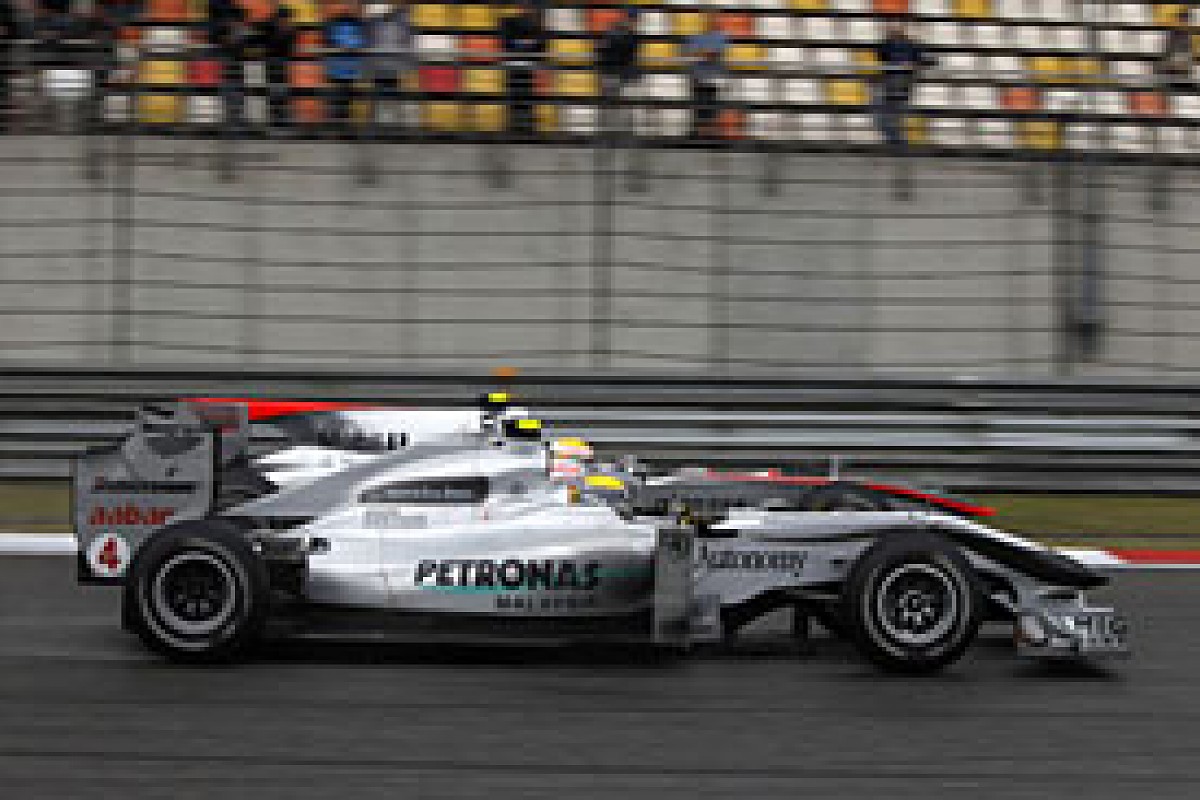 Nico Rosberg and Lewis Hamilton toe-to-toe © LAT
Then we have Rosberg. From the evidence of the first four races the Mercedes does not look to be as raceable a car as the McLaren and yet Nico is doing a fine job with it.
Lewis mugged him with that spellbinding outside pass in Melbourne but in China Hamilton had to battle hard to go by. And having done it, Nico repassed him. Lewis finally got away through stopping earlier for his final intermediates but it is not just Rosberg's pace relative to Schumacher - it might be wise to reserve judgement on that - that is impressive.
On Saturday in China, Ross Brawn said this: "I'm delighted with Nico. He's incredibly quick and it's great for Michael to have such a strong challenge. We're thrilled with Nico's pace, the way he's fitted in and the way he's working with everyone." A few short weeks ago you'd have done a double take if you'd heard that, sworn you'd got it wrong, that he was talking about them the other way round. That in itself is the measure of the job Rosberg has done thus far in 2010.
Fernando Alonso. Just a tenth behind a Red Bull in qualifying and so keen to get in among them that he was through Turn 1 before the lights had changed. That's how much Fernando wants it. Fourth place including a drive through in five visits to the pits was so typical of the relentlessness that has always been so characteristic of him. And didn't you just love that move on Massa coming into the pitlane, ensuring it was his team-mate and not Fernando sat there for 5s twiddling his thumbs? Felipe didn't...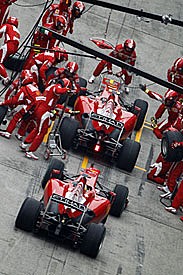 Fernando Alonso moves to the front of the pit queue © LAT
A batch of engines suffering excessive air loss in the pneumatic valve system has been an early season worry for Ferrari but Alonso says he is not concerned long term and, despite difficult races in Australia, Malaysia and Shangai, he's is only 11 points off the pace and a guaranteed threat over the long haul.
Sebastian Vettel. Three poles, one win but undoubtedly the man to beat over the first four races. His uncanny knack of producing when it matters is testament to his quality.
For the first two days in China he'd not been able to match Mark Webber in sector one and it looked as if the Aussie would make it two apiece in the pole position battles that have become their own fiefdom.
Then, bang! Stunning Vettel lap, pole by quarter of a second. Familiar boyish grin on Sebastian's face; familiar thin-lipped wry smile and a shrug from Mark.
Again, the cards didn't fall for Red Bull. Shanghai may have mighty long straights but it's a mix. Running a bit more wing is probably the optimal solution for one-lap pace.
With the speed Red Bull has, you'd logically expect to qualify at the front. Then it's all about making a decent start and protecting yourself on lap one.
Accomplish that, job done. Disappear up the road. And if it's wet your extra bit of downforce comes in doubly handy.
But it wasn't like that. There was no legislating for the conditions or for Alonso setting off quarter of an hour early. End result? An afternoon unexpectedly spent amid traffic on a slippery track with a straightline speed deficit. Just Webber's luck, in other words.
This time, Vettel got caught up in it too. Webber got off the line better this time and so had first call when they both pitted for intermediates. During the stop Webber damaged the jack, which had to be replaced for Vettel and the afternoon went increasingly pear-shaped from then on. On the straights, the draggy Red Bulls - with engines that aren't the strongest - were easy meat for the likes of an F-ducted McLaren with Hamilton at the controls.
They also seemed to have an unhealthy appetite for front intermediates.
"You've got to remember that the front wheel is a different diameter this year, and running up behind people we were wearing the front tyre quite hard," explained Christian Horner. "Quite a few drivers had that issue. In clear air it's no problem but when you are sitting up near the back of the Renault gearbox, as Sebastian was in that last stint, it's much harder on the tyres."
Like Australia then, another one to forget for Red Bull. But make no mistake, with Vettel a championship favourite and Webber, to use his own parlance "a bee's dick away," there will be days this summer when we don't see which way they went.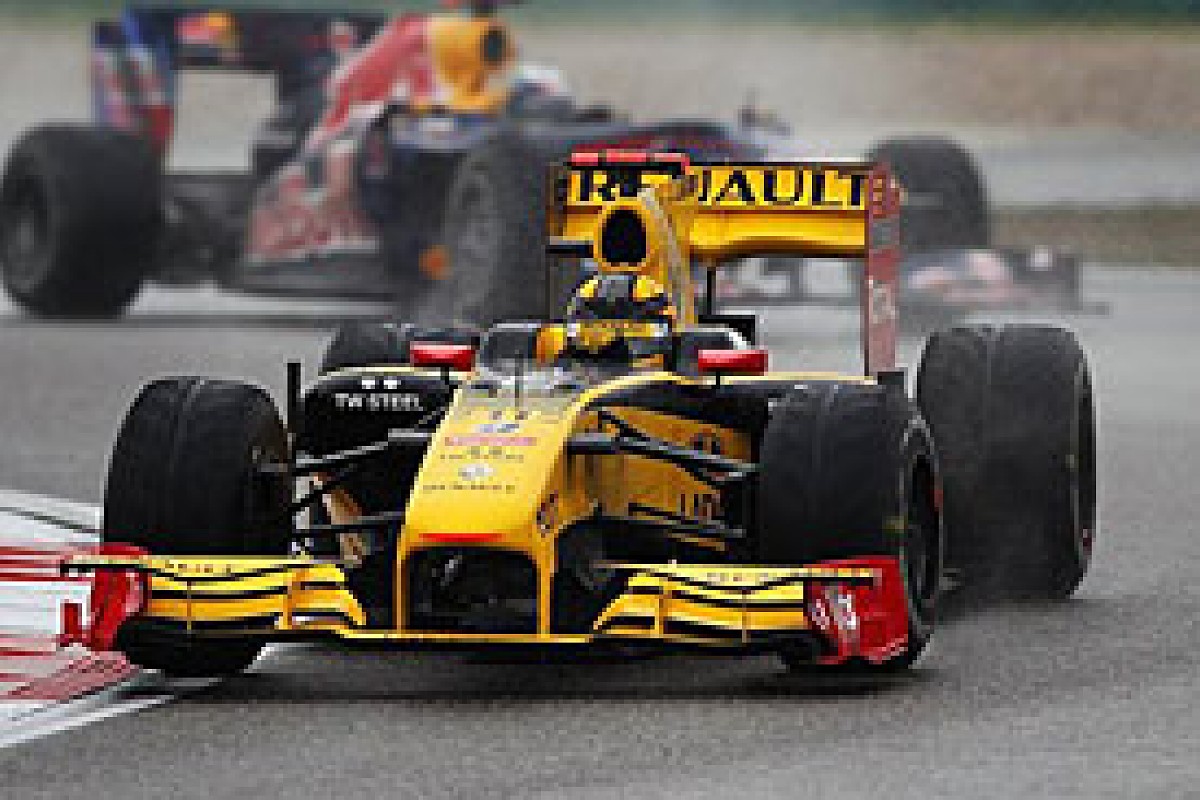 Robery Kubica has 40 points already © Sutton
Then there's Robert Kubica. He's loving being at Renault, a real proper bunch of racers, and the feeling is entirely mutual. He was error free once again in China and has already got 40 points on the board after four races, which is 12 more than Webber. While there's nothing to say it's expected, just imagine if Renault's Barcelona update was worth a few more points of downforce than everyone else's.
What was it that Michael Schumacher said when he came back: the cars are different but the drivers are just the same? He might be rethinking that a little bit... Even if he's not, the beauty today is that most of the proper drivers are in decent cars.