What is it that's so enthralling about sport? For some it's the activity itself - motor racing, football, tennis, whatever. But then there's the spiritual side. The naked exposure of a performer trying to control his emotions, overcome inner demons even. I suppose it's a sort of voyeuristic pleasure in watching an individual handle the psychological side. Or not.
I can't think of many better ways to let a Sunday evening drift into Monday than to sit down with a beer and watch the drama unfold in the final round of the US Masters at Augusta, something I did last night.
You might find it hard to see how golf stirs emotions. Man chases small white ball around undulating grass for four hours. A good walk spoiled, as the saying goes. But in many ways that's the point. Thinking time versus striking time is colossal. If there's a sport where you're going to get the 'yips', it's golf.
At first, probably to the chagrin of the conservative Augusta National members, it was all about Tiger Woods. But then he faded. And we were left with the real storyline - Lee Westwood versus Phil Mickelson. Could the Brit, the nearly man, he without a major to his name, win the green jacket and get the monkey off his back? You found yourself willing him to do it. But when he didn't, and you witnessed Mickelson's special moment, you were kind of pleased he hadn't.
Mickelson, the world's number two golfer, had not won a major himself since 2006. Last May his wife Amy was diagnosed with breast cancer and Big Phil suspended his PGA programme. After surgery, when doctors informed him they'd caught it in the early stages, he returned and finished runner-up in the US Open. Then his mother was diagnosed with the same thing and Mickelson stopped playing again.
John Daly, the bad boy of golf, played a tournament in pink trousers to get across his message of support for the Mickelson family and then, at a subsequent tournament, every one of the PGA professionals did likewise. And throughout his final Augusta round Mickelson's black attire was broken only by a pink ribbon in deference to cancer research organisations.
Mickelson was wayward off the tee a few times as the pressure built but some of his golf was majestic, including a ridiculous thrash from the pine needles to reach the par five 13th in two, and land it a few feet from the pin - a fist in Westwood's solar plexus if ever there was one.
In the end, it wasn't edge of the couch stuff as he took a two shot lead to the 18th and only needed the three shots to claim his third green jacket. But then he walked off the final green to find Amy with his three children. He didn't know if she'd be there. She hadn't felt up to walking the course and had watched most of his final round on TV. The embrace lasted an eternity as tears coursed down Mickelson's cheek. A very special moment for both.
Mickelson is a popular fellow and consequently has endorsements which Fortune magazine estimates put his earnings at almost $50m. Meaningless of course, because all the money in Christendom cannot buy health, or such moments.
It had all been served up with the laid-back, insightful delivery of Peter Allis and the excellent BBC golf team, and it was on a high that I closed the dishwasher door on my pint mug and headed to bed feeling like a privileged voyeur.
Michael Schumacher equalled Ayrton Senna's tally of 41 grand prix victories in front of the tifosi in 2000 © LAT
It set me thinking about displays of emotion in Formula 1 and, in particular, Monza 2000. I'd been there, of course, but hadn't watched footage of that press conference since. With Michael back on the scene I thought I'd have a look on YouTube (it's still there, and is compelling viewing). It might be 10 years on, unbelievably, but it's still a powerful reminder of just how human is the man who was held up by so many as an automaton.
There were all sorts of explanations given for Michael's breakdown. To put it into perspective, he'd not won a race for three months, since Montreal in mid-June. There'd been first lap incidents in Austria and Germany, Mika Hakkinen had beaten him in Hungary, then again at Spa, with 'that' manoeuvre.
Finally, he'd stopped the rot. It was Monza, Ferrari's home turf, in front of the tifosi, and the Scuderia's championship challenge looked to be back on track. True enough, Michael had been told earlier in the weekend that his first employer, Willi Bergmeister, to whom he was close, was seriously ill, and certainly he was a bit later than fellow podium finishers Hakkinen and his brother Ralf in making it through to the unilaterals room as he drank in the adoration of the Ferrari faithful. He was sensitive anyway, blowing out his cheeks and, trying to describe his feelings, saying "I have no vocabulary for it, I'm just happy... just exhausted".
But this being win #41, he probably knew what was coming and sure enough it did. The question about equalling Ayrton Senna's victory total. Did it mean a lot?
"Yes it does..." he replied. But that was as far as he got. He could no longer look at the camera, only down at the desk as he quietly uttered "sorry" and started to weep openly. To his left, Ralf looked visibly shocked. To his right, Hakkinen, the man who two weeks earlier had explained via firm hand gestures precisely what had not been okay about Michael's defence of the lead at Spa, put a consoling arm around his shoulder and asked the interviewer if they could "have a break". It was extraordinary.
Live television, of course, waits for no man, and it was amid an awkward atmosphere that Mika had to go on explaining whether or not he thought the Ferrari had been faster, and Ralf had to talk about the first-lap accident which had claimed the life of a marshal, something that at the time Michael was unaware of and which would upset him more later.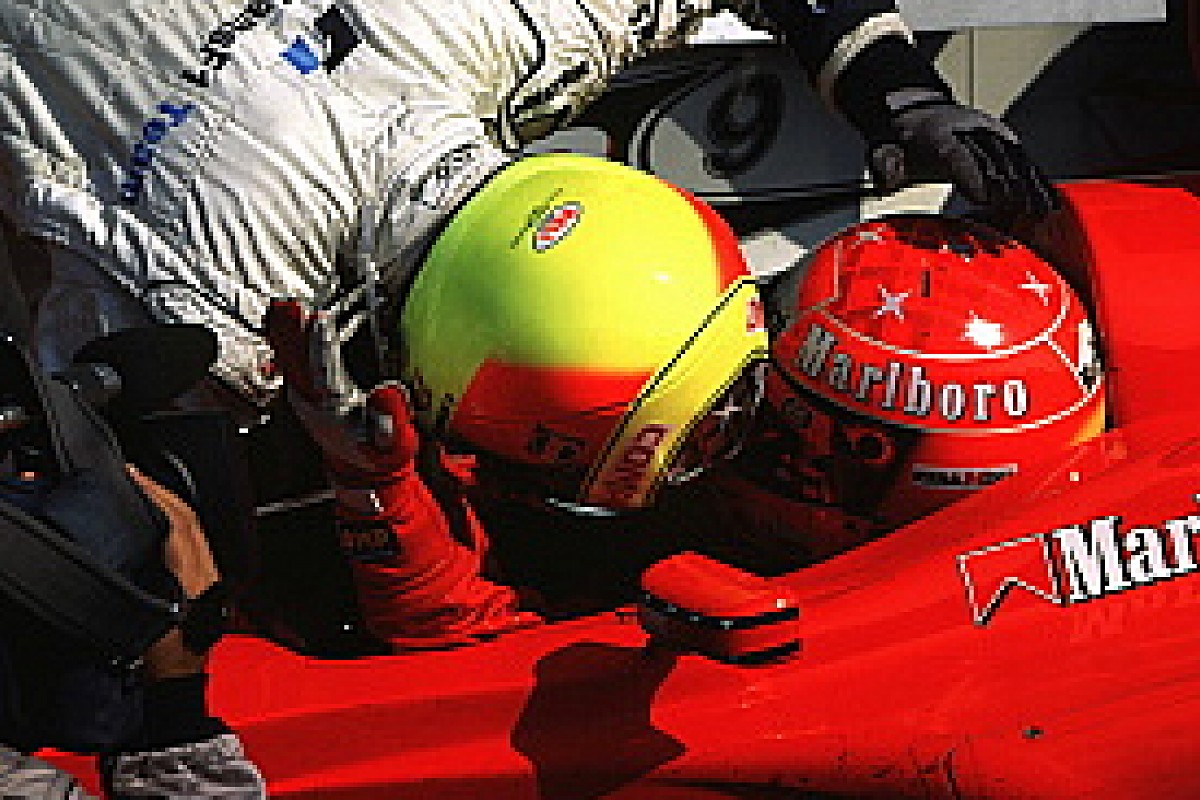 Ralf Schumacher congratulates Michael on victory at Monza © LAT
Presently, Michael was asked if he was okay to continue. He said he was.
"Why does it mean so much?" the interviewer tried again.
"Ask me another question please..." Michael said, before starting to lose it again. At which the interviewer took his cue, asked for a few words in German and brought proceedings to a swift conclusion.
It had been Michael right behind Ayrton at Imola in 1994, Michael who had the best view of the Williams snap away and Ayrton catch it on their first racing lap through Tamburello. And Michael who saw what happened next time around. The question had taken him right back there at a time when he was already tired and emotional. Just at that moment, he couldn't cope.
Schumacher talked about emotion and trying to keep a lid on it in James Allen's biography, The Edge of Greatness. He gave the example of Hakkinen at Monza the previous year, when Mika had made a mistake, climbed out of the car, sat down among the trees and cried. He thought he'd found a private spot but, in fact, he was picked up by a camera from an overhead chopper and his grief broadcast worldwide.
"Mika showed some humanity, some emotion and what did the journalists do? They screwed him for it. So what should you do? Well, try and keep a balance and don't show everything you're feeling," Schumacher stated, admitting he'd been embarrassed about Monza 2000.
But why? Probably because he worried that, in fact, it didn't show humanity but something else. Perhaps even, heaven forbid, weakness. Ten years on and another 50 victories later Michael, you hope, might feel a little differently. Professional sport is a goldfish bowl, no doubt, but nothing wrong with letting people see how you feel as, no doubt, Mickelson would tell him.