Ferrari and McLaren paid a heavy price for a senseless gamble in Malaysia. The football equivalent would be a defender walking the ball out of his own penalty area instead of planting it in row Z. It was over elaborate and it let Red Bull Racing straight back into the championship battle.
When you're in Malaysia, close to mountains, where predicting rain patterns with any degree of certainty is nigh on impossible, how is it that the two most experienced teams in F1 failed to put in banker laps and found themselves eliminated in Q1?
Then, Sod's Law, they suffered a dry race from the back of the grid in which even Lewis Hamilton's brio could only salvage sixth place.
Red Bull said thank you very much, tapped in the open goal and took a maximum 43 point haul, fully 31 more than their closest major competitor. Even after the disappointments of Bahrain and Melbourne, Christian Horner's men are now just two points off the pace in the drivers' championship (Vettel) and 15 points behind in the constructors. Fittingly, it was Easter Sunday that saw them rise again so very quickly.
McLaren was caught out by the weather © LAT
So, what was the thinking that saw reliance on radar weather forecasting overcome the basic instinct of putting in an insurance lap at the start of a wet session?
"We should have done," McLaren's Martin Whitmarsh admitted, putting his hands straight up. "The drivers were sat in the car and the team got it wrong. The weather radar had been pretty reliable. We'd watched the storms track in and track out again. We saw it coming, it started when the radar said it would but it was also predicted to pass through and we thought it would be dry by the end of the session."
But why take the risk when you don't need to?
"If you send a car out to do a banker there's always a risk as well. These cars are not easy to drive in tricky conditions and thinking it was going to dry we didn't believe the banker was the right approach. And, in fairness, we got out ahead of the two Ferraris, Schumacher, Webber and Rosberg, but we'd put our drivers in a difficult situation."
McLaren's team principal was left pointing out that the last time they qualified 17th and 20th - due to the vagaries of one-lap qualifying at Suzuka in 2005 - they won the race. Not this time...
Down at Mercedes, Ross Brawn admitted that they were radar gazing as well, and were almost caught out.
"The radar was so definitive - a little bit of rain at the beginning and then that's it for the rest of the session. I think what was happening was that somehow the clouds disappear before they come over the mountains then reform instantly and dump on the circuit."
But if it's so unpredictable, why no insurance lap?
"I'm sure that's what will happen next time!" Ross smiled. "In a way we're all the same, and I include myself - if we go with the technology we've got something to blame. If we go with our own intuition we're the ones at fault and so we tend to grasp at straws a little. If something is telling us don't do it in tricky conditions, you tend to go with the technology. In truth, if you get it right more than 50% of the time you're doing well. That's what makes racing in these conditions so exciting. It was a great day today - fantastic!"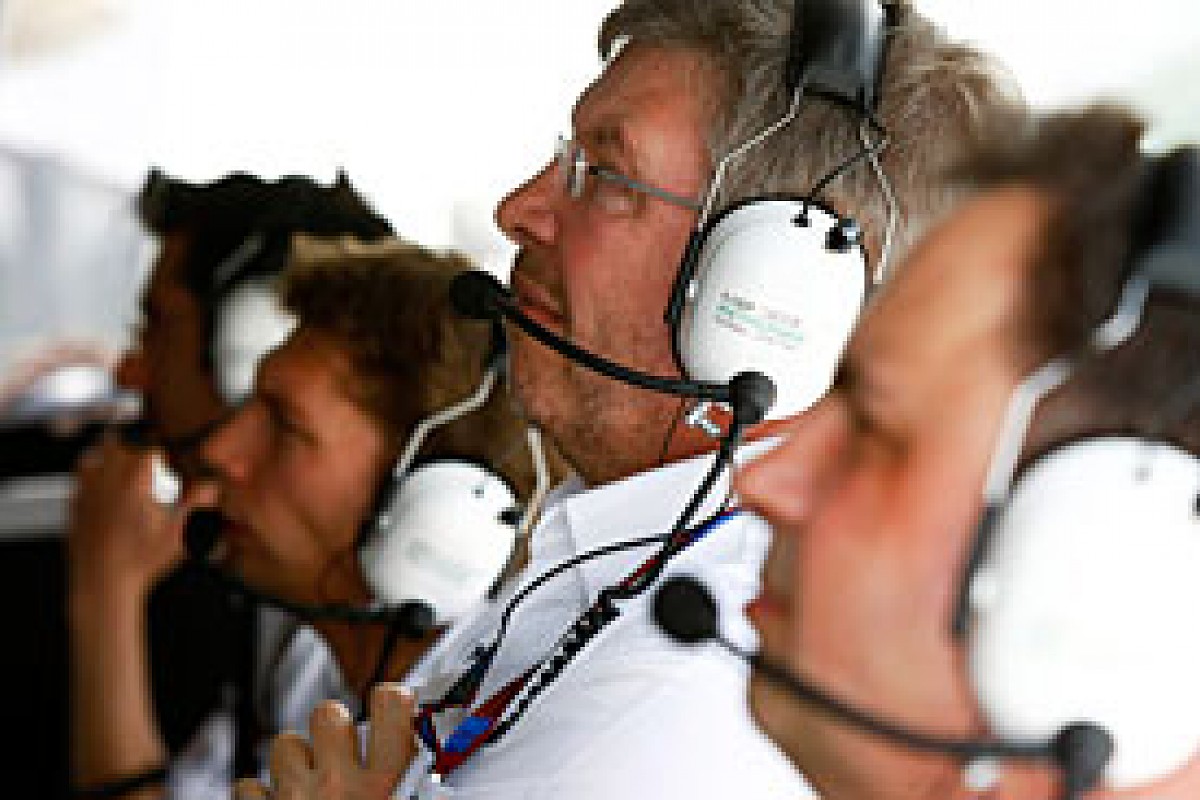 Ross Brawn © LAT
A sentiment he could afford to express with Nico Rosberg on the front row and Michael Schumacher eighth, rather than contemplating a pair of competitive cars marooned at the back.
And, just to prove that not even all the high tech versions of Michael Fish were in agreement, all you had to do was ask Williams tech director Sam Michael, who had Nico Hulkenberg and Rubens Barrichello fifth and seventh on the grid respectively, how obvious it was that you needed to be out at the start of Q1?
"Very!" he replied. "Our radar was solid with rain. It reminded me of Magny-Cours '99, one of those situations where nothing's ideal but you've got to get the lap in."
Sam was actually disappointed, although not as much as he was on Sunday night.
"They were both on laps where we should have qualified P2 and P3. The other guys - Rosberg, Vettel and Sutil - all got their sectors together and our guys didn't because of traffic. We were quite annoyed that we weren't second and third but there was no way we were going to do Webber. Hat's off to him, he took a huge risk, he was on hero or zero and he made it happen. It was a ballsy move because it was full wet when he left the pitlane and you could see it just came in at the right time.
"Maybe he thought he had to do something different but he did a great job."
Webber was alone in risking intermediate tyres instead of extreme wets in Q3, just minutes after the session had been red-flagged due to excessive standing water. It was doubly brave when you considered his exit from Melbourne and the fact that had his gamble not paid off, he could have thrown it off, qualified P10 and had people starting to ask questions. Still, cometh the hour, cometh the man. He admitted it had been iffy.
"I wasn't actually aware I was the only guy on inters. I thought maybe Seb (Vettel) would be and I didn't know who else might have a crack at them. I didn't know I was the black sheep. On the first lap I wasn't sure I'd made the right decision. I had a huge moment in Turn 2 and nearly spun. You just didn't know how bad the aquaplaning would be."
Down at Mercedes they'd seen what Webber had done but took the conservative approach, although Rosberg nearly changed his mind.
"I was actually on my way into the pits already after the out lap and then my engineer said something and that changed my mind," he explained."At the last moment I turned the steering wheel and stayed out. For me it was clear that in two or three laps the intermediate was going to be the right tyre but for Webber to do it straight away was very impressive but hugely risky. For us, full wets was right because it allowed me a safe second."
The fact that Nico again beat Schumacher was more of a surprise this time. Michael looked more competitive in the dry and the mixed qualifying conditions, on past experience, might have been made for him. Schumacher himself didn't think he'd lost it, just felt he hadn't used the tyres properly.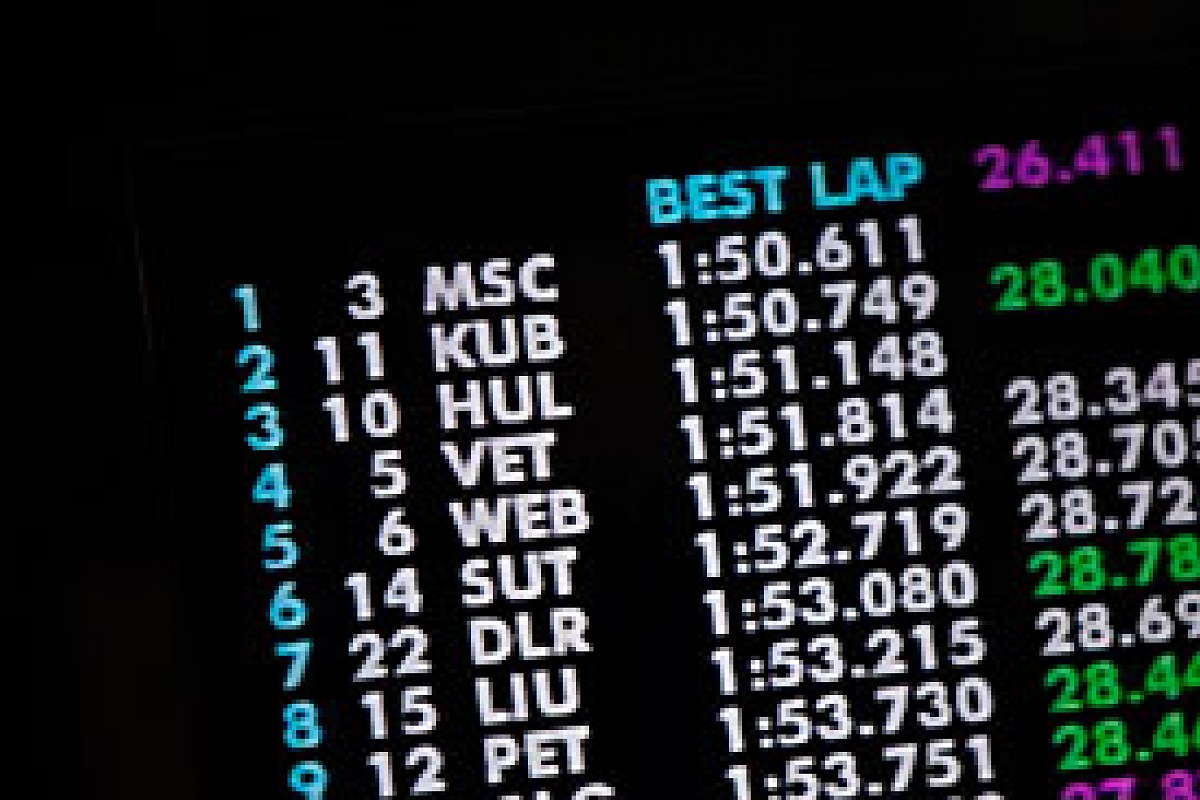 Michael Schumacher tops the times © LAT
"If I'm correct," he said, "at the moment when everyone was out on the same tyres in Q2 I was straightaway quickest, so my wet weather ability still seems to work somehow. But, basically, from my past experience the rain tyre stayed pretty consistent and so I put in a banker on the first lap in Q3, just to be sure. I started pushing on the next one but by then the tyres were gone and I just went progressively slower. In three years things develop. Bridgestone is now a single supplier and certainly the tyres behave very different."
Ross Brawn confirmed that Schumacher was more with the programme in Malaysia, even if a rogue wheelnut in the race didn't allow him to show it.
"I'm not seeing any radical difference in demands on the cars," he said on Saturday. "Michael's settling in. It's taken him a couple of races to work out how to use these tyres and how the cars work. In the dry over the last couple of days the performance has been better - he and his team engineers have been more competitive and it would have been interesting to see what would have happened in dry qualifying. But both drivers are exchanging set-ups and are both able to take each other's, so I have no concerns. There seemed to be a bit of a myth that when we got the car sorted out for Michael it wouldn't work for Nico, but that's not true."
Webber did the hard bit on Saturday. After the race he said all the right things about Turn 1, about the awesome team spirit at Red Bull and such like, but you can bet that inside he was deeply sore that he hadn't converted a great pole into 25 points. It looked like he'd left the door open for Vettel into Turn 1 and, the truth was, he didn't know where Sebastian was, didn't know that he was tucked right under his gearbox as they went on the brakes. It was expensive - a 14 point swing between the two under the current scoring system. Without it, he'd have been a point ahead of Vettel in the championship instead of 13 behind...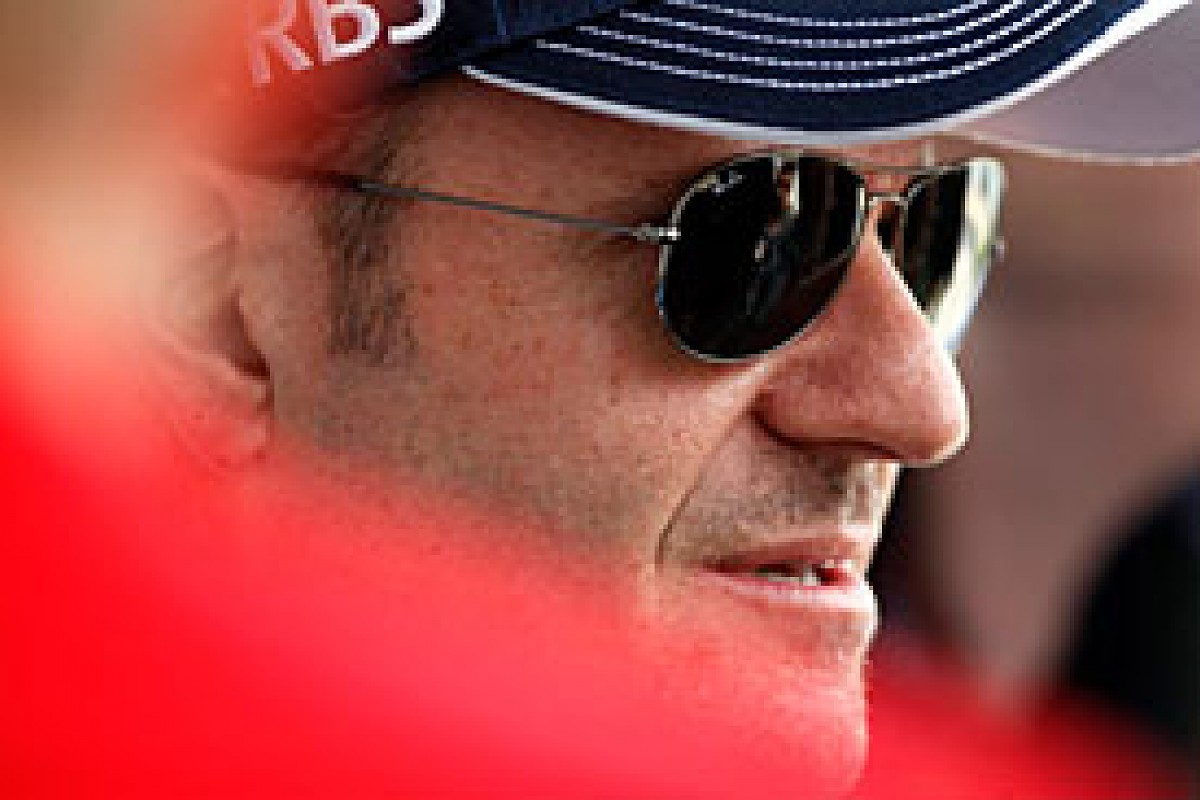 Williams is impressed by Barrichello © LAT
Another man who didn't take reward for his Saturday efforts was Barrichello, the Williams not giving him any drive off the line and sentencing him to a difficult afternoon salvaging 12th place. Williams though, is deeply impressed with Rubens, Sam Michael singing his praises loudly.
"As I say, if Rubens had got his sector times together he'd have been right up there in Q3. His second timed lap would have been good enough but Michael had been off the track and Rubens came up behind him in T12 and could do nothing about it. By the time he got onto his third lap the tyres had gone off. But his calls on tyres were all correct and that was very helpful because the guy's got so much experience and that helped Nico as well.
"I have to say that it was big input from Rubens. I was panicking going into Q2 with both cars on intermediates - there was only [Vitaly] Petrov, Michael, Nico and Rubens on intermediates, the other 13 cars were all on wets, so I was pretty worried about it. Seeing Michael go out on intermediates made me feel a lot better. When Rubens first went out of the pitlane he said 'damn, it's very wet,' then by the time he got to T7 he said 'we're definitely on the right tyre,' so I was more comfortable then.

"The season is still early but Rubens is one of the best drivers I've ever worked with. He's got such a big database and for every two camber change tests that Nico's done, Rubens has done 100 of them. He just knows what's important to make the car quick. It's an amazing thing to not have that for a while and then to have it again.

"We took the decision to go with Rubens for those reasons. We thought he'd be good but he's far exceeded our expectations. And that goes for everyone in the team - Frank, Patrick, Adam (Parr) and myself. The guy is on a really special level. The thing that's surprised us most is that we think, how's this guy not been a multiple world champion? He's better than guys we know who are champions. There's always a honeymoon stage but so far it's a perfect partnership, Rubens and Nico."
What else stood out in Malaysia? Well, not wanting to be a prophet of doom, I'm afraid it was Lewis Hamilton, flying on his new set of options, charging up to Adrian Sutil (on primes) with the fastest car in a straight line and still being unable to go by. Okay, so [Felipe] Massa was able to pass Button, but it was a struggle and Jenson was on primes which he'd had on the car since lap 10.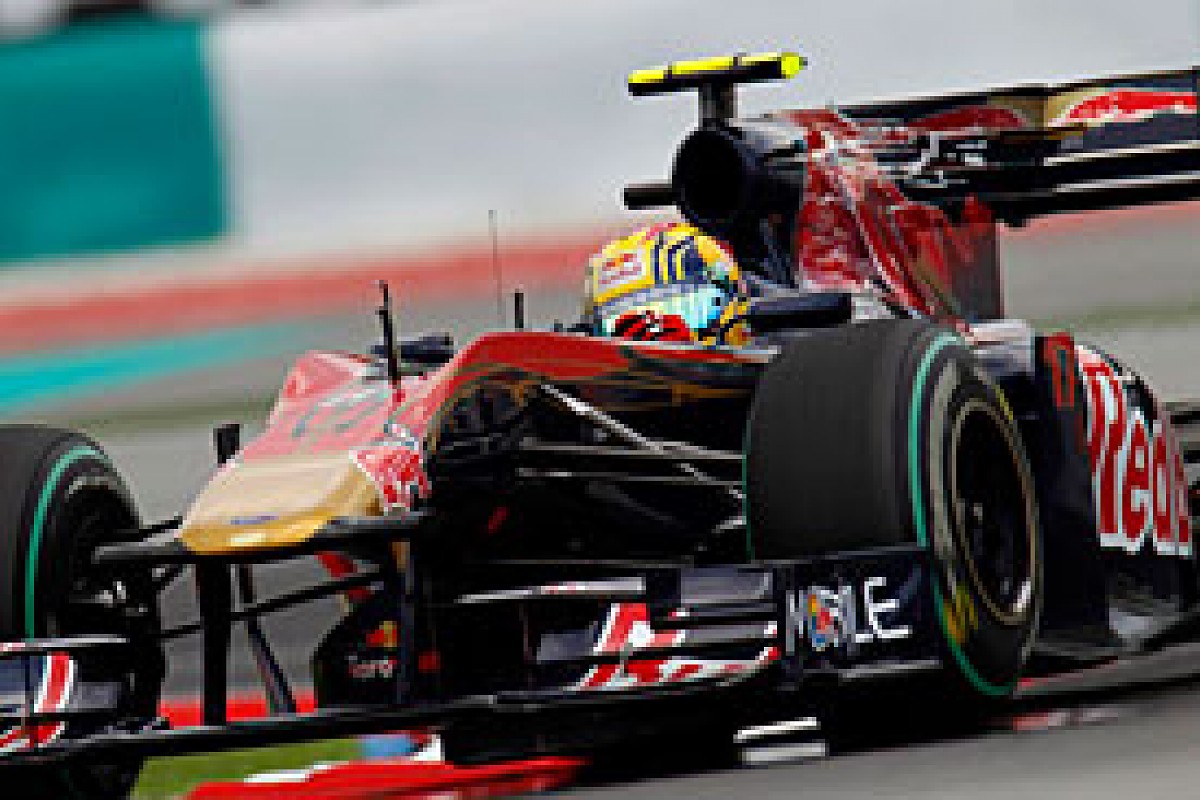 Jaime Alguersuari showed well in Sepang © LAT
Jaime Alguersuari drove superbly to score his first points, pulling off one of the ballsiest passes you'll ever see when he went around the outside of Hulkenberg into Turn 5. Not wanting to take anything away from the young Spaniard but there were reasons for that too. When you stood trackside watching there - an awesome place to witness the capabilities of an F1 car - the Toro Rosso was absolutely planted, the best thing south of a Red Bull, perhaps unsurprisingly. And Hulkenberg had got a bit tweaked up on the exit of T4 as well.

Those two highlights apart, Malaysia was interesting largely because there were quick cars out of position. But you do worry that come Barcelona we might still be in need of Bernie's randomly programmed trackside sprinklers...