The Melbourne weekend started badly for Lewis Hamilton and it didn't get much better. On Friday evening McLaren's communications chief found himself in a noisy restaurant and it was not until he looked at his phone that he discovered he had 23 missed calls from an 'L Hamilton.'
Lewis, leaving Albert Park in his Mercedes AMG C63, was reportedly fourth in a queue of cars waiting to turn left onto Melbourne's Fitzroy Street. When the lights changed it seems he employed a healthy dose of right foot and a couple of deft flicks of opposite lock to go round the outside of those ahead. If it impressed Bruno Senna, who was just behind, it left a less favourable impression on Victorian state Plod, stationed just around the corner. Lewis was rapidly pulled over and his car impounded. Melbourne's TV cameras were not long in arriving and by the time Hamilton had completed the formalities and got himself to bed, it was 12.30am.
Meanwhile, the PR machine had put out a suitably contrite statement, with Lewis admitting that what he'd done was silly, apologising and so forth. Next morning though, he was headline news, the front page of the Herald Sun screaming "Grand Prix ace in hoon shame!"
'Hoon', in case you're wondering, is an Aussie/Kiwi term for a young person who behaves in a loutish manner, in particular someone who drives in a manner anti-social by the standards of contemporary society - speeding, conducting burnouts, doughnuts, screeching tyres, things of that ilk.
It probably did not help Lewis's cause that earlier that same day, not 200 yards from where he committed his indiscretion, 53-year-old millionaire pizza chain entrepreneur Rocco 'Rocky' Pantaleo had died on his way to Albert Park when his motorbike was hit by a car at the junction of the same Fitzroy St with St Kilda Rd. As an aside, Pantaleo's founding restaurant closed its doors on Saturday evening to mourn his passing, only to have thieves break in with a sledgehammer at 4am and rob the till...
Back to Lewis though, and the incident was predictably blown out of all proportion so that he found himself fielding more Saturday questions about that than about his race car. McLaren team principal Martin Whitmarsh said: "I dare say most of us have done the odd thing they're not proud of, but young drivers trying to be ambassadors do have a heavy burden on their shoulders. Lewis was distressed, he takes his responsibilities seriously and I knew how he'd feel."
Be that as it may, it was all a far cry from Rene Arnoux who, leaving Zolder after qualifying for the 1981 Belgian Grand Prix, found his way impeded by a policeman. Arnoux refused to stop, forcing the officer to jump onto the bonnet, then drove all the way back to his hotel with the unfortunate fellow still there! When, later on, the law arrived at the hotel in force to apprehend Arnoux, they asked Alain Prost to point him out. Prost pointed to Jacques Laffite instead, who needed all his powers of persuasion to resist arrest.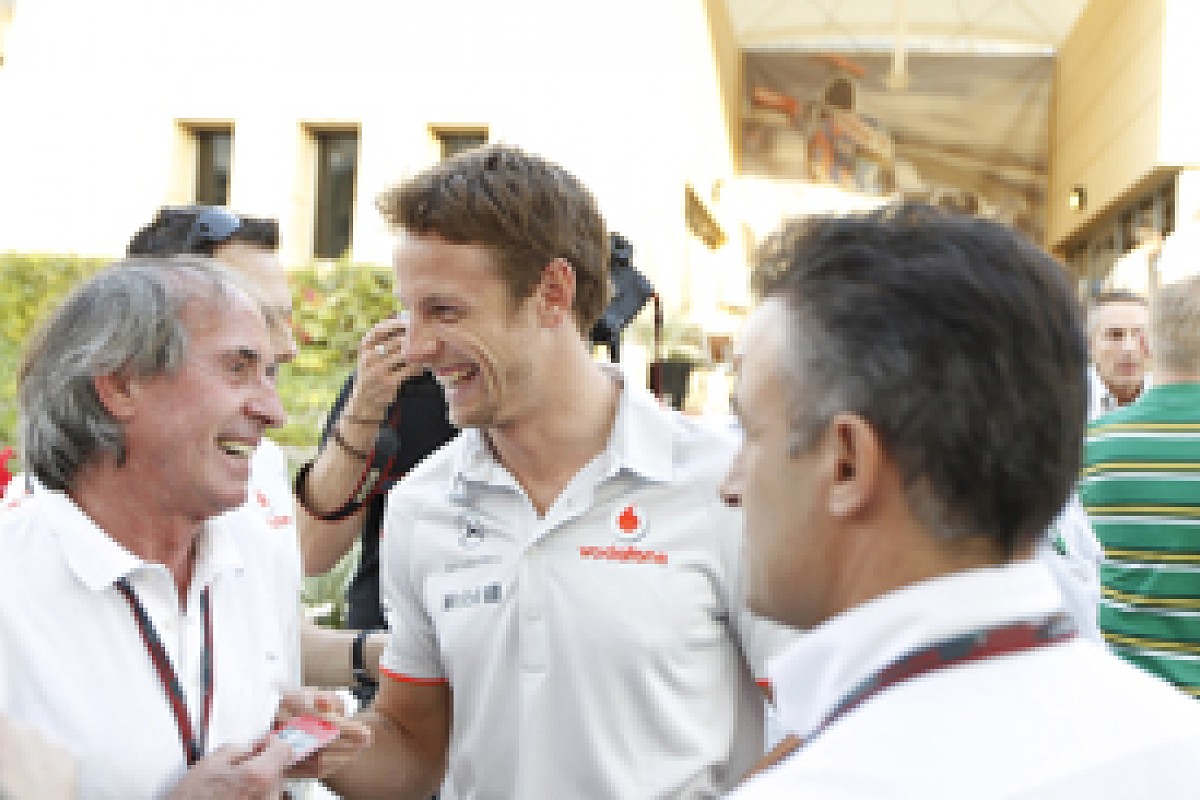 Jacques Laffite chats with Jenson Button and Jean Alesi © LAT
'Jolly Jacques' is still a paddock fixture today in his role of TV commentator for the French TF1 network. He was still laughing about it last weekend, 29 years on, at the same time as shaking his head about a politically correct world gone mad. Laffite still enjoys a joke. When the news broke that ITV had lost its F1 rights deal to the Beeb a couple of years ago, it was Jacques in the TF1 booth next to ITV who kept holding up A4 paper with "Allez BBC!" scrawled on it. To which the ITV boys memorably responded with a message of their own: "1939-45 -- Thanks for the help..."
Of more concern to Lewis will have been the fact that with Jenson Button a solid fourth on the grid, he had not even made Q3.
"It was weird," he said. "In Q1 the car felt great [he was fourth quickest, 0.15s shy of Button] but in Q2 I just didn't have any grip. I was really struggling with the rear tyres."
The first seven had been the usual suspects from the 'Big Four' but then Rubens Barrichello, the mighty Robert Kubica and Adrian Sutil all demoted Lewis. In the end the weather rendered it all immaterial but Lewis has had better days.
In the race he was mighty, but less than impressed by McLaren's decision to pit him for new option tyres while Jenson stayed out on his original set and won the race. At the time the call was made, it was a tough one. Schumacher and Webber had already stopped with more than 25 laps to go and rapidly started setting purple sector times on rejoining. Nobody quite knew how the original set of options would react to being asked to go the distance, with Button getting 52 laps out of his.
"Who made the decision to bring me in?" Lewis asked on the radio, "because it was a frickin' bad one..."
Whitmarsh admitted that, without it, McLaren could have had a 1-2 but hindsight's a fine thing.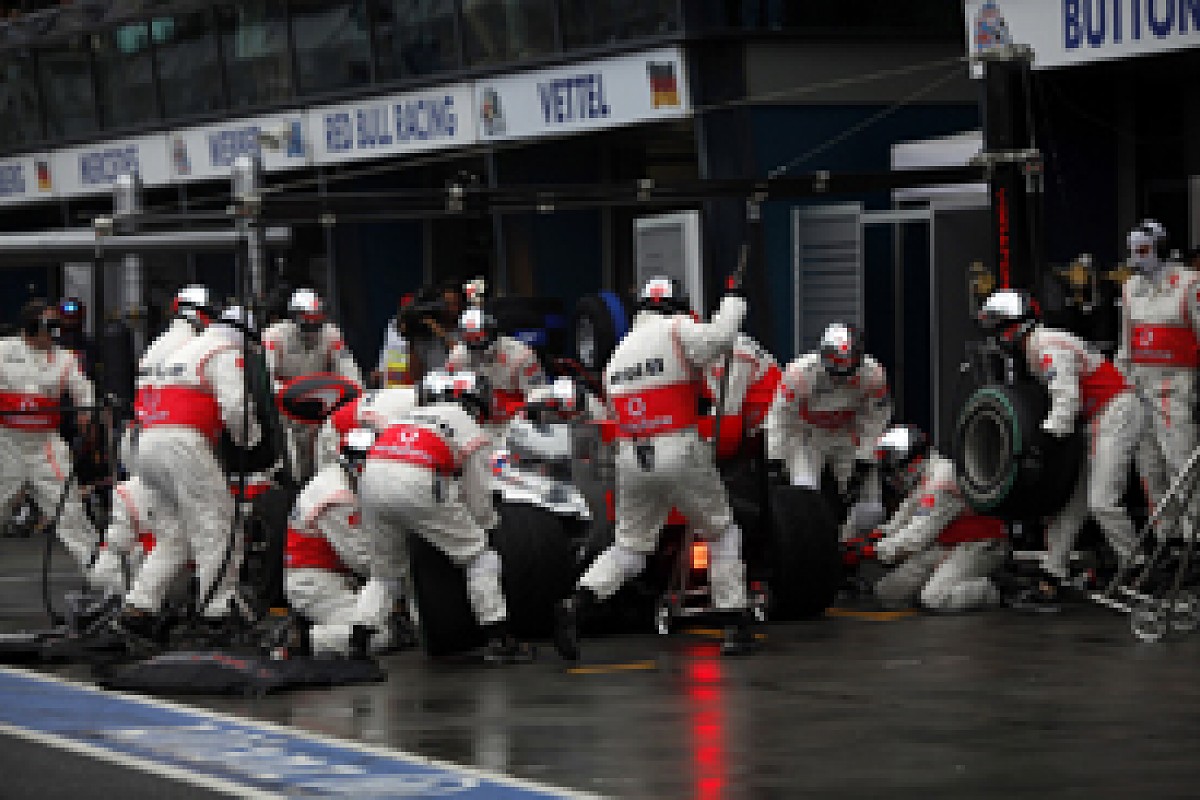 Button's pitstop timing was critical © LAT
Button has always had an instinctive feel for grip and it was the lack of balance on his initial intermediates, with the rears going away quickly, that told him it was time to try slicks. He thought he'd made a catastrophic error when he realised just how wet the pitlane was, then had a brief excursion while his dries came up to temperature. His hunch though, was right. Changing two laps before anyone else was the foundation of a fine first win for McLaren. It will not have improved Lewis's mood.
Other things you do not expect to hear on a radio? How about team to Schumacher: "Michael, if you can pass Alguersuari, you might get a point." Well, he did and he did. But... The first corner tangle with Fernando Alonso meant that we didn't find out what Michael may have achieved, but the best evidence is that he still has a way to go.
If anyone had a more frustrating time than Hamilton or Schumacher, it was Mark Webber. It hadn't started too well when a throwaway remark from Hamilton led to him having to field all sorts of questions about impending retirement which, he assured his home faithful, couldn't have been further from his mind.
Webber playfully hit back at Lewis after his honing episode with some suggestions that he could do with some driving lessons... from Tiger Woods.
That proved ironic, particularly in view of the manner in which they came together on Sunday. From the overhead camera in particular it looked odd, as if Webber had suffered rush of blood to the head. His explanation was that when he saw Lewis shape up to go outside Alonso, he tried to fill the gap, but Hamilton came back across. Adrian Newey's face on Sunday night betrayed his feelings about 18 points from such superiority in the first two races while Ferrari has 70 points on the board. Already, that will take some closing down.
Further irony was that Webber's defence of Hamilton's road problems landed him in hot water for labelling his home country a nanny state.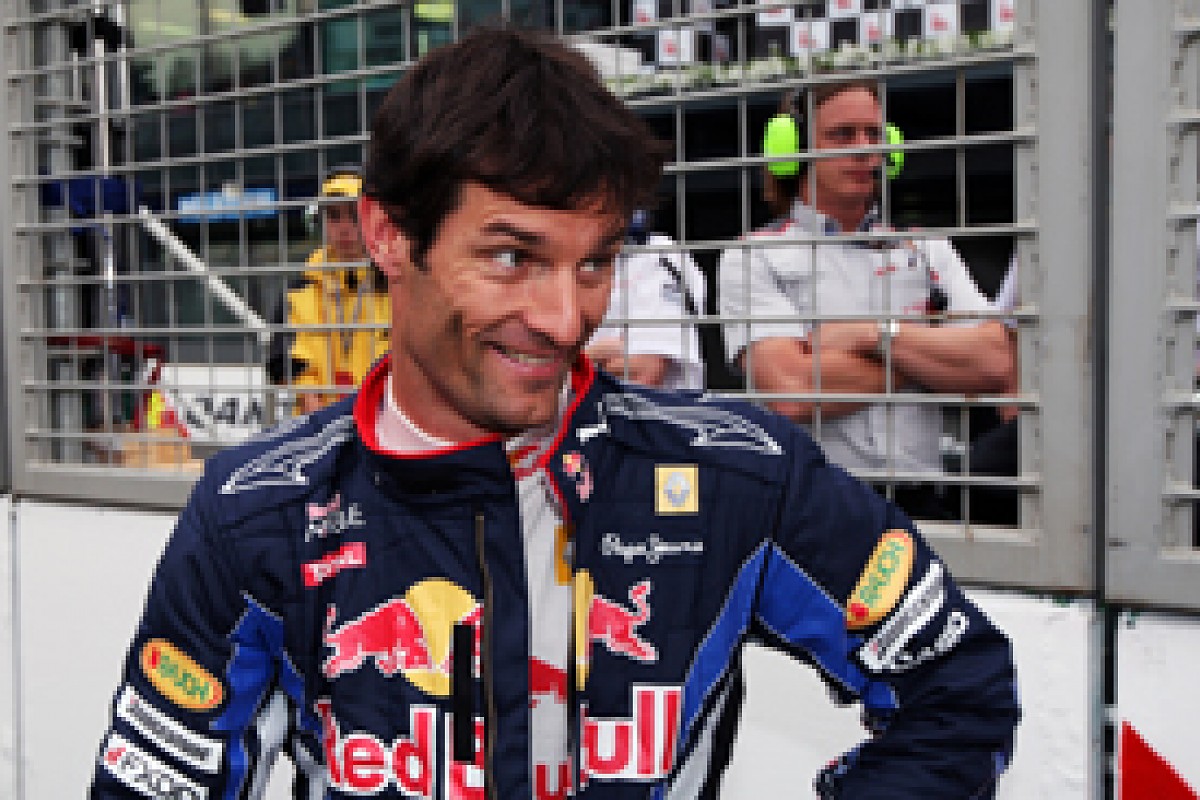 Mark Webber © Sutton
"I think we've got to read an instruction book when we get out of bed these days - what we can do and what we can't do.... put a yellow vest on and all that sort of stuff," Webber said. "It's certainly changed since I left here. It pisses me off coming back here to be honest." And that's from a guy who lives in the UK...
The Institute of Public Affairs claimed that Webber's feelings were spot on. Predictably though, anti-race voices were quick to point out that people were deprived of their right of protest just so that people like Mark Webber could engage in 'legalised hooning.' And the Victorian police deputy didn't miss an opportunity to point out that Webber's comments were disappointing given that a lot of his fans may be alive due to the work of the police, particularly on a weekend which has seen four die in speed-related events.
It seems that nobody at all misses a bandwagon these days, but Lewis's timing might have been better with the FIA currently backing road safety campaigns left, right and centre...
Other paddock chortlings in Melbourne? I think my favourite was the schadenfreude with which someone asked Richard Branson whether an association with cars whose wings fall off and whose petrol tanks aren't quite big enough is the sort of thing you're looking for as an airline boss!