About the best you could say was that no-one got hurt. Conditions at the Australian Grand Prix were worse than any of the drivers could remember and most of them didn't want to start. Commercial pressures meant they did, and in a race disfigured by accidents, Ayrton Senna lost the remnants of his tentative claim to be world champion, crashing out of a dominant lead. That left Thierry Boutsen to give a fine display of finesse and control amid the wrecker's yard of Adelaide.
Practice and qualifying - by Joe Saward
In the days after the Japanese Grand Prix, the Formula 1 circus exploded in different directions; the sponsor hunters went to Tokyo for the motor show; the smart cookies to the exclusive beaches of Bali and Phuket; the gregarious to Queensland (where one particular resort boasted 15 drivers 'getting away from racing') and the immoral to the Phillipines. The workaholics went to England and the aggrieved to Paris. The mechanics? Many went straight to Adelaide.
All would ultimately regroup, but in Australia just now, going from A to B is not easy. There is an airline strike. So the 'BPs' (the local Aussie expression for Beautiful People) came to Adelaide by car, after many hundreds of miles driving. Some came by Australia Air Force Hercules; the lucky were crammed into oversubscribed passenger jets.
Of course, no matter how one arrived, everyone wanted to be in Adelaide. It's the best grand prix of the year and a fun town at grand prix time. The weather is lovely and one can get into all manner of glorious 'trouble' with the local Shelias. It is where the F1 term comes to an end and is always that little bit more relaxed than other races.
Or it was. Not this year. There was the messy business of the McLaren appeal and the absurd FIA punishment for Senna. Those who disappeared to sunny places, where even the bush telegraph fails to reach, were in for a shock when they arrived in Adelaide. A rather token appeal had been turned into a major crisis.
The entire sordid dispute tainted the early days of the meeting and took the edge off the usually magnificent event. After the first couple of days of listening to what everyone had to say, most of the F1 journalists had blood coming out of their ears.
After months during which the media have bee treated with disdain by some in F1, suddenly everyone was asking for the support of the pressmen in the quest for asking what was right and fair. It was all a bit much. "There is truth," said a cynical local hack, "There is a perception and there are good quotes. I prefer good quotes! There are plenty."
Still, when all else fails, you can always say "G'day sport" for, lest we forget, this is what running fast cars around in circles is supposed to be about. There are times when one could willingly throttle most people in F1.
On Thursday, Ron Dennis was on several hit lists. After 15 race meetings during which one had to get up early for Friday morning's pre-qualifying, the wonderful folk of Adelaide had decided that, as theirs was a four-day meeting, pre-qualifying should take place on the Thursday afternoon. What a fine idea. For once, Friday morning would not be quite such a struggle. Then Ron called a press breakfast and it was billed to be as exciting as Batman.
Thankfully, Dennis and his drivers decided after this that all matters relating to Suzuka business would not be discussed in public. Everyone breathed a huge sigh of relief and put their heads down to get on with serious sport and serious partying.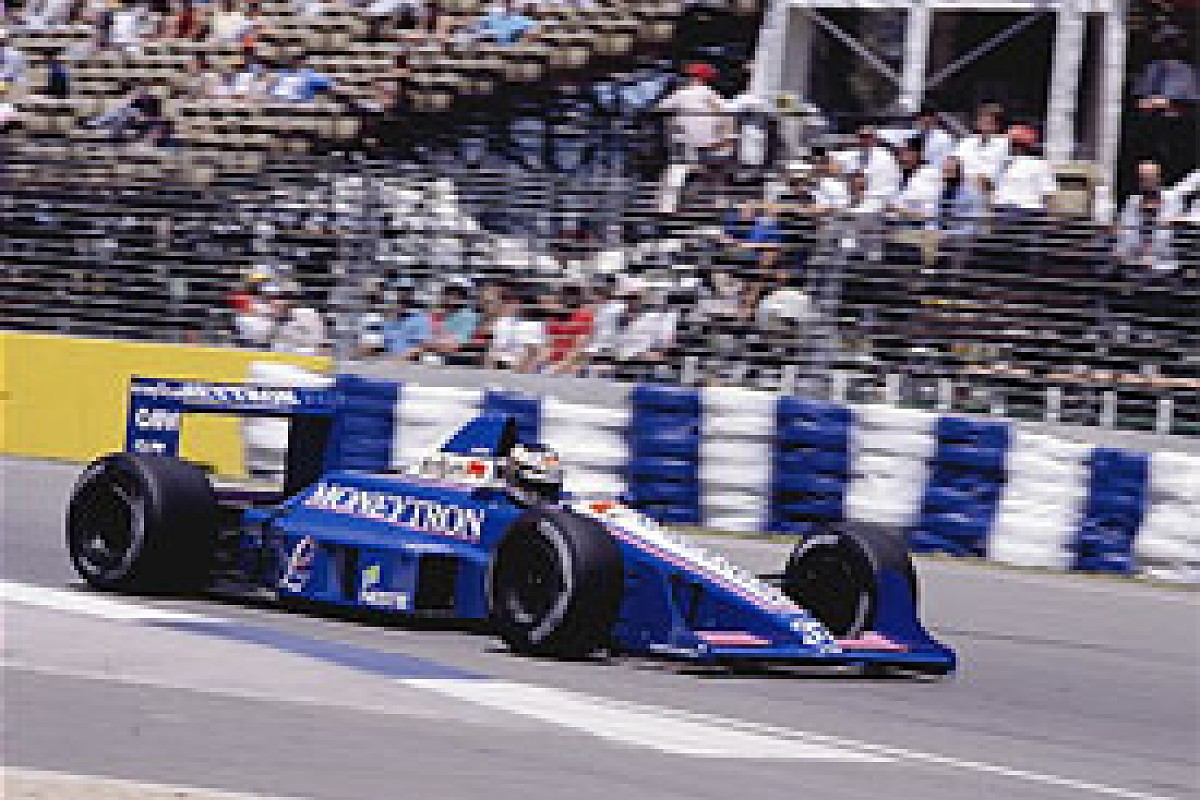 JJ Lehto, Onyx ORE-1 Ford © LAT
Pre-qualifying was low key, as it turned out, not quite the scramble we have come to expect. Nicola Larini made it. Phillippe Alliot too. Nothing new in that. There were surprises though. Piercarlo Ghinzani, going into his last grand prix, was also in, while Stefan Johansson was pushed out in the dying seconds by his own team-mate, young JJ Lehto.
Michele Alboreto was out too. A broken diff leaving his set of race tyres stranded out on the track. Michele was left with an unsorted spare car and a set of qualifiers. He did not make it.
Tyres were the major talking point for the streets of Adelaide were having a curious effect. Qualifiers did not seem to work. Sure the track was dirty and always slippery, but it looked like this time things were out of control. "I had a set of soft qualifiers," said Pirelli man Nicola Larini. "They lasted for 11 laps."
It was all a bit confusing. Yet whatever the rubber, it was obvious from early on that hardly any of it could grip itself to the Adelaide tarmac. Walls and kerbs were assaulted willy-nilly, notably by Olivier Grouillard, who had three goes at smashing cars to bits in the very first session, the final effort coming after the chequered flag. Olivier has had better days.
This was spin city from which Senna, naturally, emerged quickest. Pierluigi Martini's Minardi was second fastest (but this no longer amazes as it did a few months ago) and Nigel Mansell's Ferrari was third. The only indication that all was not as normal was that Prost was ninth, the victim of brake and gear selection troubles.
In the warm and pleasant afternoon, the spins continued (yes, Olivier did it again) and Martini set the pace. It took 31 minutes for Alain Prost to topple Pierluigi. Within moments Senna had toppled Prost. With five minutes to go, Prost toppled Senna (are you getting the picture?). Senna went for a run and was held up by traffic. What kind of traffic? "A Ferrari and a McLaren," said Senna darkly.
Thierry Boutsen was the big surprise for the Williams-Renaults FW13s have never looked this competitive. Thierry was 0.38s from Prost's best and reckoned he could have had overnight pole. "It was quite a good lap except for two corners. I was behind Alliot who didn't see me," he explained. Martini wound up fourth and was, in true Minardi tradition, ecstatic. Sandro Nannini's Benetton was right in the hunt as well.
Significantly, however, five of the top ten were Pirelli runners. And Ferrari? Yes. Ferrari was in something of a shambles. Berger managed 10 laps to take 11th and (whisper it) Mansell was down in 16th. They could only improve - both set-up and tyre choice.
The following day, the usually cheery face of Berger was even more depressed than before. "The end should not be like this," he said. "They are fighting for second place in the constructors' championship and putting one driver aside. I'm not upset with Ferrari, but someone is trying to do something very clever and it will all fall on his head."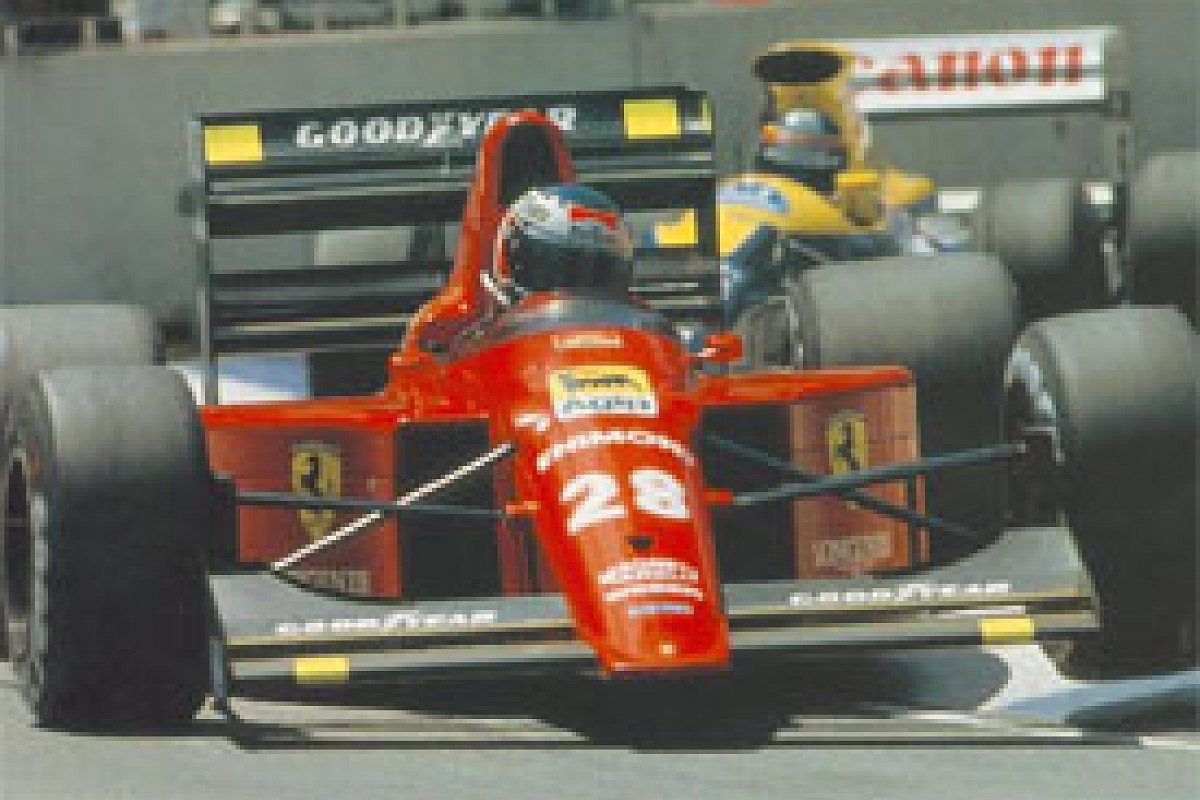 Gerhard Berger, Ferrari 640 © Ricardo Pereira/FORIX
Someone? Well, look at it this way, when Gerhard's gearbox broke after two laps on Saturday morning he returned to the pits and was not allowed to get in the spare: it had a new development engine and Berger, of course, is going to McLaren next year. There is a sweet irony in all this. Neither Prost nor Berger enjoyed one minute at Adelaide. Next year they will be standing in each other's shoes... and presumably everything will be rosy. "Ron [Dennis] came to me and asked me if I wanted a car," said Berger with a small smile. "He said he had four."
Nigel Mansell wasn't particularly happy either, for his morning practice involved an assault from the rear from his old 'chum' Nelson Piquet. "I was on a quick lap." explained Nelson, "and Nigel was running slowly in the middle of the road ahead of me. I was sure he was going into the pits, but he didn't."
For the first 75 minutes of the session Alliot was the fast man, but in the dying minutes there was the usual rush of times. Patrese knocked him off the top, Nannini knocked Riccardo down and then in the dying seconds Prost went quickest. The sensation, the joy, of that glorious hot Saturday afternoon was the performance of Lehto. He was a mightily impressive sixth and Stefano Modena's Brabham was hardly slouching along with fourth. The top eight were covered by 0.77s. These included three pre-qualifiers: Lehto, Alliot and Larini. Senna was down in 11th place. He was working on a race setting.
And so to the showdown on what had become a blistering afternoon. For a while, the drivers sat around and watched the early chargers and then after 20 minutes Senna went out and round the track in the quickest lap ever to take pole. Eight minutes later Prost had a go, but it was not enough. Ten minutes later Senna was on the warpath again with his final set and all eyes watched. This, after all, was what they are going to tell their grandchildren about.
"It was better than yesterday's," said Senna. "That was as much as I could do. If anyone had been able to go faster, then so be it."
It had been spectacular, but not a classic by his high standards. It was, however, 0.73 second quicker than Prost's Friday time...
Moments later Martini did one of his fliers to set the second quickest time of the session and to take third on the grid. "This afternoon is fantastic," he said later. Nannini and Patrese had both done well too and Mansell had dragged himself up to seventh.
It was getting into the happy hour at this stage as drivers tried everything they knew to pull out a quick one.
Berger's appalling time continued. His car stopped out on the track with engine failure and, having been kindly lent Mansell's race car, he missed his qualifying lap when somehow or other, an onboard fire extinguisher was triggered. Gerhard would line up 14th.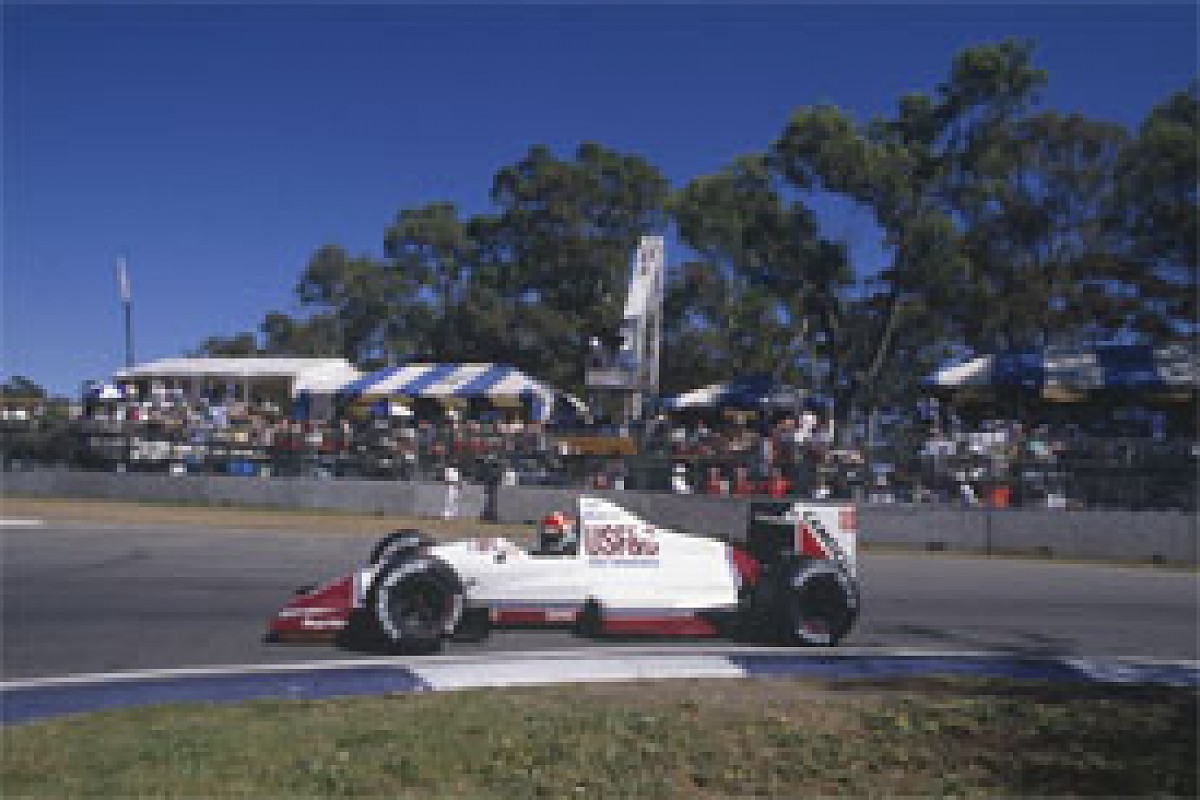 Eddie Cheever, Arrows A11 Ford © LAT
But there were sadder stories: when Eddie Cheever came belting around the last corner on his final flier and lost it on the pit straight, smashing his Arrows to bits, he put paid to the aspirations of others. Even as he was throwing his steering wheel across the track in anger ("Did I do that?" he asked later) and getting out faster than is possible for a tall man in a small car, and even as the officials were reaching for the red flag, others were on their last-chance fliers. Eddie's accident sliced off the all-important final 30s of the session.
There were plenty of human interest stories: Ghinzani made it in for what would be his last grand prix. It was one of his best performances for the Osella team, to which he had been such a friend. Another future F1 exile Rene Arnoux made it by the proverbial skin-of-the-teeth. He was 26th on the grid by 0.37s.
And Grouillard, with five incidents behind him, made it too. It was nice to see since he had always given his all. So too did the Rial men (perhaps that should be Real men). If medals were being distributed, both Pierre-Henri Raphanel and Bertrand Gachot would certainly have been in line for them since they were only 1.3s behind the slowest opponent. That was more down to sheer guts rather than to technical improvement. "Raphanel's right off the planet," said the commentator as Pierre-Henri gave his all in the dying minutes. It didn't make any difference: a Rial and a big heart do not a McLaren make.
Also out were Luis Sala, who gave an inexplicable performance compared with that of Martini. His Minardi had been unbalanced all weekend. Luis was not. "Tomorrow is another day," he said with a pale smile. "It's another day - without me."
The saddest story was that of Jonathan Palmer, caught out by the stoppage, failing to make the cut for the first time this year, in his last race for Tyrrell. "I did a 1m19.3s this morning." he said, looking shocked - Fleet Street would say 'gutted'. "You can't put a feeling like this into words," muttered Jonathan. It was a truly bitter-sweet end to a season of struggles.
Still, said the optimists, the sun is shining. The pessimists said it would rain on Sunday. In recent weeks in F1, when it has rained, it has poured.
Race
There must be something of this 'greenhouse effect'; the world's weather patterns seem these days to be in some chaos. A fine and balmy summer in England - and now torrential rain at the Australian Grand Prix. Two glorious days for qualifying were forgotten on Sunday morning, when we awoke to leaden skies. That maddening fellow with the bow-tie on breakfast time TV had been right after all. Up to a point, anyway. Showers, he had said...
It was still dry, however, for the morning warm-up, in which Senna was fastest, followed by Berger. In the much cooler conditions, everyone found markedly less grip than in qualifying, but it was considerably more than they were to get next time they ventured out. By mid-morning it was raining hard, and an extra half-hour of practice was scheduled to allow some acclimatisation to the revised elements.
This session gave some clue as to what lay ahead. Conditions, the drivers reported, were frankly impossible. Mansell's Ferrari spun in a straight line, simply because Nigel had hit a puddle he couldn't see. The car made quite heavy contact with the wall and the driver was left with a sore neck. A little earlier, Nannini had had a similar incident and his Benetton was wrecked.
In its own way, though, the most remarkable sight was that of Senna, regenmeister and all that, in a lurid spin. The McLaren went through 360 degrees in the time it takes you to blink, emerging in the direction of the track, having hit not a thing. If this was a portent of Ayrton's luck, victory looked a foregone conclusion.
At the end of the session Prost also spun, finishing up in the mud at the outside of the last turn, car undamaged. That brought out another red flag, and the drivers went off for a bit of a think.
The Benetton team on the grid © LAT
As they did so, the rain continued to beat down; gloomily they kept looking to the dreary sky. Aeroplanes in the region reported that the weather pattern was set for a good few hours; there would be no respite from the rain, no hope that the track might eventually dry out.
What to do? Most considered a race in these conditions out of the question. "You can't believe how bad it is," Mansell said. "Believe me, I was a passenger when I hit that puddle, nothing more and that was in a straight!"
It was the straights, actually, which were causing most concern. The majority of Adelaide's corners are slow, in any case, but the real worry was the long Brabham Straight. "It undulates quite a lot," explained Mansell. "So that puddles form everywhere - and you can't see them. The aquaplaning is worse than I can ever remember. Quite honestly, I just don't think it's on to start the race in conditions like these. And to think yesterday I was hoping for a wet race, because I thought we'd be more competitive in the dry."
As 2pm, the scheduled start time, approached, there was little sign of any activity. Some of the drivers, including Prost, Berger and Patrese hade been round the circuit with officials and a half-hour delay had been agreed. "The problem," Alain explained, "was that going round slowly in a road car gives you no idea of how bad things are, but at least we had another half-hour to see if maybe the rain would stop."
It didn't. By 2.30pm another delay had been requested and this time refused. "I didn't think that a very... kind move," Patrese said. "Okay, I know TV was waiting, but our lives were at stake."
Piquet thought track conditions were the worst he had seen in 11 years of Formula 1. "I am very scared," he admitted. "Only an idiot would not be. My car feels fantastic in the wet, actually but I am back in 20th position on the grid. It's one of those days where, if you don't have an accident yourself, you get involved in someone else's. I don't think we should start - and I'm sure that if Jean-Marie Balestre was here, we would not be starting."
While his rivals debated the matter, however, one man stayed firmly put in his cockpit. More than anyone else, Ayrton Senna wanted the Australian Grand Prix to go ahead; unless it was run, and unless he won it, any hopes of keeping his world title would be gone. Later, he would confide in a friend that he too thought conditions unacceptably bad. For now though, he was keeping quiet, and doubtless Bernie Ecclestone loved him for it.
Two camps, then, as always in these circumstances. On the one hand you had those who pontificated that racing drivers earn a fortune, that the show had to go on and if someone was killed because he couldn't see where he was going, well, that was all part of the game wasn't it. What were these, men or mice? And then there were the more rational, who suggested that top grand prix drivers get top dollars for their skill rather than a willingness to die unnecessarily.
When the three-minute board was shown, drivers such as Mansell and Piquet had not yet donned their helmets, but eventually all 26 drivers climbed aboard and set off on a ragged parade lap, not all in the correct order. When they got back to the start, the green light flashed before some cars had taken up their grid positions: Cheever, late away, was still far from the end of his lap. So much for sticking to procedure.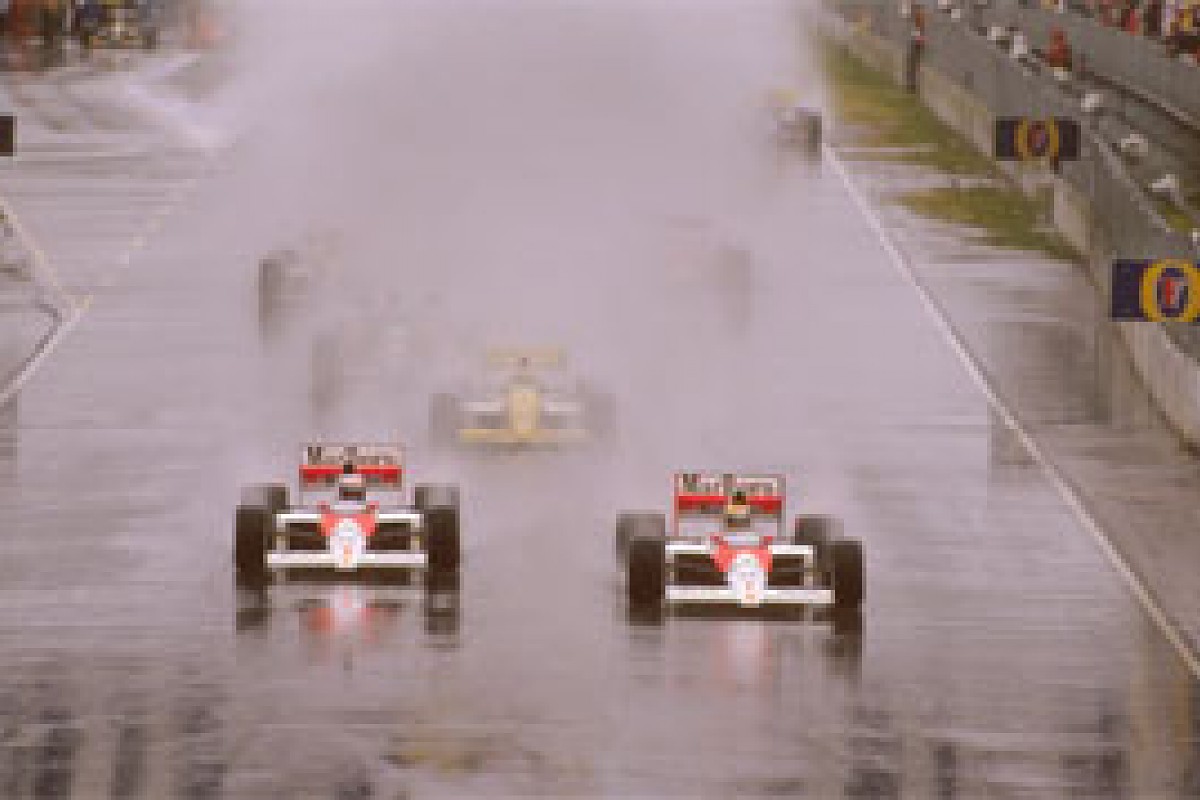 Ayrton Senna and Alain Prost lead the field into the first turn © LAT
Prost got the better of Senna on initial acceleration, but into the first turn, Ayrton nosed ahead. The two McLarens didn't quite touch, but they nearly did. At the end of the first lap, Senna led by a sizeable margin, but second-placed Prost headed for the pitlane, stopped and climbed out.
"He did the right thing," Senna commented later, "There was nothing for him to gain by racing - he wasn't going to win the race and he couldn't add anything to his championship score. In the circumstances, it was the right decision."
Then, a minute later, out came the red flag. Lehto had spun his Onyx and came to rest with a dead engine and in a dangerous spot. Everyone halted at the end of the lap and now the talk began again in earnest.
"I've made my decision," said Prost, "and it's mine alone. I respect other people's right to do as they wish, but I was surprised when they got back into their cars - a lot of them had said no way would they race."
Later, Berger was especially livid. "I shouldn't have started. I know it. We agreed we wouldn't but then the pressure began, from team managers, officials and so on. In conditions like this, it really shouldn't be up to the drivers to choose whether or not to race; the FISA stewards should have said it was too dangerous. FISA punish Senna because they say he's dangerous - and then they let us race in weather like this, which is a hundred times more dangerous than any driver could ever be. The guy who let this race restart should be put in an electric chair. This is worse than Spa, worse than Silverstone last year, worse than any race I've seen. The drivers aren't the losers today, we're hopeless, can't stick to anything we agree."
On the grid Ecclestone was in conversation with several drivers, including Piquet, his former Brabham team leader. It was a heated debate, and Bernie also spoke to Prost. "He told me it was okay to start," Alain said, "because they had cleared all the puddles. Ha! It was raining hard while we were talking..."
No way for Prost, then. His decision was taken. But everyone else came out for the restart, save Jean Alesi, who would start from the pitlane, his Tyrrell having been unwilling to fire up.
Martini made a fine getaway this time, but Senna wasn't to be denied and his opening lap was breathtaking. Very well, the Minardi was on Pirellis which were scarcely the equal of the Goodyears, but that wasn't far from the whole story: Senna's first lap required 1m47.217s of his time; Martini, next up, went round in 1m55.923s. Ayrton was pulling out more than three seconds a mile. If he kept out of trouble, this would be a demonstration.
His team-mate, meanwhile, was in the McLaren cabin, changing into jeans and sweatshirt: "I will tell you something now, while Ayrton is leading, if we had been fighting for the world championship, I would have made the same decision not to race."
However, you watched Senna and you marvelled. A day earlier he had sincerely expressed the belief that God was taking care of him, and you recalled Pedro Rodriguez had said the same. Could this be some explanation of apparent fearlessness in terrifying conditions?
After 10 laps, the Brazilian led by more than half a minute, despite cutting his pace by a couple of seconds a lap. Boutsen and Patrese had dealt finally with Martini and were now scrapping between themselves - indeed, Riccardo got by his team-mate briefly only to lose it again when he went off, without damage.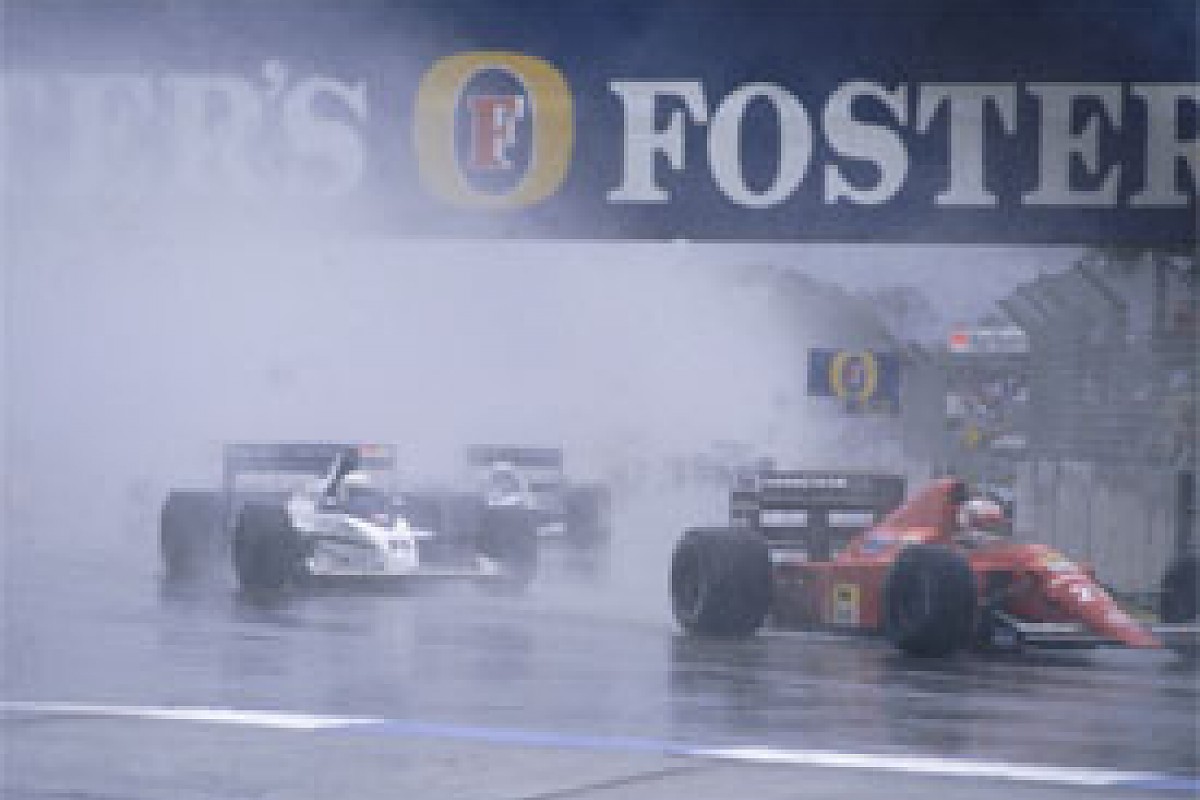 Nigel Mansell, Ferrari 640; leads Stefano Modena and Martin Brundle in their Brabham BT58 Judds © LAT
In Patrese's mind very much was beating Mansell to third place in the championship, and to that he slowed a little after his excursion, let Boutsen go his own way. Before long, he probably regretted it.
On lap 11 Senna almost threw it away, the McLaren spinning top-like three times. But he kept the engine running and calmly rejoined, losing only four seconds of his lead in the process.
Others had been less fortunate. As early as lap three, a spin by Berger dropped the Ferrari down to 23rd place and Gerhard then did the thing properly by tangling with Alliot's Lola, which put both cars out immediately. Still angry with himself for starting at all, the Austrian walked back to the pits, his Ferrari career over.
Arnoux though was through with F1 for good. His last race ended on lap five, when Cheever, another man who may not be seen in a grand prix car again, helped him into a spin. Arrows team-mate Warwick crashed when his throttle jammed open and Andrea de Cesaris had the first of innumerable spins. Mansell, going well in fifth, survived a looping spin without hitting anything, but Alex Caffi was less lucky, making solid contact with the wall and bruising his legs.
On lap 14, we knew, at last, that Alain Prost was the world champion of 1989. Out of the mire came Senna's McLaren, its left front wheel absent, suspension shattered; and we saw, too, Martin Brundle's Brabham without its rear wing. On the straight Ayrton had cannoned into it.
"I never saw him," he said. "I was lapping Piquet, who was over on the right, and just felt an impact. I was in fifth, at maybe 220km/h, just about to change up to sixth and I never saw Brundle. I was just driving into spray.
"After I was out," Senna went on, "I cannot understand why they didn't stop the race. Nothing could happen anymore which would affect the championship and it would have been better to stop it rather than continue to risk everyone out there."
He drove the McLaren back to then pits on three wheels at impressive lick, even then declining to immediately alight. But the mechanics took one quick glance and waved him out of the cockpit. In the circumstances, Ayrton was remarkably philosophical. "It was crazy of the FISA stewards to let the race start, but if they say there is a race, then you have to race."
"I'm going home to Brazil now," he said, adding enigmatically, 'to decide what I'm going to do..." Some of his countrymen believe this may have been Senna's last race, but they said that a year ago when he became world champion.
"I just felt a whack," Brundle commented on the shunt. "And then Ayrton came by me on three wheels! He was lucky, actually. If his front wheel had hit my rear, it could have been like [Didier] Pironi's accident at Hockenheim all those years ago - it would have launched him over me."
Pironi crashed after hitting the back of Prost's car; the image of that Ferrari tumbling over the top of him at 150mph is one which made a deep impression on Alain and explains much of his attitude to racing in the rain. Senna had crashed for precisely the reason Prost finds unacceptable; he hadn't been able to see.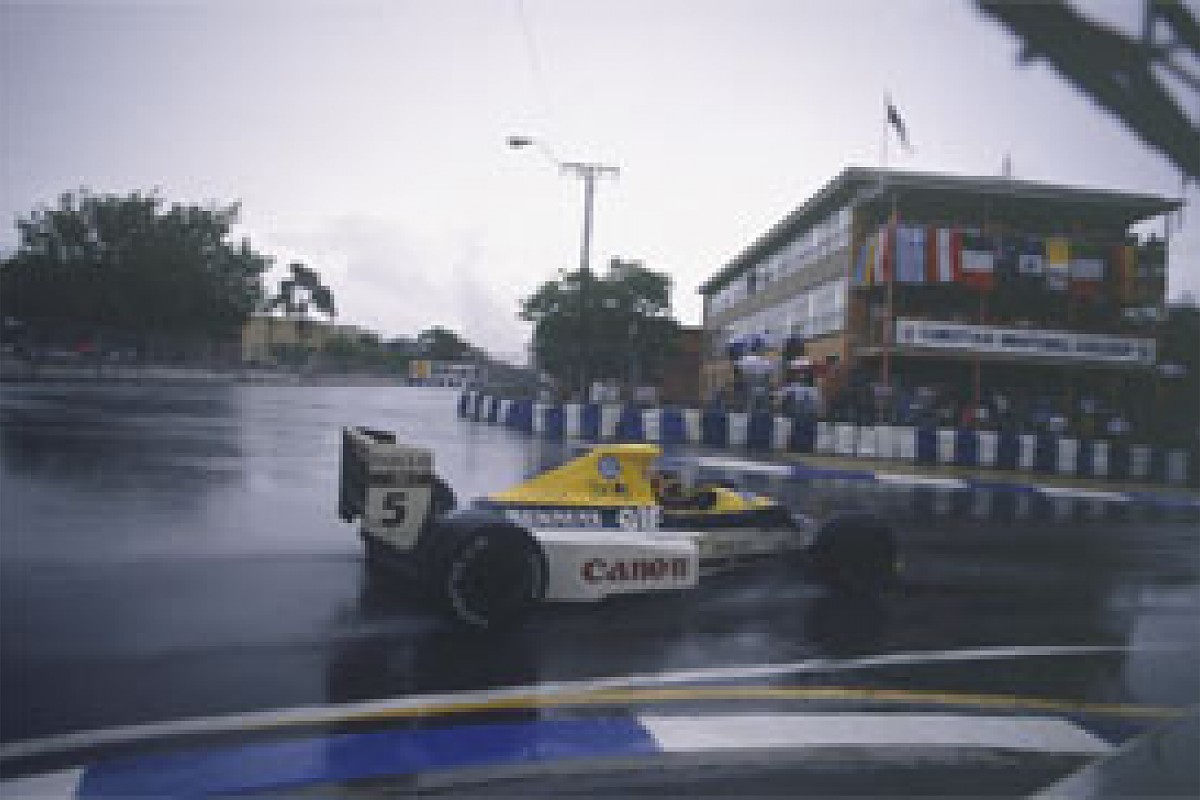 Thierry Boutsen leads in the Williams FW13 Renault © LAT
Boutsen was now securely in the lead and there he was to remain for the rest of the race. For a time, Nannini looked like giving him a serious run, but Thierry was able to respond to the Benetton's advances and never looked seriously threatened. The Belgian, perhaps not the greatest pure racer in the business, excels in conditions like this, putting his delicate touch to work, not needing to fight with anyone. To the end of the race he made no mistake.
Lap 20: Another terrifying accident, very similar to Senna's. This time it was Piquet's Lotus, which smashed into Ghinzani's Osella. The impact was hard, under braking at the end of the Brabham straight and again it was simply explained: Nelson never saw him.
"It was a complete lottery, this race," he said, "There we were, doing maybe 160mph and the visibility was maybe seven feet. There's a difference with being brave and being stupid." A couple of laps earlier, Mansell's dreadful day had ended finally up against a wall. Nigel had been running well, up in third place, four seconds behind Nannini and catching him. "I crashed," he explained, 'because I literally couldn't see the corner until it was too late."
It was with astonishment that we began to realise this thing was not going to be stopped early, that the stewards were going to let it run out the full two hours. In truth, there wasn't a whole lot tom watch from then on - apart that is from the remarkable Satoru Nakajima, who appeared not to notice it was raining. This, his final appearance for Lotus, was immeasurably his best.
On lap 24, he passed Cheever for fourth place and then began a remarkable pursuit of Patrese, setting a succession of fastest laps in the process. It was astonishing: this man is ordinarily a drone in F1, a likeable man whose sponsors pay his way, suddenly began to drive like an ace. It may never happen again, but in Adelaide he was inspired, gaining half a minute on the Williams. In the late stages he got to within a second and a bit of Riccardo, but the Italian had it in hand.
It was the same with Boutsen and Nannini. Once in a while the Benetton would perceptibly gain, but Thierry would immediately go away again, leaving Sandro no cause for hope.
Afterwards, he admitted he had not wanted to race - indeed, had been one of the militants among the drivers and he never wanted to drive again in such awful conditions. But probably he will. Almost certainly he will. They gave him the flag after two hours, 70 treacherous laps. Nannini was almost half a minute behind, then Patrese, the amazing Nakajima, Pirro and Martini. Gugelmin and Modena were the only other finishers.
Afterwards we remembered Senna's blinding early laps and saluted them, even if we hadn't understood why he had gone so quickly, apparently without need. He was fortunate to come out of his accident without injury. To be brutal, most rejoiced that he didn't win, simply because his failure to do so inevitably takes some heat out of the Suzuka controversy, which shapes up like a winter of discontent. On Sunday evening in Adelaide, it was enough that nobody got hurt. That was luck, nothing else, and don't let anybody tell you any different.