Mario Andretti who won last Saturday's South African Grand Prix in a Ferrari, his first Formula 1 drive for Maranello. But for much of the race it was Denny Hulme's new McLaren Ford M19, with its progressive rate suspension and running on Goodyear's latest low- profile tyres, which held the lead.
Clay Regazzoni's Ferrari led at the start, but after 16 laps the charging Hulme forced his way past and began to pull away. John Surtees' new Surtees TS9 moved up to second until a gearbox oil pipe broke, whereupon Andretti took over and began to close on Hulme. With three laps to go, the gap was down to two seconds, but it looked as if Hulme would be able to hold on, until his top right rear radium arm bolt dropped out and he was forced to slow to a crawl, eventually finishing sixth.
Jackie Stewart's Tyrrell finished second, but was never really in the race after making a poor start from pole position. His engine was not as good as the one which set the fastest practice time and his tyres - G20s on the left, G24s to the right - did not behave at all well as the track became slippery with oil and rubber.
Regazzoni's Ferrari was third, despite a persistent misfire. Rene Wisell's Lotus 72 was fourth and Chris Amon's Matra was fifth a lap behind. Brian Redman in the Surtees TS7 was seventh, Jacky Ickx's Ferrari was eighth after an early pit-stop to change a deflated front tyre and Graham Hill's Brabham BT33 was ninth after a late start and a pit stop to tape up a broken front wing stay. Ronnie Peterson's March 711 was tenth after stopping to change a punctured tyre; the only other finishers were Henri Pescarolo's March 701, Rolf Stommelen's Surtees TS7 and Andrea de Adamich's March Alfa Romeo 711.
The BRMs of Rodriguez and Siffert both went well until they began to overheat, Rodriguez was third, a long way ahead of Andretti, in the early stages and Emerson Fittipaldi's Lotus 72 was second for three laps, after which his engine lost its edge. Francois Cevert badly damaged the new tyrrell 002 when he went off the road after perspiration got in his eyes, but apart from this there were no untoward incidents.
All in all, it was a magnificent race, run in beautiful weather and superbly organised; it is difficult to see how the South African Motor Racing Club can fail to win the GPDA award yet again.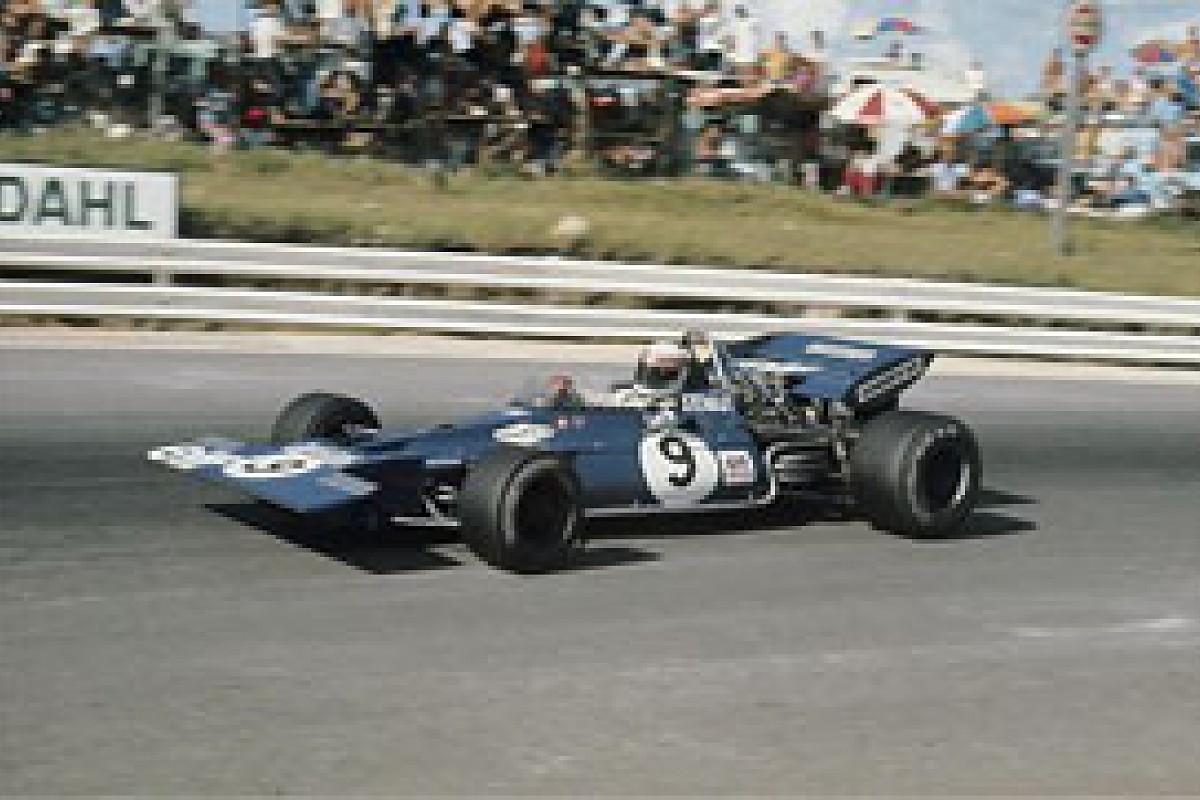 Jackie Stewart, Tyrrell 001 Ford © LAT
Entry
As usual the race was held at Kyalami in open country between Johannesburg and Pretoria. Since last year, numerous improvements have been made - extra grandstands have been built, a road bridge has been added to supplement the existing subway and a number of the pits have been turned into lock-up garages. In addition, a number of spectator safety precautions, requested by Dean Delamont and Jackie Stewart, were carried out at the circuit during the day's preceding race.
As a mark of respect for the late Jochen Rindt, there was no number one - the number normally reserved for the current World Champion - on the entry list, but cars number 2 and 3 were Gold Leaf Team Lotus 72s of Emerson Fittipaldi and Rene Wisell; apart from small detail changes, both cars were very much the same as at the end of last year.
Numbers 4, 5 and 6 were the flat-12 Ferraris of Jacky Ickx, Clay Regazzoni and Mario Andretti, all of them 312B2 as used last year. A new 312B2 had been flown out for testing during the week before the race, but were badly damaged when Regazzoni spun into an earth bank at Sunset Bend; the front end of the car was completely torn off, and the fire extinguisher was found several hundred yards away - a clear case for fitting it in the cockpit rather than at either front or rear.
Three STP March 711s were entered for Swede Ronnie Peterson, Italian Andrea de Adamich and Spaniard Alex Soler-Roig - de Adamich's car with the Alfa Romeo's V8 engine and the other two with the usual Cosworth DFVs. In addition Frank Williams should have had his 711-Cosworth for Henri Pescarolo, but although the car was finished there was no time for any testing so he decided to bring the 701 instead.
Jackie Stewart had the original Tyrrell, rebuilt since its testing accident in January and Francois Cevert had the new, longer wheelbase 002. Having thus become a racing car manufacturer, Ken Tyrrell made the statement of the week when he said his former Chief mechanic Neil Davis was now in charge of production!
Denny Hulme was in the new 'trick suspension' McLaren M19, Peter Gethin had one of last year's M14As and Jo bonnier was in his ex-works, ex-Surtess M7C. Motor Racing Developments had two new completely new drivers, Graham Hill and Dave Charlton, for their Brabham BT33s, Charlton's car being sponsored by Lucky Strike and painted like a cigarette packet. With Gold Leaf and Gunston also in the race, tobacco sponsorship was very much in evidence.
The Yardley BRM team had no fewer than four cars, a P160 and a P153 for Pedro Rodriguez, plus 153s for Jo Siffert and Howden Ganley. The P160 had already got through one engine during pre-practice testing and was not fitted with its combined rear wing and oil cooler, which had not proved entirely satisfactory during testing back home in England.
The Matra team had only one driver, Chris Amon, but had brought along two cars, one of them a completely new MS120, with redesigned front bodywork and four tons of spares. The Matras are running on Shell in 1971.
There were three Surtees Fords, the new Brooke Bond Oxo-Rob Walker TS9 for John Surtees, an Auto Motor and sport/Eifelland Ts7 for Rolf Stommelen and the spare Team Surtees Ts7 for Brian Redman, who has grown tired of selling Volkswagens in South Africa and is returning to Britain in the near future.
Apart from Dave Charlton, the only local drivers in the race were John Love and Jackie Pretorius, Love with his March 701 and Pretorious with his ex-Williams/Courage Brabham BT26, both cars entered by team Gunston.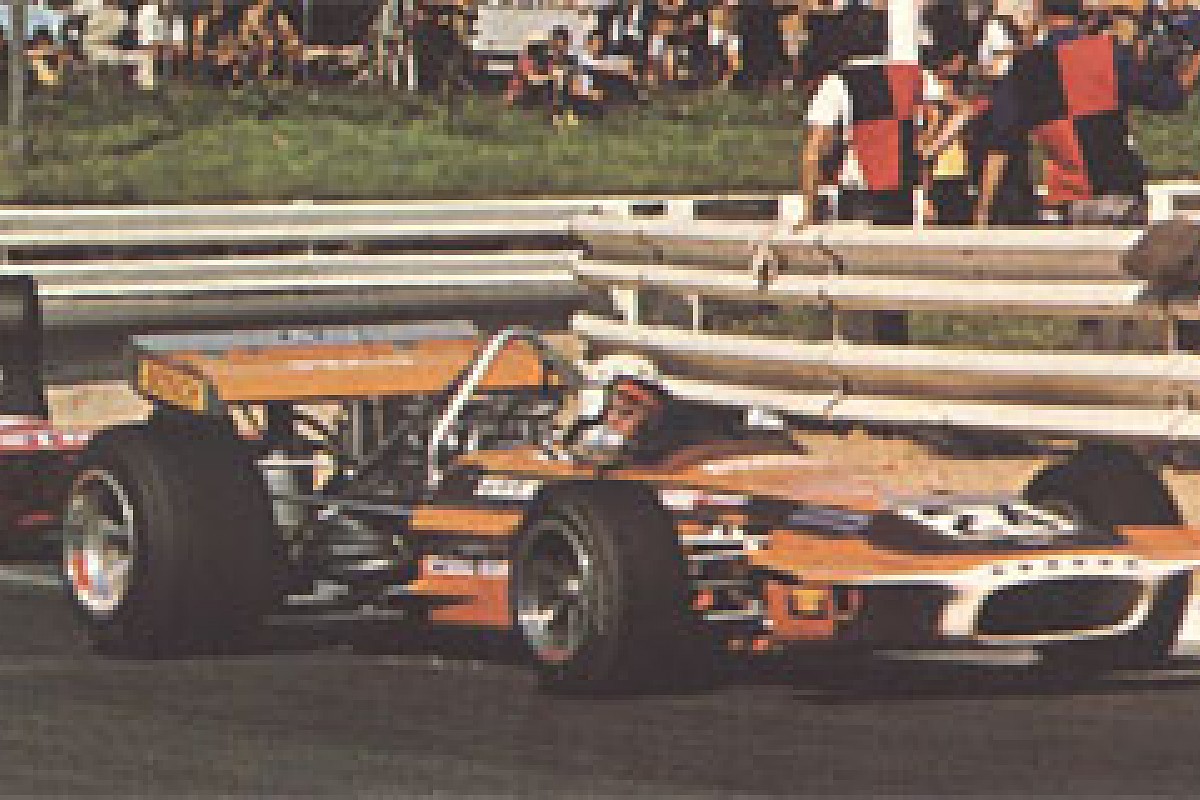 John Love, Team Gunston March 701 Ford © Rob Ryder/FORIX
Practice
Official practice started on Wednesday afternoon and right from the start it was Stewart who set the pace, recording 1:19.3 in the new Tyrrell, "just to qualify it in." Then he took over his own car and improved progressively into the 1:18s before fitting Goodyear's latest low-profile G24s and turning in a shattering 1:17.8. The Ferrari drivers, handicapped by excessive vibration from their low-profile Firestones. Could do nothing about at all about this, and the only car to get within a second of Stewart was Amon's Matra, also on low-profile Goodyears, which did 1:18.4.
The fastest of the Ferrari drivers was Regazzoni with 1:19.1, closely followed by Andretti with 1:19.3. Ickx had trouble with his gearshift linkage and could not do better than 1:20.1, 0.2 seconds slower than Peterson in the March 711. This was the first time that the Ford-engined 711 had run; it was overheating badly, even with the radiator ducts and engine cowling removed and had a very optimistic fifth gear, so all things considered this was a very reasonable performance.
Threw era lot of drivers in the high 1;20s. Hill and Surtees (both 1:20.7), Hulme and Siffert (both 1:20.8) and Stommelen (1:20.9). Hill's time was done on G24s, but Hulme didn't get a chance to try the new Goodyears because of a cracked rear cross member. Charlton did 1:21; 1 and Fittipaldi, Gethin and Rodriguez all did 1:21.2 - the latter despite a persistent misfire, which necessitated another engine change. Wisell was fractionally slower than Fittipaldi with 1:21.4, even though his car appeared to be handling better and the only other drivers on the track were Pretorius (1:22.9), Bonnier (1:24.6) and de Adamich (1:26.6); poor Andrea had handling problems as well as overheating and only managed a few laps.
On Wednesday evening, the South African Sports Car Club gave a formal dinner at which they presented their awards for 1970, and it seemed that almost everyone in South Africa had won something. The only people who were unable to be present were the rally champion and his navigator wife; someone unkindly suggested that they had got lost on the way to the hotel! Everyone thanked their sponsors and their wives - who seemed to be synonymous in several cases - and Aldo Scribante, reminisced about an occasion when his Lotus finished second and third in a formula 1 race; presumably competition was not so tough in those days. The principal speaker was Colin Chapman.
On Thursday, almost everyone except Stewart and Amon improved their times, but Stewart and Amon still remained firmly at the head of the field. Stewart, in fact, contented himself with running full tanks and trying various tyre combinations, and then lost all chance of putting up a better time when his engine failed. Regazzoni remained the fastest Ferrari driver with 1:18.7 to eighth overall behind Fittipaldi (1:19.1) on some experimental Firestones) Rodriguez and Cevert (1.19.5)
Despite a rather alarming moment when a tyre went flat, Gethin became the faster of the McLaren works drivers with 1.20.4: Denny had tried all the available springs on the M19 and had reverted to the original ones. Surtees did 1:20.5 in the TS9, despite being stranded out on the circuit for some time with his rear brakes locked on, and Pescarolo did a workmanlike 1:21.6 in the Williams March 701.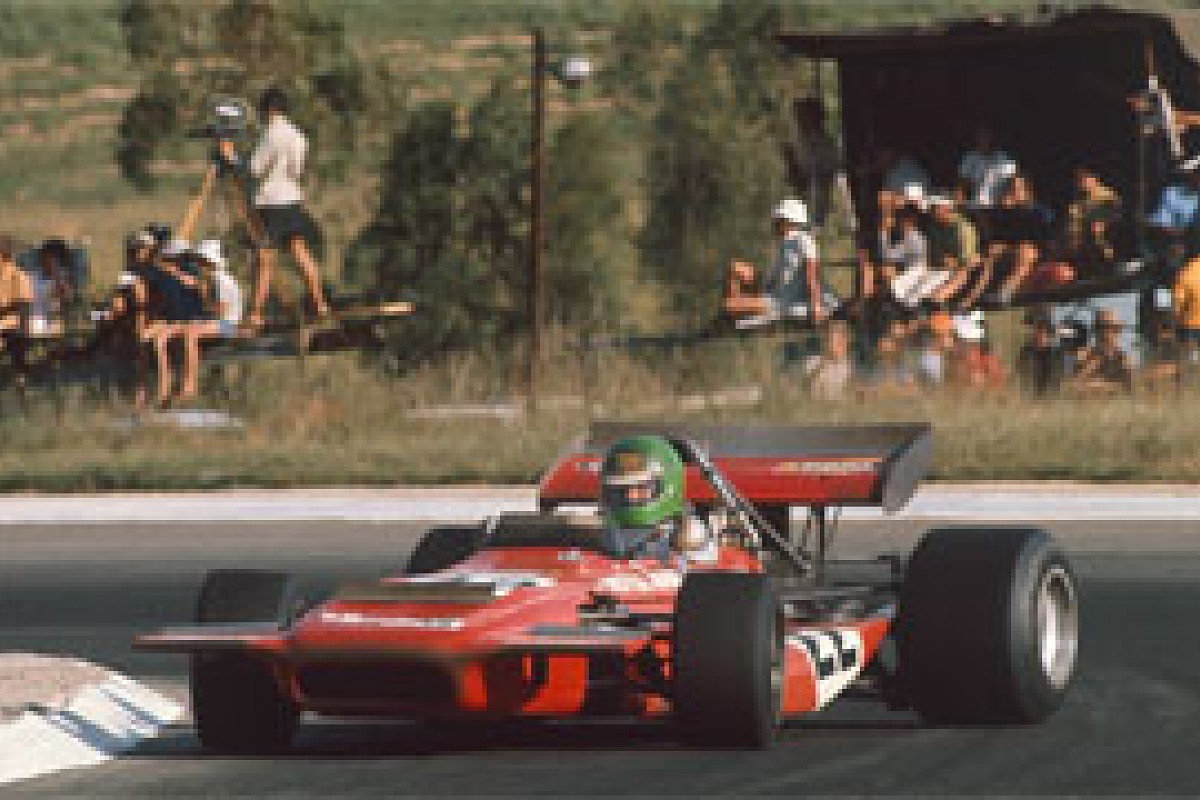 Henri Pescarolo, Frank Williams March 701 Ford © LAT
Wisell, Hill, Charlton, de Adamich and Bonnier all improved their times, and Ganley, having his first formula 1 drive, did a very creditable 1:23.7. Love was surprisingly far down the list with 1:22.4. Pretorius and Redman did not practice and Soler-Roig 's March was still not ready.
Friday practice had no effect on the front two rows of the grid, but Surtees and Hulme, who had now learnt to cure the M19's oversteer, both did 1:19.1 to move up on the third row of the gird with Ickx (1.19.2). Cevert, too, did 1:19.2 but later with Ickx, and as a result he was on the fourth row with Rodriguez (1:19.3). Charlton got his Brabham onto the fifth row between Gethin and Peterson, but Hill had persistent fuel pump trouble and was right back on the eighth row, behind Wisell, Stommelen, Siffert, Redman and Pescarolo.
Pretorius's Brabham was the fastest of the local cars with 1:21.7 to the 1:21.9 of Love's March, and the back of the grid consisted of de Adamich's March Alfa-Romeo, Bonnier's McLaren, Ganley's BRM and Soler-Roig's March. Soler-Roig did very well to qualify, even though the only stipulation was a time within 10 per cent of the average of the fastest three times recorded, for his engine failed after only a few laps.
Apart from this the only other engine failure on Friday involved Fittipaldi's Lotus and this just after it had equalled its previous best time. Stewart's 1971 11-series DFV engine, the only one in the race, arrived just in time for Friday practice after being lost for two days at Johannesburg airport, and although Stewart felt it was rather tight he easily did the best time of the day, 1:18.1. Amon thought that his new Matra engine was not as good as the one which had been taken out on Thursday night; his best time on Friday was 1:19.4.
The biggest drama on Friday concerned Firestone's two sets of experimental tyres, as used by Fittipaldi on Thursday. Firestone made it quite clear that these would not be used in the race whatever happened, but nevertheless everybody wanted to try them. There was just not enough time for this of course, particularly as a brief shower brought proceedings to a halt for nearly half an hour and in any case the results were not really conclusive. With the predominance of right-hand corners, the softer compound G24s on the Goodyear-shod cars were overheating in practice, with the exception of those oh Hulme's self-levelling McLaren, which was the only car able to run G24s all round in the race.
There was half an hour of untimed practice on race morning, during which Cevert's engine failed, but the Tyrrell mechanics managed to change it in just over two hours. There was also drama in the Matra pit when it was found that Amon's engine had a water leak and even when this had been fixed, the mixture was far from right.
Race
After several supporting events, including a tractor race and a splendid vintage car handicap, the grand prix cars lined up on the dummy grid. At the one-minute signal they all moved forward - all that is, except Hill, whose engine would not start (a problem which had plagued him throughout the meeting.) Then with an enormous blare of sound they were away.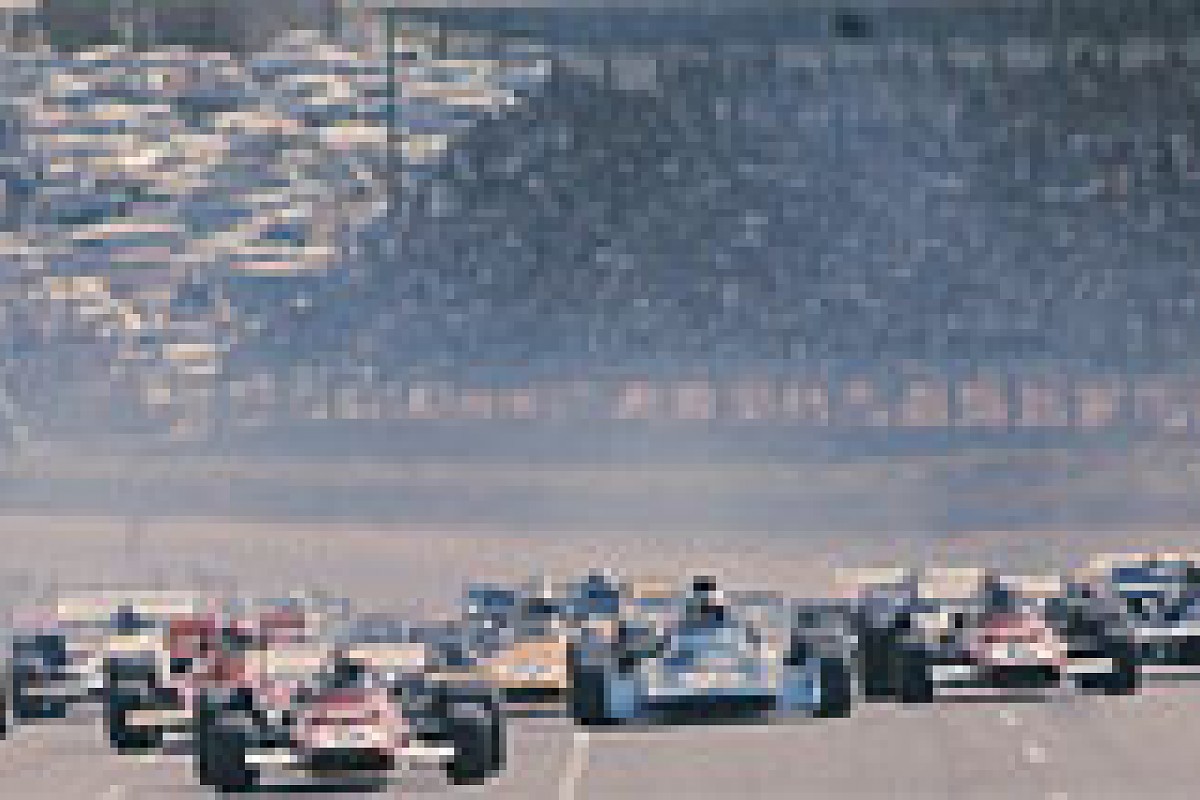 The start of the race © LAT
Both Stewart and Amon made poor starts - Amon's Matra would not even spin its wheels - and Regazzoni had a clear lead by the first corner, with Fittipaldi second, Ickx third and Rodriguez alongside Hulme, Cevert, Andretti and Charlton were all ahead of Stewart, and Amon was right behind in the pack behind Surtees and Siffert. All of the March 711s were a long way back and Ganley and Hill brought the rear.
There were so many changes of order in the first few laps, particularly in the midfield, that it would be impossible to chronicle them all: it was also beyond the capabilities of cars flashing by at around 160 mph. The one constant feature of the opening laps was that Regazzoni held his lead and even began to open up a small gap. Fittipaldi was second for three laps but was then passed by Hulme; and subsequently dropped steadily down the field until his engine expired at three-quarters distance. Ickx dropped back more rapidly and eventually stopped to change a deflated front tyre, probably caused by contact with a kerb, he did several laps with less than 5lbs pressure before he decided to stop.
By the sixth lap, Rodriguez had moved up to third, with Stewart just behind him and with Surtees closing on Andretti. Soler-Roig had already retired with engine failure, Bonnier had dropped out with broken suspension and Gethin gave up shortly afterwards with a loose fuel union.
For several laps Hulme was right on Regazzoni's tail and on lap 17 he squeezed past dramatically under breaking at the end of the straight. On the same lap, Surtees took over third place from Rodriguez, having already passed both Andretti and Stewart, and Siffert in seventh place in the second BRM was only a few yards behind the eventual winner. Further back, there was a real battle involving Charlton, Love, Peterson, Redman and Amon. Hill was rapidly catching Stommelen and Ganley was managing to stay ahead of Pescarolo, Pretorius (who was to retire on lap 22 with a broken camshaft) and de Adamich.
Once in front of Regazzoni, Hulme began to pull away. At the same time Surtees was closing slowly on the Ferrari and Rodriguez was hanging on grimly, even though the body work of the BRM had deformed and allowing all the hot air from the radiator into the cockpit. As well as cooking Pedro's feet this also cooked the engine, and he was eventually forced to retire. As Siffert had dropped out with engine trouble a few laps earlier and Ganley had stopped because he was suffering from heat exhaustion, this was also the end of BRM's hopes. The same period also saw the end of South Africa's hopes, Charlton retiring with a broken valve spring and Love with differential failure.
Shortly before half distance Surtees took over second place and a lap later Andretti pushed his team-mate back to fourth. Stewart was fifth, 6 secs behind and Wisell was sixth ahead of Cevert, Fittipaldi, Amon, Hill and Redman. Pescarolo and Stommelen were along way behind. Peterson, like Ickx earlier, had lost time changing a punctured tyre and de Adamich was bringing up the rear in the March-Alfa.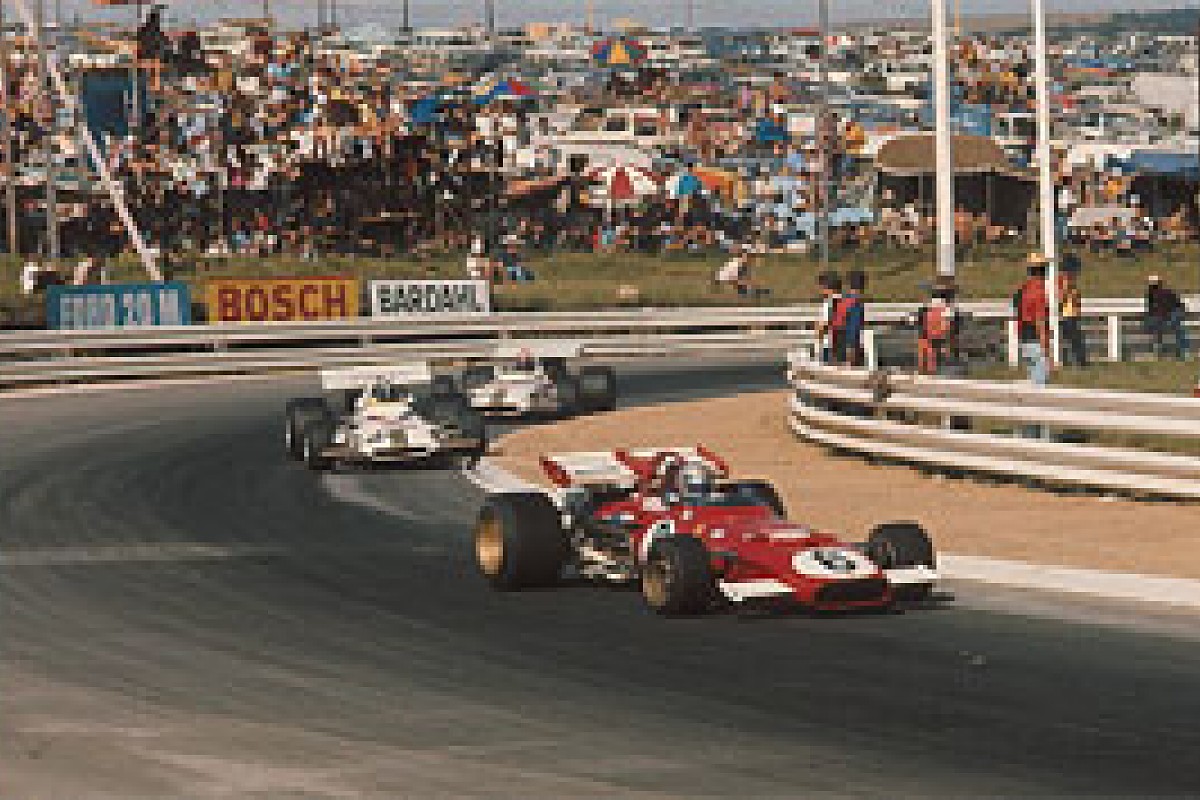 Mario Andretti (Ferrari 312B) leads Pedro Rodriguez (BRM P160 and Jo Siffert (BRM P153) © LAT
On lap 44, Surtees began to have trouble with his gearbox and Andretti appropriated second place. Subsequently both Regazzoni and Stewart passed him and he eventually crawled into the pits with his gearbox completely dry, if only he used a Hewland DG300, which does not require an oil cooler, instead of the light FG he might have won the race!
By three-quarters distance Andretti had reduced Hulme's lead from eight seconds to four. Cevert, who had also been suffering from the heat, walked back to the pits after wrecking the new Tyrrell when sweat dripped into his eyes and obscured his vision. Hill had dropped from sixth to ninth by stopping to have his broken wing stay taped up. On lap 66 Stewart took over third place from Regazzoni, but everyone's attention was now on the duel at the front.
Slowly, the gap between the McLaren and the Ferrari decreased - 3.8secs, 3.5secs, 3.0, 2.8, 2.5, 2.0. Andretti was driving the Ferrari absolutely on the limit - he said afterwards that he would never have believed that he could get away with leaving his braking so late - but Hulme went serenely on "I would have had a very wide McLaren if he had caught me," he said later.
And then, suddenly it was all over. Hulme felt the car twitch a little and then the rear end began to steer. He slowed right down and Andretti, Stewart, Regazzoni, Wisell and Amon all went by. Andretti took the flag to the delight of the Ferrari mechanics, and a mini-Monza of fans poured on to the track.
Afterwards there was an informal barbecue party in the Goodyear enclosure - they hadn't won, but they had made their point and on Sunday morning there was sumptuous prize-giving party alongside the pool in the Clerk of the Course Francis Tucker's garden.
Mario had already flown off to Indianapolis for tyre tests, but Jackie Stewart got his own back on the locals with a speech in which he thanked his sponsors and his wife - and thanked the the organisers for their hospitality. It had been a wonderful week for almost everyone, even the losers, and we can only hope that the European races will be as good.