On paper, this year should be one of the most competitive seasons for many years. When I look back, I think of the late 1980s - Piquet, Mansell, Prost and Senna - in terms of the number of proper teams with great drivers, all with a chance of winning.
From a nationalistic view, you've got an all-German team at Mercedes up against an all-British team at McLaren. You've got Michael Schumacher coming back, Ferrari with Fernando Alonso pairing up with Felipe Massa, and the two most recent world champions - Jenson Button and Lewis Hamilton - going toe-to-toe. Add Red Bull into the mix, with Sebastian Vettel and Mark Webber, and then consider that only one of them will be first at the end of the season. It's going to be fun finding out who that is when the music stops.
THE KEY FACTORS
Jenson Button leads Fernando Alonso during testing at Valencia © Sutton
We've had relatively stable aerodynamic rules for a year now, especially in light of the clarification over the double diffuser. The narrowing of the front tyres will inevitably have a small effect, and when you work in F1 you live off exploiting tiny details like that.
The big change is the refuelling ban. All of my grand prix career was in a refuelling era, and I would have loved to have experienced that transition of balancing your car, brakes, tyres etc from 170kg down to racing with what you've got left at the end. The contrast from low-fuel qualifying to starting the race on full tanks, and relatively cold tyres and brakes, is a massive difference.
That first corner in Bahrain is going to be worth watching! Most of the drivers have never had to deal with that before.
I once tested for Williams at Estoril on full tanks. I came straight back in, after just a couple of laps, convinced something had broken. Then it was explained to me: "That's what a full tank feels like."
Nigel Mansell was using an even smaller steering wheel than I was around that time, and I could hardly bloody turn the thing!
One topic I picked up on at Barcelona last week was that drivers are not enjoying the full-tank tests, where they're forced to lap four to five seconds off the pace, but the smart ones will see this as an opportunity to steal crucial tenths of a second in this phase.
It's such a different challenge. Instead of simply sprinting with 50kg worth of fuel, you have to manage tyres and brakes every lap. The driver called the tyre strategy more than the pitwall in those days, and you could take a punt with fresh rubber, which might gain you places in the final reckoning.
There will be times in a grand prix where the fastest car in the field, whether that's on high fuel or low fuel, will be out of its sweet spot in terms of its tyre use. There should also be more room for driver errors, which leads to overtaking, on the varied fuel loads. Look at a wet/dry race: not everyone improves at exactly the same rate, lap by lap, and it's the people who are good at judging the conditions, and that rate of change, who come out on top.
Bear in mind that the brake discs and pads are the same material as used last year, and that Webber ran out of them in Singapore. Teams are going to have to make sure they get their cooling right, and there are a lot of compromises to be dealt with. In the past this wasn't really a big concern; you just drove the nuts off it from start to finish. This year, how do you not overcool them in qualifying, yet undercool for the race?
LIFE'S THE PITS
F1 should represent the quickest cars, the best technology, and the fastest tyre stops known to man.
If you take your car to Kwik Fit you might be mildly impressed that they've changed your tyres in the time it takes to go to Starbucks and back. In F1, the tyres are going to be changed in the blink of an eye! I think it's great, and puts the spotlight on the teamwork element.

Pitstops were limited by refueller nozzle time and lollipop-man release, but now it's really down to those guys on each corner of the car. Maybe the guy on the front-right is going to be so amazingly quick that he can eat a Kit Kat while his mates are still changing the other three wheels! It's going to be brilliant to watch who's the fastest.
THE BIG GUNS COMPARED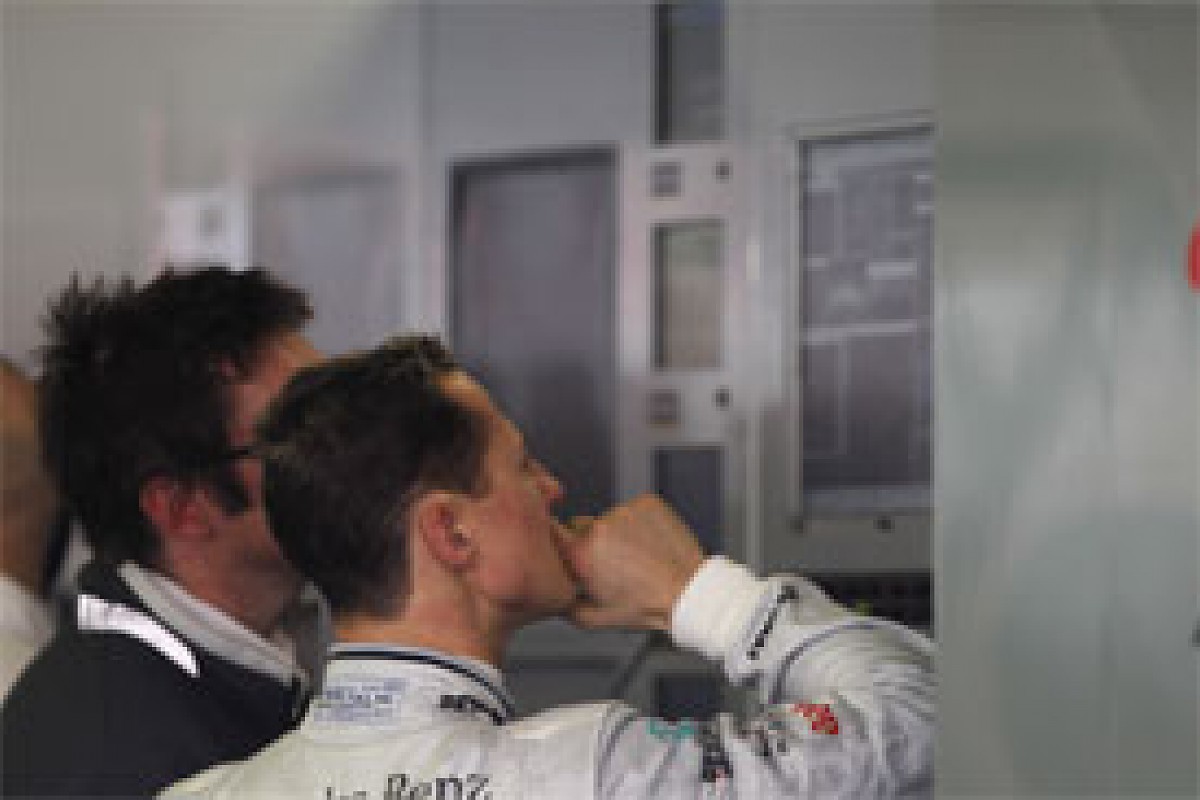 Michael Schumacher © LAT
Mercedes: I've got to believe Schumacher is going to be as good as he ever was. He made the decision to come back based on competitive and pleasure reasons, and we've not seen a comeback like this happen in the past decade. Michael loves the buzz of driving these cars, takes pleasure from working with the engineers, and wants to go racing.
Will he be better at 41 years of age than he was before? Well, it's doubtful. Will he be any slower? I think we're going to see a great life experiment play out here: a fully-motivated older driver, who's not battle-weary because he's taken time out. Can he outperform a young charger in Nico Rosberg?
It's make or break for Nico's career, because he's up against Michael. If he beats him, it's a feather in his cap. If he's behind him, that doesn't mark him out as a team leader of the future when Michael retires again.
I don't think Michael would've come back under any other circumstance than Ross Brawn running the show. They know each other as intimately as two heterosexual men can. They can call on that, and I can see their combined sportscar knowledge helping too in this new era of full-tank strategy.
McLaren: Hats off to Jenson for giving us this opportunity to see these two great world champions competing wheel-to-wheel in the same team. He could've taken the safe option of staying at what has become Mercedes, but he's gone for the challenge and believes in his ability. I think we should give him half a season, at least, to get comfortable in that environment. It'll take him time to learn that cockpit layout, and get used to the guys around him. But what a great line-up.
I don't think losing Mercedes factory status will have any adverse effect. With the restriction on the development of the engines, Mercedes is at such a level that it can knock those very quick and reliable engines out to all its teams.
Ferrari: I can see the Alonso-Massa pairing working well. I don't view Massa as a volatile character. Despite Alonso's bad rap from his McLaren experience, I think he was at a point in his career where he felt he wasn't getting what he was promised. So off he went, broke his contract and took a step back in car performance for a couple of years to get where he really wanted to be.
He's strong-minded, sure, but he's a double world champion, and that's what makes these guys win titles.
Ferrari was caught out with its car's performance last year, missing the double diffuser like a number of teams, but the early testing form looks promising.
Red Bull: The greatest form of flattery is mimicry, and it's no coincidence that a lot of teams' cars look a lot like last year's Red Bull. People expected Adrian Newey to come up with something radical, but the RB6 is largely related to last year's car, albeit with a lot of clever work going on under the skin.
I believe both Sebastian and Mark can challenge for the title. Sebastian lost a lot of points early doors last year, and he's got to take responsibility for a number of those, and he doesn't shy away from it, but he was also let down by poor reliability.
He's a great talent, and firmly established now. Mark had a wobbly start after his well-documented leg injury, but that's well in the past, and this now is his big chance. He's a no-nonsense guy and he knows he's got to get on with it.
BEST OF THE REST?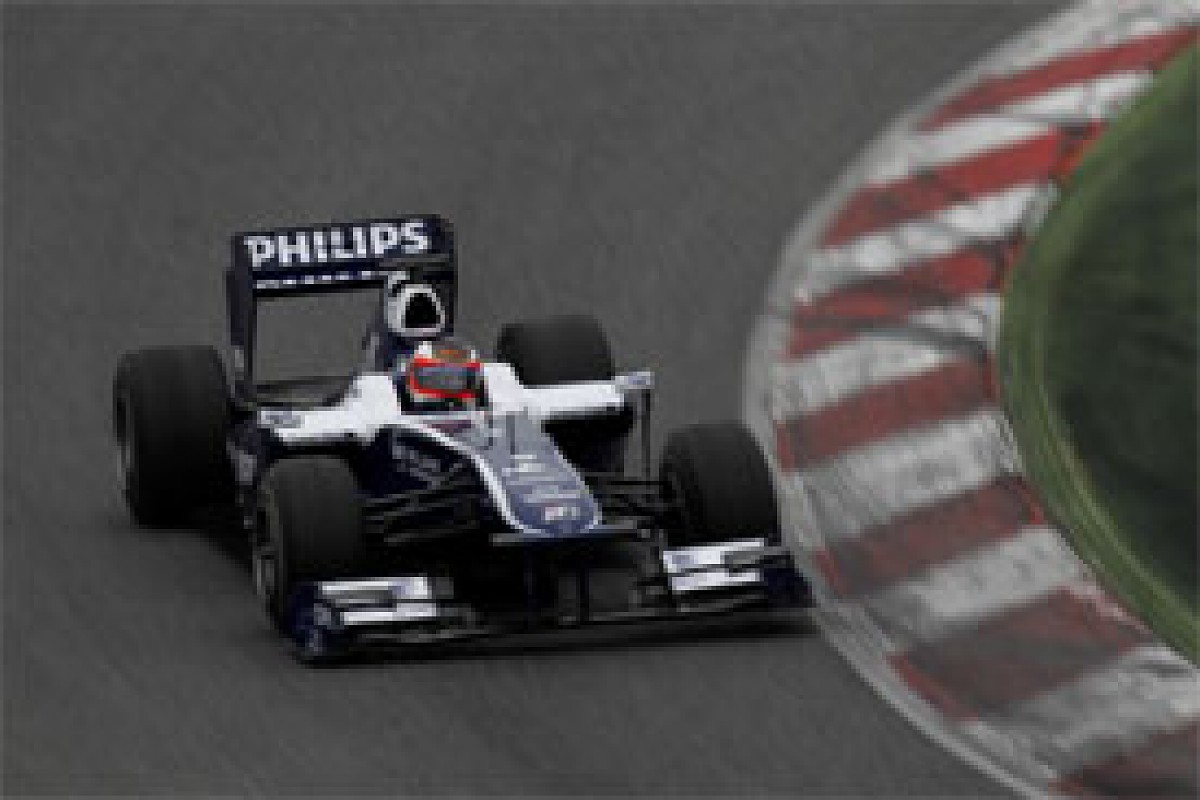 Rubens Barrichello tests the Williams at Barcelona © LAT
Williams: Rubens Barrichello deserves that slot after what he did with Brawn last year. He's a safe pair of hands who wears his heart on his sleeve. I believe the family environment of Williams will work well for him. I'm very impressed with Nico Hulkenberg, who seems like the real deal both in and out of the car. It's a very interesting pairing.
I've got a soft spot for Williams, like many people have, because they're one of the oldest privateer teams out there. They're proper racers, but after a difficult couple of years they need to deliver some hard results. The car looks nice, and in Cosworth they have another backbone of British motorsport, but will the engine be good enough in areas like fuel economy?
Renault: They're heavily branded as Renault, even though there's a new majority shareholder, and will still want to be winning. Robert Kubica is known to be quick, and is an established grand prix winner, and Vitaly Petrov has the opportunity to prove he's got the ability to step up.
I don't mean to be unkind, but they had one of the ugliest-looking cars last year, and they've not been put off by that judging by the new colour scheme! I hope it goes a bit quicker than it looks.
Force India: It's a great opportunity for Paul di Resta to get this seat time on Friday, but should this team be worrying about young-driver development like this? I don't see how it enhances their two race drivers getting the maximum out of a grand prix weekend. It would be great if everyone else was doing this, by giving young talent a chance, but I don't see anyone else following suit.
Toro Rosso: The car seems a logical development of last year, so it's a great opportunity for Sebastien Buemi and Jaime Alguersuari to shine. Sebastien did a really solid job to establish himself, and Jaime has to take on board what he learnt at the tail end of last year. He's got to up the ante if he's got long-term ambitions at this level.
Sauber: It's like the Honda/Brawn situation; I imagine BMW are paying for them to keep the operation going. Peter sold his team for a lot, and he's got it back for not very much at all.
Kudos to him for doing it again. It's good to have Pedro de la Rosa back, while Kamui Kobayashi was very impressive on his F1 debut, more so than his junior-category performances. It will be interesting to see if it can replicate its testing form in the heat of battle.
New teams: I can imagine that Lotus will be at the highest level, because they have the most experience across the board with Mike Gascoyne and two proven drivers in Jarno Trulli and Heikki Kovalainen. Virgin has gone down this super-duper CFD route, and it will be interesting to see how it works out, and with Campos we still haven't seen a car so we can't draw any conclusions.
You can read the rest of AUTOSPORT magazine's ultimate preview to the 2010 Formula 1 season in the digital edition, which is available to subscribe to now!