Lewis Hamilton rounded off his pre-season preparations at Barcelona last week with a spring in his step - as new car updates from his McLaren team left him not only at the top of the timesheet, but confident that he has underneath him an MP4-25 that is good enough to challenge right at the front.
The former world champion was certainly in an upbeat mood as he flew back to McLaren's Woking factory straight after the test to kick start another busy week - this time with off-track media and promotional events.
As part of that, AUTOSPORT was granted an exclusive interview with Hamilton where he talked about his confidence for the season, how he is heading into 2010 with all the benefits of the maturity he gained during a troubled 2009 campaign - before revealing for the first time that his father Anthony is to step back from managing his career.
Speaking openly and emotionally about his relationship with his dad, Hamilton delivered a fascinating insight into why he thinks he is more settled in his own head than he has ever been before, and why a parting of ways in business terms with his father will be a big positive to helping him on track.
Here is what Hamilton had to say.
Q. Testing has finished, it seems McLaren has a car able to mix it at the front. Are you eager to get out there and get some answers on where the team is it?
LH: Yes. Rather than say eager, I am excited. I think it is going to be the most exciting F1 season yet. There are so many cars that are close to each other in terms of performance. It is going to be crucial to get your qualifying laps right - and it will make a difference if you outbrake yourself a little bit. That is the sort of thing that is going to lose you pole position. It is exciting!
Q. Does it change things for you that we have four teams fighting it out there, and we don't really know where they stand from one day to the next? Mercedes GP could for example be lifted to the front by the upgrades coming for Bahrain, or could stay where it is?
LH: There are a good five teams. Ferrari, Red Bull Racing, McLaren, Mercedes and [BMW] Sauber. And even Force India - that was quick. Adrian [Sutil] did a really good time the other day and he was on a good level of fuel - or decent light fuel. So, who knows?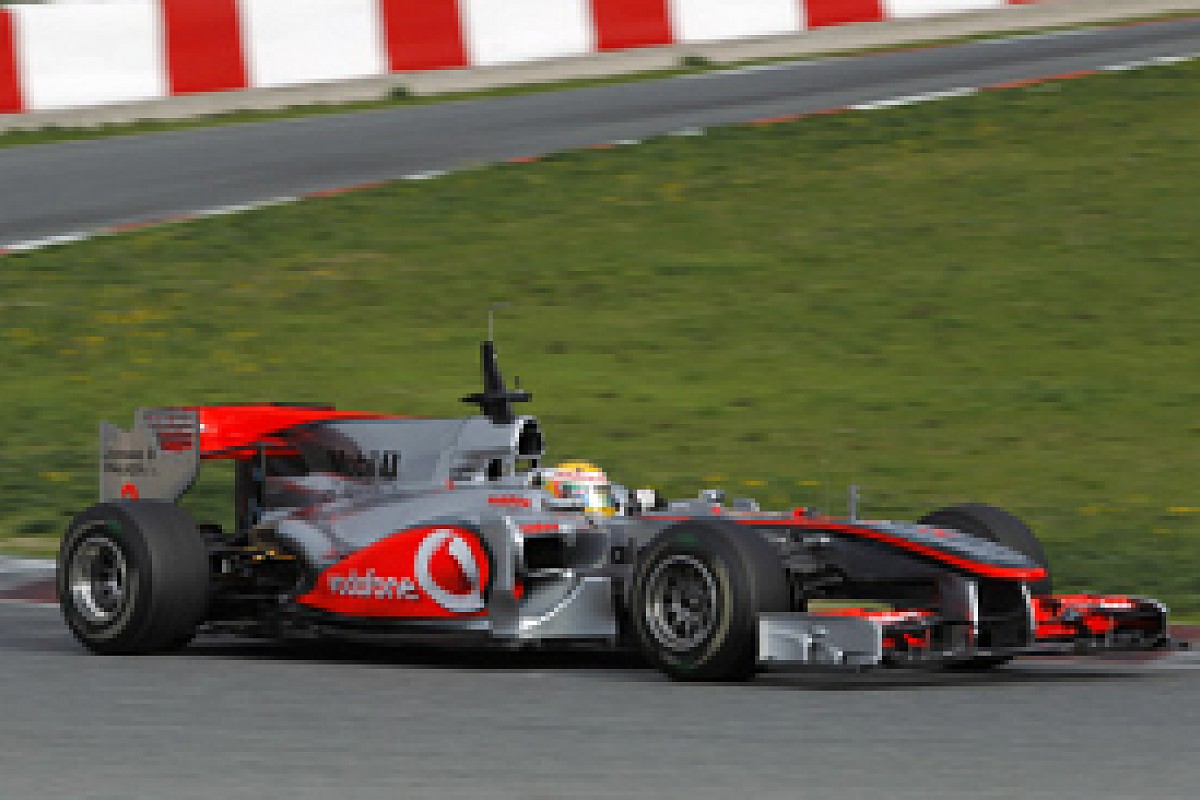 Lewis Hamilton testing the MP4-25 at Barcelona © LAT
Q. As a driver, most times an F1 season is about head-to-head battles between two guys gunning for the world title. This year, there are four world champions, eight quick drivers in the top four cars. Is it something extra special that it has turned out like that?
LH: Yes, definitely. Before, when Fernando [Alonso] was in the Renault, the car wasn't so quick and he wasn't up there competing with us. Then, on the other hand, last season you had the Brawns who were just gone. Then the Ferrari would lead, or the McLaren would lead.
Now we have got a few teams that can all take Turn 3 at Barcelona flat, and all be on it. So, you have got to be fit, you've got to be switched on and you've got to know how to nurse your car.
Q. Do any of the lessons of last season help you? The way you dealt with bringing a team from the back to the front, can they be applied to a world title battle?
LH: Definitely. I think I grew up a lot last year, as you do every year. I grew up a lot through experience, through the tough times, and came away generally a better man, and a better human being. I was a lot wiser and have a better understanding of what I am and what I have. I think in terms of working with the team - it was a unique situation for us not to be winning.
But rather than throwing my toys out of the pram, I tried to turn that frustration or negativity into a positive. It was like, 'come on guys, we can do this. We are getting there; the car is feeling better on that set-up.' It was about feeding that into the guys.
So I had a lot of meetings, and a lot of chats. I would stand in front of the guys, and say to them: 'Come on guys, you've done a mega job, we really can beat them!' And I would show some competitiveness against the other teams - like: 'I really want to beat those guys, and you know that we can do it!' While this team building elevated their spirits, it also elevated my spirits. That made me strong.
Q. Off track things were not great either. There were the difficulties early on with what happened in the Australian stewards' room, and then some issues with the press. Going through that, although at the time not great, did it help you learn other aspects about yourself?
LH: Yes, I think so. I think you learn from those sometimes traumatic times, and you learn from the tough times. These things help mould you as a character. From that experience I took a big step, and then the rest of the season got better on track as well.
I was very fortunate that I had the support of my team - and we are very much a family orientated team. I have been here for years, these guys know me very well - and vice versa. I also had my family there as well, supporting we all the way, and my friends. So fortunately, with their guidance and their support, it helped me grow through it.
Q. What's different about Lewis Hamilton as he heads into this season then? It is a simply case of straightforward evolution?
LH: I think so. As I sit here today, I feel much stronger as a driver in terms of the tools that I have to deal with certain situations. That's especially true in terms of my understanding of the car, the tyres and all those things - and the involvement I've had with this new car.
It is cool when you have a certain input into the way the car has turned out, and you get in it and it is comfortable, you are right and it feels good - plus it's better than ever before. That is a real satisfying feeling. But I am 25 now - I am getting on! It's my fourth year in F1, so things are slowly evolving and changing, in a positive way I think.
Q. Your dad has been a guiding light for you - you've often said that in the past - but not every adult sportsman is managed by his dad. Will you always be managed by your dad, do you think?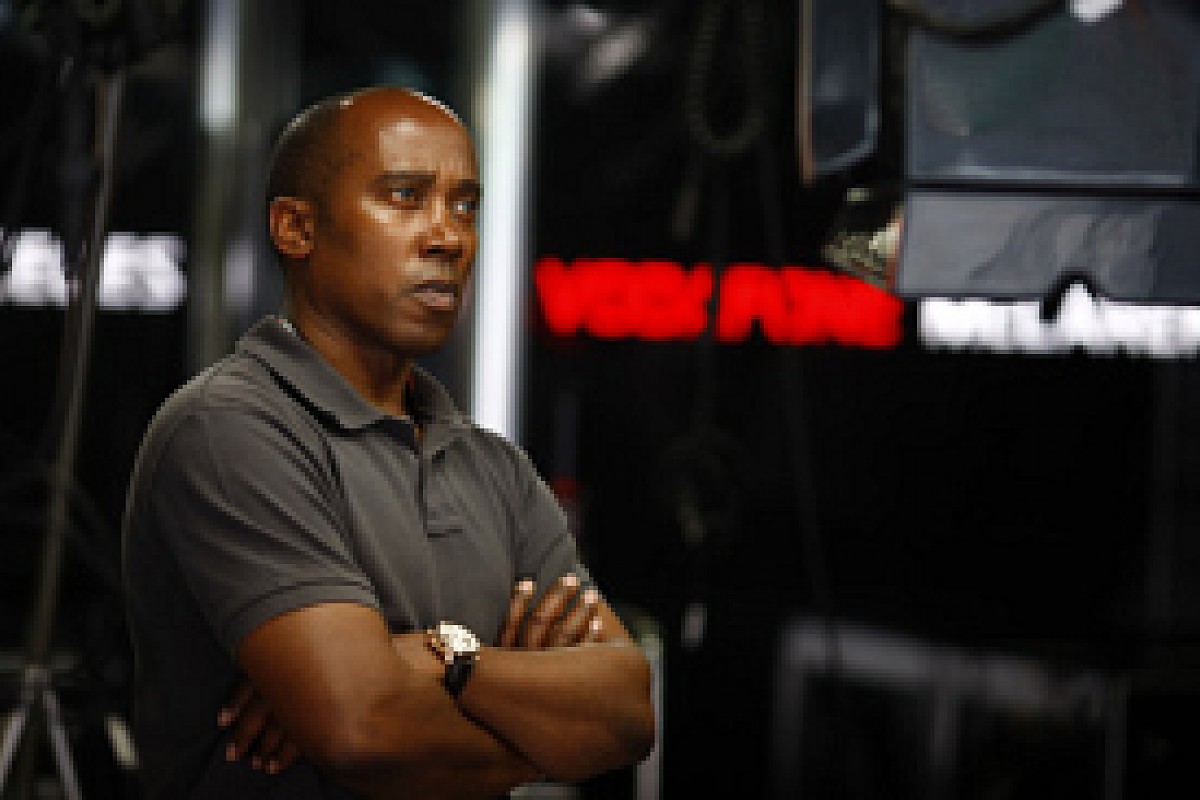 Anthony Hamilton © LAT
LH: Well, maybe not, no.
Q: Go on...
LH: Well, I've been so fortunate to have had my dad around me all the time. Many, many people said we wouldn't do it, we wouldn't make it. They said I couldn't have my dad as my manager, it wasn't going to work. No one believed in us and I think the reason for that is that in the past many parents were too quick to get involved. They would criticise their son's team, say the car was wrong - they were too aggressive.
But my dad was able to split himself away and try and move his emotion away. He would think about things much more logically and I don't believe out there that there is anyone like him. No one would have been able to do what he has been able to do - what he has achieved and what he has helped me achieve. That is extremely unique and that is why we have such a great story to tell. I think that is why people maybe admire us so much as a family - for doing what we've done from where we come from.
But, yes, since you ask, there are some changes that are going to take place in due time.
Q. Can you tell us what these changes are?
LH: I'm 25 now - and I think it was inevitable that there had to be change at some point. Over the past few years, we looked around to see if we could bring someone else into the picture to help with the situation - whether to help with guidance, or sponsors, or whatever it was. We looked at it and I just never felt comfortable with anyone else. At the time I loved my dad being my manager and taking care of things, because I trust him.
Other managers you hire as employees, but my dad is my dad. I know he does things for only the right reasons and I can just trust him with my full heart.
But all of this time we were discussing bringing someone else in, we never quite had the confidence to do it. I think we're now at the point where we are looking to take that step - and I think it is a positive step. I'm 25. I am my own man now, I've been in F1 for quite a while now and I wouldn't have been able to do it without my dad. He's done a fantastic job. But he's done that job.
Q. So why has this decision come about now?
LH: While my dad was still focused on me, doors opened in his life and he started to come up with amazing ideas. Now he is working on GP Prep, which I think is a great idea. You obviously have GP2 and all these different classes, but to take the old F1 cars that are just not used and come up with an idea of using them with people who do not have a chance to drive a real F1 car to get out there and experience it, and possibly show good pace, is fantastic. There are a lot of kids out there who are awesome guys but just don't get the chance to show it in an F1 car.
So I am really proud of my dad. And pretty much every time he comes up with an incredible idea like GP Prep, I say: 'Damn, I wish I could have thought of that', or 'I wish I had done that'.
It was inevitable though, that we were going to come to a point where he was going to want to continue exploring where he can go. He is working in football, he is working with Mark Blundell, he is looking after Paul di Resta - who would not have got the test drive at Force India if it wasn't for my dad. He also has this young karting kid - Nyck de Vries - who is like 37kg! But Nyck is beating the guys I used to race, who are world-class, and he is now a part of the McLaren young driver programme.
So my dad has got good vision. Using what we've been through, he can help other youngsters - be it in F1 or in other sports. He can guide them in the right direction because he is an extremely intelligent man.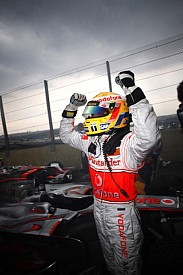 Lewis Hamilton © LAT
Q. So is he going to step back completely from his involvement with you?
LH: Yes. He is going to be taking a step back, and he has so much more going on that it will give him more time to focus on his business. The most important thing for me is that I have been with my dad working on my career since I was eight years old, and it was therefore hard to go and do father-and-son things. When we were at the race track he was always my manager, so we always did business things not father-and-son things.
What I am really excited about now is having my dad just as my dad. I want to have a manager, who can take care of all the stresses and do all the other stuff, and then I want to do dad things with my dad. I want to go for a beer with my dad. I want to go bowling with my dad. I want to go on holiday with my dad. And then I want to be able to say to him: 'How is GP Prep going?' And I want to be able to tell him about all the experiences I am having too - but as a dad. I want to be able to have that, and build that relationship.
You see, because my dad has always been my manager, and because we've always been working and doing business stuff, I've not fully had that relationship since I was maybe a kid and we went radio control car racing - and did it just for fun.
So that's what I want, and at some stage I am going to have to have a new manager. My dad will guide me and help me with the transition, and even the selection, but as a dad.
But the great thing is, I am here at McLaren for the next three years at least - and of course without my dad I would not be in this position. But we at McLaren are a family, the guys all help look after me in many ways, so there is no need for us to rush to find a new manager. We just want to take the right steps in the right time.
Q. So this is in no way a case of you getting rid of your father unilaterally?
LH: No. No. No. He has always said that at some stage it will not suit both of us to continue. But my dad would never want to be the one to say when, because he was always worried about what I would think if he was the one to say it. But we spoke about it and I think he has come to realise that I am a man now. And I think he was quite relieved - it was a weight off his shoulders. It is obviously a big step, but one we have thought about for several years.
But the great thing is, in time, I can now say to him, 'come to the race this weekend'. And the relationship we will have over that weekend will be really great. I don't know the relationship you have with your dad, but I'm sure you don't do business with him. Even though my dad is a great businessman, the fact that he's been my manager makes it harder for us both to interact as dad and son. That's inevitable.
Q. Do you think this decision will help your focus and approach to the sport ahead of a crucial season?
LH: I think so. Being able to make some of my own decisions, my own steps. Sometimes you have people who protect you, for all the right reasons, but then you don't get to experience certain things. But the thing is - and you cannot forget this - that my dad is always going to be my dad. He is always going to be that special man who has been my mentor, who has been my guiding light. I would not be who I am or where I am today without him.
I am extremely proud of my dad. We have that relationship where I can go to the race weekends and do my job, and I know he is proud of me when I am on the grid and when I win. And when I don't win, he has always supported me too. And I am extremely proud of what he has sacrificed, what he has done, and where he is now. I would like to think he is enjoying life now. Enjoying his life because we did it. We got there. We did it together. And he will always be there - as he won't be able to stay away from the races for ever.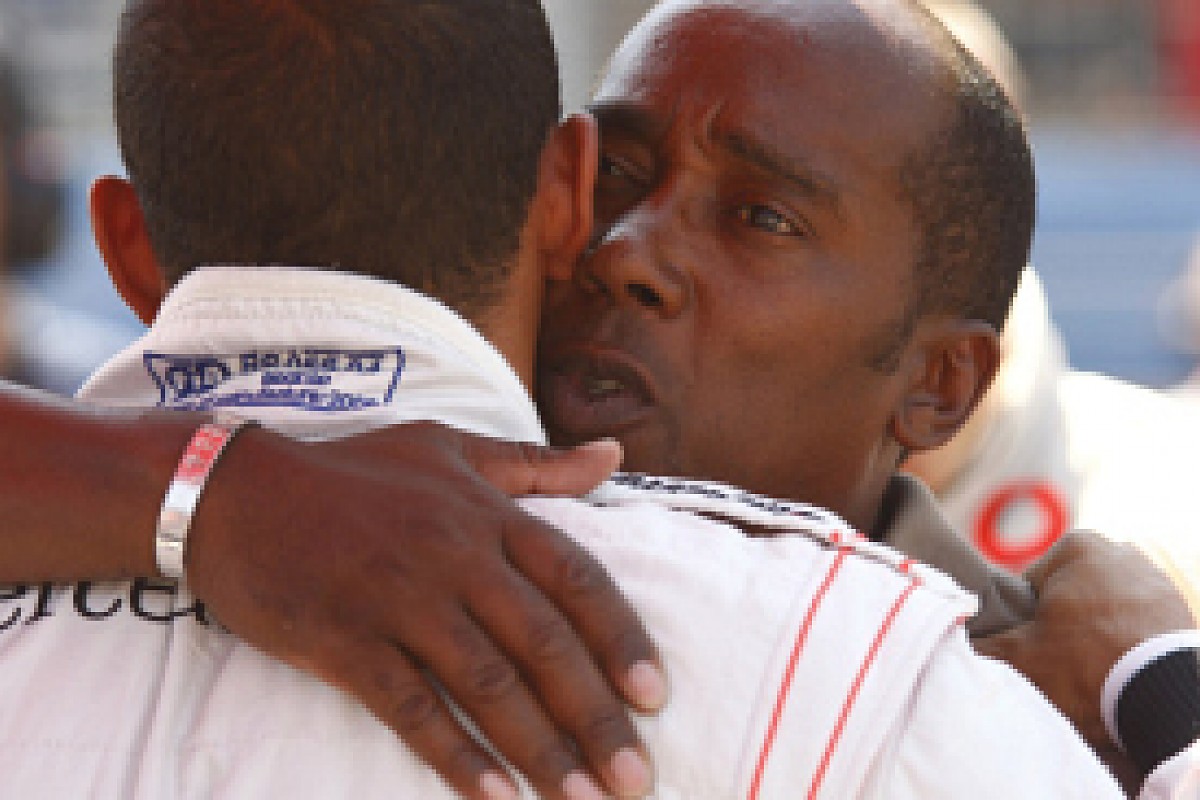 Anthony Hamilton wishes Lewis luck on the grid © LAT
Q. So is he still going to come to the races?
LH: At the moment I know he has a lot of work going on with his management company, and GP Prep - to get it up and running and for it not to fail. My dad doesn't know how to fail. He works hard and he thinks hard - he doesn't rush things. So that's going to take a huge amount of his time.
While he loves being at races, I've told him there are 19 this year - so he can come and go as he pleases. He can come and enjoy the ones he wants to comes to. He has been at every single race of my life, so that will be a new experience for him.
I had a text message from him the other day and he said it will be cool to sit at home and watch F1 from the couch. He has not done that since we grew up watching F1 together, so it will be a new experience for him. He can relax and be proud hopefully.
Q. So you've made this step with your management and the relationship with your father. The new McLaren looks good. You've got the maturity after last year. And we are heading into what you say will be the most exciting F1 season ever. You must be in a happy place at the moment?
LH: I am. I am probably in the best place I've ever been in my life. I am comfortable. I'm really enjoying it. I am feeling worthy of where I am and what I've achieved - where I am going and what I plan to do.
And the part of that is that now, when I need some advice, I am looking forward to phoning dad and saying, 'I want to do this, I want to buy that car...' And rather than him coming at it from the business management side of things, he will tell me, 'Oh, I love that car, get me one as well'. I want that kind of relationship. I am excited about having that kind of relationship.
I want my dad to know and I want everyone to know that he is always going to be my dad. This is us taking a natural progression step. What he is achieving now in his career is great - he is almost more famous than me! Everyone I see, they say: 'Hey, say hi to your dad!' They don't say hi to me! And that is not going to change.