Mister E, as his fleet of secretaries call him, is busy. Nothing new in that. The 79-year-old Formula 1 commercial rights holder - the man who runs the biggest show on earth with annual revenues of more than one billion dollars - is keeping F1 Racing waiting. An exclusive pre-season interview was booked for 11am at his impressively-appointed office in London's Knightsbridge, but it seems he is running late.
This is remarkable. Why? Because Ecclestone runs his working life - which is his life - as if by an atomic clock. It's entirely understandable though, as the billionaire impresario runs around trying to prepare for one of the most eagerly-awaited Formula 1 seasons in history. There's a lot on his mind, not least the fragility of one or two of the new teams on the grid. And he is juggling phone calls with signing contracts, which are soon being whisked off to the airport. "Could you please sign here Mr E - and here," he's instructed as his mobile phone rings to the theme tune of The Good, The Bad and the Ugly. "I'm busy, busy, flat-out, that's all," he says when he finally sinks into his armchair.
Sitting waiting for Ecclestone's arrival in the nerve centre of his world offers a chance to take in his chosen surroundings. He is absolutely fastidious about cleanliness and tidiness but his desk, which sits in front of a large document shredder, is not exactly immaculate, with papers and files strewn across it. In one corner is a big TV screen that shares space with a miniature bronze bear. The bear was given to him by one of his daughters and it is just one of many pieces in a room that is festooned with artworks, including large sculptures of naked Mexican women and a big mixed-media canvas, also from Mexico, which has a street-art feel.
Desk aside, the office is dominated by two large pale brown suede sofas. On the shelves behind them are pictures of Ecclestone with various dignitaries including the Queen and Nelson Mandela. There is a small figure of Winston Churchill, models of 1950s-era racing cars and a selection of miniature racing helmets; among them are those of Ayrton Senna and Mika Hakkinen. Pride of place is given to an image of Enzo Ferrari and, next to it, a picture of Ecclestone with Pele. We sit and talk around a large coffee table on which a signed football from Pele sits on a glass plate.
Ecclestone also has several artworks featuring hands; in his waiting room is a carving of a handshake; in the office is a striking sculpture of a racing driver's hands grasping a steering wheel with wire rods extending from the wrists. Then, on the coffee table, there is a hand-grenade with a white porcelain hand extending towards it and another piece featuring a disembodied hand grasping a truncheon.
Dressed in a charcoal-grey suit, immaculate white shirt and grey woollen
tie, the Formula 1 boss indicates he wants to get down to business, so a discussion of the significance of his office art collection is going to have to wait until another occasion. Straight away he lets slip his big anxiety. The 'little guy', as some in F1's ruling clique refer to Ecclestone, is worried that the new season has been oversold and could turn out to be an anticlimax. In his mind, its fate is inextricably bound up with that of one Michael Schumacher...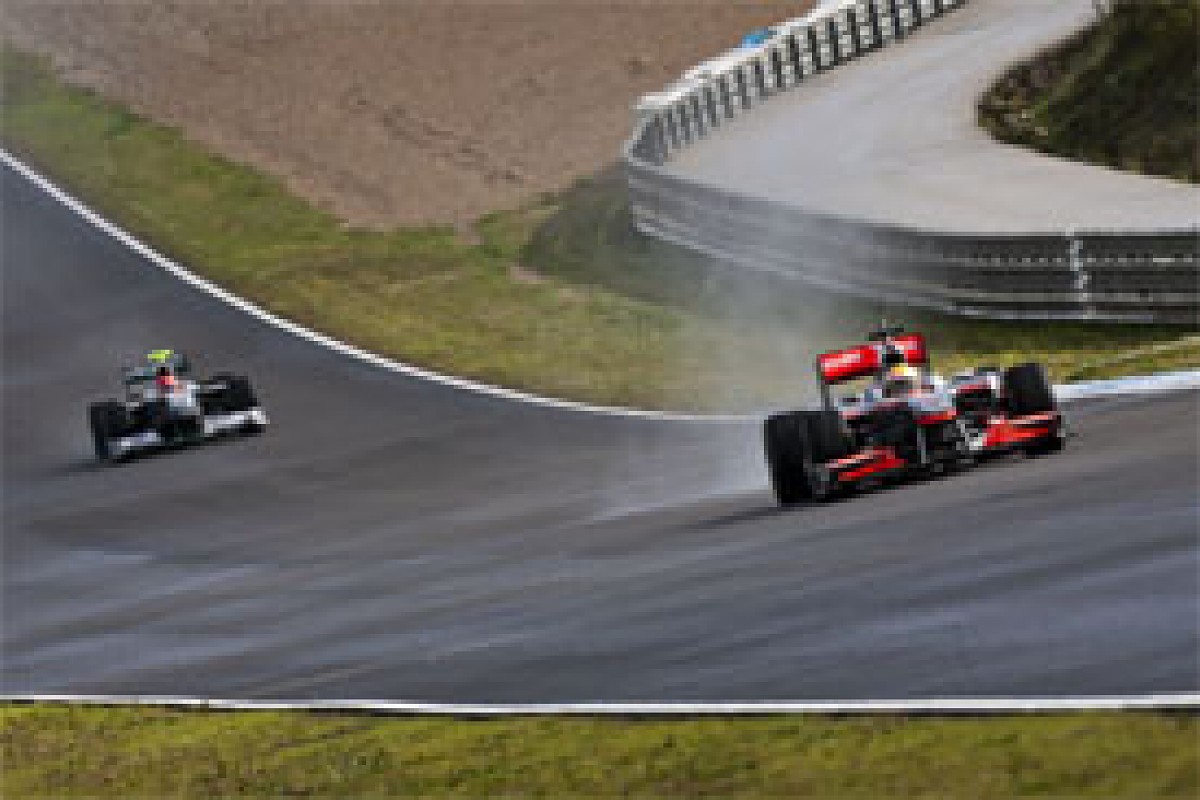 Lewis Hamilton leads Michael Schumacher in testing at Jerez © LAT
"What concerns me more than anything is whether the event itself, the world championship, will live up to what people are expecting," Bernie says in his familiar whisper. "That's what concerns me because we couldn't have a bigger hype than we've got at the moment and, on paper, it's an incredible championship. I'm worried about the fact that the car that Michael is sitting in, and that of his co-pilot Mr Rosberg, isn't up to it. It's a danger, obviously. People, including me, are expecting big things from Michael and I think there is no reason why he shouldn't win the championship if the car is good enough."
It is interesting that Ecclestone links the success of the new season so strongly to Schumacher because there is no doubt that he rates all the German legend's biggest rivals - among them Lewis Hamilton, Fernando Alonso, Felipe Massa and Sebastian Vettel - very highly as well. But Schumacher is big box office for Formula 1 and the commercial rights holder is well aware that success for Schuey is likely to mean big returns for the business.
So we talk about the most successful Formula 1 driver in history. Ecclestone likes him and regards him as a "proper racer" - the highest accolade from the former Brabham team owner. He does not hold Schumacher's well-documented bad-boy days on the track against him; in Ecclestone's view the former Ferrari champion is a winner and winners will take short-cuts whenever they get the chance, a quality (or frailty) he also sees in Alonso.
"I think all winners, and people who are super-competitive, will do whatever they can to win - it's as simple as that and I think the public understand that. They are going to cut corners if they can and do whatever it takes - that's racing and Michael's a racer."
Ecclestone has no doubt that Schumacher is capable of winning more titles; he believes he is more motivated than ever and is expecting him to get the Mercedes GP team behind him, just as he did at Ferrari and Benetton.
"Don't forget that when he was at Ferrari, Michael was effectively team manager; he was team manager at Benetton and he will be the team manager at Mercedes," he says. This makes for pretty depressing reading for the man he calls Mr Rosberg. But apparently there is hope for him, too. "If Michael isn't as good as we currently think he is, and Nico is as good as I believe he is, then obviously he's got the same chance as everybody else."
We run the rule over the other contenders. Ecclestone has never rated Jenson Button's chances of beating Hamilton and, privately, he was incredulous when the reigning world champion's move to McLaren was first mooted. Nothing has changed on that score although Ecclestone runs through the case for Button - the theory that a heavy car in a season with no race refuelling, combined with Button's smooth driving style, could give him an edge. But he doesn't advance it with much conviction. "Will he beat Lewis?" he asks himself, pausing to whistle. "Er... I doubt it. I mean, there aren't many people who can beat him, so there's nothing bad about it. Lewis is just good."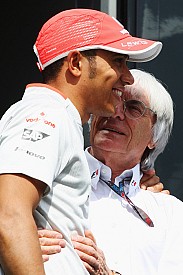 Lewis Hamilton and Bernie Ecclestone © LAT
In Ecclestone's mind, Hamilton is in the same class as Senna and Schumacher, and he believes the 2008 world champion is maturing, learning from his mistakes and becoming more effective as a result. Like Schumacher, Hamilton is a real boost to the business.
"Lewis is a racer," he says. "He's got his feet on the ground, he knows where he's at, he knows what the problems are and what he's got to do to overcome them and he's also good for the sport - absolutely wonderful."
Over at Ferrari, a team with which Ecclestone has recently spent some time at the Scuderia's traditional pre-season ski meeting in the Dolomite resort of Madonna di Campiglio, the Formula 1 ringmaster can see as clearly as everyone else that Massa is facing a huge challenge against Alonso. He argues that if the Spanish double world champion gets off to a flyer and wins a couple of races, then no one is likely to stop him... not even the Brazilian.
Ecclestone has always admired Massa's fighting qualities and he believes the head injury last season is now irrelevant. He thinks Massa's main problem is going to be Alonso - not an impairment to his racing ability. So why, in recent interviews, has Massa come across as slightly less self-confident about his prospects than he was this time last year?
"First of all I don't think it's anything to do with the accident. I don't think that's affected him in any way," says Ecclestone. "He's a realist and he realises that there is a hell of a lot of competition out there. He will have some difficulty, obviously, and he's going to have to up his game to be competitive against Fernando."
There are some in the paddock who, having witnessed Alonso's self-centred approach to teamwork in the past, believe he will end up at loggerheads with Massa, just as he did with Hamilton at McLaren in 2007. Ecclestone does not share that view, believing (rightly or wrongly) that Alonso is a new man in Ferrari red and in a Latin team to boot.
"We saw him at Madonna," he reflected. "He's a completely different guy. More relaxed, more available, more everything - he's a different person to what he was. He's comfortable where he is for sure and he's comfortable with Felipe as well. There will be rivalry for sure, when they start racing," he adds with special emphasis on "for sure", F1's favourite cliche, "but it's not going to be a nasty rivalry - it's going to be a competitive rivalry."
Of course, Alonso will also be renewing his battles with Schumacher this year, but Ecclestone believes he will have too much on his plate to be able to focus solely on the driver of the #3 car at Mercedes. "The battles will continue, but both of those guys have got other people to worry about, too. They have got to worry about Lewis, they've got to worry about Sebastian - they can't just worry about each other."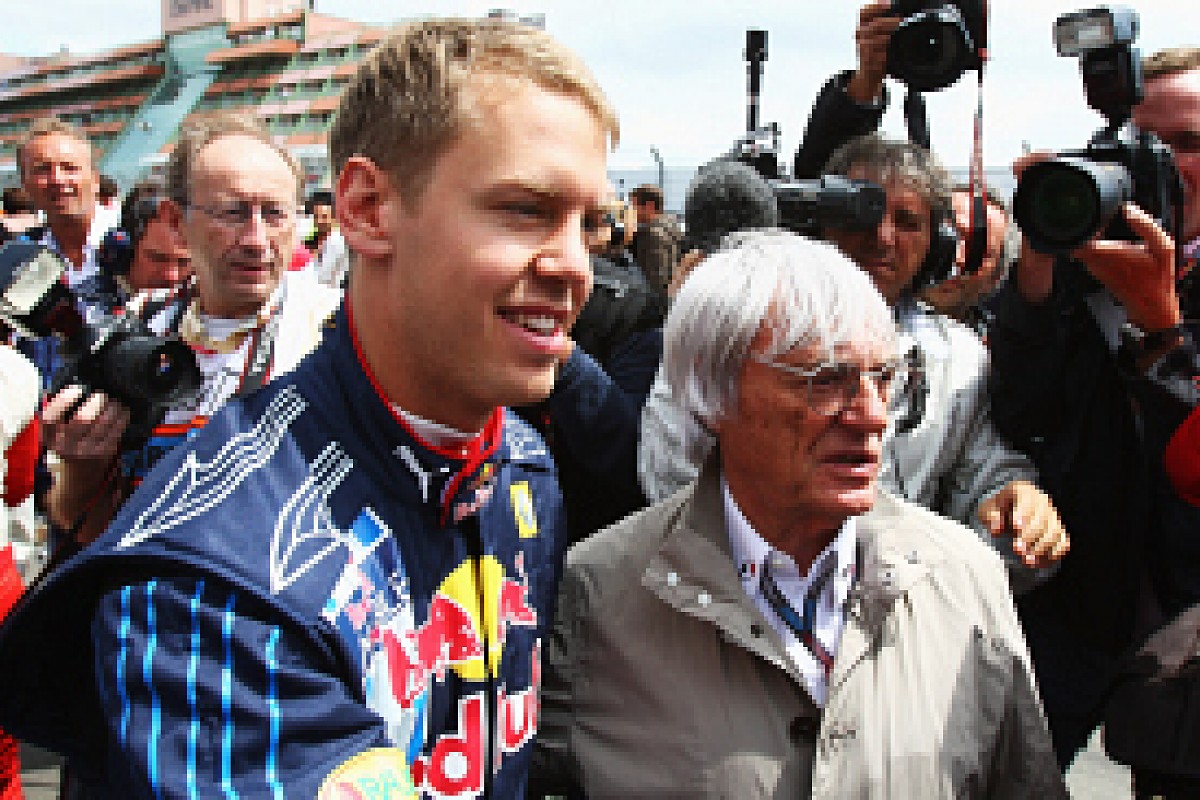 Bernie Ecclestone and Sebastian Vettel © LAT
The Sebastian in question remains Ecclestone's favourite driver on the current grid. He has been impressed with Vettel's dramatic and record-breaking start in Formula 1 and he picked him out some time ago as a future champion. He believes Red Bull has the wherewithal to take on the likes of Ferrari, McLaren and Mercedes over a season and does not think Vettel will wilt under the assault from Schumacher, Hamilton and Alonso.
"He's talented - super-talented," Ecclestone says. "He's got a great disposition. He's an easy-going guy who is acceptable to everyone that meets him and he wants to win. He's maturing and he's learning, and he hasn't been around that long."
So what's it going to be? A sensational return to championship glory for Schumacher; the start of a new Alonso era at Ferrari, a second title for Hamilton, the 'man of destiny' at McLaren; an emotional ascent to glory for Massa; or a record-breaking surge from Vettel at the head of an upwardly mobile Red Bull outfit?
Ecclestone can see any of them winning but he believes the overriding influence of the car, after a redesign and a rule change, cannot be ignored. "This is going to be a season about a car and a team, just as much as the driver," he says. And his hunch on who might just get the combination right? "The edge, you mean?" he replies, pausing again. "I don't know and I don't think anybody knows."
Inevitably, matters soon turn political in this most political of sports. Some believe Ecclestone has lost some of his power and influence with the retirement of his old mucker, Max Mosley, as president of the FIA last autumn. For years, the two Englishmen, one an aristo with a notorious father, the other a wheeler-dealer who started out with nothing, have dominated Formula 1 with a double act that has been extraordinarily powerful. Ecclestone was the commercial brains and ruthless with it; Mosley was the lawyer and enforcer and they ran the sport, mainly on the phone in private, as a sort of benign dictatorship.
It seems inevitable that the arrival of Frenchman Jean Todt who, unlike Mosley, is not a friend of 40 years' standing, would mark a diminution of Ecclestone's power. If it is happening, the man himself seems unaware of it and perfectly relaxed about his relations with the FIA and the new figurehead at the Place de la Concorde. His main worry is that Todt might be too reasonable and too consensus-orientated, and he is hoping he will learn that Mosley's aggressive and confrontational style is the only way to run F1 - something team principals would disagree with.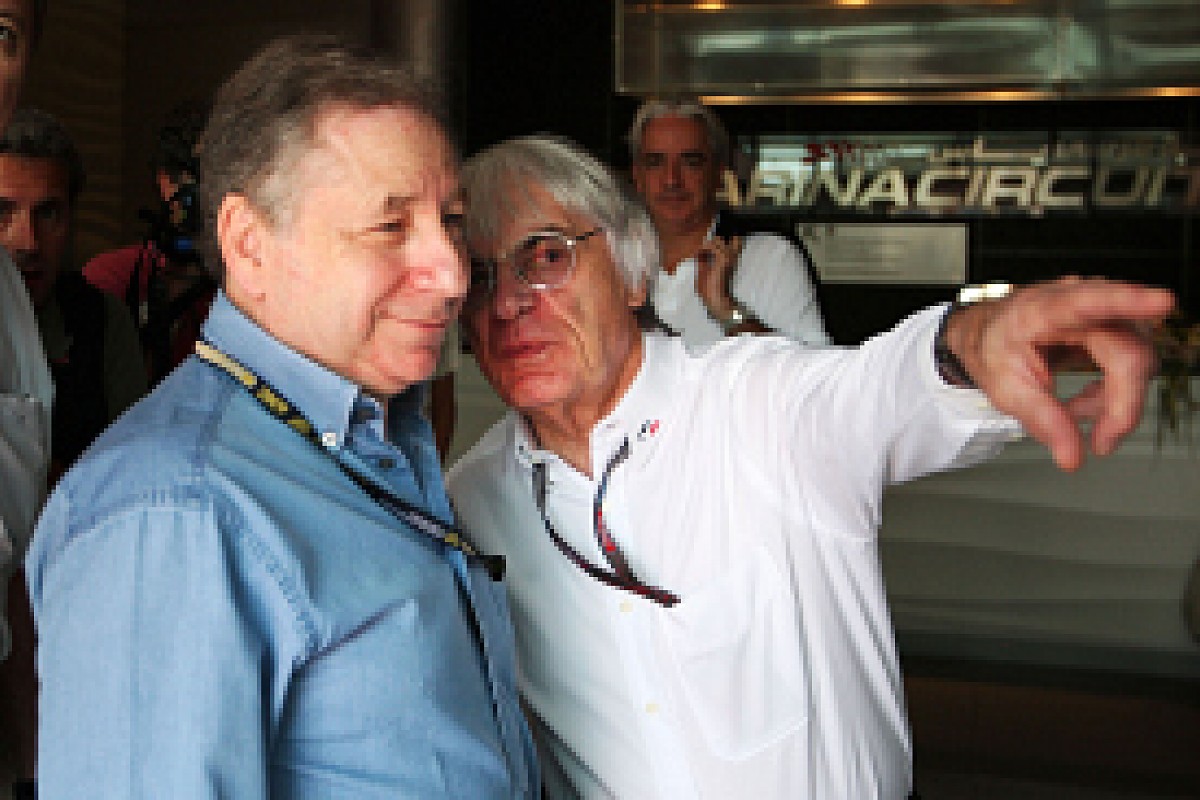 Bernie Ecclestone and Jean Todt © LAT
"I don't think I have lost any influence because, in the end, I hope common sense will dominate," says Ecclestone, offering his most curious answer of this session.
"I have a good working relationship with Jean. It's early days for him. He's in a difficult position because I think he would like to feel that he could operate in the way Max has operated. But he also feels he doesn't want people to think that he is doing what Max did." At this point Ecclestone claps his hands. "He doesn't want to copy Max. But, in the end, he'll have to revert to those ways because Formula 1 can't operate as a democracy - it's as simple as that."
The battle between the FIA and Flavio Briatore, the former team principal of Renault who was banned for life over the crashgate scandal, has seen Mosley publicly intervene long after leaving office. When Briatore won his court case in Paris (where it was ruled that the ban on him should be lifted) against the governing body, it was Mosley, not Todt, who came out fighting and making it very clear that the FIA will not rest until the sanction is firmly and permanently back in place.
Was this a sign that Mosley was trying to run the organisation from behind Todt's throne, as many of his critics suspected he might try to? Ecclestone does not believe this is the case. In his view, the FIA has been going through a transitional phase and Mosley intervened in the case only because decisions relating to it were being taken by the FIA's Senate, on which Mosley sits.
"Max is a member of the Senate and it was the Senate that made the decision to appeal against the verdict in Paris," reasons Ecclestone. "It's not Max who has the power - he's a member of the Senate. Max is quite good at getting people to follow what he thinks is the right thing to do. So if he persuaded the Senate that that is what should happen, he would have had a good argument for that to happen."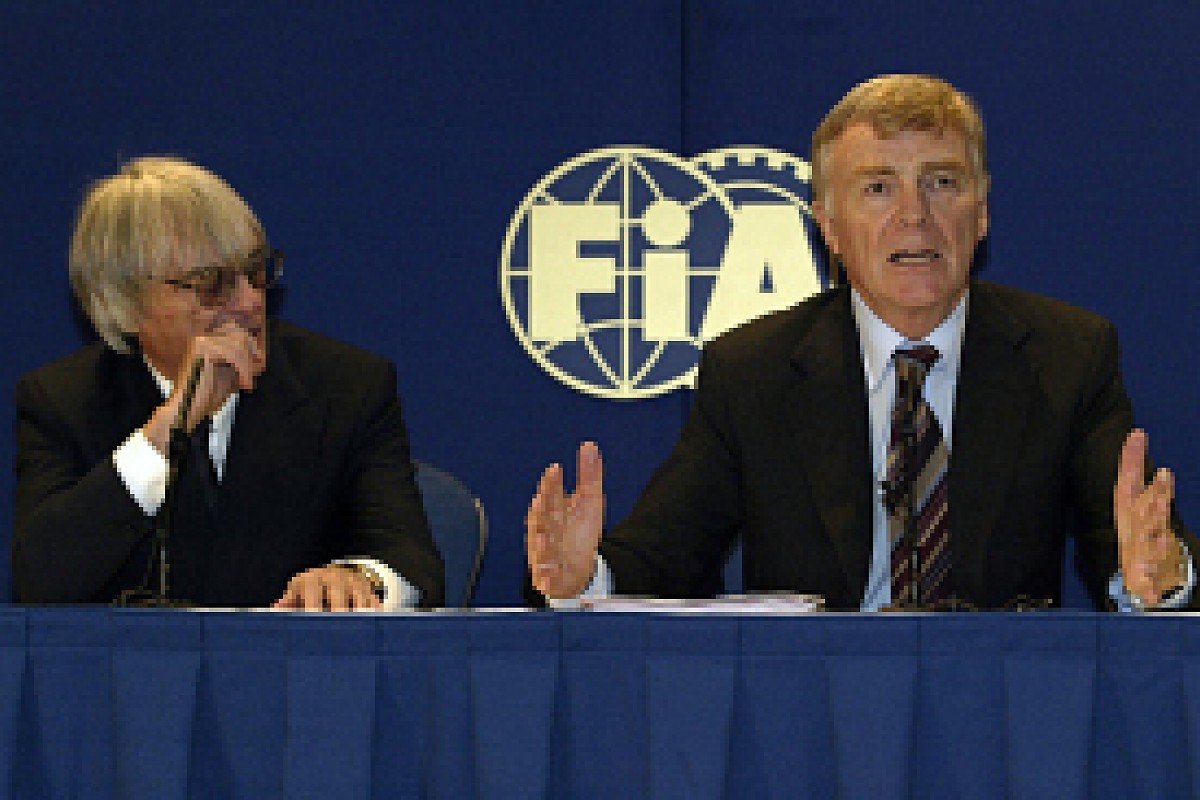 Bernie Ecclestone and Max Mosley © LAT
And the suspicion that Mosley is trying to run the organisation from behind Todt's back? "No. I just think his arguments in this case were taken as sensible arguments, that's all." Ecclestone reiterates that he feels Briatore was rightly punished - "the buck has to stop with the team principal when a team goes wrong" - but believes he was overly punished. He would like to see a shorter ban imposed following any future hearing.
We talk about circuits. South Korea is happening and will not suddenly be removed from this year's calendar as some suspected; Turkey's troubles with its deserted venue at Istanbul Park are "no more than they have ever been"; a street race in Rome "will happen from 2014" - that's a couple of years later than first advertised; New York is a work in progress, and a prospective race in Russia is still occupying some of Ecclestone's time. If it happens, it could be staged in either Moscow or St Petersburg.
We also talk about the new teams this season, a problem he was dealing with that morning, and Ecclestone makes it abundantly clear that he would rather have just eight fully funded, commercially strong oufits on the grid who can complete a whole season, than risk giving a chance to weak new teams that might turn up for a few races and then withdraw. That, he argues, devalues and damages the Formula 1 brand.
"What concerns me is these guys who make all the effort to be there for the first couple of races and then stop," he says. "It's like somebody opening an antiques shop after they've spent five years buying antiques, and when they've sold them all they're in trouble because they can't find others to replace them. That's the trouble we can have with some of these new teams."
Ecclestone may believe his power isn't waning but even he knows that he can't go on forever. At 79, he remains full of energy and vitality and is showing no signs of tiring in his life's work. The longer he goes on, however, the more his sport collectively wonders and, in some cases, fears what life will be like after Bernie. The man himself has firm views on this. He believes the creeping corporatisation of Formula 1 and its teams is a bad thing and he hopes that his successor will be an individual like him with a strong entrepreneurial background - and not necessarily in motor racing. The worst outcome, he argues, is if F1 is run by some sort of committee after he has gone.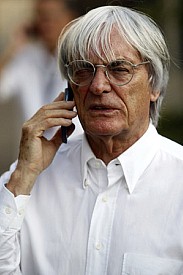 Bernie Ecclestone © LAT
"Probably better," he quips when asked how the sport will survive without him. "I hope they can find another good used car dealer to get on with it - we need an entrepreneur to do what we do. At the moment, if I did die today, it's not going to make a difference for a little while, and maybe never, because we've got competent people here who are able to continue and advise someone who takes over."
Ecclestone lauds the board of F1's main owners, CVC Capital Partners, who, he says, give him a completely free hand and he hopes a successor will have exactly the same freedom. "It doesn't need to be somebody who is working in Formula 1 or who knows about Formula 1, it just needs an entrepreneur because a good guy would pick things up reasonably quickly."
And that's that. Interview over. The phone is ringing, the secretaries are trying to get through to him and, with the new season only weeks away, the work of the Formula 1 commercial rights holder continues. As if anyone in the sport needed reminding, there's no stopping Bernie Ecclestone.
*You can buy this month's issue of F1 Racing in shops now