Writing a 1993 retro piece for the forthcoming AUTOSPORT 2010 season preview recently, it struck me how things never really change. Whether you have free or largely prescriptive regulations, you ultimately have to rein in both spend and genius if you are to maintain a) a viable economic environment and b) a good show.
Back then it was Williams-Renault that ruled the roost. By the end of '91 the Williams FW14 had the legs of McLaren and Ayrton Senna. When active ride was applied to the 14B in '92, the combination proved unbeatable.
Nigel Mansell and Ayrton Senna on the podium in 1992 © LAT
The first race of that season, Senna finished second but it wasn't a close second - he was more than half a minute down.
"Did you have problems or do we take it that Williams has a big car advantage?" came the post-race question to a weary-looking Senna. His slightly niggled facial expression said, "Well done, Sherlock," before he quietly explained that in normal circumstances he did not finish half a minute behind Nigel Mansell. He was being as polite as possible - he could easily have missed out the half a minute bit.
Everybody got steamrollered that year and McLaren then lost its Honda engine deal, meaning that for '93 there was precious little chance of Senna closing the gap to Williams-Renault. Worse, they were now being led by arch foe Prost after Mansell deserted to IndyCar when he couldn't work out a financial accommodation with Frank Williams.
But the MP4-8, although late, was the most advanced car McLaren had ever built and with so many computer controlled control systems there was even talk that the driver was all but superfluous and a car could quite realistically be put on the circuit and controlled without one.
That was hype going a step too far but with ABS and at least two teams hard at work on four-wheel steering it was getting to the point where technology was interfering with the fundamentals of driving. Others argued that advancing technologies played into the hands of the best drivers because they had most spare mental capacity to derive maximum benefit. Again, there may have been a grain of truth but it was telling that Senna, unquestionably the best of his era, sent a Christmas card to Max Mosley begging him to rid F1 of driver aids.
Sometimes, when technological advances take car performance to a new level, it takes drivers with huge commitment and bravery to take them to the limit. In the ground effect era, for example, Colin Chapman's Lotus 79 moved the goalposts but by the following year others had caught up and even passed Lotus. Alan Jones initially talked about the staggering performance of Patrick Head's Williams FW07 and how you had to just keep your foot in, trust that the car would stick, and it did. The late Didier Pironi said similar things about his Ligier and turned in some stunning drives in 1980. At the first corner of the old Interlagos, he explained, you struggled to keep your feet on the pedals because of the G-force.
Eventually then, it had to be flat bottoms because cars were becoming projectiles too fast to contain within the limitations of existing circuits.
It was a similar situation with the active Williams in '92. Interestingly, with the passive FW14 in 1991, Riccardo Patrese was much closer to Mansell than he ever was with the FW14B in which Nigel dominated '92. The exhaust gases exited through the diffuser area and served to increase rear downforce when the driver was on the throttle. So, if you kept your boot in at places like Copse and Becketts at Silverstone, you maintained downforce, effectively got a double whammy, and if the car was as good as the 14B, you went stupefyingly quickly. Patrese just shook his head when he was shown Mansell's Silverstone pole time, laughed, and said Nigel must have footballs in his nether regions.
Mansell was as physically strong as he was talented - he used a steering wheel about as big as the average shirt button - and Patrese joked that with one of those he'd be surprised if he could turn out of the garage.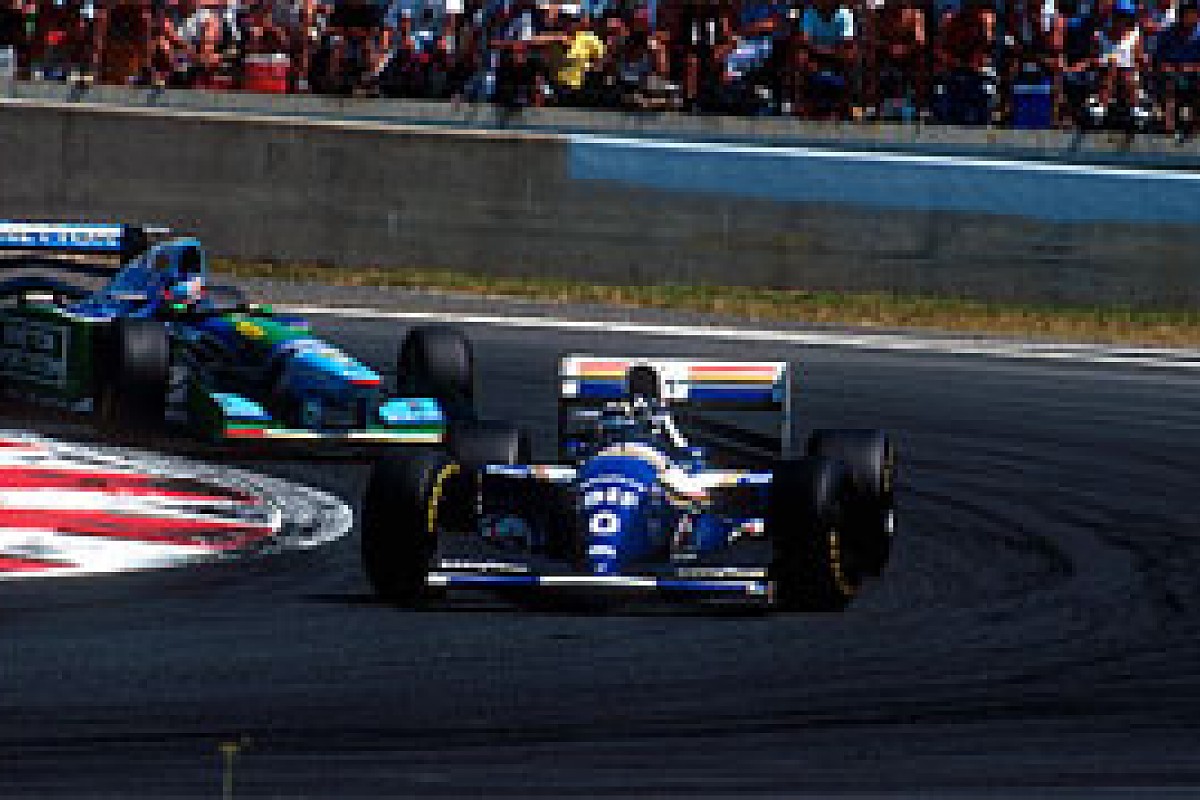 Damon Hill (Williams FW16 Renault) battles with Michael Schumacher (Benetton B194 Ford) during the 1994 French Grand Prix at Magny-Cours © LAT
So, just because the potential is there, it doesn't mean everyone can use it, although with Patrese taking the Mickey out of Senna, you knew something wasn't right. Playing catch-up with that Williams was expensive and not everyone had the wherewithal. Times were tight back then too, or at least that was the excuse used by teams urging Max Mosley to ban active ride, traction control and driver aids.
He didn't need much persuasion, it seemed, but Frank Williams and Ron Dennis, as owners of the two most competitive teams who had committed the biggest spends to the technology, had their noses knocked squarely out of joint. When Mosley announced that the likes of active ride and traction control would be banned in '94 he was not strictly within the time frame for making technical impositions and so he rode them through as sporting ones. It would become a familiar tactic but this was one of the earliest and most controversial occasions he adopted it.
Frank and Ron threatened arbitration or even civil actions to recover money spent on prematurely obsolete technology but the FIA played hardball and got their way. The result, possibly more by luck and some might claim a little manipulation, was that we enjoyed a '94 season that was truly memorable and put F1 back on the front pages as well as the sports pages. A lot of it was controversial but the world was sitting up taking notice of F1 again.
The arrival of the manufacturers was good for prestige and for increasing the number of serious outfits in F1 but an out and out spending competition was not. Largely, it was centred around engine development and so Mosley moved to put a stop to that. Again, unpopular, but if you were looking further than the end of your nose, you could see the logic.
I always thought it was unfeasible to have a Formula 1 World Championship that was viable for small independents as well as one that allowed major manufacturers limitless spending in key areas but of course manufacturer team principals kept telling you otherwise.
Of course, the more prescriptive you get, the more you head down the road to a spec formula. Some would even argue that with an engine freeze and a single tyre supplier, that's more or less what we already have. Suggest those things 20 years ago in F1 and you'd have been laughed out of court.
It's interesting the way perceptions change. The most interesting one is tyres. You could have the best chassis in the world and render it useless if the four contact patches at each corner are not on par with the best. A lot of people find that much less acceptable than, say, Niki Lauda and Ferrari winning lots of races in the mid seventies because their flat 12 engine gave them a power advantage. But is it?
Tyre wars give you a lot of additional interest and tyres with different performance characteristics give you much needed variation on the track. They bring unknowns and spice up the entertainment. It works, provided that you have two or more tyre companies that have top quality products. But if one of them is dominant everywhere, whoever isn't on that rubber might as well stay at home. That's when you get negative comment about how inappropriate it is that the world's premier form of motorsport is a tyre manufacturers contest.
As a performance variable, tyres were always acknowledged to be where the biggest gains were to be had - much more so even than aerodynamics. I attended many a test where the driver would pound round endlessly doing five lap runs on limitless different sets of rubber, before going through it all again to assess 'warm up.' To say that the driver was bored didn't really make a start on it. It also cost a small fortune and was one of the key reasons the FIA elected to go the single supplier route.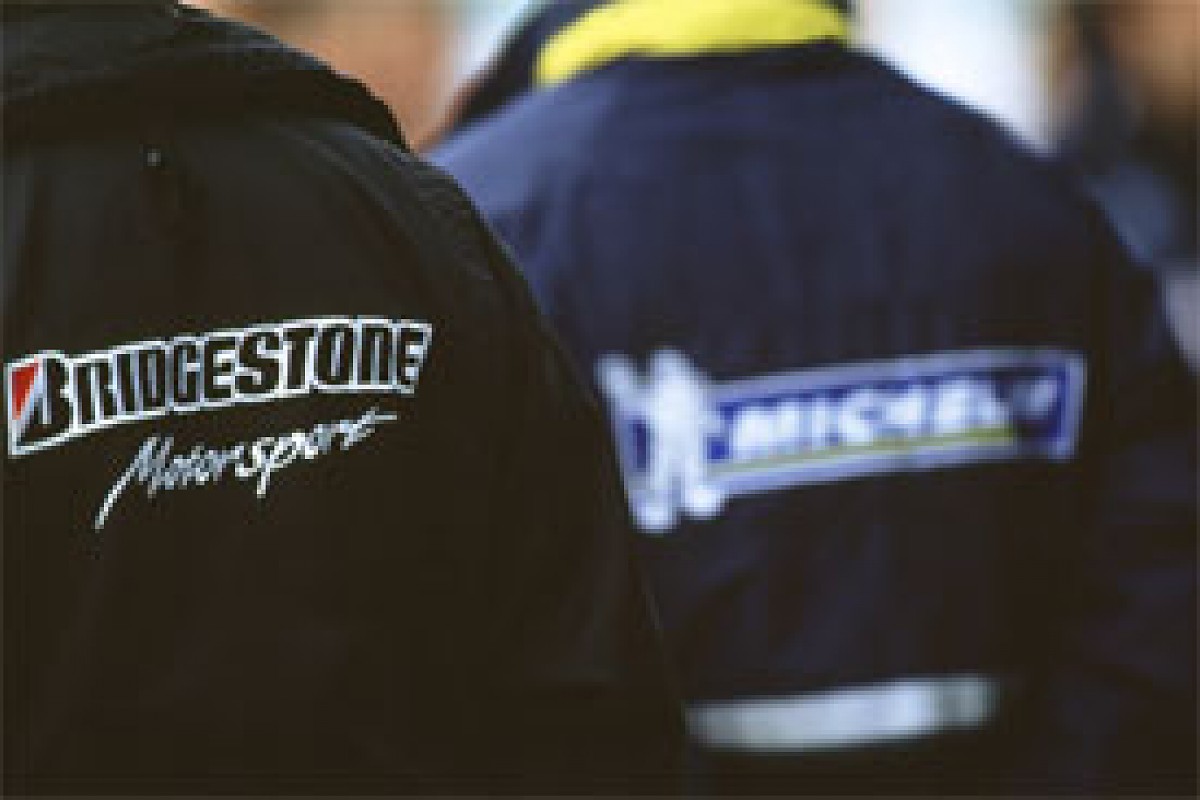 Bridgestone and Michelin technicians © LAT
But what if you couldn't test tyres any more than allowable under the current testing regulations? Ross Brawn admitted with a smile such a scenario would be 'interesting' and that amid tyre wars competing companies would inevitably get it wrong. And the consequences of that could be the odd race like Indianapolis 05 when one or other company pitches up with a tyre that is too extreme. That's not what Michelin did in '05 incidentally but the end result would be pretty similar.
Of course there are safety issues involved here, but perhaps that's where perceptions have to change. Perhaps there could be fines or penalties if a company went two extreme and pitched up with a tyre that was too extreme? Harsh, I know, but it would become part of the discipline. By extreme, I mean unfit for purpose, not a tyre which a driver complains wasn't as good as the opposition's.
Michelin, after all, departed partly because they were interested in competition and partly because they felt they'd been treated poorly. You can't help wondering who is going to replace Bridgestone if it's not Michelin. Maybe the French FIA president might be able to oil a few wheels there. Or else F1 might find itself in tyre trouble in any case. Open it up, I say, but under strict testing controls. After all, engine restrictions haven't harmed reliability at all, because they have all done a professional, responsible job. Who's to say a tyre company can't do likewise? The less prescription, within reason, the better.