Action during the 1963 Daytona 500 © NASCAR
10. The legend of 'Tiny' Lund (1963)
In a real-life Hollywood script scenario, DeWayne 'Tiny' Lund won the 1963 Daytona 500 in truly remarkable circumstances. Just 10 days before the race, he didn't have a drive and was working the paddock when top driver Marvin Panch crashed his Birdcage Maserati while tyre testing for the 24-hour race.
His car crashed on the banking, rolled over and burst into flames. Lund, a gentle giant of a man who stood six-feet, six-inches and had served in the Korean war, was one of five people who disregarded their own safety to rescue Panch from the inferno. He was subsequently awarded the Carnegie Medal of Honour.
Team boss Glen Wood visited Panch in hospital, and when it was evident he wouldn't race due to the seriousness of his burns, Wood suggested putting Lund in the famous No21, in which Panch had won the 500 two years earlier. Panch agreed, despite Lund's reputation as somewhat of a journeyman.
Starting 12th, the Wood Brothers knew Lund wouldn't win on pace, so they fitted a higher top gear than the opposition and planned to make one less fuel stop and complete the 500-miles on just one set of tyres!
The move put Lund out in front in the closing stages, but he was prone to attack from his rivals. Flying Fred' Lorenzen passed him with 10 laps left to go, but ran out of gas and had to dive down pit road out of contention. Then Ned Jarrett passed him with three to go, he too didn't have enough fuel to make the finish.
Lund ran out of juice on the last lap, but he was able to coast across the line in first place. He dedicated his victory to Panch, who was still in hospital.
Lund would finish fourth in '67 too. Sadly, he was killed in a fiery crash of his own at Talladega in 1975 when rookie Terry Link spun straight into the drivers' door of Lund's Dodge. A grandstand is named in Lund's honour at Daytona.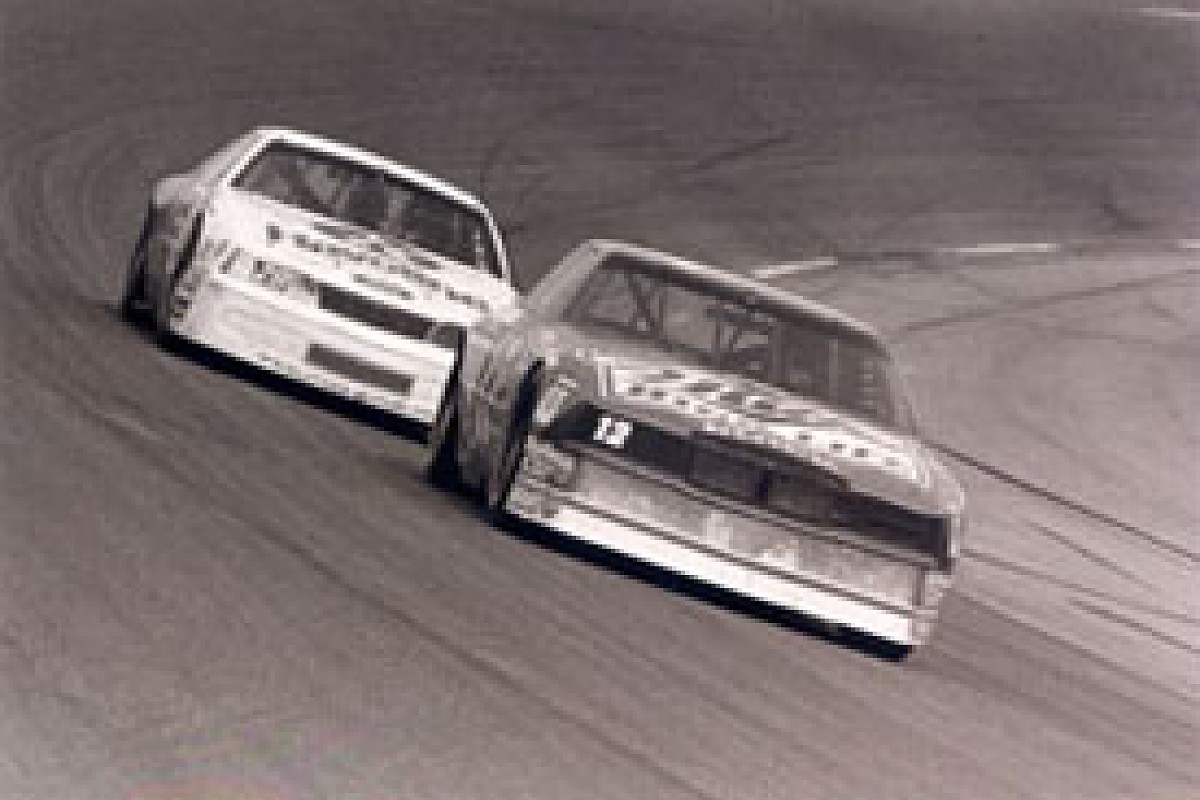 Bobby Allison leads Davey Allison © NASCAR
9. Allison wonderland (1988)
Bobby Allison won three Daytona 500s, which spanned a decade, but his most famous came in '88, the first ever restrictor plate 500, when he led home son Davey in an emotional family one-two.
Davey made a move on the inside of Turn 4, but he had nothing for his father: "I tried, but he was too strong," he said over the radio as they cruised back to the pits.
The Allison story took many turns for the worse, however. Just four months later, Bobby only just survived a huge accident at Pocono. His injuries were such that he would never race again. Even worse, in 1992 youngest son Clifford was killed in a Busch Series practice crash in Michigan, and then Davey, who won the 500 himself that year, died in a helicopter crash arriving at Talladega Speedway in July, 1993.
Even more sadly, due to his Pocono head injury, Bobby has no recollection of the day he and his son finished one-two in the 500: "What would have to be my favorite 500 moment would be at 1988 at the age of 50, I won my third Superbowl of my career with the best young man in racing second to me. It hurts and annoys me that I have no memory of that."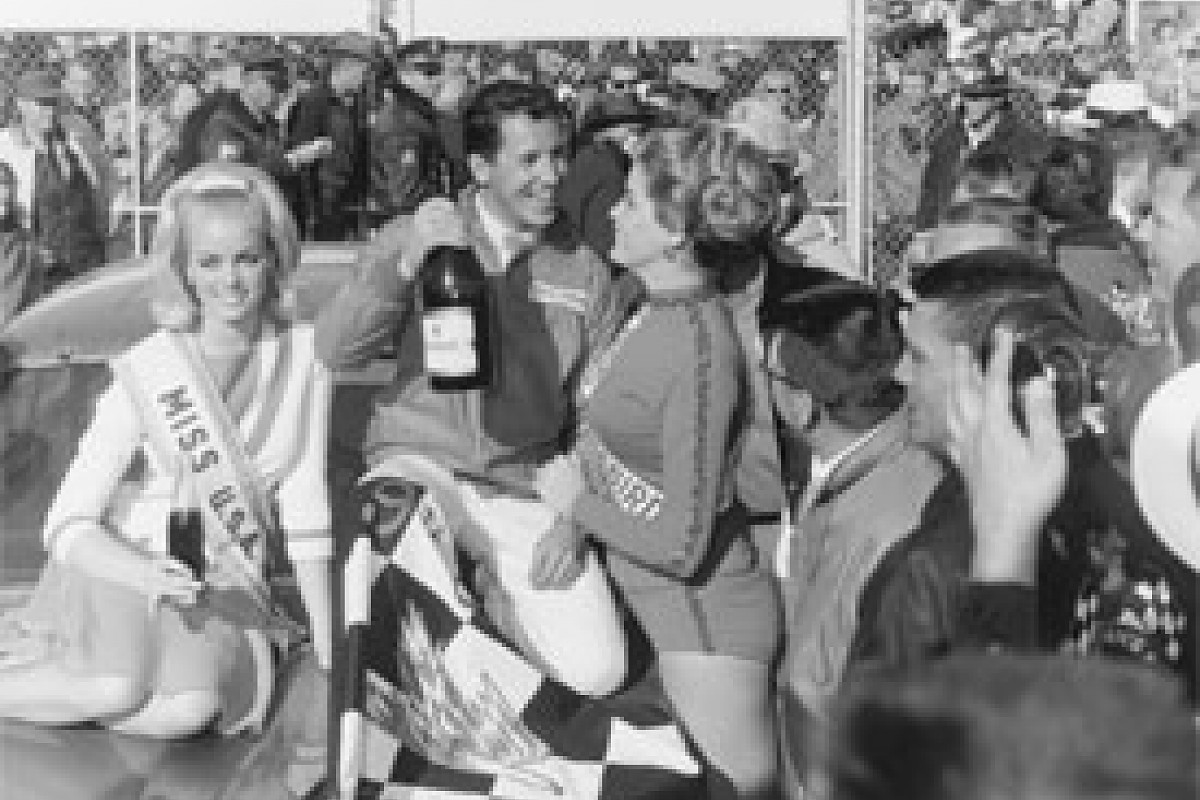 Mario Andretti in victory lane © NASCAR
8) Super Mario beats the good ol' boys (1967)
Back in the 1960s, Daytona was the preserve of drivers from the Deep South of the USA. To think of a 27-year-old Italian immigrant, who had only raced at the famous track once before, beating the best stock car racers on their home turf, in their jewel in the crown event, was unthinkable. But that's exactly what Mario Andretti did.
Andretti, who had already won back-to-back Indycar crowns, and his approach of hugging the bottom of the high-banked corners rather than running the high line had the locals scoffing. However, his sublime car-control allowed him to slide his Ford Fairlane through the bankings lap after lap.
After starting from 12th, Andretti had dominated in his factory-backed Ford prepared by Holman-Moody. He led for 112 laps and was leading by over 20secs when Jerry Grant and Jim Hurtibise crashed at Turn 4, ensuring the race would finish under caution. In fact, Andretti was right behind them when they collided: "I just hugged the wall and hoped and prayed that they were down on the track," he said. "Couldn't see a thing and I had absolutely no control of the situation."
Andretti was paranoid that team-mate Fred Lorenzen would draft past him, given the opportunity, so he'd been running as fast as he could to stay out in the front. The yellow came just at the right time, as it turned out he was low on fuel. "Why draft when you're fast enough to lead?" he reasoned afterwards.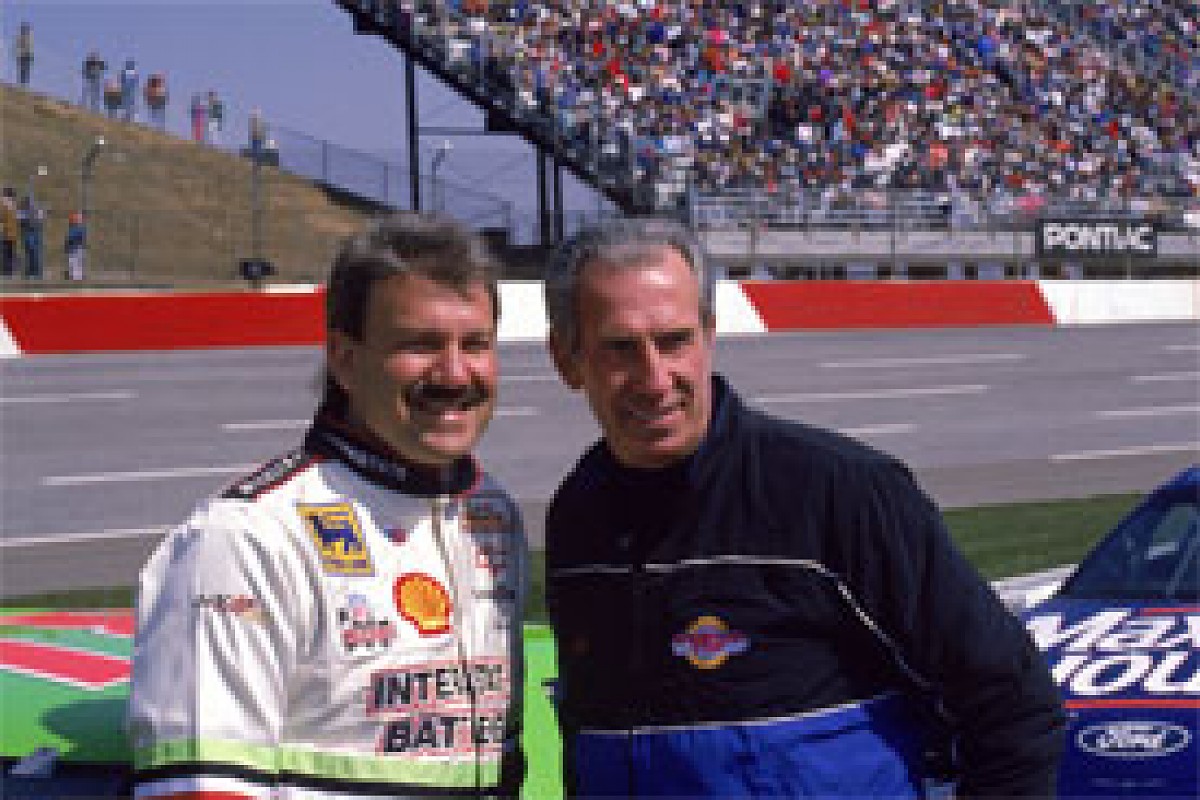 Dale and Ned Jarrett © NASCAR
7) Jarrett cheers Jarrett home (1993)
"C'mon Dale! Go baby, go!" Ned Jarrett was one of NASCAR's earliest star names (he still holds the record for its biggest victory margin in a race: 14 laps!) and his gentlemanly demeanour made him a perfect candidate to add knowledge to the TV commentary booth. He was on the mic to cheer son Dale to victory in '93 the first of Jarrett Jr's two 500 wins.
Dale passed Dale Earnhardt on the penultimate lap and held the Intimidator at bay for a famous victory and a feelgood family story. "Super job there, Dale," said Ned after the race as father and son were united via live TV in Victory Lane. "You did exactly what you had to do, just like I told you, right?"
To which Dale replied: "That's right dad, just like you told me. You came so close in '63 when you ran out of fuel, I thought I'd win this one for the whole family."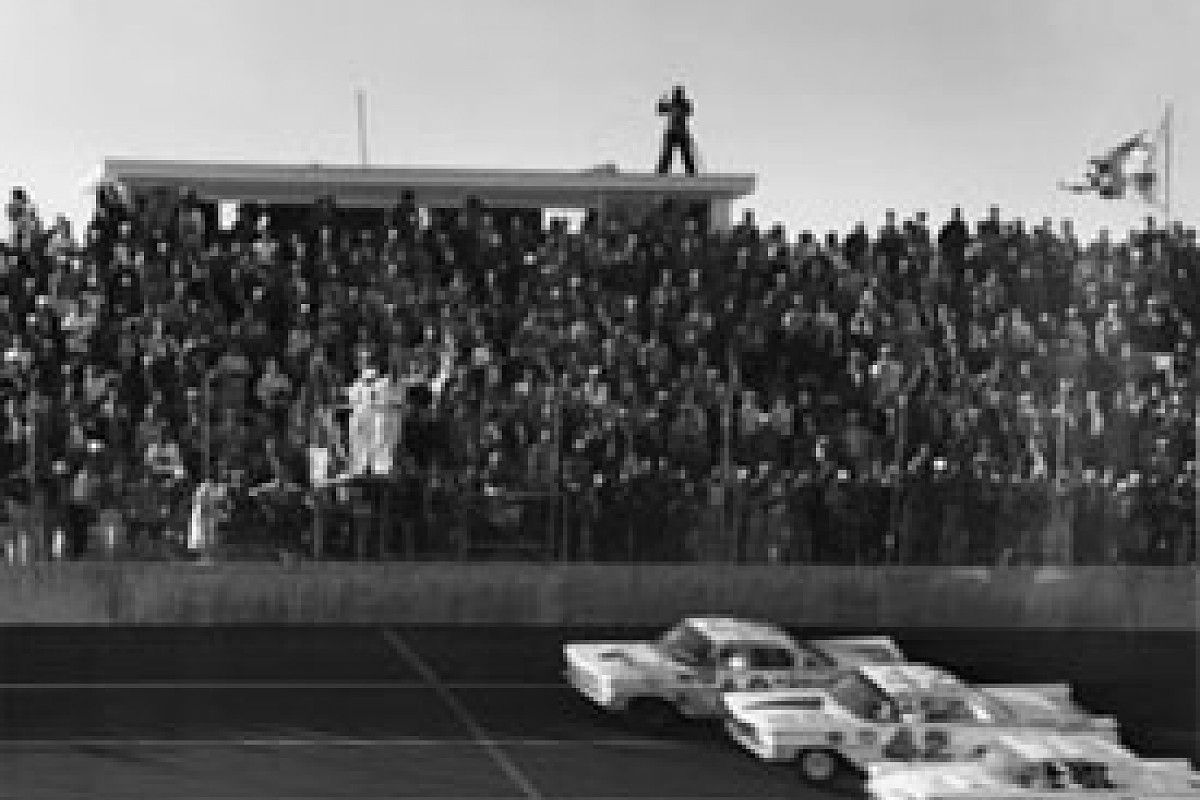 Lee Petty, Johnny Beauchamp, and Joe Weatherly cross the line © NASCAR
6) The photo finish (1959)
The first ever race on the high banks of Daytona International Speedway produced a barnstormer of a finish. There were no caution periods throughout the three-hour, 41-minute race, and only two cars finished on the lead lap, yet they ran side-by-side to the line in an epic finish.
Lee Petty (42) had battled with Johnny Beauchamp (73) for the final 30 laps of the race, and they crossed the line in a photo finish. Petty's Oldsmobile Super 88 Coupe led at the start of the last lap, but Beauchamp's Ford Thunderbird had a strong run on him coming off Turn 4. Joe Weatherly added further confusion by being lapped at the finish line actually ahead of the two leaders.
Beauchamp was initially declared the winner by NASCAR, and the winning margin was given as 12 inches as he was ushered to Victory Lane. However, Petty was irate at this decision and was sure he was winner "by at least two feet," while Beauchamp argued he was indeed the rightful winner by the same margin.
NASCAR founder Bill France Sr took three days to study photographic and video footage (there wasn't a dedicated photo finish camera). Eventually, on the Wednesday after the race, and a good deal of welcome media coverage, he announced that Petty was indeed the winner by the official margin of 'no less than one yard'.
Derrike Cope in victory lane © NASCAR
5) The day of the underdog (1990)
Probably the biggest upset in Daytona history was 1990, a day dominated by Dale Earnhardt. He led for 155 of the 200 laps, and was cruising to victory when Geoff Bodine spun with seven laps to go.
No problem. Earnhardt pitted, and at the restart with five to go, he passed Derrike Cope, who was running on old tyres, to re-establish his lead. Unbeknown to all, a piece of metal bell housing had come off Rick Wilson's car on the backstretch. With just a couple of hundred yards of the 500-miler remaining, Earnhardt hit it, bursting his left-rear tyre. Somehow, Earnhardt kept his car out of the wall (he would finish fifth) while Cope managed to hold off Terry Labonte and Bill Elliott to the finish.
Cope, who only turned to racing after his professional baseball career was cut short by injury, had been running strongly all day. He would only score one more top-level win.
"I always felt like I had a shot at victory, even going onto the last lap," said Cope. "When his car turned sideways, I thought we were going to wreck together, it was just like the slo-mo in Days of Thunder! When I got near him, he masterfully saved his racecar. Anybody else would probably have ended up in the fence, and taken me with them.
"On the slow-down lap I reflected on all the naysayers who said I'd never amount to anything. I think we proved 'em wrong on that day."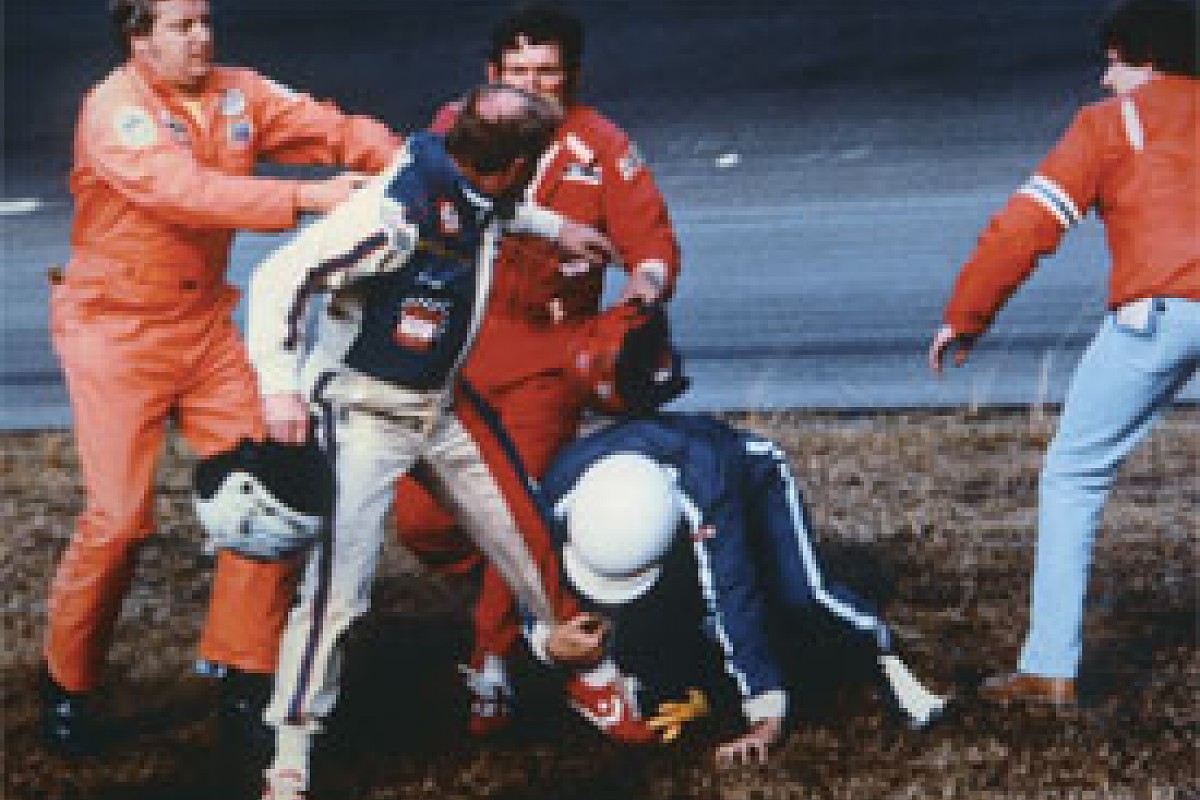 Cale Yarborough and Donnie Allison © NASCAR
4) The fight (1979)
"I got out of the car and that's when he started beating on my fists with his nose!" That immortal line, spoken by Bobby Allison, relates to a genre-defining moment in NASCAR's history: Cale Yarborough's famous fight with the Allison boys.
In front of millions of live network TV viewers, a first for NASCAR's showpiece event, the '79 Daytona 500 was a classic. Donnie Allison was leading when Yarborough made his move on the Superstretch on the final lap.
Contact was made as Allison moved low to cover Yarborough's attempted slingshot pass. Allison's car began to tankslap, while Yarborough got two wheels on the muddy grass, and swerved right again, causing further side-to-side contact. Then they collided for a third time, sending them up the banking and into the Turn 3 wall.
As they spun down the track and onto the infield, Richard Petty and Darrell Waltrip raced past the wrecked cars to finish first and second. But, soon enough, everyone's attention was back to the crash scene.
Donnie's brother Bobby stopped his car on the slowing down lap to give him a lift back to the pits, but instead found Donnie and Yarborough in heated debate about their respective ancestries. As Bobby joined the debate too, Yarborough swung his helmet into his cockpit, striking him in the face which prompted Bobby to get out and engage in a full-on fistfight.
All three had been involved in an earlier pile-up, caused by Donnie spinning, with Yarborough going four laps down while his car was repaired. Amazingly, he battled back to the front by unlapping himself during the next four caution periods.
Bizarrely, Yarborough and Donnie, who crashed in the first place, never actually touched each other! Donnie did offer Bobbie the use of his helmet, however, to return the earlier initial head shot.
NASCAR fined them $6000 each, but ironically it would make millions in subsequent TV deals thanks to the incident.
Dale Earnhardt celerates finally wining the Daytona 500 © NASCAR
3) Dale wins at last (1998)
The poignant image that sums up Dale Earnhardt's long overdue triumph in the Daytona 500 was snapped as he pulled into the pitlane after the race. To a man, every pitcrew member lined up to high-five 'the Intimidator' as he rolled towards victory lane.
For two decades, NASCAR's greatest driver had tried and failed to win the 500. He was scuppered by punctured tyres, blown engines, poor strategy, running out of petrol, you name it. "We figured out about a dozen ways to lose the Daytona 500," he sighed.
It's not as if he couldn't win at Daytona International Speedway. He'd won the all-star race (now known as the Bud Shootout), the Busch Series race, plenty of the midweek qualifying races and even the Daytona IROC event. In fact, he'd won 27 races at Daytona before, at his 20th attempt, Earnhardt finally prevailed in the 500.
It was a hard-earned victory too. Only three cautions meant that all the frontrunners were gunning for victory in the final laps, and when a final one was called for a spin on the backstretch, all Earnhardt had to do was hold off Bobby Labonte to the finish line.
After receiving his guard of honour on pit lane, Dale radioed in a request to NASCAR: "Y'all mind if I take spin through your grass here?" before performing a series of donuts on the front stretch that sent the crowd wild.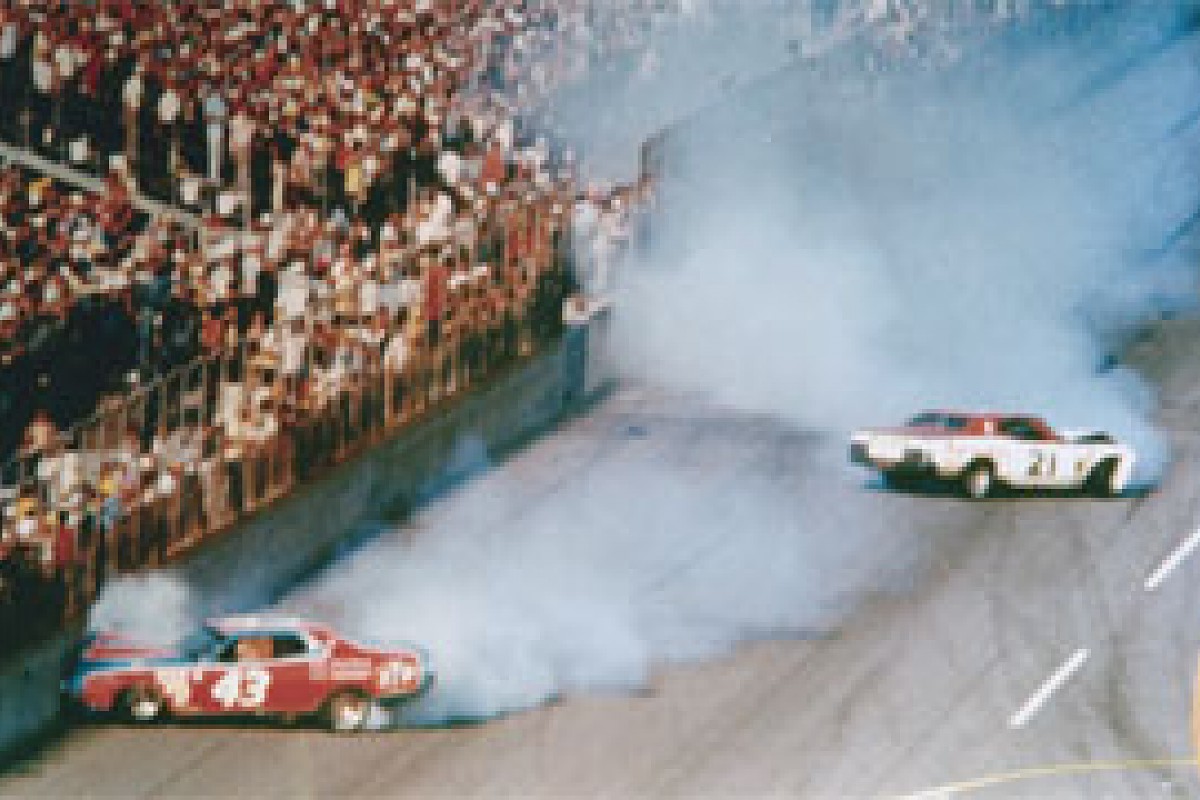 Richard Petty and David Pearson crash © NASCAR
2) The grandstand finish (1976)
When it comes to dramatic finishes, the final moments of the '75 500 take some beating. After swapping places twice on the final lap, Richard Petty was leading David Pearson as they came off Turn 4, but the slightest of contact between them sent Petty into a tankslapper and Pearson into the wall.
Petty tried to control his fishtailing machine, but lost control and also hit the wall. He spun down the banking, and came to a halt agonisingly a matter of yards from the finish line. Pearson, who somehow kept his car moving, crawled past him.
Pearson said: "He went beneath me and his car broke loose. I got into the wall and came off and hit him. That's what started all the spinning."
Petty admitted: "It was just one of those racing deals. Pearson would have done the same thing. We didn't have spotters back then, so I didn't know I
wasn't clear."
As no other driver was on the lead lap, Petty was classified second, even though he required a push to get him across the finish line.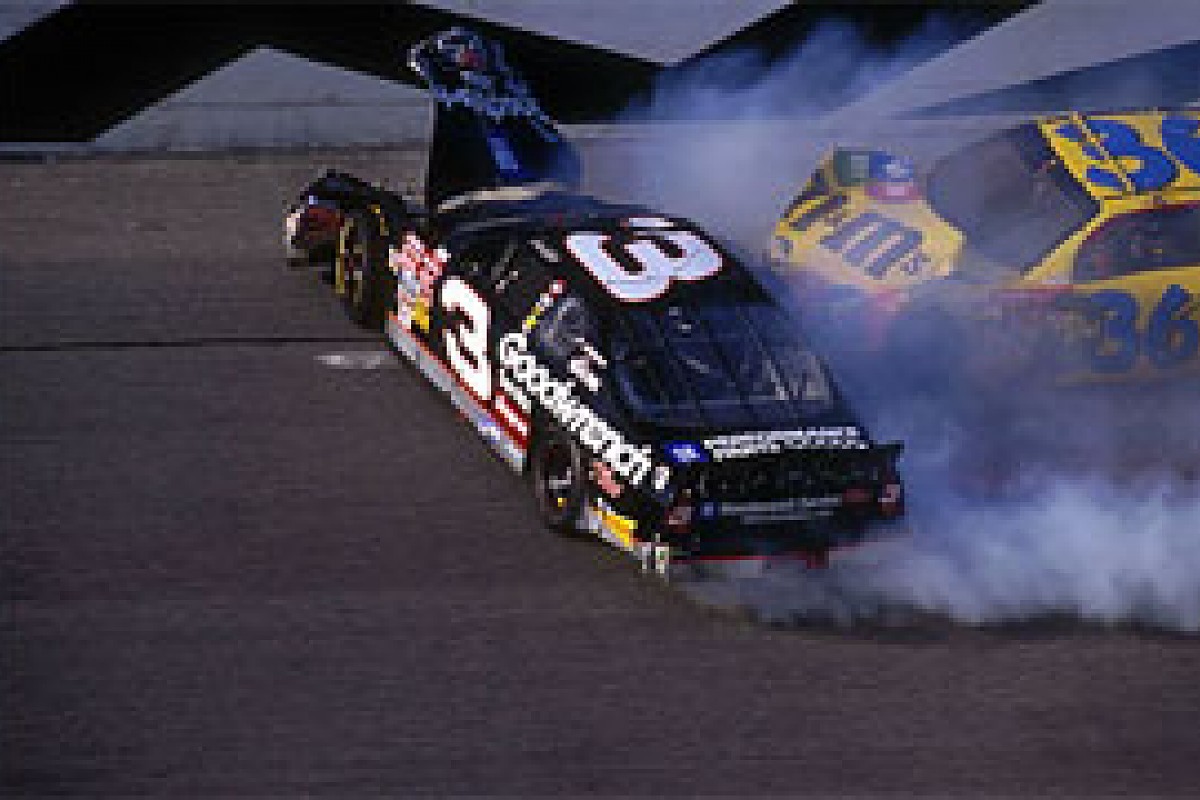 Dale Earnhardt crashes in the final turn on the final lap of the 2001 Daytona 500 © LAT
1) The day Dale died (2001)
It was the moment that NASCAR's world stopped turning; the day it lost its biggest and best-loved star, in its jewel in the crown event, in front of a massive live TV audience. Daytona '01 was NASCAR's very own Imola '94.
In a bitter twist of irony, had Dale Earnhardt completed that last lap, the result would have been perfect. Michael Waltrip and Earnhardt's son, Dale Jr, finished 1-2 for the team bearing his name, DEI.
It was also a race that had looked to have ducked tragedy, after a huge 18-car pile-up that sent Tony Stewart's car flying through the air, and then pinball between other cars as it landed on them. After Stewart walked away from that horrendous-looking wreck, no-one seemed too concerned for Earnhardt's relatively innocuous-looking impact with the Turn 3 wall. It appeared a regulation accident, it was only when that trademark, open-faced black helmet didn't appear from the window that anyone suspected something was so tragically amiss.
The lead-up to the crash involved Earnhardt playing tailgunner for 'his' cars in front. He was trying to hold his third place, but Sterling Marlin, Ken Schrader and Rusty Wallace were pushing him hard. Going into Turn 4, Marlin's car tagged Earnhardt's left-rear. As he tried to catch the slide, the car clipped the apron and veered right, up the banking and into the path of Ken Schrader. His car slammed into Earnhardt's, crucially changing its angle of impact with the concrete wall a split-second later.
The autopsy revealed he died of a basular skull fracture caused by the high G-force spike unleashed by the impact with the wall. In a long, drawn-out inquiry, it emerged that his seatbelt was torn, allowing his body to twist in the crash, and that Earnhardt's old-fashioned approach to safety meant there were few safety systems built into his car.
Since his death, advances such as head restraints, SAFER barriers and Head And Neck Support devices have revolutionised stock car safety. His passing also led to the introduction of the 'Car of Tomorrow', which features more built-in safety than any NASCAR in history.
As well as that legacy, Earnhardt leaves behind a dedicated legion of fans, who continue to wear his black and white 'Goodwrech' colours and his synonymous #3.