There's a weird phenomenon that breaks out whenever two Formula 1 drivers appear before the media against a backdrop of brewing tension, whether it be real or imagined.
Every glance, every gesture, every word is eagerly analysed in the hope that some tiny behavioural tic will betray any public facade of cordiality and reveal the disharmony that is presumed to be developing just beneath the surface.
Much in the same way that the Winter Olympics turns people into experts on all sorts of sports that they only watch every four years, a roomful of journalists suddenly develop instant degrees in psychology. Let's call it Bobsled Syndrome.
The pairing of Lewis Hamilton with Jenson Button at McLaren will inevitably be one of the defining subplots of the 2010 season, and with some justification. It's the first time in history that the two most recent world champions have shared a garage, and if that's not enough, both drivers are British. Then there's McLaren's history of problems in managing two superstars in years past, which is a large part of the reason why there's so much talk of things again turning sour this time around.
But is this expectation of trouble reasonable? Certainly, an initial glance at McLaren's charge sheet looks damning - Ayrton Senna and Alain Prost were so mismatched that the latter knew before their second season together was even half over that the situation was untenable, and announced his decision to leave just before the 1989 French Grand Prix. And Fernando Alonso's resentment at not receiving preferential treatment over Lewis Hamilton in 2007 culminated in the Spaniard threatening to use information relevant to the spy case in which the team was immersed as blackmail.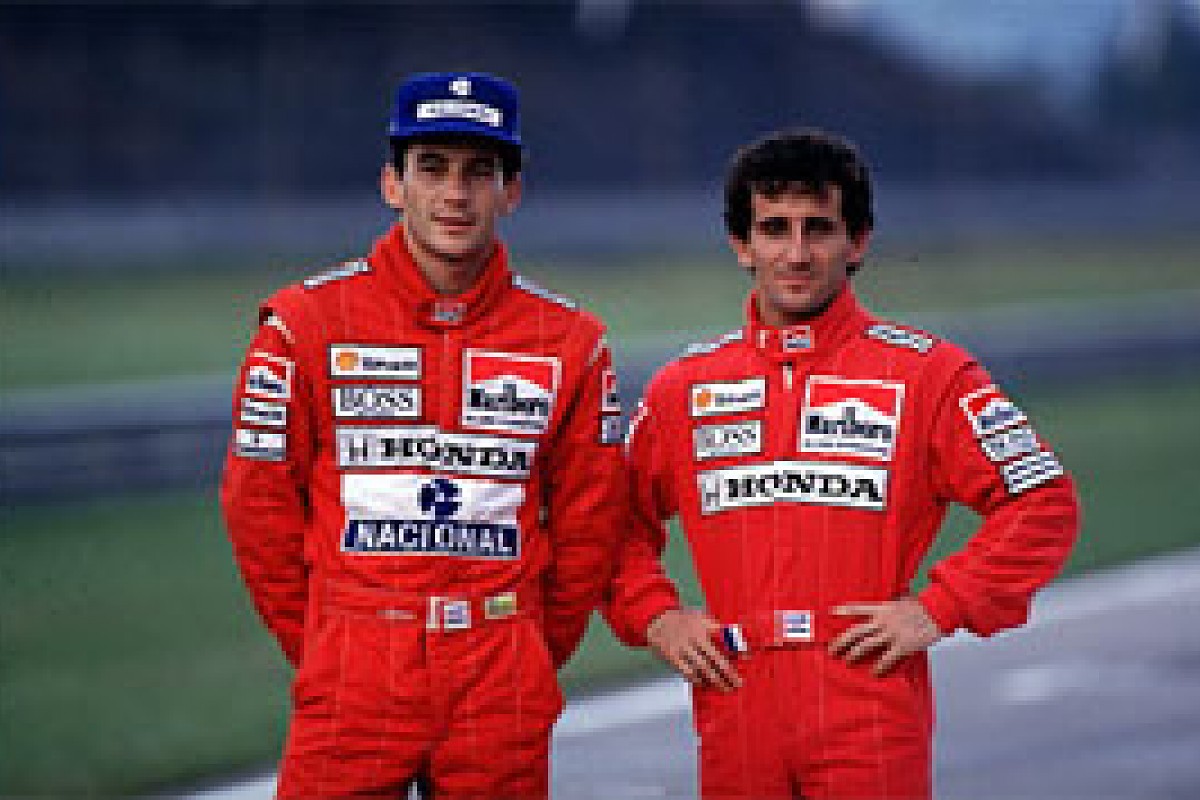 Ayrton Senna and Alain Prost in 1989 © LAT
When things fell apart they did so spectacularly, but there's a case for arguing that McLaren itself was not at fault. Prost always made it clear that his grievance was with Senna, not with the team or then-team principal Ron Dennis. And regardless of what sort of promises Alonso felt he had been offered prior to signing - the truth of which might never be revealed - he was naive in the extreme if he genuinely believed that he'd enjoy automatic number-one status over team protege Hamilton, particularly once the Brit had proved his potential.
You could also point to fallout between the team and Juan Pablo Montoya after the Colombian had been paired with Kimi Raikkonen, but while Montoya - fiery, strong-willed and with minimal respect for authority - was as far from the stereotypical McLaren driver as is possible to imagine, the fact remains that he left that team on better terms than he did Williams. If anything, McLaren's reputation for struggling to manage two top-line drivers could have less to do with the team's methods than the fact that so few other teams have tried it.
In previous years, the job of trying to manage two centres of the universe beneath the same garage roof has belonged to Dennis, but his decision to take his hands off the team's reins at the start of last year means that this time around the task will be the responsibility of Martin Whitmarsh. Nevertheless, Dennis insists that maintaining harmony between Button and Hamilton will be one of the team's top priorities in 2010.
"Our philosophy has always been to have the two best available drivers, irrespective of nationality," he told AUTOSPORT.
"The fact that most of our drivers are English is coincidental to the fact that they've happened to be the best available drivers. The upside is that they've both won world championships, they've both had periods of difficulty in their careers, and they both understand the unique challenges that they're going to face off the circuit.
"Really, it is our intention - it is Martin's intention - to be very, very supportive - of any process that will ensure harmony within the team. But we don't envisage anything happening because these guys are too wise, too experienced and too disciplined."
Whitmarsh echoes the confidence displayed by Dennis.
"I think it is going to be clean, it is going to be open and it is going to be co-operative," he said. "They have respect for one another, they have known each other for a long time and I think there is that trust there that you don't always enjoy between team-mates. Therefore I am not worried about the polemics within the team."
Button has raced for six teams during his career (although some of those were essentially the same squads in different guises); Hamilton has known nothing other than McLaren since before he could shave. McLaren is sincere in its intentions of equality, but Button is more than intelligent enough to know that when it comes to building a rapport with the team, he is fighting an uphill battle.
Hamilton, naturally, is keen to dispel any hint of favouritism. During the launch of the MP4-25 he bristled slightly when asked about getting first call on new components during 2009.
"That was never the case, bar one race where the guys in the factory worked for 36 hours to get some of the components to the race track, and unfortunately they were unable to do two," he said. "At the race weekend they put it on my car, but at the time I was number one, and from one race to another that isn't the case. Jenson is number one this year and surely he will get it the first time, and the second time I'll get it. But at the end of the day they are trying to make sure we both have the same components."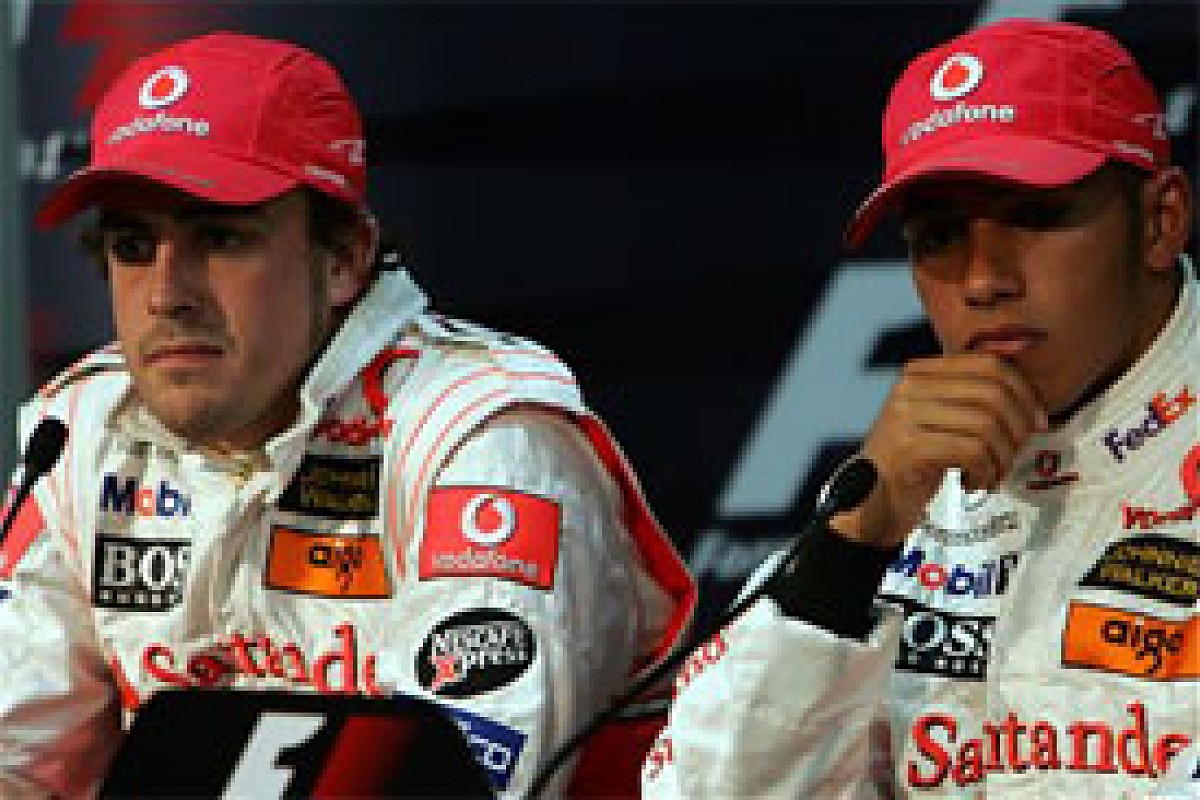 Lewis Hamilton and Fernando Alonso in 2007 © LAT
But he also alluded to lessons learned from the year he spent alongside Alonso.
"I think we can work together more," he said. "In 2007 perhaps in some cases we didn't work together well enough, and we didn't work together for the team. While [Button and I] want to beat each other, we want to get to the end of the year having won the constructors' championship and one of us having won the drivers' championship. I think we both understand that."
So allowing Bobsled Syndrome to kick in, what did we notice about the pair at last week's launch? Hamilton was polite, direct and confident, but looked very much like he wished that he wasn't there - or, more pragmatically, that we weren't there - so that he could study the MP4-25 for the first time in peace.
Button also looked more interested in the car than the crowd but he did a better job of disguising it; maintaining a cheery banter reminiscent of that once used by David Coulthard. Of course, if his on-track performance relative to Hamilton's mirrors those of DC during the Hakkinen years - a very good driver paired with an exceptional one - then the problem of balancing two stars will surely take care of itself.