There was no hiding the excitement when the covers came off the new McLaren MP4-25 at Vodafone's Newbury HQ last Friday. With 2008 king Lewis Hamilton joined by 2009 champion Jenson Button, it will be the first time that two consecutive world champions have driven for the same F1 team. And there's no denying it, the inter-team dust-up here is one of the juiciest plums of a potentially terrific 2010 world championship.
One of the reasons I happen to think that Jean Todt could turn out to be a tremendously effective FIA president is that, work ethic apart, the two principal traits he displayed while masterminding unprecedented success at Ferrari were pragmatism and single-mindedness. Todt happened to think that the best way to win world championships was to put the team effort behind a clear #1 and he would not deviate. Austria 2002 told you all you needed to know about that. It's sound strategy undoubtedly, so long as the #1 doesn't hurt himself like Schumacher did in 1999, but it's just not very exciting, especially if you have a dominant car.
Lewis Hamilton and Jenson Button at the McLaren launch © LAT
Which is why I take my hat off to McLaren. Over time there have been strong indications that the Todt/Ferrari way is, while you hesitate to call it the 'right' way, certainly the most effective.
As long ago as 1972, Colin Chapman found himself facing the same conundrum. Emerson Fittipaldi stepped up to the plate superbly after Chapman lost Jochen Rindt at Monza in 1970. Fittipaldi had won Lotus the championship by 1972, overcoming an ulcer-afflicted Jackie Stewart, but the other black-and-gold JPS car, driven for the majority of the year by Dave Walker, had not been competitive. Ronnie Peterson, meanwhile, widely viewed as perhaps the fastest out there, had scored just 12 points all year with March. Chapman couldn't resist signing him.
At the start of 1973, Fittipaldi won the first two races and Peterson retired. Then Stewart hit back strongly for Tyrrell, winning three of the next four as the other fell to Emerson. As half season approached therefore, nobody but Emerson or Jackie had won a race. Then Denny Hulme won for McLaren in Sweden and Ronnie scored his first Lotus win at Paul Ricard. The Swede followed up with more victories at Osterreichring, Monza and Watkins Glen. Stewart won at Zandvoort and Nurburgring (the last of his then record-breaking 27 wins). Lotus, with seven wins to Tyrrell's five, took the constructors championship 92 points to Tyrrell's 82, but the score in the driver's championship was: Stewart, 72; Fittipaldi, 55; Peterson, 52.
Still, Chapman wasn't put off doing it again. After three or four seasons in the doldrums mid 70s, he paired Mario Andretti and Peterson. This time though, it seemed to be on the clear understanding that Mario was numero uno, Ronnie rejoining Lotus off the back of a disappointing season in the Tyrrell six-wheeler when he hadn't really handled Patrick Depailler. Mario and Ronnie finished 1-2 in the '78 championship but, so superior was the ground effect Lotus 79, that Florence and Dougal would have done too.
The partnership, however, proved a harmonious one and it was tragic that Monza that year came to be remembered not as the race at which Mario become America's second world champion but the one which claimed Ronnie's life. In the race morning warm-up Peterson arrived at the first chicane without any rear brakes and flattened four rows of catch fencing as he ripped a corner off his 79. He had no option but to race the spare car, a 78, and badly broke his legs in a startline shunt after contact with James Hunt. He succumbed to medical complications the following morning.
The year before, Ferrari had paired two frontline drivers in Niki Lauda and Carlos Reutemann, and this was much less than harmonious. After Lauda's life-threatening crash at Nurburgring in '76, Enzo Ferrari teed up Reutemann to lead the team in '77. Niki, bravely back in the cockpit after just 40 days, was less than impressed. He outqualified Reutemann on Lole's home turf in Buenos Aires but had to watch Carlos finish on the podium after retiring. Two weeks later in Brazil it was worse, Reutemann dominated from the front row as Niki struggled from 13th to third, his car handling 'like a bucket'.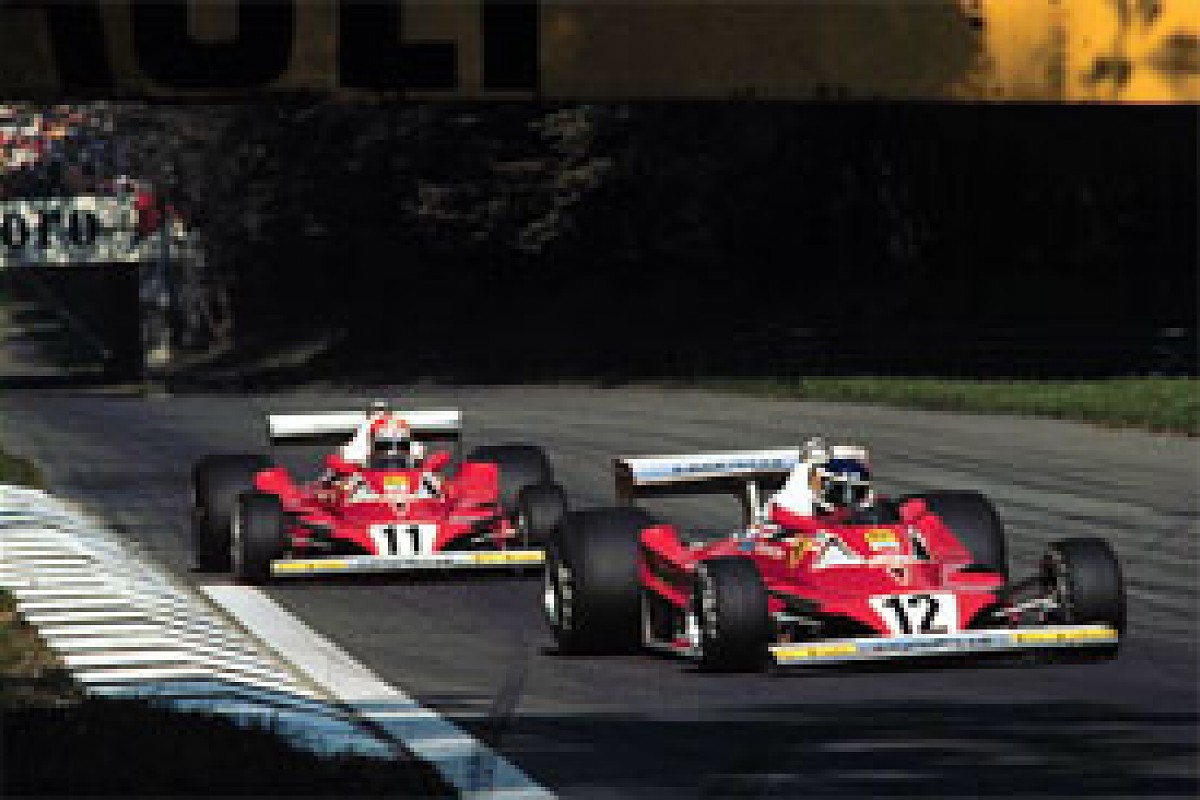 Carlos Reutemann and Niki Lauda, Ferrari 312T2s, at the 1977 Italian Grand Prix © LAT
Lauda felt he was being treated as a second class citizen in a team that had been 'his'. Asked whether he considered Reutemann to be principally a team-mate or a rival, he unforgettably replied, "neither". He went to Maranello, read them the riot act and insisted on doing a week's testing ahead of round three at Kyalami. Doing precisely that he scored the first win since his comeback in a race that cost the life of Tom Pryce, proving to Ferrari that he was still the driver he had been before Nurburgring. From that point on he took charge and went on to win a second title in three years before registering his further disapproval by leaving Ferrari before the end of the year to go and join Bernie Ecclestone and Brabham. Ferrari could keep their Carlos Reutemann.
Much closer to home, McLaren reaped the benefit of Williams inter-team rivalry between Nigel Mansell and Nelson Piquet as Alain Prost benefited from Mansell's exploding rear tyre to win the Adelaide season finale and pinch the world championship from under the noses of the Williams pair in 1986. Once again, a clear illustration that even if your car is the class of the field, you can lose out if there is a top-liner in a rival's car that is somewhere close.
When a car is as dominant as the 1988 McLaren, Formula 1 was left thanking its lucky stars that the team put Senna in alongside Prost and let the two of them fight it out. It was spellbinding stuff and probably right up there with Muhammad Ali/Joe Frazier as one of world sport's most intense rivalries. Without the fight it would have been truly soporific fare, along similar lines to the Schumacher/Ferrari 2002 and '04 seasons.
Know what I really admire? The fact that after having their fingers so severely scorched in 2007 with Lewis and Fernando, McLaren is prepared to have another crack at it with two top class drivers quite so soon. Truly masochistic!
Making it a whole lot worse for them, 'Brucie's' back. When Schumacher joined Benetton, the smile and prominent chin put the mechanics in mind of a certain Bruce Forsyth. Every time Michael walked into the garage they offered up a 'Nice to see you, to see you, nice!' to a somewhat bemused German. You can't help feel that McLaren must be looking at the Mercedes promo shots of Michael grinning and thinking, "Nice to see you? To see you, not very nice at all..."
I asked Martin Whitmarsh whether, in the light of Michael's return, the fear that two championship-winning drivers might win plenty of battles but ultimately lose the war, is greater?
"It's a much discussed issue at McLaren," he admitted, "but we have a philosophy to go out and get the best drivers we can. I think we've got two honest and open guys. They both want to beat each other, I'd be worried if they didn't, but I think it's going to be clean, open and co-operative.
"Inevitably if they are nip and tuck and taking points from each other and you are fighting a one-man team, then it can become difficult. But both of them are super personalities. They are terrific assets and I think you can sense the respect between them.
"I'm not worried about the polemics within the team but I do accept that if we are rotating the winner then you can aid a one-man team. Overall though, two drivers in a good competitive fight drive the team forward. I think it's great to go motor racing with two top drivers."
Amen to that.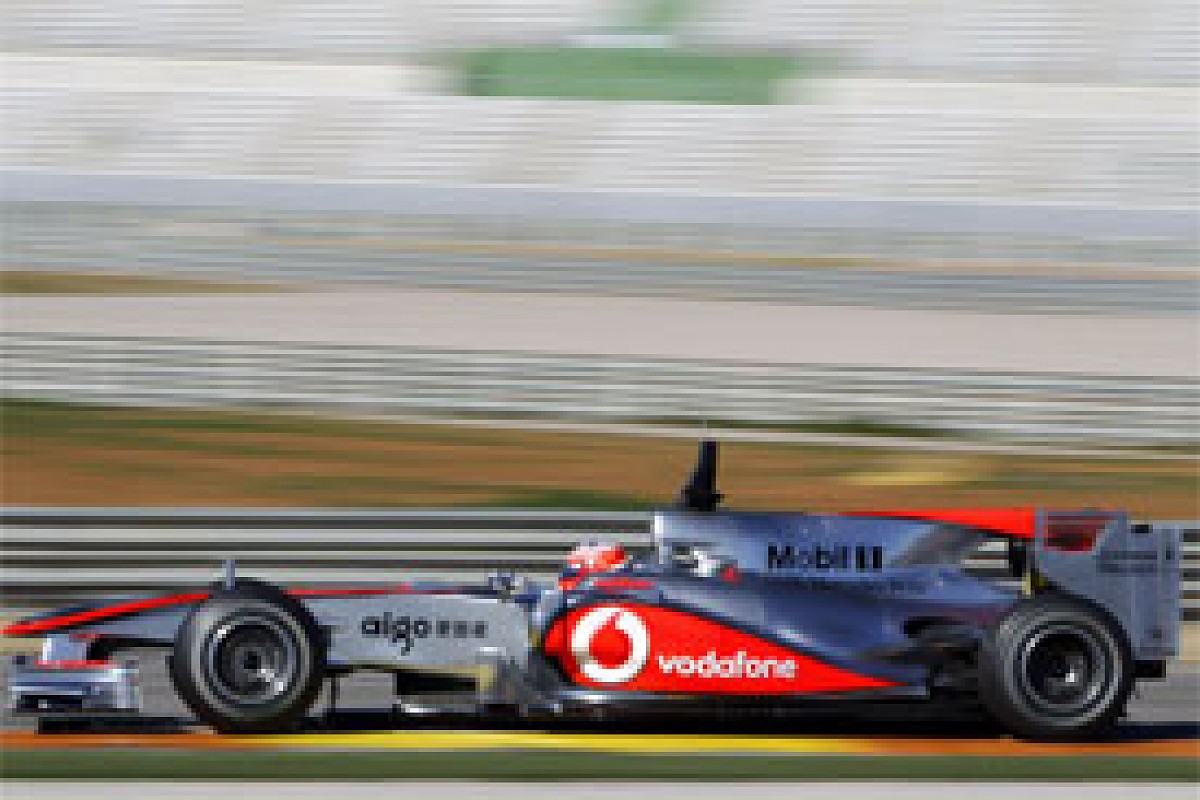 Gary Paffett testing the McLaren MP4-25 at Valencia © LAT
McLaren's Jonathan Neale said that as well as the challenges of repackaging the 2010 cars, the refuelling ban has implications in all other areas of the team.
"Previously at the pit stops it was the refuelling that took most time but now you don't have the comfort of that extra time and so we will have shotgun tyre changes. Doing it statically in the factory it's taking about 2.5s and even in the heat of battle we expect it to be no more than 3s. Then, for the driver, it's a case of coping with 160kg of fuel while making the tyres last."
That, some think, will favour Button's smooth style over Hamilton's more aggressive approach. But engineering director Paddy Lowe is not convinced.
"To be honest, I'm sceptical about the regulations suiting any of the guys more than the others because they are tremendous at working within whatever constraints they have, and that's one of Lewis's particular strengths."
Button has been hard at it in the simulator with his new engineering team. Working with new people is always difficult, he admitted, but it's going smoothly. Jenson is determined to come out competitive from race one in Bahrain, with no excuses.
Lewis is saying all the right things, too. How he's always got on well with Jenson and his father, John. How he won his first British karting title on John's engines. And how he expects that they will have no problems because they will both be - those two words that Whitmarsh used - honest and open.
On the night before the MP4-25 launch, everyone found themselves footloose and fancy free in Newbury. Jenson, John, manager Richard Goddard and PA Jules Kulpinski booked a table at a local restaurant.
"Mind if I join you?" said Lewis. The Buttons didn't mind at all. That never quite happened with the Alonso clan. It's off to a good start then. Let's see if it's dinner for five in Abu Dhabi on November 14...