One of the saddest sights of 2006 were the faces of men like Cosworth's Bernard Ferguson and Simon Corbyn when Williams did its Toyota deal and Toro Rosso went with Ferrari. When the music stopped Cosworth found itself without a chair for the first time in 40 years. It was tough to take after the CA2006 had been so good. Now though, they're back, with no less than five teams - Williams, Virgin, Lotus Racing, US F1 and Campos Meta. The car park in Northampton is full to overflowing and the builders are in, renovating reception to take the Williams show car that arrives this week.
2006 taught the company not to put all its eggs in one basket. Cosworth has spent the last three years diversifying as well as developing its core automotive business. The company has 350 people but only 65 are F1 specific. Three years ago staff drained away as F1's major manufacturers ramped up. Significant numbers were lost to Mercedes at Brixworth across the other side of Northampton. Now they are coming back the other way, and also from Cologne and Brackley following the withdrawal of Toyota and Honda.
Looking after the F1 side of the business is Mark Gallagher, who has previous experience at Jordan, Jaguar and Red Bull, as well as running the Team Ireland A1GP outfit. He might not be an engineer but I can confirm he did once change a Beetle engine on my parents' driveway in about 45 minutes some 25 years ago!
"There was frustration," Mark explains, "because the CA2006 was a good engine and the people involved wanted to develop it. But really, truthfully, from mid to end '07 nobody at the top of Cosworth expected they would be back in F1, maybe ever.
"It galvanised them into asking: what are we? The answer was a precision engineering company -- high end, low volume, which had applications in industries like aerospace and defence.
"For example, they made a tiny two-cylinder diesel engine for unmanned drone aircraft in Iraq and Afghanistan, which is a big market. Against big defence companies who would come in with a Powerpoint presentation, the first time Cosworth pitched they put an engine down on the table! They just built one.
"It was the other extreme to F1. You're talking 10-25bhp bhp and UAVs (unmanned aerial vehicles), until Iraq and Afghanistan, were powered by effectively model kit engines never designed to operate in combat conditions or on diesel, because the American military want everything to run on one fuel. They were not designed to operate at the current altitudes or to fly for days. It was the opposite end of what Cosworth was used to but no less a challenge.
"We also did a lot of work for the Royal Navy and got a big contract to reverse engineer the Deltic engine that powers frigates. That was done by hand on drawing boards in the 1950s but there'd been a fire, all the drawings were lost and when the need came to repair them there was nothing to go on. Rolls Royce said to Cosworth, 'Can you take it apart, find out how it works and then come up with some CAD drawings?' These projects were life savers and kept the lights on and the doors open."
The automotive side was slightly different, the company enjoying a great reputation, and doing ongoing work with Aston Martin, which includes the 7.3-litre V12 powering the exclusive £1.3m One-77. In the corner of the F1 engine shop on the day I visited were two of these units which have undergone something like a 25% mass reduction from the original 6.0-litre V12 Vantage engine. They will pump out close to 740bhp and take the One-77 to a reputed 220mph.
Cosworth has also expanded its after-market side. If you want a go-faster piston for your Honda Fireblade in America, Cosworth offers one. Tony Purnell's original PI company (Purnell Instrumentation) which was sold to Ford, became Cosworth Electronics a year ago. It supplies electronics to the BTCC and has branched out into sailing, providing telemetry and control systems to the America's Cup catamaran, Alinghi.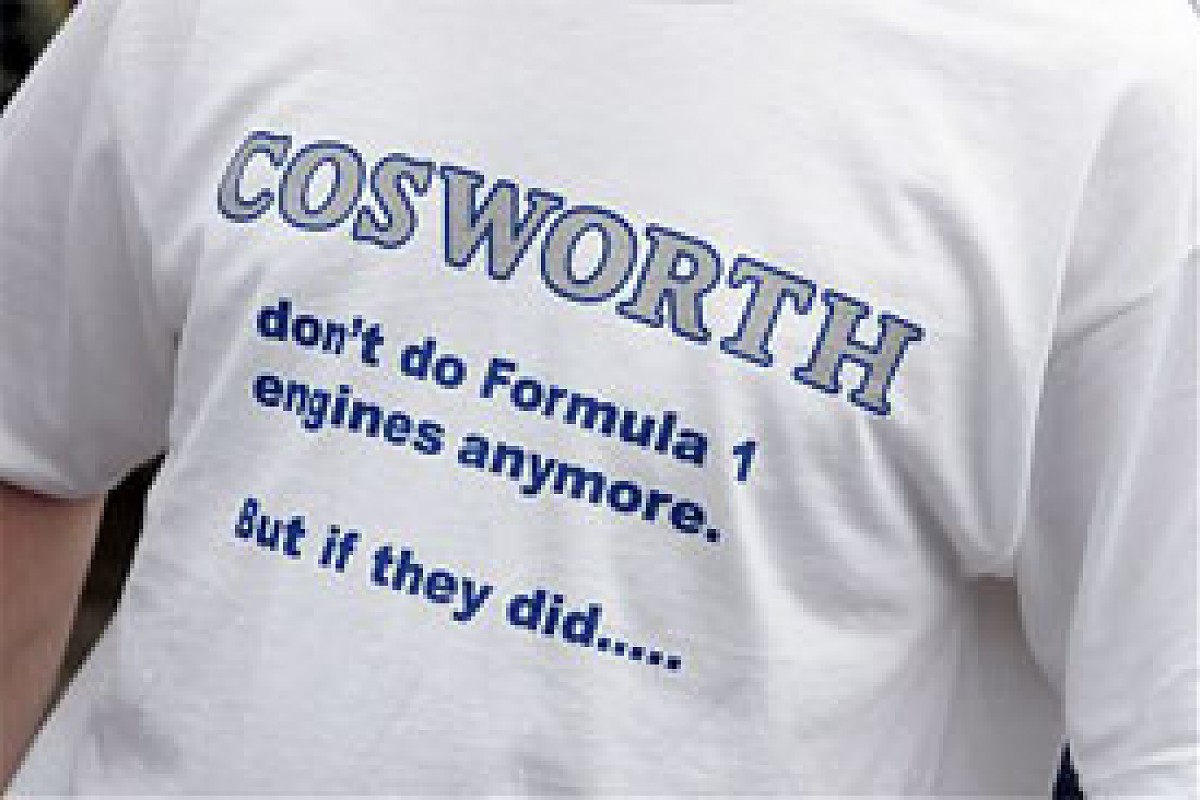 Farewell message at the 2006 Grand Prix of Brazil © LAT
But there's no mistaking the delight at being back in F1 even if the circumstances were somewhat controversial and part of the new challenge is to make sure F1 doesn't become a big vacuum cleaner sucking up the business again.
Amid the acrimony of Max Mosley's plans for an F1 spec engine, the cost cap and then the threatened manufacturer breakaway, there was much moving of the goalposts. There was also muttering about the fairness of the FIA's acceptance conditions for new teams and suggestions that if they were aligning themselves with a manufacturer and not Cosworth, an entry might not be forthcoming. Gallagher is in a good position to talk that through, having also been involved with Lola's aborted project before he came to Northampton.
"Rewind back," he says. "Max announced a tender for the standard engine, which Cosworth won. He then said it's not happening, it's going to be a cost cap instead and so, Cosworth, are you prepared to build engines very economically to meet that cap? We said yes, if it's off-the-shelf and we don't have to do any design work."
The company did not want to commit to expense if the plans did not come to fruition, or if they found themselves, say, with one poorly funded customer.
"The clincher," Gallagher explains, "and different from the way it's been characterised, is that the FIA said to Cosworth, 'okay if you come back in, let's turn it on its head -- you have to be prepared to supply anyone who comes to you for an engine'. And that meant we had to consider multiple teams.
"Max was actually saying, what happens if Renault, Toyota, BMW, etc, all pull out? Are you going to be able to supply six or seven teams? And when the breakaway started to be discussed we were potentially looking at the whole grid.
"Our position was, we'll sign a contract with any team but if we're going to do this, it has to be handled properly. At Lola, for example, there was only one company that we could get an engine contract from and that was Cosworth. Here's the irony -- we spoke to car manufacturers in May, before the deadline.
"We had nothing against Cosworth but the point was that the car manufacturers could give you the whole drive train. There were nice words spoken but nobody was 100% prepared to support a potential entry from a new team."
Much was made of the FIA forcing new teams to have an engine contract in place before they accepted an entry - almost inevitably forcing them along the Cosworth path - but, says Gallagher, it was driven by circumstance.
"The FIA was saying that if you put your entry in without an engine, we can't do it. They needed to see several things - that you could build a car, you had a factory, management expertise, money and an engine/gearbox. And Cosworth was the only show in town.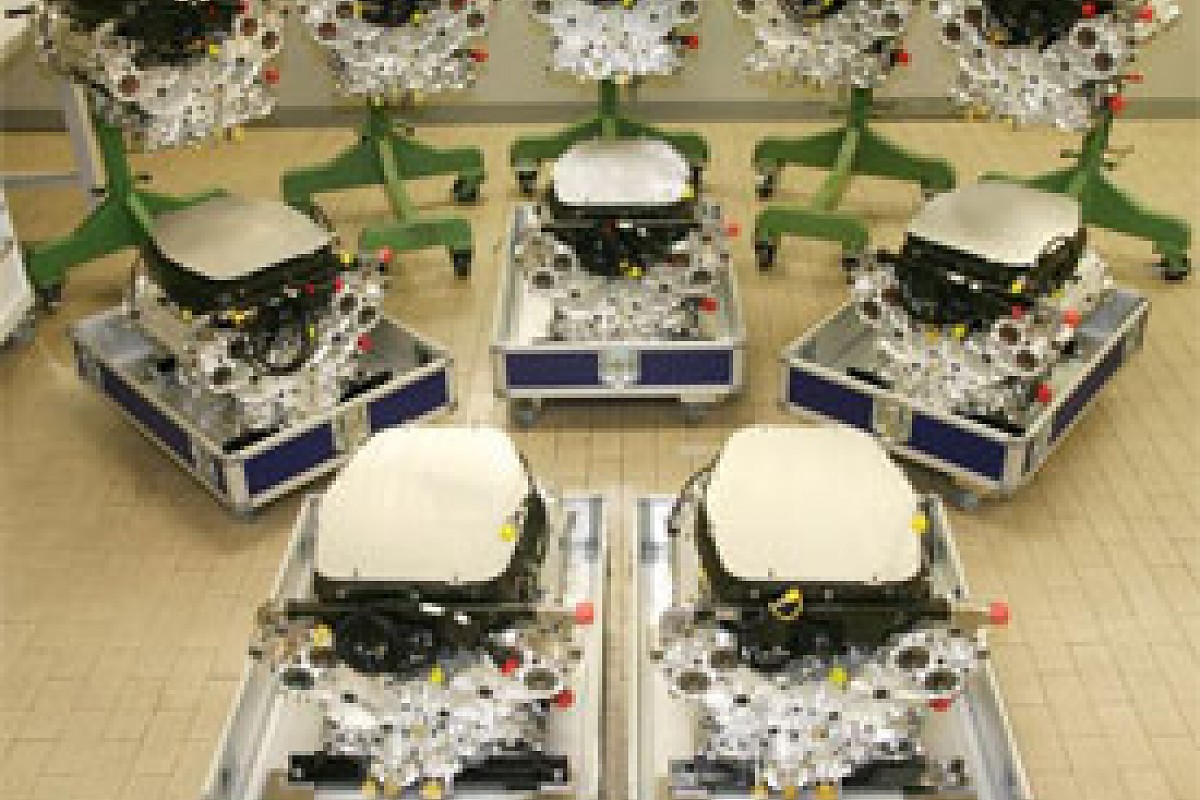 Cosworth CA V8s ready to ship to their Formula 1 customers

"I've heard all sorts about others saying they had engine deals with manufactures but being told they had to go with Cosworth, but it would be interesting to see if they really had those contracts. I know that at Lola we had undertakings from manufacturers that if we got an entry they would supply an engine, but the FIA didn't want conditional entries. They wanted to know you had the wherewithal because Max was absolutely certain from a year ago that some of the manufacturers negotiating around the table were not going to be there. And it turned out to be true.
"He said, in a nutshell, if you turn up with a letter from John Howett saying that you'll have an engine if you get an entry, you know what, I don't think Toyota is going to be there. Max had been talking to people at board level and they weren't saying the same things as the team principals. Cosworth though, weren't going to have a board meeting in September and pull out. That's how it got to where it's at."
In the middle of it all, people probably said some things they shouldn't have done but, given the political climate, you might also question whether prospective new team bosses were being a little naive if they thought Max and Bernie were going to sanction entries which served only to boost the strength of the car manufacturers. Did they perhaps look around and ask, are these people taking over our sport? And then decide it wasn't going to happen.
Now, of course, F1 is heading back in the direction of independents, even if they are competing to the same regulations as the established teams without the planned cost cap - a tough challenge.
"Independents are a good thing because it's fundamentally wrong that a team thinks it's going to have its cheques paid win, lose or draw," Gallagher states. "That was the case with some of the car manufacturers. I saw enough of the Jaguar culture and didn't think it healthy. We will lose teams from time to time but everyone knows that if they don't make the team work, don't make the sponsors excited, they won't be there. And I think that's right. It's the same for Cosworth -- if we can't make a business out of designing and selling engines, we won't be there.
"By the mid nineties having a Cosworth wasn't fashionable, almost a sign you were on the way out. Whether we can reverse that 25 years I don't know, but maybe we can have a new era where if you've got a £50 million pot you can go to Cosworth and secure your engine supply with a tenth of your budget. And if we do the job we believe we can, we think that's good value."
Few would dispute that, but a slight difference from the halcyon days when the majority of the F1 grid used the DFV, is that there are manufacturers supplying very competitive rival engines - Mercedes, Ferrari, Renault, and unlike the early eighties they may be commercially available.
Heinz-Harald Frentzen celebrates winning the 1999 Italian Grand Prix at Monza © LAT
"I think Jordan paid $7 million for Mugens, partly subsidised by Honda, as recently as 10 years ago and for that we got an engine that won us three grands prix and put us in contention for the '99 championship, which was amazing. Cosworth now needs to make sure we are here to stay and that what we offer makes sense. For a team boss to buy Cosworths they need to be reliable, competitive and the business deal needs to be better than anything else available. We have to move with the times.
"The new engine regs in 2013 will be interesting. Hopefully the recession will be a thing of the past and we can get manufacturers to look at F1 differently. Because going back to 1200 employees and £200 million a year is not good for the sport.
"Max was right about that when you looked at the way money was spent - the driver salaries, and one, two, and three wind tunnels. Some of the excess was unreal. When I was doing the A1GP team I was called by one of the team managers who asked if I was buying tyre warmers. He said he had 140 sets which hadn't been used. I asked how old they were. He said, oh, they're brand new.
"I asked why they weren't using them and he said they were branded wrongly. The company changed its corporate logo for the F1 team just after they'd all been branded. They were scrap. He basically said I could take as many as I wanted. The pity was, the A1GP rear tyre was like F1 ran in the eighties - far too big! Everyone has stories to tell about the extravagance. Some of it was fun but some of it just ludicrous."
So the pendulum has swung back and the hope has to be that it hasn't swung too much the other way. We don't want to go back to the days of Andrea Moda.
Everything at Cosworth today is overseen by Bruce Wood with Dave Gudd heading up the F1 engine development and James Allen (no, not him!) leading engineering. The factory is currently flat-out working with both the new teams and on the CA2 - 2010, which has to be presented to the FIA for homologation by March 1.
"When contracts were signed with the teams in March-May 2009, it was going to be a 20,000rpm 2006 engine with Max's performance breaks," Gallagher reflects. "That went out of the window and having signed contracts to deliver engines that were actually off the shelf, we needed to do a different engine. Work on that kicked off last June with the CA 2006 forming the basis of the architecture."
The other big question is whether the new teams will, a) arrive, and b) survive. Gallagher feels that with a bit of a following wind they will make it, despite the naysayers. He's in a prime position to judge, too.
"We can open the inbox and see who's on the case. Are you getting one e-mail a day or 101? From June it was clear that Manor/Virgin were flat-out, and Dallara (Campos), and that US F1 were not busy but are now. Ken Anderson phoned and said we're busy getting our ducks in a row but we have your drawings and we're not going to bother you until we need to."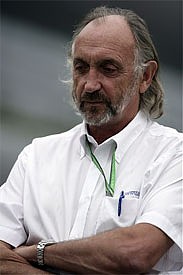 Bernard Ferguson © LAT
Bernard Ferguson has been over to Charlotte and, now semi-retired, is acting as consultant to US F1. With Burnley back in the Premiership it's only right and proper that the straight-talking Lancastrian should be back in the F1 paddock. But joking apart, if I was trying to get an F1 car/engine up and running I'd be happy to see Ferguson walk through my front door, semi-retired or not.
"I think that some of the teams will have the money they need already," Gallagher opines. "To get from June to today they will have spent £12-15m in my opinion. If any were going to fall over from lack of money I think it would have happened by now.
"At Lola we knew what the June to December expenditure was going to be and it was significant. You're not just building a car, you're improving the factory, employing mechanics, ordering trucks and motorhomes, ordering CAD licences and equipment and all the thousand and one things you have to go out and buy when you set up.
"If you ask me if I think all the new teams have got £50m worth of sponsorship, then no. But then I think most teams in F1 today would struggle to find that starting from scratch. What I think most of the new teams have been able to do is generate interest among shareholders, get funds put in, generate some sponsorship and then take drivers with money to put the whole thing together."
There is a misconception that the F1 engine freeze means what it says on the tin. It's restrictive, yes, but not absolutely so. There are those who claim that through judicious use of 'reliability updates' Mercedes has found as much as 25bhp over the past three seasons.
And the scuttlebutt on the street is that over the course of the winter Ferrari has been putting in a lot of 'reliability' requests, largely surrounding valves what with fuel consumption due to be a bigger factor now refuelling is banned.
It's an area where many predicted Cosworth would struggle, not having had the benefit of working on it over the past three years as its rivals have. But, one engine man I spoke to recently told me he reckoned that the Renault would be most frugal and would start some races with around 155 kilos of fuel, compared to 160-165kgs for Mercedes and Cosworth and as much as 170kgs for Ferrari.
Put that to Gallagher and he just smiles. They like the power figures they're seeing but they're not about to spill any secrets. They've had a short lead time, sure, but they're not frightened by it. In fact they were disappointed when they failed to land Red Bull as well. Apparently a deal was close until the team won the last three races of '09 with their Renaults and started to wonder about the upheaval of changing if Renault was still around.
Rather than being concerned at supplying the '09 pace-setting team at such short notice, Cosworth was disappointed at missing out. You suspect that if either Barrichello/Hulkenberg or the new Williams is a few tenths off and the rest of the roster is new teams, Cosworth won't quite know where they are like they would have done with Red Bull. It hints at quiet confidence from a company with a long pedigree and F1 in its DNA. It's good to see them back.