After two difficult seasons as Lewis Hamilton's team-mate at McLaren, Heikki Kovalainen says he is a much stronger driver and wants to show he is capable of leading the new Lotus team.
AUTOSPORT's Jonathan Noble talked to the Finn about life at McLaren, the Lotus challenge, and much more.
Q. You look very well. All good, all happy?
Heikki Kovalainen: I feel well. I feel happy. I feel relaxed. I feel very motivated. And excited. I think it is difficult task ahead, there is no question about that, but I am up for a challenge, up for a lot of hard work, and it is very interesting as well. In fact, it has been a long break from driving so it has been quite interesting, especially since I've joined Lotus, to spend time with Mike and the guys here - seeing how everything gets set up. It is something to do in the winter.
Q. Does it feel like a new start for you, a clean slate?
HK: Yes, it does actually. It feels like my career starting all over again, and in my opinion hopefully my best races are still ahead of me. I think I have a point to prove, so like I said, I am up for a big challenge and try to do a better start again.
Q. When people talked about Lotus drivers, Jarno was linked there for quite a while but your name only came up quite late - and you were strongly linked with Toyota when it was still there and Renault also. How did the Lotus deal come about?
HK: The first contact from Mike [Gascoyne] came very early on when we were still in-season. To be honest, at that point I didn't even know what was going on with Lotus or what was happening. And at that point, I was still just fully focused on the race season so I didn't want to get into any negotiations. I told Mike, 'Look, let's see. At the moment nothing is decided.'
Then, over those couple of months I carried on racing, finished the season, and I had various contacts. I was talking to the more established teams and then at some point, I felt that with the current teams there started to be problem - it was no secret with Renault, but also with other teams. It was uncertain who was going to own the teams, or who was going to sell. And the contact I had with the other teams, I just had this feeling that it doesn't feel very safe. Nobody know what was going on.
So then I contacted Mike and I said, 'What is the situation with Lotus? What is going on there?' He invited me over here and showed me what was going on. That is really the first time I became aware of the whole project - and it was also the first time that I met Tony [Fernandes].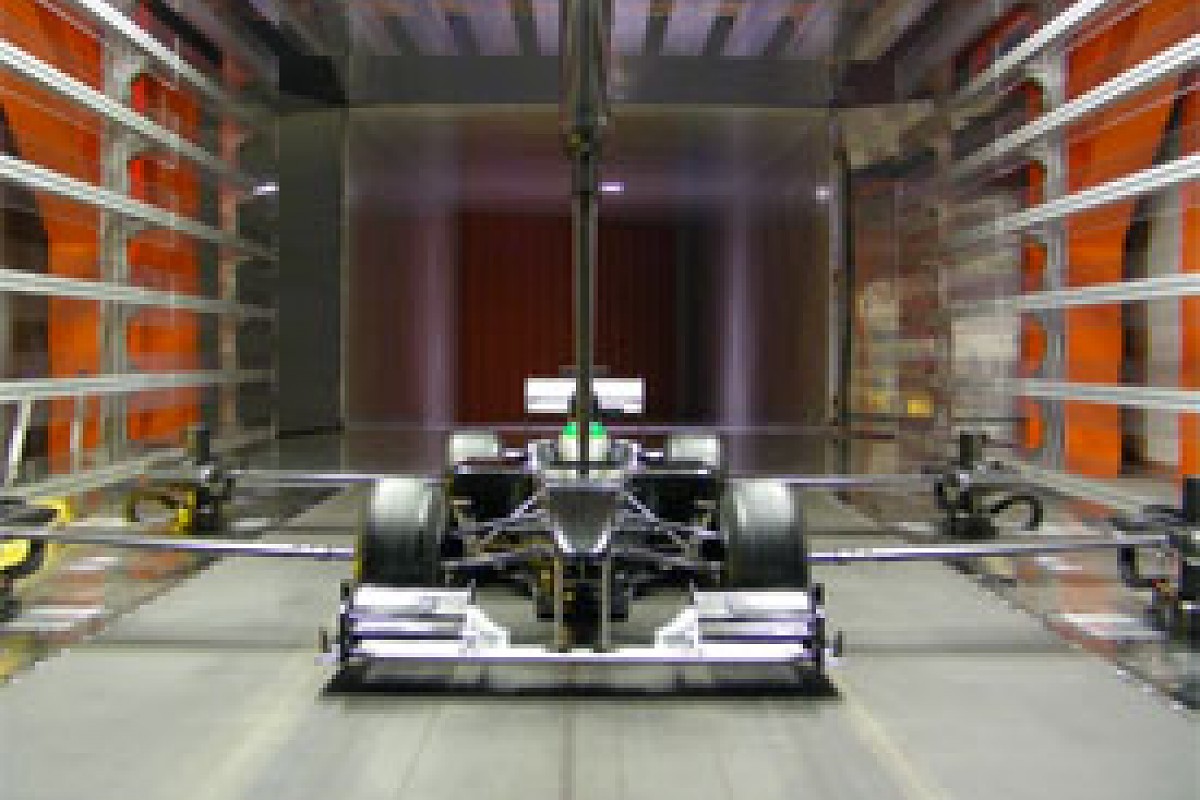 The Lotus wind tunnel model
I became quite interested instantly, because I realised they were very serious about the whole thing. Before I didn't know what was going on, and I didn't find enough information. Even at the very first place, if I had met Mike then, then I would probably have been interested straight away. I still had the other options available to me, and I felt that this was the best option for me.
I didn't want to leave and drag it on for too long. It just felt right, to ink this deal and go ahead with it. I see a lot of potential in this, and I made the decision at the end that I want to become a driver here, I want to become part of this project and see where it gets us.
That is how the process went. At the end, it was quite easy. We made quite quickly the deal eventually, and I said to them: 'let's just do a deal, let's move on and let's start building the team and start building the car.' That is how it went.
Q. Timo Glock went through a similar thought process to you - rejecting offers from established teams before opting for a new outfit. The fact that he did it, did that make you more encouraged?
HK: No. I didn't really follow anything of what he was doing. I just felt that this was the most stable option available to me. The other teams were still wondering who was going to own the team, who was going to sponsor the team and who was going to pay the bills. Funnily enough, for a new team I was convinced after I met Tony and Mike - first of all, they have the budget in place.
They have the people coming to the team eventually - they will be current people and not people who have been out of the paddock for one or two years. That is the reason why people were starting very, very late because they have to honour their deals with their previous teams - with three to six months notice period.
So for me, it felt that this was the most stable place. I saw the most potential at this team compared to other places, and in the long-term I feel that this was the best option for me. So very quickly I made myself mentally very clear about where I was going, and let's see where we get.
Q. And good for you that Jarno Trulli has made that choice as well?
HK: Yeah. I talked to Jarno as well, and he was convincing me even more - and made it even more clear that this was a serious effort and they had the budget in place and they can build a decent car - even in the beginning. Then on the long run, I saw more stable potential here than the other teams - so that is why I decided to come here.
Q. How hard do you think it will be over the first half of the season?
HK: I think it will be very tough. Sometimes when I talk to Tony he is very excited and it seems like we are going to win the first race. But, I am being more realistic and I don't want to build too big expectations.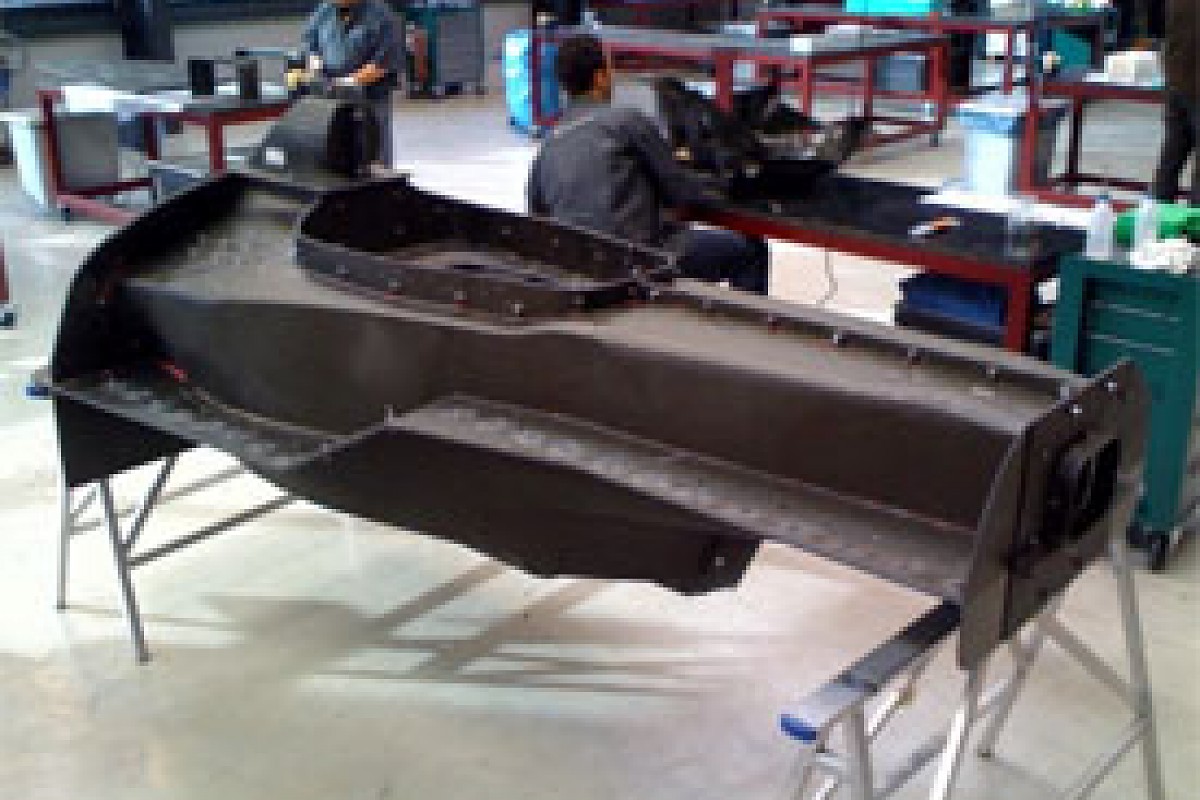 The first Lotus chassis
I am quite confident when the car comes out of the design office and we build the first car, fingers crossed, the gut feeling is that it will probably be running okay, and reasonably reliable. It might not be the quickest car, but it should be okay. It will be somewhere in the middle, and maybe ahead of hopefully the other new teams. It will be a solid car - and hopefully it will not stop every second lap of the first test. But then I think the big question mark is the first race.
How do we work as a race team? How do we run the sessions? How are the boys? All the boys and everybody are all current people, but still there is not very much time to practice pit-stops, and run the cars. We are having meetings and running through the whole weekend - that is why I am spending quite a lot of time here at the beginning, to make sure I can and everyone can do as much as possible in the short time we have. I think it will be tough, but I think we can do it.
If we can get well through the first three or four months, then we will see big improvements in terms of operation - and become more solid. In terms of developing the car through the season, I don't know how we will do that, but I think we can do something and it will be a solid effort.
Q. Mika Hakkinen has a history with Lotus, so the Finns know the team well. Does the team name mean anything to you personally?
HK: Yeah. When I started to look into Lotus, I looked a bit on the internet to find out the history because I didn't really know enough. I have a memory of Ayrton Senna driving in the wet at Monaco in the Lotus, I've saw it last year at the races when they showed some of the old grands prix. But apart from that I didn't really know very much, and I still don't know that much.
But when I was looking at it, I just became a bit more aware that there is a lot of history and there have been a lot of good drivers - Mario Andretti, Nigel Mansell, Nelson Piquet, Ayrton Senna, Nigel Mansell and Ronnie Peterson. These people have been here, and Colin Chapman started it all the way back - with the first race at Monaco in 1958. That is a long, long history.
And also if you look at some of the forums, some of the chat pages, there are a lot of Lotus fans - hardcore Lotus enthusiasts - so it is quite exciting. I think it will push the team, and the expectations come instantly higher, which is a little bit of a worry because we will not be able to do those expectations immediately. But, like I said, I feel it is quite exciting.
Q. It brings some responsibility, doesn't it? It's not just any new team, it is Lotus...
HK: Yes. Absolutely. There is the history and the past of a very successful team, so we need to try and keep that up. Of course it will be tough.
Q. You said at the beginning of this interview that you feel you have a point to prove in Formula 1. How do you look back on your time at McLaren?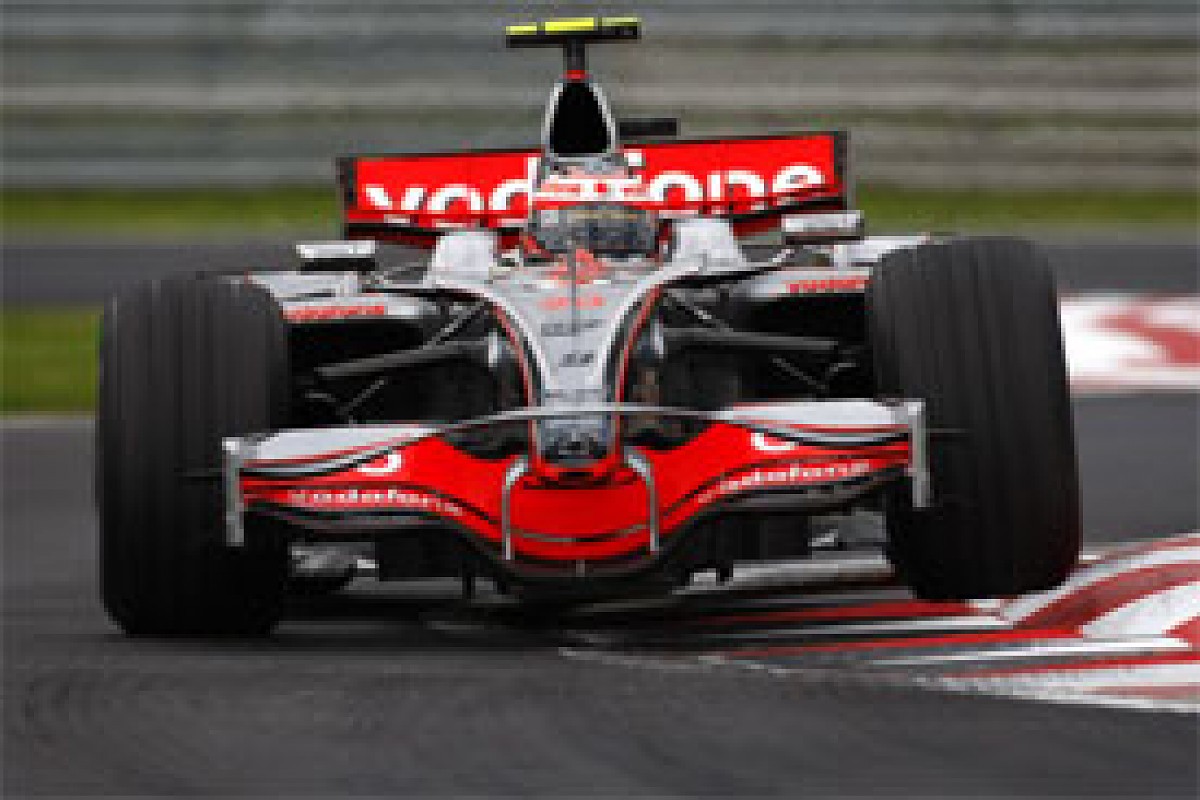 Heikki Kovalainen en route to victory in the 2008 Hungarian Grand Prix © LAT
HK: I think...obviously the target was much higher. I was hoping to win more races and the championship there, but it didn't happen.
I have analysed it a lot myself, and with my family and the people around me. Even with McLaren - we worked very hard and tried to do the maximum until the very end. But it just didn't work out.
Like I said, I think I know the reasons why it didn't work out and I need to make sure that it doesn't happen again here. I feel I am a better driver. McLaren is a good team and Lewis was able to get more out of the car and out of the team.
Of course it is a disappointing chapter in my career, and perhaps my reputation, the name that I had after GP2 and after Renault, is perhaps slower now, but that is just other people's view. In my view, I know I am a better driver now. I learned a lot there and I think I can bring a lot from McLaren to here in terms of how they go racing. They are very professional and a very good racing team, so it just didn't work out.
Q. The start to the 2008 season was great to you, as fuel-corrected you were very competitive against Lewis Hamilton. You could have won Turkey on pure pace if it wasn't for the puncture - were there things that happened after that that explained why it didn't keep looking so good?
HK: Yeah, this is true. Like I said, I think I know why it didn't do that. I think I know exactly the reasons, 95 percent of the reasons why.
Q. Were they inside your control?
HK: I don't want to get into it. I don't want to talk about it too much. I just want to say I know why it didn't work out, and in the future it will work out better wherever I am, and I think I know how to manage a situation like that a bit better. That is all I want to say. I have still a very good relationship with Martin [Whitmarsh] and Jonathan Neale, and with Ron [Dennis] and everyone at McLaren, but it just didn't work out. That is all.
Q. What is Lewis like as a team-mate - both on a personal front and a rival?
HK: I think he is quite a cool guy. I got on really well with him, and I think I pushed him as well - especially in qualifying. I am sure he raised his game a few times and obviously he did better races - and that is where he did better. He is a tough competitor, he works with the team very well and he gets everything out of the team all the time pretty much. And then on a personal level, he is a really nice person. I get on very well with him. We trained together quite a few times in training camps, and we still keep in contact.
He called me only yesterday to ask how things were. I have just good things to say about him. Obviously on the race track I would like to beat him in the future. It might not be easy this year, but hopefully at some point we get to the point where we have a competitive car and we can be fighting - and then it will be very interesting. I got on very well with him, and I think it worked out reasonably well for the team. It obviously didn't work out very well for me, but I know why.
Q. You have had access to the telemetry. Did you ever see stuff on there and think 'wow, how does he do that?'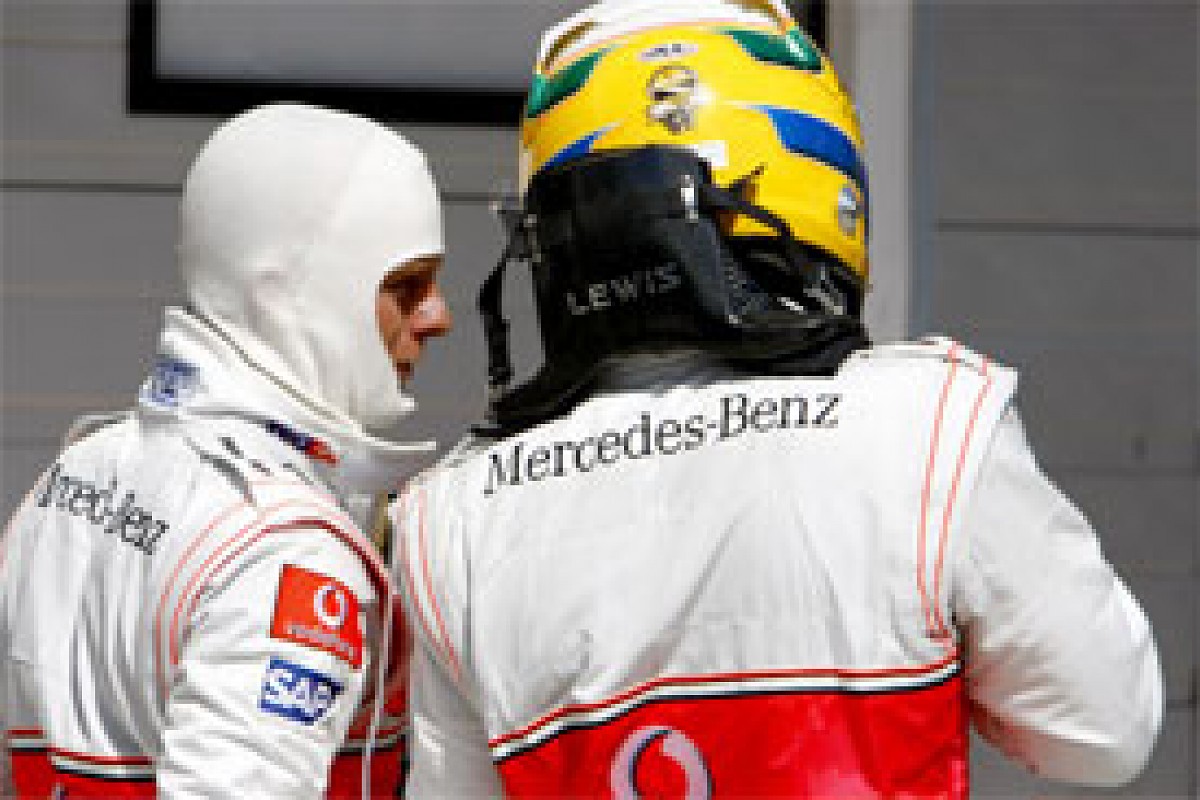 Lewis Hamilton and Heikki Kovalainen © LAT
HK: No. I never saw anything that I thought I couldn't do. The differences were always quite small, and especially last year, I think the differences were very, very small. But, in the races, Lewis looked stronger and the gap looked bigger than it actually was. And like I said, there are many reasons for that - and I know most of them.
But I never saw anything that I thought I could not match - and a few times I was able to go quicker than him, and I could feel myself when I was able to do a quick lap or did a bad lap. But I learned a lot from him. He is a very strong driver. He drives the car aggressive, he is instantly on the pace, he pushes the car to the limit and he has a few shunts as well - so he is really pushing the limit. That is a good thing to have, and something that I can perhaps work more at. But he gets more out of the car more often, but there are other reasons for that as well.
Q. You didn't come out of McLaren with the results you wanted, and you admit yourself your reputation is now not as good now as perhaps it was after the Race of Champions win, GP2 and Renault. But do you feel what you have learned has actually benefited you - by making you stronger?
HK: Yeah. I am sure I am in a better shape now. I am a better race driver. I can drive the car quicker than when I drove the Renault. I have learned many things - how to work with a team, how to set-up a car, how to go racing. I think I am better on every area.
But it is probably not a massive difference. It is not night and day. Already at Renault, I drove the car, especially at the end of the season, very well. But, I think I have learned things that I have brought to this team and I can use in the future. And I can bring better results.
Q. Knowing what happened over the past two years, would you have done the same thing after Renault?
HK: No. I would have done things differently!
Q. Would you have taken the McLaren chance?
HK: I think so. I think I would have taken it, but I would have done things differently there.
Q. In terms of behind-the-scenes?
HK: I don't want to get into that. I think...I don't want to get into that too much. But I would have done things differently for sure.
Q. How will Jenson Button find the McLaren environment?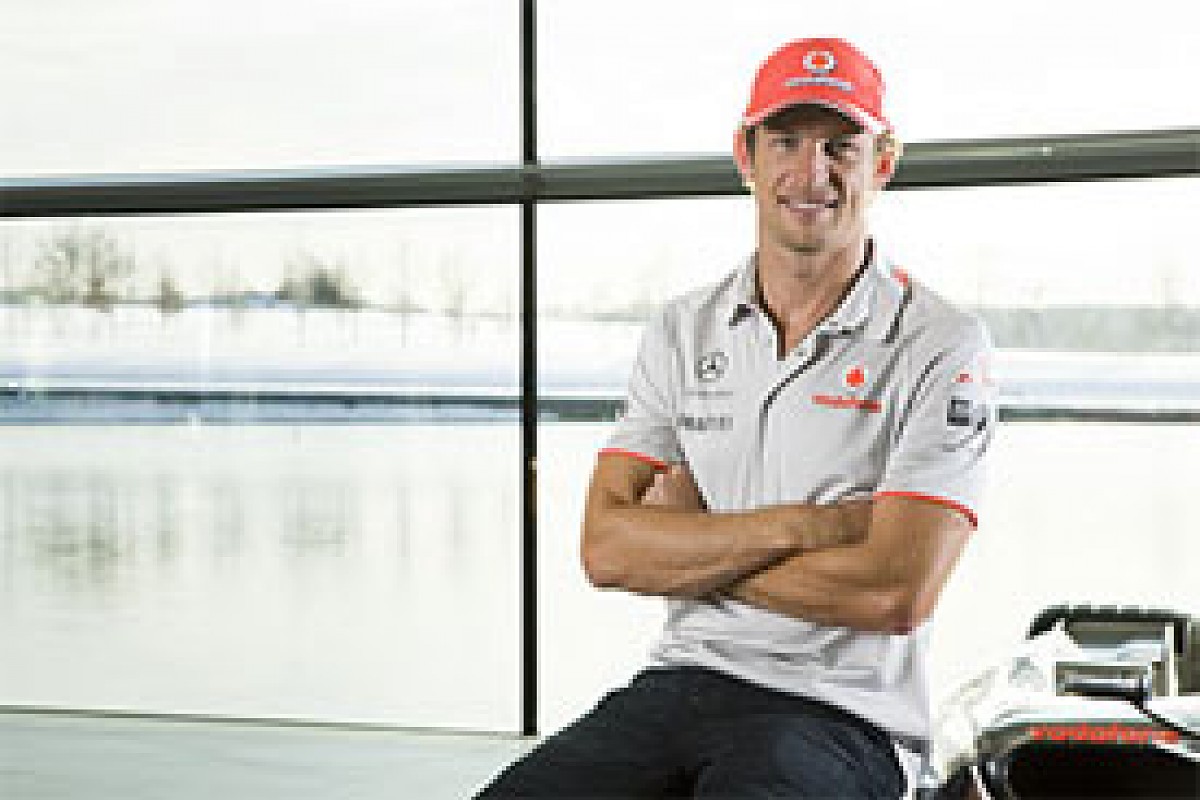 Jenson Button at the McLaren factory
HK: I think he will find it like a very good race team. I don't know how Brawn GP or Mercedes GP works, but I think McLaren is a fantastic racing team. They have the facilities, they are mind-blowing, and how they react to a problem is very impressive. They can do a lot in a short time and they have a lot of capacity to push forward. And it would be interesting to see.
I don't really know what to expect from Jenson, and how he will fit into the team. But I fit in the team quite okay. It didn't, in terms of results, work out how it should have done, but it is difficult to try and anticipate what Jenson will experience there. But there is a lot of support. He can get a lot of help from different people, and it will be interesting to see how he compares to Lewis and how it all works out.
Q. With the new regulations with no refuelling, which means strategies are not so crucial, could that help Jenson more in terms of ensuring equality with Lewis?
HK: I guess in theory, yes it will make it easier because, especially in qualifying, with two cars running low fuel there is no fuel difference that you have to always calculate. And in the races, I guess it is about the same story as it was this year - the difference is the fuel doesn't decide it, it depends on the tyres and how they work and whatever track position, or whatever. But it might be a little bit easier.
Q. Towards the end of last season, McLaren kept saying that your qualifying was fantastic but you racing needed to improve. Did you agree with that verdict?
HK: No. I think I know the reasons why the races were not good enough - nearly 100 per cent, perhaps 95 per cent. But as I've said before, I don't want to get into it that much.
Q. But it's not an area that you feel where something had to be addressed from your side?
HK: No. I've never felt that my race pace has been a particular problem. In the past it has been, in fact, one of the stronger areas. In fact, if anything, I would have thought the qualifying in GP2, and when I was testing in the first year with Renault, I felt that qualifying was something I could do better - that I could get more out of the new tyres. But the races were always where I was improving positions and going forwards, so I didn't think it was an area where it needed particular attention.
I think it might have looked like that from the outside, but I know what was going on and what were the reasons. That is all I need to know. But then again, like I said, there is a point to prove. People will have this kind of theory and I need to show that it is not a problem, and that is probably the main focus this year. To make sure that the race pace is like it should be, and it shows on the paper - rather than what is going on in the background. That is one of the key targets this year, and that is what I have to do.
Q. What it is going to be like for you have all of Finland's eyes focused on you in F1?
HK: I don't think it will be very different from what it was before. I think all I can is that in Finland we have always had the best F1 drivers and best rally drivers, and drivers who win championships...
Q. Apart from the Brits...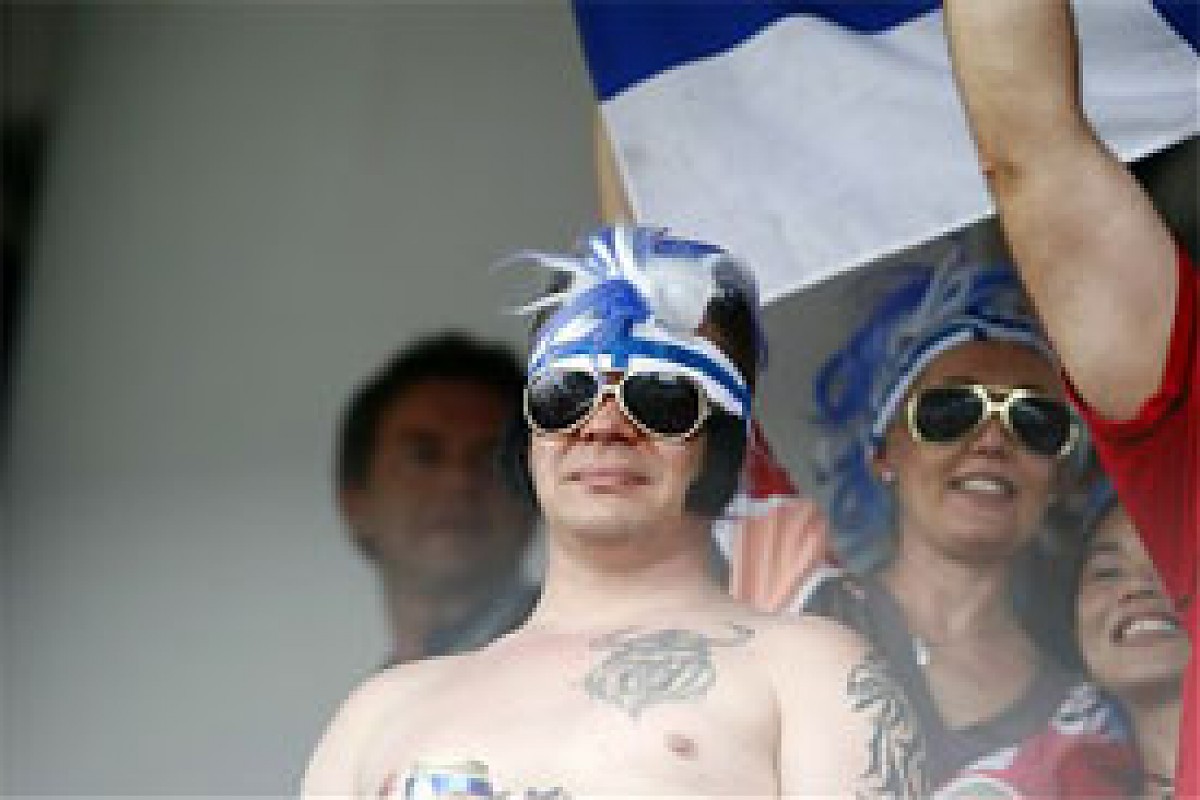 Finnish fans © LAT
HK: Yeah, but in Finland the expectations are always high in motorsport. We are a sports crazy people and we like to have the athletes doing well. With the winter sports and the skiers they are doing well, there is a ski-jumping guy who is doing well, and everybody is behind him. If they don't win and finish second or third, people wonder what is going on and ask why we didn't win. So hopefully the Finnish people understand the starting point I am at now.
I am not at McLaren now, you cannot expect victories immediately and there will be a lot of disappointed fans if they do not understand what is going on. But that is fair enough. It is actually good that we have people who require results, who require the guy to be at the front. But I don't think it will affect my position, even if I am the only Finn. I've always had a good support from Finland, a lot of good fans, a lot of friends - and all the media.
They have always been behind him. I've never had a problem with any media - of course sometimes there are sometimes not such good stories, but then there are sometimes not such good races. Hopefully, I can show to them, and we can show to them, that we are a serious race team making progress, and hopefully in the near future we can make some big steps to the front of the grid and it should work out really well.
Q. Did Kimi Raikkonen's move to the WRC surprise you?
HK: No it didn't. I always felt when I talked to him on the drivers' parade, or the drivers' briefing when the subject was moving somewhere we were not interested, we always talked about rallying. We talked about how was the rally test, how was it going. And he always talked about it a lot. I guess now, when he didn't get the deal within F1 that he wanted, he was going to go rallying.
To be honest, when Jenson signed for McLaren, I knew at that point that Kimi wasn't going to stay in Formula 1 because he wanted to go to McLaren. He was not interested in any other team because he couldn't see the potential in any other teams. He is at the point of his career where he does not want to come to Lotus to build a team from zero.
He wants to be in a winning car and trying to win another championship, so I knew he was going to go rallying. And I got some information from people early on that he had already done the deal with Red Bull and with Citroen. So it was not a surprise when they announced his deal and it will be interesting to see how he gets on.
Q. How do you think he will do?
HK: I think occasionally he can do very well. The asphalt rallies will be really interesting because on asphalt if he gets some good testing with the car and comfortable with the pace notes then I think he can actually be reasonably competitive. I think he could even be somewhere near the top.
Then on gravel and snow, I think it will be more difficult. I think the pace, especially at what the top four guys go, it is pretty hardcore. Quite fast! Like Sebastian Loeb, and Mikko Hirvonen, they know most of the stages from rallies, they know them from memory and the pace notes are there in case something has changed or is new. So that will be interesting, to do a recce twice and then go flat out. But I feel he is quite serious about it. He is not going to go there and just drive around and have fun. He wants to go flat out and I think he will be there long enough that he will eventually win rallies and maybe even the championship. He will put enough effort in and I think he is quite excited about it.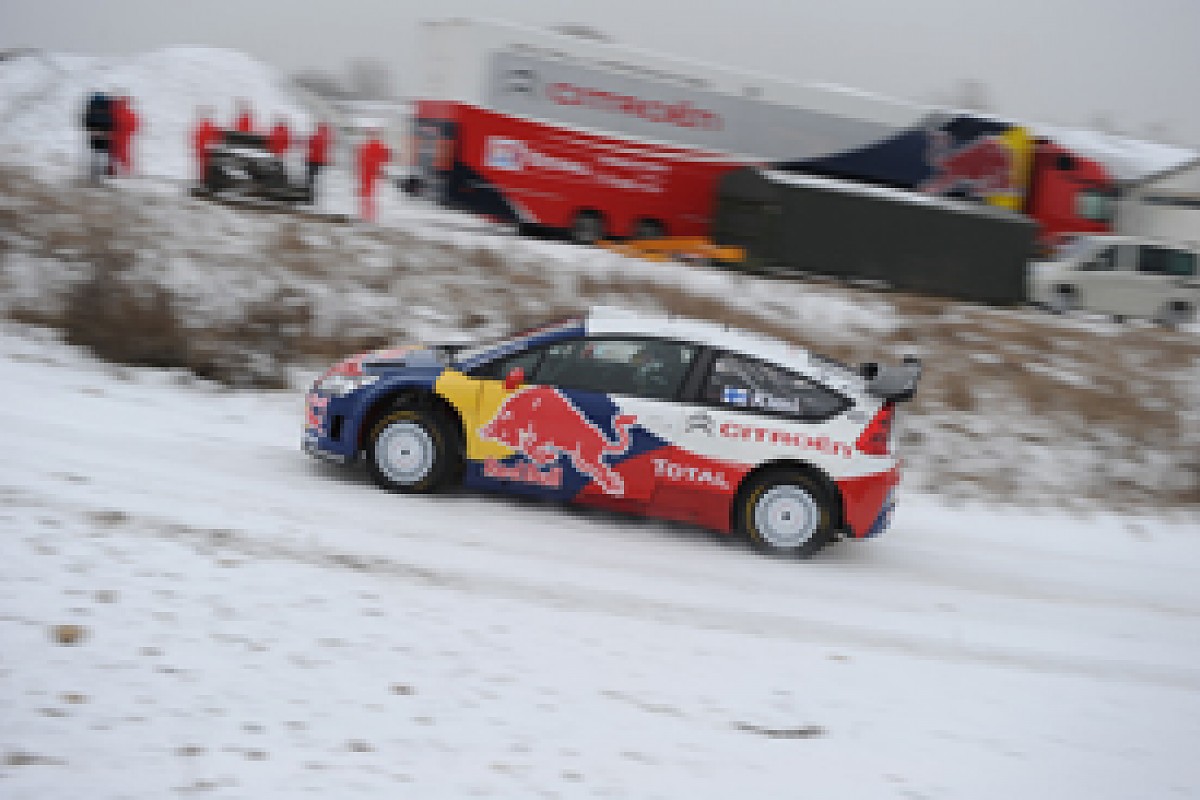 Kimi Raikkonen tests the Citroen
Q. Well, he says that if the season is good and he enjoys it, then there is no reason why he won't stay there forever? Could you see him not coming back to F1?
HK: Yeah, I can see it happening very easily. I find it difficult to see him coming back to F1 unless he can get a seat at McLaren, which I don't think will happen. So I think there is a good chance that he wants to stay there, especially if things start going reasonably well and he gets some good results and some good pace. It will be difficult to imagine him coming back to F1, but then I don't know what is going on in his head. Only time will tell.
Q. What about you and rallying? Has it ever tempted you?
HK: Yes, it has tempted me. And funnily enough when we went to Malaysia, to Kuala Lumpur, to announce the driver line-up and visited the Proton and Lotus car factories, I saw a Super 2000 rally car there, a Proton, and I instantly thought it was quite interesting. I sat in it, and it felt quite good. I think now it not the right time for me. There is so much work here. I need to be here. I need to make sure that this operation starts going in the direction that I want it to go, and really work close with Mike and with Tony and all the people here. So I think there is no time for rallying now.
And just to do one rally somewhere, I think it is not interesting. Because you are bound to just go off the road - you are not going to get a good result. I would rather do a good testing, and get good feeling with the car, and then get a good result. Otherwise, it will end upside down or in the snow bank - something like that. So it is probably better to wait a little bit.
I am only 28 years old now, and the rallying seemed to be going now in a different direction - the WRC cars are going away and the Super 2000 cars with the turbo engines are coming along. So if I could do a bit of testing now and then it would be good practice!
Q. So this is something for after F1?
HK: Yes, maybe after F1. Now I am quite serious about this project. I still feel I can get much better results in F1 and let's see how this project gets on. Hopefully in a few years I can do what I feel I want to do in F1 more.
Q. How well did you know Jarno before he became your team-mate?
HK: Quite well. We were not calling each other before, but always meeting at the race tracks and I was talking to him. And he likes karting. He likes other sports as well. He talks about cycling when there is cycling going around, and these kind of things. So reasonably well. I think he would be a good team-mate. He is obviously very quick, and I think he has a good experience from Toyota. I am sure we can work together, push the team forward and give them the direction that we need to go.
Q. He is also coming here having had a bit of a reputation battering over the past 12 months. The fact that both are keen to prove a point has to be good for the team?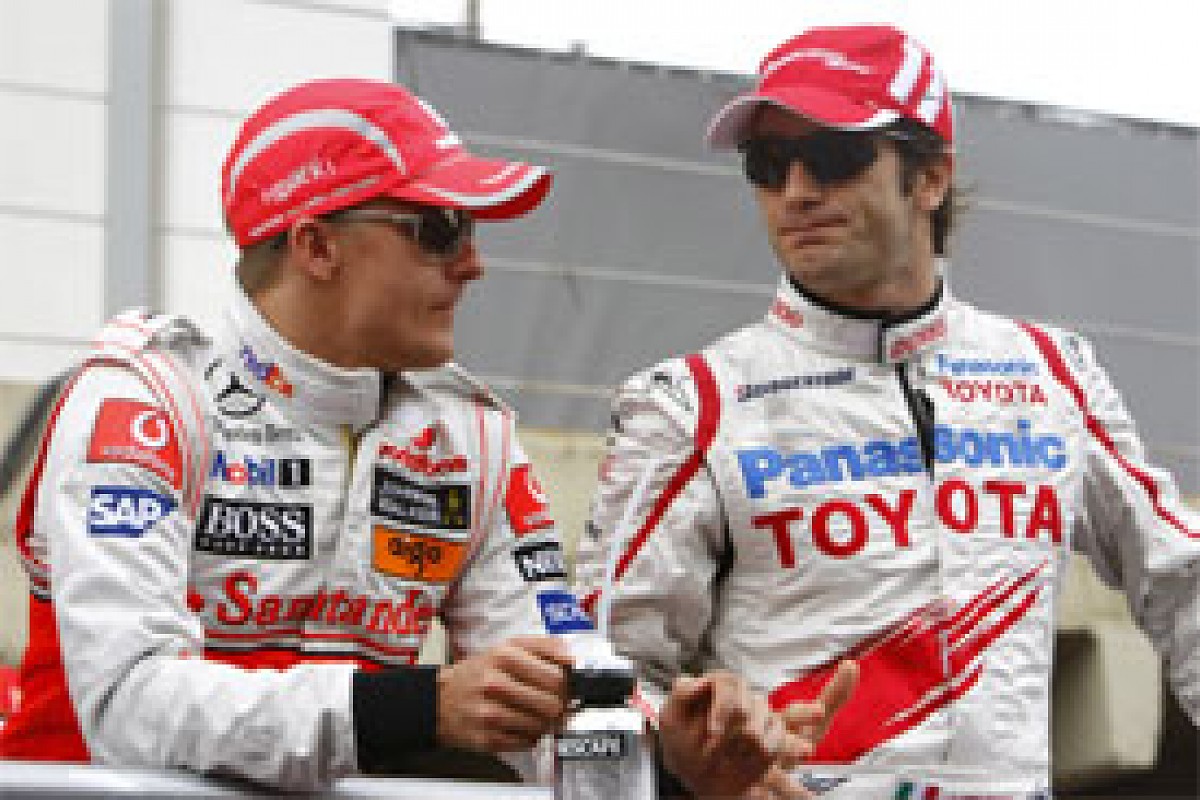 Heikki Kovalainen and Jarno Trulli © LAT
HK: Yes. I am sure I want to beat Jarno, there is no question about that. And if you ask Jarno, he will say he wants to beat me. That is for sure.
I think it is good to have that in the team. I think in the races last year, I didn't push Lewis enough. There wasn't enough pressure on him in races and that is not good enough for the race team. I know the reasons why I didn't push him, and here I think it will be a different story. I am sure we can push each other, and even then we can still get on with each other. It will be good for the team.
Q. Do you view him with the tag of the phenomenal qualifier but someone who isn't so strong in races?
HK: I think it is just a story that goes around. I think he did some great races, even last year, he had some very strong performances - and Suzuka is the last one that comes to mind. So it may be what it looks like - but I am not approaching it like that. It may be that he does really strong races weekend after weekend, so I need to focus on my own game, make sure I do races that I know that can be done, and then see where he is. And if he is ahead then find out why, and if he is behind then make sure it stays that way.
Q. What is more important - for you to beat him this season or for you both to move the team forward?
HK: I think we need to get the team going - that is the priority now. We are not going to be in the position where we are winning races yet. Of course your team-mate is always your target and everybody compares the team-mate - even if you are at the back of the grid. People want to see if you are ahead of behind, so my target is to beat him.
But, we need to get the operation going. Make sure we have a good race team, a team that can run the car, can fix problems quickly and have good pit stops, so we have good strategies, good software so we can look at the traffic and that sort of thing. There are so many things we need to build and get going that this will be the priority - and if I beat my team-mate it will just be a bonus.
Q. What are you expecting at the front of the field this year?
HK: My guess is that it is between Lewis and Alonso - but I don't know how Mercedes GP will get on with Michael [Schumacher] and Nico [Rosberg]. They might have a very good car and it will be interesting to see how the drivers get on, and Jenson - how he finds McLaren and how that starts to work out there and how the races are going. But my gut feeling is that it is between Lewis and Alonso.
But it doesn't matter to me too much, to be honest. If we have a quick enough car then hopefully we will be there! But I think that is a bit unrealistic, and certainly I am not expecting it. If we are able to build a car that is at the front of the grid just like that, then something is wrong. Other teams must have done something really bad, or it is not realistic. That is my feeling what is going to happen at the front.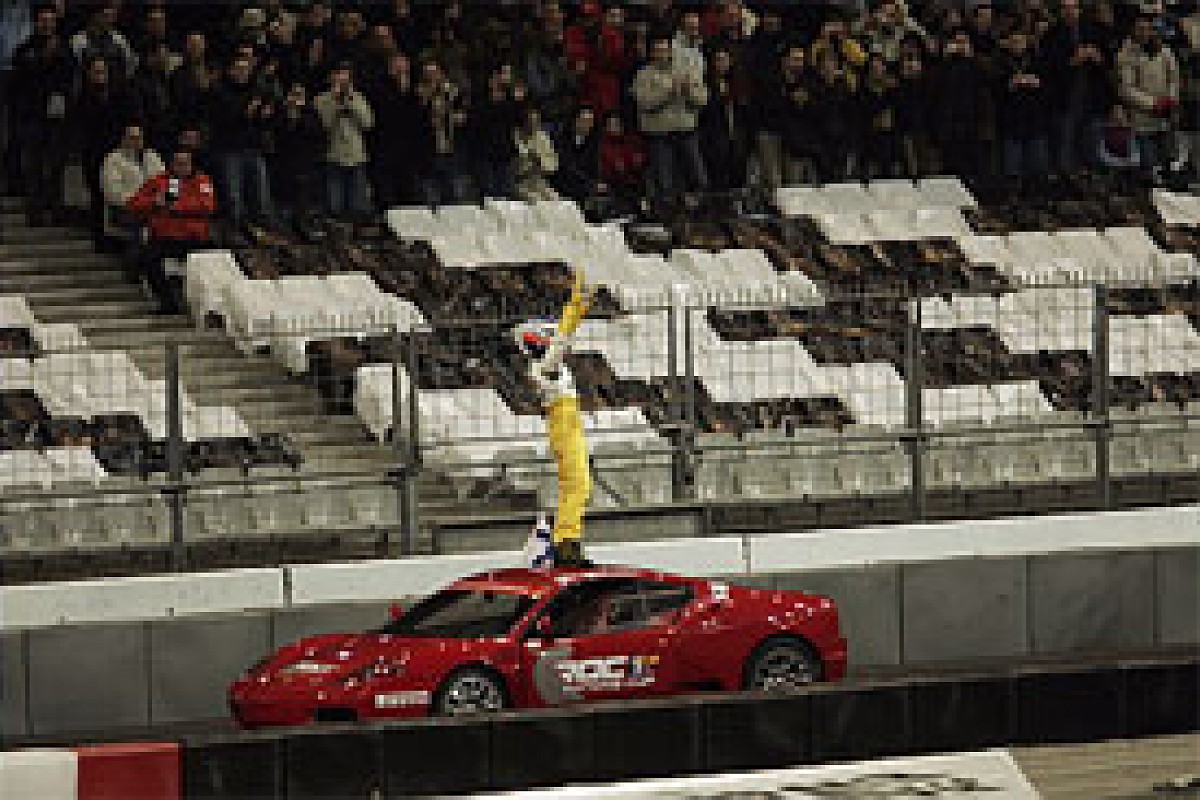 Heikki Kovalainen celebrates winning the 2004 Race of Champions © LAT
Q. You famously beat Michael Schumacher in that Race of Champions. Good to see him back?
HK: Yeah, I've beaten him twice actually. I beat him in the final when I won the event, and then one year we were in a semi-final and he stalled his Fiat Abarth Super 2000 on the start line - and I lapped him and managed to overtake him on the track. So I am claiming that it is 2-0 for me..
Q. So you will let him have 2-1 this year?
HK: Yeah! Exactly. He might have the upper hand this year, but it will be interesting to see how he gets on. It will be interesting for the sport he is coming back, hopefully we get more fans - all his fans - coming back, and get more crowd to the races. We need to get more people coming to the races. We need to get more full grandstands, like we had some races towards the end of the season. It will be interesting to see how his pace compares to the guys that aren't strong at the moment.
My feeling is that he will be strong. He wouldn't be coming back if he didn't feel he was up for it - but he is 41-years-old. The reactions are getting slower, and physically he must have some handicap. But his bar is very high. Like I said, if he didn't think he would be strong enough to fight for the championship, then I don't think he will have bothered coming back.
Q. What do you think the racing is going to be like this year with no refuelling - some suggest it could be worse?
HK: Yeah, I think it will be about the same. It won't make a big difference. As a driver, and personally, I would have liked to have had refuelling and the car getting lighter, but also I would have liked to have had empty tanks in qualifying - to have low-fuel qualifying. That would have been my preferred choice if I would have had a choice. I don't think it would make a difference in terms of racing. I think people will get a hang of the tyres, and managing the tyres, and probably most of the time people would be on the same compound.
The first two stints, and then maybe the weak one for the last one. Or the weak one at the first stint, and the good one of the last two stints. I just have a feeling it will be about the same as this year. But this year we had some good races. It probably wasn't any better than 2008, because in 2008 I thought we had some good races, there is good some few tracks that highlights the difficulty in overtaking - like Valencia street circuit. People always pick up the boring one, but we forget the boring ones too often. So I think it will be good racing all the way through the grid.
Q. And when the cars are so close, it would be impossible even in a go kart?
HK: Yes, that is true. It is always difficult in F1. It would never be like a go-kart or motorbikes. It would not happen in F1 as long as we have down force in the car. But I don't think it is too bad, even now.