So, Schuey has gone for it. Sporting comebacks in the 40s seldom come recommended but there's always the exception.
It was in the Shanghai press room back in October 2008 when Radio 5 Live's David Croft, a boxing man, told me that Bernard Hopkins had just whitewashed Kelly Pavlik - taken every round, that is. I thought Crofty was having a laugh but already the fight was on YouTube.
It wasn't supposed to be possible. Hopkins was 43, Pavlik was 26, a talented undefeated middleweight world champion and a big puncher. Conventional wisdom says that age catches up with you in the boxing ring faster than anywhere else. The legs slow down and there's nowhere to hide. If you're a big hitter, a George Foreman, you might get away with it, but if you need to go the distance, forget it.
Just before Hopkins' mother passed away five years previously she made her boy promise to hang up his gloves when he reached 40. You can't fight time, she'd said. But one of the world's best pound-for-pound fighters ignored her and went on, like so many do. His previous performances, truth told, had not been vintage.
But Hopkins was stunning. I intended watching the first two or three rounds but ended up watching the whole 12. I couldn't believe what I was seeing. Boxing aficionados explained that Hopkins was a bigger man and had been too smart, had turned Pavlik left all night, rendering him ineffective.
Maybe so, but what I saw was hugely impressive and made me wonder whether modern sports science and dietary awareness are redefining what's possible. And sad to say, inevitably these days you also wonder about PEDs (performance enhancing drugs), but Hopkins was clean.
Having witnessed that, I have no doubt at all that Michael Schumacher, a practically pre-pubescent 41 just a week ago, will win grands prix in 2010, with the proviso that the neck holds up. Schumacher was always in rude physical shape and hasn't spent the past 20 years being hit in the head either, although I've come across more than one driver who fancied it but for the certainty of a 'disrepute' red card.
I never quite understood where the notion came from that Michael had lost some of his pace in the last two or three seasons of his 16 years at the very pinnacle of his profession. Throughout, the story was the same - stunning one-lap pace and absolute relentlessness over a race distance, combined with total tactical awareness.
When Michael arrived in F1 with Jordan at Spa in 1991 and then alongside Nelson Piquet at Benetton, the speed was extraordinary but it took time to appreciate fully. Piquet needed him like a hole in the head. Into his 13th full F1 season, Nelson was rapidly approaching the end of his fourth decade and fighting to retain a drive which he would ultimately lose to Martin Brundle the following season.
He may have been getting long in the tooth but he had three world titles to his name. It was seriously irking Nelson that this young German kid could just pitch up at places he hadn't seen before and blow him off. And it was appearing to an as yet unappreciative outside world simply as if Piquet was past his sell-by.
With the benefit of hindsight, you can appreciate that Nelson probably dug very deep to compare with Michael the way he actually did. Andrea de Cesaris had been freaked out when Schumacher qualified the Jordan the best part of a second faster than him at Spa and Piquet soon came to know the problem.
At Monza, their first Benetton race together, Michael qualified in 1m22.471s with Nelson on 1m22.726s. Michael beat him in the race. On to Estoril and Michael out-qualified Nelson by a tenth but dropped behind him at the first tyre stop and Piquet managed to hang on. At Barcelona, Schumacher was almost a full second quicker and ran top three on the opening lap while Nelson struggled to make the top 10. Michael out-qualified and out-raced him again at Suzuka, by which time it was all looking a bit sad for Nelson.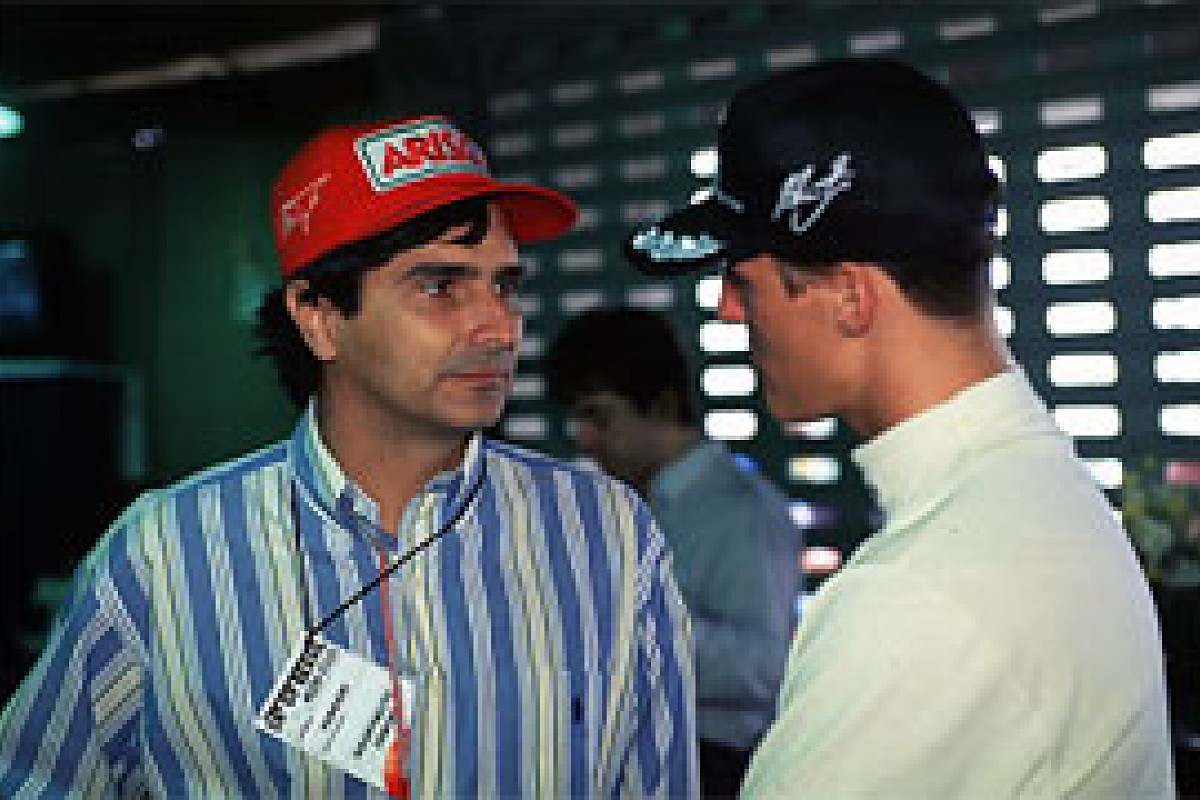 Nelson Piquet and Michael Schumacher © LAT
Pat Symonds tells a lovely story about the final 1991 race in Adelaide. Piquet had become so obsessed with out-qualifying Michael in what would turn out to be the last of his 204 starts that his whole attitude was 'sod the race, let's just work on qualifying'. Good strategy, as it turned out, with the main event abandoned after just 14 laps due to monsoon conditions, but obviously not something he knew at the time.
When the session finished, there it was: Piquet, fifth, 1m15.291s; Schumacher, sixth, 1m15.508s. Nelson was absolutely jubilant, like he'd just won a fourth championship. We were nearing the end of the era when it was still possible for a driver to miss a gear and, at the debrief, Michael said that's precisely what he'd done - badly - on his quickest run.
"Oh **** off!" Nelson said, figuring he was being wound up, whereupon Symonds produced the trace and there it was - a big blip.
"What did that cost him?" Piquet wanted to know.
"About three tenths," Pat said, then ducked!
Over the next four years or so at Benetton there were always claims that Michael's team-mates did not have equal equipment or opportunity, but the inescapable fact of life at any race team is that the effort goes where the pace is.
It was something Eddie Irvine made no bones about at Ferrari when he elected to go to there with Michael in 1996. Okay, Maranello was undoubtedly paying him far more handsomely than Eddie Jordan was ever going to, but Eddie's logic was arguably sound. Still just two years into his F1 career and looking to progress, his view was that if you had to beat Michael anyway, the best way of doing it was with a team that had the resource to provide two fully competitive cars, particularly if you could join at the same time, before he had his feet under the table.
Three months into the 1996 season I had to go to Mugello to interview Michael. I remember he pounded round until about 8pm and we finally got to do the piece as he drove back to the hotel in the evening. During the wait I had a chat with Irvine as he sat in one of the garages as mechanics worked on his car, somewhat less feverishly than the activity in the Schumacher garage it has to be said. Eddie was in fact still driving with a seat made for Jean Alesi.
It had been a difficult start to the season for Ferrari, with the much-awaited John Barnard F310 proving to be rather less than wonderful and Jean Todt left trying to solve the logistical problems of a chassis operation in a different country.
Irvine could be irreverent and he could be mischievous but he was never anything less than disarmingly honest about anything that mattered to him. He couldn't understand how, a couple of weeks earlier, Michael had got the Monaco pole with an F310. Schumacher had crashed on the first lap but that wasn't the point. Eddie, who'd started seventh some 1.2s adrift, just couldn't see where that pole time had come from. He had by now come to appreciate that Michael was in a class by himself and never said anything other than that until the day he retired.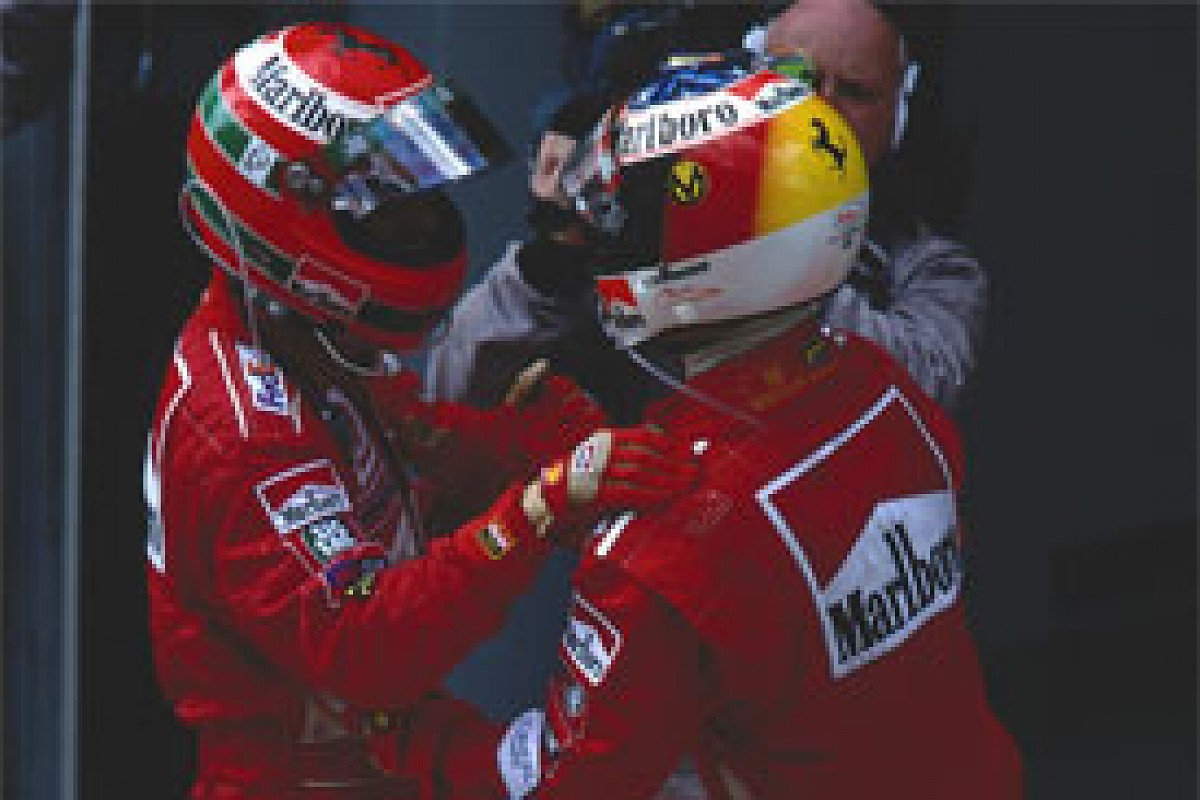 Eddie Irvine and Michael Schumacher © LAT
Irvine reckoned that if you could finish a Sunday afternoon within 20s of Schumacher in the same car, then you'd done a first class job. And if you look at how often that happened over Schumacher's career- at least up to the point where Michael eased up if not under pressure - you see the truth of it. The thinking was simple enough; on average, scratching superhuman feats like that Monaco pole, the guy is three tenths quicker than you on a hot lap. He's also a totally relentless race driver, so multiply that by a 60-lap race and factor in that he's usually running unhindered at the front, and there you have it.
Whoever it was in the other car, it was pretty much the same. With Massa in 2006, the year Michael stopped, the average margin between them was closer to 0.4s, so suggestions that Michael was slowing down are not backed up by fact.
Okay, so Felipe won in Turkey and Brazil but, at Istanbul, now regarded as something of a Massa speciality circuit, Michael had such a margin of superiority that he got a bit carried away and attempted to qualify with enough fuel to finish the season, paying the price in the race when Alonso got between them. He was quicker at Interlagos too, before his fuel pump failure in qualifying.
The exemplary drives became so commonplace that it's easy to forget their full extent. The other day I was asked to write a few words about Schumacher's best five races. Easy enough, you think, before remembering he won 91 times!
Second place with just fifth gear at Barcelona in 1994, Spa '95, the masterful wet weather drive of Spain '96, Hungary '98, the contemptuous toying with Hakkinen at Sepang '99 on his return after a broken leg. And what about Monaco '97, Argentina '98, Suzuka 2000, the four-stop '04 Magny-Cours or China and Brazil just before he stopped. As with Senna, you came to expect the unexpected.
What's really gone on in his head to prompt a return? Surprise that Felipe handled Kimi? Too big a void in his life? Or maybe even the notion that Lewis looks a bit more than useful and he better bump all those records he says don't matter to him a bit further north? A combination of all three? Who knows, but whatever it is I wouldn't like to bet against him topping the magic ton.
Obviously much will depend on the performance of the Mercedes. It may make a difference that Schumacher will not have bespoke Bridgestones and endless testing this time around, but I'm sure he'll like the look of the way last year's Brawn treated its tyres just at the time when you suddenly have to start a race with a full tank of fuel.
In the meantime, he's decided to limber up with a spot of GP2 testing in case anyone wonders how seriously he's taking all this. If any rival labouring under the notion that Michael might just be a spent force comes across a recording of Hopkins/Pavlik, don't watch it!