Good to see Jenson Button collect both the International Racing Driver of the Year award and the British Competition Driver of the Year gongs at Sunday night's AUTOSPORT Awards ceremony in London.
I think he well deserves both but with his and McLaren's seasons following the respective paths they did, you could see potential for the public appreciation and voting momentum moving towards Lewis.
Autosport Award Winners Jenson Button and Ron Dennis © LAT
As Jenson himself said, it was just a year and two days since he'd heard that Honda was pulling out of F1, so a great feeling to be standing up on the stage as champion.
He candidly admitted that it had been hard to go to the AUTOSPORT ceremony last year, still shell-shocked with his world turned upside down.
Button's year has been a fairytale but, he says, none the less tiring for that: "After the race in Brazil it was an emotional moment but I was just knackered, basically I'd run out of steam because it was so stressful. Then you go through weeks of just waking up and not realising what you've achieved. Other days you wake up and you do realise - I've achieved my goal, I'm world champion."
Interesting thing, that. Imagine achieving your lifetime's ambition by the time you're 30, and with a bank balance that means you don't ever need to jump out of bed and go to work when the alarm rings. It's a situation 99.9% of people would dream of - personal fulfilment and freedom to do precisely as you please.
But I can also remember Jody Scheckter talking about waking up when he'd won the world championship. There was no great emotion and it was all a bit anti-climactic for him. Kind of, okay, so is that it? What now?
Admittedly, Jody had a shed of a Ferrari the following year and Gilles Villeneuve still sat in the other one. He didn't hang around long. In those days too, of course, it was still all too easy to top yourself.
Scheckter is one of those driven types who will always make a success of what they do through energy levels and force of personality. He duly made far more money starting a firearms training business from scratch and selling it worldwide to police forces, than he ever did from racing. Today he's a well to do landowning organic farmer still trying to push back new boundaries.
Scheckter, like Button, won the world title when he was 29 but was gone from F1 by 30. Jenson, next year, will face similar challenges. Not, hopefully, a shed of a McLaren, but certainly in Hamilton a team-mate with Villeneuve levels of natural flair and ability. And one who, when the new season starts, will be just 25, already a world champion and the king of his environment for the past three years.
It's an amazing challenge for Jenson to take on and you even wonder if, 'knackered' and finally off the travel treadmill for a few months, he temporarily took leave of his senses. Or maybe he thinks Schuey is coming?
Lewis or a 40-year-old Michael? As choices go that's still pretty much devil or deep blue sea stuff. But I think I'd have risked a senior citizen Michael and hoped like hell it turned out to be Nick Heidfeld!
Whatever happens, Button is guaranteed a load of on-track grief from Hamilton. After the efforts of '09 nobody can begrudge Jenson his down time but he's going to have to refocus pretty darned quick. For the rest of us mere mortals, the off-season is also about getting around to those things that have had to go on the back-burner during the year. And in my own way, I've also had a bit of aggro over Hamilton.
The first time I realised something was up was when I handed over a cheque and my bank card at the Natwest.
"This isn't your account," said the girl behind the counter, looking frosty.
"Yes it is."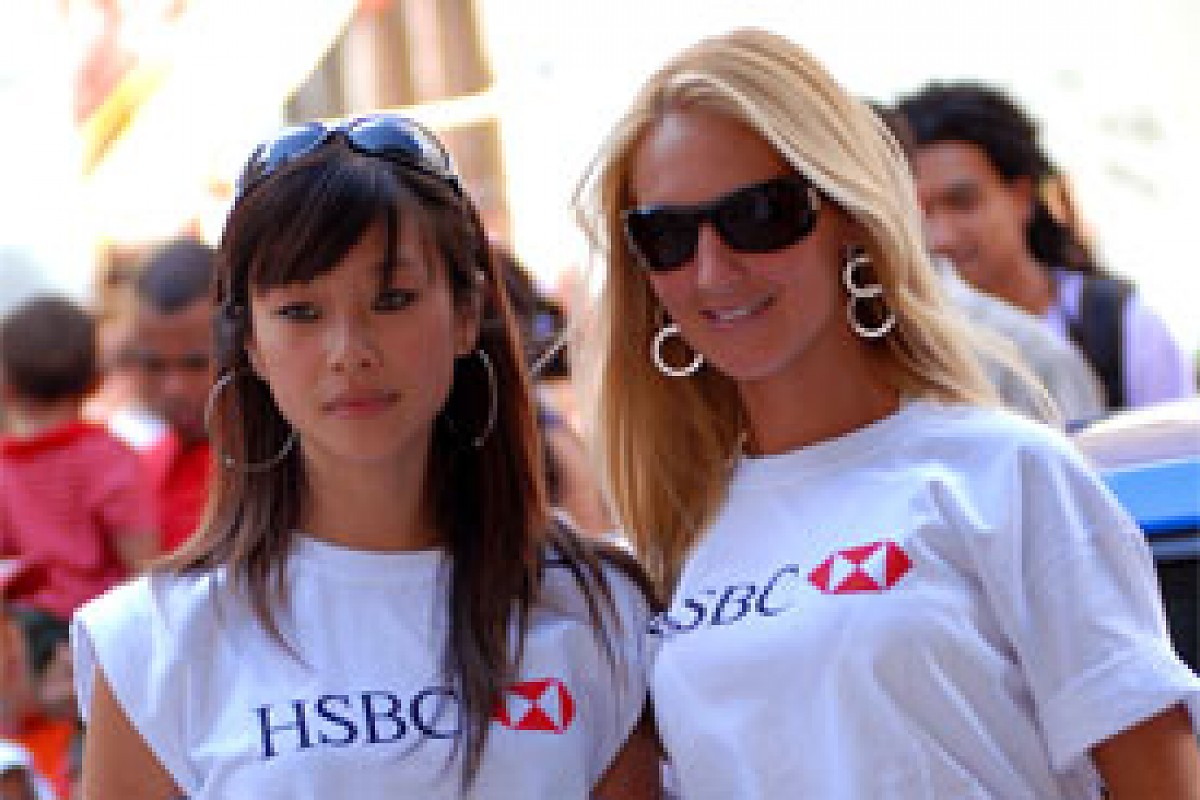 Girls who work for a bank © XPB
I thought it was the same old thing, the regular curse of anyone who is known by their middle name. My Mum apparently sent my Dad down to register me Antony Robert, but on the way he figured I might get skitted about being an 'ARD' case and so made it Robert Antony instead.
Thoughtful and all that, but I'm sure it would have paled alongside the hassle of being two foot six with buck teeth. I solved the teeth problem early doors by heading a football everyone else was trying to kick - not so much bravery as lack of height...
But the middle name conundrum stuck and means that when you get a cheque you have to explain that Tony is short for Antony, and I'm not actually called Robert and, yes, it is my account, etc, etc. All very tedious.
But this time she just looked uncomfortable as she carried out the transaction. I noted as I left that she was whispering conspiratorially to her colleague at the next window. Odd, I thought. Which was when I looked at my bank card and discovered that it said "Mrs R A Dodgins."
It's an account I've had for 30 years, it's never been joint, my wife has her own, yet for some reason they suddenly changed my sex when sending me a new debit card.
I don't know when it started, probably when Hayley turned up in Coronation Street, but I know that in these dreadfully PC times bank clerks receive instruction about not embarrassing transgendered persons. So now I understood. She was probably saying to her colleague, "Bloody awful conversion that, nothing like as good as Downton did to MGs..."
This was late summer, when travelling means you can't be without your bank card for a week. The PIN still worked, so I could get cash, and I resolved to get onto the bank post Abu Dhabi.
Coincidentally, I also needed to replace a missing drivers licence, but in the meantime had to fill out an insurance form with my 'driver number' on it. I could remember the first and last parts, and knew the number bit in the middle gave away your birth date, but couldn't remember which way round the digits went.
Trying to solve the riddle I did a Google search and followed a link. I found myself on a transsexuals website warning that presentation of a driving licence to a policeman would blow your cover because one of the digits reveals your sex. There was instruction on how to address this problem with the DVLC. At which point my wife peeped over my shoulder and enquired whether there was anything she should know...
She was also keen for me to replace her Mini, which I'd sold pre-season promising I'd find another when time permitted. A scan of British Car Auctions revealed a couple of likely candidates going through Glasgow and so, along with my brother-in-law who was also on the lookout for some wheels, I found myself on the 06.40 Preston to Glasgow Central.
One of the Minis was immaculate, I paid a sensible price, so far so good. But, proof that we're heading for a paperless society, if you try to pay cash BCA charges you 1.5% for the privilege! I kid you not. If you use a credit card, it's 2.5%. But, if you use a debit card, it's free. You know where this is going, don't you...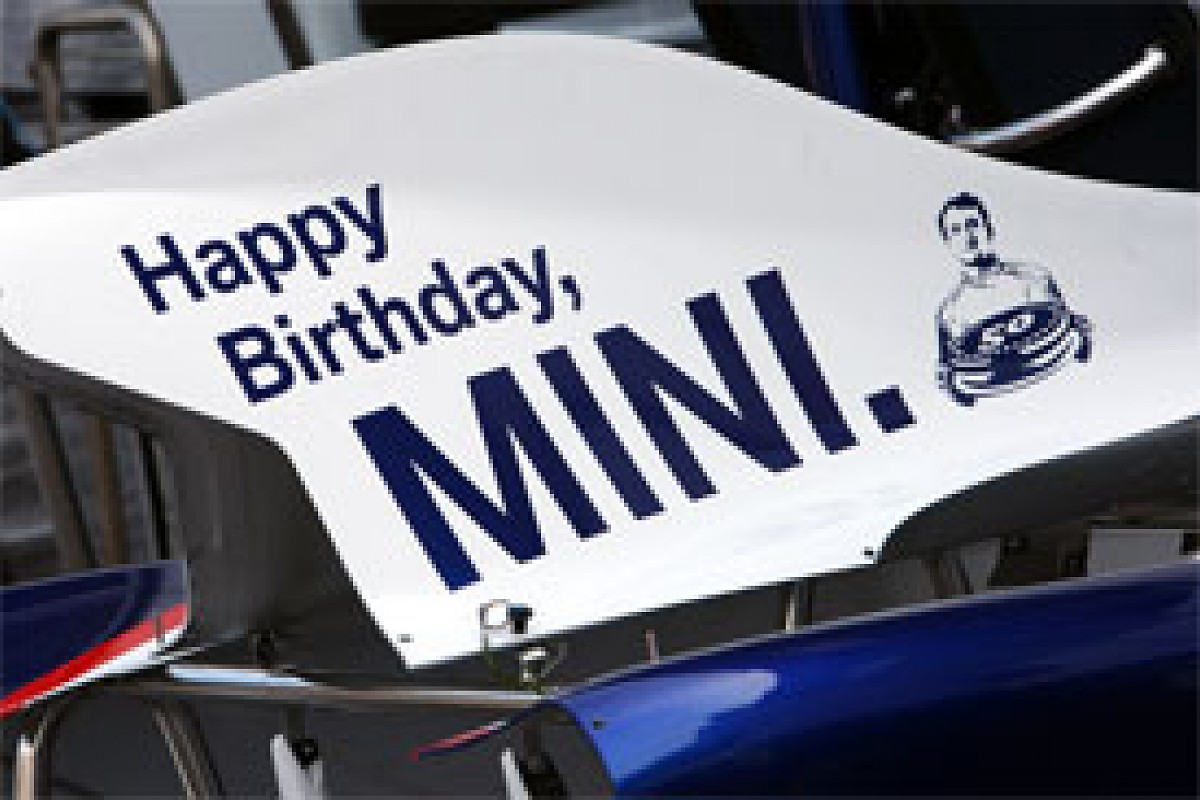 Mini birthday message on the BMW Sauber © XPB
At the payment windows most of the card readers were on the customer's side but not at mine. The girl asked for my card. And then, inevitably, informed me that it wasn't mine. I half-heartedly explained that, actually, it was, but didn't expect that would suffice. It didn't. Political correctness obviously hasn't reached Glasgow. With none of the delicacy of the bank clerk, more the feistiness of a woman who believes one of her gender is being wronged by some bastard bloke nicking a debit card to buy himself a car, she announces at the top of her voice, "But you're not a woman."
The bloke behind me, waiting to pay for his Subaru Forrester, thought that was very funny. "Och, well spotted love," he says, "Ever thought about police work?"
I could have used a credit card but was concerned that it might melt and cause an even bigger delay for Forrester man, so my brother-in-law suggested splitting the payment between my card and his. "Can't do that," says the girl, "can't have two different named cards for the one purchase." Whatever...
This was Wednesday, so it was a case of leave the Mini, head back to the north-west in brother-in-law's newly purchased Passat, sort out the money and go back Saturday.
And so, early Saturday morning, Preston to Glasgow Central, take two. I've been on the train about 10 minutes and am reading in disbelief about the draconian penalty some politician suggests wants imposed on parents who give false addresses to get little Johnny into a good school. Can't believe the timing. Fine for MPs to give dodgy addresses to claim expenses but, if someone shows a bit of initiative to get a decent education for their kid, lock 'em up and throw away the key! Unbelievable.
Marginally distracted, I only vaguely took in the announcement that the train would stop at X, Y, Z and Barrow-in-Furness. What? Excuse me, I say to the ticket bloke, but I got on a train to Glasgow...
"Ah," he says, "You should have been in the first four carriages."
"How the **** was I supposed to know."
"They should have announced it when the train arrived."
"Well they didn't."
"Yeah, sometimes happens..."
"So what do I do?"
"Get off in Lancaster and wait for the next one."
"When's that?"
"You might as well get yourself a cuppa, it'll be an hour and 20 minutes."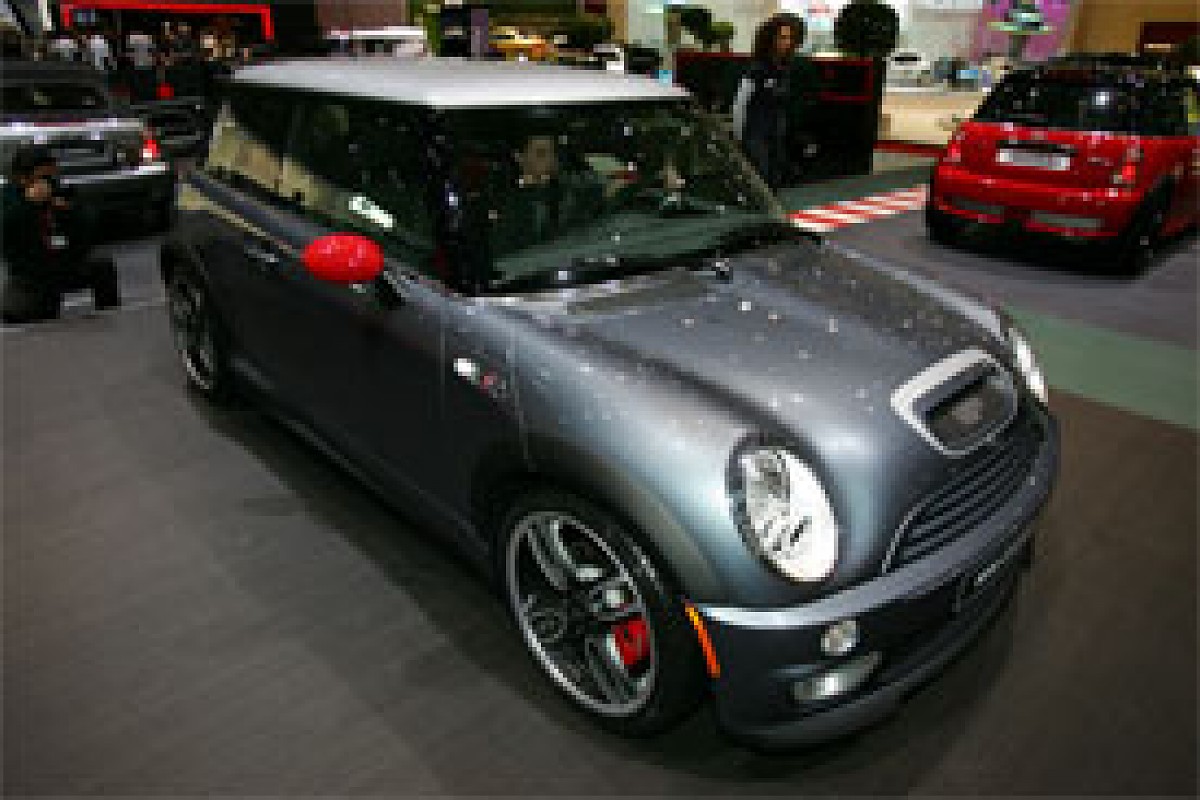 Mini Cooper S © XPB
On Saturday, BCA closes at noon. No problem, I'd thought. Train finally pulls into Glasgow Central at 11.15 and I run out to the taxi rank, which is 30 deep in football supporters. This is going to be tight...
Mission accomplished - just - I set off home and go precisely seven miles before the tyre pressure warning light comes on. Left rear puncture...
Has it got run-flats? Has it hell. But, good fortune, a service station materialises by magic and I limp to the air line. It's out of order. Garage attendant tells me there's another on the other side of the forecourt and so I hobble around to that, where I find a young guy meticulously pressurising the tyres on his sparking Merc SLK.
"Nice car," I say, "Now, can you tell me the nearest place I'll get a new tyre?"
He does, in a thick Scots brogue. In Hamilton, I thought he said, just down the road.
"Hamilton," I confirm, "As in Lewis?"
"Och, I'm his biggest fan! You follow F1?" he says, eyes lighting up. Half an hour later he suggests we park up and have a coffee...
"Sorry, really haven't the time," I say truthfully and head for National Tyres in Hamilton, which is not far from where Academicals play football. I'm already well behind schedule and we've got friends coming round later.
Sure enough, the mobile soon rings.
"Where are you?" she says.
"Just outside Glasgow, I'm afraid, right where Hamilton Academicals play footy. I got a puncture and luckily met this Lewis Hamilton fan, who pointed me in the direction of a quick fix..."
But the phone reception wasn't good and she thought I'd met a Hamilton Academicals fan and gone to the game! As if... I mean, Newcastle United is bad enough... But you wouldn't have believed the abuse! Sorry to say I fired back, something Jenson's going to have to do when it comes to Hamilton in 2010. And early doors, too...