Last week we said that with swingeing '09 rule changes it was not altogether surprising that a well-funded design team marshalled by Ross Brawn and a team with Adrian Newey as its guiding light produced championship-challenging cars. But what nobody foresaw was a Force India starting Spa from pole position on merit.
It was a great team effort from a nucleus of people that goes back to Jordan days - pure racers who proved that you don't need blank cheques to get the job done.
Simon Roberts and James Key © XPB
It was not until November 10, 2008 that the team finalised its deal with McLaren, which included a KERS and a gearbox. The team had of course been through plenty of changes in engine supplier, so that was nothing new, but this was a much bigger task.
Technical director James Key says: "The collaboration with McLaren and Simon Roberts worked out well and we were supplied with an excellent engine. The Mercedes plant is only just up the road from us, at Brixworth, so that was another plus. The provision of the McLaren gearbox and hydraulics took away a big reliability concern and allowed us to concentrate on development. There are always pros and cons when everything is not under your direct control but the positives certainly outweighed the negatives."
A lot of the car had to be redesigned after the McLaren deal. Force India needed to get the back of the tub and the fuel and cooling systems right, as well as making space for a KERS they didn't ultimately run.
"The aero department worked very hard on all the updates, the design and production departments responded well and the way the whole team pulled together was vital," Key says.
The fact that the team didn't emerge until later in the season was largely down to the workload it faced. The packaging exercise torpedoed some of the aero work and, Key estimates, cost a month's wind tunnel time.
The team's start was better than previous years but they did not get out of Q1 until Monaco. The updates made the difference and the team did a sterling job to have a twin diffuser on both cars for Bahrain.
The big difference though, was the Valencia update, by which time they knew they wouldn't run KERS and were able to utilise for aero surfaces the volume originally taken up with the installation.
"We were quite excited because we expected it to be worth around 0.7s and that's what translated on the track," Key explained. "We didn't see the full potential in Valencia but at subsequent races we certainly did.
"One of the design aims was always to keep tabs on the efficiency of the car because before this year we'd not been especially competitive on lift/drag ratio numbers, but I wouldn't say it was the driving force behind everything we did."
The car was excellent in high-speed corners and, with its strong Mercedes engine, also very good in a straight line. Knowing that, the team went to Spa with high expectations but they certainly didn't expect Fisichella to start from pole.
Says Key: "We were thinking we could get both cars through to Q3 but we certainly weren't anticipating what happened! It was real too, on a dry track and down to the car working well and a great effort from the driver, so really very satisfying.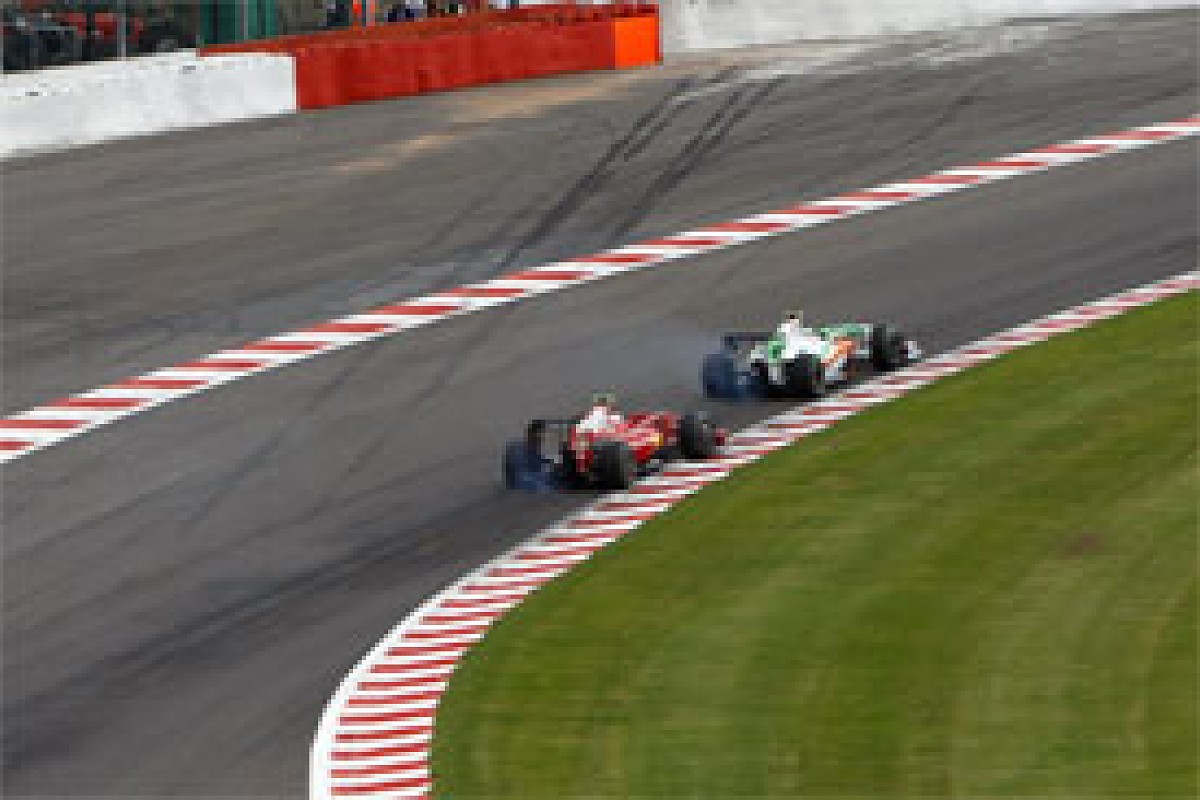 Kimi Raikkonen closes on Giancarlo Fisichella en Eau Rouge following the restart © LAT
"I'm sure that without the Safety Car and Giancarlo's vulnerability to Kimi's KERS-assisted Ferrari at the restart, about which he could do nothing, we would have won the race. Fisi did a fantastic job that weekend. He believed that the car could do it right from the start and he just went out and made it happen.
"Both Adrian and Giancarlo responded to having a more competitive car. When the car was capable of getting to Q2 and Q3 they did the job more often than not and I think the whole psychology changed. Before, it was difficult to look beyond going out in Q1 and a mentality builds up around that. The only thing I'd say, and it's not the drivers' fault necessarily, but in general we could have had more points on the board.
"There were lots of opportunities which, for one reason or another, weren't capitalised on. Whether it was going off or somebody hitting us, we missed out. But certainly at Monza and Spa the drivers made the most of the car."
It was perhaps revealing that Fisichella struggled in the Ferrari immediately after his super-strong Force India drive at Spa. It gave Tonio Liuzzi the opportunity to come in fresh at Monza and also do a strong job. Had he finished, he was on course for fifth place.
The team's performance was not merely a low downforce flash in the pan, as Sutil proved when he lined up third on the grid at Interlagos before indulging in the spot of handbags with Jarno Trulli. Force India would also have scored points at Suzuka and Nurburgring had they finished where they were racing.
The McLaren-Mercedes deal helped but it was very far from the whole story, a fact McLaren itself proved conclusively by its poor showing in the first half of the season. The reliability pluses of a strong engine/box are valuable, of course, but that's not what modern day F1 is about. It's about aero performance, and that was down to the little Silverstone-based team. Spa was great but it deserved even better - a win would have been just reward for a tremendous effort.