So what did we learn about Sebastian Vettel this year?
Two things. First, the talent that was hinted at with Toro Rosso during 2008 is genuine. But second, that ability is still unrefined.
The German with the perma-grin might have missed a few opportunities this year; opportunities that potentially could have made the difference between winning the world championship and finishing runner-up. Yet he also proved that while he is already operating at a high level, there's potentially still more to come.
In the final wash-up, Vettel fell just 11 points short of taking the world championship from Jenson Button. It's easy to point to particular races where points were given away cheaply, but that fails to take into account the fact that Vettel benefited a little from Button enduring a mid-season slump of his own.
Four poles and four wins underlines his outright pace, but the key to Vettel's success this year was his consistency. Things started poorly with a pair of retirements, the first coming as the result of a silly crash with Robert Kubica in Australia, the second when the anti-stall didn't kick in quickly enough to save him from stalling following a spin in Malaysia.
There were three other DNFs still to come - Monaco (crash), Hungary (suspension failure, caused by first-lap contact with Kimi Raikkonen) and Valencia (engine failure). But those aside, he never finished lower than fourth over the rest of the season with the exception of Monza, where the Red Bulls struggled all weekend. And even there he managed to salvage a point for eighth.
"It's no secret in the end that the guy who wins the championship is the guy who scores the most points," Vettel said in Abu Dhabi.
"You don't score points for first only, but also for second and third and down to eighth. Sometimes you may find yourself in a position where you are not strong enough to win but it still matters to bring the car home third fourth, fifth and score points."
Nothing particularly revelatory there, but it was precisely this consistency that made the difference between Vettel and team-mate Mark Webber. At the point where the Australian scored his maiden win at the Nurburgring he arguably had the upper hand in the Red Bull garage. But after finishing third next time out in Hungary, Webber embarked upon a horror streak of five consecutive non-scoring races. He capped his season off with a win in Brazil and a second place in Abu Dhabi, but by then it was far too late.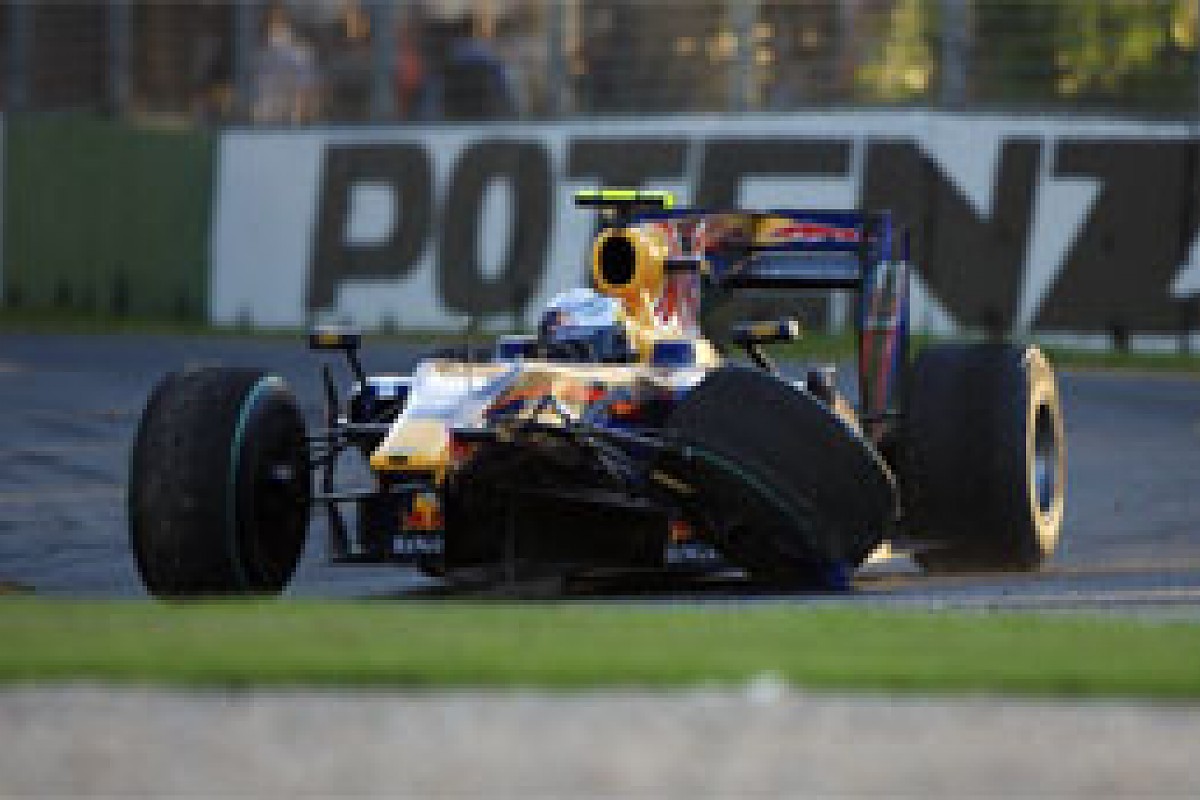 Sebastian Vettel after clashing with Robert Kubica during the closing laps of the Australian Grand Prix © LAT
Yet Vettel's relentless point-scoring also over-sells some of the races where he had to settle for second or third on weekends that he could have won, and over the balance of the season these combine to be just as damaging as a hare-brained lunge on a BMW Sauber at Albert Park.
A lot of this could be traced back to strategic slip-ups, perhaps one of the most vulnerable chinks in Red Bull's armour this year. There were several races throughout the season where he potentially had a car good enough for pole but was carrying a fraction too much fuel in qualifying, which can easily change the course of a weekend.
On the flipside, there were also races such as Monaco where the team went the other way and took the ultra-aggressive route, only for Vettel to get caught in traffic and end up qualifying fourth.
On other occasions, such as Bahrain and Barcelona, he qualified well only to be jumped at the start, often by KERS cars, which inevitably left his strategy compromised. In Turkey, the team had left him on a three-stopper when he got caught in traffic rather than switching him to two stops, which probably cost him second place.
Dwindling engine stocks due to a string of exploding Renaults created additional concerns over the final races, but more damaging was the head-start that Brawn got at the start of the season as Red Bull scrambled to get its twin diffuser online. On that front though, both Vettel and Webber were blameless.
Vettel might be disappointed to have finished second in the championship despite having the best car for more than half the season, but there was no mistaking the underlying potential. He's smart enough to recognise the lessons that were there to be learned from during 2009 - the interesting thing in the future will be watching how he puts them to use.