The 2009 Formula 1 season's definitive example of how money doesn't always translate into success will forever be the fact that Toyota never managed to contrive a win. But the point could just as easily be made with the fact that Force India very nearly did.
McLaren's mid-season turnaround might have stolen the limelight, but Force India's was perhaps even more dramatic. McLaren is a large, well resourced - in every sense of the word - team with an exceptional recent track record. To recover from the mire it found itself in at the start of the season was an achievement, but it was one well within the team's capabilities.
Force India, on the other hand, did what has long seemed impossible and broke the glass ceiling that had existed between the front and the back of the grid. On the surface, the team might have seemed an unlikely pioneer, with its history of instability (constant ownership and management changes), modest resources and a driver line-up consisting of a youngster better known for his budget than pace, and a veteran with the reputation of a reasonably solid, usually reliable journeyman.
But the reality was very different. The management structure settled down; the team's supply of Mercedes engines being accompanied by the arrival of McLaren's Simon Roberts on secondment for a year as CEO.
The drivers stepped up - Adrian Sutil's performances improved in line with his confidence, while there's no argument that Force India got considerably more out of Giancarlo Fisichella than Ferrari managed. And in a season defined by the biggest change in technical regulations for years, the leaner scale upon which the team operated actually worked to its advantage.
"These guys in the team do a good job with a small budget and a small number of people," Roberts told AUTOSPORT.
"There are some advantages to that. You're much more agile and you can move around as things develop without bureaucracy. Some of the big teams have more money and people, but they probably have more things to think about."
It was this agility - combined with a neat car that shone on low-downforce circuits and a superbly effective development programme throughout the season - that made the team's leap forward possible.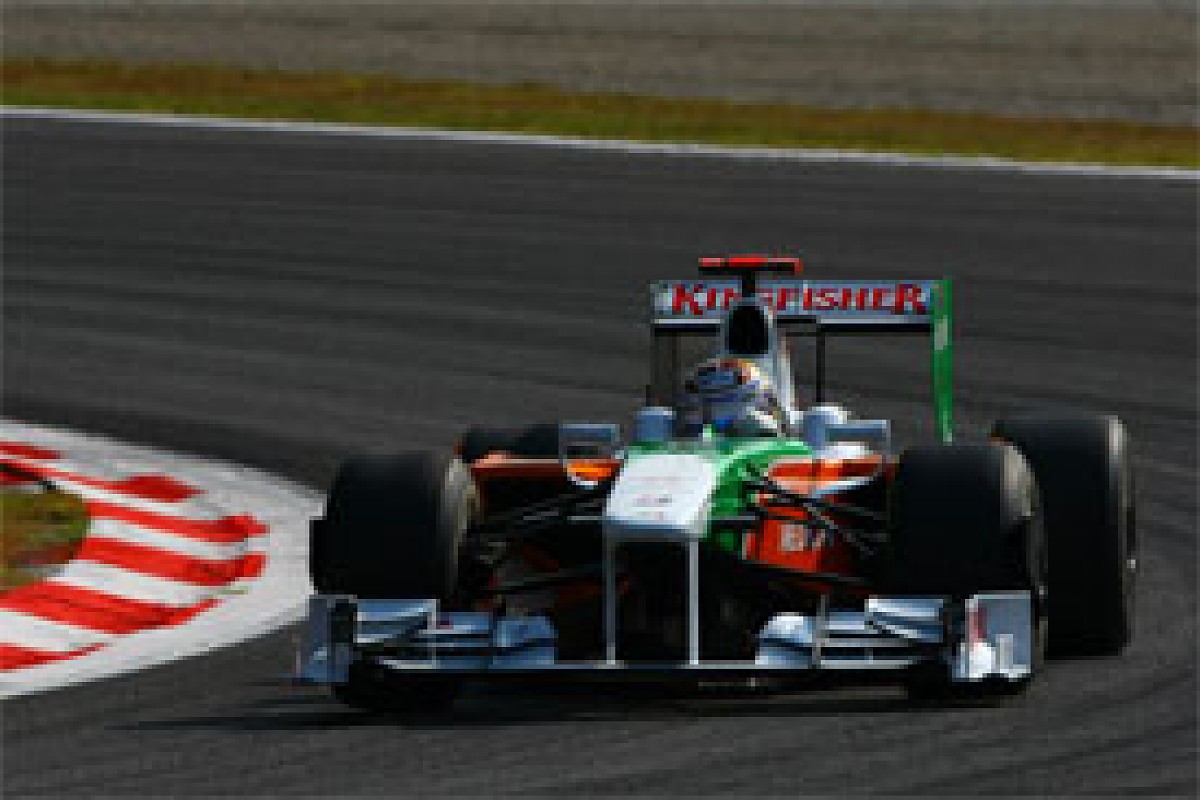 Adrian Sutil exits Parabolica at Monza © LAT
What makes Force India's achievement all the more admirable is the fact that the VJM02 had to be drastically redesigned and built in just 108 days due to the switch from Ferrari to Mercedes power, and the consequent arrival of the McLaren gearbox.
Despite this, it was one of the first teams to introduce a twin-diffuser during the season - its version was on the car in Bahrain - and made steady progress over the opening races. There were flashes of pace early on, such as Sutil and Fisichella both getting into Q2 in Monaco, although that was offset by teams like Toyota and BMW performing so diabolically.
A few weeks later Sutil qualified seventh in the wet at the Nurburgring, but again, it was easy to attribute that to the German's skill in the rain rather than a step forward with the car.
It was not until Valencia that the car's true pace was revealed, with Sutil running mid-pack entirely on merit, and the message was famously driven home at Spa. Having already stunned the paddock by taking pole position, Fisichella was only denied a win when Kimi Raikkonen was able to lean on Ferrari's KERS system to pass him for the lead on a restart.
Force India remained competitive over the remaining races, with Sutil qualifying particularly strongly at Monza and Interlagos, but the fact that the team only scored points twice - finishing the season with a haul of just 13 - was actually an underachievement considering how competitive its car became over the second half of the year.
The loss of Fisichella didn't help - any driver, Italian or otherwise, would have leapt at the opportunity offered by Ferrari, and it was one of the season's great mysteries that he never looked remotely as threatening in an F60 as he did in a Force India.
Tonio Liuzzi, who replaced him, started strongly enough at Monza but faded from there on, and never really troubled Sutil for intra-team supremacy.
And then there was Sutil's knack for finding accidents to get involved with. His clash with Jarno Trulli in Brazil was the most famous due to the Italian's furious remonstrations, and also potentially the most costly given that Sutil had started from third on the grid. Yet ironically, that one wasn't actually Sutil's fault. But more could have been done to avoid some of the other incidents, such as the crash with Nick Heidfeld in Singapore.
For years, the pre-season rhetoric from small teams has always been about aiming to close the gap to the leaders and regularly threaten for points by the end of the season. But rarely does it actually happen. Not only did Force India manage that in 2009, but it nearly took things several steps further by winning a race. Time will tell whether it was a historical blip or a genuine transformation in the team's status, but there's no denying that in 2009, Force India did itself proud.
To continue reading this feature, subscribe to Autosport Plus today.
Expert opinion. Technical insight. Unbeatable analysis. Subscribe today for unlimited access to the world's best motorsport journalism.
Get unlimited access now
No more monthly limits. Get complete access to all our news and Autosport Plus features.
Subscribe to Autosport Plus
Completely ad-free environment.
Access Autosport Plus - the best motorsport analysis, insight and opinion.
No monthly news limit.
Explore Forix, the world's most comprehensive motorsport stats database.