Lewis Hamilton has experienced the peaks and troughs of Formula 1 faster than any driver in history.
Up until the end of 2008 it had all been an unbelievable fairytale. Lewis's talent and his skin colour had commentators talking about 'the Tiger Woods of F1' before he had even sat in a grand prix car.
There was a level of expectation that was unreasonable given that every driver is dependent on his machinery. Then came the McLaren opportunity - in at the deep end against the reigning double world champion.
Whatever the level of the 2007 McLaren MP4-22, Lewis would have impressed. Seat time is important and back then you could test at will. At whatever level he matched Fernando Alonso, whether they were first and second, ninth and 10th or 18th and 19th, it would have been noticed.
But the fact that the McLaren was the class of the field meant that Lewis did not just become a beacon of talent in the F1 paddock, but a worldwide sporting icon. The Tiger prophecies had been fulfilled. In nine short months he went from virtual unknown to Michael Parkinson's couch alongside David Cameron as a better-known worldwide figure than either!
Then came 2008 and there he was, the robbed hero from the year before, clinching a cliff-hanger of a world championship on the last corner of the last lap of the last race. You really could not have made it up.
But then he woke up. Wind forward just over four months. "Week 10" they call it at McLaren. It's year-planner speak, commensurate with an organisation that never stops in a business that constantly evolves. It was the week McLaren brought its final Melbourne 2009 package to the Spanish test track and realised, with horror, that they were the better part of three seconds off the pace. Not only that, but every time Lewis showed MP4-24 a quick corner, it tried to throw him at the scenery.
Meanwhile, that other British driver, the one who faced being out of a drive, the one who people had written off, the one the bookies were quoting at 100-1 for the championship, was going a second quicker with 60 kilos of fuel.
McLaren's Paddy Lowe admits that setting a downforce target for the new regulations was difficult. Almost a full year earlier, Ross Brawn warned that he was already seeing wind tunnel numbers that told him the anticipated cut in downforce was not going to be achieved and that they should look at the underbody regulations again.
"We either didn't believe the figures he was quoting or thought Honda had got their calibration wrong," Lowe says. Ross was accused of scaremongering.
Mechanically the McLaren was good, in slow sectors it was right up there and in Monte Carlo it wasn't bad before Lewis made a rare qualifying mistake. But its efficiency was lacking and in high-speed corners it was awful.
Then came the ructions at the end of the Australian Grand Prix. In simple terms Lewis - prompted by McLaren sporting director Davy Ryan - pretended that he hadn't had a radio instruction to needlessly allow Jarno Trulli back past him under a safety car after the Italian had gone off the road.
It was the difference between fourth place and a podium and it was a white lie of the type told in stewards offices the world over on a weekly basis. But it was always going to be exposed, given that a journalist had Lewis on tape saying something different and that the FIA is in possession of all the radio transmissions... Suddenly it became such a big deal that, unbelievably, it was threatening the team's very future. Both Mercedes and the team's major sponsors had not long since washed off the muddy residues of 'spygate'.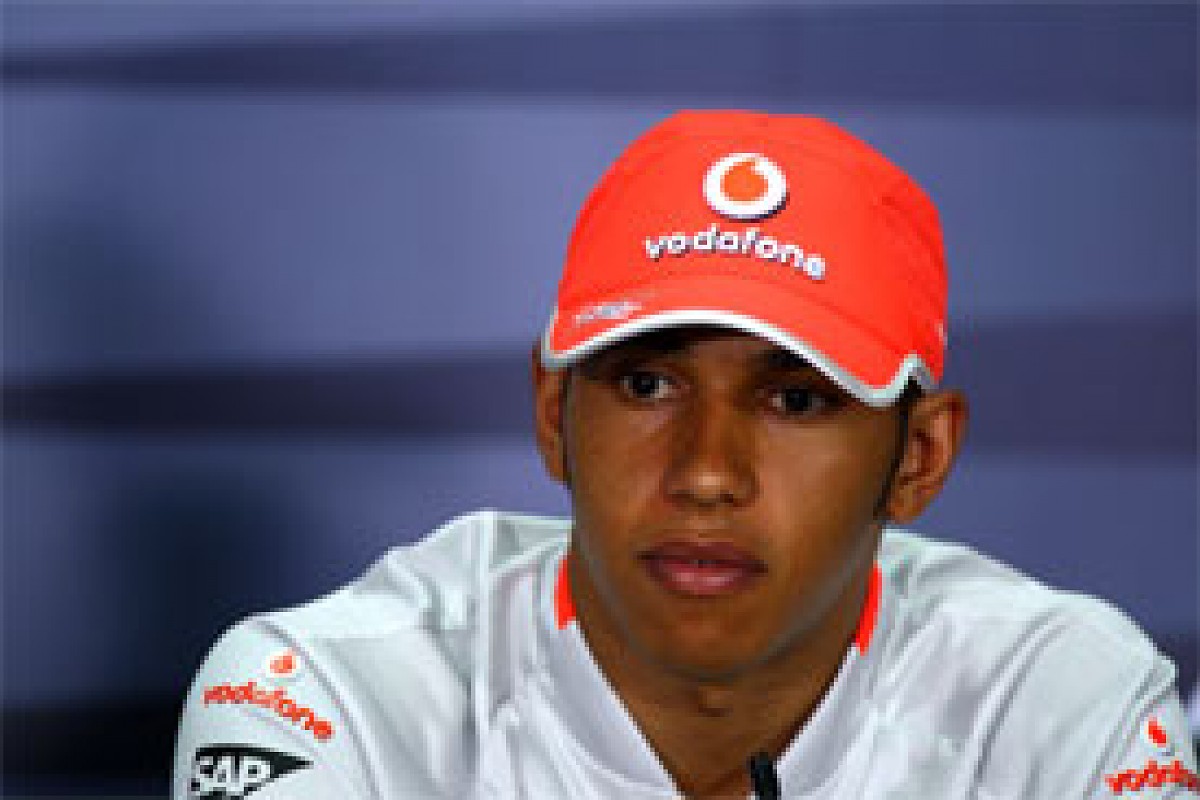 Lewis Hamilton addresses the events of the Australian Grand Prix during a press conference at Sepang Š LAT
The issue dominated headlines for the next couple of weeks and that, along with Lewis's commitment and brilliance on an Albert Park track that did not fully reveal McLaren's shortcomings, camouflaged the extent of the team's problems.
But the team knew how bad they were. Working round the clock they rushed through aero parts for China and Bahrain while other teams, in keeping with usual practice, planned bigger steps for Barcelona. It gave McLaren a stay of execution. Lewis qualified in the top 10 for the first time in China and in Bahrain lined up fifth and finished fourth.
McLaren admits that it worked tirelessly to avoid being dead last, a fate that had looked likely back in week 10. But now, with everyone running their Barcelona updates, the true picture emerged and it wasn't pretty. Despite being one of the most competitive drivers in the slow sector three, Lewis could only qualify 14th, with Heikki Kovalainen four slots further back. "Turn 3," a McLaren man muttered, "you could probably run round quicker."
The characteristics of Monaco would probably have offered Lewis a genuine opportunity had he not started from the back - Kovalainen qualified seventh - but it was followed by the month of June, a sure-fire low in McLaren's recent history.
Lewis, befitting his early season trials and tribulations, was not the smiley, confident, articulate figure that we had come to know. He was now seeing the other side of fame. Those who had built him up had been quick to knock him down.
I've got to admit I didn't like the way he hung Davy Ryan out to dry when he hosted a press conference in Malaysia but, in reality, he was probably just toeing the company line and preparing the ground necessary for both he and the team to continue unimpeded while others, plural, paid a heavy and many would say disproportionate price.
The media had spun the lying/cheating themes way beyond what was commonly decent and Hamilton clearly didn't appreciate that. It was the second time in Lewis's nascent F1 career that we heard whispers of the Hamiltons being so disillusioned that they'd consider jacking it all in - the first being after the safety car nonsense post-Japan 2007. Nobody believed any of it of course, but clearly Lewis was not a happy bunny. On top of all that, you can give a man millions, attractive women, flash cars, swanky pads, but if a born competitor can't compete, he's lost.
To cap it all, Lewis now had to go to Turkey and persuade a McLaren through Turn 8. By the time we got to Istanbul Park it seemed that someone had told Lewis that while the press could be a bloody nuisance, it was probably better to work with them than against them. But rather than just answering the same old questions there was a new approach aimed at offering a better insight into Lewis's world. The press accompanied him on a track walk as he explained the nuances of the flat-out Turn 8 and the commitment it requires.
Of course, given the tools at his disposal, Lewis was only too well aware of the nightmares the corner was going to give him for the next three days. Some of the specialists pulled his leg. "Wait till you see my piece - 'Why the world champion is 10mph slower than a Force India at world's best corner!' Which, sadly for McLaren, the telemetry gave away.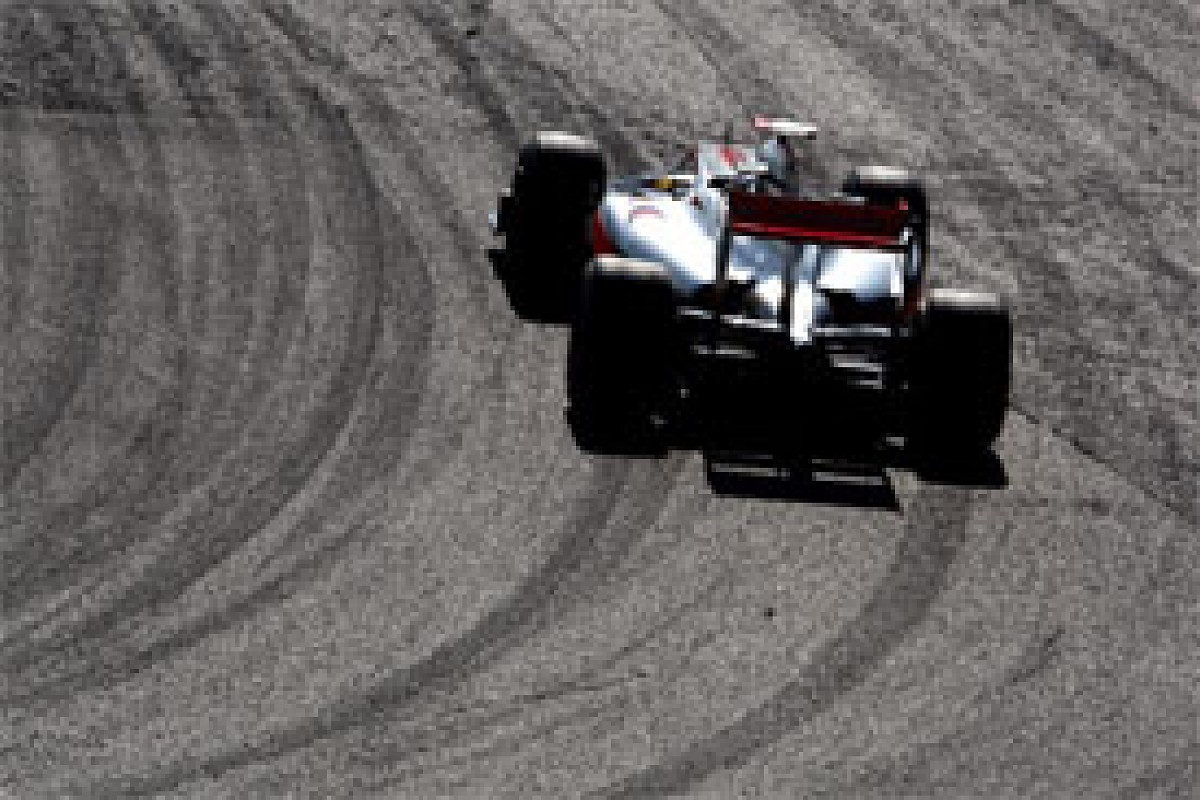 Lewis Hamilton slides the McLaren exiting the hairpin at Suzuka Š LAT
A double diffuser had now been on the McLaren for a month but there were much deeper issues. For it to be effective it needed clean air and McLaren's problems stemmed from a front wing that didn't work. The team expected problems at Istanbul and Silverstone and so it proved. Lewis qualified 16th in Turkey and 18th in front of his home fans.
"Our inability to give Lewis a car in which he could perform in front of the British public was a definite low point for the team," Martin Whitmarsh candidly admitted.
But respite was just around the corner. Friday morning at Nurburgring was the turning point. Just a couple of laps with the latest aero tweaks were enough to tell Lewis that the nightmare was over. There were eight rounds gone and nine to go. His world championship was long gone, of course, but there were smiles in the McLaren pit for the first time in a long while. Lewis qualified fifth, then went to Hungary and won in dominant style before narrowly losing out to Barrichello's Brawn from pole in Valencia. The team's new target was now to win the 'second half championship'.
"The car still wasn't the most efficient in the world and I knew we might struggle a bit at Spa," Lewis said, but the shackles were well and truly off. There were three more poles at Monza, Singapore and Abu Dhabi, and had it not been for the last lap shunt while chasing down Button's second place at Monza, that second half championship win would have been achieved.
As it was, if you take the points tally from Germany onwards, the point at which Red Bull was fully up and running with its revised RB5 and McLaren had a working front wing, the score was: 1, Vettel, 45; 2, Hamilton, 40; 3, Raikkonen, 38 (which will surprise many); 4, Barrichello, 36; 5, Webber, 34; 6, Button, 31. With those six points from Monza, Lewis would have done it by a point.
That fact explains the smiles and rekindled enthusiasm that were Lewis's persona for the last two months of the season. Mercedes might have thrown in its lot with Brawn but pride has been restored at Woking. Lewis will be there for the whole trip next year, make no mistake. I like the look of Vettel at 5-1 but anyone who beats Hamilton over 18 races next year will have earned the world championship.