The jury still seems to be out on whether next year's refuelling ban is a good thing.
I remember well how controversial its reintroduction was in 1994. Men such as Ron Dennis had serious reservations and thought it was inevitable that sooner or later we'd have a serious incident in the pits. That was reinforced when a relatively trifling spillage created a conflagration around Jos Verstappen's Benetton at Hockenheim.
The Benetton fire during the 1994 German Grand Prix at Hockenheim © LAT
I recall waiting at the baggage carousel with some of the Benetton boys after the flight home. Nobody had been seriously hurt but quite a few were singed. They talked of the incredible heat before the fire was dealt with. Pictures were spectacular indeed, prompting a big spread in The Sun under the heading: The Ignited Colours of Benetton!
That served only to heighten fears and, frankly, it's pretty amazing we got away with it for 15 years. The FIA's safety men though, were always confident in the Intertechnique refuelling apparatus and the precautions employed.
But you can't legislate for everything and fuel hoses ripped from refuelling rigs was scary stuff. More recently there was Felipe Massa in Singapore last year and then Heikki Kovalainen a few weeks ago at Interlagos. Watching that fuel spray all over Kimi Raikkonen was a heart in the mouth moment. You knew how hot the brakes were, the exhausts, the engine...
Straight after his first-lap chop from Mark Webber you could have forgiven Kimi being a little hot under the collar, even without the flames. A man with a pulse and some imagination would have been out of there sharpish - to hell with an unlikely couple of points for a team you're leaving! Kimi's coolness was extraordinary but it could have been nasty, the first road test of a set of flame-retardant overalls for a mercifully long time.
Ironically, it's not safety that has led to a rethink, rather the expense of carting the aging refuelling clobber all over the world added to the suspicion that refuelling stops discourage 'proper' overtaking. We've heard it so many times on the radio: 'Push and pass so-and-so if you can but be careful, he's pitting in three laps'.
All the teams know exactly who is stopping when and a driver receiving such information is hardly going to attempt a do or die move when there's no need. More to the point, if he does and loses his front wing, instead of being lauded for the attempt he's going to be a dimwit with questionable judgement.
Next year, the tyre characteristics, how kind a car is to its rubber and the task of squeezing in 160kg of fuel with the minimum impact on packaging, aerodynamics, handling and balance are all going to be key.
"The cars are going to have to be very versatile next year because qualifying will be at a premium and it depends on what the format is, because if you put the quickest cars at the front they are going to disappear," Red Bull boss Christian Horner said in Abu Dhabi.
"A lot depends on what the regulations are going to be over tyre stops. Worst case scenario is that we find everyone gets their pitstop out of the way in the first 10 laps and you've then got an hour and 15 minutes of formation driving, although I don't believe that will happen. I think there will be other issues. The weights of the cars are going to be significantly different, you are going to have brake issues, fuel economy is going to be crucial and you are going to have to manage a whole lot of different parameters that we haven't had to think about."
Horner's 'worst case scenario' could happen because next year it will be advantageous to pit for tyres sooner rather than later. This year, cars lapped quicker on used tyres and low fuel at the end of one stint than they did on fresh tyres and heavy fuel at the beginning of the next, meaning that the further you could run, the better.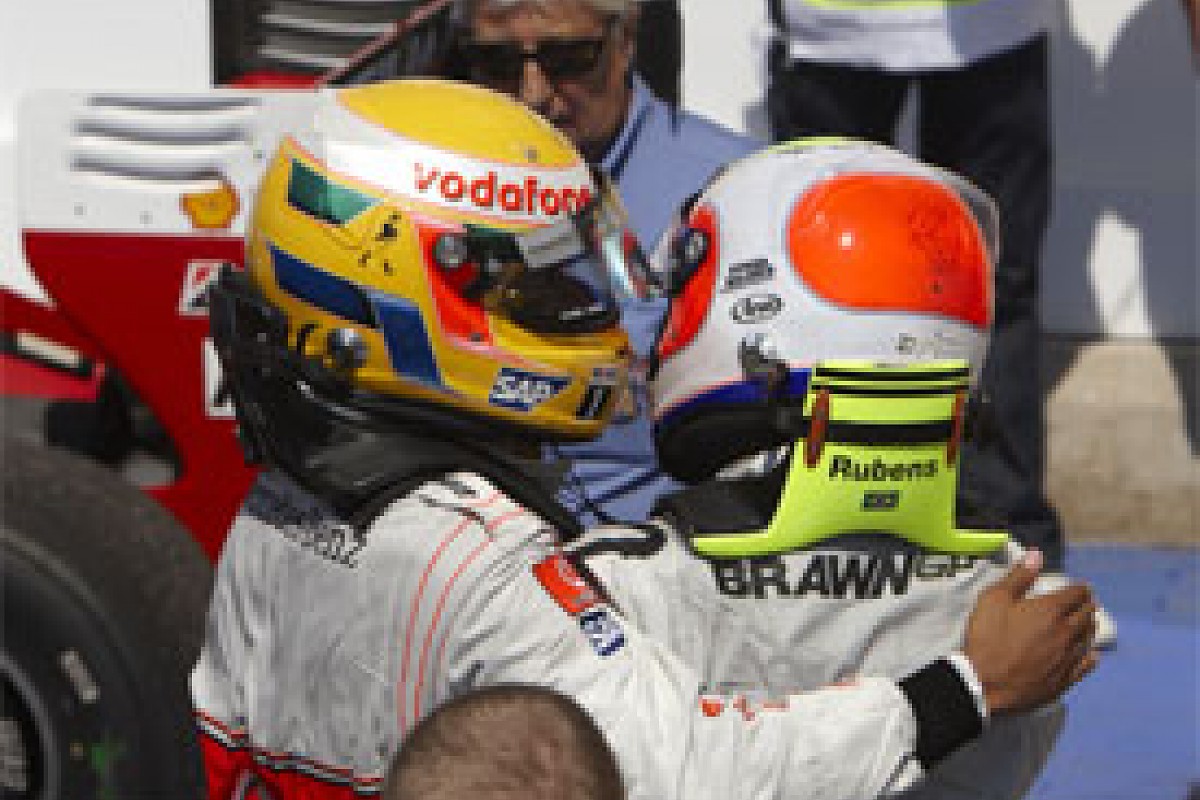 Lewis Hamilton congratulates Rubens Barrichello in parc ferme at Valencia © LAT
It gave us contests like Valencia. Many thought that race made tedious TV but it was fascinating strategically. Lewis Hamilton may have been on pole and most people's pre-race favourite, but fuel-adjusted you knew that Barrichello's Brawn was quicker. If Rubens could drive the race with the same relentlessness as Lewis, he was going to be a big threat. He did, he was, and he won.
But many didn't get to appreciate that because mathematics and the ins and outs of strategy make people's eyes glaze over. McLaren made a bit of a mess of Hamilton's pitstop and cost him a couple of seconds, but it was not decisive. Barrichello, stopping later, was going to overhaul him anyway. But many learned from their Monday morning papers that McLaren's screw-up had robbed Lewis.
A screw-up was obviously a much better story and shortly afterwards I was speaking to a highly-experienced, well respected Fleet St correspondent. He was cheesed off, to put it mildly.
Nowadays you don't just have newspapers, but all sorts of different 'platforms' - web reports, blogs and so forth. It's all about immediacy. Anyhow, this chap had called his sports editor to discuss a word count for his story.
"I want the overall race outline in 750, then a special 500-word sidebar on the McLaren business - what happened, how it cost Hamilton back-to-back wins and a potted history of costly errors in the pits," said the sports ed.
"Hang on a minute," my colleague replied, "that's not what happened. It wasn't about the pitstop, Barrichello was going to win anyway."
"But everyone on the web is writing that McLaren cost Lewis victory, that's the big story and that's what I want."
"I don't care what Fred Wombat is writing on Bollocks.com, that's not what happened!" said my friend, becoming exasperated.
"But that's what everyone's saying and we're going to look like we've missed it," said the sports ed. In other words, strategic subtleties equals drying Dulux...
"I don't care - they're wrong!" my friend insisted. "If that's what you want, take it off the wires and don't put my by-line anywhere near it!"
We won't have that next year but a lot of purists will miss the strategic nuances unless they're replaced by new ones, and it will only be an improvement if strategy is replaced by genuine overtaking.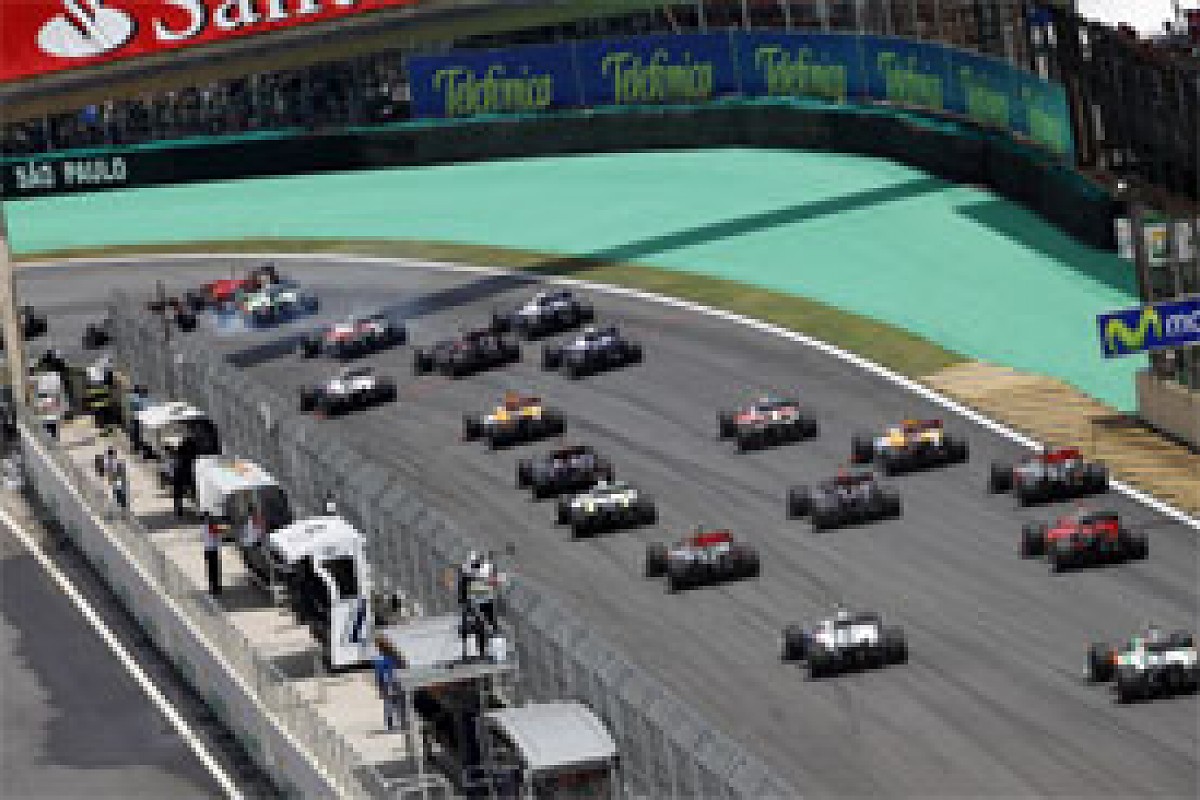 The start of the Grand Prix of Brazil © LAT
There is still debate about what exactly the qualifying format should be. Much of the paddock thinks that the first two elements work perfectly well, but the big question is what to do about Q3.
The varying fuel weights worked pretty well and although optimum strategy distilled down into pretty much the same equation for most of the front-runners, it was still a talking point and a format that prompted the odd race like Valencia.
Next year though, with a full fuel load from the off, you are going to be faster on new rubber, and so everyone will look to change tyres as early as possible to take full advantage, get track position and then hang on. And, of course, there will be no varying fuel loads to assist overtaking. You won't see Kamui Kobayashi going past Jenson Button because his car is lighter. Much will also depend on the characteristics of the tyres.
"There's still debate about what that the format should be," Horner conceded. "For me, introducing a degree of randomness or a reward for qualifying is something we need to consider. And having a tyre that needs managing would create opportunities."
But what do we do? As he says, we've spent long enough thinking of a qualifying format which gets us away from putting the fastest cars at the front and then wondering why we don't get any racing.
With no varying Q3 fuel loads - next year will see light tanks as per Q1 and Q2 - how do you achieve the degree of randomness? Among the top 10, do you reverse the finishing order from the last race? Line them up in reverse order of fastest lap from the previous race? Draw them out of a hat? And if it's something as entirely random as that, what's the point of Q3 at all unless you award points for the fastest car or cars?
Purists may blanch at points for qualifying but I don't see why. The history books are already skewed by the current era when pole position didn't go to the fastest man and I don't see why we shouldn't reward qualifying. After all, there's something to be said for being the fastest man with the best package on a given day, even if you don't win the race.
So long as whatever new system employed is relatively simple we shouldn't be afraid of change. History has shown that whenever we get a mixed up grid for whatever reason, we get a cracking race. We should remember that. Fastest at the front will be a recipe for tedium.