When Jean Todt's name was first linked to the FIA presidency, the fears were as immediate as they were predictable.
Those opposed to the idea of the Frenchman stepping up to replace the outgoing Max Mosley fretted privately that Todt would represent nothing more than a different face fronting the same regime. Their fears were not allayed by Mosley himself publicly backing Todt's campaign, nor by the rumours - none of which were substantiated - of the FIA assisting Todt in securing support.
The fundamentalist zeal with which he represented former employer Ferrari also prompted concerns that an FIA under Todt would be unfairly predisposed towards the prancing horse; a team that enjoys a privileged relationship with the governing body as it is.
None of the criticisms will have bothered Todt in the slightest. Winning popularity contests has never been a part of his job description - at least, not until last week. But while the Formula 1 teams are aware that the 63-year-old Frenchman faces some tough challenges in leading the sport forward, they are also optimistic about the opportunities presented by a fresh regime after 16 years under Mosley.
McLaren team principal Martin Whitmarsh said that that FOTA (Formula One Team's Association) is looking forward to the knowledge and experience that Todt can bring to the role.
"Everyone has a different style in how they manage themselves and how they manage an organisation," Whitmarsh told AUTOSPORT.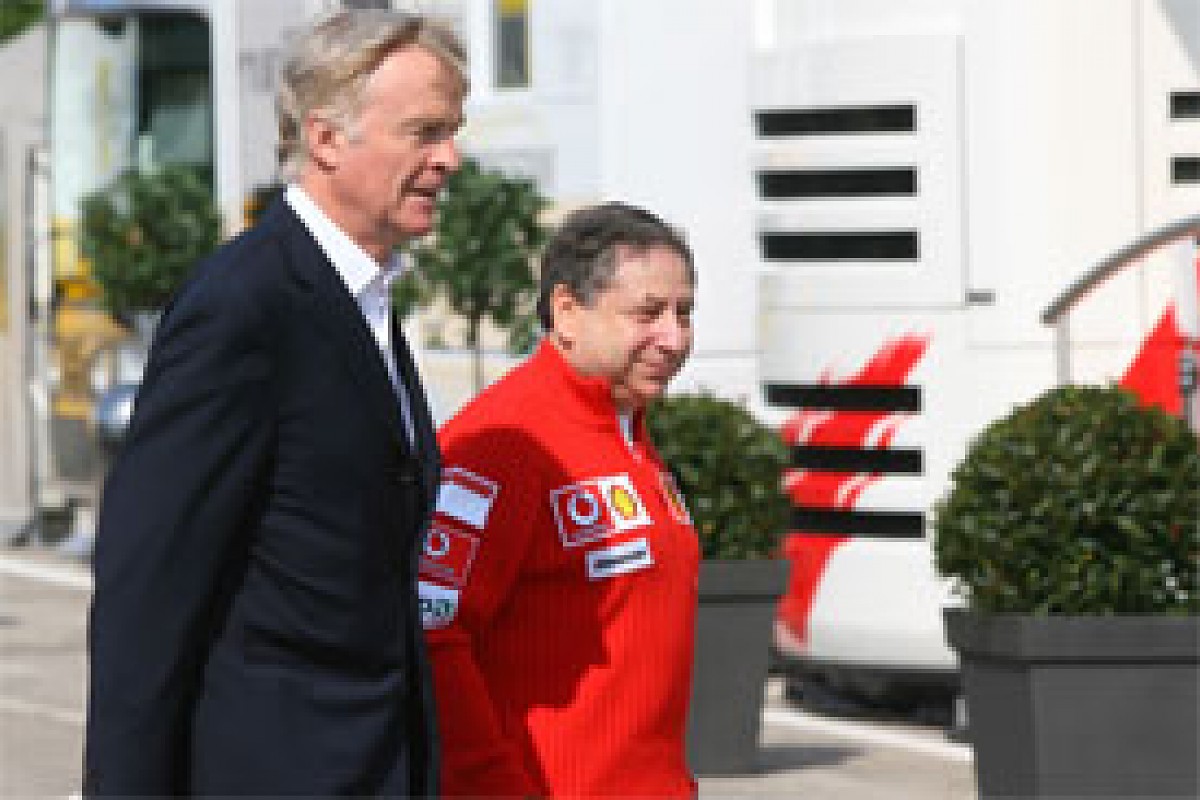 Max Mosley and Jean Todt © LAT
"Jean is fairly experienced within Formula 1 - he knows the issues between the teams and the FIA. I think it's an opportunity to potentially reset that in some ways. Max obviously achieved a lot, but inevitably in any organisation if you get a fresh leader, he is going to take it in a different direction.
"What we hope is that - and I am sure he will, because he is smart and experienced - is that Jean recognises FOTA as a way of unifying the teams, and feels confident enough that unifying the teams is positive for the sport and not something to be viewed as a threat. And I'm sure that FOTA can embrace working with him."
Williams CEO Adam Parr also said that he is looking forward to working with Todt, and called upon him to follow up the promises made in his election manifesto.
"Williams welcomes Jean Todt's election to the FIA presidency," Parr told AUTOSPORT.
"Jean has put sustainability and costs at the centre of his manifesto for Formula 1, and we agree that these are the areas that need strong leadership from the FIA in coming years.
"The FIA had the vision to introduce one of the world's first carbon offset programmes in the mid-1990s and then KERS in 2009. Although KERS will not be used in 2010, it has been an amazing achievement that several of the teams were able to deploy lightweight, safe and reliable systems with less than two years' development. This is the sort of radical but relevant technology F1 should be about and we would like to see the FIA supporting those who want KERS running again in 2011."
Whitmarsh echoed Parr's call for a continued emphasis on technology, but admitted that his views might not be shared by all teams.
"I think Jean believes that it is vitally important that Formula 1 remains the pinnacle of motorsport," he said.
"In order to do that, it has to be the most technologically advanced, it has to be the best managed, it has to be commercially the most successful, it has to attract the best drivers and the strongest teams.
"There are people in the sport who may not agree with the extent to which the technical emphasis is necessary. Certainly in my conversations with him [Todt], I perceive that he is very aligned with the views of McLaren. Ultimately, it has to be very technology-driven. Even though it should be led by fan appeal, it should be driven by technology."
Parr also said that cost-containment needed to remain a high priority, as well as a smooth integration of new teams and a clear set of future engine rules.
"As agreed between the teams, FOM and FIA in June this year, the teams have put in place the Resource Restriction Agreement to reduce costs to the level of the early 1990s," he added.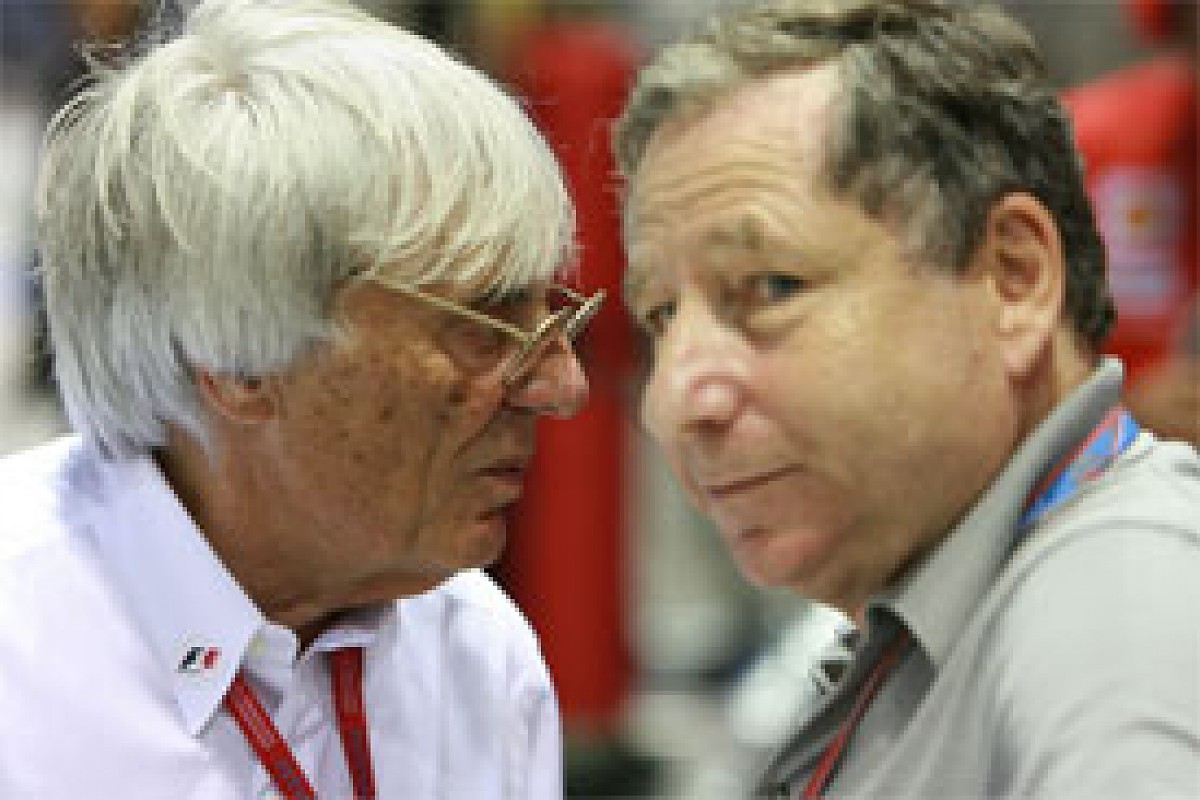 Bernie Ecclestone and Jean Todt © LAT
"Although the FIA is not a signatory of this agreement, it is an interested party because Formula One is not sustainable unless costs are reduced to the level that has been agreed.
"In addition, promises were made to the new teams. We expect that the FIA will monitor progress on implementation and apply its influence to ensure that it goes well.
"Finally, we hope the FIA will take the lead on the introduction of a new engine no later than 2013. This last point is crucial and relates to sustainability, cost and also the ability of the sport to attract and retain new entrants. Overall, Jean's first term in office will undoubtedly require great leadership and purpose and Williams wishes him well in it."
Ross Brawn, who worked alongside Todt for a decade at Ferrari, said that the sport could expect a very different kind of leadership from the new regime compared with the one that came before it.
"In 10 years with Jean, one thing I learned about him is that he favours a non-confrontational approach," Brawn told AUTOSPORT.
"He always favours finding compromises to reach solutions. He defended Ferrari's position to the hilt, but it was always interesting behind the scenes to see how he would quietly find compromises, quietly find solutions, quietly encourage dialogue to find solutions - and he's very good at it.
"He was a leader of a team that he had to defend to the maximum and there were times where he would be confrontational because he was defending the team.
"But often before he reached that position there would have been a huge amount of debate and discussion and efforts to find solutions. It wasn't just digging his heels in to be obstinate. And a lot of debate and discussion went on before that was reached. I think he will do an excellent job. One of the things that Jean does do very well is develop a team approach. He did it at Ferrari and I think he will do it with the FIA.
"Max has had his critics, but you can't criticise what he has achieved over the long period he has been there. Lots of things have moved forward. We had a bit of a traumatic year this year but I think Jean will do things differently. I'm quite excited about the new era and working with the FIA."