Next weekend, Abu Dhabi will host its inaugural Formula 1 race at the brand new Yas Marina Circuit. There is much excitement about what the state-of-the-art venue will bring to F1 - with a first day-night race, plus a spectacular backdrop.
AUTOSPORT was granted an exclusive first look at the track recently - and from the unique perspective of inside the cockpit of a two-seater F1 car.
As part of our build-up package to Abu Dhabi's season finale, we take a look at the new venue at 180mph from a few inches above the ground...
Incredible voyage
Martin Brundle's arm rests on the inside of my leg, as I reach my hand out and squeeze his shoulder. We are both hot and sweaty, and the temperature is about to raise a lot higher...
But stop there before you think this is some romantic interlude in the middle of a Mills & Boon novel. This is racing car fever, and as damn close as a mere mortal like me will ever get to experiencing Formula 1 power up close. Plus I'm making history as one of the first people to lap the new Abu Dhabi Grand Prix circuit.
I'm strapped in to one of Yas Marina's own two-seater Formula 1 cars, and Brundle has been given the privilege of showing me a thing or two about what machinery like this can do.
It's already been a long journey to simply get in the thing. When the call came from Abu Dhabi asking if I would be interested in heading over to take a look at the new track from inside a two-seater F1 car, it was fairly obvious what the answer would be.
The only three things they asked were: 1) Be able to jump on a plane out of Osaka on the morning after the Japanese Grand Prix. 2) Be less than 1.75 metres tall; 3) Weigh no more than 90 kilogrammes.
The first two would be no problem at all. On the final matter though, I was a little bit out. Too many posh lunches in the F1 paddock, too many beers in the evenings and not enough time for decent exercise always accounts for an extra few pounds around the waist over the course of a season.
It's easy being disciplined over the winter, staying away from temptation, and seeing the scales head the right way. It is quite another trying to break the habit during a season - and become holier-than-thou when there is so much good stuff on offer.
But the choice here was simple.
Either keep enjoying the F1 season, and risk heading all the way to Abu Dhabi only to face the agony of being told I'm too fat - or stop eating crap, keep up with the early morning and F1 track runs, and go and do something I may never do again. It was a no-brainer.
So after a disciplined few weeks and the most boring Japanese GP weekend of my life - (I challenge anyone to try and go low carb, zero alcohol for a whole F1 weekend at Suzuka!) - it was with some relief that the scales tipped in well below the 90kg limit after flying into Abu Dhabi. I even (sad as this may seem) punched the air in delight.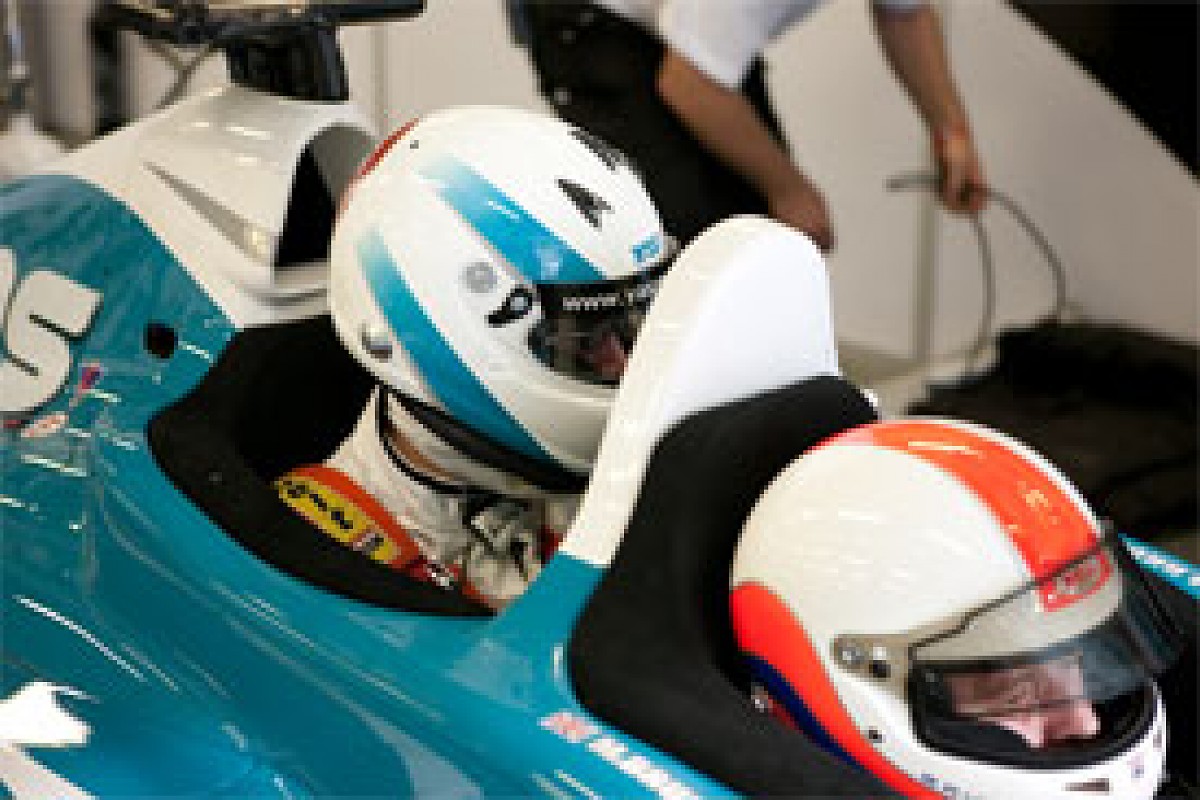 Martin Brundle and Johnny Noble
Having then sailed through the mandatory medical blood-pressure/heart rate checks in the morning, nothing was going to stop me - and excitement levels reached fever pitch as the few lucky press men there watched the first passengers being taken out around the track.
Then it was my turn. Being an almost fully kosher F1 car (albeit with an extra seat!), it meant that full safety precautions had to be taken. So, although it was 35-degrees centigrade outside, we were required to wear fully fireproof nomex underwear under our Alpinestars racing suit. The heat was on - and the sweat was arriving by the bucket load.
After a quick stop off for radio earplugs, balaclava and crash helmet, the moment had arrived. I sunk my sub-90kg frame into the cockpit, sliding my legs either side of Brundle, who was sat ahead of me. It was a super tight fit - and I knew it was about to get tighter as the car crew set about strapping me in.
I was pushed and prodded, the seat belts pulled around me, and all the while my head was filled with a mixture of nerves and excitement. There was not much room to do anything - for either myself or Brundle, whose arms were resting on my legs that enveloped him.
I was then told that if I wanted him to slow down during the ride then I should squeeze his shoulder to let him know. They asked me to practice, but I knew it wouldn't be necessary once we were up and running.
After being instructed to make sure my head did not block up the engine air intake on the straight, the moment of destiny arrived. The crew backed away from the car, and across the radio came the words, 'Okay Martin, time to go.'
And, as the tyre blankets were peeled away from the wheels, it was just Martin and myself. I was about to have by far the coolest view of F1 from inside the cockpit that I will probably ever have.
The stuff of dreams
For the likes of Lewis Hamilton and Jenson Button, clinking an F1 car into gear and turning out of the pits may be one of the most boring parts of their job. But at that moment, sat there in the garage, as the revs raised up and Brundle let the clutch out, knowing what was coming up - it was one of the best moments of my life.
Then we were off. Heading down the pit lane the first thing that struck me was just how much I could see. With a huge carbon fibre fence sitting between my helmet and Brundle's, it was not hard to imagine vision being restricted to whatever came flashing past at the side of the car.
But a tiny bit of head lean (required later to keep air pumping through that engine!) gave me as good a perspective as the best onboard camera - although I got the noise, the buffeting, the vibrations and the fun of being there too.
We tiptoed around the pit lane exit tunnel, which is surely going to be a talking point at next weekend's race, and, as we straightened up over the crest, Brundle floored it. Another big smile spread across my face. I've been in other racing cars, and I ride a sports bike, so I know what a decent thrust of power feels like as you sprint up through the gearbox, but this felt very good.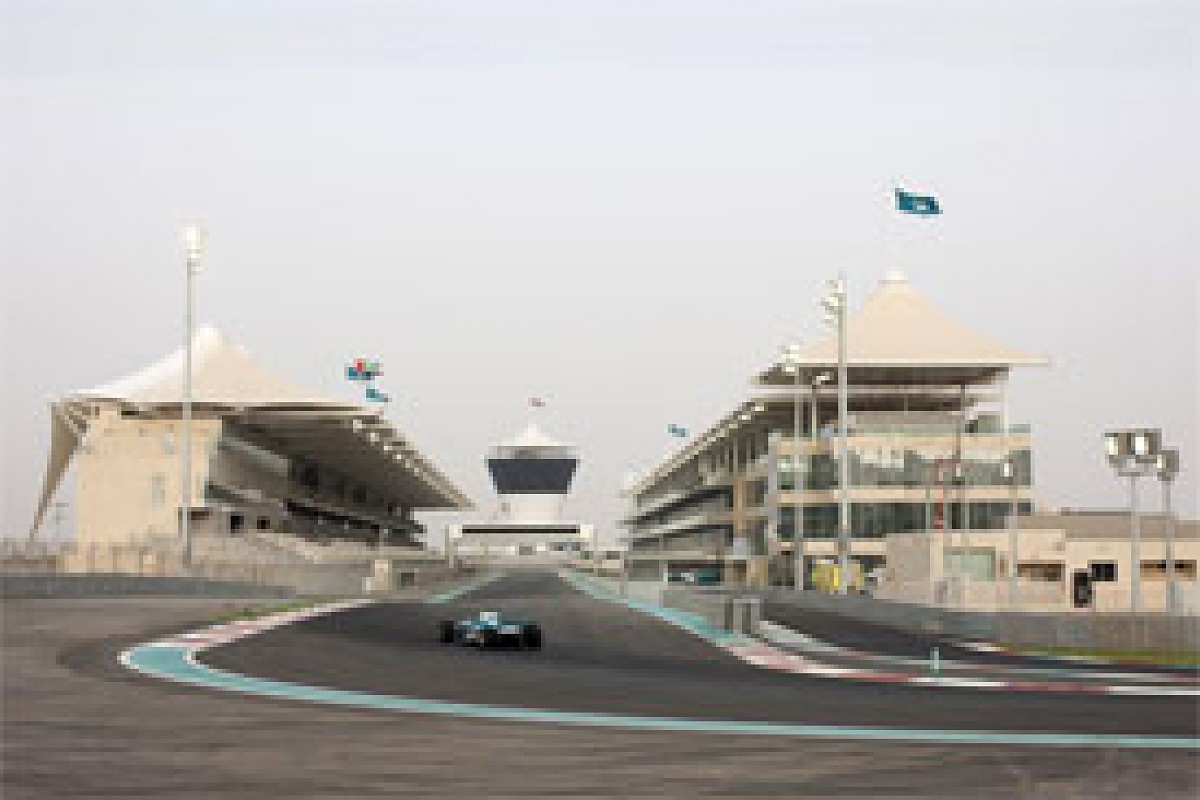 The start and finish straight at Abu Dhabi
It wasn't totally earth shattering, but the fact it was every bit as good as I imagined, probably said everything. And by that stage, it wasn't acceleration I was thinking about - it was the braking. It is what everyone who has ever been in a Formula 1 car raves about.
But on this subject I got it horribly wrong. Having read endless stories about the disbelief that passengers have about just how late F1 cars brake, and that fear of not knowing if the driver has messed up rather than running to the limit, I was bracing myself for a very late deceleration into the first hairpin.
The only problem was, where I was looking and expecting the car to go, wasn't actually the track. Because before the cars hit the hairpin, and unknown to me, they flick through a left-right chicane.
So while I was sat there looking a couple of hundred metres down the road to prepare myself for what I thought would take place a couple of seconds later, suddenly Brundle slams on the brake pedal totally unexpectedly. Bam! The forces throw my head forwards before I realise what is happening.
But before I've had too much time to think about it, and why we have turned in, we are off again. Brundle darts to the left then right, dabs on the power out of the chicane, and then we are whipped through the hairpin and onto the longest straight on the F1 calendar.
Brundle is now flat to the metal - topping 180mph. The revs rise, I keep my head cocked to one side so the engine can breath, and try and not to worry too much that the rush of air I'm experiencing is trying so hard to suck the helmet from my head. On and on we go, until 'bam' again. Brundle slams on the anchors and we nip through the chicane at the end of the straight.
On and on we go. The car ducking and turning, with the car as seemingly nimble as a go-kart. Each time the acceleration is sweet, the noise of the revs rising and falling sounding so wonderful, and through corners, Brundle pushes on.
All the while, my eyes are searching the next turn, the next apex, the next kerb and the next braking zone. My brain does not have time to just sit back, relax and enjoy what is happening now - it has to think ahead so it can prepare my body for what's coming next.
Through all this too, I'm trying desperately hard not to get all tangled up with Brundle. My chunky calf muscles (famous in the press room on those days I wear shorts!) restrict his arm movements up front - and the worst case scenario is he goes to chuck it into one of the quick bends, and we end up having an arm-calf lock-up and head off into the boonies!
On and on we go through the lap. The quick triple right-hander before the hotel complex seems to go on for an age, and is clearly the most fun corner on the track. The turns flow quick and constant though - with little time to rest and take a breather, apart from that long straight.
The main hairpin at Yas Marina
Lap two continues in the same vein - although I am much better prepared for the chicane before that first hairpin. Braced for braking. Loving the acceleration, thrilled by the turning and wanting Brundle to push on more and more.
And then it happens. Accelerating out of the left-hander underneath the hotel, suddenly my neck doesn't want to hold back my head as much as it did before. Finally the G-forces have caught up with it - and although there were not too many high speed turns to catch me out sideways, the numerous blasts out of the slow speed stuff have obviously taken their toll trying to hold my head up straight.
But before I've had too much time to contemplate exactly how my now weakened neck was going to cope with another lap, it's all over. Brundle heads to the pits and the ride is finished. We pull in forwards before getting wheeled back in to the garage.
Still mighty cool just to do that.
The belts are popped and Brundle and I hop out of the car - me with a big grin on my face and Brundle shaking his head at my legs. He hadn't known it was me behind him - and had he done so he says he would have done a bit more to try and scare me!
I asked him how much trouble my calf muscles had been...
"Big!" he laughs. "It really does make a big difference. These two-seater cars are a compromise. The seating position for a driver to start with, to get him in there, is not ideal. You can't correct the car.
"When I drove the McLaren two-seater, I remember when I got out of shape it was terrifying because I had no ability to correct it. I remember taking Max Mosley and Guy Laliberte (Cirque du Soleil founder) around in the rain, and feeling I had let them down a little bit - because you felt you must not let the car develop too much into a slide, otherwise you know it is not going to come back.
"So it is an issue. As Bruno Senna said this morning, it will all be about how big their calf muscles are - and he is absolutely right. You start having to take one hand off the wheel and turn it with the other hand, and then try to find the shift plus a bit of radio, and I am commentating as we go around. It all gets a bit busy!"
Memory of a lifetime
The ride may have been over within a couple of minutes, but it takes hours afterwards to soak it all in. And the more time passed, the more amazing the whole thing seemed. The neck felt a bit strained for a while, but any pain was worth the experience of getting up and close and personal with both an F1 car and the new Yas Marina circuit.
For Brundle, a two-seater F1 car may not deliver the kind of thrills that actual grand prix machinery provides, but he still reckons it comes close to allowing most of what the experience is like.
"You have to remember that it must be 150 kilogrammes heavier than an F1 car - so you are getting somewhere between an F1 car and a really pukka sportscar experience in that respect.
"What was good about that one today is it got a bit of grunt and a bit of torque. It made a nice noise and got on with it a bit. Some of them can be a bit flat, and you sit there with so much weight and so much drag, that you think, I am sure this doesn't feel so exciting. But the one today felt like it got up and went a little bit.
"I remember when I drove the McLaren two-seater at Hockenheim a few years ago, I actually asked them to let me go out in the warm-up because I was fast enough - as there were not so many corners and down the straights it was alright.
"I thought if we got a VVIP, it would be awesome to take them out in the warm-up as we used to have then, because I was somewhere between pole time for F3000 and pole time for F1. And with the normal F1 cars on full tanks I would have been just about fast enough to take someone out and give them a good ride around.
"I think what we did here is quick enough for most of the thrills and to feel the grip, the general exhilaration, the experiences and the G-forces."
In terms of the Yas Marina Circuit itself, the track has never been aimed at providing the kind of legendary challenges of somewhere like Spa or Suzuka, but it still has plenty of great things about it.
The triple apex right-hander before the hotel will sort the men from the boys; the numerous chicanes and off camber-corners will reward those teams and drivers who can set-up their cars well - and the background of the Marina, the brightly-lit Yas Hotel and a day-light race will make the event as spectacular as anything else F1 throws at us.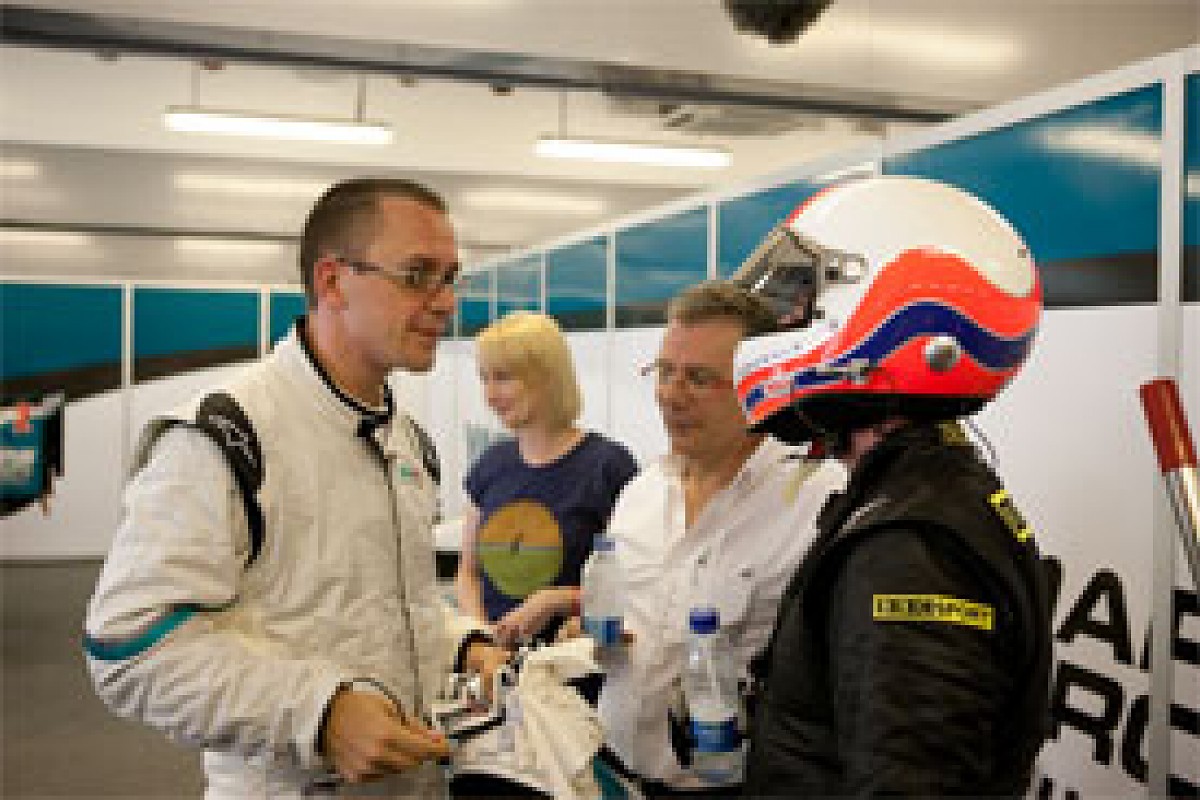 Jon Noble and Martin Brundle compare notes
"What was unique about today was to experience the lights, and to get a feel for it," says Brundle. "I know I will have ten times more insight when we come to the grand prix for having been around the track than sitting in the press office or watching it on television.
"The feel of how the corners look - it is so much different when your backside is scraping the ground than when a camera is zooming in with a big lens. And that pit exit, the challenges of that, and generally the way it feels, going under the hotel and around the Marina, and how the corners just keep coming at you. It is like non-stop. Imagine that, at several percent faster, but that is how it is."
And I think Brundle summed it up best when he quite rightly pointed out that although the two-seater car may not be a patch on pukka F1 machinery, it is still a damn quick machine.
"There will be racing drivers who never go that fast around a racing track...in anything," he said about my ride in a two-seater.
It was a pleasure to be there with you Martin.
Gallery: More images from Jon Noble's amazing track ride with Martin Brundle
AUTOSPORT will bring you a series of exclusive news and features about the new Yas Marina circuit ahead of next week's inaugural grand prix - including what the drivers think of the track, and what race organisers promise Abu Dhabi will deliver for F1.