Rally GB will be competition in its purest, rawest form. It couldn't be simpler. If you win, you win big. And if you don't, there's nothing for you. That's the deal for Mikko Hirvonen and Sebastien Loeb in Wales this week.
And the good news for us rally fans doesn't stop there. Given the uncomplicated nature of this 12th round of a season-long grudge match, anybody can win the rally. The manufacturers' championship has been settled in Citroen's favour, meaning the understudies, Jari-Matti Latvala (Ford) and Dani Sordo (Citroen), can get out there and truly show their mettle. And then there's Petter Solberg. Can he get in among the works cars and bloody a few noses? We're about to find out.
But the main event is Ford's Hirvonen versus Citroen's Loeb. It's massive and it's the closest it's ever been in the 30-year history of the drivers' championship. The last time we had a one-pointer was 2003. Six years ago, it was Loeb who held the advantage, but it was Solberg who came from one point down to take the spoils in an unforgettable event.
It's astonishing to think one of the most exciting points in the history of the sport was born out of four months and five rallies of French dominance. Just as Loeb could do no wrong from Sligo to Villa Carlos Paz, he appeared unable to get anything right as the championship wound its way back through Europe and down to Australia.
In Sardinia, Loeb's co-driver Daniel Elena unbuckled his seatbelts while the car was still moving when they were stopping to change a puncture: two-minute penalty and second place becomes fourth. Then a big crash in Greece, the broken suspension in Poland, second place in Finland and the minute penalty down under.
Inevitably, the default story here is of Loeb's ultimate high: 'He's going to win every round!' to pretty much his ultimate low: 'He hasn't won for four months!' But, through all of that, Hirvonen has toiled and worked and risked everything to get himself into
a position nobody else has managed during Loeb's reign at the top of world rallying: leading the reigning champion into the final round.
The backdrop to Loeb's apparent mid-year loss of the Midas touch was a switch to Formula 1. When Sebastien Bourdais left Toro Rosso, there was an incredible period when Loeb was seen as a shoo-in for his countryman. He would, the whispers conspired, contest the last seven races of the season. Certainly, absolutely, definitely the last race in Abu Dhabi. And just as that died down, then came US F1, apparently with a contract on the table ready for Seb to sign. No wonder rumours abound that eyes had been taken off balls.
Loeb rolls his eyes and laughs at this recollection of his summer. He's heard it before. He lived it.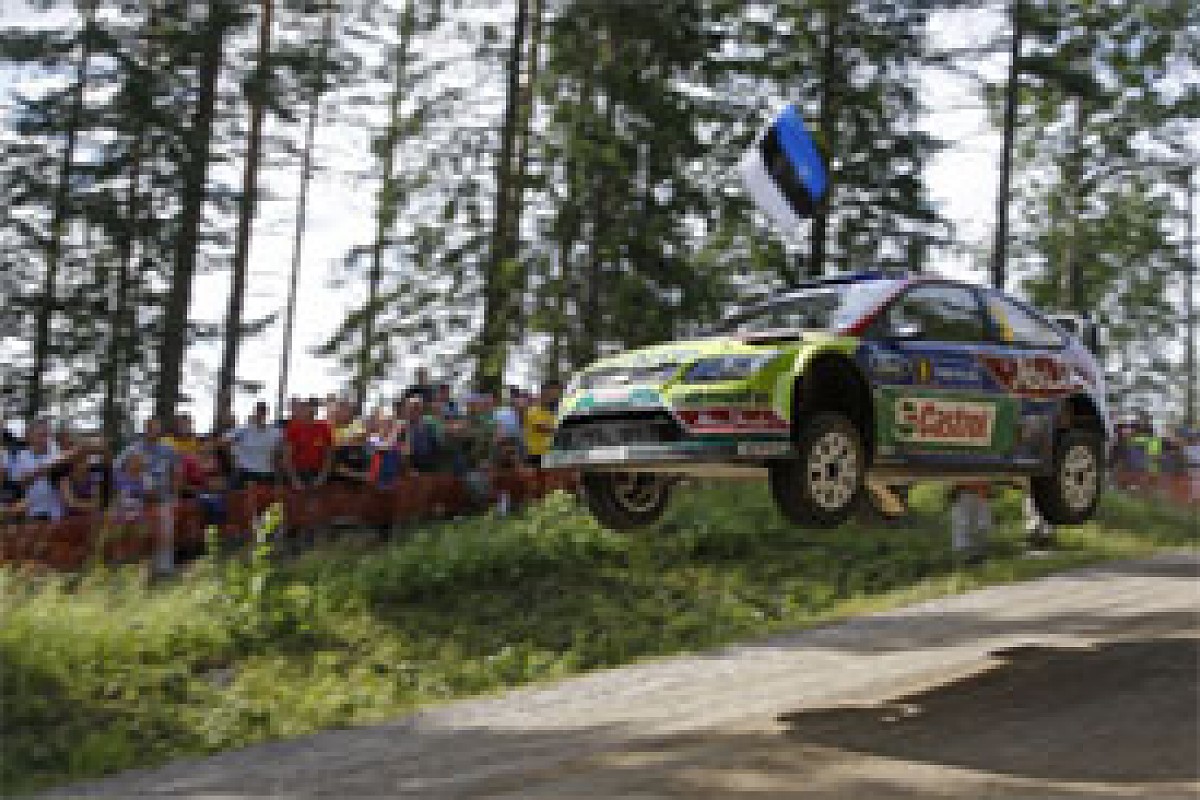 Mikko Hirvonen en route to winning Rally Finland © LAT
While Loeb made F1 headlines in AUTOSPORT, so the Ford man was making them in Special Stage as he picked up win after win after win. What did he think about Loeb's lot?
"I was surprised," says the Finn. "There was some small mistake in Sardinia, then his accident in Greece was unusual and then Poland. I couldn't believe it. I said: 'What's going on now?' For sure he has made mistakes before, but he has always escaped. I don't know what it was: if it was my pressure or if he was distracted by Formula 1. Either way, the mistakes were on his part."
Put that to Loeb and he sees it slightly differently. "Sardinia was a puncture, not my mistake," he says, "then Greece, okay this was my mistake. But Poland I still do not understand why this part breaks when all the cars can drive over the same place and Australia... well, you have seen the part - you know there is no performance advantage there.
"I make one mistake per year," he grins. "And that was Greece."
So, what does that mean for this week? Hirvonen had better be on his mettle if Loeb's made his mistake for the season. According to the Frenchman, perfection is one of Hirvonen's strongest points.
"Mikko is a very, very fast driver," says Loeb. "We saw this already before Marcus [Gronholm] retired when he fought with him in Finland [in 2007] and then [when Hirvonen won] in Norway and Britain. And now Mikko is at this level everywhere. He is strong everywhere, but his advantage over Marcus is that he makes no mistakes."
Having watched Hirvonen from when he arrived in the WRC in 2003, the trait that he's really honed in the past 12 months is his confidence. Beating Loeb fair and square in
Finland in August was a tremendous fillip for his self-belief.
"I remember watching Tommi [Makinen] or Marcus [Gronholm] and it was the same with Colin [McRae]," says Hirvonen, "when they were confident they were really sure that nothing was going to stop them. Nothing was going to get in their way. They would win. I'm not saying I'm like them, but the feeling is there. I know I can do it now. I don't feel the nerves like I did 12 months ago."
That confidence wasn't quite so high in Argentina, five rallies in and 20 points behind. Hirvonen admitted his title race was over in South America, but his turn of speed allied to that turn of events has delivered us to this point.
"It's going to be quite a fight this week," says Hirvonen. "For a while now Sebastien has had to be third or fourth or something on the last round, but not here. Here there is no room for the tactics, no room for saving yourself for the stage you know you can be quick. Here, from the first stage, we have to be absolutely flat-out. There will be nothing left."
The one thing that could get in the way this week is the weather. Loeb notoriously dislikes the conditions that typify Britain's round of the World Rally Championship: rain, fog and mud. Hirvonen revels in them.
"That's what I'm after," says Hirvonen. "The fog and mist and rain seem to work quite well for me. Those conditions are very difficult to drive in, so let's see what happens."
Mention that kind of weather to Loeb, and the groan is audible.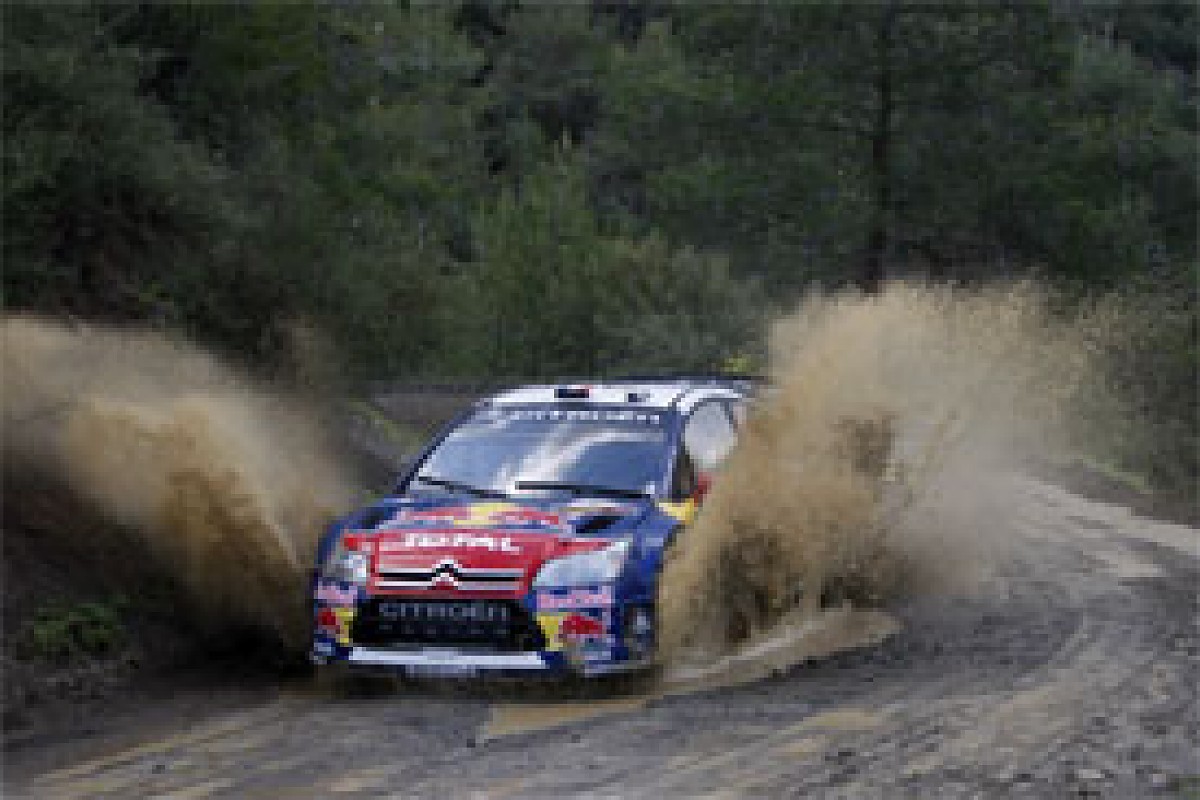 Sebastien Loeb on the Cyrpus Rally © LAT
"I don't like," he says, sensing where the question is going. "I hope, I hope there will be no ice like last year. For me, it would be good if it stayed dry. It's dry now, yes? Well then it can stay dry. I doubt it. It's going to rain and it's going to be very tough..."
The voice trails away. Don't get Loeb wrong, he loves the roads, it's just the meteorological challenge of autumn in the valleys that can get him down.
Five titles on, Loeb's approach to this week is pragmatic.
"If I don't win the championship, it's not going to change my life," he says. "I can look back and be happy. I have five titles and no regrets. Yes, I want to win this rally, but life will go on if I don't."
The one thing that does irk Loeb is the position he's in arriving in Cardiff. It wasn't supposed to be this way.
"I am frustrated that I did everything I could not to be in this position," he says. "I didn't want to be depending on anybody, but now my position can be affected by Mikko."
The way he says that demands further investigation. The emphasis Loeb puts on himself in that last statement hints that he feels more could have been done elsewhere. Further weight is added by his feeling that the C4 shouldn't have broken in Poland and he should have had the right bits in Australia. When I said one thing irked him, I forgot about Australia...
"I paid a very expensive price for the rollbar," he says. "Compare this with Citroen. Citroen still wins the manufacturers' title and it's only me that is punished and not the team."
Realising that being outspoken is out of character, he throttles back and adds: "I'm not frustrated. It's in the past. I've dealt with it and moved on."
Hirvonen is not one for dwelling in the past, either. By his own admission, Sunday May 24 could come back to haunt him. That was the day Ford's team director Malcolm Wilson decided against asking Latvala to let Hirvonen win Sardinia and take two more points. Oh, for those two points now.
"If I don't win, maybe I will think about that some more," says Hirvonen, "but not now. The good thing for me is that if I win, I have done it on my own, without any team orders and without the team asking anybody to slow down to help me."
Contrast that with the Citroen camp, whose manipulation of its Junior Team and finally Sordo in Spain has made tactics its byword for the second half of the season.
But now, the time for tactics has gone. They're on their own. It's up to them. It's about who wants it the most in what's shaping up to be the WRC's greatest battle ever.