Respect. It was a word that kept cropping up in conversation when you spoke to drivers in the paddock over the Japanese Grand Prix weekend.

That's because, over a few crazy days, we were all reminded of some of the reasons why we got involved in this insane business to start off with. Part of that answer, part of the explanation for how we are not driven mad by the politics and infighting, is that Formula 1 goes to places like Suzuka.


Forget your anodyne modern circuits with Ikea-sized car parks for run off areas and fake grass to define the limits of what is and what is not track. Suzuka does it how it used to be done. The grey stuff is the circuit. The rest is not. And that is perhaps why it may now have overtaken Spa as F1's best.
Yes, Spa has Eau Rouge and Pouhon, but much of their challenge has been taken away by re-profiling of the bends and that modern trend of replacing gravel traps with asphalt.
As one ex-GP driver told me last weekend, at Spa-Francorchamps if you make three mistakes a lap you could actually end up faster than if you had made none. At Suzuka, as we saw time and again just a few days ago, make one simple error and there is carbon fibre flying everywhere.
Talk to the guys in the paddock who have the real passion for a challenge, a real understanding of what it is that separates them from the likes and me and you, and you see them come alive at Suzuka.
To witness cars up close snaking through the Esses, hands darting around the steering wheel, reacting in milliseconds to whether it is the front or the rear tyres losing grip, is to see something truly magical.
Even Kimi Raikkonen, a man not known for public displays of excitement about very much in life, had a glint in his eye when he scoffed at suggestions Suzuka had now become too dangerous.
"I think it is a dangerous sport," he said. "This is more a kind of old-style circuit. The new circuits have a lot of run-off with asphalt, so it makes no difference if you make a mistake, you can usually get back on the circuit.
"Here, if you make a mistake you are usually going to hit the wall and I think that is how it should be. You get punished for the mistakes and it makes it more exciting - you need to be more precise."
Indeed, Suzuka provided a good wake-up call for a host of rookies who, thanks to either not having been in F1 before this year, or having been in F1 only since Fuji hosted the Japanese GP, got their first taste of the only figure-of-eight track on the calendar.
While Lewis Hamilton revelled in the moment - and probably secretly wished that he could experience a Red Bull Racing RB5 through the opening sequence of corners rather than his McLaren - for the other 'Suzuka virgins' things would be much tougher.
Scuderia Toro Rosso duo Sebastien Buemi and Jaime Alguersuari seemed to spend more time in the tyre barriers than out on track over the weekend, as they showed youthful enthusiasm was not perhaps the best way to get through a Suzuka weekend.
In fact all the big shunts (bar Mark Webber's Saturday morning spin at Degner when a bottoming-out Red Bull pitched him off the track) involved those who had never been there before.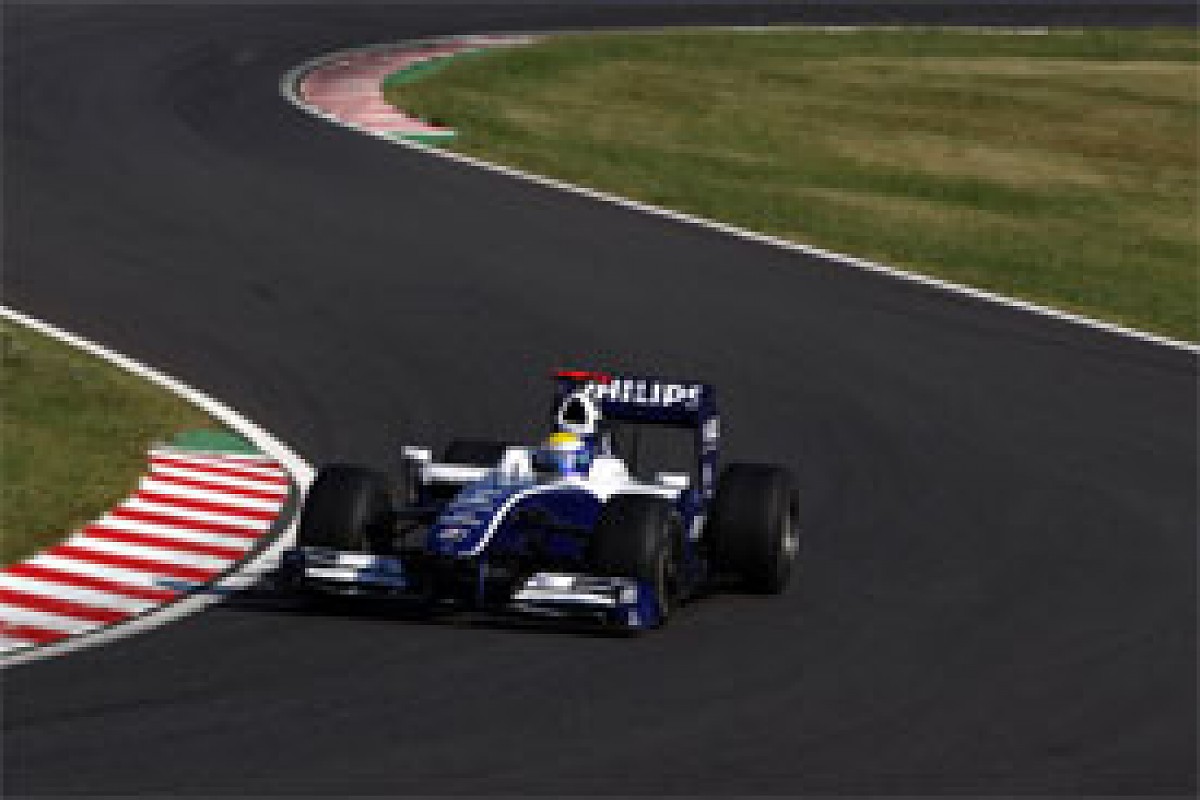 Nico Rosberg hustles the Williams through the first sector Š LAT
It is only when you get up close to the track - which means going out there and walking or running its entire length - that you get an appreciation for just how narrow it is, how it swoops, turns, bucks and dives - and how teasingly close all the tyre barriers are, ready to suck in the next victim.
You find out too just how technically challenging it is - how drivers need to learn the tricks and techniques that make a master of Suzuka - yet without that cushion of acres of run-off that they find at other modern-day venues.
Take the Degner sequence of corners, for example. It was where Webber, Kovalainen, Buemi and Alguersuari all crashed on Saturday - messing up the entry, being forced out onto the flat kerbs on the exit and, with little resistance, out onto the gravel trap and then quickly into the barriers.
Some suspected a bump at the turn was causing the problem, but Williams driver Nico Rosberg thought it was simply of matter of getting the kerb on the entry of the double-sequence right absolutely spot on.
"To be honest those are two difficult corners," he said. "At Turn 8, where everybody has gone off at the top of the hill, it is very difficult because the kerb on the inside is quite special. If you take it a little bit too much it's huge, and you are going very fast. Normally you don't have such a pointy, huge kerb at those speeds. If you take too much of it the car jumps and you go off the road, if you don't take enough you are going to understeer off because it is dirty.
"So you need to nail it properly, and the sun is really low on the horizon. It's right in front of you there, so you really struggle to see that corner. And the kerb on the exit also, as soon as you go two wheels over the kerb on the green stuff, it's huge, so you just bottom out and then you can't get it back anymore.
"It's just a difficult corner, and then where Buemi went off is also quite difficult because it's never ending. You need to take the speed out of it, and it is never ending, and you are like... 'ooohhh'. You don't want to go wide there, so they are difficult corners. More difficult than usual I guess."
More difficult than usual? Yes. Worse than usual? Not at all. Multiply the challenge of Degner by 10, for every kerb and sinew out there, and you come to appreciate just what goes into each lap.
For those who tamed the beast without being bloodied, be it their first or umpteenth visit, they left Suzuka with just one simple feeling for the place. And it was the same emotion that those of us standing on the outside had for them, for displaying their craft once again at this great theatre to motorsport.
Respect.