The trip to Japan can be tiring and the logistics a bit more complex but, overall, any journey that has Suzuka at the end of it is a good one. It's a strange paradox of F1 travel that the more appealing a destination, the easier it is to get in. If you're going to Australia, for example, you buy a 10-year visa for twenty quid - job done. You do it electronically via the internet and print your receipt.
Lost in translation © LAT
Then there's China. You visit a regional embassy during limited hours and when your passport runs out of unstamped pages the Chinese refuse to stick their visa on a page with the bottom corner polluted a tiny fraction by a barely discernible stamp from Canadian immigration. If, as normal when you're constantly travelling, you've arranged to attend the embassy on the one day it's open before your flight leaves, you have a problem.
If you're in Manchester, they send you to Liverpool to pay £120 for an emergency renewal. By which time, of course, they're closed and you have to go back next day. So you change your flight and pay even more. Then, when you come to head for Melbourne the following year, you discover your mega multi-year Oz visa is non-transferable between passports, just as you're about to climb onto the plane. But it's the Aussies, so it's no problem. The airline staff sort it in about two minutes, gratis.
When you do eventually get into China you wonder why you bothered. Everything seems to be happening at a million miles an hour, you can sense the aggression and, all around you, people seem to be erupting from sundry orifices at regular intervals - spitting, snorting, coughing, and worse.
They don't let foreigners hire cars and so you have to put your life in the hands of a taxi driver. Lane discipline doesn't exist and it's probably best not to look because there's nothing you can do about it. Amid all the chaos they have this stunning Maglev train that goes from the airport to the centre of Shanghai in about 10 seconds at a zillion miles an hour. In the back of your mind you know the Germans had a fatal accident with one of their Maglevs - and if the Germans can have an accident... The only consolation is that if it did leave the rails you'd probably end up in Japan, for nothing.
Japan is the polar opposite. Everything is spotlessly clean, the taxi drivers all wear hats and white gloves and crossing a road is not a 50/50 death experience. There's the constant 'tweet, tweeting' which accompanies the little green man at a crossing - and nobody would ever dream of going when he was on red, even if there isn't a car for a hundred miles. Europeans do though, earning bewildered, disapproving looks.
The efforts the Japanese make to help puts most nations to shame. When I started going there in the early 90s I took an interest in the road car market and, at a time when the pound was much stronger against the Yen, quickly realised that European prices were daft. And Japanese cars are right-hand drive too. Car importing was all the rage and so I thought I'd give it a go.
The main dealers of Japanese cars in the UK were filling you with loads of hogwash about why you shouldn't go for a grey import Eunos roadster versus a 'proper' Mazda MX5. The rustproofing was no good, they wouldn't run properly on UK unleaded, etc, etc. In reality neither was an issue, the Japanese cars were way better specced and about 60 per cent of the price, duty paid. So my wife and I thought we'd bring in two and sell one on.
I used to buy this thick magazine called Car Goo, which was a sort of jumbo Japanese Auto Trader. It was in Japanese of course, but the figures weren't and you got the general drift. So many kilometres and so many Yen. All you needed was a head for figures or a calculator.
Working out the age of the car was another matter. The puzzling thing was a number immediately following the make of car. The newer the car, the higher the number - confusing. Registration plates offered no clue. Sitting in a Japanese bar trying to work it out, a local presumed I spoke/read Japanese. Wrong. But he spoke English very well and solved the mystery. The figure referred to the number of years the car was manufactured after the death of the Emperor. Of course! Obvious really... It was 1997 and Hirohito popped his clogs in 1989, so a Mazda with a 5 after it, was three years old.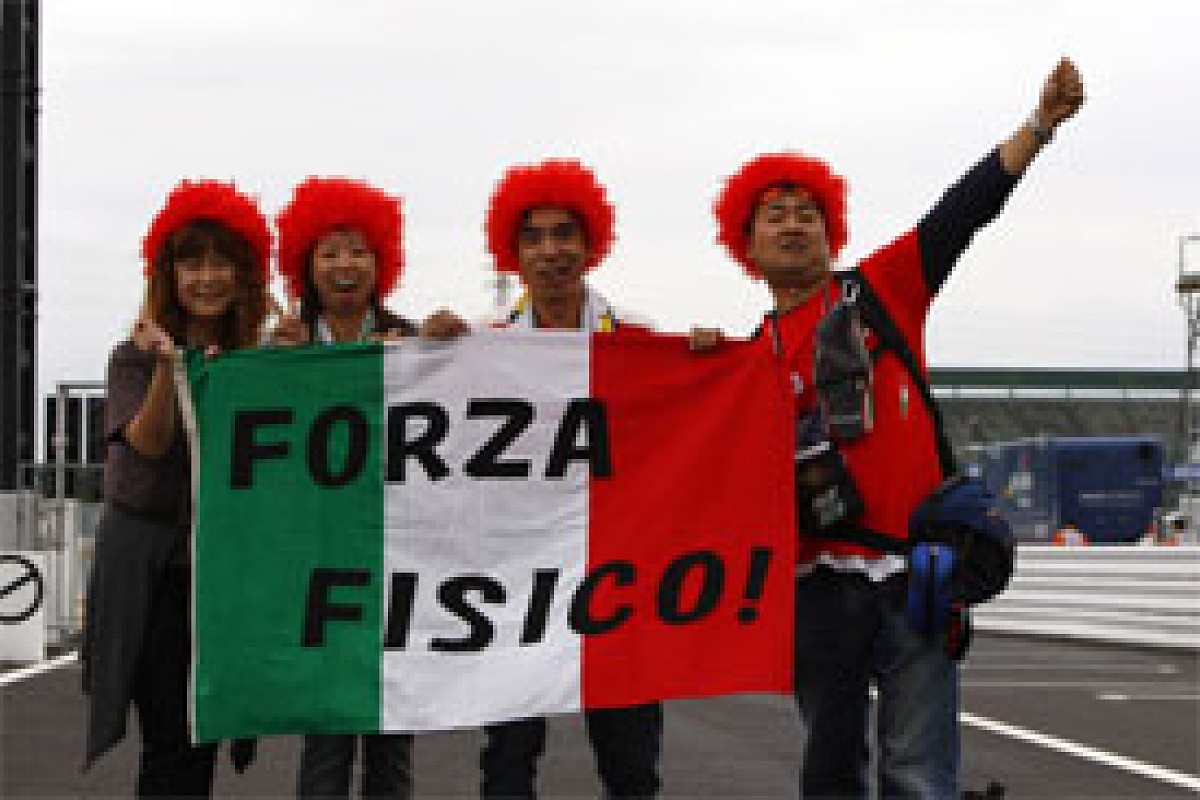 Passionate supporters at the Japanese Grand Prix © LAT
He then offered to drive us all over the place to assorted Mazda dealers and assist with translation. In some parts of the world you'd be concerned about being robbed and discovered a few months later at the bottom of a well, but not in Japan.
Trying to negotiate the price, you'd tap the sticker price minus 20 per cent onto a calculator and give it to the salesman, whereupon he'd have apoplexy, wave his arms around and sprint off with the calculator into an office, where presumably his boss was and from where would emanate a most unholy din. At first I was worried I'd mortally offended him but my new friend said, no, don't worry, it's normal.
The process was repeated three times until we'd arrived at a figure at which he hadn't lost face, and agreement was made. It took about two hours to drive both cars, do the deal, arrange the shipping and leave with gifts - stainless steel flasks, jackets, balloons and stickers for our then non-existent children.
Our friend from the bar explained that his wife was probably wondering where he was by now, so he telephoned home and then insisted we went out to eat with them. At the end of which his wife presented us with boxed gifts and he drove us back to our hotel. All a bit embarrassing really.
To say we were gobsmacked doesn't really get near it. Just a few hours earlier we'd been joking about our chances of reading a Tokyo dealer's address from a Japanese magazine and navigating ourselves across Tokyo by train and taxi. What chance of a Japanese reading Exchange & Mart in a London bar receiving similar treatment?
Mission accomplished in less than 12hrs, we forgot about cars and spent the rest of the week sight-seeing. The Mazdas duly arrived, the import process was simplicity itself and we drove one of them for three years and sold it for what we'd paid.
And so, when Lewis Hamilton spoke of bring treated like a king at Suzuka last weekend, I knew exactly where he was coming from. The Japanese are respectful and generous, and there was no doubt that they were as delighted to have F1 back at Suzuka as the drivers were about returning. For many, Lewis included, it was the first time.
There's something of an aura about Suzuka's sector one, a series of superfast sweepers which, it is said, sorts the men from the boys. Jenson Button made a big impression when, on his first visit to Suzuka in a Williams in 2000, he qualified third and was quicker than Michael Schumacher in sector one.
As always, it's about more than simply the driver. If you don't have an aerodynamically efficient car, it doesn't matter whether you're the good Lord himself, you're stuffed.
But even so, you can't help looking at the S1 times in first practice to see who's on it straight away - which some hold to be a good barometer of natural talent.
This year, that meant Saturday, as Friday was lost to rain.
Bear in mind that everyone's programmes are different, fuel loads vary and so on, but I was still impressed to see that half an hour into FP3 on Saturday morning, Sebastien Buemi's Toro Rosso had the quickest sector one time - 32.4s. Vettel and Kubica had done 32.5s, Trulli 32.6s. Button and Hamilton were on 32.9s.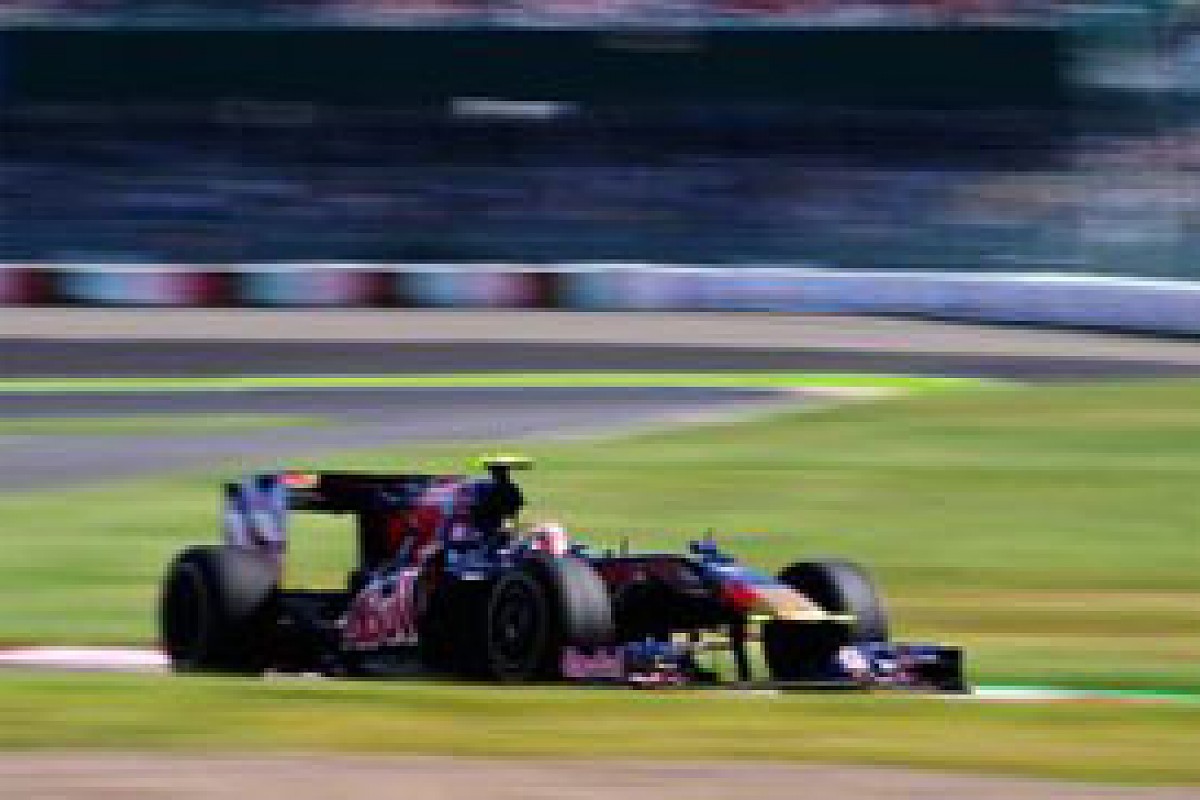 Sebastien Buemi at speed in the first sector
A bit further into the session Buemi had improved to 32.2s and team mate Alguersuari was down to 32.5s. The times told you what you already suspected - an Adrian Newey chassis was a good thing to be seated in at Suzuka. But, saying that, Buemi's performance was still more than worthy of note. He was quickest over the whole lap for most of the session, Trulli's Toyota going seven hundredths quicker in the dying seconds.
"It was a very good start to the weekend, we were really competitive," Buemi said. "We had a new floor and front wing. In FP3 I was the fastest in S1 and that proved we had a very good car. You cannot be fast there without one. We were really genuinely quick, it wasn't that we were driving with low fuel, we had more or less the same on as the other guys who were competitive."
Buemi had been hoping for great things in qualifying but went off at Degner and was fortunate to be able to get back onto the circuit and get through to Q2.
"Degner is really bumpy, really tight, and the kerb on the exit is really high, so as soon as you touch it you tend to launch the car and lose it." It didn't deter him from a very impressive lap straight afterwards and, truth told, he'd been hoping to qualify top six.
"Unfortunately in Q3 I crashed and got the five place penalty (for driving the damaged car back to the pits after his off at Spoon Curve), so instead of starting P8/P9, we had to start P13. Then we had a clutch failure straight away on the formation lap and at the race start I had the same problem again. Then came the retirement, so very disappointing."
In the nine races Buemi did alongside Bourdais, he outqualified the multiple CART champion seven times but, towards the back end of the grid, not that many people noticed. At Suzuka though, the 20-year-old Swiss certainly registered on the radar.
Sector one at Suzuka is made for a driver like Lewis Hamilton and if he was struggling, you knew it had to be the car.
"The first chance I got to attack it in the dry came in Saturday practice but I was almost a full second off in that one sector," Lewis explained. "It's not a circuit you can just go straight out and be quick if the car's not there - you have to build up to it. In those high-speed sector one turns you need a nicely balanced car and more rearward biased so that you can really commit. I wasn't able to do that and was really on the limit trying to close the gap.
"I came in after the session and made a lot of set-up changes. Fortunately they were all in the right direction and I was delighted to qualify third. We definitely didn't expect that. High-speed corners haven't been a McLaren strength this year and I think if we'd come here with the car we had at the start of the season, we couldn't have made it through the first two corners!"
It was a great effort by Lewis. As he said, S1 did not really play to the McLaren's strengths - it was much quicker in the tighter S2 - and yet when it mattered, in qualifying, only four cars were quicker in S1 than Lewis. When you're the reigning world champion and have already won 11 times, you might not get too excited about qualifying third and finishing there, but as is often the case, the great drives aren't always the obvious ones. I reckon Lewis was right at the top of his game in Japan and you've got to feel sympathy for Heikki Kovalainen. It's hard to prove your worth when Hamilton is the yardstick.
I wonder if Kimi Raikkonen noticed? Probably not, but then nothing seems to faze Kimi. Doubtless he won't be afraid to 'go home' and take on Hamilton. But it would probably be a much easier life to listen to John Howett and find out how many Yen Toyota are offering. The Japanese certainly wouldn't be rude to him. But Hamilton's raw pace might be.