Now we know he did win the British GP. Safe by one point, James Hunt is our new world champion. That's really the only one of the incredible results of the incredible Japanese Grand Prix that counts. All the rest makes good reading, but Hunt pulled it off!
Practice was good, dry and untroubled, and the grid was an honest reflection of the potential. It showed Mario Andretti on pole narrowly from Hunt, with Lauda well within striking distance and certainly in points-earning form.
But race day really ought not to have happened, not quite as early as it did. After over an hour and a half's delay the race was finally flagged off in weather conditions that struck everyone - even those few drivers who were willing to race - as appalling. Because he got a superb start, Hunt was in front of all the spray and muck, the impossible visibility and the treacherous footing that made four drivers give up. One of them was Niki Lauda - the world champion abdicated his chances in Japan.
Hindsight supports those drivers who toughed it out, for the weather against all predictions cleared, and the last half of the race was run in drying conditions. So drying that rain tyres wearing out became the real factor, and set the surviving runners up for the utterly unbelievable finish that... No, you won't believe it in summary form.
It seemed the wrong time of year to do something new. Hanging in the blue sky above the circuit was Mount Fuji, the snowy white legend. The foothills round about covered in curiously distorted familiar foliage, Old Gold now with the breath of autumn. In the fields aged women stooped to tend the rice. Thronging the tiny roads toward the speedway were hordes of tiny Japanese cars, some familiar (but like the Asian plant life, oddly altered in detail), many others totally new to European eyes.
Every sign board appeared to be covered not with messages but with cosmetic calligraphy, and the little food hops offered hot dishes of which the only recognisable feature was the steam curling off the top.
This would have been a wonderful place to hold an international motor race if only anyone had been in the mood to enjoy the novelty. But along the length of the pit road (and it was very long) the mood of the Circus was palpably weary. It seemed that central Japan was a long way to come to hold one more motor race - a brand new one that presented problems that almost no-one had ever solved before, the outcome of which really couldn't have interested more than two men.
On of those men, Lauda, went on television with his drastically heroic face and said to the world that, as far as the world championship was concerned he reckoned he had already fought his major battle of the year and that he went into a mere triviality like a cliffhanger series finish totally relaxed. All the pressure, he expected, would be on his rival.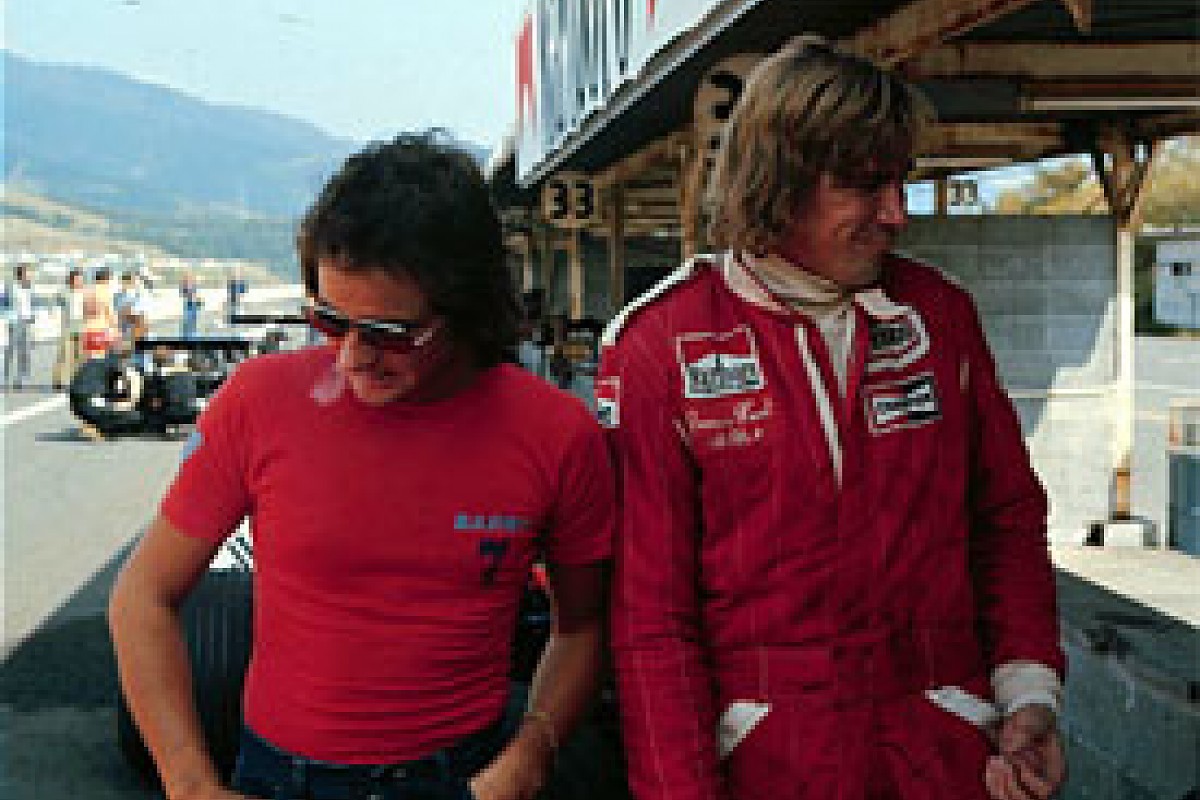 Barry Sheene and James Hunt © LAT
James Hunt, striding long-leggedly back from final practice (having qualified 0.28 seconds ahead of the world champion, although not on pole) said that from his point of view it was Lauda who had all the pressure. He had three points to defend, and that all James could expect was to have the best bloody go he could manage and let the points fall where they may.
Lauda was bouncing around the place on his toes, barking out technical commands to his team, hunching his shoulders away from the hundreds of cameras and questions, responding to perhaps one in five entreaties with as few words as possible - except when he abruptly turned to address one particular remark with "What you mean I'm difficult to talk to?"
Down the pits road was a not dissimilar atmosphere. "James, twitchy? No, I don't think so really - although I guess he has been asking us to change things rather early. Usually he waits out the first practice session, says 'I don't like it but let me try it again,' before he says to alter it. But I did notice we were altering it right away this time," said a McLaren team member.
There was a third man in the equation: the man on pole, Andretti. He had his own race to run, but he had sympathy for Hunt. "He's got everything to lose, he's got to win - what can I tell you?"
Entry
We had 26 on the entry list this time. They were going for what was originally to be 24 grid places, although later a 25th was added.
The front suspension of the Ferraris had been altered a little at the 'up-carrier,' creating more camber-change with deflection. Lauda's car was the most modified, and it created a definite change in cars behaviour, if not its speed.
"It would be better if the weather was colder" barked the champion. So you expected colder weather? "Yes." Does it really hurt? A shrug. Designer Mauro Forghieri was more specific.
"You see, Goodyear making the tyres always harder, harder, harder. Our suspension, it is always 'correct'? It is always the tyres are square to the ground. They travel colder than some other cars - like today. I see Ronnie Peterson, he have 290 degrees. Two hundred ninety! Niki have 210 not more.
"But Goodyear, they cannot make two kinds of tyres and say to the other teams, these you may not use, they are dangerous for your car. Of course not. So - we have to change our car."
Down the rest of the list of Europeans, there wasn't much of the mechanical novelty. The Elf Tyrrells in use were the same as before, Patrick Depailler's still with long wheelbase and Jody Scheckter's with deep wing endplates. Like Ferrari, Tyrrell had a third car. At team Lotus, Andretti was down to one car this time like Gunnar Nilsson, Mario's being the original JPS of the 77 series, 11. Likewise there were only two Martini Brabhams, neither fitted carbon brakes.
The other notable things about the entry involved the sponsorship and driver side. On the Shadows was an additional name, Benihana, a chain of Japanese restaurants in the USA (the multi-millionaire proprietor, Rocky Aoka, races power boats power boats for a hobby). Another oriental name was Teddy Yip, who was sponsoring Alan Jones's Surtees.
But the real Japanese flavour was that no fewer than four local drivers had found rides: Noritake Takahara in the other Surtees, Masemi Kuwashima in the second Wolf-Williams, Masahiro Hasemi in the interesting and beautifully turned-out Kojima, and Kazuyoshi Hoshino driving a used 007 Tyrrell.
Both the two last cars used locally-made racing tyres, the Kojima on the Dunlops and the Heroes Racing Tyrrell on Bridgestones. 'Hot stuff' was the entrant of the Maki, which Tony Trimmer had been invited to drive.
Practice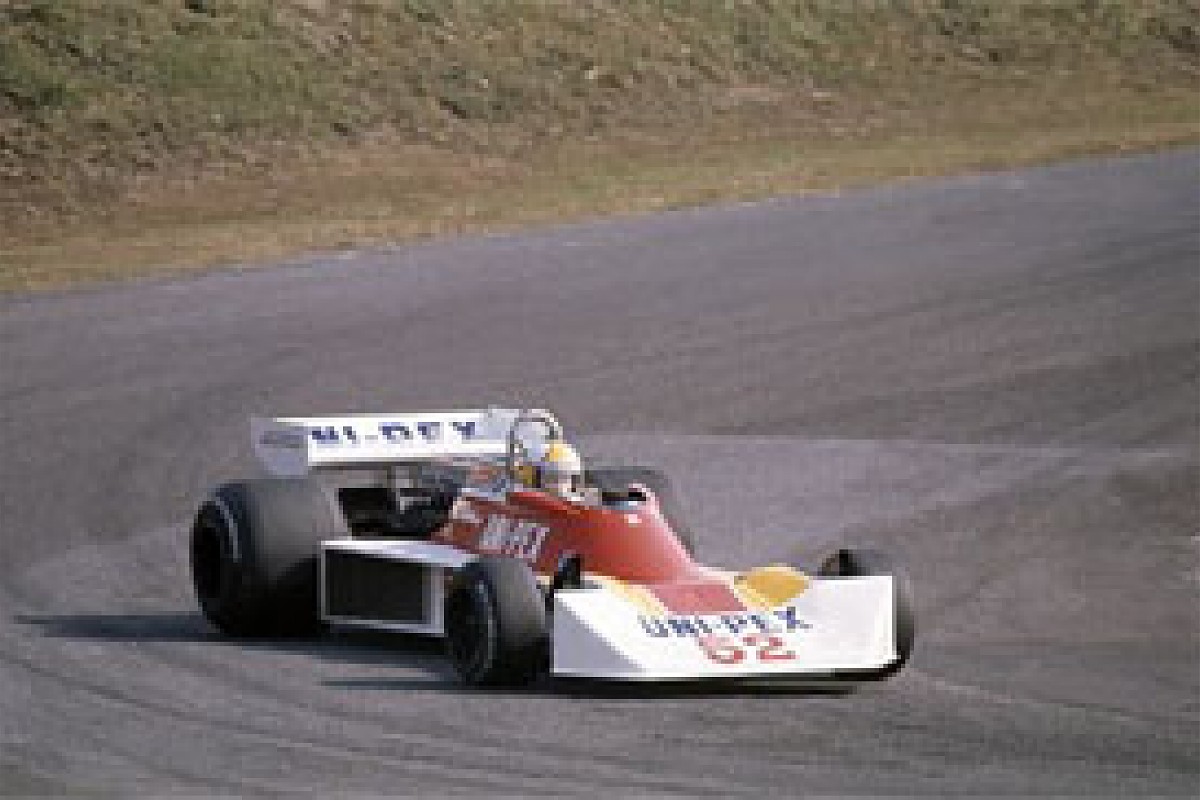 Kazuyoshi Hoshino, Heros Racing Tyrrell 007 Ford © LAT
The participation of two new tyre firms changed the political balance of things during practice. After two years of nearly total domination, Goodyear found themselves with opposition. Real opposition: Hasemi in the Dunlop-shod Kojima was putting his local knowledge to good use and finished the first practice session a sensational fourth quickest overall! That shook everybody, and it shook a new batch of sticky tyres out of Goodyear.
Even before the end of that first Friday session, both Lauda and Hunt were given a set of the new stuff. In the afternoon just about all of the normally faster men were able to try out a set - but not quite all of them. There arose a muttering that swelled into quite into quite a mini-row. "Unfair!" went the cry. We're all supposed to get the same thing, it's an agreement. Why, there's just no telling how much farther up the grid we'd be with the qualifying rubber. There's enough of them around, but they're hoarding most of them for Ferraris and McLarens!'
Goodyear top man Denny Chrobak was matter of fact in his reply. "This 'agreement' they're talking about is only in effect as long as there's no tyre competition. Today we've got competition. It's a different ball game. I've got to give my tyres to the men I think are going to get the job done for me. It's as simple as that."
In point of fact the notion of qualifying rubber was misleading, everyone coveting the 'softies' supplied at Mosport. Estimates of the their worth on the abrasive Fuji surface varied widely, some drivers thinking it was a whole second and more, and some team managers being able to point to evidence amounting to about 0.2s.
But more significant was the rather odd fact that, after only a few laps, the hard ones - which were actually medium, there being a total of three grades on hand - overheated and lost their grip quite drastically, whereas the soft ones would hang on for many more laps before going off.
One theory that could explain this curiosity involved the fact that many drivers were running round the circuit with extremely low wing angles, living with loose handling for the sake of speed along the main straight. It has happened in the past that a car with low down force slides so much that the rubber in the tread actually has a harder life than if it were carrying a more aerodynamic load.
Other things come into it (racing cars are very complicated devices), but anyway ,most teams settled upon the soft ones for the race for at least some wheels of their cars. When it became clear for one reason or another there weren't enough sets to go round there were a lot of smouldering glances directed at Chrobak.
From poor Denny's point of view some of the urgency of the situation evaporated early in the Friday afternoon session when the Kojima crashed. Hasemi thought that perhaps something had broken, or that a front tyre had punctured Arturo Merzario thought the crash could be explained by the newcomer having tried to overtake him on the outside of the entrance to the very quick final turn onto the straight.
Anyway, the gleaming black machine went straight off on the outside, front wheels sliding desperately, and into the barrier. The crunch was cushioned by large blocks of the foam rubber roped to the face of the steel barrier, but it was still hard enough to severely tweak the left front corner of the tub.
The Japanese team stripped the bent chassis, strapped it to the top of their estate car, and drove it down the road, literally only a few hundred yards from the speedway gates, to their shop. There, they let it be known, a spare chassis was ready to build up. The car would surely be ready for Sunday. Enquiring bystanders poked their noses into the shop that evening and discovered the "spare tub" was in the form of a single sheet of aluminium, only just being folded into a trough and fastened to a jig.
No way that car was going to be ready for the race, it was all just to keep the television interested, wasn't it. But the lure of the modest little workshop kept European faces poking in the door all the next day, and fascinated reports kept coming back to the paddock. "Oh, I stopped in there on my way in this morning, and they've got the tub about together." Hey, I just ran over for a look and they've got suspension hanging on it." During lunch they were putting in the instruments in it."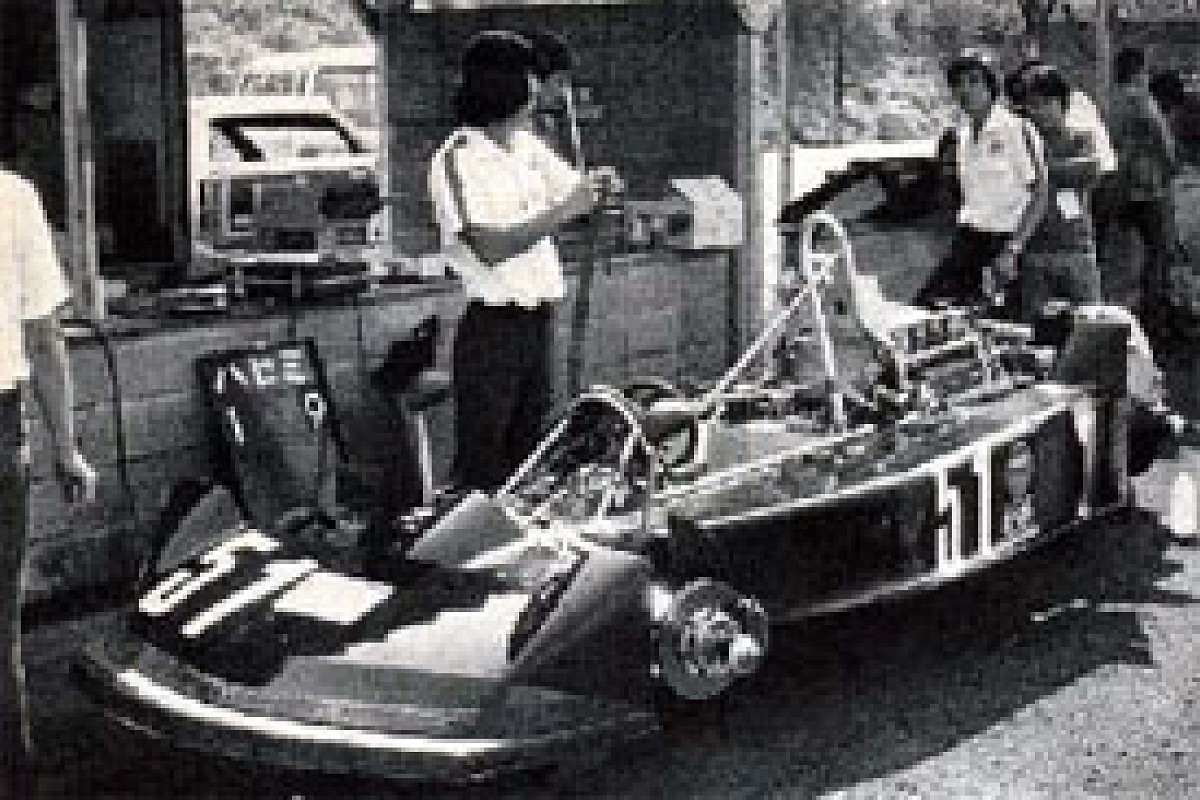 Kojima Engineering KE007 Ford of Masahiro Hasemi © FORIX
All riveted, welded, bolted, clipped, wired, plumbed, aligned, adjusted and fettled, Kojima Engineering KE 007/2 arrived back in its garage all ready to go on Sunday morning. The team would very much like to join in the full grand prix season next year, and they jolly well deserved to.
The Fuji speedway has alternative circuit layouts, but the one in use for the first Japanese Grand Prix incorporated six distinct corners (two of them flat in the dry) for a lap distance of 2.7 miles. It looked an interesting circuit, with a blend of fast swerves all along one side and a very long straight on the other, much like Kyalami or Dijon. Some drivers, however, said it wasn't as difficult or as satisfying as it might look, and like Anderstorp, it was peculiar. "It's got a very tricky line in the places," was one comment.
Circuit preparation seemed good enough - the visitors concerned with such things said: "Well, they've done the things we've asked them for" - but there were a few places where a bit more might have been asked. One aspect that looked substandard to eyes schooled in the present day Europe was a lack of kerbing at certain points, where cars accelerating hard out of corners kept straying off onto the grass. This happened particularly at the beginning of the long pits straight, and by the middle of Saturday's final timed practice (in the morning) large ragged chunks of the six-inch-wide bordering strip of concrete had been torn up and flung into the road.
Another deficiency had appeared even before practice when on the Saturday before Hunt had been nonplussed to find that his McLaren was causing the surface of the track itself to break up in the wet! By Thursday journalists in hire cars were breaking it up in the dry, and it began to look like a giant problem was arising.
However, the problem area was confined to just on patch ("And if they'd only move over a little and not run on it we'd be alright", complained one driver) where a very thin surface coating had recently been applied. On the Friday night it was torn up and a seal applied to the original surface, and everything was fine from then on.
The team manager of Ferrari fired another salvo in the political wars of the season by requesting an extension of practice time. It was manifestly unfair, said, Daniele Audetto, that Hunt had come to test last week. "in Mosport we make an agreement, we make a paper, that nobody comes to Japan for testing before. So we didn't. But McLaren; they quickly take a car from Watkins Glen and send it to Fuji, and they break the agreement." To this race organisers turned an unsympathetic ear, and practice was its normal length.
Hunt was in fact a scant one hundredth of a second to the good over Lauda at the end of the first session. Carlos Pace was third and Andretti fifth, all of them in the high 1m13s bracket, which was just about what had been predicted. Poor Hasemi had not really got going before he crashed in the afternoon, but Andretti and Pace jacked the speed well up and stayed the fastest men by the end of the day. Clay Regazzoni and Vittorio Brambilla came third and fourth, which presented the quite unusual sight of Lauda and Hunt side by side on the third row of the grid at that stage.
That stage was important, because the weather report was pessimistic; a front was building up in China and was due in Japan on the Saturday. It was probable that the grid order would stay just as it was. How James, with his record of poor starts, was going to get away from Niki and around a certain pair of drivers ahead to win the race and get his necessary three points advantage was the main topic of chatter over dinner that night. Photographers massaged their trigger fingers gleefully and discussed just where they should station themselves for the accident shot.
Hunt joined battle with Andretti for pole. The JPS driver just won it by three hundredths, the pair of them the only ones to get into the 1m12s. Mario's 12.77s was his first GP pole since his F1 sensational debut with Lotus at Watkins Glen in 1968.
"Nah, the car isn't particularly better. I mean it's workin' as good as it was yesterday. It's just that the track is gettin' better, more rubber down," he said. His car, set up with "practically no wing" and with the narrower dimension in the available wheel rims (10s and 18s rather than 11s and 19s, which was worth something like 200rpm on the straight) it must have been something of a handful to drive.
The corner onto the straight especially; approached through a flat-in-fifth right hander that seems to go on for a long time, the actual corner is an abrupt tightening of the right-hand radius which calls for a quick down change to fourth. It's all gently uphill until the exit, when in the last few yards the cars slide up over a crest onto the more level straight. Some of the lurid moments here are exciting indeed. But they are necessary, for the key to speed on the straight is right there.
"Well, the first part of it, anyway. It's long enough so the car will reach a terminal velocity eventually, but if you're ever gonna tow by somebody you've gotta do it in the first half with your speed built up out of that corner."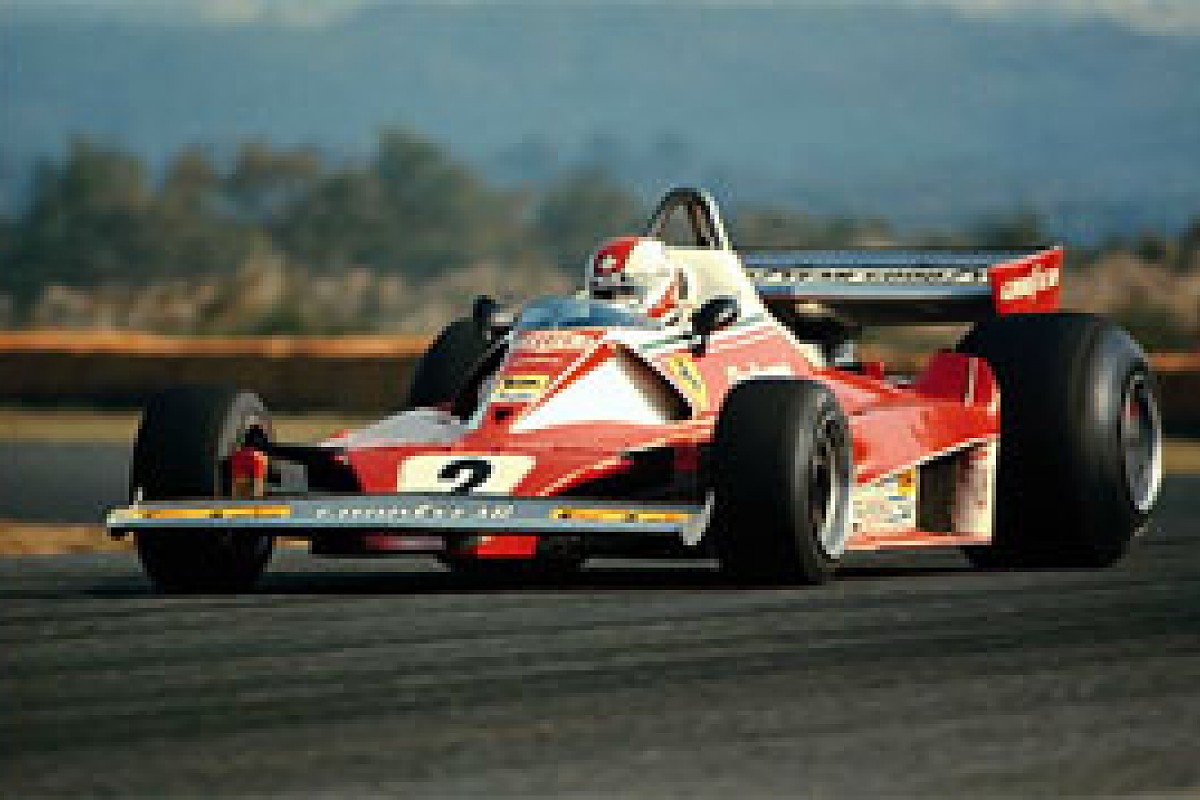 Clay Regazzoni, Ferrari 312T2 © LAT
Hunt had wound up the day before "quite confused. No, very confused." He was getting "different results with different tyres which ought to be the same" and an understeer all around the circuit. He looked dejected. But for Saturday the M23 was better. "Still not just right, it's understeering in the slow ones and oversteering in the fast ones. I'm probably still running quite a bit of wing, and the ratios aren't right yet. I'm going to have to spend the whole afternoon trying to get the car right for the race." But his mood had shifted into something more like anticipation.
"I'm going to just hope for a good start - I must make one some time - and trust the car."
As for Lauda, third on the grid in 13.08s, "The more laps the more understeer, so I stop". He was becoming ever more disgruntled about the tyres, which were doing things they shouldn't. "Fight oversteer, change tyres, fight understeer...."
At the end of Friday he'd told his team that his engine was tired and they must change it. At the end of Saturday he said the same thing. About himself he allowed that he too was "Tired. Tired and confused." Quite untypically, Niki had spun during proceedings.
The qualifying struggle between the three men at the top was so absorbing that it dominated attention, which was a pity, for there was some good action among the other teams. Intelligent management had helped Citibank Penske driver John Watson onto the second row of the grid. Friday had ended with an abrupt bang as his engine exploded savagely "just when we were getting it right," but progress continued on Saturday.
Still a bit slow on the straight, presumably because of the driver's preference for enough wing to make the chassis feel comfortable, the car wasn't put onto it's allotted set of "softies" until late in the hour. Other teams had already discovered that they were at their best during the first few laps from fresh, so Penske held them back until the car, the track, and the driver were all ready to make the best of them.
Scheckter, fifth at the end of it all, had been having dramas on the way. He hadn't been practicing long on the first day before he was confronted with a gyrating Brambilla, and only just stopped the Elf six-wheeler before ramming it. That was the T-car, which Jody thought to use to develop preliminary settings and ratios for his race car.
But that didn't work as well as planned. When most other cars were getting understeer in the available tyres, the Tyrrells were getting oversteer which was visibly hairy on the higher speed portions of the circuit. But there were blistered fronts as well. Before he was through he got a stone through his visor, too.
Falling back to sixth on the second day of practice, Pace said his handling wasn't so good as the day before when his tyres were fresher. He couldn't get the power down to the road quite as early as before.
Behind the Martini Brabham man the central part of the pack bunched quite closely together. There weren't a lot of dramas troubling them. Peterson had delays with fuel pump failure and then a pinion bearing broke, but even when he got going he found his left front tyre was holding him back. It was getting hot and going off, even when he tried the hardest of the three compounds available. After practice March tried moving the battery from the nose to the rear to see if that might help.
Team-mates Brambilla and Hans-Joachim Stuck both had engine failures to hold them back. Jean-Pierre Jarier also had an engine blow and then a tyre blew too. That happened at speed on a straight, just after the chinks of concrete strewn across the road, although J-P didn't think he'd actually run over any. Anyway, the left rear tyre exploded violently and dropped the Shadow so hard onto its corner that the rigidly mounted radiator put a wrinkle in the back of the tub.
There were other problems with other teams but they seemed to even out and the grid took shape in a not unfamiliar pattern. The man who wasn't even at the back of it was the unfortunate Trimmer, who would have been far better off never answering Maki's request. He'd come out to Japan two weeks early specifically to test the new car, but the first time it rolled a wheel was in the paddock the evening before first practice.
On the Friday the ungainly-looking machine allowed him but six laps between picking its fuel up and unscrewing its gearbox internals. On Saturday Tony added two more timed laps before some electrical trouble persisted in shutting the engine off.
One other was out of luck, and another in because of it. Kuwashima had practiced in the second Wolf-Williams on Friday, not doing very well with it. By that evening, though, it began to look as if his backers weren't going to come up with the agreed hire fee and so Walter Wolf, who had fetched Austrian Hans Binder along just in case, secured permission to swap drivers. He didn't get going much faster than the other man, but a further request by Frank Williams to enlarge the grid was smiled upon and lucky Hans was into his second GP.
Race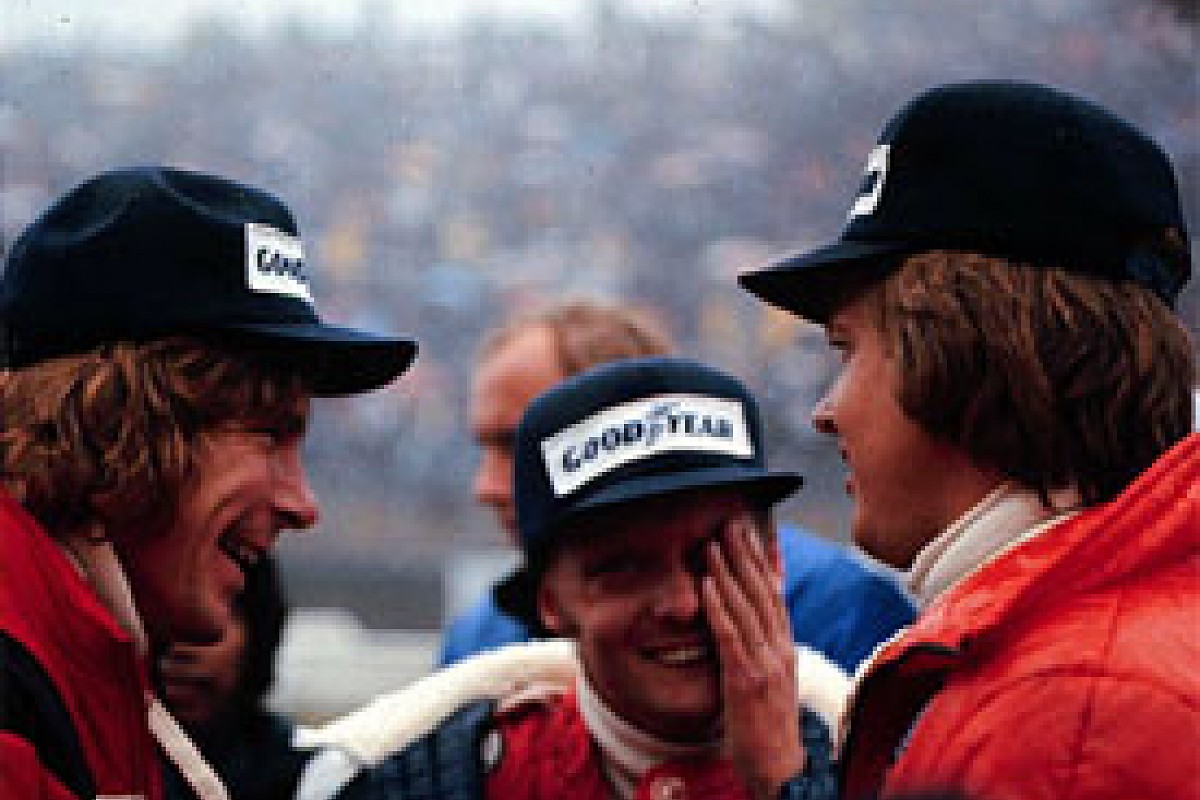 James Hunt, Niki Lauda, and Ronnie Peterson on the grid © LAT
Uhh... how lucky was it to be in this race, anyway? The promised bad weather did move in Saturday night, and Sunday morning was grey, gloomy and very, very wet. Heavy mist hung low over the raceway, and rain sprinkled down steadily. Water had long since made puddles on the track.
Nevertheless, the morning warm-up got off on schedule, and the F1 cars looked like childrens' toys dragged through the mud as they slid around the corners. And off them: in the very fast fifth gear corner leading to the final turn Jarier and Stuck spun round, and Larry Perkins went off into the fences hard enough to tear the back off his Brabham's gearbox.
Moments later team-mate Pace spun there too. The session ran to its end, and then the drivers had a worried consultation and agreed - most of them - that they would not race in the conditions.
"Approaching the first corner there's a huge puddle and you've got to brake for the braking area," reported Hunt grimly. Aquaplaning was happening viciously all round the circuit, and visibility was appallingly low.
Now commenced another of those all-too-common situations in GP racing where nobody is in charge and everybody knows what to so - or is that vice versa? A few of the drivers boldly asserted they would be happy to race; these tended to be March drivers. Well, he wasn't going to race for a championship in these conditions, asserted Hunt just as boldly, and many heads nodded in agreement.
The officials scurried about in several directions, driving round and round the track in hopeful inspections (the circuit car splashing spectacularly and aquaplaning visibly) and calling worried conferences, Of course, there were several factors to consider before calling off the race, and each party naturally had his own favourite uppermost in mind.
For several hours it looked as if the main, rather the only, story of the day was going to be the various sides of the non-story, but nearing 3pm, the officials girded their multiracial loins and announced the race would indeed start. Conditions were even worse than before, despite tantalising little intervals of seeming to clear.
Everything balances out in life. Anyone who chokes with envy for a grand prix driver's style of life ought to have been in the pits when as Hunt pulled his helmet on one last time. He had to step across to his car on a sort of Plank Bridge constructed by his thoughtful mechanics to keep his feet out of the water in the ground. He had to settle down to a seat wet despite an umbrella that had been covering it. He had to pause while a mechanic with a drill pierced ventilation holes in his visor. He had to run his gloved hands over the wet steering wheel, ignore the dozens of camera lenses invading his cockpit, and try to be civil to the onlookers who wanted to have some sort of last contact with him.
"I'm not going to race," he said in a very small, slow voice, "I can't. I'm just going to drive around." then he leaned his head back as far as the crash structure behind it would allow and shut his eyes.
Either side of his hips was a bath of 40 gallons of fuel. Behind his shoulders was 485 horsepower, Ahead of him was a road covered in many places by water inches deep. Above him the air was heavy with mist. Steadily rain fell out of it. Behind him on the grid.
At 3pm, the time that had finally been selected as the start - 90 minutes past the original time, and only two and a half hours before darkness. - the mist was so thick on the main straight that visibility was 200 yards. The officials announced a further delay of five minutes.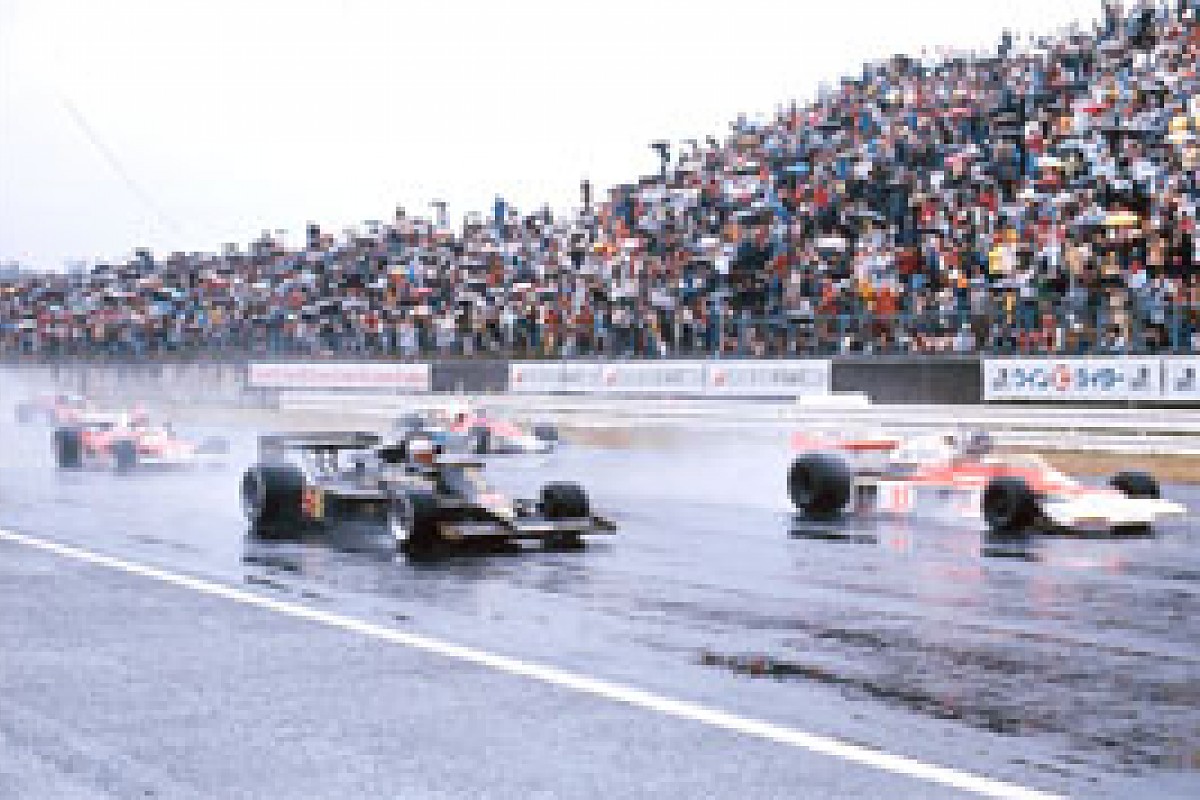 The start of the 1976 Japanese Grand Prix © LAT
Then, incredibly, they got on with it.
At the start, James made one of the best getaways of his career. With thick white spray balling up behind, he outdragged Andretti off the line. Watson from the position right behind made just as good a start, and then the Penske was taking second place as the spearhead of the pack splashed down into the tight first corner. Hunt was safe, his white McLaren nose cleaving clear air - the hardest part of the first lap safely accomplished.
Hunt was still in front all around the six turns of the lap, his spray forcing Watson and everyone else to ease back several lengths. Into the first corner the next time round, from straightline speed this time, the M23 went onto the brakes very early: but even so it went into a nasty wobble in a puddle halfway down the long deceleration. Looming up behind the Penske snatched its wheels, and Watson made the instant decision to keep on going, straight down the escape road. So Andretti moved the JPS into second place.
Behind him, in the ever-increasing fog of wheel and wing-churned water, were Scheckter and Brambilla, then the already astonishing Japanese Tyrrell of Hoshino, and then a red Ferrari. But the wrong one, Regga's. Lauda, looming up vaguely in the spume, was well back and dropping further back. In fact, he was dropping back into the pits.
Niki was getting out of his car!
He'd seen enough. He was quitting. "It's just like murder to be racing out there. I'm not going to do it."
That's what Emerson Fittipaldi thought, what Pace thought, and what Perkins thought: they each retired too. It may not be what Peterson thought, but his engine stopped halfway round that track and he walked back (later his mechanic went out, fired it up and drove it back to the garage. It could have been water in the electrics).
A number of other drivers admitted to having the same thought, but they all carried on racing: they had to go to slowly and keep too far apart to be racing, strictly. Raising plumes of solid white water behind them, each car slithered around and around on the desperately treacherous edge of control.
All except Brambilla. The orange March went up the line like a forest fire leaping between tress. Leaning hard on his tyres, driving them into the most gritty sections of corners he could spot, Vittorio moved around Andretti into second and closed visibly on Hunt.
But on the fifth lap he came into the pits and had his left front tyre changed. So James was safe again.
It was Andretti second, but Hoshino moved by Scheckter - private four-wheeled Tyrrell ahead of works six-wheeled Tyrrells - and then Brambilla moved up from his pit stop, from eighth to second. Jochen Mass came up and passed Andretti and when Brambilla overtook Hunt for the lead - and then spun off while he was still almost alongside him - Mass was second. McLarens one-two.
It all had the intelligible pattern of a kaleidoscope, but after about 10 laps the weather seemed to be lightening, and by lap 20 it was definitely clearing. The rain had stopped, the mist was rising, the road was very gradually drying, rooster tails were dwindling.
Had anyone only known, the race could have been postponed a further 30 minutes, and then it would have been a decent contest in manageable conditions. As it turned out, those drivers who - for whatever mad motives - stayed out in the worst weather had payed their way into a genuine grand prix. The speeds picked up and the discrepancy between different cars shrank, and the Japanese GP got under way at last.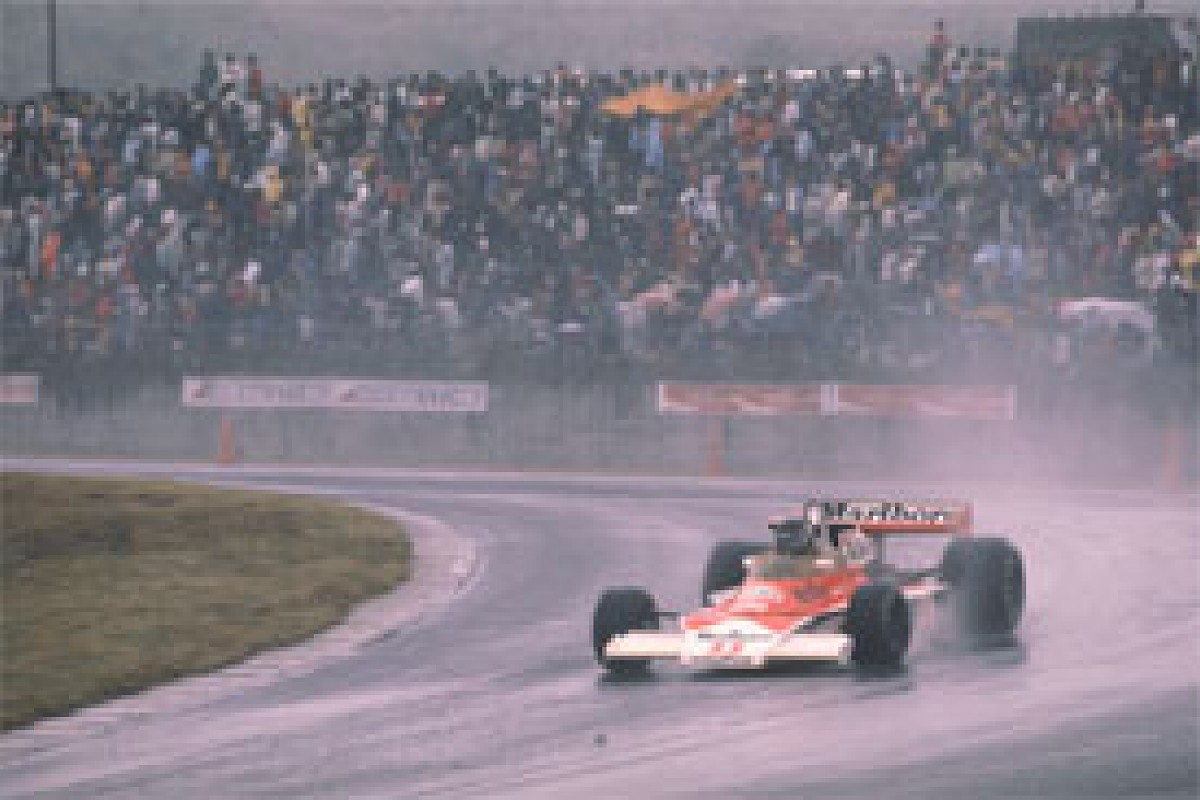 James Hunt and Jochen Mass (McLaren M23 Fords) © LAT
Hunt was still alive and in front. Mass, spectacular Mass, moderated his pace and settled loyally behind. Depailler his Tyrrell working very nicely in the slickness, forged by Brambilla for third, with Andretti chasing the March as a he dared. Then it was Watson hounded by Tom Pryce, then Regazzoni driving sensibly around all alone.
Stuck and Jones were together, and so were Nilsson and Scheckter (who had fallen far back with a misfire in the wet). Hoshino too had lost his early speed, having stopped when the water began to thin to change to Bridgestones, the thick tread of which had begun to tear apart. The same trouble had cut back Jacques Laffite too, who after only a couple of very hard laps early on found his front Goodyears going away and who made a remarkable early decision to change to slicks.
Hunt lost his "Hinterfreund" when Mass, dejected about it beyond the telling, fell off the road. "I shouldn't have slowed down. That's what can happen when you slow down." His car went sliding off the outside at the notorious fifth gear corner (sixth in an M23) into the barriers, crumpling its right front corner but hurting only Jochen's spirit.
So there was air yawning nakedly behind Hunt, and threatening to fill it were Depailler and Pryce. Shadow passed Tyrrell then and Tom was second - but not for long. His engine gave a few preliminary hesitations and then seized up. After a fine drive, Tom walked in as Patrick renewed his advance on Hunt.
The track was now dry enough for the rain tyres to become seriously overstressed. In fact all the wet air was gone, the clouds had blown away from the circuit, some blue sky had appeared overhead, and the lowering evening sun had begun to glow warmly over the scene. Incredible. Mount Fuji began to loom through the clouds, showing hints of snow covered slopes. Cars began to sparkle. The still-wet tyre treads began to glisten.
They were shredding and chunking too. The whole race was into a third stage, as desperately unstable at first. Instead of the treads cutting through water to get at the road, the road was biting into the rubber. The soft rain compounds, already broken up into individually heated blocks, were wearing away at a frightening rate.
Seeing what is happening from the outside and knowing what to do about it from the inside: there's the trick. Depailler, goal of an F1 lead closing in with every lap, hurled the Elf blue six-wheeler round the circuit at full racing speed. Hunt, a larger goal in view, and his tyres entering a parlous state, held the Marlboro car in anxious check. All the while the John Player Special, Andretti sticking determinedly to his own idea of the best speed, was closing up too.
Abruptly James' lead was gone for the second time of the day, and more surely this time. Both Patrick and Mario swept by, heading for their own confrontation. Hunt, aware of Lauda's absence if not the reason for it, was certainly able to tot up the point for himself. Third place was okay, four points would do the job. If only his tyres would stand up to it.
Depailler's weren't! Andretti completed his cautious attack and went into the lead. The Tyrrell, sliding wildly, fell back toward Hunt again. At the exact end of 64 laps, nine from the end, one of Patrick's worn-bare tyres went pop - just too late to shoot off into the pitroad. He had to do a complete slow, struggling lap before he could get fresh rubber.
So James was second, and six points were even better, if only he could hold onto them. For his tyres were on their last shreds of tread. Anxiety growing with every lap, he kept trying to get to his pits to tell him what to do.
"I couldn't gat a communication going with them, to know if I could come in. I didn't want to make the decision."
Nor, in fact, did the Kiwis. They were showing him signals every lap, giving gaps to fourth place (about 60s to Jones) so he could work it all out for himself, and showing an arrow, which is the team's symbol for telling a driver he may come in at his own discretion.
In the end it was at his tyre's discretion. The left front, scuffed down to and into the canvas, finally shredded. Sparks spraying and rubber flapping, red-and-white No 11 headed down into the pitroad. A wave of reaction went along with it - shock at the finish line, wild jubilation at the Ferrari pit, stunned sympathy from the other English teams, and instant efficient bustle at McLaren. In 27s they'd changed all four tyres to fresh ones (rain pattern still) and sent him out again - in fifth place. Too low! There were five laps left.
This extraordinary race turned into fantasy. First the setting: it was growing cooler as the sun sank, and darker ad the few patches of the adjacent to the volcano that weren't grey turned gold. The air was clear, but the track surface was still more damp than dry. Andretti's JPS was well clear, a lap ahead new and able to nurse its tyres through their final few miles.
The Ferrari pit, though, was roused into great waving bundles of arms because Regazzoni had achieved second place. But Regga, who had driven a lonely, untroubled race all the way, was lagging already with a soft right rear tyre. So the next lap around Depailler back up in second place, and as he passed the Ferrari he blew off the Surtees of Jones as well - for Alan too was struggling on a flat tyre.
So the next lap Regga and Jones came under attack from Hunt, who with every fiber of his being was trying to move up, somehow, anyhow. On the road it was Patrick and Regga together, with Jones in echelon behind and Hunt sighting on him. Next time it was James up past the other two, chasing Depailler as hard as he could - how was he to know he was in third place. They were into the last lap. It was all right.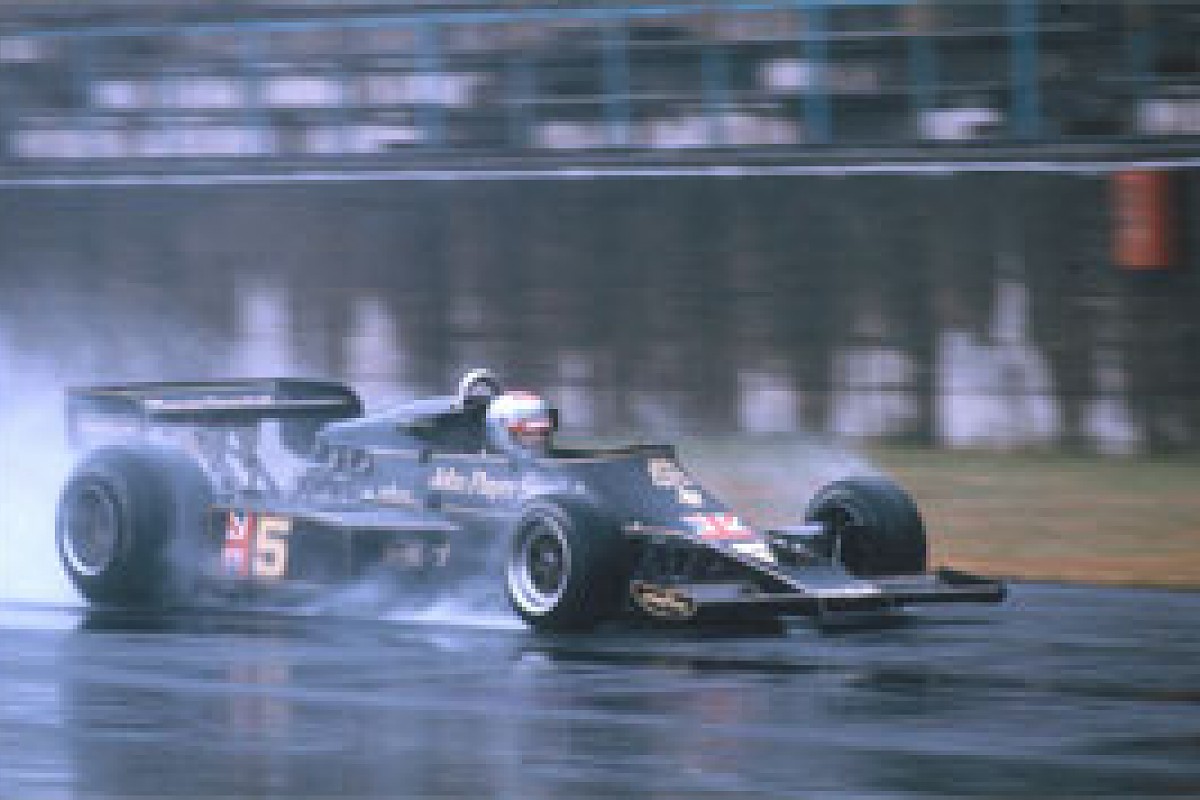 Mario Andretti, Team Lotus 77 Ford © LAT
There were ways a calmer man could have read the situation - Andretti just ahead of them all on the road but a whole lap safe from them, had time to study the tall illuminated lap board in the pits every lap. But when Hunt cruised round his cool-down lap and came down the pit road he didn't know where he'd finished.
He didn't grasp the meaning of the wild joyous applause all the way along the row of other pits. The leaping of his crew aboard the side pods of his car even before he stopped must have seemed bizarre behaviour - if he noticed. He had other thoughts on his mind, and as quickly as he could tear off his black helmet he started to vent them. He was well launched into a tight-faced denunciation of Teddy Mayer's management of his pit signals (oblivious of Teddy's beatific grinning face inches from his own) when one of the clamouring dozens of would be wellwishers broke through to his brain. You're third, Jame.! You've done it. world champion.
This was a day with a lot of other pieces to pick up. Absorbing the meaning of the triumph of his own was the American Andretti, who when all the sums were in and counted was bale to know that he had indeed driven the perfect race.
"I was determined to not do anything stupid today," he smiled with vast, deep contentment. "I've lost races in the past just the way James did today. I lost a 5000 race last year at Road Atlanta when I was a thousand seconds ahead with ten laps to go and then I found out I'd used my tyres all up.
"So this time I was gonna be patient if it was the last thing I did, and I was determined I wasn't gonna do anything foolish. I could see it was gonna clear up, and the way I figgered it, the race wasn't gonna start until the half-way mark. That was when it was gonna take shape."
Driving the Lotus 77 as smoothly as he knew how, saving the tyres by driving through water wherever he could, pushing toward the end only as hard as he absolutely needed to, Andretti brought his four tyres to the finish line - just.
The left side ones were both showing canvas, and the left front one was showing canvas in an unbroken band an inch wide all the way round. How much further did Mario reckon that tyre would have lasted? "One more lap, exactly."
Peter Warr was so proud of that tyre that he saved it out of the manufacturer's demounting operation and a crewman washed it with soap and water; it's not unlikely that one of there days that tyre will take place beside the Goodyear rear tyre that, deflated, carried Fittipaldi to victory at Barcelona and which is now mounted in honour at the Donington Collection.
Poor old Depailler was not buoyant about his second place. He'd seen his first F1 victory there in front of his nose and then... "My left front tyre, it is completely bare, and my left rear too. It is just like James." The quick flash of animation slowly died, and he looked glum again.
Depailler's team-mate had even less of a race to give him pleasure. Scheckter, after his initial good showing and subsequent lagging, had come into the pits with tyre trouble. While the crew were changing some tyres he kept the engine running at high revs, which produced a rapid overheating condition and in turn a burst overflow pipe. Repairing that and refilling the system with pressurized water cost Jody five laps in all - so that when he abused engine began smoking and finally faded ten laps from the end, his last run with Elf Team Tyrrell left a sour aftertaste.
Two of the other early stars came to bad ends as well. Watson, after getting back into the race from his escape road excursion, went out of it again with Penske's second major engine loss of the weekend.
"I knew it had blown before I looked up," reported a watching photographer. "You could hear the bits tinkling on the road after he by."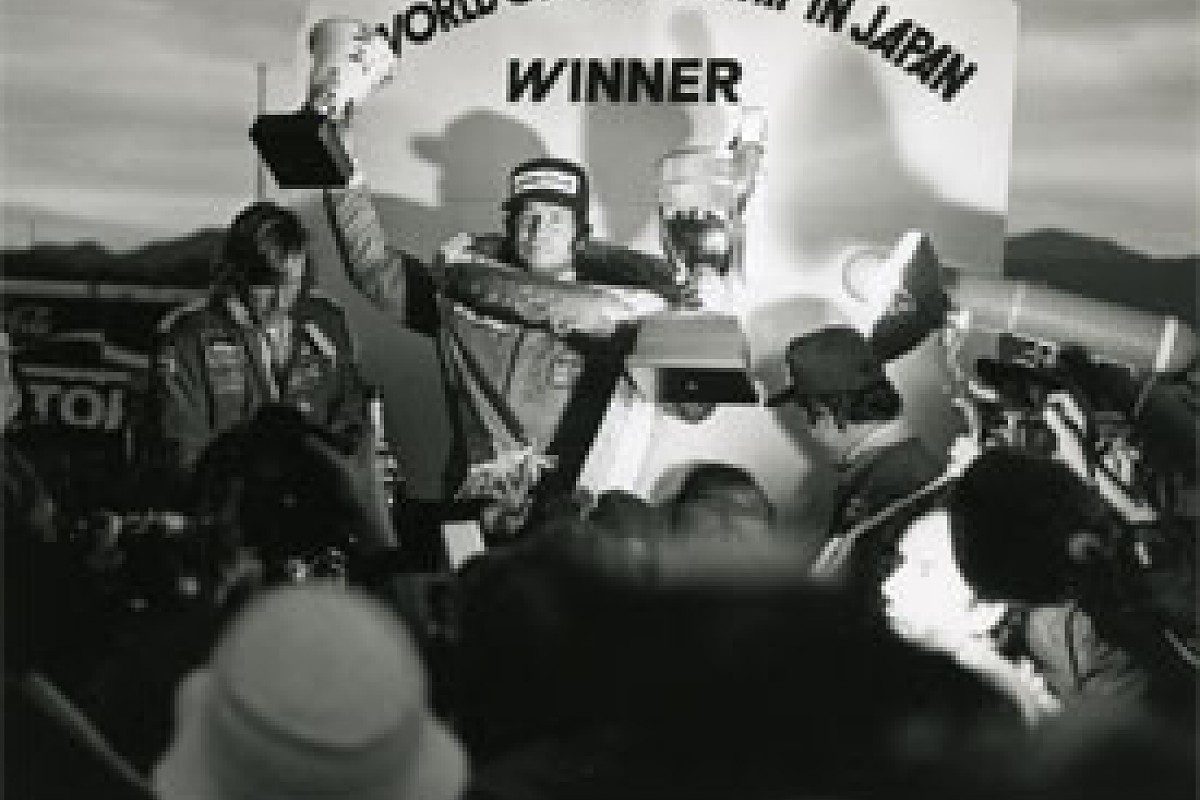 James Hunt, Mario Andretti, and Patrick Depailler © LAT
The remarkably competitive run of the Bridgestone-shod Japanese Tyrrell faded away when the tyres, which have rather a deep tread, began chunking. Two pits stops used up the available supply, and Hoshino had to climb out and watch the finish from the sidelines.
Hindsight unfortunately "proved" that those four drivers who elected to retire were "wrong". Hindsight is brutal wisdom. All of them had shown strong moral fibre in so publicly making their choice when their fellows were willing to continue a very great gamble.
Hunt, new world champion, was gracious about the decision of the man whose title he had just taken away.
"I think Niki made absolutely the right decision. I still feel as I felt before the start, that it was madness to start in those conditions. All right, once we did start and I got in front I had pretty much of a clear road, for anyone behind, anyone else, it must have been appalling."
And the race winner's post-race view: "I gotta respect the decision they made. I think it was crazy to start the race - but now I'm kinda glad we did."