So it is done then. After months and months of skirting around the issue, and the endless dodging of questions on the subject, the most open secret in the Formula 1 paddock became a reality in Singapore last weekend. Fernando Alonso is on his way to Ferrari for 2010.
Whether the breakthrough in putting the deal together came on his side, or on Kimi Raikkonen's, we do not know yet but it means that all F1 fans, and not just the tifosi, can look forward to one of the most exciting partnerships in history.
Fernando Alonso speaks to Rob Smedley © LAT
The two-time Spanish world champion may have his critics, but there is plenty of evidence to argue that he is the best all-round driver in F1.
He will revel in the adoration that Maranello gives him, and the Scuderia will love his commitment, fiery spirit and speed on track. Take the best bits of Michael Schumacher, Nigel Mansell, Jean Alesi and Gilles Villeneuve and the worst side of Alain Prost's politics - and you may come close to getting a grip of the magic we are going to see from him.
It was little wonder then that Ferrari president Luca di Montezemolo let slip the word Alonso during a press conference in Madrid talking about his reasons to be excited for next year and why too Alonso was so relaxed, calm, and with a glint in his eye, throughout the Singapore weekend.
But even though the final step before Alonso was announced was sorting out the last details of Kimi Raikkonen's release clause from his 2010 contract, and lawyers were hard at work on that front throughout the Singapore weekend, do not imagine for one second that Alonso's gain is the 2007 world champion's loss.
For, with McLaren beckoning (pending any last ditch legal hitches from Ferrari's lawyers), the driver merry-go-round could well be a blessing in disguise for Raikkonen too.
It's fair to say that Raikkonen and Ferrari has not been a marriage made in heaven. Sure, he delivered that 2007 world title thanks to Lewis Hamilton's own goal in the final two races of that campaign, but beyond that there has been little of the sparkle that some had hoped.
Perhaps Raikkonen enjoyed a little too much the freedom he was given by escaping from the realms of Ron Dennis, for he never seemed to deliver the hard work ethic that was a hallmark of the Schumacher-era at Ferrari.
Raikkonen has always been simply about flat out attack and give him a sniff of a victory and he will give his all. Yet on days when the car was not up to the job, you could be forgiven for thinking that Raikkonen could hardly be bothered to turn up at the race track.
With the big bucks rolling in, and Ferrari happy to see Felipe Massa become de facto team leader for a time, there was little evidence that Raikkonen wanted to ensure it was him who the whole team would be based around. And when Ferrari made clear it wanted to end Raikkonen's contract early, so the situation deteriorated further.
Yet for all Raikkonen's foibles in failing to make enough of an effort sometimes, and team insiders cite his lack of leadership qualities as his biggest weakness, he can also be a hugely stubborn personality at times. And there probably is no coincidence that when Massa was forced out of the cockpit after the events of Hungary, Raikkonen stepped up his game to prove a point.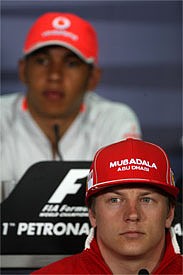 Kimi Raikkonen and Lewis Hamilton © XPB
A run of podium finishes plus a brilliant victory at the Belgian Grand Prix showed that the Raikkonen of old was back on the track, and even inside the team they admitted seeing a different man.
One team insider suggested that, looking at the data, Raikkonen has once again been doing things in the cockpit of a very difficult car that they can hardly believe. He is going beyond what, theoretically, the F60 would be capable of in normal hands as though the Finn's last great act of defiance is to prove to his former bosses that they were wrong.
And that is exactly the sort of attitude that he will likely take with him to McLaren. The Woking-based team will take him back with open arms and none of the hangover from his previous period will be there now that Ron Dennis has switched his focus to the automotive industry.
Raikkonen will show McLaren, and indeed Lewis Hamilton, exactly why he not Alonso was once regarded as the real deal on track. And he would like nothing more than rocking up on Sundays and blowing Alonso into the weeds.
The 2010 season is still five months away, but already the excitement is mounting.