There was no doubting that the 50-plus members of the ING Renault F1 Team were relieved to be in the Singapore paddock. 'Crashgate' had fostered genuine concern about jobs, futures and mortgages - for them and the other 500 plus staff at Enstone and Viry-Chatillon.
Elsewhere, Mohammed Ben Sulayem, chief of the United Arab Emirates national sporting authority and listed as a future vice president of sport in Jean Todt's intended cabinet, had been quoted as saying that the judgement had been worked out ahead of the World Motor Sport Council (WMSC) hearing in Paris and that the result was a good one.
Max Mosley speaks to the media about the Renault verdict © LAT
Some were aghast at that but you have to remember that Renault was not contesting the charges and so it is hardly surprising. Amid the current climate, anything that kept Renault in F1 had to be good.
When you trawled through the 90-odd pages released by the FIA pertinent to the Paris hearing it became clear that they had incontrovertible evidence against Nelson Piquet Jr and Pat Symonds and, later, a statement from an unnamed 'Witness X' which said that he had been told about the plan by Symonds in the presence of Flavio Briatore.
Prior to this, however, immunity had been offered to both Piquet and Symonds in exchange for testimony against others involved, for which you can read Briatore. Some found it strange that immunity was offered to those definitely guilty in order to net someone who might be - a thought articulated by Robert Kubica among others. But that was probably a bit simplistic and, like it or not, that's how plea bargaining works - the minnows go free to net the shark. Except that Symonds wouldn't squeal.
At Monza a couple of weeks ago, Patrick Head said he was surprised I thought 'crashgate' wasn't such a big deal, and that the FIA should come down on Renault like a ton of bricks, or words to that effect. The world would be a boring place if we all shared the same opinion, and it's why everyone loves Patrick. There he was, shooting from the lip, and weren't Williams chasing a Renault V8 for 2010?
I rather suspect someone might just have reminded him of that because when I passed him in the paddock on Sunday night in Italy, Patrick was wearing a rueful smile after some of the internet headlines he'd generated. "You know," he said, "sometimes I just think, Patrick, why don't you keep your mouth closed..."
And so it was with amusement that I noticed, amid the 90-odd pages of evidence relating to the Renault affair, a letter to the WMSC members from Sir Frank Williams. Frank admitted it was none of his business and pointed out that he didn't condone conduct that brought the sport into disrepute.
"However," he went on, "I would like to submit to the council that the events of September 2008, if proven, cannot be blamed on Renault. I have known the company and its motorsport division extremely well since 1989. I do not believe that they would ever condone unfair or unsportsmanlike behaviour.
"In addition, it goes without saying that Renault has been a prominent participant in F1 for many years. Any action, however just, which would jeopardise Renault's future participation would be a punishment inflicted not only on Renault but on all participants in our sport and the fans who follow it." Yours faithfully, etcetera. I searched for the, 'PS - We need a motor!' but it wasn't there.
Joking apart, Frank's sentiments were widely echoed throughout the paddock. Nobody wanted to see Renault gone on the back of something as pathetic and ultimately innocuous as Nelson Piquet spinning his car into the wall out of a 75mph, second gear corner on a dusty Singapore street circuit, no matter the whys and wherefores. Even, perhaps, the peddlers of holier-than-thou claptrap whose purpose was suited by beating it up into the biggest crime in the history of world sport.
The FIA doesn't like the term 'witch-hunt' - just ask Martin Brundle - but Fernando Alonso was asked whether he thought that is what this had been, aimed at Briatore. "No comment," Fernando replied, before somewhat pointedly dedicating his podium finish to Flavio on Sunday night.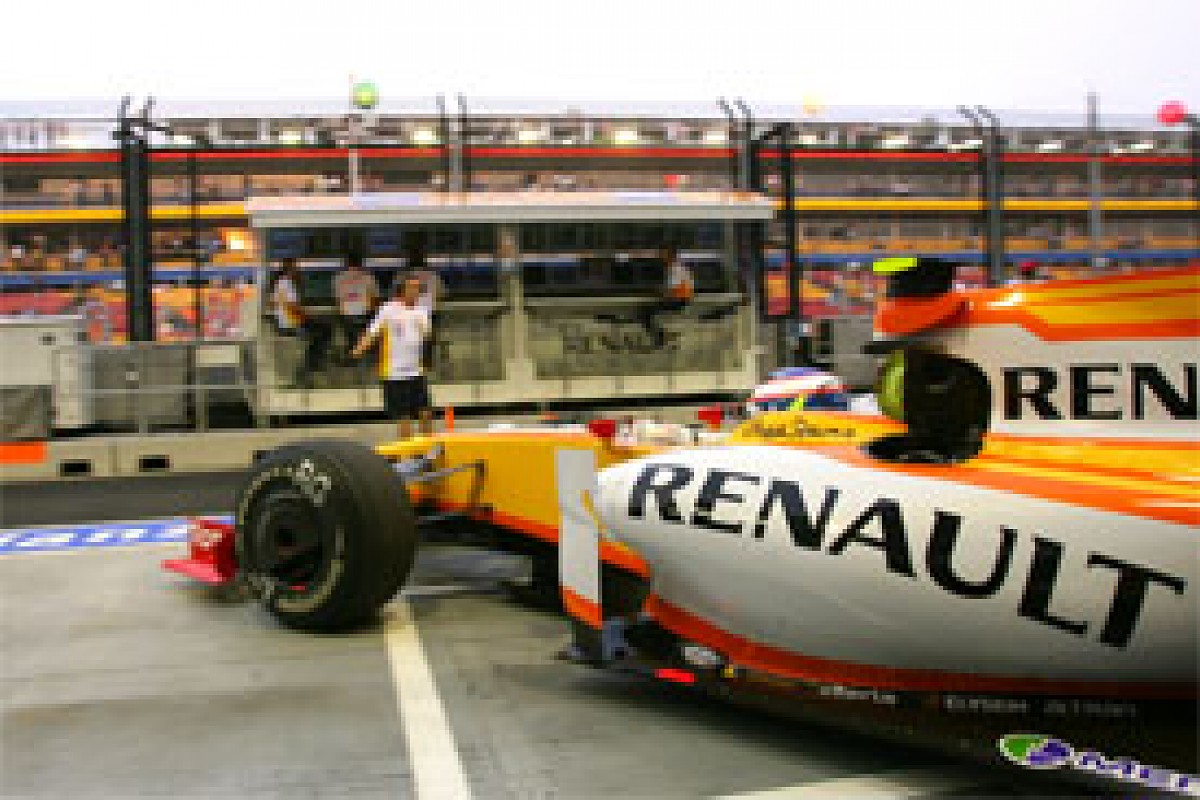 Romain Grosjean in the reliveried Renault © XPB
Friday was surreal. A day earlier, technical delegate Jo Bauer's scrutineering report referred to the ING Renault F1 Team and confirmed that Lucas di Grassi had proven he could extricate himself from an R29 in the required time.
Why did he need to? Well, Romain Grosjean wasn't feeling great and so Renault's test driver was on stand-by. By the following day though, the official timing sheets spoke only of the 'Renault F1 Team'. ING was missing, as was its logos from the car, the bank announcing that it had pulled out of its sponsorship, disappointed at recent events. So too, had Mutua Madrilena. One could appreciate that an insurance company may have been embarrassed by an association with the deliberate crashing of cars...
And then, right there, on the press room monitors, the cameras panned to a stationary Renault. It had clipped a wall, spun across the road and come to a halt facing the wrong way.
How many more times were we going to see that? But hang on a minute. It's not dark outside, it's light. The car is much more intact than it should be. This is live! It's happening now, in free practice one! It's Grosjean, who was fit enough to drive after all. And it's Turn 17! Surely not... The entire press room erupted into fits of laughter. "There you go Nelsinho - that's how you do it without trashing the car!"
Talking of Nelsinho, I wouldn't buy into this 'nobody will touch him with Asbestos gloves' line. I doubt the Piquets would ever have opened their mouths without an exit strategy. Nelson Sr has always been close to Bernie and the family has money behind it. That, and the fact of at least three new F1 teams next year, means you'd be naive to think there definitely won't be a Piquet on the 2010 grid.
Down in the pitlane poor Bob Bell had no sooner got his bum on his prat perch in his new Renault team principal role, than Bernie's TV boys had picked him up, staring disbelievingly at his monitor. You couldn't have made it up. Cue the weakest of smiles and a rueful shaking of the head from the 51-year-old Ulsterman...
Mr E contributed his two penneth by suggesting that Briatore's unlimited ban was too harsh and that he should appeal it. Which prompted CVC Capital Partners board member Sir Martin Sorrell to have his second pop at Ecclestone within a couple of months, saying, "First, Hitler got things done. Now cheating's okay. What next?" Sorrell claimed again that Ecclestone was out of touch.
It made you wonder what the agenda was, whether perhaps 64-year-old Sorrell fancied a go at running the show himself? One of the dailies screamed that Ecclestone was under pressure from his 'boss', conveniently forgetting that a man with three billion in the bank (conservative estimate) doesn't have a boss - unless it's his wife.
On the track there was a serenity about Lewis Hamilton's driving that told you he was going to be tough to beat, right from the off. But it was one of those races spoiled by penalties to drivers squarely in contention.
Lewis, you suspect, had plenty in reserve, but Rosberg's penalty in particular was a crying shame. He'd been mighty all weekend and would have finished second but for his lock up and crossing of the white line when rejoining after his pit stop. He made a point of crossing back into the pitlane and ensuring he hadn't taken any advantage but was still penalised.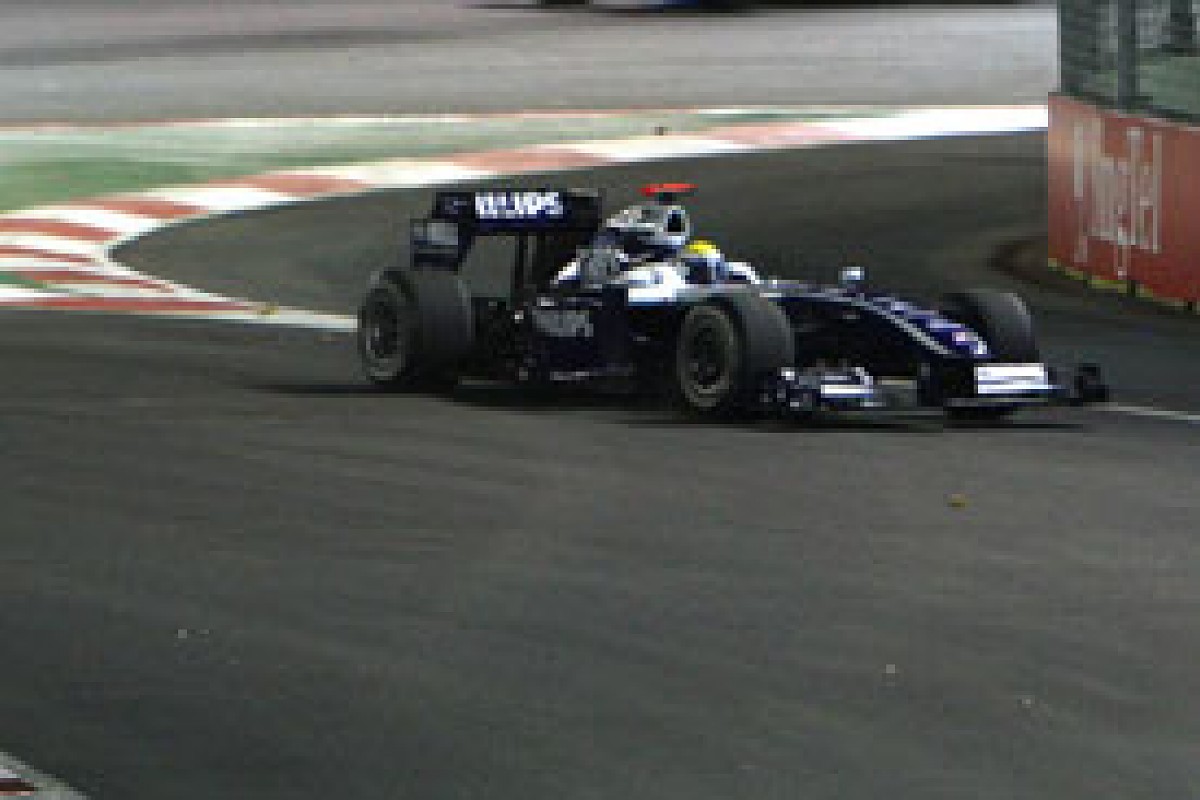 Nico Rosberg runs wide in pit exit © XPB
It could be expensive for Williams, that. It still might catch Toyota for fifth place in the constructors' championship but it's a tall order now and with Glock finishing second, Rosberg's moment prompted what was effectively a 10-point swing. Wonder if anyone managed to intercept Patrick before he pointed that out to Nico?
Sebastian Vettel's slim championship hopes were also dealt a blow by exceeding the pitlane speed limit by 1.4km/h, also earning himself a drive-through penalty.
Then there was Mark Webber, penalised for crossing the kerb at Turn 7 in an opening lap battle with Fernando Alonso. There was no drive-through this time, but Webber was forced to cede position back to Alonso, and necessarily to Glock too, who passed the Spaniard as a result of Fernando's battle with Mark. This was despite Alonso having all four wheels off the circuit himself earlier in the lap while alongside the Red Bull.
You can't dispute that the rules are there to be applied but sometimes, provided any gain is tiny and not race-changing, or it's first lap wheel-to-wheel stuff, you do wonder whether a fine might be a better sanction than a time penalty which torpedoes the race. After all, you don't want to discourage drivers from doing what they're there for.
Final mention goes to Robert Kubica. For Singapore much of the paddock stays on European time, but even a walk from hotel to track in such humidity can be energy-sapping and leave you in need of a hosing down.
The race has an 8pm start local time. It's a long one, and runs pretty close to the two hour maximum. The post-race press conference, paddock press briefings and so on follow. Then you grab a cup of coffee, sling a curried vegetable wrap into the microwave thoughtfully provided in the media catering room, and open the laptop.
By the time we left the media room this time and headed back down the still well-lit track en route to the hotel, it was 4.40am. There, with his leg up against the barrier as he performed post-run stretches, was Robert Kubica's trainer. And there, sat on the kerb beside him, was Kubica himself. He'd just run the track and done God knows what else.
He didn't really appreciate why we looked so surprised. "I do it every night," he said. It was after all, a good six hours since he'd finished his 61 laps in the heat... A different breed.
"And he's fast!" said his trainer.
"Good night, guys," Robert said, "Enjoy your party."

Well, sleep actually...