Twelve months ago, it seemed that whatever Rubens Barrichello did turned to disaster. The Honda RA108 was terrible - and he could not even throw his balaclava to the crowd in Singapore without it going badly wrong when the wind carried it into the harbour.
It was little wonder then that many had written off his chances of remaining in Formula 1 for another season - his 17th at the top level - as all eyes turned to Bruno Senna as the next great hope for Brazil.
Rubens Barrichello hurtles through Parabolica © LAT
Yet what the Barrichello doubters failed to realise was just how hungry he was to continue in F1. Here was a man showing all he could in a recalcitrant car, outpacing his team-mate Jenson Button and would do anything for another season of racing.
When news of Honda's withdrawal rocked F1, Barrichello did not lose the faith either. Not for him sitting at home in Sao Paulo, waiting for the phone to ring, hoping beyond hope that the team would bear him in mind if it did get saved.
Barrichello got off his backside, flew to England before Christmas and went to see the team - to chat through things and let them know just how motivated he was to remain in the sport. He even asked for an interview with AUTOSPORT so he could let the world know that Rubinho was not finished with F1.
Now fast forward 12 months. The circumstances may be very, very different - for the Brawn GP car is a world away from last year's Honda - but many of the circumstances and characteristics that kept Barrichello in F1 are being repeated to make him a serious contender for the world title.
That grim determination and mental focus is what is making Barrichello such a danger man for Button when it comes to nailing the championship.
Barrichello's season came alive with the changes made to the BGP 001's braking system at Silverstone. They helped him get much more comfortable with how the car felt.
He began proving a big thorn in Button's side, and emerged as the faster of the two drivers over this period. Despite the team's wobble, as it struggled to extract pace from the car in the face of Red Bull Racing's fightback, Barrichello began cutting away at the points advantage his team-mate had.
After the Hungarian Grand Prix, Button had a 26-point lead over Barrichello and it seemed the Brazilian was out the title chase. In three races, that has been cut to 14 points - enough of a swing to make things very uncomfortable if such form is maintained over the remainder of the season.
More worrying for Button than the points-swing, however, is the determination that has come through so many times. Barrichello's outbursts against the team in Spain and Germany about it costing him victory may have proved untrue in the cold light of day, but they showed levels of frustration more akin of a young driver hunting for wins than a veteran.
That desire is now pushing him to do anything he can to ensure that this opportunity - which must surely be his last chance of becoming world champion - does not slip through his fingers.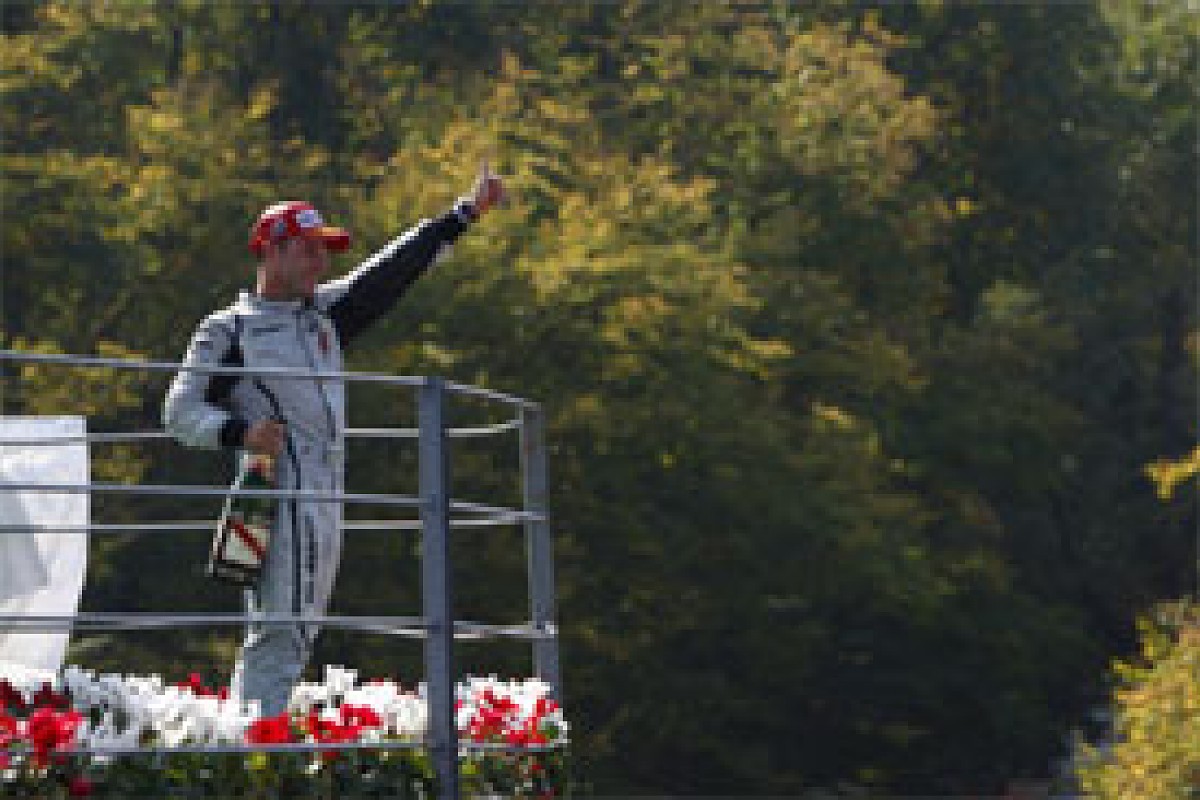 Rubens Barrichello celebrates victory at Monza © LAT
Spend any time speaking to Barrichello and you find him totally at ease with his approach, and revelling in the situation he finds himself in - rather than shrinking at the pressure.
He is also thinking hard about what he needs to help lift himself to the crown - well aware that, just like he had to be proactive to get the Brawn drive this year, so too he needs to find different ways to better himself now.
"I consistently look for improvement," he said over a coffee in Monza last weekend. "I think that in all the sports, all of them, I think mind management is a key factor.
"It doesn't matter how much talent you have, if you are put into a situation of qualifying and it's a must that you have got to do something, sometimes you just forget why you are doing that. This is the syndrome. I have become a much better driver, have become a much better person on that side."
Barrichello is leaving no stone unturned. He is talking now of getting input from his friend Felipe Massa to keep his focus on what is needed for the title - plus some input from New Age influences on the side as well.
And yet, perhaps the biggest influence on keeping Barrichello's mind in the right place, may well have come from a very unusual source.
"I like astrology, I like numerology and every now and then I visit those areas. It is important for me to keep on top of myself.
"In F1 if you are winning too much you can get lazy. I said in an interview a long time ago that when you get to F1, everyone thinks they are kings.
"I remember when the milkman came to give me the milk in England, he did not know who I was. That put me right down where I deserved and where I was.
"It is funny - life is like this. You have to keep control of yourself."
Determined and hungry - but with a level head about where he stands in life. Could it be true that a milkman now holds the key to the outcome of the 2009 world championship?