"Was a present, sure," said an exultant Italian afterwards. "But it went to the right man, at the right time, in the right place."
When it comes to motor racing, Ayrton Senna isn't heavy on presents, but on Sunday he gave one to Gerhard Berger, Ferrari and Monza. Going into lap 50, with only a couple to go, Ayrton thought he'd done it about right. He had led from the first corner, seen Prost retire, allowed the Ferraris to come back at him, but only up to a point. This one was safe. It would be his eighth of the season - a record - and virtually guarantee him the world championship.
Still, Berger and Alboreto weren't that far away, and there were people to be lapped, one of them Jean-Louis Schlesser. At the first chicane the Frenchman moved to give Senna room, went wide, braked late, locked up on the dirt, slid briefly into the sand trap. Ayrton dived for the corner, never guessing that Schlesser would regain the semblance of control, try to regain the road. At the exit of the chicane they touched, and that was the end of McLaren for the day. We had a Ferrari 1-2 at Monza, and pity it is that Enzo never knew.
Qualifying
The thing about Monza is that it feels somehow... important. And it feels that way because it is important. This is not some trashy, sanitised little autodromo conjured up by money men in quest of an easy dollar. This is Monza, a place of ghosts and history and legend, and if you're untouched by it I have nothing to say to you.
"The Italians do take their motor racing seriously, don't they?" a later model PR man said to me during qualifying, which is like saying Lady Macbeth was a bit moody. The Italians are besotted by their motor racing, which is what makes this race the highlight of my grand prix season. Their enthusiasm adds layers to the inherent mystique of the place. And Monza's heritage is already strong meat.
So much has happened here, that's the point, so much of everything fundamental to this sport. Its traditional early autumn niche in the calendar guarantees drama, the settling of championships and political manoeuvrings for the coming season. There is so much ado always at Monza. By early September all but a handful of grand prix drivers have become incidental to the scene; and there remain a few, usually two or three, who have a mission. The world championship is now beckoning.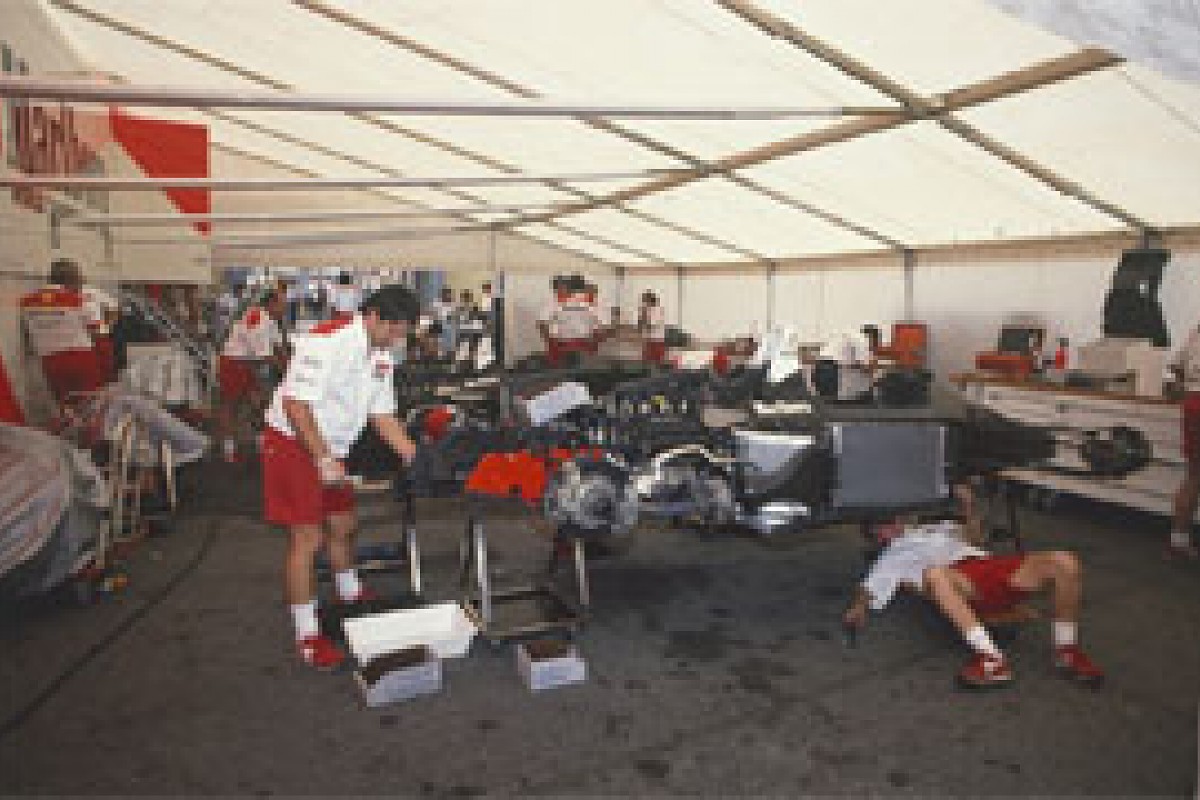 McLaren mechanics work on the MP4-4 Hondas © LAT
A year ago Nelson Piquet and Nigel Mansell were the men in question, Williams their team. But last weekend the world champion played his traditional role of a bit player in 1988, and the convalescing Mansell wasn't even in the place. Ten years ago it was Andretti, Peterson and Lotus. At Monza, Mario won (on the road, anyway), and Ronnie died. The thought pulled me up with a start: can it really be 10 years since we last saw Ronnie? But it is.
Michele Alboreto spoke about that during qualifying. Michele's helmet is not blue and yellow by chance. Ronnie was his hero, the man who shaped his ambition, and he spoke wistfully of September 1978 -spoke wistfully, too, of his beached hopes of driving a Williams-Renault next year. The deal, he believed, had been agreed, if not signed, and the phone call to say, sorry, we're keeping Patrese, had hit him hard. There was a great aggression in Alboreto's driving during practice at Monza.
The same was inevitably true of Ayrton Senna, world championship elect. It has been that way all year long. Throughout Friday and Saturday there was never any real doubt that he would take his 10th pole of the season, blitz the record long held by Messrs Lauda, Piquet and lamented Peterson. Ayrton was the fastest in each of the timed sessions and always looked to have a slight edge over Prost, as usual his only realistic rival.
On Saturday the McLaren-Hondas, comfortably clear of the rest on the first day, did not come out until halfway through the session and when they did it was together, Alain ahead. Both were pushing, but every time around #12 was closer to #11. It was barely perceptible, but there, and when the times flashed up there was no surprise; routinely Ayrton was lapping half a second faster.
It wasn't quite a fair fight, for while Senna was happy with his car, Prost was not, especially on his second run: "I don't know what the Honda guys did to my engine, but on my last set of tyres the car was almost impossible to drive, or to change gear. When I'd lift off, the revs didn't come down as normal, and there was a bad vibration running through the car. Near the end of the session I spun into the first chicane - I wasn't on a quick lap and I think the transmission must have seized, because I brushed the brakes and the car immediately snapped round, and into the sand."
A more instant explanation of the incident lay with Andrea de Cesaris, and his driving manners, prehensile as ever. For lap on lap the Rial circulated gaily trailing thick oil smoke, staying resolutely on the line. Senna had a big sideways moment at the same point, and Prost's untypical trip off the road suggested the presence of oil. But Alain reckoned probably not: the back of the car seemed to have locked solid. Berger, Nannini and the rest wondered, would such a mechanical problem befall a McLaren race?
Most drivers felt the track was a little slower on Saturday. Certainly de Cesaris's personal attempts to lubricate it did nothing to help, but there was more than that. Senna scraped under his Friday time, but barely: "It seemed to me that the car wasn't quite as good as yesterday, but perhaps it was just that the track surface had changed a bit."
Ferrari though, managed to improve significantly, with Berger and Alboreto both joining Prost in the 1m26s bracket. In the Friday session, each had had gearbox problems with their race cars, putting Michele into the spare (his for the weekend) and Gerhard into a depression, for he could only sit and watch.
Still, Ferrari looked more out-and-out competitive than for some time, and even Ron Dennis acknowledged that the times had surprised him. But Monza is very quick and therefore a 'fuel race'. On that score, Honda could expect a significant advantage.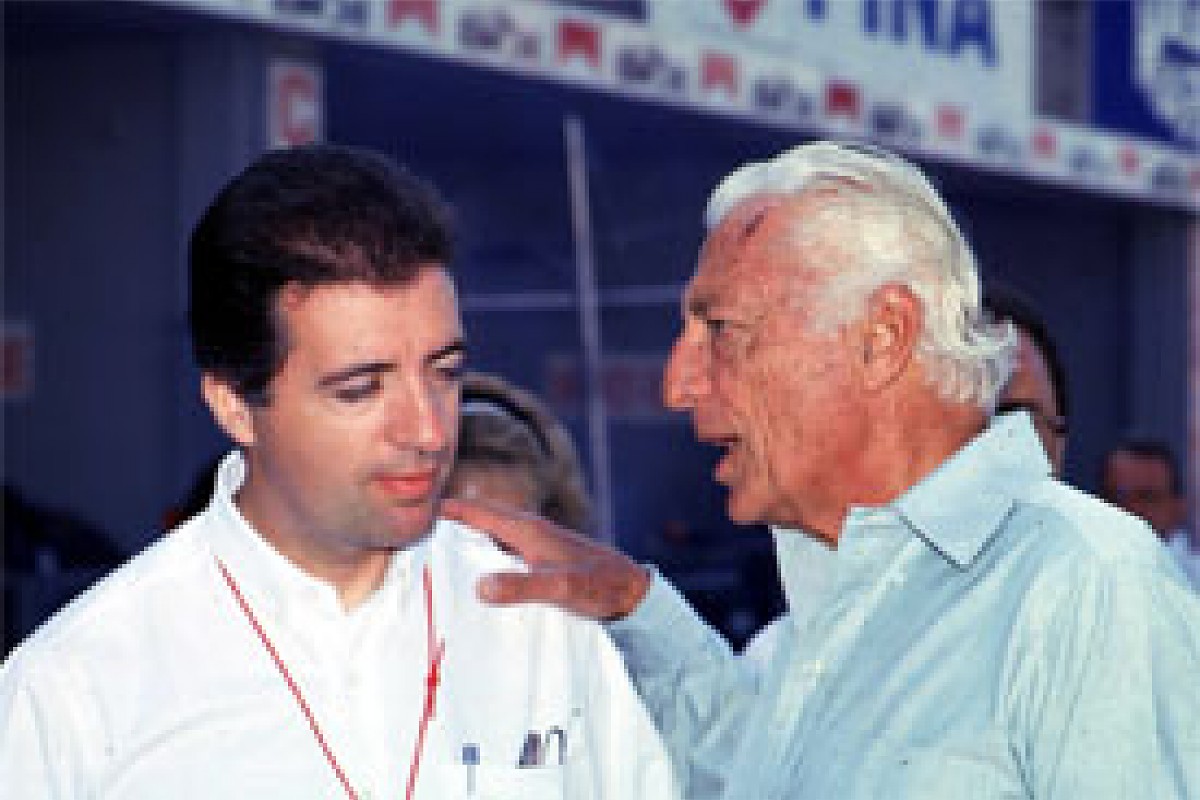 Piero Ferrari and Gianni Agnelli © LAT
Alboreto's predicament - currently he is out of work for next year - was the talk of the paddock. There seemed no logical reason, save perhaps continuity, for Williams' decision to prefer Patrese.
It was at Monza in 1981 that Alan Jones told the team he was quitting at season's end, and the news was poorly received, not least because the decision had come so late and left little opportunity for signing a replacement of similar quality. Ironic that, in light of what has happened with Michele.
"I feel let down," he admitted, polite and calm as ever, if inwardly livid. "But I wouldn't have wanted another situation like Ferrari, where the chief engineer is not happy about me. So it's better to forget it, right? I'd like to drive for a team that believes in me, where there is a good atmosphere - not like the disaster it's been here. I know the feeling I have now at Ferrari, and don't ever want that again. But I can't pretend it's going to be easy to find the right drive - it's September, and I'm starting again..."
No Mansell-Alboreto swap, then. And, at Monza, no Mansell at all. Still getting over his recent illness, Nigel stayed put in the IoM, which was a shame for him, for he missed - if nothing else - the unreserved honeymoon adulation traditionally accorded a new Ferrari driver by the tifosi. Williams looked hard for a weekend replacement: Rosberg, Unser Jr, Moreno, Lehto... all were considered after Martin Brundle said no, but clashing events and clashing sponsors put paid to them, and in the end Jean-Louis Schlesser, a friend of the team for many years, and one who has occasionally tested for Williams, was nominated.
Schlesser, his age given in the press release as 35, therefore made his grand prix debut at Monza and qualified a couple of seconds slower than Patrese, which was reasonable enough considering that he went off in the final session and lost the last 20 minutes.
By Saturday afternoon, Patrese had the balance of his FW12 to his liking and made it into the top 10, but he couldn't match the Benettons in the normally aspirated class. In Italy, Bousten was just ahead of Nannini, setting his best time, remarkably, during the last few minutes of the final session when the track was oily.
At such a quick circuit, Benetton might have expected strong pressure from March but the qualifying days went badly for Capelli and Gugelmin, 11th and 13th. As usual, the 881s were superb, a match for anything through ultra-fast corners like the Lesmos, but understeer plagued them in the chicanes, which abound at Monza.
Maurico had plenty of grip on Friday but not enough revs, and the very opposite on Saturday. And Ivan was fortunate to hurt neither car nor self in the final session when his left rear tyre exploded at Curva Grande, this the consequence of a faulty valve. Still, as usual, there was no despondency at March, merely a shrug of disappointment, a confidence that tomorrow will be better.
Indeed, there were the prospects of a fine 'atmospheric' battle, all the important cars in the division evenly-matched. But which of the turbos could threaten here? Arrows made a great advance at Monza, Cheever and Warwick making up the third row. And other drivers - even Honda drivers - expressed astonishment at the raw horsepower now coming from the Megatron 4-cylinder. "They were running 2.5?" asked a wide-eyed Alboreto. " Yes? I cut off my..."
They were running 2.5, as well, or just a little under. One of the problems regularly encountered by Derek and Eddie this season has been too little boost; they have suffered with the pop-off valve more than most, often finishing races with fuel to spare because the engine has been running at 2.1 or something.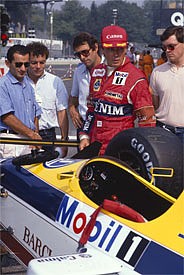 Jean-Louis Schlesser © LAT
"Heine Mader's done a lot of work, made a lot of progress," said Cheever. "I guess it's just a shame that we've suddenly got horsepower so late in the season."
Monza has always been one of Nelson Piquet's favourite circuits, and a place which has brought great success in the past, including victories in the last two years. And in practise he put a respectable distance between himself and Satoru Nakajima, the two of them qualifying seventh and 12th. But the problem at Lotus was persistent oversteer through the fast corners, and Piquet wasn't too confident about the race: "I just can't get the car balanced the way I want it here."
The rest of the grid was the usual story - almost. Only one Tyrrell made the race, and this time it was Bailey's, which displaced Palmer in the last 10 minutes of the final session. That didn't bother Jonathan in itself; what upset him was a succession of engine problems, in both race and spare cars, which kept him from getting near his Friday time. He had a very set expression on his face as he left the paddock a day early, and you couldn't blame him for that.
Ligier, too, had a lone representative in the Italian Grand Prix, Arnoux qualifying a poor 24th, poor Johansson 28th. It was the usual chapter of disasters, of unspeakable handling, down-on-power engines, and you had to sympathise with both men - ex Ferrari drivers at Monza - as they struggled to make the race. A revised JS31, with modified cooling system, The reason? Overheating.
As ever, we anticipated Sunday with pleasure. Could Ferrari offer any sort of serious challenge to McLaren-Honda for once? Could we even see Berger or Alboreto in the lead at the end of the first lap, let alone the last? And could Prost find something within himself and threaten or beat Senna to keep the world championship flickering? We had our hopes.
Race
The race day crowd was huge, perhaps the biggest at Monza since Andretti put a Ferrari on the pole six years ago. It was a gloriously early autumn morning in Italy, with the temperature just so, humidity negligible. A perfect day for Monza. And Ferrari, if not at the very forefront, were there or thereabouts. In their Unos and Tipos they filled the approach roads all morning to the venerable park.
The warm-up merely confirmed the days before: Senna and Prost were at the top, separated by eight thousandths of a second, and then we had Alboreto and Berger. Enough there to make them keep the faith. Too much to hope, perhaps, that a Ferrari would lead on the last lap, but maybe Gerhard and Michele would do the time-honoured thing, at least have a red car in front at the end of the first.
Sadly not. The start was almost copybook McLaren. Prost got his car away to perfection, getting momentum on Senna as they accelerated towards the first chicane. But Alain's charge lasted only through first and second gears; when he got to third, the Honda V6 began to misfire, and Ayrton was by into the first corner. Prost's engine would not run properly again.
It was another mesmeric opening lap by Senna, and at the end of it he was two seconds clear with Prost next up, shadowed by Berger. At this stage of the game Gerhard didn't know what he had to work with for the afternoon, for the final build-up to his Italian Grand Prix had been fraught.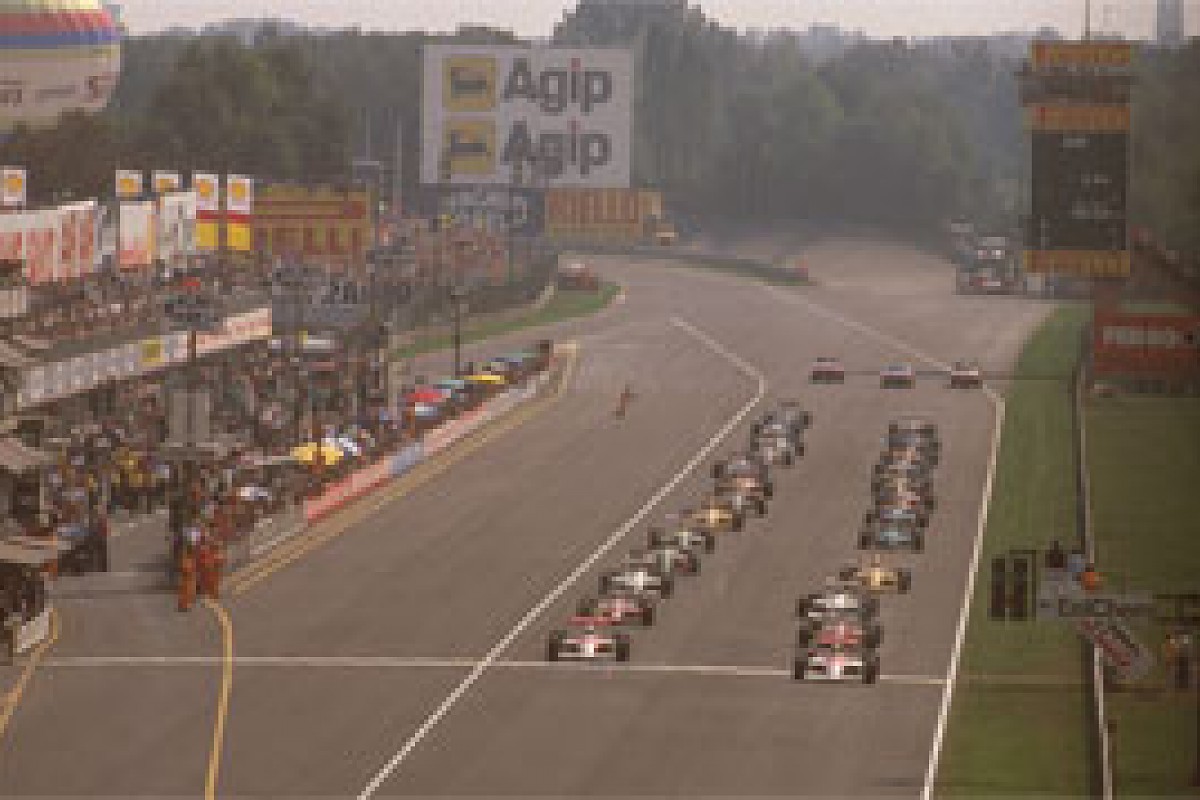 The start of the Italian Grand Prix © LAT
At 2:30pm, pit lane had opened and Berger went out with the rest for the pre-race warm-up laps, quickly discovering his car's throttle was sticking. Into the pits, hop in the T-car while they fixed his own. Back in again, transfer back to the race car: problem not fixed.
By now time was getting short, and it mirrored Gerhard's temper. Once again he got back in the spare Ferrari, and only just made it out of the pit road before they closed it. So that was it: he was committed to the muleta for the race, and on the grid the mechanics made hasty adjustments to its set-up. Berger thought he knew what to expect from it, but until the race got underway he couldn't be sure. Soon he was relieved to find his calculations had been right: the spare Ferrari was handling well.
If he could stay somewhere close to the misfiring Prost, however, Senna was something else again. By lap two the Brazilian had 3.4 seconds over his team-mate and already the Italian Grand Prix looked over.
For Nannini it effectively was: "My throttle position sensor failed before the final parade lap," Sandro said. "And I couldn't get the engine to start." All the Benetton mechanics could do was push the car back into the pit lane and change the sensor. By the time this was done the race was almost a lap old: Nannini got on his way only a matter of seconds before Senna completed his opening lap, and cruel it was for him on home ground. One of the front-runners was already effectively out of it.
Team-mate Boutsen though, did a fine job in the first part of the race, running sixth in close company with Cheever's Arrows, well ahead of any other 'atmo'. Patrese's Williams was seventh followed by Piquet's Lotus, Capelli's March and the second Arrows of Warwick, unexpectedly far back. "I had an engine problem right from the start," Derek said. "Don't know what it was, but at low revs it wanted to die, which made changing down difficult - that's why it took me so long to get past Capelli and Patrese."
After the initial flurry of Monza's early laps, the race settled down for a while to a predictably soporific 1988 patter, with the two McLaren-Hondas easing away from the rest, the Ferraris giving game chase and keeping spectators' interest vaguely alive. But who was going to worry Senna?
Prost seemed to have his own ideas about that, for he began - as we have seen so often this year - to whittle away at the gap. And, misfire or not, he seemed able to keep Senna in sight, if not in check. After four laps he was 3.3 seconds behind, after seven 2.6. And all the time the Ferraris were falling away.
There were reasons for this, however. It wasn't simply a matter of being outrun by the McLarens. "I had to back off," Berger said afterwards. "In the first few laps I used too much fuel trying to stay with them." And Alboreto's problem was with his gearbox: "I kept jumping out of fourth, so I thought maybe if I took it easy, the oil would cool and then it would be alright." It was. After 10 laps or so fourth stayed in and Michele had no further trouble with it.
The world champion disappeared from the charts on lap 12, his Lotus off the road and in a sand trap. "I lost the clutch after a few laps, and selecting gears got more and more difficult. Changing up was okay, but I finally missed a downshift, locked the rear tyres and went straight on."
Nelson Piquet exits the Lotus 100T Honda © Rainer Nyberg/FORIX
Three laps later Piquet's team-mate Nakajima came in to retire and this caused some consternation, for his Honda engine had blown up, as at Spa. McLaren people paid close attention.
Lap 15: Senna, 3.5 seconds ahead of Prost, then Berger, Alboreto, a lonely Cheever, Boutsen, and then Patrese/Capelli/Warwick running as a group. Without his engine problem, Derek should have easily been able to deal with the normally-aspirated Italians ahead of him, but at this point Capelli was the aggressor, keen to separate Patrese - his adversary at Spa - from seventh place.
"It was just the same as Belgium," Ivan said. "At first my car was very slow in the straight, with a lot of downforce and heavy fuel load. Very difficult to overtake like that, but as the fuel lightened the car got better and better." Eventually Warwick dealt with both the March and Williams, leaving them to scrap among themselves.
For a long time there was stalemate, Prost seemingly unable to come to grips with Senna, the Ferraris dropping back. Cheever ran alone, and so did Boutsen, the Belgian's engine now beginning to lose power. Such battles as there were involved Patrese and Capelli, and de Cesaris and Caffi. Italian battles, appropriately, in this place, and the spectators appreciated them. But what they wanted was to see Ferrari do battle and there seemed little prospect of that.
At half-distance Prost began a charge. He had fallen back to nearly five seconds behind Senna, but now started to trim it by a couple of tenths per lap, sometimes more. The misfire was still there, but even so he turned in a succession of fastest laps. By the 28th lap he trailed by only two seconds and change, and we saw the glimmer of a McLaren fight, as at Ricard.
Or so we briefly thought. As he want by the pits at the end of the 30th lap though, Alain's engine sounded suddenly rough and the gap was out to three seconds. Next time round it was 9.1, then 12.8, 17.4. Prost was way down from the pace now and we considered the impossible - that a McLaren-Honda was in major mechanical trouble for the first time all year.
In the stands they began to stir. The Ferraris were going to make up a place! No matter that their rival was hobbled, clearly missing one of the six cylinders it needed for optimum performance. Berger and Alboreto were about to pass Prost's McLaren, and after that there was only Senna between Maranello and heaven, and, well, anything could happen, couldn't it?
At the end of lap 35, Berger and Alboreto came through in second and third places, and Prost was into the pits. We beheld the curious sight of red and white bodywork being removed, disappointed faces in the McLaren pit. Alain stayed in the cockpit for a while as Honda engineers fiddled around, but there was nothing to be done. The engine was finished, the car pushed away. Prost went away to the motorhome to change, knowing that the 1988 world championship was lost.
"Almost from the start," he said, "I felt sure I wouldn't finish. The misfire got worse, but I thought I had nothing to lose and decided to push."
Prost's retirement left Senna with a 26-second lead over Berger, and for some time the gap stayed at that. The spectators settled back again: second and third was better than nothing after all. In half a dozen laps Gerhard made no impression at all, and the interest centred on his team-mate, now beginning to catch him.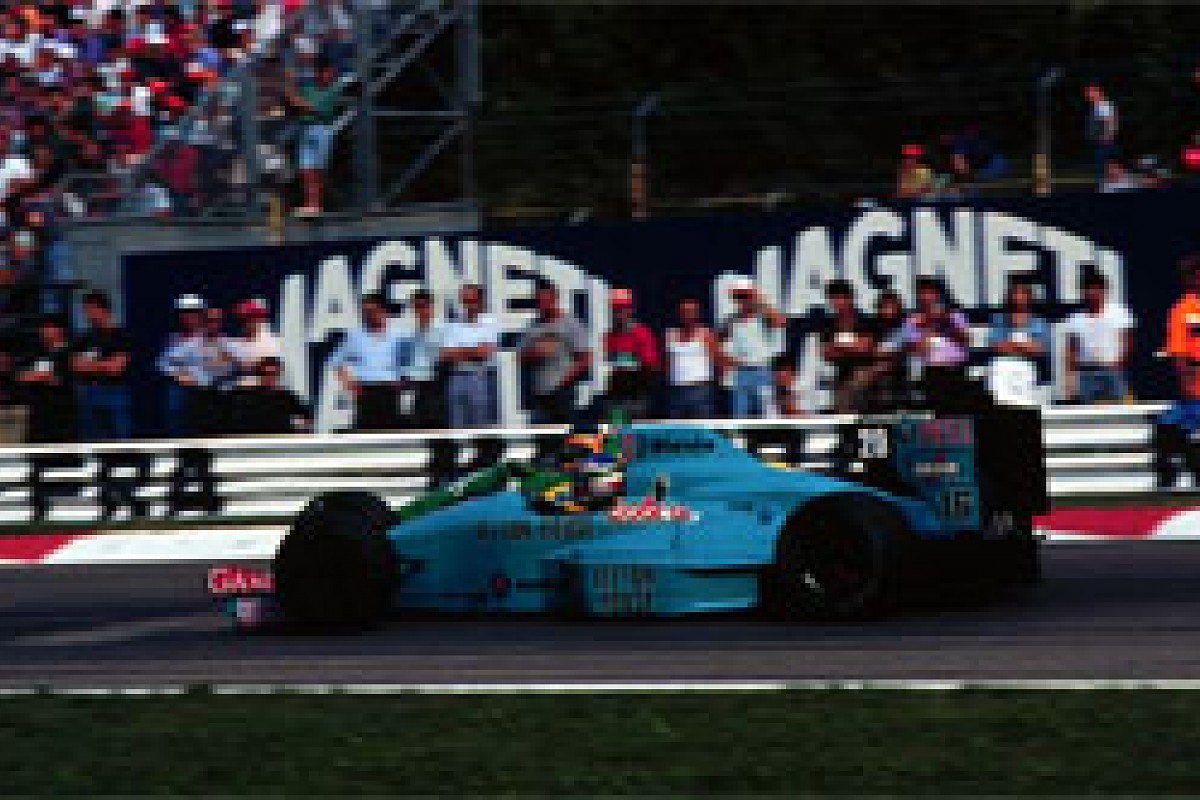 Ivan Capelli (Leyton House March 881 Judd) battles with Thierry Boutsen (Benetton B188 Ford) © LAT
At the same time, Warwick was discernibly closing on Cheever for fourth place. And the irrepressible Capelli, having dealt finally with Patrese, had also caught and passed Boutsen for sixth. So there were things going on.
In the last 10 laps though, the grandstands became animated, because now Berger was apparently making serious inroads into Senna's lead - and Alboreto was catching Berger. The truth of it was that Ayrton was simply paying out line: you get nine points for winning, be it by five seconds or 55, and he didn't want to lose the Italian Grand Prix by running out of fuel. After the engine failures for Nakajima and Prost, it had been suggested that Ayrton enrich the fuel mixture into his Honda V6 and he had complied.
Was he letting them come back at him too much? That was the real question, for sometimes the gap was reducing by three seconds and more a lap. Clearly Senna believed that the Ferraris could not run fast enough to catch him and still finish the race on 150 litres of fuel. Boards hung out - particularly to the charging Alboreto - tended to support that view, but still the Ferraris kept coming.
"I had it under control," said Ayrton. "There was never any pressure on me." But it didn't look that way. True enough, once Berger had closed to within five seconds, the gap shrunk no further, but Senna no longer had the luxury of picking his moments with the traffic. And as he began lap 50 - with only seven miles to the flag - up ahead was the Williams of Schlesser.
Jean-Louis saw him coming, knew he was there, and went wide into the first chicane, as if to give him room. Trouble was, he had to go off line, get on the dirt. And when he put the brakes on, the Williams slid straight on.
Ayrton saw all this, knew Schlesser had overdone it, but saw it as no risk to himself, believing the Frenchman would skate firmly into the sandy run-off, there to stay. Therefore he barrelled into the turn, thinking he has it to himself - but he hadn't. Somehow Schlesser got his car stopped in time to make the turn into the chicane, albeit off-line, partly off-road. And he tried all he knew to give Senna room. But through the second half of the chicane, Ayrton took the usual line, almost as if the Williams wasn't there. And he almost got away with it, but not quite. Schlesser's left-front hit the McLaren's left rear, pitching it into the air, into a spin.
Senna was remarkably controlled and philosophical about it afterwards, and Schlesser was abject in his apologies - perhaps too much so, in fact, for it looked like six of one. Undoubtedly, the Frenchman had made a mistake initially, but Ayrton went head down into the lion's den, left no-one with any leeway. It has been his utter fearlessness through traffic this season which has often given him such a decided advantage over Prost. But there are risks attached, and this was one such.
Perhaps his real mistake was to allow the Ferraris to close so much, putting pressure on himself, so that he felt obliged to go for it, not to back off, wait until after the corner to deal with the Williams. Whatever, the Italian Grand Prix was his no longer.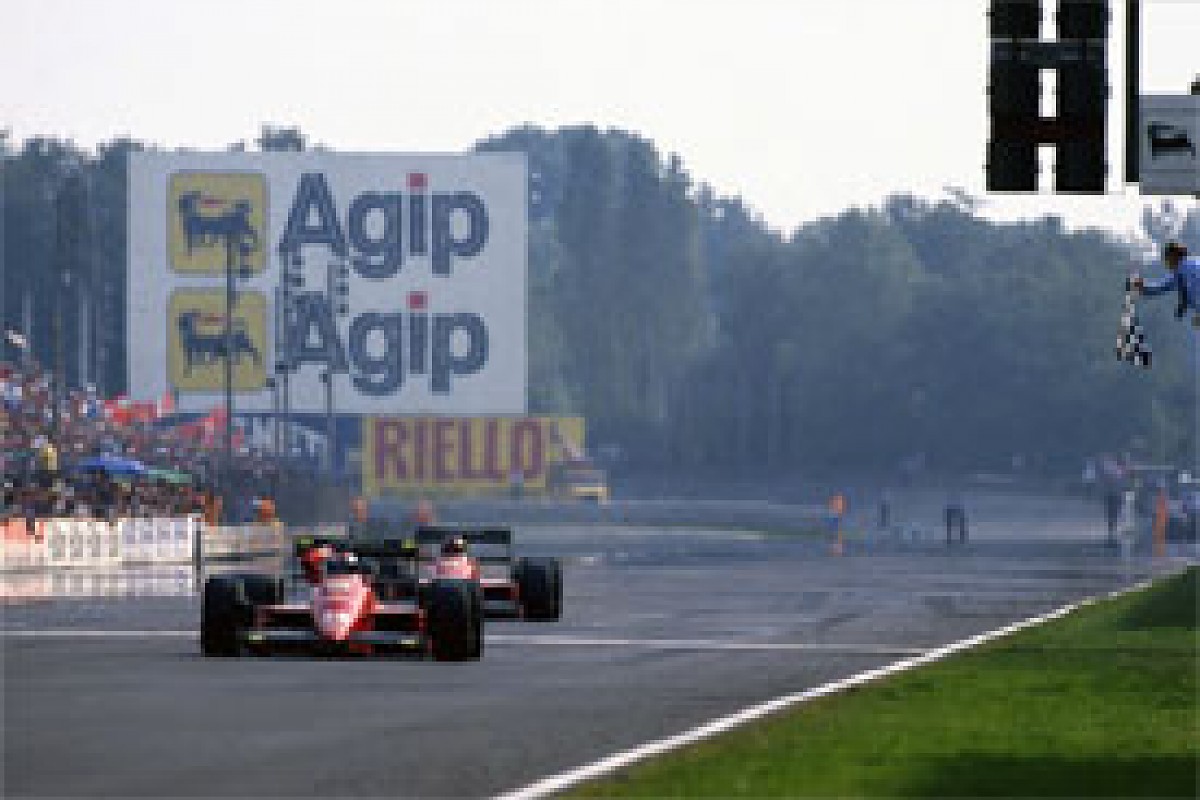 Gerhard Berger and Michele Alboreto (Ferrari F1/87-88Cs) cross the finish line © LAT
It was Berger's. In an instant half of Milan was looking at a Ferrari 1-2, and lost no time in communicating its enthusiasm for these new circumstances. Gerhard and Michele swept over the line, half a second apart, just as Scheckter and Villeneuve did those nine long years ago. In less than five minutes the whole shape of the Italian Grand Prix was changed and the spectators looked at each other in disbelief. Maybe there was a God, after all.
"I must give this victory to everyone at Ferrari," Berger said. "Especially to the Old Man, of course, but also for me, because this really is the nicest day of my racing career - what could be better than to win at Monza in a Ferrari? This may not happen again this year because the McLaren is unquestionably the best car. But still, it's nice to be able to push them a little. I saw Senna turn into the corner, and then next I saw him pointing in the wrong direction." It hadn't made him too upset, he added.
Alboreto, the man without a drive for 1989, was quietly gratified too. And Cheever and Warwick, despite some engine problems along the way, rewarded Arrows well with third and fourth places. Capelli justifiably won the normally-aspirated class, from Boutsen. But everything was incidental to the Ferrari victory. McLaren's unbeaten spell was broken, and Senna must wait until Estoril or even Jerez to set his record number of victories for a season.
After the race, some little time was given over to checking the fuel capacity of the winning car, and initially the suggestion was that it came to 151 litres, that Berger would be disqualified at Monza. What heresy was this? A Ferrari disqualified at Monza? But eventually the scrutineers said no, all was well, it was 149.650; just beneath the limit. Up in Valhalla the Old Man will have smiled.