So Renault is up before the beak on September 21. By which time all its kit, not to mention its personnel, will be in or en route to Singapore. In vain? Time will tell.
The 'evidence' will be revealed two weeks hence in Paris, and I can't offer you any further insight I'm afraid. But what if they did it? How dreadful is it really? You can never second-guess Formula 1 but is it the sort of thing that should be prompting speculation of manufacturer withdrawals, lifetime bans, and on and on?
Pat Symonds and Renault will once again explain themselves to the FIA © LAT
Is it outright cheating or is it creative use of the regulations? Remember Greg Chappell? With New Zealand needing to hit a six to tie a world series cricket match in 1981, the Australian captain ordered his brother, Trevor, to bowl the last ball underarm. Some people thought it was good, sensible captaincy but it prompted worldwide uproar.
Did that bring cricket into disrepute? Was it an act prejudicial to the interests of a competition? Well, maybe. But it was bloody funny as well! It's sport for God's sake, not life and death, though Bill Shankly would obviously disagree.
Where does it say in the rules that you can't crash your car? If Renault's lawyer has got a sense of humour he can argue that it was certainly more in the interests of competition for Nelsinho to shunt his car than to tool round and round in 16th place! I jest.
But we've got some fairly recent precedent here; Monaco 2006 and Michael Schumacher. Having set the quickest first run time in Q3, Michael dumped his car into the tyres at Rascasse in the dying minutes, denying his rivals the chance of displacing him.
In days gone by they used to be a bit more subtle. Not much, but a little. Someone quick would overfill an oil catch tank, for example, and then anoint the Principality with some lubricant once they'd got their time in. But Michael's attempt was so transparent that even most of the press caught on. The story I've heard is that right up until the last second Schuey was fighting with himself over whether to do it or not, which is why he made such a crap job of it.
In the immediate aftermath I joked to someone at Ferrari that it would have been a lot more believable if he'd had an almighty shunt coming out of the tunnel. Yes, he said, but we'd have been rebuilding the bloody car all night, and it's Saturday in Monte Carlo... Quite. So it was only the hacks who missed out on the party invites as Ferrari tediously stuck to its denials and the FIA pondered what to do.
No lifetime bans here though. Everybody wanted Schuey in the following day's race even if the fact that he had to start from the back of the grid did mess up the potential somewhat. And what of the man in charge of the team? No hanging and quartering there. Make a great FIA president, would he not?
And what about March? Under the joint tenure of one Max Mosley, Vittorio Brambilla took a surprise pole position for the 1975 Swedish Grand Prix at Anderstorp. The story is that the team's pit was adjacent to the timing beam and that the pit signaller swiped Brambilla's board right through it, a couple of tenths before Vittorio himself went through... Everyone just has a good laugh about that.
Ever since the US-style safety car/yellow was introduced to F1, I'm amazed that the kind of thing that Renault is accused of has not happened regularly. I'm sure American colleagues could point out numerous occasions where teams have made creative use of yellows. A much better system would be one which I experienced at an indoor kart meeting whereby if there was an incident and a yellow, the power to your engine was suddenly cut until the problem was sorted. It prevented the usual karting modus operandi when a yellow means driving as fast as you possibly can with one arm in the air.
Given the technology available today, it must be possible, and would be much more pure in that the leader would not have his hard work arbitrarily wiped out. That said, one of the benefits of safety cars is that they can revitalise races that have become, whisper it, a bit dull.
The more money, prestige and media coverage a sport involves though, the greater the naval gazing. Just as, in the seventies, everyone used to joke openly about how Ferrari would never have a fuel sample taken at Monza, today there is never-ending speculation about 'political agendas.'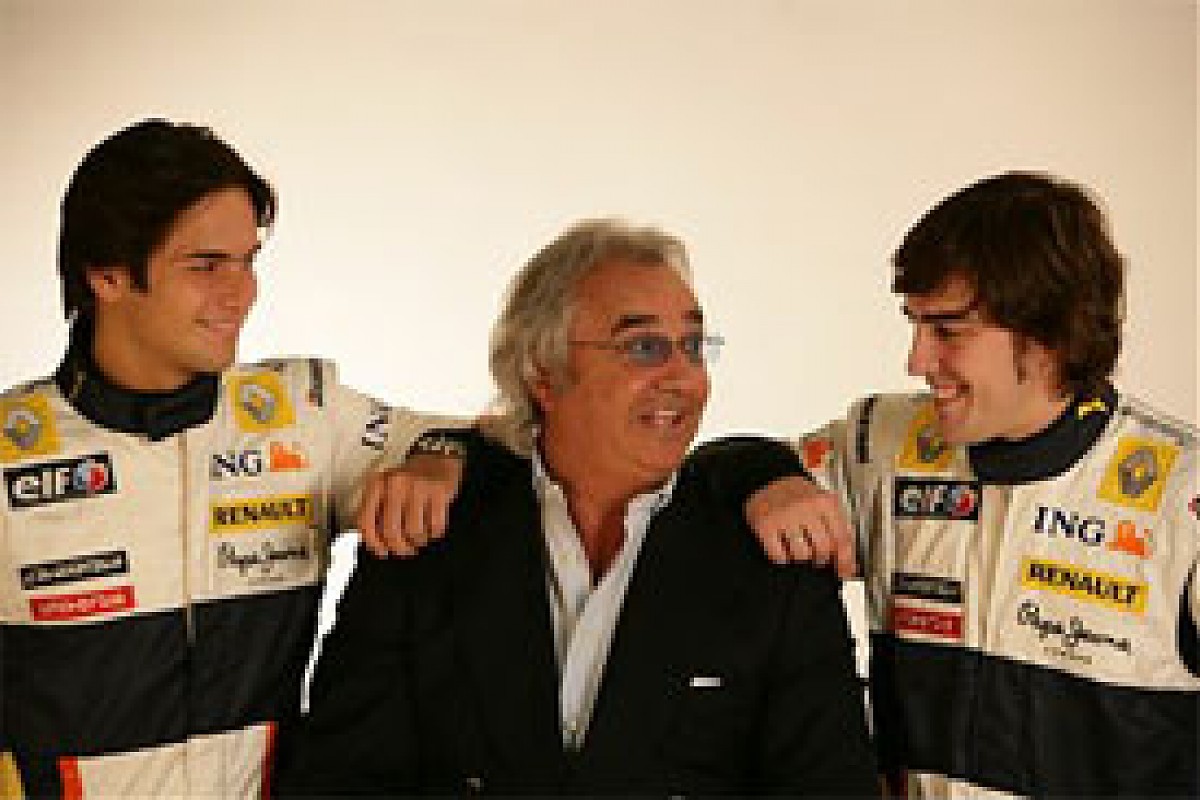 Nelsinho Piquet, Flavio Briatore, and Fernando Alonso in 2008 © LAT
Just to give you an example of one I've heard about Singapore. One is that Renault F1 needed some good results at the back end of last year to influence a board meeting at which the continuation of the F1 programme was up for discussion. Hence the need to do something a bit quirky when poor Alonso had his fuel pump pack up in Q2 when he'd looked like being a threat in his own right without any assistance. Flavio Briatore has always said that speculation about the team's future was exactly that, and as far as he's concerned there has never been any doubt about the programme.
The FIA was obviously aware of the suspicions as soon as the events unfolded in Singapore - the whole paddock was - but since then, what's happened? We don't know the full story yet, but from Bernie's comments last week we can assume that Piquet is involved. Is it as it appears on the surface? Has Flav made some powerful enemies this year? Or, will he be exonerated (it was a junior mechanic in '94 remember) as the mud sticks, which pulls out allowing Flav to do a Ross and buy it all for a quid. Don't know. After Spygate and Spankgate I've stopped trying to second guess this business.
All you can say is that, in the scheme of things, it's more Butch and Sundance than Tonya Harding. There were even smirks and chortles among Renault's opposition post-Singapore. Yes, you can wring your hands and pontificate if you want to. But not really. Anyone who thinks nobody in F1 would do what Renault is accused of doing in Singapore isn't living in the real world, although granted, there is more corporate strait-jacketing these days. And anyone who suggests that spinning a car into the wall out of a slow corner is risking life and limb is also seriously deluded.
Stamp on serious cheating by all means. When your ex organises to have an iron bar cracked across the legs of your main ice-dancing competition before the US championships, a la Harding, throw the book at her, of course. Harding was found innocent of involvement but guilty of cover-up and it wrecked her career, reducing her to celebrity boxing and pornography apparently. So not all bad...
Or when Hansie Cronje took bookies bribes to fix cricket matches, a lifetime ban is fair enough. Although anyone daft enough to get upset about injustices through betting on sport really doesn't get my sympathy. Well, not as much as the Portuguese football club chairman, who thought he might get away with similar allegations until his ex decided to publish a book describing the bribes in details and giving details of the Brazilian hookers and their services offered to the match referees...
Remember Boris Oniscehenko, the Russian pentathlete, who had a button in his foil that could trigger fencing hits at will. Montreal '76, that was. Or Ben Johnson and his steroid assisted 9.79s in Seoul. I guess F1's equivalent would be an oversize engine.
Nothing's squeaky clean. Cricket is supposed to be gentlemanly, is it not? But what about using hair gel, sugar and lip balm to swing the ball? You have to be careful these days though. In his autobiography Marcus Trescothick claimed that England's bowlers achieved such prodigious reverse swing by using sweetened saliva from eating mints on the ball. But when Ian Botham made some remarks about Pakistan, Imran Khan sued him for slander and libel, winning £400,000.
Even in chess you get people going for an 'air break' and consulting a PDA about the next move! Spinning Nelsinho out of Singapore? Surely not all that bad.