It was Oscar Wilde who famously said that the only thing worse than being talked about was not being talked about at all.
So when Ferrari kicked up a bit of a fuss recently about Williams blocking a request for Michael Schumacher to get some testing in an F60, you can bet that team principal Frank Williams had a wry smile on his face.
Sir Frank Williams and his crew © LAT
"Guess who opposed the test with the F60?" wrote Ferrari on its website. "A team that hasn't won anything for years and yet didn't pass over the opportunity to demonstrate once more a lack of spirit of fair play."
You could imagine too that Frank read those comments and mischievously allowed himself to ponder for a few seconds the idea, as a reminder of sporting fairness, of sending Ferrari some signed pictures of Jacques Villeneuve winning the 1997 world championship at Jerez despite Schumacher's attempt to drive him off the road.
While he would have enjoyed doing something like that immensely, Frank knows just what sort of political game F1 is in. And that is why he loves it to this day.
"I've never let myself get too involved in slating anyone else because they don't like something," he said in Valencia last week. "F1 is politics, and business is business, and we have to stand our own ground and defend what we want. Sometimes we win and sometimes we lose, that is how it is.
"Is there too much politics? There always will be, but that is the same in most business I suppose. Anyway, it's very, very enjoyable. It is a high risk business, success is extraordinarily difficult to achieve, but nobody ever wants to flee. A bank manager might pull a team or a manufacturer out of F1, but the people who are in - they cannot help themselves. It is great."
The 2009 season has seen the return of Williams as a competitive force. The team has arrested its slump down the order, is firmly in the fight for third place in the constructors' championship, and appears to be back on its way to the front of the grid.
The future looked bright too. It's on the verge of renewing a partnership with Renault that yielded its last world title in 1997, and speculation has linked it with the top F1 drivers - like Kimi Raikkonen and Robert Kubica - for the first time in years. The team may not get either, but just being a candidate shows how serious a force Williams is once again.
The good vibe around the team is probably one of the reasons why Frank himself was in such a relaxed mood in Valencia last week, as he spoke in his motorhome about the progress of the outfit and plans for the future - and cheekily accused my questions of being a little like a 'gentle police interrogation'.
"The car is more competitive up the grid, but any team will say this - we need to be further up to be self respecting," he explained. "The higher and higher up you go, there are fewer and fewer reliable branches to grab on to hold you up there. But, we are not satisfied, we are pleased with progress as long as it keeps going."
Williams believes the form this year is the result of the early switch of focus the team made to its 2009 car last season, and praised the efforts of the aerodynamics department in having produced the goods this year.
But of course most interest at Williams focuses on its plans for next year - with engines and drivers.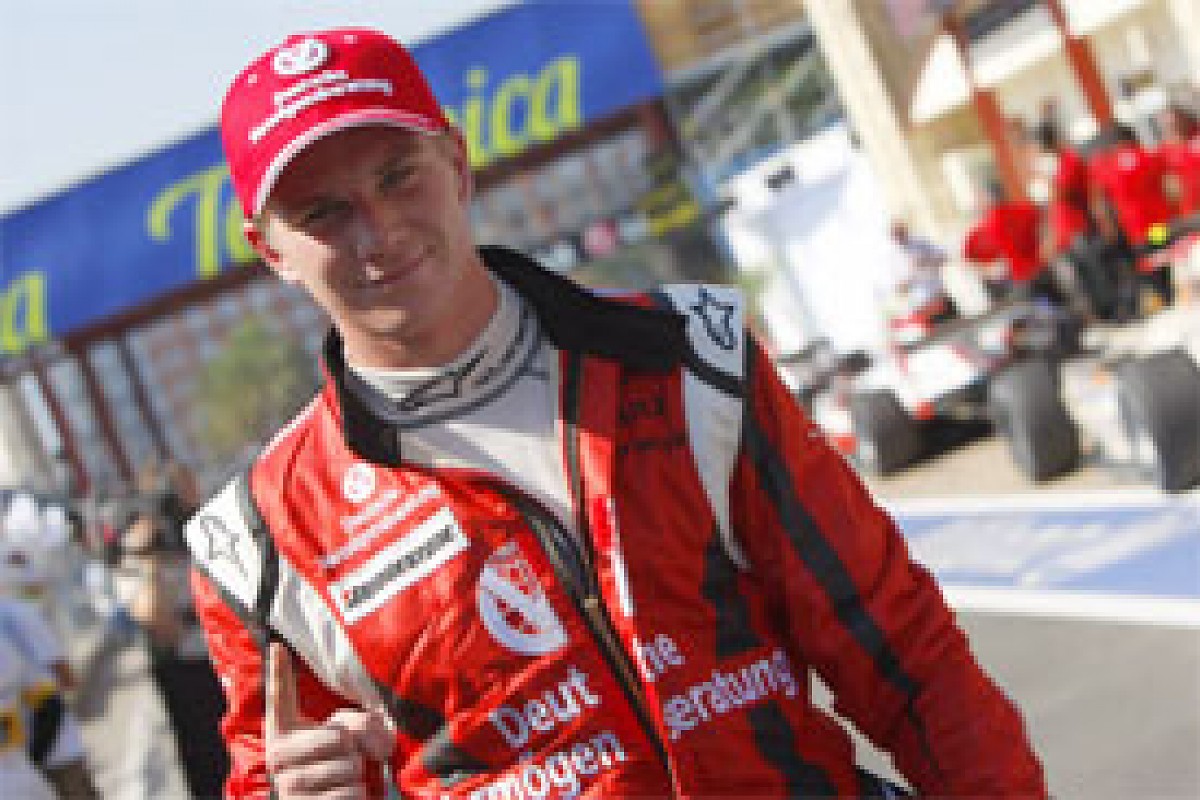 GP2 points leader Nico Hulkenberg © LAT
The team's request to get out of its Toyota engine contract was reported over the weekend, and although confirming that move, he does not elaborate much further on how much the team is scouting around for the engines - or how close it is to that Renault deal.
"You write lots of magazine articles, you can handle a Blackberry which I can't, it is beyond my intellect, you are quite a bright kid, you can work it out..." he smiles.
The driver front appears more fluid though - although it is looking increasingly likely that Nico Hulkenberg will get one of the team's seats. He is impressing hugely in GP2 and Williams thinks he is now ready for F1.
"He probably is actually. But they have all got to learn. They all make mistakes. Lewis [Hamilton] made fewer than anybody else, but someone like him comes down from heaven only once every 20 years."
More interesting is what happens, then, to the other seat. Current man Rosberg is sniffing around for options elsewhere, and Williams is keen to keep him.
"Nico is, on any three or five lap race, he is the most exciting driver on the track," declared Williams. "He digs himself out of some holes that we put him in some times - comes by three places up at the end of the first lap.
"He is single minded, chirpy, a little arrogant which is good - he is always very good with the promo people, never an objection, he is very good. He is very much on our list."
Yet when asked if he was top of that list, Frank responds: "I wouldn't comment on that, you know that. It is a small group."
Although high-priority Kubica is now very close to a Renault deal, there will likely be no shortage of candidates ready to slot in alongside Hulkenberg if Rosberg goes to pastures new.
These are exciting times for Williams, and the choices made over the next few weeks look set to signal a very exciting future indeed. Williams says decisions on engines and drivers are imminent.
"It won't be months away, it will be the next few weeks where we get one position sorted out and hopefully soon after the second one," he said. "I was reading the transcript of the FIA press conference here, and agreed with what the other team principals were saying: that it is a work in progress!
"I should have just said that - and put a sign around my chest this afternoon..."
Always better to talk, and be talked about, though. Isn't it Frank?