The mid-season break is over, the Cote d'Azur beaches have been cleared of race personnel, and it will be 20 freshly-tanned and hopefully relaxed Formula 1 drivers who swipe their way into the Valencia paddock for the start of this weekend's European Grand Prix.
Regulations enforced a two-week shut-down of the team factories during the break, but while everyone's email may have been set to out-of-office reply for the past two fortnights, we can still expect the odd tweak to have found its way onto the cars since Budapest.
And for Brawn, not a moment too soon.
Jenson Button still has a points buffer, but it is gradually eroding - Mark Webber and Sebastian Vettel are only 18.5 and 23 points behind respectively, so a good weekend for the Bulls and a bad one for Brawn could make things uncomfortably tight for the current championship leader.
Talking points
1. Can McLaren continue its Hungary form?
There's no underestimating how much McLaren's morale will have been lifted by its Hungary success having endured a hellish start to 2009. But while morale alone doesn't contribute much to lap times, developments like a new front wing and rear floor - both of which the team is bringing to Valencia - might. Having KERS on board should help, too.
Luca Badoer drives the Ferrari F60 at Fiorano © LAT
2. How will Luca Badoer perform?
In the eyes of many of the spectators in the stands this weekend, Luca Badoer will have two strikes against him before he even leaves the garage. First, he hasn't raced an F1 car in a decade. Second, he isn't Michael Schumacher. In order to avoid a third, he needs to get the Ferrari into Q2 at the very least. Generally speaking that shouldn't be a problem; a bigger test will be of his race-craft when he finds himself having to deal with 19 other cars fighting for the same piece of road at the first corner. But the real story would be if he finished the weekend ahead of Kimi ...
3. And what about Romain Grosjean?
When Nelson Piquet turned the flamethrower onto his former team a few weeks ago, the worst-kept secret in the paddock - that he wouldn't see out the season with Renault - was confirmed. After that it was just a matter of waiting for the team to formally take the wraps off the second worst-kept secret, which was that Romain Grosjean would replace him. The Franco-Swiss driver is not short on speed or self-confidence behind the wheel, but he'll need to iron out his slight erratic streak to succeed at the top level.
4. Has Brawn regained any lost ground?
Jenson Button will have all his fingers and toes crossed in hoping so. Much has been made of the Brawn's shortcomings in cooler weather during recent months, and at Valencia that's not going to be an issue. The problem is that heat wasn't a concern in Hungary either, so the BGP 001 spent the weekend struggling with tyre problems instead. The development war is ramping up now, and with back-to-back races upon us, Button's title hopes depend greatly on having a decent car this weekend.
5. Which Toyota will turn up?
Toyota has produced arguably its best-ever F1 car this season, but getting it to work everywhere has been a challenge. Valencia is a medium-downforce track, which should suit the TF109, and the team was fairly strong at the circuit last year. Toyota is only 1.5 points behind third-placed Ferrari on the constructors' table at the moment, and with Felipe Massa on the sidelines it will fancy its chances to pinch 'second-best of the rest' status.
Predictor
AUTOSPORT's F1 experts get out the crystal balls and predict the podium for the European Grand Prix.
Mark Hughes (AUTOSPORT Grand Prix editor)
1. Sebastian Vettel
2. Jenson Button
3. Mark Webber
Simon Strang (autosport.com editor)
1. Jenson Button
2. Mark Webber
3. Kimi Raikkonen
Charles Bradley (AUTOSPORT deputy editor)
1. Sebastian Vettel
2. Jenson Button
3. Kimi Raikkonen
Tony Dodgins (AUTOSPORT F1 consultant editor)
1. Mark Webber
2. Lewis Hamilton
3. Fernando Alonso
History
The 'European Grand Prix' moniker has had a nomadic history in F1 since its introduction in 1983. On that occasion it was held at Brands Hatch, and since then has variously been run at the Nurburgring, Donington and Jerez before the Valencia street circuit joined the calendar for the first time last year.
The inaugural Valencia race wasn't necessarily a great endorsement of the new facility, with Felipe Massa charging off from pole to take a straightforward win. The only potential blip came when he clouted Adrian Sutil in the pit lane along the way, but the Brazilian managed to escape with only a fine.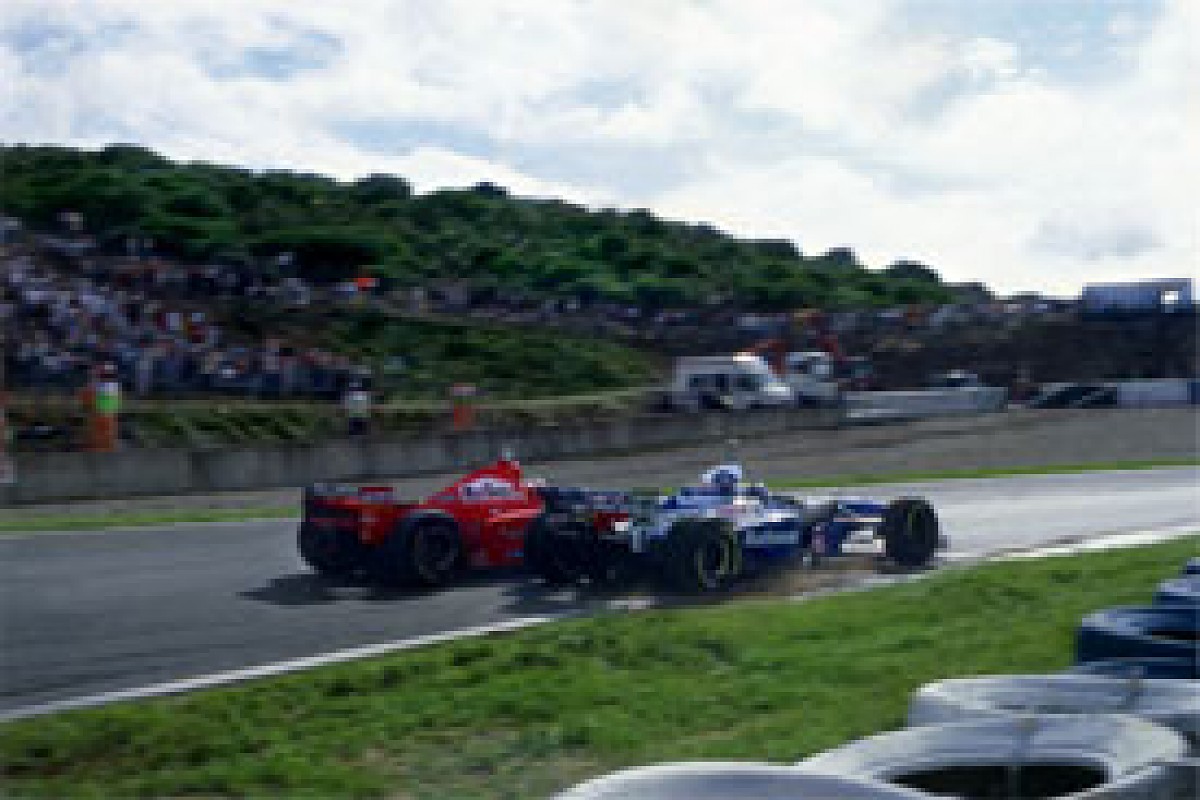 Jacques Villeneuve (Williams FW19 Renault) and Michael Schumacher (Ferrari 310B) battle for the World Championship in the 1997 European Grand Prix at Jerez © LAT
Other European Grands Prix have been more memorable. In recent times, the most notorious was the 1997 season-finale at Jerez, which was the staging ground for the title showdown between Jacques Villeneuve and Michael Schumacher. The German, who was leading, was taken by surprise when Villeneuve launched a gutsy attack at Dry Sack, and steered his Ferrari straight into the Williams.
But karmic retribution was swift - Schumacher bounced into the gravel and out of the race, while Villeneuve pressed on to secure the championship with third place. The Canadian had earlier let the McLarens of Mika Hakkinen and David Coulthard through, gifting Hakkinen with his first F1 win.
Then there was Donington in 1993, where, in torrential rain, Senna produced one of the greatest opening laps in F1 history by passing four cars to take the lead. He went on to cross the finish line 1m23s clear of Damon Hill, the only other driver remaining on the lead lap.
Finally, the 1985 European Grand Prix signalled the beginning of Nigel Mansell's 31-race victory haul, when he finally shook the monkey off his back with an accomplished win for Williams at Brands Hatch.

From the forum
"The only good part of the Valencia is the last sector. There are a couple other high speed points but they're followed by slow corners which didnt fulfil their purpose and provide us with any overtaking last year. Im expecting Lewis to be strong again and definitely be on the podium. Not too sure on Brawn - I'm a bit confused by them these last couple races."
Crazy Ninja
"I know Valencia was a dud last year. I know it's not really deserving of the title 'street circuit' (it's really a purpose-built circuit in the middle of a city). I know it's even less popular with fans than Hungary. But I still think the race deserves a chance. Last year, everyone sorted themselves out based on who was fastest before the first corner and it went from there."
Captain Tightpants
"I expect a boring race on a very bland circuit - probable Hamilton win. Brawn doing better."
MinT
To continue reading this feature, subscribe to Autosport Plus today.
Expert opinion. Technical insight. Unbeatable analysis. Subscribe today for unlimited access to the world's best motorsport journalism.
Get unlimited access now
No more monthly limits. Get complete access to all our news and Autosport Plus features.
Subscribe to Autosport Plus
Completely ad-free environment.
Access Autosport Plus - the best motorsport analysis, insight and opinion.
No monthly news limit.
Explore Forix, the world's most comprehensive motorsport stats database.