Straight out of Brawn's post-Hungary debrief, still suited up, Jenson Button's maths were spot on: "I've lost 15 points to [Mark] Webber over the last three races. At five points a race he'll be in front of me in four races' time, and there's seven left."
Brawn's major problem these past three races, more than any other team, has been generating the tyre temperature necessary to access the car's performance. Understanding why is the key to getting Button's championship challenge back on track. The BGP001 is often running front tyre temperature around 60°C, while 80°C-plus is needed to get the Bridgestones into their operating window.
When Button romped away to win Malaysia, Bahrain, Spain, Monaco and Turkey, the track temperature at the start of those races ranged from 40°C to 52°C. At Silverstone and Nurburgring the surface temperature was mid-20s. Hungary was expected to see a return to the higher figures and, consequently, two competitive Brawns. The reality, though, was that race day was cooler than it had been earlier in the meeting.
"On Friday the car was working well and we were one of the only teams not to get rear tyre graining - we had the best tyre condition of anyone," Jenson explains. "But, on the last run in qualifying, with the fuel on board, the car didn't feel good and it was the same in the race - we were just destroying the rear tyres and no one else was. The only thing that changed was the weather, which was 10°C cooler. We keep complaining and saying that it's the weather's fault - and it basically is."
The knock-on effect of Rubens Barrichello's lost spring in Q2 also had repercussions not just for poor Felipe Massa but also for Brawn's Hungaroring result.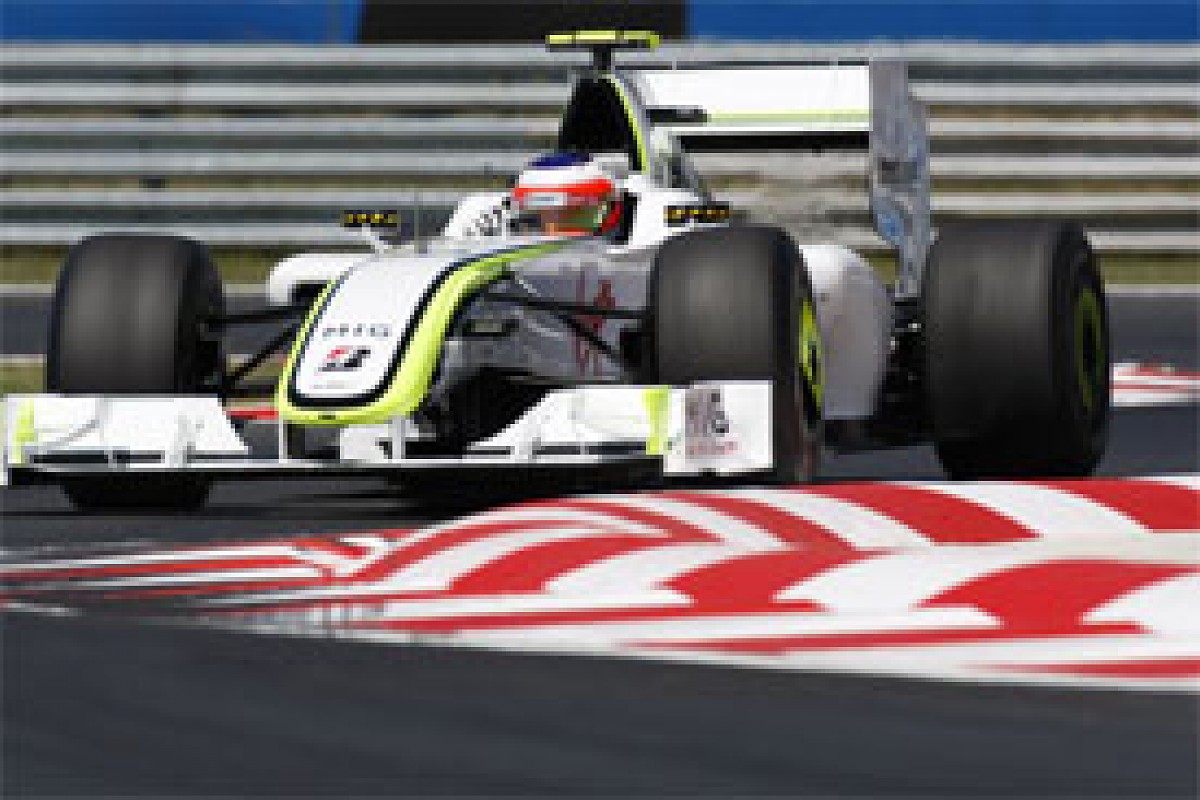 Rubens Barrichello qualifying at the Hungaroring © LAT
"I personally feel that in terms of set-up and pace my weekend was actually better than Jenson's," said Rubens, "but after my rear spring problem [which left him 12th on the grid] Jenson also had to change his, which meant that he only had the one run in Q3 [which qualified him eighth]. If it wasn't for the problem, I feel I would have qualified in the top four and had a completely different race."
There was more to it than that, because Button did not make the progress that he'd been anticipating in the race either: "I got a reasonable start and our aim was to keep position. We thought we could hang with the front bunch, and when they started peeling off to pit we would have a good chance of jumping them. I lost a place to [Kazuki] Nakajima at the start but got him back on lap 2, which was good.
"[Sebastian] Vettel was just in front and I was running five or six laps longer and so I looked after the tyres for four or five laps. But even doing that I grained the rears and that was it. I couldn't keep up with the cars in front and I had Nakajima all over me up to the first pitstop.
"At that first stop, we went for the super-soft tyre again because we didn't think the prime would work with the lower temperatures. We ran with the option, grained it again and had the same problems. I was stuck behind [Jarno] Trulli in the end and just ahead of Nakajima, and they were both going two laps longer and I thought we were screwed.
"We had to put the primes on for the last stint and I had to do a good couple of laps, and did, overtaking Trulli. That got me the two points for seventh, which in a way was good because Vettel didn't score and Webber didn't win. It could have been a hell of a lot worse considering how slow we were."
Jenson is right. In hindsight, Red Bull had not expected Hungaroring to be one of their better circuits. As Christian Horner explained, "The super soft has not been our greatest tyre so far this year, and in Monaco we struggled on it. Sebastian wasn't at all keen to start the race on that tyre."
When Vettel took the super softs for the first stint in Monaco he trashed them within five laps and didn't want to risk that again. Webber, though, went for it, but with the Red Bull harder on the tyre than the KERS-assisted McLarens and Ferraris, he could not push hard enough to keep Lewis Hamilton behind him, and Kimi Raikkonen jumped him at the first stop.
Webber elected to put the harder tyre on for the long middle stint, proving that it was not just Brawn that had tyre-related issues.
"Mark and his race engineer were talking about it for a couple of laps before the first stop," Horner says. "Mark felt that the option tyre was right on the edge, and the fact that we were always planning a meaty middle stint meant he didn't feel it would go that long. We put the prime on and expected our pace to be a bit stronger than it was. Back on the option at the end he was very quick and got his first career fastest lap, but unfortunately it was too much too late."
With the benefit of hindsight, if Webber had run a three stopper like Fernando Alonso, with the harder tyre at the end, he may well have done even more damage to Button's championship lead.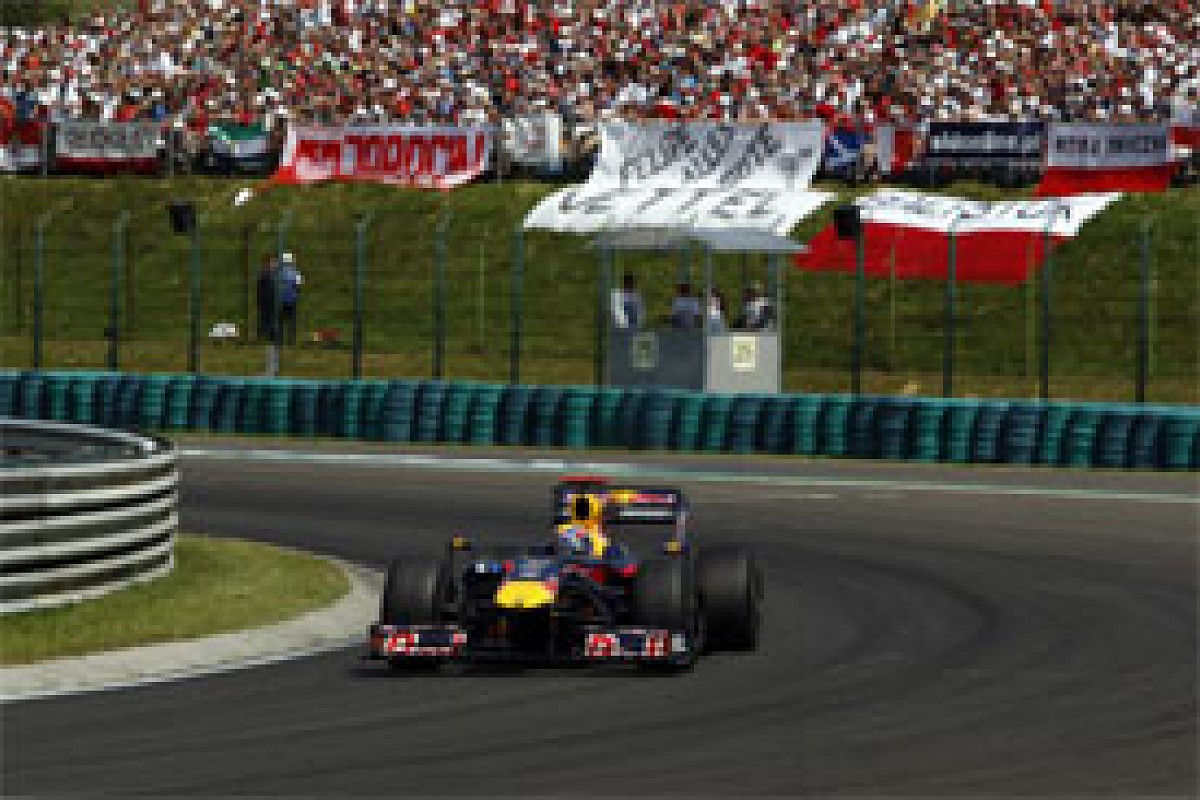 Mark Webber, Red Bull RB5 © LAT
As Horner alludes, Hungary was a bit of a one-off. "It's effectively Monaco without the barriers. Once we get back to more classic tracks hopefully we will start to see a strong performance from our car, and it will be interesting to see where Brawn is. I think the performance differentials will yo-yo, circuit dependent.
"We thought Brawn would be very quick in Hungary but they struggled quite badly. It was their third relatively uncompetitive race on the trot and more players are coming into the game. McLaren has made a step, Renault too, Ferrari was strong and in fairness Williams - their car looks very promising. The more cars between us and Brawn, the better!"
It's a good point, and Jenson, in fact, was left pondering Ferrari's Hungarian showing: "We've had a lot of updates and Ferrari haven't, so for Kimi to finish second and them to be in front of us was a big surprise. Our performance just isn't there. KERS played a part at the start and will be reasonably important at Valencia, but the big KERS circuits will be Spa and Monza - they are just going to destroy us on those two circuits."
He's referring, of course, to the long first-lap run from Eau Rouge to Les Combes at Spa and the long start straight down to the first chicane at Monza.
The update that Brawn brought to its car in Barcelona clearly worked and Button is at a loss to explain why the one introduced in Hungary - new front wing, sidepods and floor - should have been detrimental.
"The last two updates I just can't see hurting the car," he says. "They should just give it more rear downforce, which is good in every condition. There's something not quite right. The other cars at the front are quicker but, forgetting that, our car just doesn't feel like it did three races ago."
What the team will be doing is revisit everything they've done that might add up to a handling imbalance that, as well as the variation in ambient, is exacerbating the front-tyre temperature problems. Barrichello's post-Hungary comments point to the fact that there might just be something to find.
"We used to be so good on the bumps but right now, with the new downforce, the car felt strange over them." He says. "And it's odd, because in the Hungary debrief Jenson preferred one tyre and I preferred the other. That tells you that it's a question of balance.
"We're not talking about grip. The grip coming from the tyre might give us a bit more oversteer or understeer, so if one tyre gives you balance it's the one you choose, but the strange thing is that we are choosing very differently and yet we drive pretty similarly.
"That's why we want to see if, fundamentally, there is something on the car that means sometimes the tyres are not working at the right temperature. We shouldn't be praying at the start for the clouds to go away. It wasn't like that at the beginning, when we had a car that worked in any temperature whereas now we are struggling more.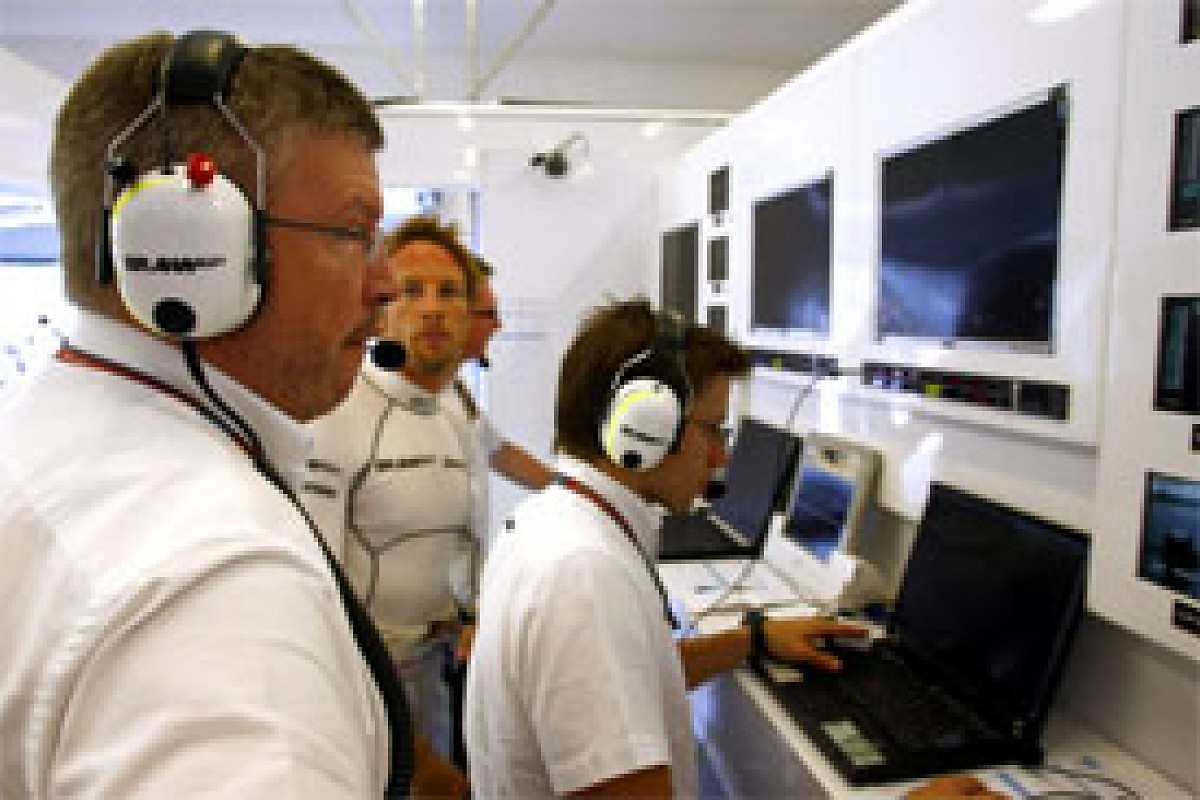 Ross Brawn and Jenson Button © LAT
"There's a bit more pressure on the team right now. We need to work and keep cool. We have a good bunch of people. Something didn't go right in the last three races, and we need to visit every little thing we did on the car that could prove to be wrong."
To that end, the summer break and closed factories could not really have come at a worse time for Brawn. The weather at the last seven races is down to the good Lord, but Brawn needs to sort its problems - quick.
As Jenson said with a wry smile: "I think you're still allowed to think about racing! We've got to sort it out. We are leading the championship but it's inevitable they are going to overtake us if the performances keep going like they are.
"It's like wearing the yellow jersey knowing that when you get to the mountains you are going to be useless."