Ok, so Luca Badoer is no Michael Schumacher. He's one of the guys for whom the cards didn't fall right, notwithstanding that he no doubt gets rewarded handsomely for driving Ferrari Formula 1 cars with no worries about job security.
I'm as disappointed as anyone that Michael's return is not happening - that dropped bike in February was obviously a much bigger deal than was admitted at the time. Michael's got previous there.
When he had an enormous accident at Suzuka's 130R in a Benetton, he jumped into the spare car and went through flat on his first lap, prompting a spectating Sid Watkins to sound an almost paternal cautionary note about self-preservation.
Having an unrelated neck X-ray a couple of years later, Michael discovered a fracture.
Badoer isn't exactly box office. Softly spoken and reserved, his persona does not yell 'racing driver'. But it's going to be fascinating to see what the 38-year-old, who has not raced in F1 for 10 years, can do with a car that should probably be a second or third row starter in Kimi Raikkonen's hands in Valencia.
Badoer's got this millstone round his neck - the man with the most grand prix starts (48) without scoring a point.
He's 15 races clear of his nearest challenger, one Brett Lunger. But then, when you look at what he's had the dubious pleasure of driving (BMS Lola, Minardi and Forti) he really had no business being anywhere near the points.
Even so, wouldn't it be nice if he could get his F60 across the line in the first eight on Sunday and give Lunger (the American ex-Marine who campaigned in Hesketh, Surtees, March, McLaren and Ensign cars between 1975 and '78) his record back.
I don't suppose Badoer cares too much that he hasn't troubled the scorers. But, for the record, had the current points system been in operation in the 90s he would have five points to his name already.
He was seventh, albeit three laps down, at Imola in the Scuderia Italia Lola-Ferrari in '93, for which a decoration via an Italian Order of Merit would probably have been more appropriate than a couple of points. He was eighth in Canada and Hungary for Minardi in '95 and eighth for the Faenza-based team at Imola again in '99.
In the European Grand Prix at Nurburgring he almost got a Minardi to the line fourth, only to be cruelly robbed by a gearbox failure. He sat down beside the stricken car in tears.
It doesn't sit so well alongside 91 grand prix wins, does it? But what do we really know about Badoer's true ability? The answer is, not much.
As an Italian karting champion he first made a name for himself by winning the final round of the 1990 Italian F3 championship when he beat the championship-contending Alex Zanardi and Roberto Colciago. That made him one of the favourites for the following year and he duly looked like taking the title when he won four races on the bounce, only to have points stripped due to running unscrutineered tyres.
His season didn't really get back on track but he'd done enough to impress Patrizio Cantu, friend of Italian industrialist Beppe Lucchini.
Cantu, a personable cloth-cap wearing gentleman had been Scuderia Italia team manager in the late eighties. He was particularly enjoying an '89 season in which Alex Caffi finished fourth in Monaco and Andrea de Cesaris made it onto the Montreal podium with the neat Sergio Rinland-penned Dallara. By the end of '91 though, Cantu had decided to set up his own F3000 team with engineer Christian Vanderpleyn, who was sadly killed in a road accident the following year.
The team, Crypton Engineering, signed Badoer for '92 and the 21-year-old promptly won the championship, scoring a hat-trick of mid-season wins at Enna, Hockenheim and Nurburgring before suffering a nasty shunt at Spa and coming back to seal the title with a win at Nogaro.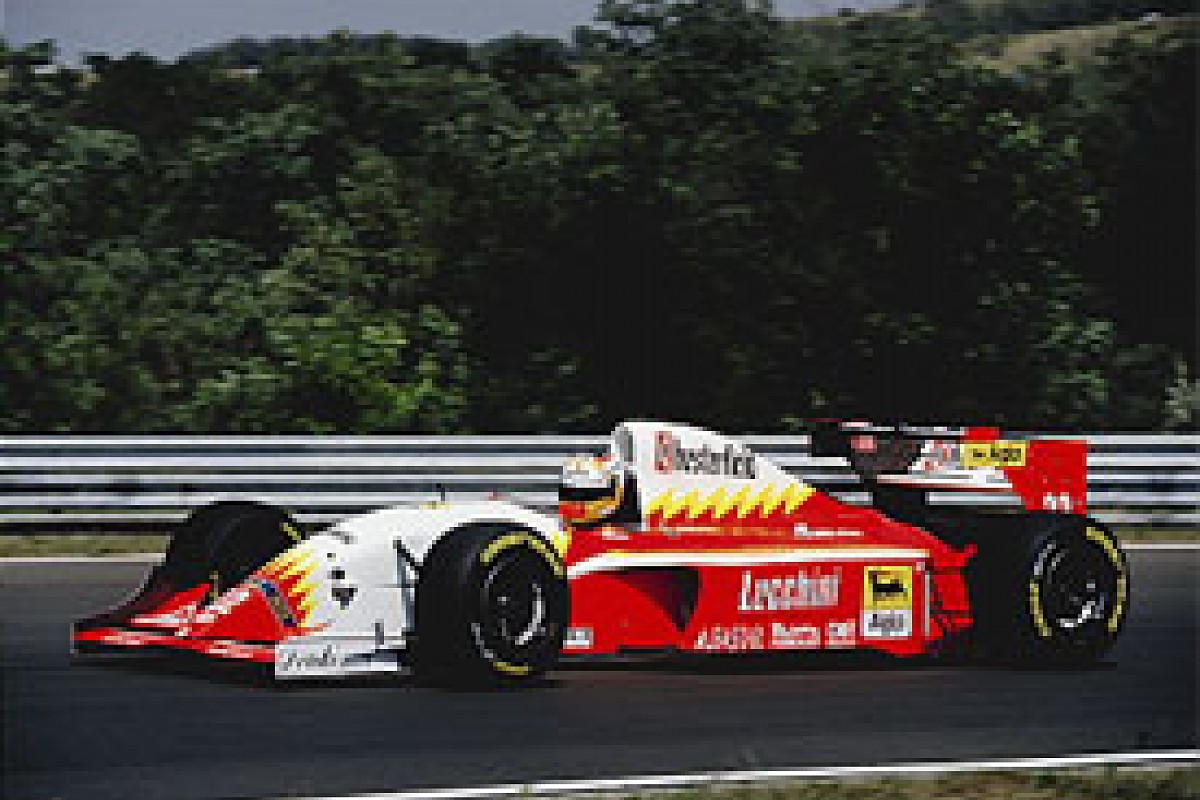 Luca Badoer (Scuderia Italia Lola T93/30 Ferrari) 1993 Hungarian Grand Prix © LAT
If it all seems a long time ago, that's because it is - Badoer succeeded Christian Fittipaldi as F3000 champion and preceded Olivier Panis. But it was truly the last time that Luca raced a competitive single-seater.
What do we know about that '92 F3000 season? It was dominated by Italians, who won all but two of the 10 races. The other two fell to Frenchman Jean-Marc Gounon and a certain Spaniard, Jordi Gene, brother of Badoer's fellow Ferrari test driver Marc Gene.
Badoer's Crypton team-mate was Michael Bartels, who finished the season fourth, 21 points behind. As a yardstick though, that doesn't tell us a lot. Bartels' then girlfriend, Steffi Graf, was a lot more interesting than anything Michael did on the track, no disrespect.
Nearest challenger to Badoer was Andrea Montermini, who finished 12 points adrift. And there was nothing wrong with the man who finished third, a certain Rubens Barrichello, who was driving for a sensible team, Il Barone Rampante, which had finished runner-up with Zanardi the previous year. Among the vanquished that year were David Coulthard (ninth), Panis (10th) and Allan McNish (11th).
Barrichello, in fact, is probably the driver Badoer must look at and think, 'if only'.
This business being what it is, when a new team arrives and dominates a championship, especially with a young, relatively inexperienced driver, people do mutter. But the Crypton cars were always well-engineered by Gianfranco Bielli, who achieved effective race set-ups via favoured use of a single front damper rather than the conventional two.
With none of the Italian F1 teams stepping up to the plate and his options limited, Badoer accepted a testing role with Ferrari in 1998, before being released to rejoin Minardi for one last go at F1 the following year. When Michael Schumacher had his leg-breaking Silverstone accident in '99 many expected that Badoer would be called upon to partner Eddie Irvine.
In fact, it was only at the last grand prix that fellow AUTOSPORT contributor Adam Cooper was talking to me about leaving that Silverstone race, spotting Badoer, and nipping over to get his mobile number, in case there was a story to write...
The fact that there wasn't, or at least that it involved Mika Salo and not Badoer, was a devastating blow to a man who, at 28, would have been in a good position to do a very strong job with a race-winning Ferrari. Instead, he went around and around Fiorano and watched as old F3000 rival Barrichello arrived to partner Schuey for six years. Tough.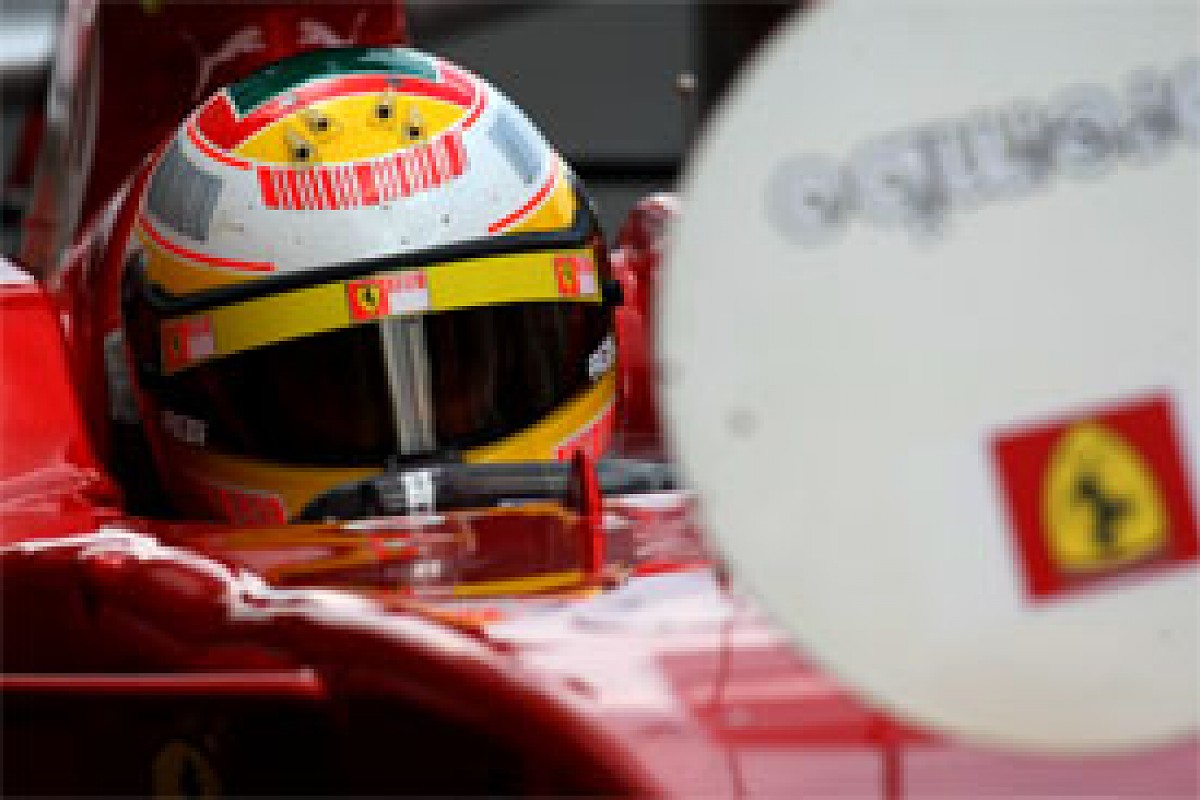 Luca Badoer © XPB
That the Scuderia is finally giving Badoer a race is such a romantic tale that you almost wonder whether the Italians have gone all soppy, one hesitates to say in their dotage with Stefano Domeicali in his early forties! Would it have happened with Jean Todt at the helm? Whatever, it's a great story, if not quite Michael great.
It won't sell many tickets, so the Valencia organisers will be glad that Renault's ban has been overturned. But Badoer in the Ferrari will pose many interesting questions for purists. How will he cope with qualifying? Will he make it to Q3 - or even Q2? Will he remember how to start a race? Will he keep it out of the wall? How close to Kimi will he be?
I can't pretend to be able to answer any of them. But this is the man Michael Schumacher used to ring up at 2am from holiday in a foreign country to discuss tyre testing. He's always had Michael's ear. The man can drive. Don't knock Ferrari's choice.